Bathroom Vanities
Lily Ann Cabinets' RTA bathroom cabinets stand out as the epitome of excellence in the industry, earning them a stellar reputation as a 5-star family business. Our RTA Bathroom Vanities, with craftsmanship and attention to detail, provide a wide range of stylish and durable options, ensuring customer satisfaction and long-lasting beauty. Shop Bathroom Vanities at unbeatable prices without compromising on quality that effortlessly transforms any bathroom into luxury. For those seeking the perfect blend of affordability, top-notch quality, and exceptional service, Lily Ann Cabinets remains the ultimate choice.
With RTA Bathroom Cabinets, It's Not Just A Bathroom Anymore
Price Match Guaranty
All Cabinets In Stock
Delivery In 72 Hours
Quick and Easy Assembly
Luxury Bathroom Cabinets & Vanities for a Luxurious Bathroom Experience
Bathroom cabinets and vanities are no longer an afterthought for just storing your towels. Today's bathroom is a place to escape, relax, and meditate. Many homeowners are updating their bathrooms with hot tub featuring massage jets to soothe sore muscles and other high-end finishes for the home-spa feel. Complement the new features in your bathroom with our luxurious bathroom cabinets.
Getting professionally crafted ready-to-assemble bathroom vanities from Lily Ann Cabinets is your first step to creating the design of your dreams. We offer an impressive selection of bathroom cabinetry and the best part is, that you can always count on high-quality workmanship at discount RTA cabinet prices. If you want to see how a particular finish looks with your bathroom furnishings, you can request a free quarter door sample.
Luxury Bathroom Cabinets & Vanities for a Luxurious Bathroom Experience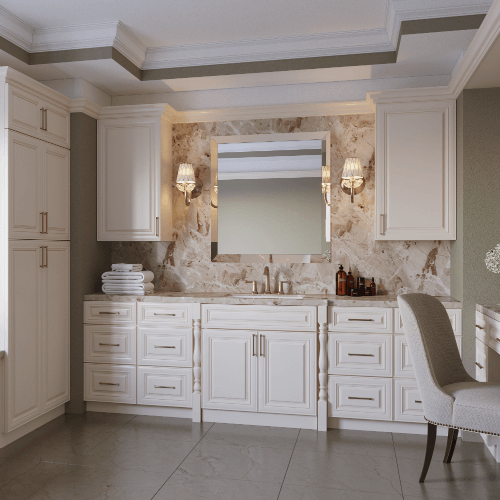 Premium RTA Bathroom Cabinet Engineering and Construction
Most RTA cabinets are sold by companies that buy them from a manufacturer, mark them up, and then resell them. The majority of RTA bathroom cabinet retailers online distribute similar cabinets from a small variety of manufacturers. Lily Ann Cabinets is one of just a few companies that manufacture their own bathroom cabinetry and bathroom vanities. Since 2004, Lily Ann has we are the only company that uses a proprietary 12-step glaze and finishing process, compared to a 6- or 9-step process used by most competitors. The extra layers of finish make Lily Ann bathroom cabinets stronger and better able to endure the steam and moisture of a bathroom. Our proprietary dovetail assembly method is unique to the marketplace and results in better quality cabinets that assemble with ease.
Premium RTA Bathroom Cabinet Engineering and Construction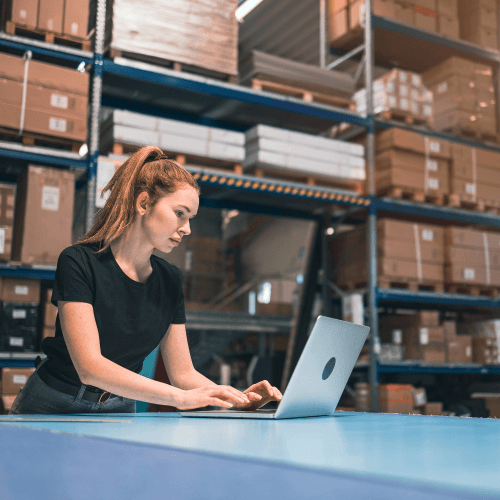 Easy-to-Assemble Bathroom Cabinets With Custom Cabinet Appeal
A new method of dovetail assembly, developed by Lily Ann Cabinets, makes our bathroom vanities easier to put together, while simultaneously hiding unsightly meta hardware from view. *Most RTA cabinetry utilize large metal L-brackets or big plastic clips to join the pieces together. The sections of Lily Ann RTA vanities, however, fit together more like puzzle pieces. This unique design makes the bathroom vanities stronger, and they only require two assembly clips, which are completely concealed. And if you aren't a do-it-yourselfer, we can also assemble the bathroom vanities for you, or help you track down a contractor in your area to assemble and / or install your new Lily Ann RTA bathroom cabinets
*The new assembly method applies to our most popular lines of kitchen cabinets and bathroom vanities, however, our entry-level cabinets still require the metal L brackets. We offer both to provide our customers with the best RTA cabinets throughout several different price ranges.
Easy-to-Assemble Bathroom Cabinets With Custom Cabinet Appeal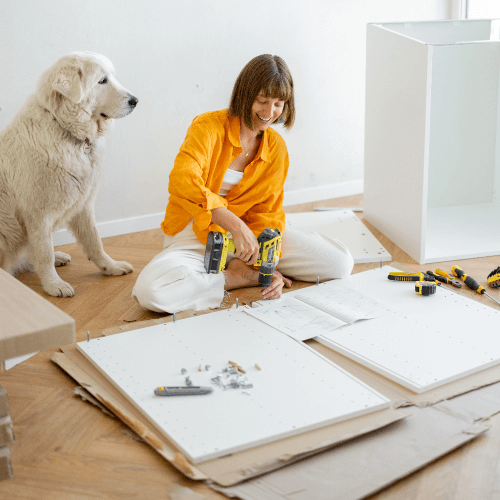 Better After-Sale Support from Our RTA Bathroom Cabinet Experts
Because we manufacture our own bathroom cabinetry and vanities, we are experts at answering any questions regarding assembly or quality issues that arise after completion. We also offer free cabinet design services. We are here to help you from start to finish… and beyond. We know our ready-to-assemble cabinetry inside and out.
Better After-Sale Support from Our RTA Bathroom Cabinet Experts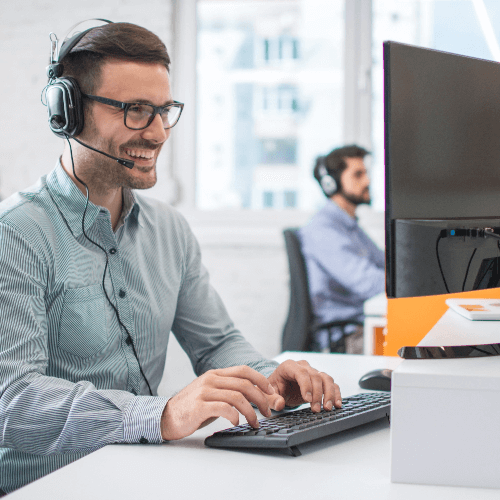 The Best Value on RTA Bathroom Vanities
Whether a Lily Ann bath vanity is part of a luxurious bathroom remodeling project or a simple upgrade to replace worn-out bathroom cabinets, you will appreciate the fact that we offer the lowest prices guaranteed. Yet you won't have to sacrifice quality, expertise, or customer service to get the best, bathroom cabinetry with fast shipping straight to your door.
The Best Value on RTA Bathroom Vanities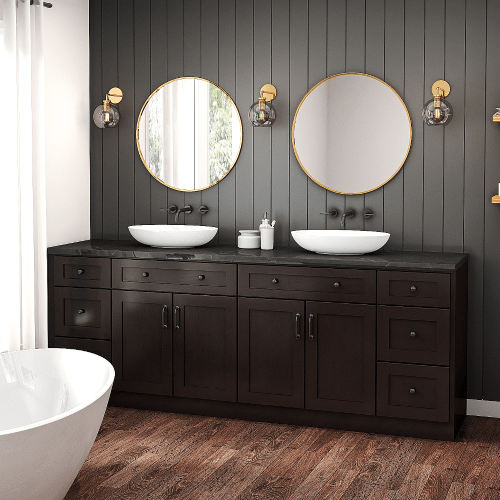 FAQ About RTA Bathroom Cabinets
What Are RTA Bathroom Cabinets?
RTA bathroom cabinets, short for "Ready-to-Assemble," are unassembled cabinets designed for easy installation in the bathroom. These cabinets are manufactured in various styles, sizes, and finishes, catering to diverse decor preferences. Their key advantage lies in their convenience and cost-effectiveness, as they arrive unassembled, allowing for effortless transportation and straightforward assembly. RTA bathroom cabinets offer a practical solution for enhancing bathroom organization, aesthetics, and best quality.
Are RTA Bathroom Cabinets Good?
RTA bathroom cabinets can be a practical and cost-effective choice for many homeowners. RTA cabinets offer convenience and flexibility with their easy-to-assemble design and they can be affordable and customizable storage solutions.
How To Assemble Bathroom Vanities?
Assembling bathroom vanities is a straightforward process that can elevate your bathroom's aesthetics and functionality. First, ensure you have all the necessary tools and parts. Follow the manufacturer's instructions carefully, beginning with the cabinet assembly, attaching doors and drawers, and securing the countertop. Plumbing connections come next, followed by mounting the vanity to the wall. Lastly, check for stability and make adjustments as needed for a polished and efficient bathroom setup.
Should You Glue RTA Bathroom Cabinets?
Using wood glue to reinforce your RTA bathroom cabinets with dovetail construction is a reliable way to ensure sturdiness and longevity. The interlocking dovetail joints offer excellent strength, and wood glue further enhances their stability. This simple yet effective method safeguards against wear and tear and maintains the cabinet's aesthetic appeal, making it a wise choice for enduring and reliable bathroom storage solutions.
Who Makes the Best Quality Bathroom Vanities?
Lily Ann Cabinets stands out as the premier choice for top-quality bathroom vanities. Their commitment to excellence is evident in their meticulous craftsmanship, utilizing premium materials to ensure long-lasting durability and functionality. With a diverse range of stylish designs, their bathroom vanities not only elevate the aesthetic of any space but also offer practical storage solutions. Trust Lily Ann Cabinets for the finest selection that embodies elegance, reliability, and unparalleled craftsmanship.
Which Vanity is Best for a Bathroom?
Selecting the best vanity for your bathroom is crucial in achieving both functionality and style. Consider the size, storage capacity, and material to complement your bathroom's aesthetics. Wall-mounted vanities save space, while freestanding ones offer a classic touch. Opt for durable materials such as solid wood or high-quality HDF for longevity. The ideal vanity should seamlessly blend with your bathroom decor, providing an organized and visually appealing space.
What Do Bathroom Vanities Include?
A bathroom vanity typically includes a sink, countertop, and a storage cabinet beneath. It serves as a functional and aesthetic focal point in the bathroom. The sink allows daily hygiene tasks, while the countertop offers space for toiletries and personal items. The storage cabinet provides a convenient place to store towels, cleaning supplies, and other essentials, keeping the bathroom organized and clutter-free.
What is the Best Material to Use for a Bathroom Vanity?
HDF (High-Density Fiberboard) is the optimal choice for Bathroom Vanity, and Lily Ann Cabinets understands this better than anyone. HDF's exceptional durability and moisture-resistant properties make it an ideal material for enduring the daily challenges of a bathroom environment. With Lily Ann Cabinets' expert craftsmanship and HDF's reliability, you can confidently embrace a timeless and stunning bathroom vanity that will elevate your space and last for years.
How Much Should I Expect to Pay for a Bathroom Vanity?
When considering a bathroom vanity purchase, the cost can vary depending on size, material, and design. On average, Bathroom vanity might range from $200 to $800, while high-end models could go beyond $2000. Lily Ann Cabinets offers various options that are budget-friendly and durable, making them an excellent choice for cost-conscious buyers.
What Our Client Says
I could not love our new bathroom vanity more!!! The quality is excellent and it is beautiful! So much better and more reasonable than anything else we shopped for. We chose the Grey Shaker Elite. The entire experience with Lily Ann Cabinets was top notch. I love that they offer free samples of the cabinets and they arrived quickly. The ordering process was so simple and easy to follow.

Beth A.

Stephanie has been great! very patient and helpful throughout this whole process of picking type/color of vanities for bathroom remodel. Free samples were much appreciated when comparing design elements and picking matching tile/flooring /other aspects.

Karin M.

Ordered bathroom vanity components. Excellent quality and price.

Gary F.

I am really impressed with the quality of the Lily Ann cabinets. They exceeded my expectations. I ordered and received the York Sable bathroom vanities and they are stunningly beautiful.

Shelley M.

Great service - have done multiple bathroom vanities and very pleased with the products.

Daniel Y.