Are you thinking of remodeling your kitchen or starting from scratch? With so many options, it can be overwhelming to decide which kitchen layout is best for you. To make your decision a little easier, we have compiled a list of the 14 most popular kitchen layouts today. From classic to modern designs, there is sure to be something to fit your needs. Keep reading to find the perfect kitchen layout ideas and designs for your home.
1. The One-Wall Kitchen
The One-Wall Kitchen otherwise known as The Pullman kitchen consists of placing all the kitchen cabinets and appliances along one wall. The One Wall kitchen can be a great space saver, especially in small apartments or homes, and it maximizes counter space. You can also incorporate an island for extra storage or counter space if needed. The key is to make sure all of the kitchen appliances and cabinets are accessible and within reach. Additionally, it's important to plan out your kitchen cabinet layout and select finishes and materials that will complement the overall look and feel of the space.
2. The Galley Kitchen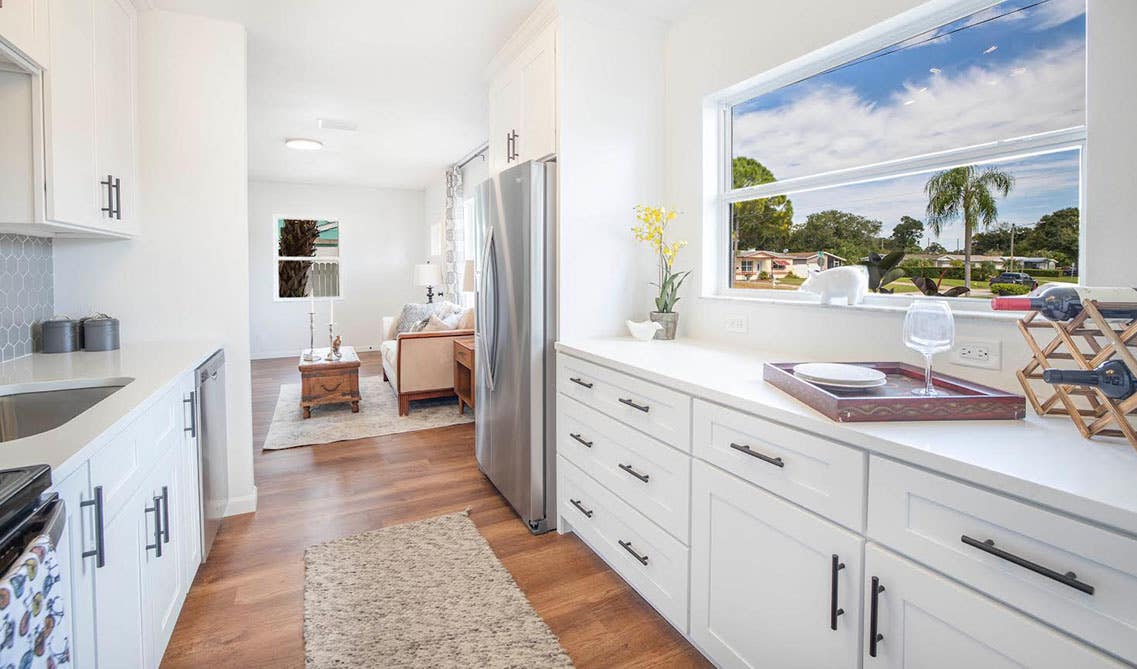 Galley kitchens are the perfect option if you are going for a small kitchen layout. This style features two parallel walls with counters and appliances that run along each side. This is an efficient design that has everything within easy reach, making it a great choice for busy cooks. Adding recessed lighting to the ceiling can help brighten the space and make it feel larger. A well-designed galley kitchen can be both comfortable and beautiful.
Checkout: 9 Space-Enhancing Ideas For Your Galley Kitchen Remodel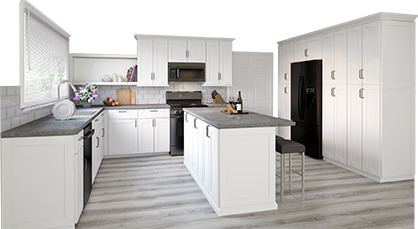 3D Kitchen Visualizer Tool
Bring your dream kitchen to life with our free kitchen visualizer!
Design Now
3. The L-Shaped Kitchen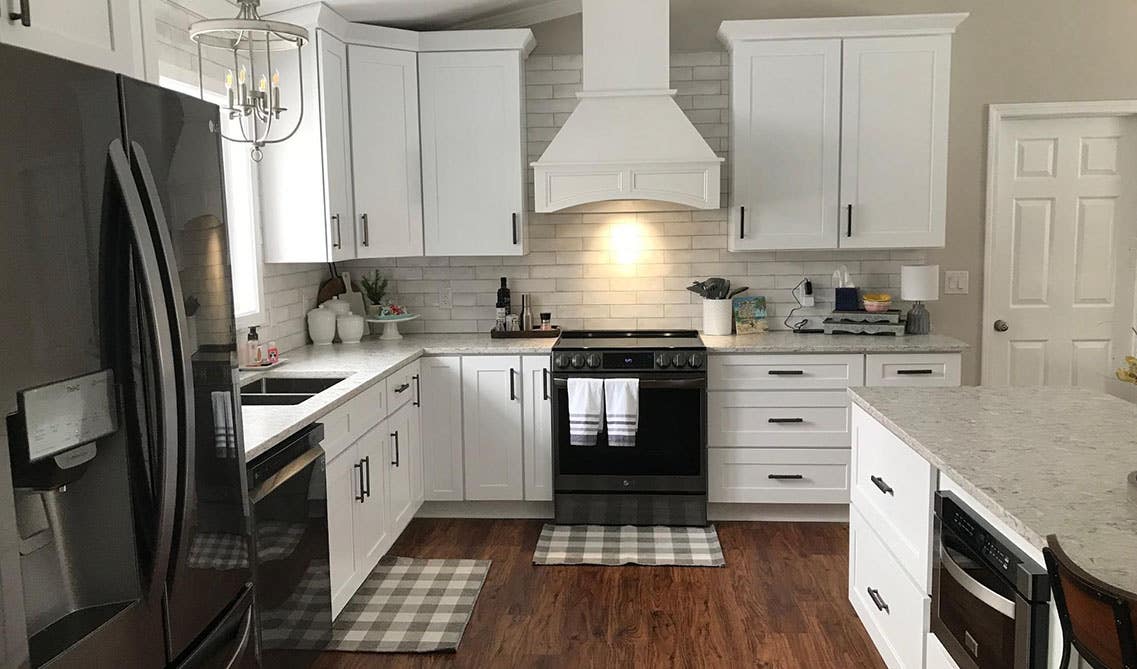 One of the most popular kitchen layout ideas and design layouts is the L-shaped kitchen. This versatile layout works well in both a large or small kitchen layout, offering plenty of storage and counter space. An L-shaped kitchen features two adjacent walls that form an L shape, providing ample storage and counter space for meal preparation.
Most L-shaped kitchens have cabinets along the entire length of both walls and usually feature a sink and refrigerator on one wall and a stove and oven on the other. With the right design, an L-shaped kitchen can offer plenty of room for entertaining, eating, and working.
4. The Island Kitchen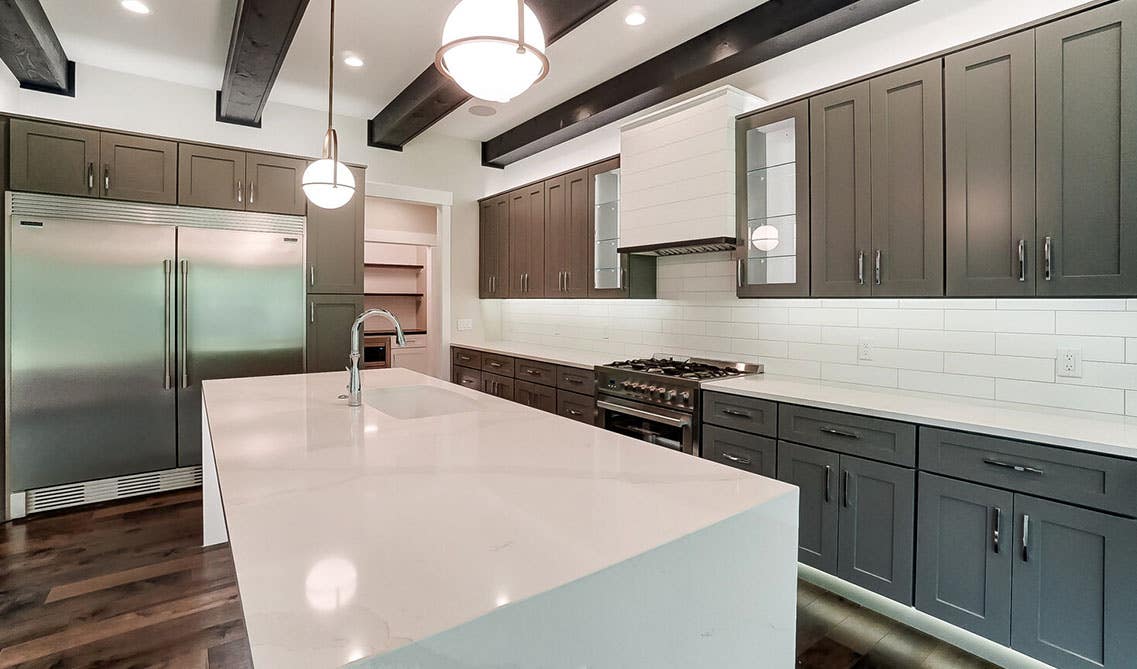 Popular kitchen design layouts also include the Island kitchen layout. This kitchen style includes a large island in the center of the room that is used for meal preparation and dining. The island kitchen can have cabinets, a stove, and even a sink built into the island for convenience. Other elements such as a dishwasher, oven, refrigerator, and microwave may also be included on the island for easy access and use.
With the island kitchen layout, you will have plenty of storage and open space for cooking and entertaining friends and family. Check out Lily Ann Cabinets free 3D Kitchen design tool to see how this look will look in your kitchen.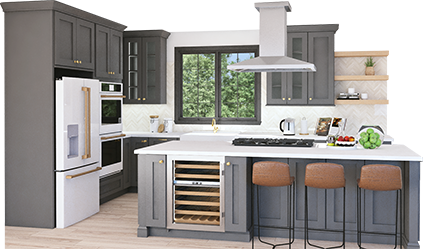 Get your FREE 3D kitchen design today!
Start Now
Checkout: What Type of Kitchen Island Fits Your Home?
5. The Peninsula Kitchen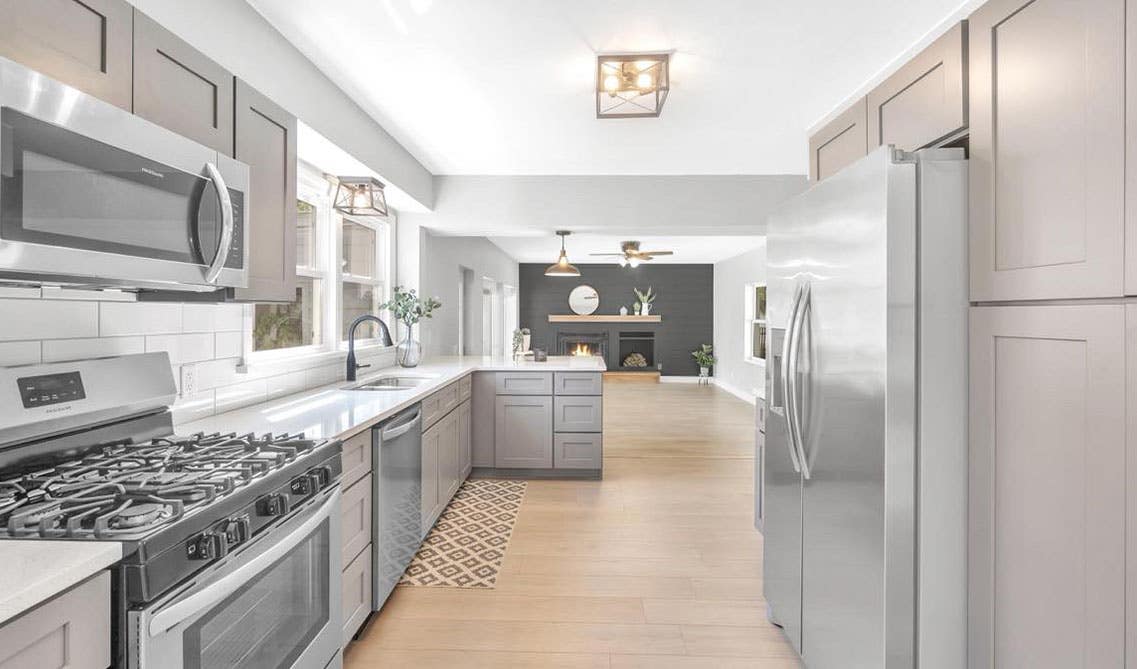 The Peninsula Kitchen design utilizes an island kitchen layout, but with a twist. The peninsula kitchen layout features a small island that protrudes out from the main counter space and is connected to the wall. This design makes the kitchen more versatile and allows for additional seating, storage, and prep space.
The addition of the peninsula also creates a natural barrier between the kitchen area and the living space, making it ideal for those who want to separate the two. This type of kitchen design is great for those who want to maximize their use of space while still having a stylish and functional kitchen.
6. The Reverse Galley Kitchen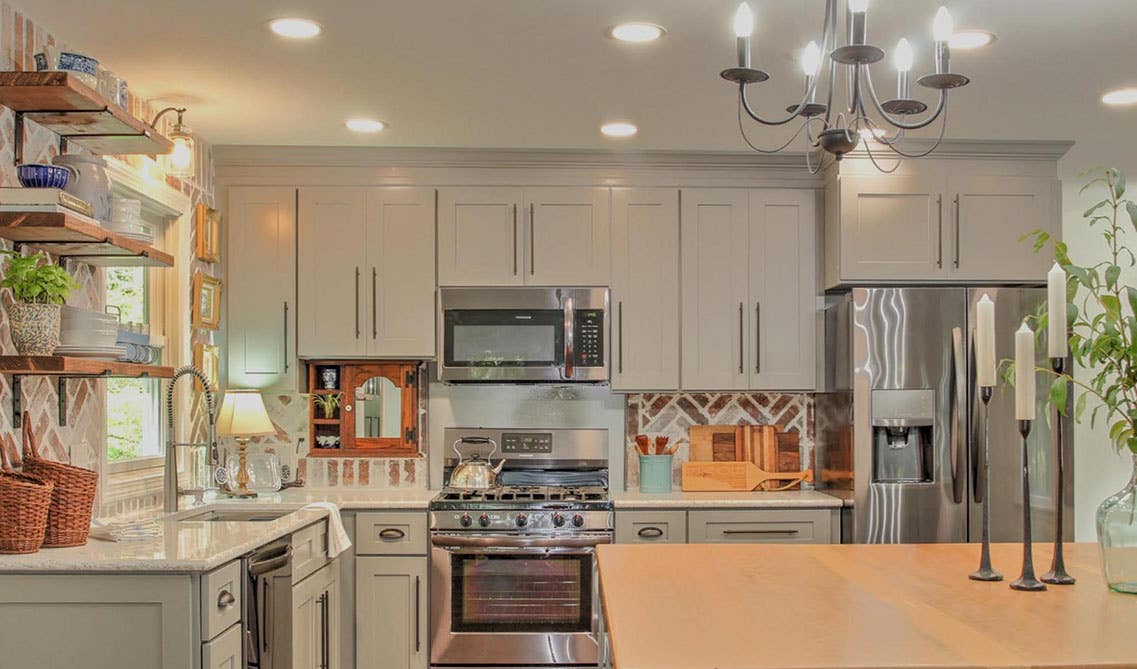 The Reverse Galley Kitchen is a unique kitchen design layout perfect for small kitchen spaces. It has a narrow, linear layout, with the stove, sink, and refrigerator arranged on one wall and the rest of the kitchen cabinets and counters on the opposite wall. Strategically arranging appliances in this kitchen layout will limit foot traffic and allow this space to accommodate multiple people at once.
For a truly modern take on this small kitchen layout, consider using minimalist cabinetry or glass-front cabinets for an eye-catching look. For a more traditional style, opt for classic shaker style cabinets and muted colors like whites, grays, and beiges. With its straightforward design and ample countertop space, you can enjoy preparing meals in your stylish Reverse Galley Kitchen.
Checkout: Small Kitchen Design Ideas To Make The Most Of Your Space
7. The Corner Sink Kitchen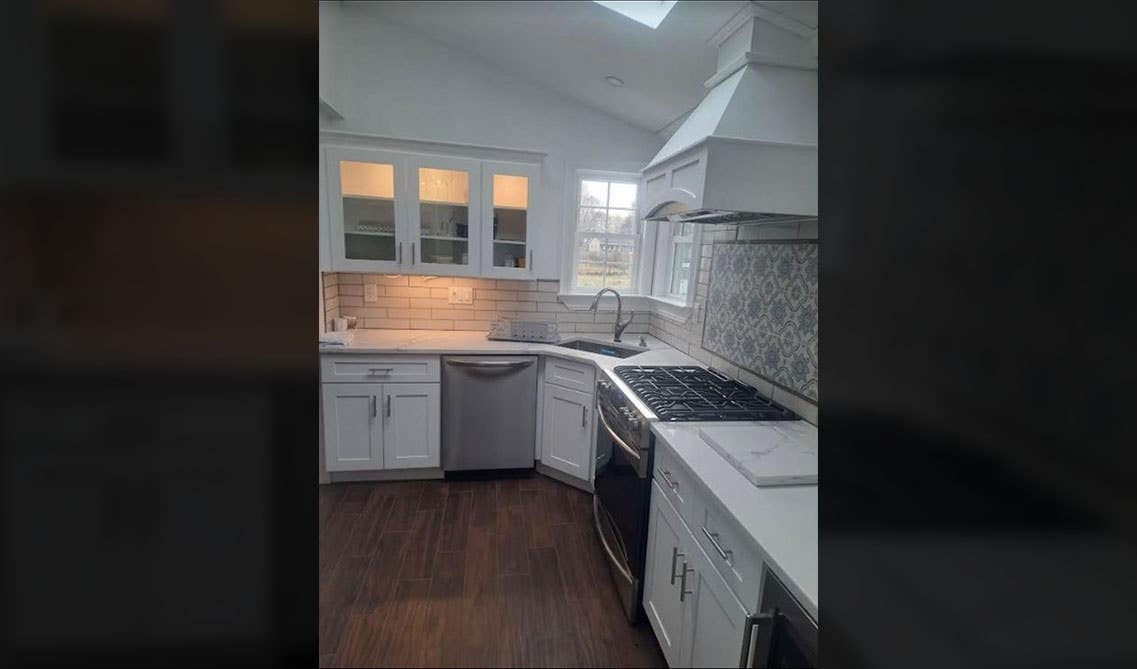 For a creative twist on the traditional kitchen layout, the corner sink kitchen is a popular choice. This kitchen cabinet layout consists of placing your sink in the corner of the room rather than in the center or along one wall. This particular design can be adapted to many different types of homes and kitchen styles, but some of its key features include a larger counter space that wraps around two walls and an extra-large corner sink.
Depending on your preferences and kitchen size, you can opt for a single sink or even a double sink setup in the corner. By utilizing the additional counter space, you can create additional storage solutions for food preparation and storage. You can also use the corner itself to store items such as dish towels, spices, and more.
checkout: 9 Clever Corner Kitchen Sink Ideas To Maximize Space

8. The U-Shape Kitchen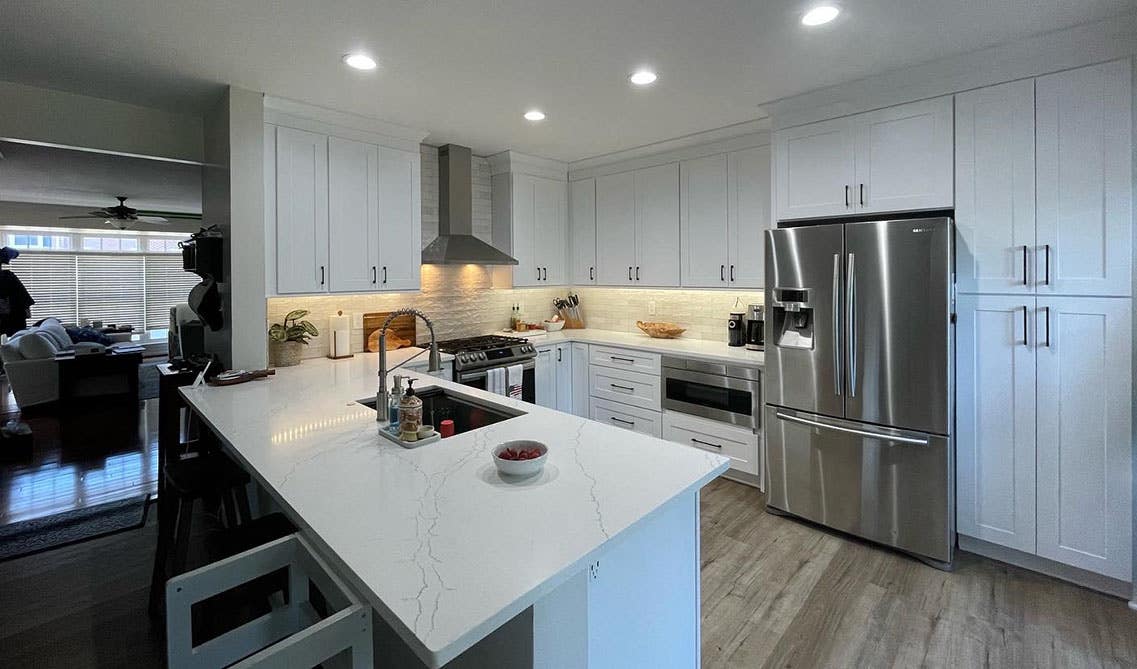 The U-Shape Kitchen is also one of the most popular kitchen layout ideas for homeowners who want to maximize their cooking and storage space. This kitchen design layout typically consists of three walls that are arranged in a "U" shape, allowing for ample counter and storage space along each wall. Because of its efficiency and versatility, the U-Shape kitchen is great for those who love to entertain or host large family gatherings.
In addition, this layout is ideal for keeping busy cooks organized since they can easily move from one station to the next without having to cross paths. With the right design and placement of cabinets, islands, and appliances, you can make this type of kitchen design layout look beautiful and functional.
9. The Banquette Kitchen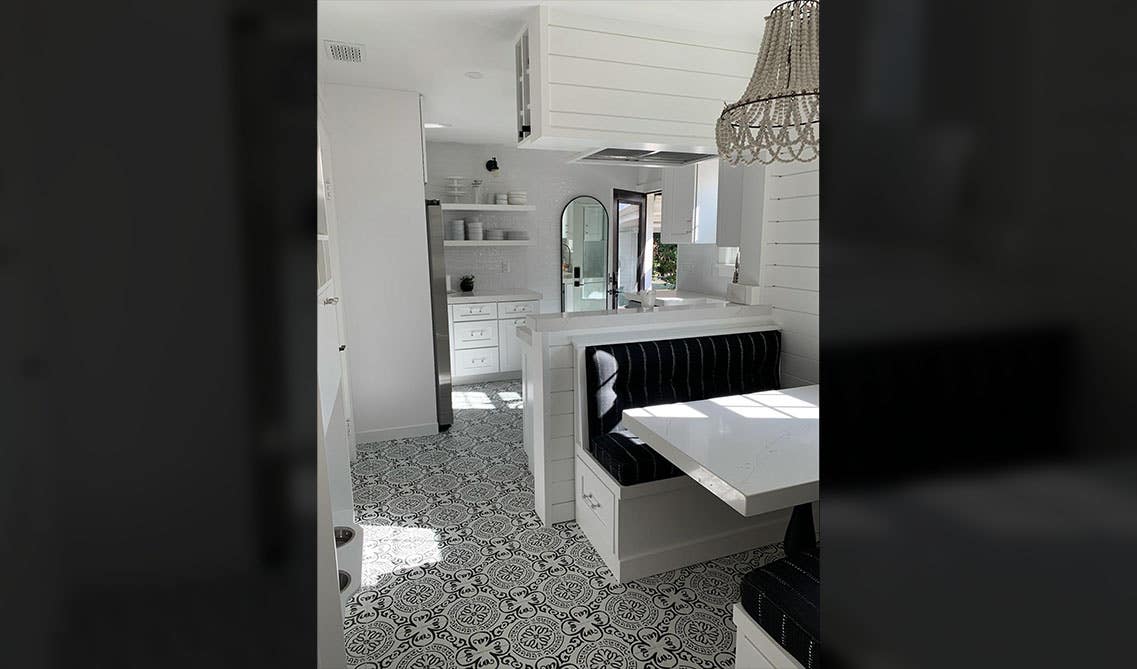 A banquette kitchen layout is a great way to make the most of an island kitchen layout. This style of kitchen layout features an island with a built-in bench seating area on one side. It's a great way to add extra seating while still leaving plenty of room for a kitchen island. The bench seating can also be used as additional storage space, making it a great option for a small kitchen layout. This type of kitchen layout is ideal for creating an intimate and cozy atmosphere, perfect for entertaining guests or family meals.
If you would like to test out this kitchen style, get a free virtual walkthrough and design from Lily Ann Cabinets to see how this layout will look in your space before you buy!
10. The Double Island Kitchen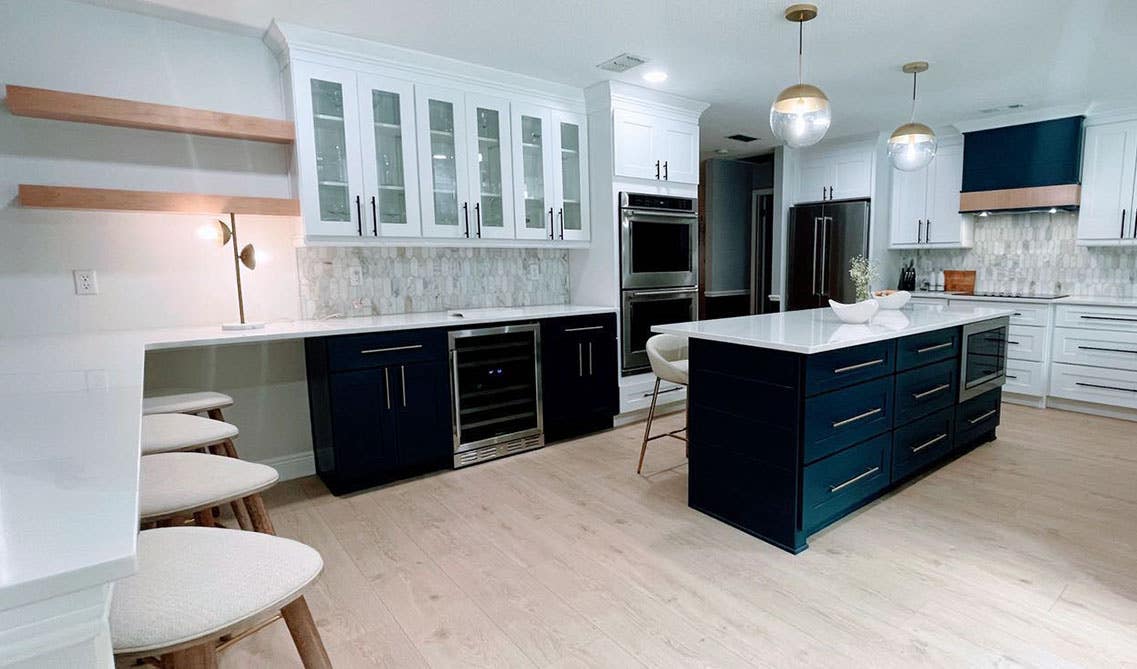 The double island kitchen is a luxurious kitchen cabinet layout that offers plenty of space and storage for even the most complex cooking and baking needs. In a double island kitchen, two islands are placed parallel to one another and connected by a large central walkway. This allows for easy movement from one side of the kitchen to the other. It also adds character to the space, as the two islands provide separation and definition in an otherwise open space.
The double island kitchen layout is ideal for those who want to maximize their kitchen's efficiency and storage potential. With two islands, there's ample countertop space for preparing food and lots of room for kitchen appliances like a double oven, refrigerator, and dishwasher.
11. The No Upper Cabinet Look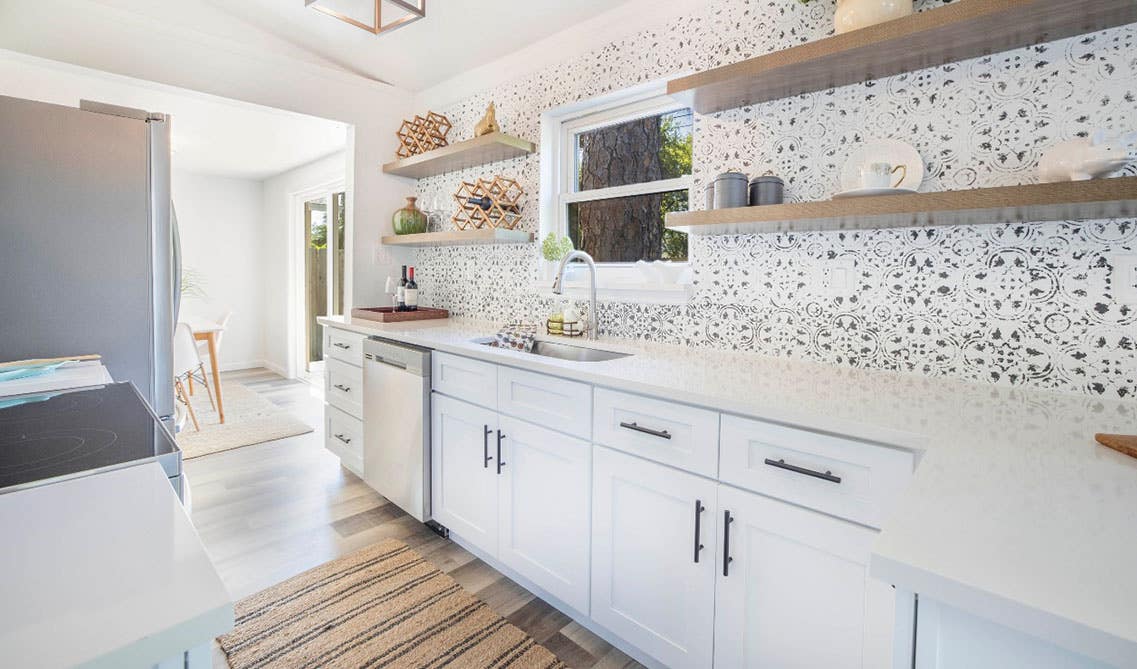 An up and coming kitchen cabinet layout design trend, is floating shelves. Matter of fact, floating shelves are even replacing upper cabinets! This style is great if you have decor and dishes you want to have on display. Just be sure you have plenty of storage in your lower cabinets for kitchen essentials such as pots and pans.
Checkout: 8 Stylish Floating Shelf Kitchen Ideas for Kitchen Storage

12.
Cabinets to the Ceiling
A popular way to make your kitchen look cohesive and luxurious is to take your cabinetry up to the ceiling. This look can be done with crown molding or stacker cabinets depending on the height of your ceiling. This kitchen cabinet layout also eliminates the hard to reach dust that accumulates on top of your cabinets. Get a free 3D design from our design professionals if you would like to see how your kitchen would look with the cabinetry going to the ceiling.
Checkout: 9 Ways to Update Your Kitchen Cabinets with 10-Foot Ceilings

13. Staggered Cabinets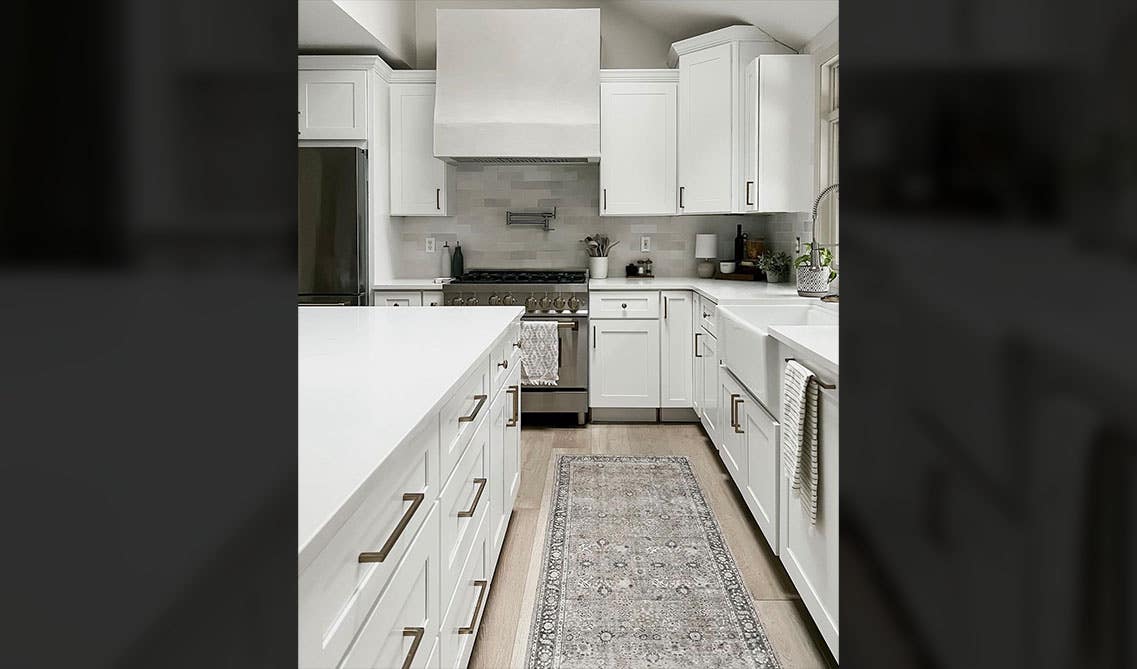 If you are looking to add dimension into your kitchen, think about staggering your cabinetry. The staggered look makes even a small kitchen layout look larger since it adds dimension and personality to your space!
14. Glass Cabinets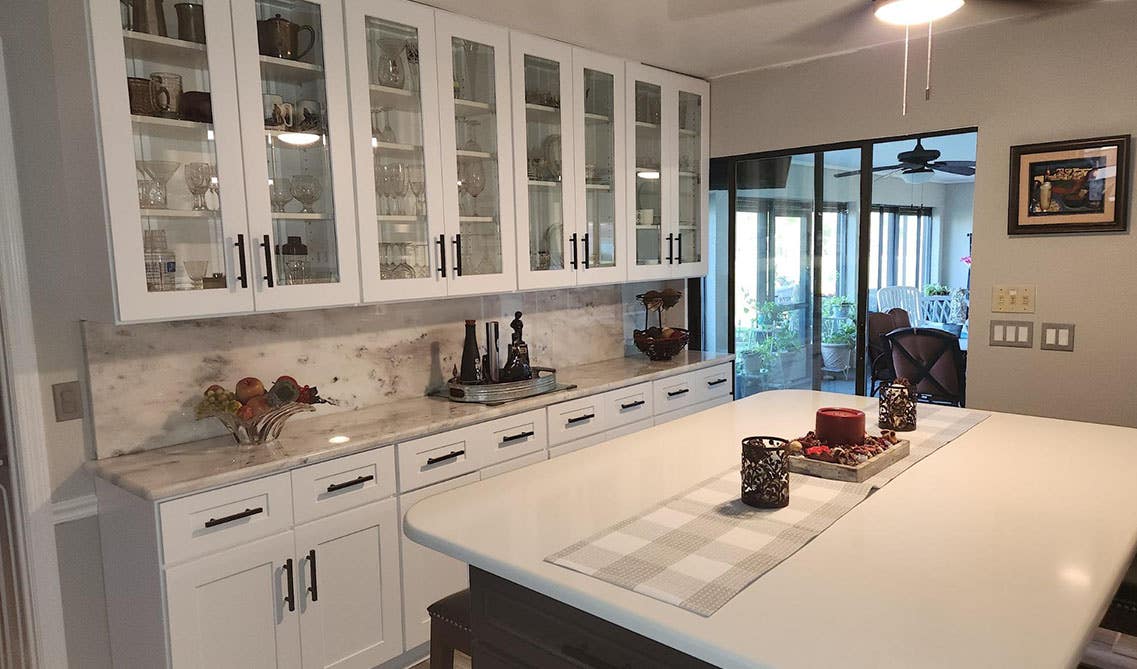 Do you have beautiful dishes, wine glasses, or decor you would like to display in your kitchen? Opt for glass cabinetry. Glass cabinetry is a great way to add elegance into your kitchen and show off your personal style. You can add as many glass cabinets into your kitchen design as you'd like, but our design professionals recommend adding at least one.
In conclusion, it can be hard to choose between the large selection of kitchen design layouts and find the best layout for you or even know what key factors to include in your layout. That is why Lily Ann Cabinets offers free 3D designs done by award winning designers. Allow our professionals to design your dream kitchen layout for you, and show you what designs will look the best for your space. Lily Ann Cabinets also offers free cabinet door samples so you can see the cabinetry in your own home before you purchase. Check out our deals we offer and get one step closer to your dream kitchen.
Related Blog:
Kitchen Layout Ideas: 7 Ways to Design your Dream Kitchen

FAQs
1. What are the most popular kitchen layouts?
Popular kitchen layouts include the one wall kitchen, galley kitchen, U-shaped kitchen, L-shaped kitchen, and island kitchen. By carefully considering your available space and desired features, you can determine which kitchen layout will be the best fit for your home.
2. What is a galley kitchen layout?
A galley kitchen layout is typically characterized by two parallel countertops that run the length of the room. Galley kitchens are commonly found in homes, apartments, and other dwellings where space is limited. The layout of this type of kitchen allows for efficient use of all available space by using kitchen cabinets, appliances, and other kitchen elements along either side of the room.
3. What is the best way to layout a kitchen?
Kitchen layouts are an important part of designing a functional and beautiful space. To create the perfect kitchen, carefully consider the size and shape of your room, the type of appliances you have, and how you want to use the kitchen. Once you have a general idea of what you need, you can begin exploring the many kitchen layout options available to find the one that best suits your needs.
4. Where should a refrigerator be placed in the kitchen?
Depending on the size and layout of your kitchen, your refrigerator can be placed in various locations. No matter what type of kitchen layout you have, it's important to carefully consider where you should place your refrigerator in order to maximize efficiency, avoid foot traffic, and keep your kitchen organized.