Name: Todd Altic
City: Nashville

COVID delivery problems and inability to deliver as promised, the finish quality of these cabinets is highly questionable. Unfortunately it takes just one bad cabinet, that sticks out like a sore thumb, to ruin the look of your new cabinets. The brittleness of the glass door cabinets in particular is unacceptable. Even replacement doors received has similar problems. Problem is once committed there is no way out but to live with it, especially off you are selling or flipping a project and have hard deadlines for your project, never again!!
Name: Nate L.
City: Nevada

Lisa has been great, while the Grey Shaker Elites were absolutely beautiful and couldn't have been easier to put together, the White Shaker Elite were a little tougher to construct. The important thing about my purchase is that any issue I ran into, the company made it right. They have been in contact with me since before I purchased the house all the way through to this week where I will be getting the countertops installed. The cabinets look beautiful and if I ever decide to purchase a house for remodel, I will use Lily Ann again.
Name: Paul Wynne/ MaryBeth White
City: Arvada

I would like to speak to the owner of the Lilly Ann Cabinets. I was transferred to his voicemail but apparently wrote the number down incorrectly. We have had a horrible experience so far and Lindsey the sales person for Colorado has been nothing but hard to deal with. She says she will call back and never does. It takes 2-3 calls/texts to even get her to respond. She is not truthful about what she says previous conversations were and that is why both Paul and I are on the line at the same time as she tries to play us against each other. Even to the point of today asking her if we did cancel how long it would take to get a refund and she then texts Paul saying I just want to confirm you want to cancel. That is not what was asked at all, just what the process would be. Please have the owner of Lily Ann Cabinets give us a call. We are very disappointed in the customer service that we have currently received.

We were told 2-3 weeks it was almost 5 weeks when we got our cabinets and not everything was right! And come to find out they had put our order under the persons name that referred us there. They makes no sense at all. We had to call so many times to get everything taken care of. Some of the items we returned and still have not gotten our refund! This company is horrible at customer service. We already put the cabinets up in the kitchen or else they would have been returned!
CP test please do not process
Name: will jendrisak
City: Stow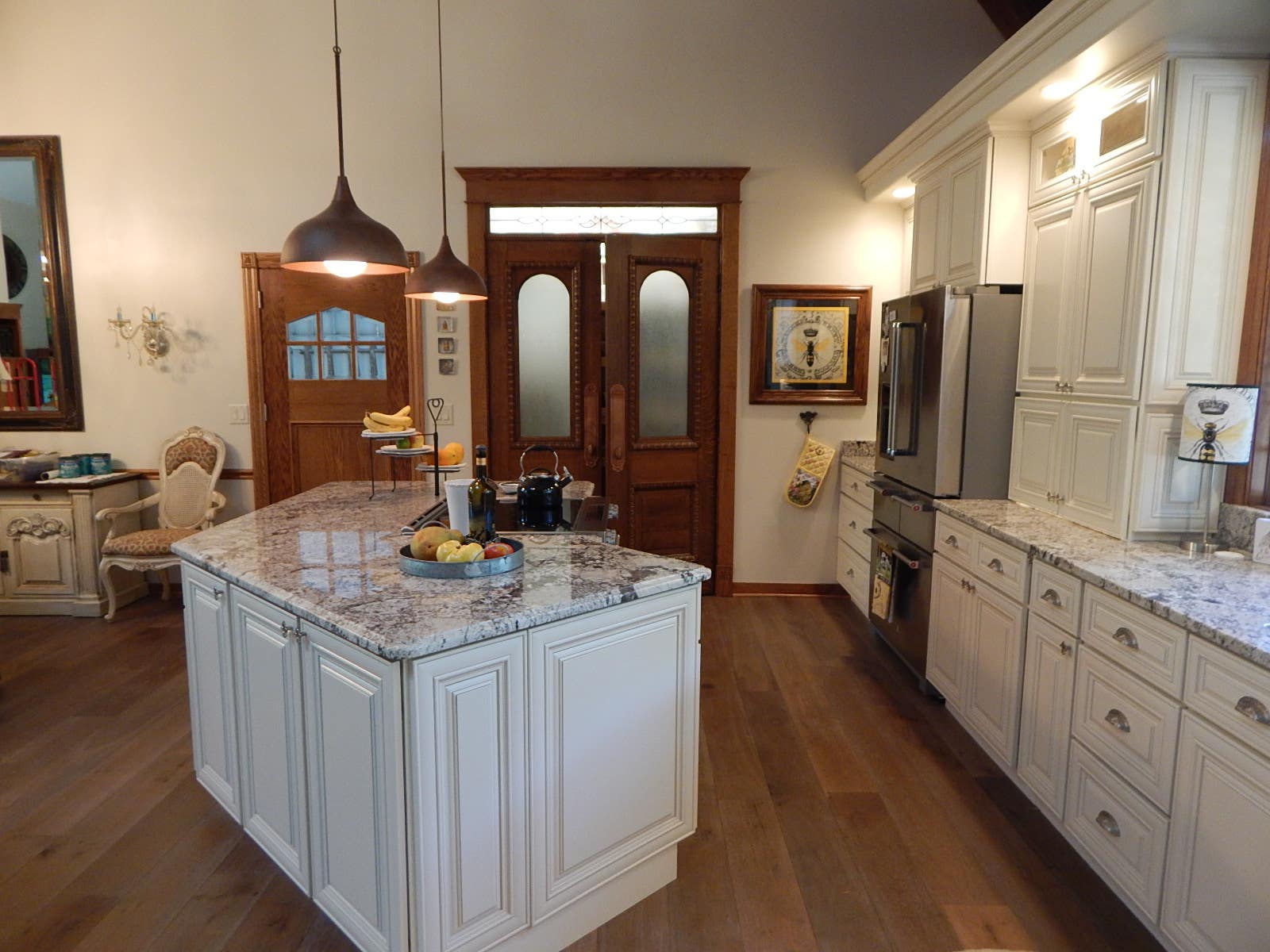 First time customer here, Can't say enough about Lily Ann Cabinets! I am a retired remodeling contractor and I wish I found them sooner. Great quality cabinets, great sales team, and great customer service, even through covid-19! Johnny, on the sales team and warehouse manager Nick are the best. Referrals are on the way... keep up the good work!
Name: Suzanne Llorca
City: Naples

Its been 33 working days and I still haven't received my order. I've been told every week its coming next week and every week nothing. Now I'm being asked to change from white shaker elite to Colorado white shaker in order to get my order faster, when I was supposed to get it between 14-21 days and like I said I'm on 33 days with no delivery date in site. Nothing but excuses. Extremely disorganized, the have no idea what they have in stock. When I ordered, only 1 item was on backorder until August 15th and everything else was supposed to be in stock. This is the worst company I have ever dealt with, and when I try to get a manager...i get voice-mail.
Name: Robert Aker
City: RENO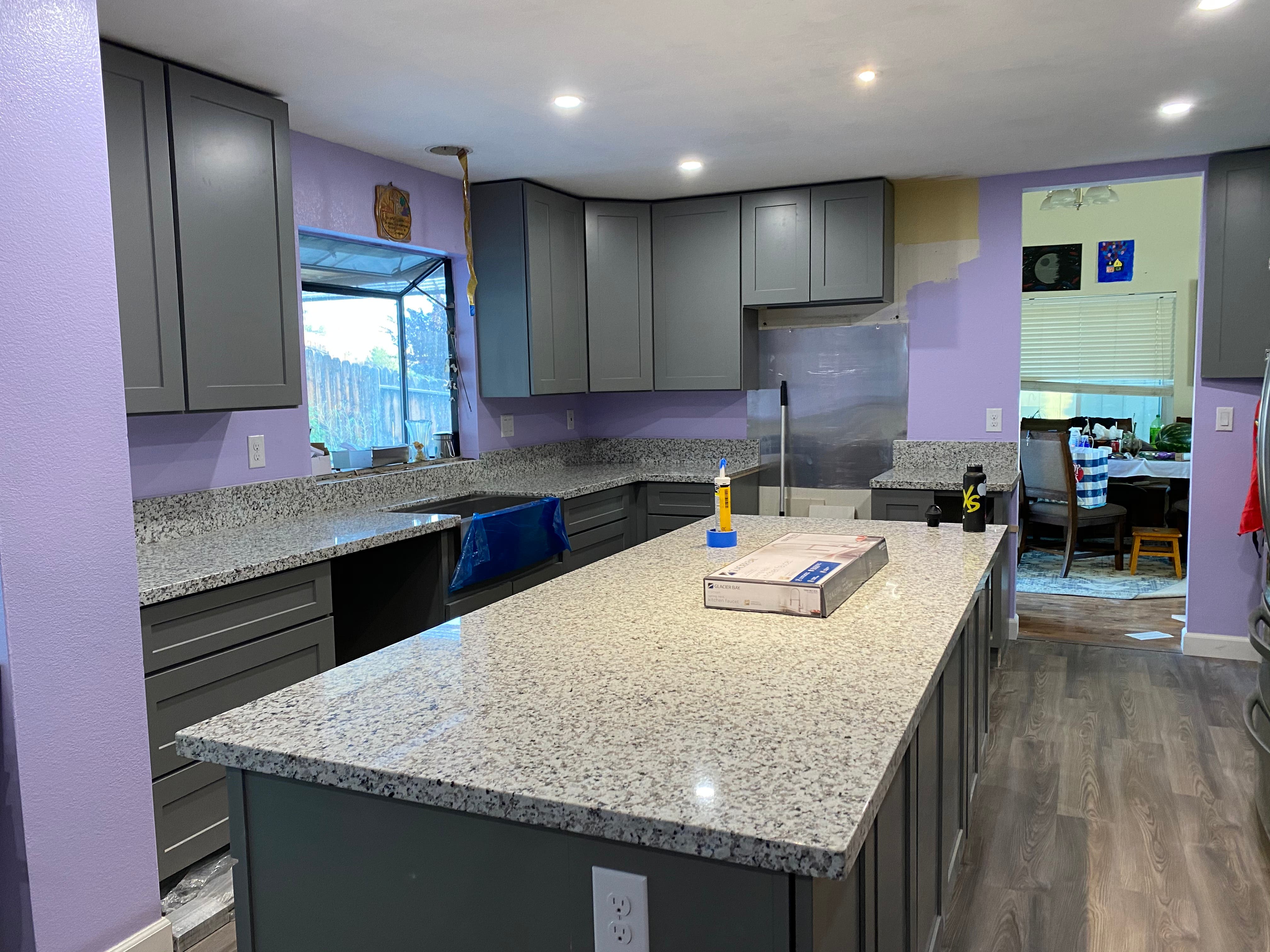 From start to finish, overall great experience. We ordered one wrong cabinet. When we reordered the correct size, Darryl gave us a discount and waived shipping charges. The cabinets are so beautiful and cost a third of what we were quoted from other companies. We also love the fact that we are able to finance the purchase interest free for 12 months. Putting the cabinets together was so easy, my daughter and her husband assembled all the cabinets in one day. We highly recommend Lily Ann Cabinets.
Name: Yogish Kumar
City: LARGO


Name: Cp test
City: michigan
Name: Allyn Steagall
City: Illinois

I would just like to take some of your time to thank you for making sure I got taken care of. I seem to have all my cabinets and all are complete. The funniest part of all this is my friend at work also ordered cabinets but he ordered his from the local Home Improvement store and is still waiting. He also ordered his around the same time. I was able to get mine in, built and then had some miss-haps and still beat his time. I have spoken of your cabinet quality, lead time and also your customer service. I cannot stress how happy I am with saving money and how easy it was to build the cabinets .
Name: Robert Willette
City: Racine

I was pleased in every way in regards to dealing with Lily Ann, from design to delivery. Cabinets are very easy to install and shipping was extremely fast (in my opinion). I will definitely use / recommend Lily Ann cabinets in the future.
Name: Baron and Paula Kuehlewind
City: Clarence Center

The kitchen is almost done (Ill send you before and after pics when its complete) and it turned out awesome. The quality of the cabinets exceeded our expectations by a mile. The speed of delivery was very impressive and the communication / interaction we had with Lilly Cabinets Donna and Chuck was excellent and I'd recommend you guys to anyone. Thank you again for your help with this project. Thank You
Name: Daniel M
City: AUBURN HILLS

I am thankfully for the help I got from Don Klein in choosing the vanities for our bathrooms.
Name: Denise Deane
City: Nassau

I was not sure about ordering the cabinets, but after I got my samples so fast, I decided that I would go ahead and purchase. It was a wonderful experience and Johnny made the experience so easy, he was always there or had a quick response, very nice to work with, great suggestions and because of him there was no turning back. Thanks again and I will always recommend you guys.
Name: Gerry Vargas
City: Freedom

My overall experience with Lily Ann Cabinets has been great! Johnny Kuntz help me with design. He has been very helpful whenever I had a question. My wife changed her mind several different time in our design and Johnny and the Lily Ann staff were very patient. They took care of any concerns and issues that we had. The cabinets are top notch! I purchase the Charleston Saddle and Charleston Antiqued white. Even the lazy suzan is soft close. I would definitely recommend Lily Ann Cabinets, and Johnny Kuntz! Thank you!
Name: Kathleen Grimes
City: Ypsilanti

We cannot believe how absolutely beautiful the Charleston Saddle cabinets are! We looked everywhere, including Lowe's, and the quality and value of LilyAnn cabinets is head and shoulders above anything else we saw. Of equal (or even greater value) was our design specialist, Hans Henoch, who went far above and beyond to help us every step of the way. With his years of experience in cabinetry installation and design, there is NO way we could have done it without his knowledgeable guidance. We were not easy customers, we had a few roadblocks along the way and had a MILLION questions. He answered every question promptly and courteously. He helped us to navigate every step of the way--from design and ordering, to installation, we felt very well taken care of. We are grateful and will enthusiastically recommend Hans and LilyAnn cabinets to anyone who is looking to remodel their kitchen.
Name: Mike Pine
City: Carmel

We just finished installing our Shaker Cinnamon Lily Ann cabinets for our kitchen and also the two bathrooms and they look great. You can not beat the price and quality. JohnnyK, our salesman was very helpful getting started. I have to admit the first couple of cabinets took a little more time assembling, but after I got the hang of it, it went really fast. Shipping was a surprise on how fast we received them. They were very well packed and the order was complete. Thanks LilyAnn Cabinets.
Name: Richard Phelps
City: Bloomfield

Fast shipping,easy assembly .Would buy lilyann cabinets again.a++++
Name: carl lane
City: st. louis

We recently purchased the Charleston Antique White for the upper cabinets. Don Klein was very helpful in the ordering process. The initial order arrived very quickly and the delivery service was excellent. All cabinets were packed very well and were received undamaged. Only issue was one cabinet was not correct, but Lily Cabinets sent a replacement immediately via UPS. Due to the excellent packaging be prepared for a lot of time to unpack and dispose of the cardboard. Assembly of the cabinets was quite straightforward and fairly simple. Only negative comment is that the instructions for assembly of a corner cabinet left something to be desired and I had to figure it out. The cabinets are cut to very close tolerances so be sure the pieces are flush to the base; if they are not, you have done something wrong. I had one more issue that was the fault of my wall. The space shrunk by one-half inch between my order and installation.. Consequently, I had to replace a 30 inch cabinet with a 27 inch and needed a filler. The 30 inch will now go into the laundry room. Again Lily sent me the needed pieces very quickly. I would recommend these cabinets to anyone seeking a fine product at a reasonable price. They look great installed and we have received many compliments. Would not hesitate to order from Lily Cabinets again.
Name: john pace
City: portage

happy with the end result. Great value
Name: Tom Mule
City: angola

I gotta say, I'm very impressed with the quality of these cabinets especially for the price, it was a pleasure from start to finish, I flip houses for a living and will be using your cabinets from now on. Customer service was phenomenal, and even the delivery company was a pleasure to work with. I can't wait to put together that base cabinets tommorow after seeing what the uppers look like today. Thank you again, I look forward to doing business with you again.
Name: Dion Bocage
City: Fairburn

I searched the Internet thoroughly and I could not find the style, quality, value and price that fit my desire until I found Lilyann Cabinets. This is not an old review today is the 24th of March 2014 (03/24/2014) the best choice you can make is Lilyann C
Name: Sydney Allen
City: Dallas

This is the second time we've remodeled a kitchen. The first time we ordered cabinetry/used design pro from a well-known retailer/home improvement store. We planned to go back again...until we found Lilly Ann. We were most intrigued by the quick turn in s
Name: Steve Feldner
City: Minneapolis

I purchased about a year and a half ago and at that time, I used your old website. I just made a little purchase and I wanted to say that your new website is fantastic. It is very easy to use, it's quick and easy to navigate to the section you need and
Name: Amanda Fitzgerald
City: Mount Carmel
Overall, I would highly recommend Lily Ann Cabinets to anyone thinking about doing a remodel. The quality for the price is unbeatable. The finished product looks fantastic and very high end. I will continue to use Lily Ann Cabinets and the customer servic
Name: Steve S
City: Ocala

Solid and easy to assemble. Very well finished and gorgeous in our newly remodeled bathroom. Contractor was so impressed he is going to use LiliAnn for his other jobs as a supplier. Considering re-doing our kitchen with more cabinets from LilyAnn. Great c
Name: Elbert J. Thornhill
City: Glen Arm

The cabinets are of superior quality and the people you deal with are the greatest. Very easy to assemble install. I had one problem that was taken care of by Bill Decker III in very short order. I would recommend this company to anyone and have!!!
Name: Jeff and Terra Poole
City: Saint Paul's

We tore out our kitchen down to the dirt and rebuilt two exterior walls so this ole' house can stand another 100 years, and these cabinets look great and are sturdy enough to last that long too!
Name: Matthew Sweet
City: Kalamazoo

Name: Chris Penny
City: Rock Hill

I would like to say thank you so much to Chuck and the rest of the team at lillyanne cabinets. My experience was great and my kitchen cabinets look wonderful. They where easier than I thought to put together and I get people asking where I got my cabinets
Name: Barbara Long
City: West Chester

I highly recommend Lily Ann Cabinets. Cabinets are of good solid construction.
Name: John M Gallardo
City: San Clemente

Name: Angie
City: Baltimore

We sometimes make mistakes in our selection, it would be nice to be able to delete/remove these items from quotes ourselves if it be possible - just a suggestion.
Name: Bob McClung
City: Baltimore

First let me say that I'm 78 years old. That said, I was able to assemble these cabinets and complete the installation. The finished product looks far more expensive than they actually cost. These are a premium product. Everyone that has seen them can't b
Name: Brenda Ternes
City: Wichita

I am very happy. Even with the initial communication issues, i love my new cabinets. I will be very happy for a long time. I am glad I found you online. I only wish my kitchen space is bigger so I could have ordered more.
Name: Dana Perreault
City: Seattle

I had a great experience with Lily Ann Cabinets and have urged many of our friends who are looking to upgrade to go with them as well. You just can't beat the quality of cabinet you get for the price. This price allowed us to look at going with all of the
I received all of my cabinets in less than two weeks. The delivery crew carried the cabinets directly into my garage for me. All of the cabinets were in excellent condition and none of cabinets were missing any parts. Assembly went well and the instruction bideos on you tube were a great tool when putting together a couple of the cabinets. I installed the cabinets and they look great. I would recommend these cabinets to anyone who is looking to save some money and is willing to deal with the assembly process. I read some bad reviews prior to purchase, but decided to it then anyway. I have absolutely nothing negative to say about these cabinets. I am a woodworker and a furniture builder and I was very pleased with the quality of the cabinets, especially the doors. The soft close hinges and drawer glides are a great addition and add a level of sophistication to the cabinets. I wish they would have provided a free touch up paint/stain kit. Overall a great purchase. Don't believe any of the negative feedback others have left. I highly recommend Lilly Ann to anyone looking to upgrade their kitchen.

Review by

Jason A

Thank you Carla for your help with the delivery and answering questions I had. All is well, and I am very pleased with the entire process. Lily Ann Cabinets has made another happy customer, and I will buy with again. The cabinets are very well constructed, and will hold up to many years of service. I am impressed with the finish and fit of all the cabinets we ordered. Anyone with reservations about the quality of these cabinets, need not be concerned, they are well made. I am also happy with the soft close features on the doors and drawers. Thanks again for a great experience.

Review by

Rick Sparks

Fantastic response...we just received the missing drawer! Thank you so much, this is an excellent company love everything about Lilly Ann cabinets and having you as our Sales and Design specialist, Chuck. You are really pleasant to work with, you excel in professionalism and you have a very positive and upbeat outlook. A pleasure doing business with you!

We have all the cabinets assembled and have been showing them to the neighbors. One neighbor is so interested he will be ordering a couple samples soon. Then probably place an order. His name is Ray Tafelski.

Everything was here, nothing was broken or cut wrong or warped or a problem. It all went together so smoothly. We will be installing them in a week. I am working on Faux painting the walls in the areas that had the old cabinets and the lighting. Since we are going up 6 inches...etc etc. So the project is coming together and we are so pleased.

Thank you for taking care of the missing drawer! First class service all the way, Chuck!

Review by

Sue Frantzen

I wanted to take the time to let you know about my extremely pleasant experience working with Mr. Bennett over the last two days. He has helped me with placing the order for my new kitchen cabinets. From the moment he took my call yesterday, he handled everything with the utmost efficiency and professionalism. He took my very rough draft with the dimensions of my kitchen and the current layout and drafted a beautiful design of the cabinets and all the special accessories I wanted. He was able to advise me on the additional pieces I would need (toe kicks, moldings, etc.) and developed an actual virtual picture of what my new kitchen will look like with the cabinets I was ordering. This so helped me to be able to visualize what my kitchen addition would look like. Every single thing he did was handled quickly and seamlessly. I couldn't have had any better experience with the help and placement of my order. If the processing of this order and the delivery of these items proceed in this same manner, I will be one happy homemaker!!!
Review by

Kathy Downs

I would like to say thank you so much to Chuck and the rest of the team at lillyanne cabinets. My experience was great and my kitchen cabinets look wonderful. They where easier than I thought to put together and I get people asking where I got my cabinets all the time. The quality is better than most cabinets you buy pre assembled even my father was amazed at the high quality. He said he wished he has known about you when he did his kitchen. Cant wait to find more projects to do so I can get more of your amazing products.
Review by

Chris Penny

I just want you to know that working with your company ( Family ) is an absolute pleasure. Bill represents y'all in a polite professional manner. The expression "Good Stock" comes to mind. The service – attention & politeness are wonderful.
Review by

Tom Marley

Vanity arrived super quickly, my adult daughter assembled it and it's in the remolded bathroom.
I was impressed by the quality of the materials that you use as well as the construction techniques, dovetails, etc. While the cost to ship was a surprise, the cabinet was so much better than those we saw at our local big box store.
Review by

Dan Rosencrance

My contractor is eager to finish the job; I am eager to move in to my new kitchen.
By the way, he gives a "thumbs up" to your cabinetry. He has been a carpenter for some 50 years now. He has previously handmade custom cabinets in my parents' house. These LilyAnn cabinets, he says, are good construction, easy to assemble and fits squarely with no problems.Price is unbeatable! - especially with the fantastic soft close hinges & slides.The finish is very nice & shows as advertised.
Review by

Betty

There were a couple of issues in getting this resolved but you made sure that I understood the process and new what was happening next. You, very promptly, answered any questions I had and made sure that I was kept "in the loop" on what was going on. My wife and I were a little disappointed when the cabinets showed up with some parts that were damaged. We were not sure we would recommend you to anybody. After the customer service that you gave us, I have told anyone and everyone that would listen how great the cabinets and customer service is. Thank you very much.
Review by

Lee H

Order and installed the Arlington White kitchen cabinets in my fathers bay house following Hurricane Ike. The previous cabinets were probably damaged when the entire house was carried away by 10 foot tidal surge. Delivery was prompt. We assembled, leveled, squared , and installed the cabinets in the new "owner built" home and they look great. Didn't hire a pro....we did it ourselves. Cabinets are solid and we will enjoy them for years to come. Customer service is second to none. Response to questions is immediate. Thank You Amy (Cust. Serv.). You rock.
Review by

Jeff N

Thanks so much. I cant tell you how happy we are with these cabinets. The quality is amazing and putting them together was much easier then I expected. We were recently at a big box store looking at counter tops and there was a lady there getting help with picking out cabinets. I wanted so bad to tell her about you guys before she made her purchase. Anyway, thanks again and you will be getting good word of mouth from us.
Review by

Johnson Mark

I'm a pretty handy guy and I like to do woodworking projects as a hobby. I considered building my own kitchen cabinets and I knew that being a fussy person would be an advantage and I would be able to make great cabinets. However, when I started to assess the amount of work involved, I decided that it would be much too large of a project so, I went looking for cabinets to purchase. I looked at local Big Box stores and everywhere on-line and I quickly realized that being fussy was also a real disadvantage when trying to find cabinets that had the quality I needed. Most cabinets I found were real junk and might have looked good as long as you didn't use them! However, when I finally came across Lily Ann Cabinets, I was delighted to find their products were just the level of high quality I needed! The construction was sound, not all staples or dried-out glue joints, the many finishes and styles were beautiful, and the dozens of shapes, depths, and heights made any design possible. But I had a problem... This was my first time working with cabinets of any kind and I was so clueless that I even had to look up "RTA", because I didn't know what it meant?!?! It turned out that I had nothing to fear because Bill came to my rescue and explained every detail, showed me some design possibilities, drew up lots of plans, and created 3-D renderings of what each setup would look like, in MY kitchen! Before long, I was an "RTA" cabinet expert and, with Bill's help, I sketched a kitchen layout, which he drafted, that made my wife's eyes glaze over in delight! After that, Bill put together the quote, making sure I had all the important "little pieces" that weren't obvious - spacers, moldings, toe-kicks - just everything! We paid for the order - without sales tax and with free shipping via truck freight - and in a little while, we had tracking numbers! The wait wasn't long, half the quoted time, and our cabinets were delivered right to our door. I won't kid you, it takes a while to put these cabinets together and they're heavy, but I could immediately see it was because of the level of quality and sturdiness. All the units came with detailed instructions and if that wasn't enough, there were step-by-step instructional videos on-line for each cabinet type. After the first two, my wife took over the assembly (it was just that easy) and I hung them. Now we stand back and look at our project and we can't, fricken, believe that we did it - just the two of us! Next, the bathroom and then my workshop and I'm not going to hesitate to go right back to Lily Ann Cabinets!
Review by

Steve Feldner

We finally completed our lower level project and as promised I submitted review with 2 photos. We built a new home several years ago and didn't have the lower level totally completed by the contractor because my husband wanted to finish the rec. room himself. At first, he was going to build the cabinetry, but we decided to look at other options! All the cabinetry in the rest of the house was custom built. We wanted to simulate the look and quality in the lower level that we have in the main areas of the house. Lily Ann Cabinets fit the bill! I'm attaching several other photos in this email to show more than the 2 photos I was able to attach in the review. Plus, I've added one photo of our kitchen cabinets to show how close we were able to "match-up" the lower level cabinetry to our upper level kitchen!
Review by

Sue W

I like your product and I like how you handled the issues. I will be back soon with another order. Thanks again!
Review by

Steve

I thank you once again for helping me out with the kitchen cabinets ! there was just one cabinet not in perfect condition but my husband took care of it, so all cabinets are in place now
Review by

Camelia

The cabinets exceeded my expectations, they look fabulous! Your installers are really good too. THANKS!
Review by

Lenny

I got the cabinets I ordered from you guys yesterday which was Tuesday. I put a couple of the wall cabinets together to see how they look. I believe there gonna be just what I was looking for. So far I like the quality.
Review by

David

BTW, the drawer bases are SUPER! I was suprised at the quality of these.s
Review by

Arnie

Thank you for everything!!!!
Review by

Angela

Cabinets are great I am very glad to purchase from your company.
Review by

John

I justed wanted to let you know how pleased we are with our cabinets! I give praises to the installer. He did an excellent job, paid attention to details, was fabulous! I can't say enough about him! He was very friendly, professional and did a great job. We will definitely recommend your company to anyone we know, and will use you in the future.
Review by

Amy

Thank you so much Bill, not only have you provided us with a great product but great customer service as well. We have already told others about your company based on the quality of the product alone and now with added great customer service you can ensure that we will do what we can to continue to pass word of your company to others and will defintley keep you in mind for all our cabinetry needs.
Review by

Nick

I like dealing with you... You are the first to send me exactly what I need to keep my customer inform and to complete my paper work for border crossing. Before I had to call for this stuff.
Review by

Stephane

I received the shipment by the end of last month and started to assemble the Cabinets last weekend, I found there is a hardware package missing from a box of B18L, That is the one contains all the "L" bracket, screws and 4 plastic corner braces. Please can you sent the replacement. All the cabinets looks great and ready to put to use except this Base cabinet that waiting for the hareware to be put together. I can not be any happier for all these great cabinets in such a bargin price and they are very easy putting together. I definately will recommend your company to any one in the future. Thank you very much for your earlier attention!
Review by

King W

Thank you so much!!! You are the best!!! From now on you're my only kitchen supplier
Review by

Aleksandr

Wow, they are already in Kalamazoo and scheduled to be dropped off Monday. That was so fast! I'm very impressed!
Review by

Lesa

I just got around to putting the cabinets together this weekend, and they are awesome! I can't believe how good the quality is.
Review by

Scott

I am sending you a picture… very pleased with the result. Want to thank you for sending on the replacements… Thanks again, for all of your patient help. You were very professional throughout the process.
Review by

Bern

The cabinets are mostly up and they look great! We will definitely be ordering from you again for the next house we renovate - I found the process (with your help) very easy, the delivery was speedy and the quality is great.
Review by

Samia

I ordered cabinets back around the first of the year (2010). All pieces were in the packages and all items arrived as ordered. I was pleased with the product and I will recommend and continue to buy Lily Ann Cabinets.
Review by

Fred

I've gotten many complements on the cabinets, they went together easily and look great.
Review by

Dave

I received my order yesterday afternoon. Once again, I'm very impressed by the quality of the cabinets, timeliness of the delivery, and excellence in customer service. Great job.
Review by

Josh

Order has been placed and received. The cabinets look great and I will be sure to recommend you in the future.
Review by

Sue

Thank you for the great customer service
Review by

James

The lazy susan is together and Im a satisfied customer.
Review by

Eugene

Cabinets arrived today...not bad 6 days after ordering they arrive!
Review by

Alex

I just wanted to write you a note to tell you what a wonderful job Mike Sinay and his crew did on our kitchen cabinets. We purchased an older home 3 wks prior to our wedding date, and needed to make an entire kitchen renovation to prepare for a Home ceremony. Understanding our timeline, Mike and crew were courteous, professional worked many late evenings to get the job done right and on time. I understand Mike even worked late on a Friday night off the clock to install some frosted glass on the cabinet doors. As you can see from the picture attached, they did a great job. Everyone loved the kitchen. Mike is a great asset to your company and I would recommend his work and products anytime.
Review by

Long

I love my cabinets and I am so excited about my kitchen
Review by

Lisa

It was a great pleasure talking to you on the phone earlier today. I feel privileged communicating directly to the owner/CEO of the Kitchen Cabinet company. I wish there were many more dedicated owner/CEO of companies like yourself in this world. It would make this world a better place to live and enjoy this planet we call mother earth.
Review by

Ashwin

Thanks for all of your help. You've definitely made the cabinet shopping process a whole lot easier, especially since I purchasing them remotely (i.e. no showroom) and the fact that it is a bigger money purchase compared to my typical online transactions. I really appreciate it.
Review by

Will

I ordered a new Kitchen last year, which I love!
Review by

Crystal

Thanks for the service. It's obvious that your a pro.
Review by

Karis

Thank you and everyone involved in helping me. The cabinets look great! Hopefully you'll be getting additional business as people have asked me where they came from and how to get some ideas on new cabinets
Review by

Brady

Thanks! Kitchen is great, I am sending a good recommendation to other people, you should have a few of them on in the near future. I will send you a picture of the finished product, thanks again for the help.
Review by

Janusz

They had so much wasted space in the old kitchen and now I have a wonderful new kitchen WITH a wonderfully large pantry attached!!!!
Review by

Miranda

Jonathan, Laura and I ordered Lilly Ann cabinets a couple of months ago, I just wanted to send you some pictures. I also wanted to let you know that the quality of these cabinets is outstanding, everyone that watched us put them together could not believe that these were knock down cabinets. If you look at the island you will see that the base molding is on the outside to make the island look like a piece of furniture. Your suggestion about the base molding was outstanding. These cabinets look to anyone to be top of the line cabinets. I can not tell you how happy we are with these cabinets. The dovetail pull-out shelves are top of the line. We were short a few panels to cover the ends of the base cabinets which I will be ordering soon. Please feel free to us this email for a sample of happy customers. Thanks again for all your help in the design of the kitchen, it is beautiful. you should be commended for your excellent customer service.
Review by

Tom D

Jeff, First let me say that I truely appreciate all the effort and work you have done for us this past week, and you taking the job of designing the new print and coming over to measure and discuss the changes will always be remembered by the both of us. Your professionalism, and dedication to your work makes this even more appreciated. Just know you will always be a true friend, and will always be appreciated for what you have done for us. Once again Thanks....
Review by

Jim

Jeff, Thank you for all of your hard work and professionalism. The cabinets look very nice.
Review by

Victor

I tell everyone about Lily Ann and of the quality and low prices. I will also be ordering additional Cabinets soon.
Review by

Nick

I thought I would let you and Lillyanne Cabinets know that our kitchen looks great with the new cabinets. It's really coming together nice. I would also like to thank you [Marci], Angie and Bill (Sr and Jr) for the great service and all of your help.
Review by

Donna & Mark

Thank you so much Angie. It has been a pleasure dealing with your company.
Review by

Ron

I just wanted to let you know that I finally got the cabinets yesterday due to the snowstorm. They are beautiful and my brother is putting them together as we speak. I was really nervous about ordering them online and especially since I found you guys and not my brother, so thanks again for all of your patience and help! I will be sure to recommend you guys to friends and family.
Review by

Shelly

Great Job on the Cabinet & Granite install !!! Bub we appreciated you staying till 12 midnight to finish the job correctly. You took your time and did the job right, the wood working and miter cuts were done perfect !!
Review by

Joe

Thanks for your help. We have assembled 2 of the cabinets. They are easy to assemble and look great.
Review by

Jim

The cabinets went together great and look spectacular! I really appreciate you guys and your products!
Review by

Mark

I can't believe how superb the crown molding makes the cabinets look...I absolutely LOVE them!!!! I can't help walking into the kitchen to just look at them...hehe. When they are finished I will send you several pics of them from different angles. While Dave is doing the crown molding, I am staining around the windows FINALLY! It is finally starting to come together and I couldn't be more happy! I just wish there was a way that more people would find out about these cabinets. The only way I did was searching the Internet but not one person who has come over to my house has left without commenting on how great they look and always asks me where I got them. I think you guys should advertise more but then that would probably drive the cost up a bit more too and the price is what helps make them so great!!
Review by

Lori

I purchased some Mocha cabinets that had a quality concern of blemishes on the exterior of the cabinets. Tracy had a gentleman by the name of Hans deliver some new skins to repair the cabinet s with. I want to let you know that Hans was a very positive employee of yours. He stayed and talked to me for quite some time. He told me how to install the skins on the sides of the cabinets. He also gave me pointers on how to install the cabinets, including information on different types of installation (raising up some of the cabinets & bringing them out from the wall surface}. He even went to the trouble of calling me after he left to tell me something on installing the skins. He has a very positive attitude and a friendly persona about him. I appreciated his advise . I Just wanted you to know what a good employee you have in him.
Review by

Rodney

The kitchen looks good and my wife and I are pleased with our purchase.
Review by

Stanley

Your layout and detail are amazing! I am so happy I found you guys!!!
Review by

Kim

I just wanted to drop your company a quick note regarding the dealings I've had with your salesman Tim Baker. I've rehabbed a lot of kitchens in my life but never to this extent. I pretty much knew what I wanted but was not having much luck in putting it together. I sent Tim the basic layout of my kitchen, being a complete rip~out, the layout was 4 blank walls, and a wish list. Within a few days Tim sent me the first draft of what was to become my new kitchen. After a few revisions we had down on paper what I had visioned in my mind. Then the cabinet samples and more samples until I was down to 3 and finely to the one. Called in my order last week and tomorrow afternoon they are being unloaded at my front door. If it wasn't for Tim I'd still be knee deep in magazines and a horrible headache. Tim's service, returned phone~calls, and the speed of your shipping are what every costumer wants and expects but seldom gets. In my opinion, Tim, not only likes what he's doing but is also extremely knowledgeable about his product. You defiantly have an asset with Tim. Tomorrow, when I get a good look at the cabinets, I'll send you a note with what I think. If the cabinets are 1/2 of the quality of the salesman then they have to be excellent. I will look forward to future dealings with Tim and your company.
Review by

Matt

Also wanted to let you know that we really love these cabinets! I am still in the process of putting together but they are top quality and will look beautiful when done. What a value, we have been telling everyone about them.
Review by

Ken

I really appreciate the customer support I've received through the ordering process. I'm looking forward to the next phase of the project!
Review by

Renata

By the way. I love the cabinets so much that I gave the website to two other people. :) So, you can probably expect to be delivering even more in Florida.
Review by

Kim

I like the fact that you have walnut and your within 10% of the other 2 quotes using maple. Your also the only brand I found a good referral for cheap quality import cabinets.
Review by

Bill

We received our cabinets and they were even better than I could imagine. I love them! Thank you for such a great product.
Review by

Linda

The materials are very nice! I like the look. Thanks for your help. Looking forward to working with you again.
Review by

Sam I

Thank you Tracy. It has really been a pleasure working with you and our cabinets look absolutely amazing!
Review by

Julie

I am an architect and have done numerous kitchens throughout my career. The Richmond cabinets I just purchased are some of the absolute best cabinets out there. The finish quality, the ease of assembly, the incredibly fine drawer glide systems, all of it is the best. Thrilled with the purchase, thank you.
Review by

Ilana H

Received Monday PM. Thanks for all your assistance! The cabinets look great in the remodeled kitchen!! I'll sent a picture or 2 when completed!
Review by

Mike

Firstly let me say how great my cabinets are!! I am doing a 50's style diner in my kitchen and they work perfect! We've got all the uppers installed and I am quite likely sending 2-3 customers your way because of how great they are and how great I have talked up the process and your company!
Review by

J. Young

We love the cabinets! I've been doing home construction for almost 40yrs and have never installed such good quality cabinets. They were very easy to assemble and will definitely recommend these to my customers. Thanks for your help in making the process an easy one.
Review by

Harry F.

I hope this reviews hope others making a purchase decision on their cabinetry. I just finished installing the cabinets from Lily Ann in my kitchen remodel. Ordering the cabinets sight unseen made me a bit nervous. When they arrived in the cartons RTA (ready to-be assembled) I didn't really know what I would find. I had chosen the cabinets based in a large part on price and feared very low quality cabinets since the sample had only allowed me to see the cabinet doors. Wow, was I surprised! The cabinets were beyond what you'd find at the big box stores with way better quality. I ordered the Stanford model (being phased out) which is at the economy end of the line. When I pulled them out of the box the door faces looked wonderful, and the cabinet sides were high quality 1/2" plywood, as promised. The rest of the cabinet material, flooring, backings, supports, are also totally up to the job. The cabinets were very easy to assemble, and went really quickly thanks to the "catches". I did need to clamp and glue some sides on the larger wall units, but you should have these items if you're installing cabinets anyway. Really a lot of the install work is dependent on your having squared and plumb walls...it's worth the effort to really pay attention to this in your initial build-out. Quality cabinets are only half the battle... the other ingredient that make a quality kitchen are patience and attention to detail in the install. This means dealing with the unforeseen (moving electrical outlets, plumbing, trim work, etc.) A 1/8' inch misstep in one place could make for an interesting dishwasher or microwave install down the line. I ended up screwing and gluing all my joined faces which is a hassle but gives you a lot more integrity. One of my cabinets was damaged in shipping and Chuck from Lily Ann fixed it right up, shipping me a new one, no questions asked. I've walked by the "budget" cabinets in the box stores since, and I've smiled to myself as their low end cabinets were easily double what I paid and for lower quality. Super satisfied! Thanks guys!
Review by

Sean B

Thank You All, (yourself, Brett, Don) for the help. I really like the cabinets and feel like I got a bargain. I'll recommend you to anyone I know needing cabinets.
Review by

Scott F

I certainly will! Thank you so much, I cant wait to get all the cabinets together and installed, almost finished! I knew I got a good deal BUT WOW - they are better than I imagined!!! I intend to send a pic of our finished kitchen when countertops installed, really shows off the beauty of these cabinets!! THANKS SO MUCH!
Review by

Aleyjha D

I wanted to thank Lily Ann Cabinets for an amazing experience. Everyone has been so wonderful and helpful in this process. From the placing of the order to the fast prompt shipping . They were easy to put together and install. My father is a builder, he was so impressed with the quality and affordable cost that he bought 3 full kitchens for his current work projects.. I wanted to share a few photos of my new cabinets.. We chose the Charleston Antique White. The kitchen is not finished yet in the aspect of the backsplash and counters, but it already looks beautiful. Thank you Bill III for all your help Mark and Jenn Ocean View Nj
Review by

Mark and Jenn M

Just wanted to thank you and let you know that we finally got time off work to do our remodel. Our kitchen cabinets are beautiful and the entire kitchen turned out great.
Review by

Debbie M

I would be happy to send you photos of the kitchen when it is 100% complete for your website. The cabinets are just beautiful. We could not be more pleased with the quality and design. They are exactly what I wanted. People that come to check our progress are always blown away with the value and how nice they are. We have made several referrals to you with family on the east coast, friends on the west coast and, of course, friends and family here in Tucson. I hope they come thru for you.
Review by

Lisa C

Thank you very much Brandon. I look forward to seeing the samples. My cousin recommended your company for kitchen cabinetry, he said that the quality of your cabinets were fantastic, and your service was excellent as well....
Review by

Crystal P

I have been trying to find mobile home replacement cabinets. I was able to locate some at your web site. When I called to get additional information Randy answered the phone. I work with the public and hold people to a very high standard for customer service. Randy exceeded them! He was professional, polite, and helpful. He put my mind at ease, provided me his cell phone number for further questions, and really made your company stand out! Thank you Randy, for a gret job!!!
Review by

Katy S

Thanks - We'll send you a photo once we finish... The quality is AMAZING and the color is absolutely gorgeous... Very high quality! Our kitchen is going to look like a $30,000 remodel...
Review by

Kelly S

thank you for the great service Don have been providing me and my customer Mr. Lopez.
Review by

Victor A

They are getting ready to put them in . I can't THANK YOU enough..They are amazing more than you know.. hugs Sheila
Review by

Shiela S

Hey, Bill: Cabinets arrived today, appreciate the quick service! Thanks again, John
Review by

John H

You're welcome. Aneta already referred your company to one of her close friends in NY who is considering redoing their kitchen. Her and her husband haven't made a final decision whether or not they will tackle this project now or in the future, but Aneta gave kudos on the quality of your cabinets and caring customer service. I will also recommend your cabinets to anyone I come across who needs to redo their kitchen.
Review by

Lewis F

We love our cabinets and get rave comments from our guests!
Review by

Donna H

To the LilyAnne Family Thankyou so much for all your assistance over the past few months Our Kitchen has become a beautiful addition to our home in part to your great product and tremendous customer service. Every step of our transaction with your company has been positive, from layout and design to the replacement of a defective cabinet in the end. My personal expectations have been surpassed. Thankyou again Good wishes for the holiday season and New Year
Review by

Richard H

I'm very happy with the cabinets and recommend you to everyone I see getting new cabinets. I can't wait to do business with you again. Thank you
Review by

Joseph M

I'd also like to add that even with the mix up, your product looks great and the customer service is unmatched. As house flippers, we will definitely be ordering from you guys again. Thanks for all of your help.
Review by

Kyle P

I also ordered some more cabinets and trim from your company yesterday. Thanks so much for everything. Your products and customer service are top shelf!
Review by

James F

Thanks for all of your help and efficiency. Great Customer Service!
Review by

Patrick C

Just wanted to thank you for all your effort in correcting the problem with the cabinets. You went above and beyond what most companies would do. Good customer service is hard to find.....Keep up the good work!!!! Thanks again
Review by

John F

Good morning Don. I LOVE my cabinets! They are beautiful and look wonderful in my log cabin. I can't seem to find the e-mail message you sent to my partner, Jim Thompson, asking for a review. If I could trouble you for another request for review, I'll send a reply...... FYI....We were concerned that the dove tail drawers for the bathroom vanity were very loose compared to the kitchen cabinet drawers, but I think they are okay..... We also struggled to install the lazy susan doors. "Beefier" instructions would greatly help the ordinary person navigate that complex installation. The folks that worked on other aspects of the cabin rennovation raved about how well the cabinets were made. I thought they looked much richer than more costly cabinets. Thanks for all of your hard work to make this happen!!
Review by

Eileen B

My name is Michael R with Unique Builders located in Sacramento, Ca. Recently I purchased kitchen cabinets for a project. I was very happy with the quality of the cabinets. We did have some transportation problems which were taken care of. ( probably due to the holidays ). I have been in contact with Mike Sinay during the process and was very happy with the way he handled everything....
Review by

Michael R

I am thankful for all you and the company are doing for us with your cabinets. I wish I had even more but, because I am not one of those who volunteered to go to ground zero then expected the tax payers to pick up the tab well it cost me more than I thought. The Jersey look great and I am again thankful for that. I was asked by the news once would I do it again knowing what I know now and my answers is and will always be I would give my life to save the life of a stranger no matter the cost. Thank you again
Review by

Jerry L

We finally got our birch white shaker cabinets installed last week. They went up SO fast! in virtually one day! We were wow-ed by the clever wood crafting and how the pieces went together to easily and sturdily. We love them. They are fantastic. We did want to give you some feedback. Maybe it was our oversight, but after we hung a couple of wall cabinets, we realized that there really was a top and a bottom. (I don't remembering ordering R and L hinging), so that was a little surprize, but easily rectified. A couple of our cabinet boxes were without hardware. Since we had two wrongly ordered cabinets here waiting to go back, we stole the hardware out of those boxes. We have the weighbills to send those boxes back and we will write on them that the hardware is missing now. One of our wall cabinet's face was a little scraped and dinged. (W30x24) We can live with it, but wanted you to know. If there was a way to just send the doors, that would fix the scrapes. Otherwise, we would not remove the whole cabinet at this point. Other than that everything went well. We used a 15" cabinet to span for a corner sink with trim and that worked out very nicely. Attaching a photos, although still kitchen work to be done (island, shelving, sink etc.) Let us know if you want any further comments. Really are happy about our cabinets!
Review by

Cia C

We have purchased Lily Ann cabinets twice, once for a house and once for an apartment, and have been very please with the quality. We would not hesitate to use them again.
Review by

Liz S

Mr. Henoch I want to thank you for all you have done to get these great looking cabinets. Other than the shipping mistakes that happened I cannot be happier with the cabinets. My wife and I put them together in a couple of hours. I am posting them on my facebook page and I will recommend you and the company for all my friends and family. I am very sorry for any problems I might have caused anyone. I have also enclosed pictures of them , also so you know I was telling the truth about ground zero a picture for you. Thank you again.
Review by

Jerry L

Chuck was an incredible help. His responsiveness, knowledge and prompt service are the reason we selected this company to purchase from. Thanks Chuck!
Review by

Daniel K

Chuck Bennett Sales/Design Specialist Lily Ann Cabinets It has been a pleasure working with you for the remodeling of our kitchen. Your expertise and professionalism in the layout design was outstanding. Except for the granite countertops, the entire project, including destruction of the old kitchen, assembly and installation of the cabinets was completed by my son-in-law and me. The quality of the cabinets is outstanding and the cost is well below completive products. The cabinets were all easy to assemble, exceptionally sturdy and custom like. The self-closing drawers and roll-out shelves are well worth the cost. Again, thank you for your assistance and attention to detail.
Review by

Jim H

I must say, I LOVE my new cabinets! The quality is great, and although I didn't realize they were RTA (obviously didn't read very far on first page!), our cabinet guy figured the assembly out and got them all together. My experience with my contact, Jonathan Matuszak, was great. He was patient with my many questions, and always got answers for me. It was so refreshing to work with someone who followed through and got back to me quickly. He also offered some ideas to help me solve an issue with my more unconventional design :) so that was greatly appreciated. I'd highly recommend working with him if you have the chance. We're hoping to have done our last kitchen redesign..but in the even we would need to do it again, I'd be calling Jonathan again. Thanks for your great product and great service.
Review by

Valerie B

I've chatted several times today and everyone has been great! better help and more knowledgeable than the people are actual shops. Fast response too!
Review by

Becky

Thank you for your attention to the cabinet, it's perfect!
Review by

Holly R

This is exactly the information I was looking for. My husband and I are working to update our kitchen. I love your site and your quick response.
Review by

Angela A

I thought I would share my before and after photos of my basement wet bar redo. While I had to make an investment in clamps & nailers, it was ultimately fun to put together Bristol Chocolate cabinets from your Pro Series. Jonathon worked with me on designing the overhead cabinets, which ended up with me taking a extra wine cabinet and cutting it in half to get the two open nooks on each side of the wine cabinet that was used. We still need to tile the backsplash, but other than that it is done.
Review by

Kathy S

My wife and I wanted to take a moment of your time in an effort to provide you with feedback regarding our experience with one of your employee's, Mr. Don Klein. We are in the process of renovating our kitchen and contacted Lily Ann last month in order to seek a design and estimate for kitchen cabinets. Since we have never done anything like this, we needed a lot of help, and Mr. Klein rose to the occasion. He has provided us with samples as well as various designs that he thought would work in our kitchen. Mr. Klein has been most professional and extremely patient during the process, and we just wanted to tell you how pleased we are with his help and expertise. We decided this evening on the design as well as the material, and now waiting for Mr. Klein to provide us with a price estimate. Please convey to Mr. Klein our thanks and appreciation for his excellent help, professionalism and expertise.
Review by

Freddie and Sandra L

John you were very helpful in our planning and ordering. It was a pleasure to do business with you.
Review by

Fayette I

John was patient, professional, and very helpful. Thank you.
Review by

Nick G

Hickory Walnut Cabinets Just wanted to share with you some photo of our new kitchen.These are more than I thought, that they would be.We are so pleased with them and everybody who see them,can not get over how great they look and the workmanship.
Review by

Jim W

We received all the cabinets and are mighty impressed with how easy they were to assemble and how beautiful they look. With a Full –Time Job and 2 kids – I assembled one cabinet a night until they were all done.
Review by

Tina B

The cabinets we bought were intended to extend the life of a kitchen that will "someday" be changed completely. We are not concerned that the cabinets don't match perfectly - we wish all of the cabinets were the color of the Legacy Oak, we like them better. But we were very satisfied with how easy they were to assemble and we are accomplished enough do-it-yourselfers that installing them was easy as well. Thank you - and we look forward to working with you in the future - albeit a distant one!
Review by

Linda I

I would like to take this opportunity to thank you for the beautiful job on our new granite kitchen counter tops. We are absolutely thrilled with the results. From the moment we walked in the door of Lily Ann Cabinets until this very moment, every aspect of our experience was impeccable. Your assistance in choosing our color and slab of granite, speedy delivery and installation, to your exceptional customer service regarding the scratch in the granite. The new counter was ordered, delivered, and installed without any questions within days. Your installation experts were professional and pleasant throughout the entire process. With all that being said, we would highly recommend Lily Ann Cabinets!
Review by

Penny B

I received the stainless steel handles in perfect condition and am very pleased with them, the cinnamon shaker cabinets, and the superb service from you, Bill3, Don, Chuck, and Tracy. I'm glad I found your business online and wish you continued success. I will not hesitate in referring your company to anyone looking for exceptional value and service when shopping for Kitchen Cabinets. Thank you so much for a great buying experience.
Review by

Clyde M

This email is being sent to acknowledge the great customer service we received from your representative, Jonathan Matuszak. From the beginning of our conversation with Jonathan, we realized his knowledge of the product. He helped us determine what cabinets were needed, the selection, floor plan, ordering, and explained the assembly of the cabinets and directed us to the video on your website. We are now anxiously awaiting the arrival of our new cabinets, and depending on the quality of the product and the amount of time required in their assembly, we will definately recommend Jonathan and Lily Ann Cabinets to others.
Review by

Julie A

I'd like to share my experience with ordering RTA cabinets from Lily Ann Cabinets and specifically with working with Jonathan Matuszak. I began shopping for cabinets about 5 months ago and really did my research. I looked at all the big box remodeling stores for stock and custom cabinets, at actual custom only cabinets dealers, and online assembled and RTA cabinets. I live in a 102 year old house and wanted to move the kitchen from it's original location to another larger room which is a costly endeavor since all the plumbing and electrical needed to be moved and all the floors had to be jacked up to level, on top of the price for the new kitchen. I had a budget that I had to stick to, so after looking at the selection offered online by the hundreds of companies selling cabinets, I selected a couple of styles I liked that would fit in my budget. I drew up my kitchen floor plan and began sending it out to companies to get bids. Some of the websites were very unorganized, did not have very good accurate cabinet pictures, and were cumbersome to shop from. I spent about 3-4 weeks shopping and getting quotes and making comparisons so I could get the best product for the least money. I narrowed it down to about 8 vendors that had a similar product, with varying options and prices. I came across Lily Ann Cabinets after I had already received door samples from a couple of other companies and had selected a cabinet I liked. I was fortunate to connect with Jonathan on my cabinet quote. L.A.C had good prices, but unfortunately, did not have enough stock on the cabinets I originally selected. Jonathan went to work for me and searched around to try to find enough of the right sized cabinets to make my project work. In the meantime, he walked me thru all the cabinets and the quality, features, benefits, different grades of wood, and prices of cabinets they offered, and sent me samples of what they did have available that he thought I would like. He sent me samples several times so I could see the quality, make sure the color was right, and to make me an educated buyer. He was sincere about making sure I would be happy with the product. He tweaked my original drawing to make my kitchen more functional and with a better layout and overall look.... and yet I was still shopping him with other vendors. I emailed him at least 40 times and he always got right back to me with the info I requested, and called to follow up. I was doing all this cabinet negotiating with several vendors late at night and still he was prompt with the follow up. I had a question on a Sunday night so I emailed him not expecting to hear back from him till Monday, and the guy called me from his cell phone at 9:30 pm to answer my questions... that was impressive. I ended up selecting the Rochester, a much better grade cabinet with the finish and glaze I liked and he worked them into my budget. I'm not the easiest customer to deal with, I'm a wholesaler in a different industry, so I usually want the champagne product at the beer price and I want it served up on a silver platter like I'm the queen of the universe. The guy jumped thru a lot of hoops to earn my business and make sure I was a happy customer. He was never pushy or sarcastic like some of the other guys I was dealing with, and he gave me good advice and I felt like he cared. In a day and age where customer service is almost nonexistent and most people are more concerned about what they can get instead of what they can give, Jonathan Matuszak proved that each customer counts and went the long haul to help me get the best product and the best price. I have been in sales for over ½ of my life and know the importance of treating each and every customer like they are the only one you've got and that every single interaction with them matters no matter how big or small. I live by this rule and rarely come across others who see the significance of this behavior. Jonathan Matuszak is an example of this, professional, courteous, dedicated, and a real asset to your team as I'm sure you already know. I would be proud to have him on my sales team and have already recommended him to several of my friends who are totally impressed with my new cabinets and can't believe they are not custom. And last but not least.... he followed up after the sale to make sure all was well with my remodel. Thanks so much for asking!!!
Review by

Angela R

I recently purchased cabinets through lily ann and wanted to share my experience. Our contact was Jonathan Matusek and I couldn't have been happier. He was extremely helpful and patient, considering it took about 50 emails and a bunch of quotes before we found exactly what we wanted. He spoke with us many times regarding what would be perfect for our specific kitchen. He was there every step of the way and we couldn't have asked for a better sales consultant. He was truly a blessing since we were first time home buyers and our kitchen was from scratch. The cabinets came perfect, the directions were a little hard to understand and there weren't enough foam stoppers and the top cabinets were not soft close like the bottoms but other then that they look fantastic. I am so in love with my kitchen and although we have no counter tops yet they are truly amazing. I would recommend Jonathan to anyone who is redoing their kitchen on a budget because we were quoted from another company over $8000 and ended up spending $2000 with lily ann. It was a blessing to have all the hard work payoff in the end. I think in regards to the foam bumpers if we just ask the company to send more they would anyway. Thank you so much again for everything! We will definitely be using Lilyann cabinets for our next kitchen also!
Review by

Laura D

I just completed my order of cabinets I ordered for a kitchen island and pantry. I'm so pleased with how everything looks. Anxiously waiting to get the countertops done, but have to save a little more $. The cabinets are so pretty I want to complete them with quartz. {I'll send you a picture when were done} I want express how pleased I'm not only with my cabinets and how you stool behind the issues we encountered, We had the best sales rep. John Matuszak, he did a wonderful job helping me with the layout, see that my order was sent out, he's kindness and helpfulness in handling all the problems we had, seeing that replacements were sent out very quickly. And then seeing we got a refund. "Very impressed " I thought for sure we would get a big run around, not at all one call and we received a check in week. It was scary placing a order this large "on line" even after reading all the quality specs, we kept thinking there had to be a loop hole somewhere with price being such a bargain " I'm a true shopper and do a lot of comparing" With other competitors. If you wanted plywood, and soft closing drawers glides it's an upgrades, and their prices were much higher even without these upgrades. Even the shipping company was very polite and helpful We won't hesitate to buy from Lilyann again or refer them to our friends Thank you for your honesties in your product and service.
Review by

Faye I

I am pleased with the way the cabinets turned out. Good quality and great price! Thanks Chuck, hope you enjoy the pictures.
Review by

Yuri S

I don't have a layout because these are actually going to go into new construction. I'm actually designing the house myself. I wanted the cabinets to be able to picture them installed to be able to picture how I want the kitchen layout. This will be our second order from you, I also believe you have had 2 other orders due to our word of mouth. We absolutely love our cabinets and wouldn't think of getting our new ones from anyone else
Review by

Krista H

I'm writing regarding the purchase of my Kitchen Cabinets through your website. Shortly after ordering some samples I was contacted by Jonathan. He asked questions about my project and became an important part of the design process. The services he provided were way beyond my expectations! The advice and final design were right on, it was hard to believe I could get that level of service from an online company. If it wasn't for Jonathan I may have purchased cabinets elsewhere!
Review by

Renee F

The cabinets are installed! Our granite was put in last Friday and today the plumber is installing our sink, dishwasher, and garbage disposal. I'll be happy to take some pictures and send them your way! I received an email not to long ago asking us to complete a survey. Unfortunately, I cannot find that email. Is it possible to have it resent? We would love to leave some good testimonials for you. Every contractor that has been in our house (electrician, granite guys, plumber) since we finished installing the cabinets has been very complimentary of the cabinets. They all said the quality was great and they looked fantastic. A few asked for the name of your company which we gladly passed along. We will be working on details over the next few weeks and I may be back online to order some extra molding if necessary. Thanks for everything! We LOVE the way our kitchen looks!!
Review by

Lisa C

THANK YOU! BRANDON!!!!! yes i have recd the samples and this weekend my husband will be in and we will be working on an order for you....i really appreciate the speedy service.....thanks again
Review by

Terry W

Thank you so much for making sure this order was accurate. They are gorgeous and high quality.. WOW.. They arrived with no damage - one had a little indentation where one of the straps pushed in on it, but that is a packing thing, really. No damage with SpanAlaska. So far, Todd's been building them, and it's going smoothly. We're about halfway assembled and calling the plumber and electrician for next week. I'll send you a photo for the website once we finish... Thanks Again! We'll recommend you in the future... Take care!
Review by

Kelly S

When I found the LilyAnn Cabinets on line, I was surprised at their huge selection they offered. I measured my kitchen and put together the cabinets my wife wanted. I submitted the draft and promptly received a return quote. I also received a phone call from Jonathan who had taken the time to sent me a drawing of what my wife's kitchen would look like. Naturally, my wife made changes not only with the color of the cabinet but also with the type she wanted. We order our cabinets, and customer service was a great help with that. The people were very friendly and helpful to complete our order and kept us up to date on the arrival of our cabinets. Surprisingly, LilyAnn Cabinets were not only on time, but a few days earlier. We had one box that was damaged in the shipping process and a quick phone call to the customer service department took care of the problem. The replacement for our damaged cabinet arrived at our house only a few days later. Each cabinet has its own box with all the screws and parts , therefore the assembly of each cabinet was as easy as 1,2,3,.The cabinets are so easy to assemble that it only took us a couple of hours to finish every cabinet that we had ordered. Instructions were easy to read and to follow. Installing our cabinets turned out to be a synch. Jonathan had the exact measurements of our area and therefore, the cabinets were a "custom" fit for our kitchen. The high quality of the cabinets is very visible and makes the kitchen look like everything is customized especially for our kitchen. When our friends and neighbors came into to see what we had done, their first remarks were "oh you customized it, must have cost you a pretty penny". We explained that the cabinets were not customized for our kitchen, it simply looks like it because of the way the Lily Ann Cabinet staff works with each individual that is interested in a "Dream" kitchen. Our friends then checked on the quality of the cabinets and could not get over the fact on how great they were build and looked. Many of them are planning to re-do their kitchen with LilyAnnCabinet. Thank you Jonathan for your patience with us. Thank you customer service for the fast and reliant information, hassle free replacement and support you gave to us. Thank you LilyAnnCabinets for your super quality cabinets that are affordable for everyone. Thank you for the huge selection that you make possible to everyone.
Review by

Craig B

I recently purchased cabinets with your company and wanted to say they came out great, very happy with them
Review by

Brian G

Hi Marcy, I would like to make the set of cabinets on each end of the long wall as tall as the cabinets in the middle where the stove is? I think that would leave one set of cabinets on each side on the stove shorter as they are now. Once this change is made I think we are ready to order. I want to thank you for your time, patience, and energy that you have put in to helping me with my kitchen. You have been a blessing!
Review by

Jarrod H

Greetings Tracy, It has been a long time since we last spoke, but I would like to state that you were EXTREMELY helpful the last time we did speak; you were downright impressive. The level of professionalism and extraordinary customer service that you demonstrated was second to none. Would it be possible for you to please give me a call at your earliest convenience, I am once again seeking guidance and couldn't think of a better person to ask. I do look forward to hearing back from you.
Review by

Vidal M

We purchased Legacy Oak kitchen cabinets and I am so impressed at the quality for the price. I went to Menard's to purchase cabinets for our rental house, but the quality was so poor I just couldn't buy them. I asked my wife to see if she could look online and find something of better quality. Minimally a cabinet not build out of particle board. I am so glad she found you all, I really like the dove-tailed drawers and the bracket system for installation. Thanks for making our rental look nice !!
Review by

Gary K

Just wanted to say thanks for all the help with my kitchen project, the cherry shaker cabinets came out great
Review by

Brian G

Thank You so much for helping with this order, and your company is great.
Review by

Sharon N