Charleston Saddle Kitchen Cabinets
Wood Species:

Birch

Door Style:

Solid Wood Full Overlay, Raised Panel with Glazing

Box Construction:

1/2" Solid Plywood (Birch)

Drawer Glide:

Full Extension, Soft Close Under-Mount

Drawer Head:

Solid Wood, 5-Piece (Matches Door)

Drawer Construction:

5/8" Dovetailed Solid Wood

Hinge:

Soft Close Adjustable

Cabinet Interior:

Natural Wood Veneer, UV Coated

Cabinet Exterior:

Matches Door Finish

Assembly Method:

Sliding Dovetail

Delivery:

1-21 Business Days
RTA Charleston Saddle Kitchen Cabinets
Imagine cooking and entertaining in the elegant charm of this upscale Charleston Saddle kitchen. Then, imagine getting these RTA cabinets for half of what you would pay at a "big box" store. At Lily Ann Cabinets, we manufacture all kitchen cabinets we sell, so we can cut out the middle man and pass along the savings to you. You can count on the exceptional workmanship of our ready-to-assemble Charleston Saddle kitchen cabinets you thought you could only dream of having.
Affordable, High-Quality Saddle Cabinets
The quality starts with our half-inch solid-wood cabinets, including rails and stiles made of Grade A North American maple. The five-piece full-overlay doors and drawer heads are crafted with stylish raised panels. The drawer boxes on our RTA Charleston Saddle cabinets are also constructed of solid wood, with dovetailed "finger joints" that interlock for greater strength and assembly ease. Inside the kitchen cabinet box, a three-fourth- depth fully adjustable shelf allows you to make the most of your kitchen space.
Proprietary RTA Cabinet Designs
Contributing to the refined look of the Charleston Saddle Cabinet line is a proprietary dovetail assembly process for the RTA kitchen cabinet box. Unlike the manufacturers of competitive RTA cabinets, we have developed a design that does not show unsightly assembly clips. This unique design also makes the cabinets stronger and the assembly easier. If you're still not sure if these cabinets are right for you, check out our kitchen cabinet buying guide.
Professional Appearence without the High Costs
The eye-catching appeal of Charleston Saddle cabinets is not only due to their distinctive design but they also boast a unique 12-step finishing process of hand-applied chocolate stain and chocolate glaze. This adds strength and beauty compared to the standard six-to-nine layers of our competitors' kitchen cabinets. We are so dedicated to details we even finish the sides, which you would need to pay extra for at most other places
Don't just imagine what it would be like to install this Charleston Saddle dream kitchen in your home… find out for yourself with a free cabinet sample. If you need help, just give us a call at 800-551-1438 .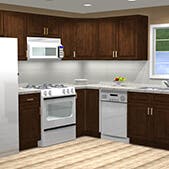 10X10 Kitchen

You Save:
$9,381.00
(75 %)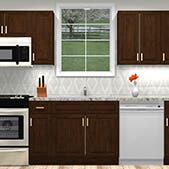 10 Foot Run

You Save:
$4,910.16
(75 %)
Watch & Learn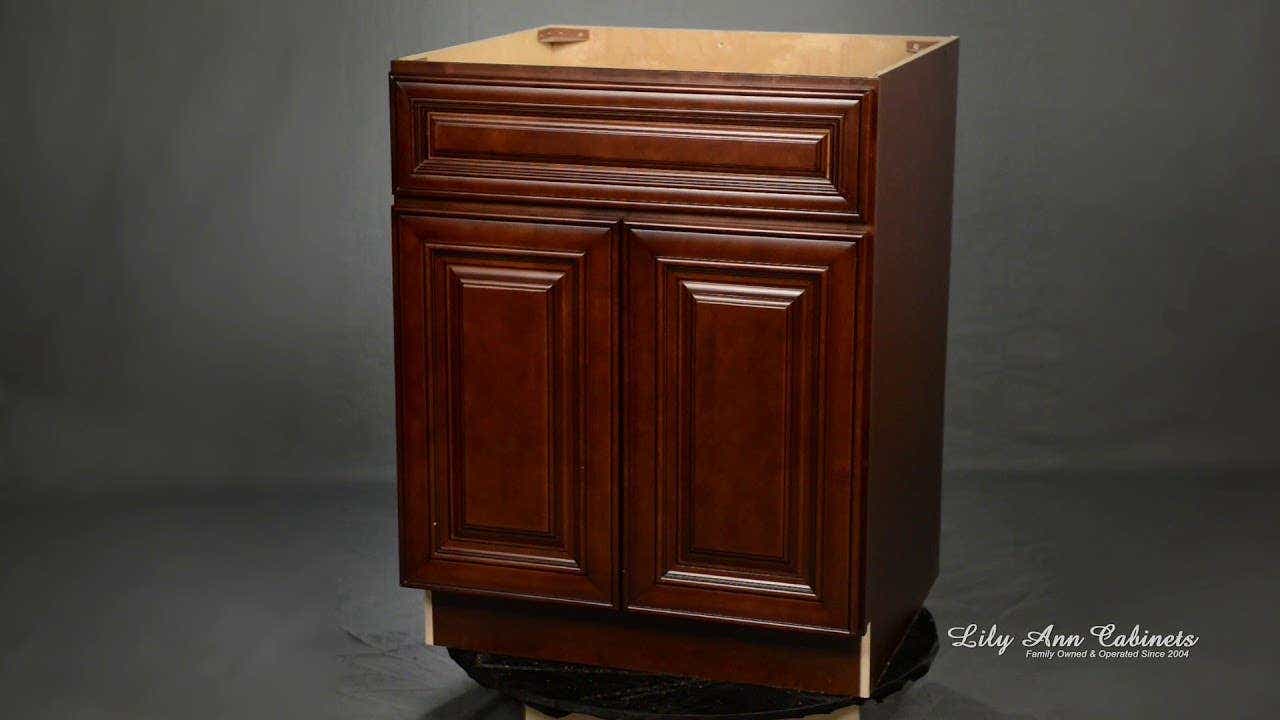 Charleston Saddle Cabinet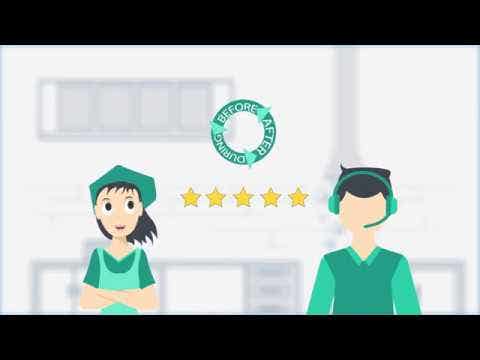 How It Works
FREE Sample - Charleston Saddle
$0.00
$9.99
You save:
$9.99 (100% off)
Charleston Saddle Cabinets Collection