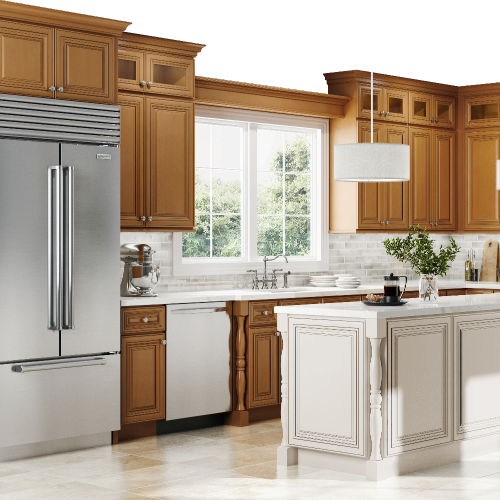 Why Choose Wood Cabinets?
Wood cabinets are always a great choice when it comes to kitchen cabinets. When you purchase wood cabinetry, you can rest assured that they are of the utmost quality and are going to last for years to come! At Lily Ann Cabinets, we have lovely options for you to choose from for your kitchen remodel.
Let's take a deep dive into everything you need to know about our range of stunning wood kitchen cabinets.
Best Wood Cabinets Material Options
Regardless of what design or style you choose, our wood box cabinets are made of the highest quality wood available. Depending upon which style you decide to go with, will depend on what type of wood is used in the construction of your new cabinets. So, no matter what you want the final look to be, you know you will be getting a quality product!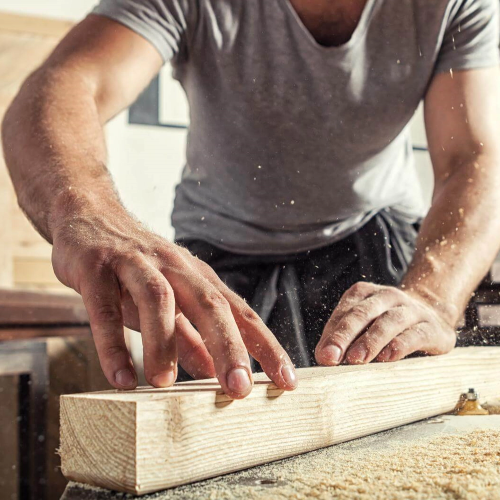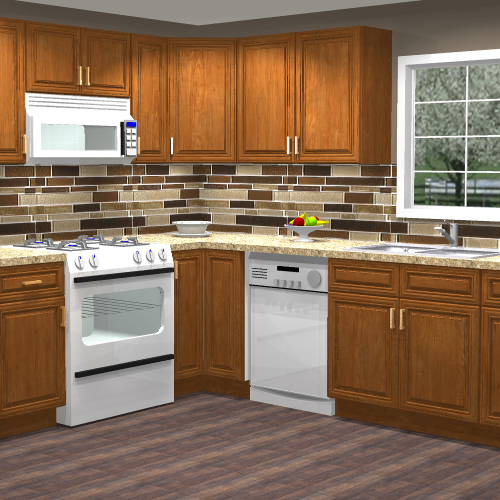 Wood Cabinets Measurements
The measurements are fully dependent on the range of cabinets you choose to purchase. If you go with a 10x10 run of cabinets, the measurements for those cabinets are as follows: Base 12", Base 18", Sink Base 36", Wall 30"x15", Wall 12"x30", Wall 24"x30", Wall 18"x30".
On the other hand, if you are ready to go all in and purchase a full 10 foot set of kitchen cabinets, those measurements include the following: Base 18", Base 24", Sink Base 36", Lazy Susan 36", Wall 36"x15", Wall 18"x30", Wall 30"x15", Wall 12"x30", WDC 24"x30", Wall 36"x30", Wall 24"x30".
Our high-quality cabinets are specifically designed with you in mind! They are configured to fit perfectly in your specific space. You can decide on your options early on and choose a full 10-foot set of cabinets, or go in and pick your cabinets one by one to make an incredibly personalized set of cabinets that fit your individual needs! If you need any additional assistance in the design process, apply for your Free Kitchen Design and Quote today!
What are the best Wood Cabinets Door Design Options?
Charleston Saddle Cabinets

Charleston Saddle Cabinets

10x10 Kitchen $3,127.00

$12,508.00

You save:

$9,381.00 (75% off)

10 Foot Run $1,636.72

$6,546.88

You save:

$4,910.16 (75% off)

Charleston Toffee Cabinets

Charleston Toffee Cabinets

10x10 Kitchen $3,127.00

$12,508.00

You save:

$9,381.00 (75% off)

10 Foot Run $1,636.72

$6,546.88

You save:

$4,910.16 (75% off)

Charleston Cherry Cabinets

Charleston Cherry Cabinets

10x10 Kitchen $3,127.00

$12,508.00

You save:

$9,381.00 (75% off)

10 Foot Run $1,636.72

$6,546.88

You save:

$4,910.16 (75% off)
What are the Best Wood Cabinet Accessories?
We have a fabulous selection of cabinet hardware, such as knobs and pulls, to help tie your kitchen design together seamlessly.
A few gorgeous hardware options we have that will look great alongside any of the three wood cabinet styles we provide include the following:
No matter your finish preferences and the style of cabinet you decide to purchase, we are confident that your remodeled kitchen will be transformed when you shop with us at Lily Ann Cabinets!
Not sure which hardware will look best with your wood cabinetry? Get a FREE 3D kitchen design and our professional kitchen designers will assist you in making the right choice.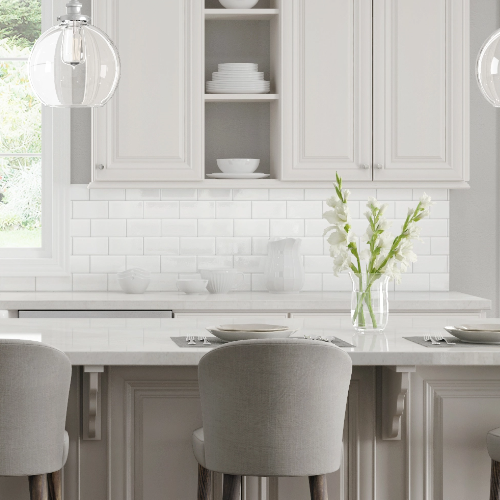 Which Finishes Look Best With Wood Cabinets?
No kitchen remodel is complete without the perfect backsplash and kitchen countertops!
The Gray Flat Stone Mosaic is a wonderful choice to compliment the Charleston Toffee kitchen cabinets. These rounded, smooth stones add dimension in color and movement in shape to your kitchen. The varying shades of grey and white will look beautiful next to the soft, toffee shade of the cabinets.
The White Porcelain Mosaic Subway Tiles are a fabulous option for adding brightness back into your kitchen alongside the Charleston Saddle kitchen cabinets. The subway tiles are very easy to clean and look so sleek in any kitchen!
Lastly, the Moonlight Flat Stone Mosaic would act as a lovely accent to the Charleston Cherry kitchen cabinets. The varying cool, neutral shades of the stones will compliment the deep cherry tone of the cabinets and add an element of movement and light to the room.
As far as countertops go, white quartz is always a great choice. Quartz is incredibly durable, beautiful, and scratch-resistant. Quartz is a great alternative to marble, as it is more affordable, yet just as luxurious looks-wise. The white shade does a lot when it comes to brightening up a room and looks super clean, which is ideal for a kitchen!
What are the Main Features of Lily Ann's Wood Cabinets?
Our cabinets have very distinct, high-quality features, that include, but are not limited to: full extension, soft close under-mount drawer glides, soft-close adjustable hinges, full overlay, raised panel with glaze (full engineered doors), and 5-piece, full engineered drawer heads (which match the doors to perfection)*.
*available for most cabinet lines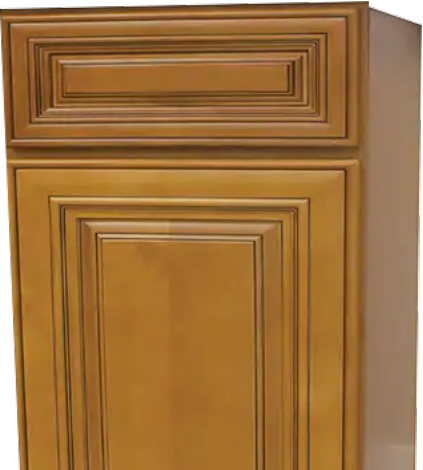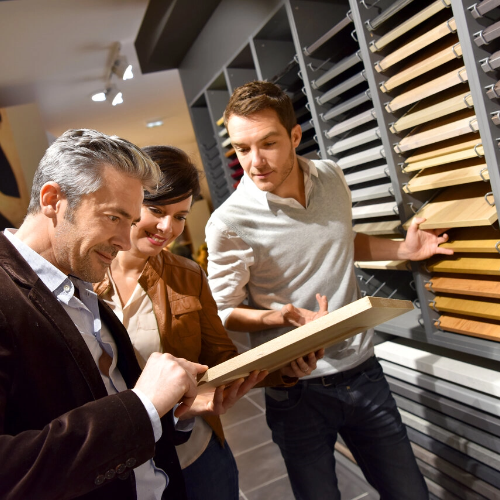 What is the Price Range of Lily Ann's Wood Cabinets?
At Lily Ann Cabinets, we know that your hard-earned money has incredible value and that you work hard for every penny. The last thing you want to do is shell out an arm and a leg to design a beautiful kitchen for you and your family!
For this reason, at Lily Ann Cabinets, we strive to provide you with the best kitchen cabinets at the lowest possible price. As a result, our wood kitchen cabinets range in price anywhere from as low as $776.16 to $1,611.93 per 10-foot run, or $1,740.17 to $3,087.47 per 10x10 kitchen, depending on the number of cabinets purchased and the style you choose.
Don't overpay for wood cabinets at big box stores. Lily Ann Cabinets ships cabinets factory direct, skipping the middleman and passing the savings onto you! Shop with Lily Ann Cabinets today for all your kitchen remodel necessities and save more of your money for other things on your home wishlist.
How Can I Try the Virtual Tour?
If you are struggling to choose a specific style of wood kitchen cabinets to go with your dream kitchen, or find yourself going back and forth between a few of our stunning options, check out our FREE 3D kitchen visualizer to find the right style for you.
Our free kitchen visualizer is a great resource to get a feel for what your space would look and feel like with different styles of wood kitchen cabinets. It is a phenomenal way to see the complete picture and get a better idea of what you genuinely want to invest in for your space! Get the most bang for your buck and start your kitchen remodel process with Lily Ann Cabinets today.
Ready to get started? Contact us now to start the remodeling process today!