When it comes to modern bathrooms, vanities are an important element to consider. A modern bathroom vanity can completely transform the look and feel of the room. Modern vanities for bathrooms offer a wide range of options in terms of style, design, and features. From sleek contemporary designs to rustic farmhouse looks, there's something for everyone when it comes to modern bathroom vanity ideas. In this blog post, we'll explore some of the top modern bathroom vanity design ideas to help you find the perfect one for your space.
1. Rustic Bathroom Vanity


RUSTICBUTTERFLY
If you're looking to add a modern bathroom vanity design with sink that has a rustic touch, then the Lily Ann Cabinets York Driftwood Vanity is perfect for you. This cabinet style has a dark grey stain with the wood still peeking through, so it is sure to become the centerpiece of your bathroom. The vanity itself also offers ample storage with its two drawers and two soft-close doors, making it a great choice for storing all your essential items.
Not to mention you can add on as many cabinets as you like to add even more storage like the photo above. The vanity also includes a sleek integrated sink and your desired knobs and pulls, adding an even more modern touch to your rustic bathroom design.
Checkout: What to Know When Choosing a Bathroom Vanity

2. Modern Bathroom Vanity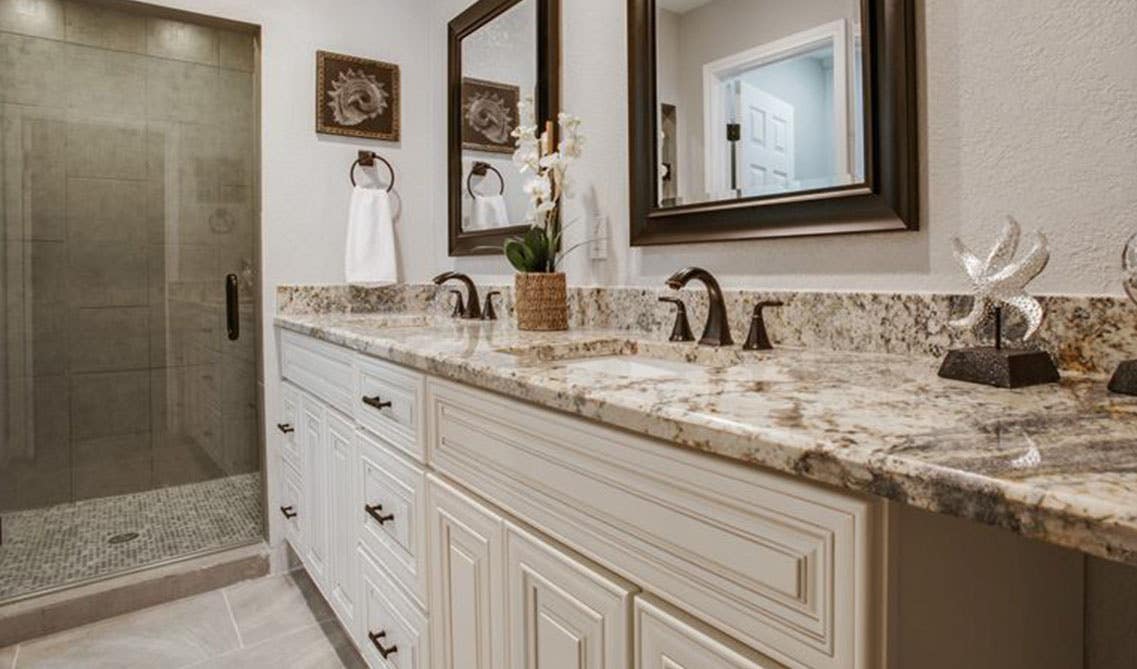 York Linen Off White Bathroom Vanities

For a sleek, modern look in your bathroom, consider a modern bathroom vanity design. This style is characterized by its neutral colors and minimalist design. You can find a variety of options to choose from, such as modern vanity tops made of marble, granite, tile or wood, depending on your taste.
For an even more natural and earthy modern bathroom design, opt for a concrete vanity top. Another option is to combine a modern vanity with a traditional sink for a unique twist. Modern double-sink bathroom vanities are also becoming increasingly popular for their practicality and attractive look. So whatever your needs, you can find the perfect modern bathroom vanity ideas to fit your space.
3. Farmhouse Vanities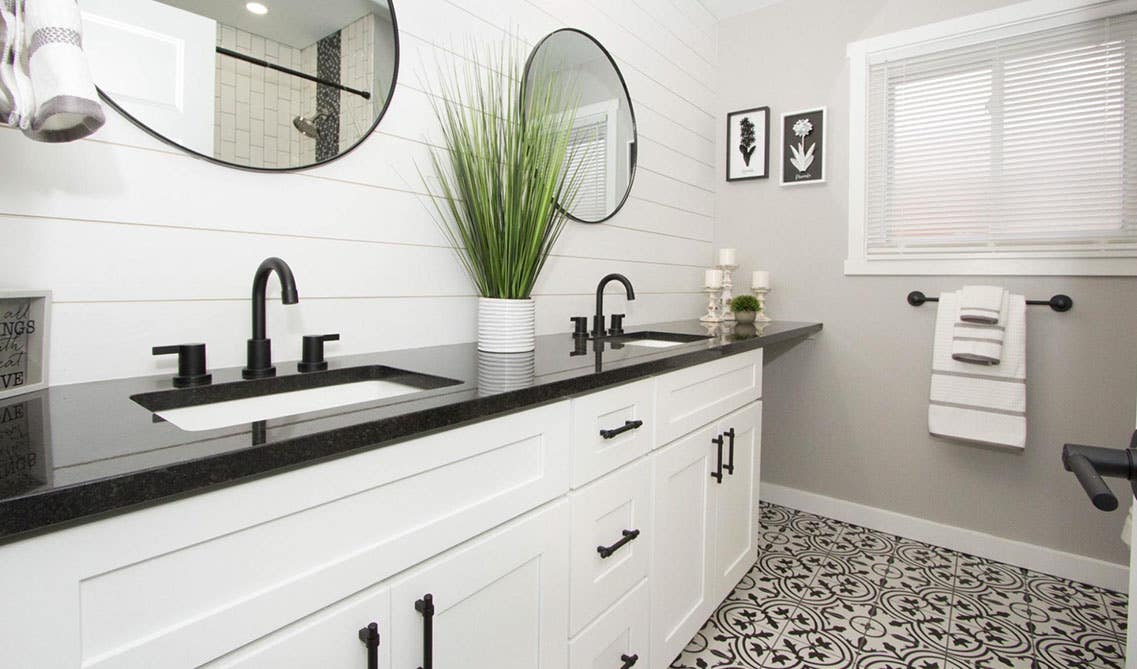 For those seeking a more rustic style for their bathroom vanity, farmhouse vanities are a great option. These vanities combine classic details with a modern look, adding character to any space. A great way to create a farmhouse feel is by opting for modern double-sink bathroom vanities.
These larger vanities create an elegant statement that is perfect for the homey feeling of a farmhouse style. Alternatively, a modern bathroom vanity with a sink will help to give your bathroom a vintage look with plenty of room for storage. With many farmhouse vanity options available, such as our Colorado White Shaker, it's easy to find one that fits perfectly in your space.
Checkout: 19 Decor Must-Haves for a Small Farmhouse Bathroom

4. Natural Wooden Cabinets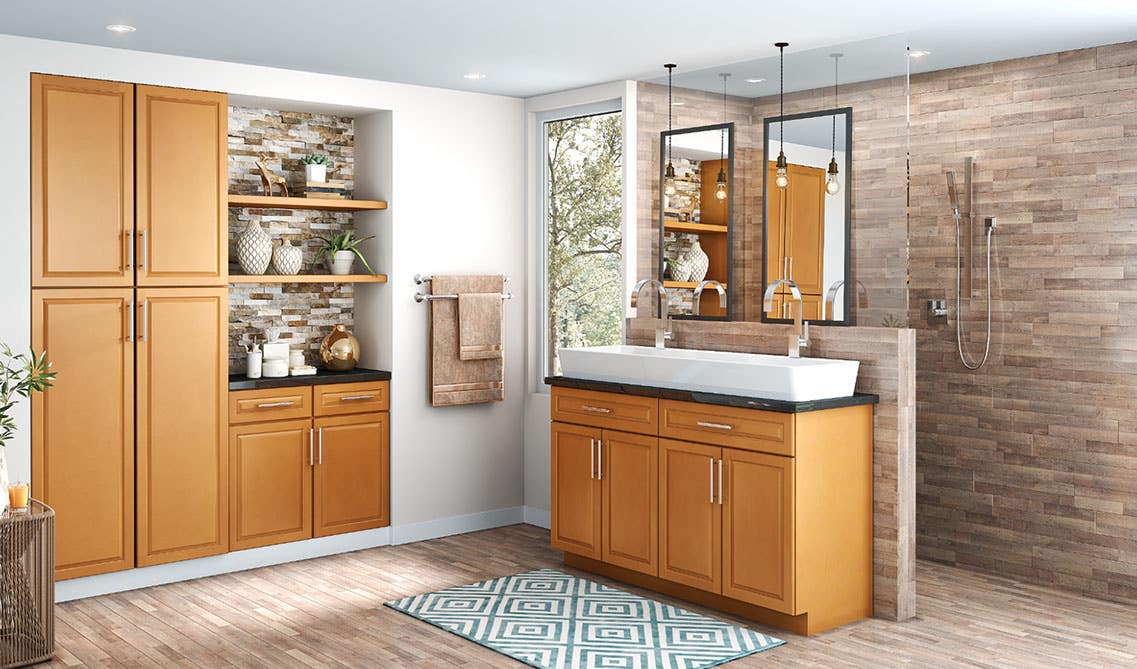 For a more rustic and natural look to your modern bathroom vanity ideas, try incorporating natural wooden cabinets. This particular interior design features shaker cabinets made of natural wood, providing a beautiful contrast with the stark white shower tile, countertop, and marble tile flooring.
The warm hue of the wood creates an inviting and cozy atmosphere. For added artistic touch, exposed bulb pendant lights were incorporated to illuminate the room. For a complete look, pair the natural wood cabinets with a modern bathroom vanity with a sink and modern double sink bathroom vanities.
5. White Shaker Cabinets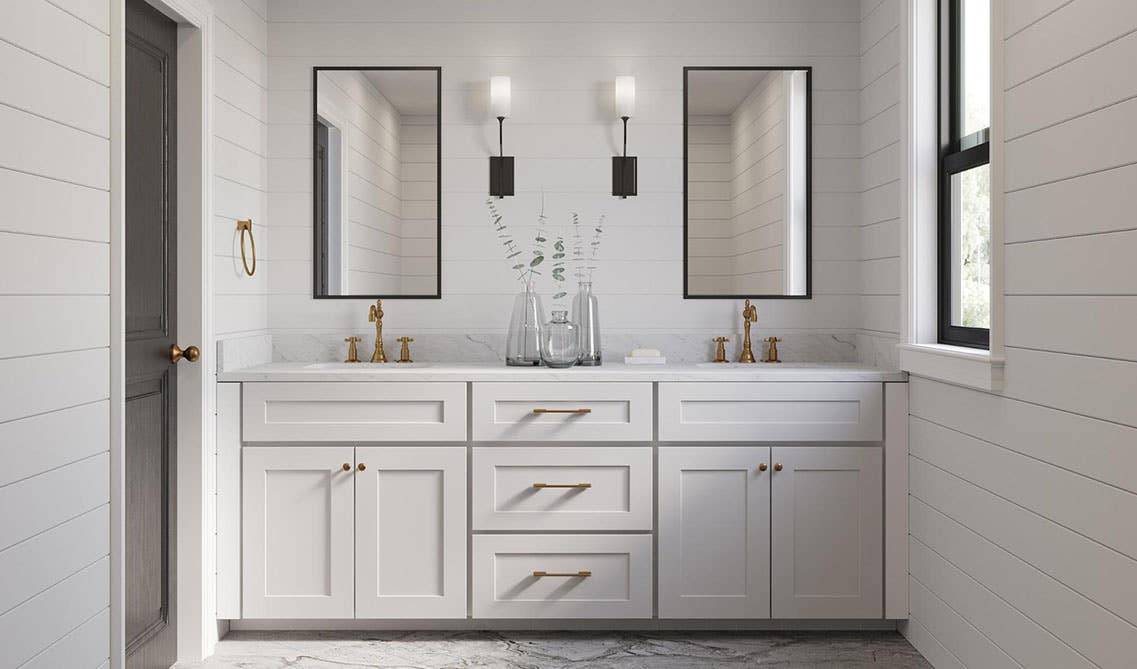 White Shaker cabinets are a great modern bathroom vanity idea if you're looking for a simple and stylish design. These cabinets have five-panel doors that feature a timeless look, perfect for any modern bathroom design. Whether you're looking for a single-sink vanity or a double-sink bathroom vanity, white shaker cabinets provide a sleek, modern look.
They are easy to install and will not crack or expand if water gets on them. Not only are they affordable, but they offer an understated and stylish look that complements any modern vanities for bathrooms with a sink. With White Shaker cabinets, you can get the modern look you want without spending on expensive modern double-sink bathroom vanities.
Checkout: White Shaker Cabinets: The Ultimate Design Guide

6. Floating Vanities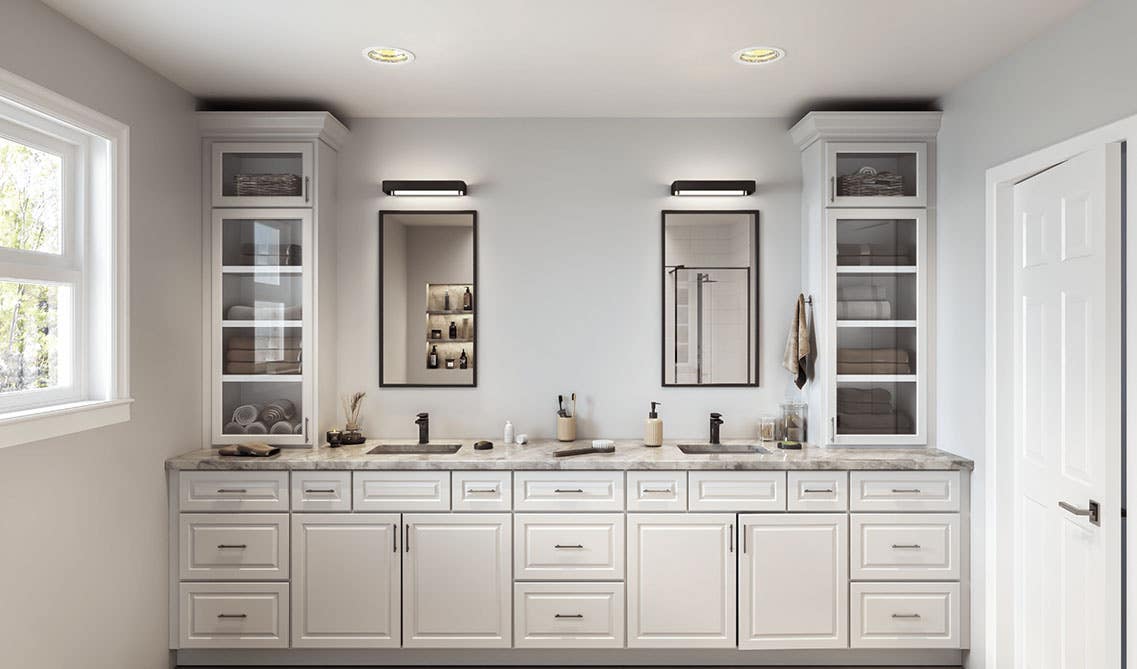 Floating vanities are a great option for modern bathrooms looking to maximize space. These sleek and stylish modern vanities for bathrooms offer an updated look and are also perfect for creating the illusion of a larger, open bathroom.
Floating vanities can be as simple or complex as you'd like, but they are typically hung from the wall rather than secured to the floor. They come in a variety of materials, including wood, glass, and metal, allowing you to choose the right look and design for your space. They are also great for creating a spa-like atmosphere in your bathroom. The easiest way to create a floating vanity at Lily Ann Cabinets would be to use our wall cabinets. Get a FREE 3D design today to allow our professionals to design the best floating vanity for you!
FAQ
1. What is the best height for bathroom vanity?
The best height for a bathroom vanity is around 32-36 inches.
2. How long does it take to install a bathroom vanity?
When you order from Lily Ann Cabinets, assembly and installation is incredibly easy and our instructions help you complete your bathroom in less than an hour!
3. What is the most popular bathroom vanity color?
The most popular vanity color is either white or grey/brown.
4. What type of vanity is best for a small bathroom?
The best type of vanity for a smaller bathroom would be a single base floating vanity for a more spacious feel.

Begin with our FREE 3D design tool and our FREE samples to bring our products into your home!