Bristol Chocolate Bath Vanities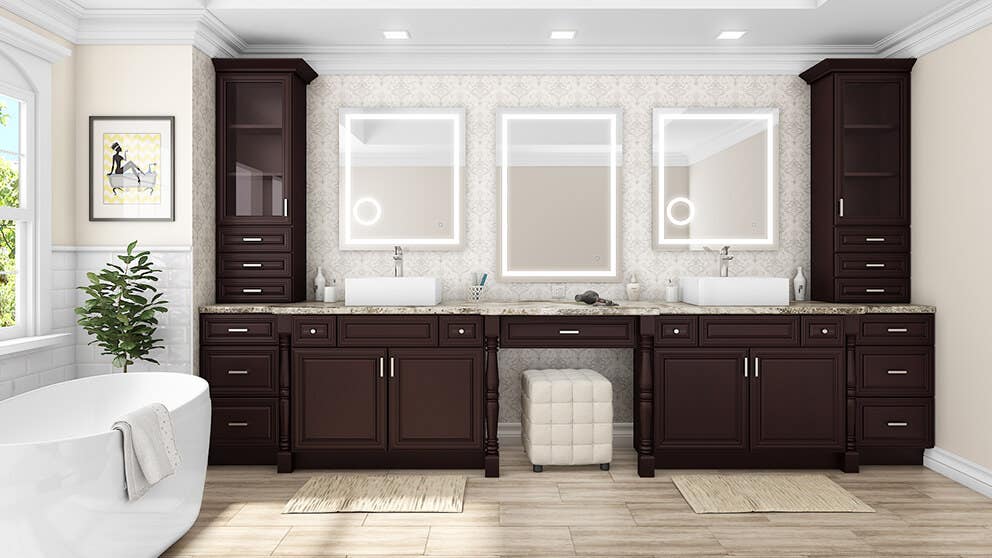 Wood Species:

Birch

Door Style:

Solid Wood Full Overlay, Raised Panel

Box Construction:

1/2" Solid Plywood (Birch/Poplar)

Drawer Glide:

Full Extension, Soft Close Under-Mount

Drawer Head:

Solid Wood, 5-Piece (Matches Door)

Drawer Construction:

5/8" Solid Wood, Dovetail Construction

Hinge:

Soft Close Adjustable

Cabinet Interior:

Natural UV Coated

Cabinet Exterior:

Matching Door Finish

Assembly Method:

Dovetail

Delivery:

1-21 Business Days
Bristol Chocolate Bath Vanities
What better way to start your day than to step into a luxurious bathroom with Bristol Chocolate ready-to-assemble (RTA) vanities. Their pronounced detailing and deep, rich finish emanate good taste.
It's never too early for chocolate.
Help set your mood for the day or evening by grooming or relaxing in awesome surroundings.With its rich shade of elegance, a Bristol Chocolate RTA vanity is irresistible to "chocolate lovers" of décor. Bristol Chocolate bathroom cabinets are finished with 12 layers of hand-applied chocolate stain. This provides more protection against a humid bathroom environment than the six-to-nine layers of competitors. Plus we go the extra mile of finishing the sides.
Open the door to luxury.
The distinguishing feature of the Bristol line of RTA bathroom vanities is the masterfully crafted raised-panel door with stylish raised accents. Thisfive-piece mitered door is full-overlay and equipped with concealed-cup soft-closing hinges. So you can get the most flexibility for the best fit in attaching the door. And once assembled, it closes quietly.
The five-piece mitered drawer head complements the door. It attached to the drawer sides with dovetailed finger joints for easier assembly and better durability. The sides and bottom are made of 5/8-inch solid wood, with a ½-inch bottom. Thefully extendable drawers slide out smoothly on under mount glides and close quietly.
Uniquely designed.
The quality starts with the all-wood cabinet box, including rails and stiles of Grade A high-end birch wood. Inside, the three-quarter-depth shelf gives you 50 percent more room for storing your bathroom supplies compared to standard half-depth shelf.
When you are assembling these cabinet boxes, they are designed to interlock like puzzle pieces, making them easier to put together. This innovative process was developed by Lily Ann Cabinets and is unique to the industry. It also eliminates the need for unsightly assembly clips. The only two you need are not visible. If you're still not sure if these cabinets are right for you, check out our bathroom vanity buying guide.
Best of all, because we manufacture what we sell, we can offer all this quality at about half the price you'd pay at a "big box" store. Let us help give you an upscale bathroom at a price you can afford. For free design consultation, call our professionals at 800-551-1438.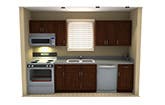 10X10 Kitchen

You Save:
$6,097.66
(75 %)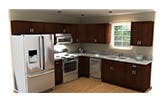 10 Foot Run

You Save:
$3,191.62
(75 %)
Watch & Learn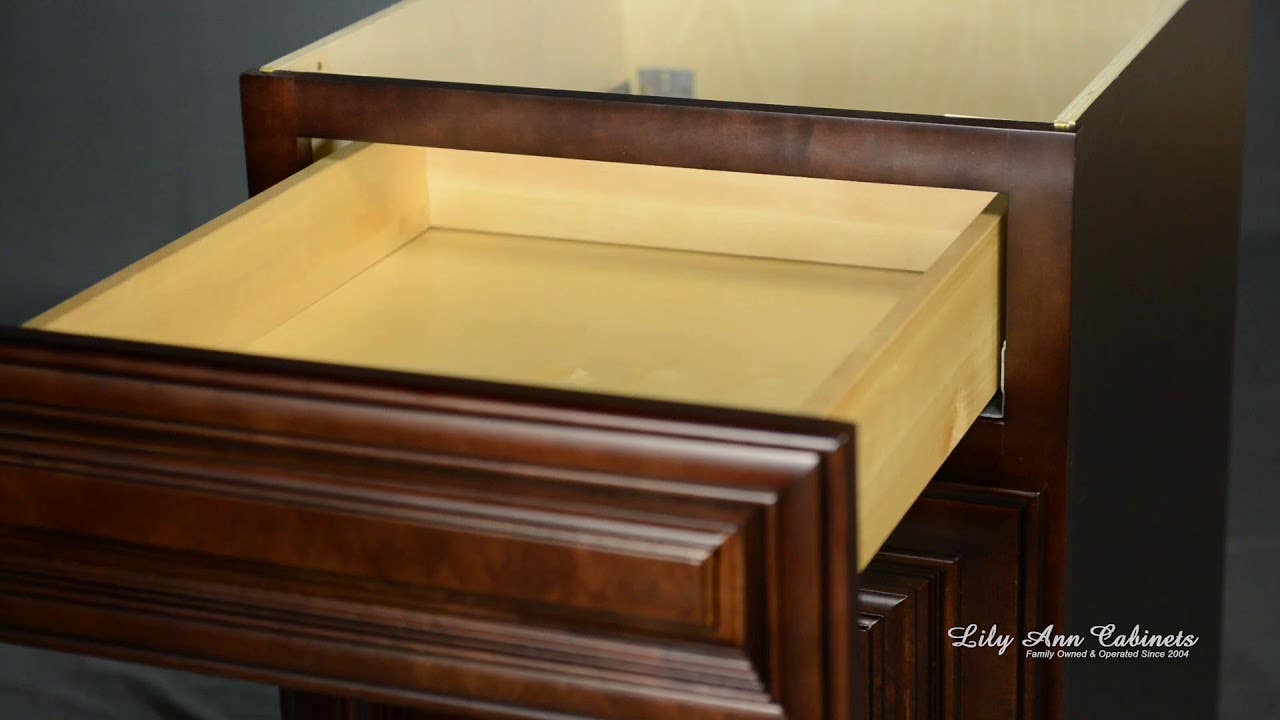 Bristol Chocolate Cabinet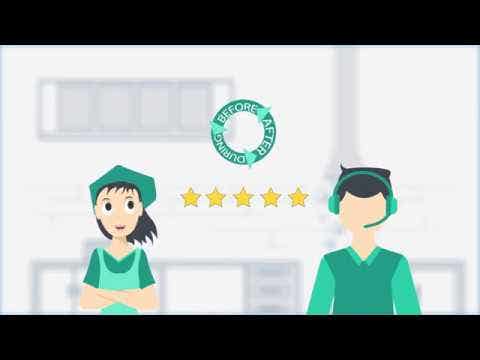 How It Works
FREE Sample - Bristol Chocolate
$0.00
$9.99
You save:
$9.99 (100% off)
Bristol Chocolate Vanities Collection

* The Stain May Slightly Vary.