Things to Consider Before Buying Bathroom Cabinets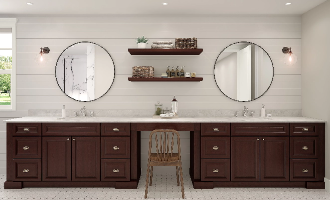 When considering a remodel of your bathroom, one of the most important elements to consider is the bathroom vanity cabinets. Choosing the right type of bathroom cabinetry can make or break the design and functionality of your bathroom. Knowing what to look for when selecting bathroom vanity cabinets can help you find the perfect piece that suits your needs and fits within your budget. In this blog post, we will outline some of the key things to consider before purchasing bathroom cabinets for your bathroom remodel. If you decide to purchase your bathroom cabinetry from Lily Ann Cabinets, you can rest assured that you're getting a durable premium product that is built to last for the best price on the market.
Bathroom Vanities
Once you start looking for bathroom cabinet retailers, you're going to be overwhelmed with options, styles, assembly methods, and colors. Luckily for you, our design professionals have over 400 years of combined experience in the field and are happy to answer any questions you may have during this process. Before you begin, it can be wise to take a step back and think about the big picture.
Once you start looking for bathroom cabinet retailers, you're going to be overwhelmed with options, styles, assembly methods, and colors. Luckily for you, our design professionals have over 400 years of combined experience in the field and are happy to answer any questions you may have during this process. Before you begin, it can be wise to take a step back and think about the big picture.
Purpose:

What is the purpose of your bathroom cabinet purchase? Are you more concerned with aesthetics or functionality and storage options? If you go with Lily Ann Cabinets, you will not only get a cabinet that is aesthetically pleasing, but it will also be built with solid materials.
Budget:

It helps to have an idea of the budget that you're willing to allocate towards your bathroom cabinet purchase. Consider the total cost of any new sinks or other bathroom accessories and appliances that may coincide with your cabinet upgrade. If you are looking for a premium cabinet at the best price on the market, you have come to the right place. All of our prices can be found on our website, and if you would like to see an exact quote of what your new vanity would cost, you can get a FREE professional 3D design and quote from our website or contact one of our designers.
Layout:

Think about the layout of your existing bathroom and what you intend on changing. (Please note that our award-winning designers can help you with this)
Measurements:

We'll share some tips about measuring your bathroom later in this article, but having a rough idea of the dimensions will help narrow down the selection process early.
When it comes to upgrading your bathroom, a bathroom vanity is the perfect starting point. Bathroom vanities come in a wide selection of sizes, styles, and finishes, so you can easily find the one that fits both your budget and the design of your bathroom.
Whether you're looking for a custom bathroom vanity or just a ready-to-assemble bathroom vanity, there are plenty of options out there to choose from. We offer both semi custom RTA bathroom cabinetry, and assembled bathroom cabinetry assembled in certain market areas. Our DIY friendly dovetail assembly is as simple as putting together a child's toy. The cabinetry is also built with quality materials to ensure that your bathroom looks great for years to come. So if you are looking for a bathroom vanity that not only looks beautiful, but is premium quality as well, you have come to the right place.
If you have a small bathroom, you may be limited on your choices of bathroom base cabinets, but this doesn't mean that you should sacrifice quality or style. Lily Ann Cabinets offers many different sized bathroom cabinets to ensure you can create your dream bathroom no matter the space you have. With today's modern designs and sizes, Lily Ann Cabinets is here to make sure you can fit even the most petite bathrooms with a beautiful and functional vanity.
Choosing a Bathroom Vanity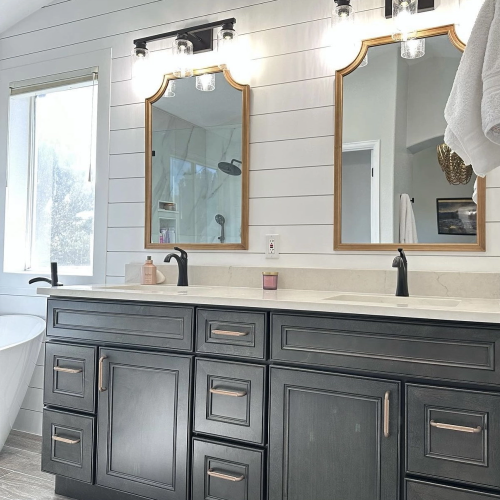 RUSTIC BUTTERFLY
Choosing a Bathroom Vanity
When selecting a bathroom vanity, you'll want to start by measuring the dimensions of your existing vanity. If you are replacing it with an identical one, simply measure the width, length, and depth of the vanity and look for an equal size. However, if you are remodeling, you now have the opportunity to select the size of your vanity! For larger bathrooms, 48" or 60" wide vanities provide more storage and are typically set up for two separate sinks. For smaller bathrooms, freestanding or single basin vanities in the 30" to 36" range are more common. If measuring your bathroom seems overwhelming give us a call or set up a video chat with one of our design professionals. We are happy to guide you through the process every step of the way.
Shop Bathroom Vanity Now
Tips for Measuring Your Bathroom Space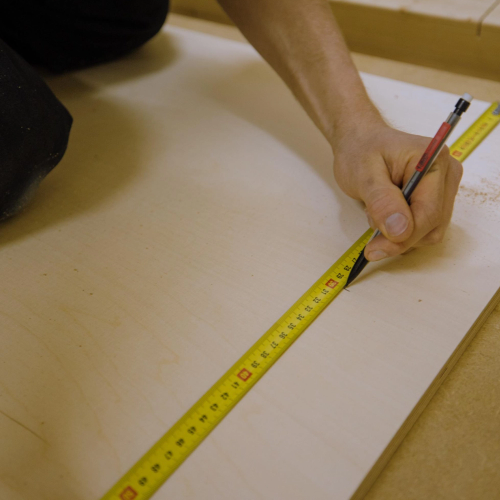 Tips for Measuring Your Bathroom Space
Before purchasing your new bathroom vanity cabinets, it is essential to measure the space accurately.
Pay attention to the location of your plumbing, as this may be a deciding factor on the overall width of your bathroom vanity.
Be sure to account for existing features or planned upgrades, such as mirrors, switches, and wall outlets.
Leave space to account for your shower and doorways.
If you plan to buy a vanity with a top, make sure it is at least 1" wider and 1" longer than the cabinet base.
Accurately measuring the bathroom space will help you get the most out of your bath vanity cabinets. If you need help measuring your bathroom Lily Ann Cabinets can help you with their Lily Tape! This tape allows for an easier way to measure your space, and an easier way for designers to help you get your measuring correct! You can also hire a contractor or video chat with Lily Ann Cabinets design professionals and they can walk you through the measurement process step by step.
Once you get your space measured, please know that Lily Ann Cabinets offers FREE 3D professional designs and quotes! This way, you can visualize how your new bathroom vanity will look in your bathroom before you even purchase it! You can also make changes to your design to see how other bathroom cabinets or colors would look in your space.
At Lily Ann Cabinets we always recommend getting a free professional 3D design for big ticket items, so you can get a professional opinion as well! They may be able to help you create a more functional bathroom for the space that you have or help you figure out what sizes you need depending on other factors in your bathroom such as your plumbing.
Once you are happy with your design, you will be ready to purchase your vanity, but make sure you get yourself a FREE sample first! We offer two free samples per customer so you can see the premium quality of our cabinetry for yourself.
Features to Look for in your Bathroom Cabinetry
Features to Look for in your Bathroom Cabinetry
Assembly type:

Depending on the assembly type, metal hardware may be visible or hidden. We offer two types of assembly: metal clip and dovetail. The metal clip is very durable but leaves some metal hardware visible, while our proprietary dovetail assembly creates a tougher cabinet and takes unsightly metal hardware out of the equation. As the majority of our cabinetry is assembled with dovetail assembly, you can rest assured knowing that your quality cabinets will stay intact. All of our premium bathroom cabinetry come with soft closing doors and drawers as well.
Bathroom Cabinet Specs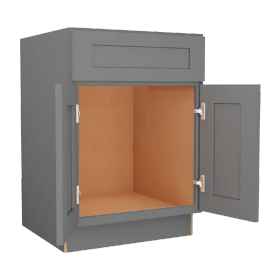 Sink Base Cabinets:
Sink Base cabinets are the most common type of bathroom cabinet. They are typically a cabinet with a sink on the top and doors below.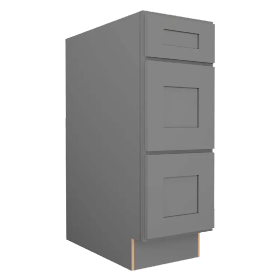 Drawer Base Cabinets:
Drawer Base cabinets are the most versatile type of bathroom cabinet and come in a variety of configurations. Depending on the size, some of these cabinets may have multiple drawers and shelves or only one drawer or shelf. These cabinets are often designed to fit around the vanity basin and come with adjustable shelves to accommodate the height of your sink.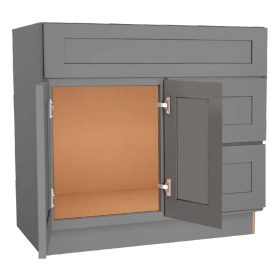 Drawer Right or Drawer Left Cabinets:
A Drawer Right or Drawer Left cabinet is any bathroom cabinet that has drawers and doors. The side with the drawers will be specified in the product name (i.e. Drawer Right Cabinet or Drawer Left Cabinet). This type of cabinet is great for storing small items such as toiletries or cosmetics.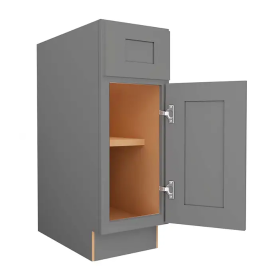 Base Cabinets:
Base cabinets are the simplest type of bathroom cabinet and do not contain drawers or a sink. Instead, they typically have one door that opens to reveal storage space inside.
When shopping for bathroom cabinets on our site, you will find all the specs and measurements of each type of bathroom cabinet listed under the product description. Knowing the exact measurements of each cabinet before you buy is essential for making sure it will fit in your space. Additionally, it's important to make sure your bathroom vanity is strong enough to hold a heavy sink and other items that might be stored inside. Always look for high-quality materials, such as solid wood construction, to ensure durability and longevity.
Bathroom Cabinet Drawers and Box Construction
At Lily Ann Cabinets, we take pride in offering top-of-the-line bathroom cabinets that are both durable and beautiful. To ensure that our cabinets last a lifetime, we use 1⁄2" furniture grade plywood for all of our drawer and box construction. This is 25% thicker than the 3⁄8" that other companies typically use for their cabinets, ensuring a higher quality product.
Our drawers and boxes feature high-grade dovetail construction, providing enhanced stability, added durability, and smooth action when opening and closing. The wood components are pre-assembled at our facility and shipped to your home ready to be installed. Each cabinet drawer has full-extension glides, allowing you to access items stored all the way in the back of the drawer with ease. Our undermount soft-closing drawers and doors provide additional convenience and protection to your cabinet system.
We also have a variety of finish options available to complement any style of bathroom décor. From modern, glossy finishes to natural wood textures, our selection of finishes will give you the perfect look for your space.
When you invest in Lily Ann Cabinets for your bathroom, you can rest assured knowing you're getting top-quality materials and craftsmanship that will stand up to daily wear and tear and humidity from your bathroom.
Bathroom Cabinet Finishes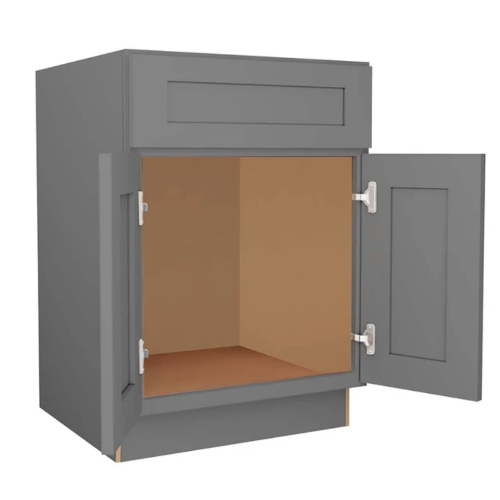 Bathroom Cabinet Finishes
When looking for bathroom cabinets, it's important to consider the finish of the product. The finish is what gives your bathroom cabinet its final look and can determine its longevity. At Lily Ann Cabinets we have a 12 step finish on all of our cabinetry. We also offer both stained and painted cabinets so you can get the look you desire. A good quality finish is key if you want your bathroom cabinets to look as good as new down the road.
Additionally, our selection of finishes provides a variety of style options to suit any type of bathroom décor. Whether you're looking for a classic white finish or a more modern look, we have something for you.
If you're unsure which finish is right for you, take some time to view our gallery photos, samples, and reviews as we are the only 5 star business in the industry. We are also active on Instagram, TikTok, Pinterest, YouTube and Facebook where we showcase all of our different cabinet lines, bathroom vanities, quality comparisons, FAQs and more! Be sure to check them out! We also offer free samples that will be delivered to your doorstep, so that you can get an accurate representation of the product before ordering.
Ease Of Installation and Assembly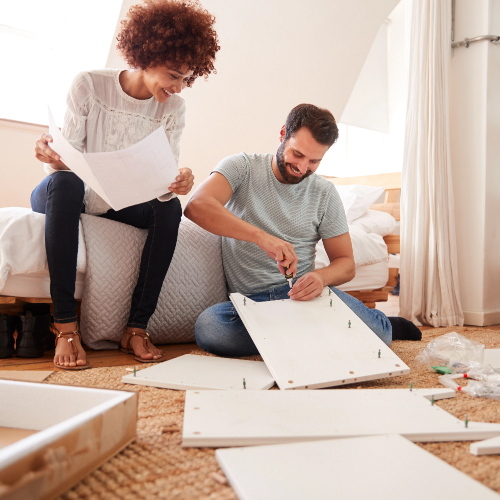 Ease Of Installation and Assembly
When selecting bathroom cabinetry, you want to make sure that the installation and assembly process is as easy as possible. Ready-to-assemble bathroom cabinetry provides a great option for DIYers, as the cabinets come shipped disassembled and ready for quick installation. With these cabinets, you'll save money on shipping, get free shipping on orders over $2500 and manufacturing costs. However, not all RTA cabinets are created equal; while Lily Ann Cabinets come packaged with care and have the best quality items for the best prices in the industry!
Time Frame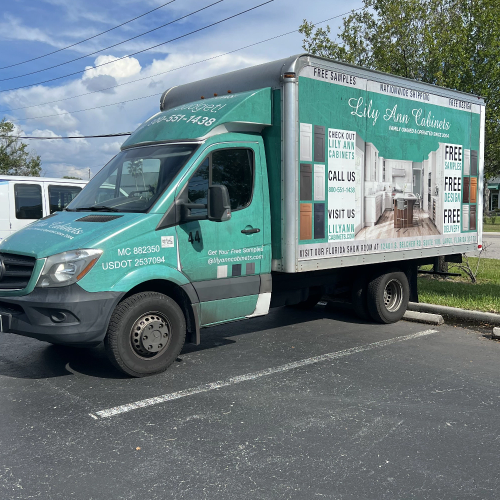 Time Frame
When it comes to finding a new bathroom vanity, you may be worried that 8+ week shipping times will bring your remodel to a pause. However, at Lily Ann Cabinets, all of our cabinetry ships out within 72 hours! If you are local to one of our warehouse locations (MI & FL) you can even pick up your cabinetry the same day of ordering it! In regards to our local delivery, we can deliver your cabinetry on our own trucks as soon as the next day if you are in the states of Michigan, Ohio, Indiana, or Florida! We have over 150,000 cabinets in-stock ready to be a part of your dream bathroom.
You're Ready To Buy Your Bathroom Cabinets
You're Ready To Buy Your Bathroom Cabinets
If you've read through this guide, you've probably got a good enough understanding to start the process of buying your new bathroom cabinets! If you would like to learn more about us and cabinetry check out our social media pages. On our social media pages we answer many FAQs, show inspiration, give remodel tips, and show the different cabinetry we offer! Our Tiktok account features many comparisons of cabinetry from different cabinet companies, so if you are interested in seeing our content or have a question you would like answered in a video, check us out!
Shop Now