When you're having guests over, you want to make sure that they feel welcome and comfortable. Creating a welcoming guest is one of the best ways to make them feel at home.
In this blog post, we'll provide some great guest bathroom ideas to help you create the perfect space for your visitors. From creating a warm, inviting atmosphere to choosing the right amenities, we'll provide all the tips you need to make your guest bathroom a cozy and inviting retreat.
The basics of a welcoming guest bathroom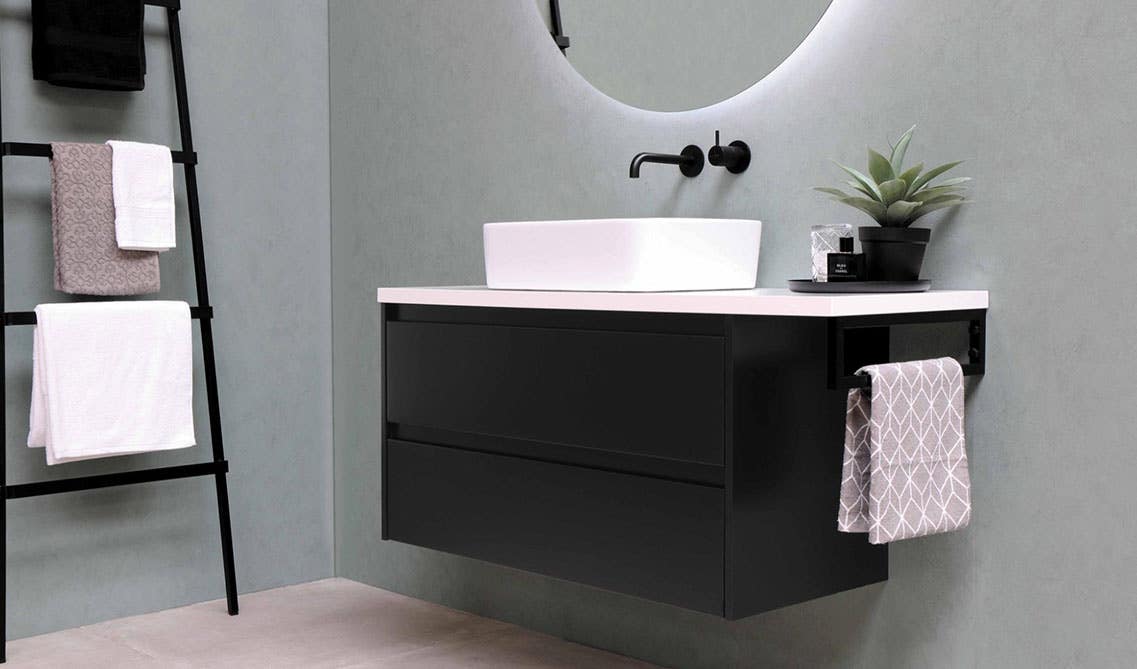 Creating a guest bathroom that is both inviting and functional doesn't have to be a daunting task. The first step to creating a welcoming guest bathroom is to consider the essentials – from towels and soap to toilet paper and shampoo.
Start by providing ample towels in the guest bathroom, so your guests will feel comfortable and prepared. You can choose between neutral colors, or add some bright colors to make it more inviting. Also, make sure you have plenty of toilet paper and soap in case your guests need it during their stay.
Next, think about the overall look and feel of your guest bathroom. You can add a few accessories like candles or flowers to create a spa-like atmosphere. Or if you're looking for something more modern, choose a color scheme that reflects your own personal style. Also, don't forget to pay attention to the details such as adding some cozy slippers, bathrobes, and extra toiletries for your guests.
Finally, keep the guest bathroom clean and clutter-free. A cluttered guest bathroom can make it feel less inviting. So, keep the countertops clean and organize any items that you may need to access often. This will help your guests feel more comfortable when using your guest bathroom. 
Following these simple steps can help you create a welcoming guest bathroom that your guests will love. With the right planning and preparation, your guest bathroom can become an oasis for your visitors!
Checkout: 9 Refreshing White Bathroom Makeover Ideas

Tips for making your guest bathroom more inviting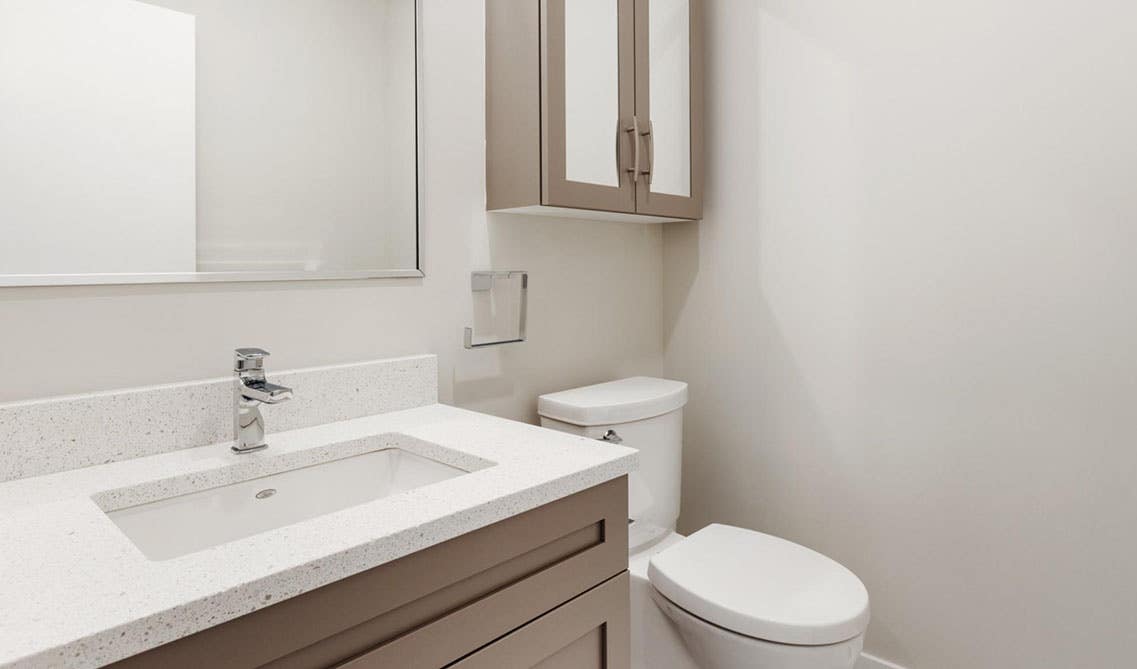 Creating a welcoming guest bathroom begins with the basics, but there are many ways to make it extra inviting. To start, use Lily Ann Cabinets organizers to keep you organized, allowing for plenty of room to store guest bathroom towels and other essential items. Adding a few thoughtful touches such as wall art, greenery, and a soft area rug can really transform the look of the space and make it feel extra cozy. 
If you're looking for extra ways to spruce up your guest bathroom decor, try adding a few new pieces like a fun shower curtain, scented candles, or a diffuser. All these little details can make a big difference in making your guest bathroom an inviting and comfortable space.
Checkout: 18 Unique Modern Bathroom Ideas | Cabinets, Vanities + More

Things to avoid when creating a guest bathroom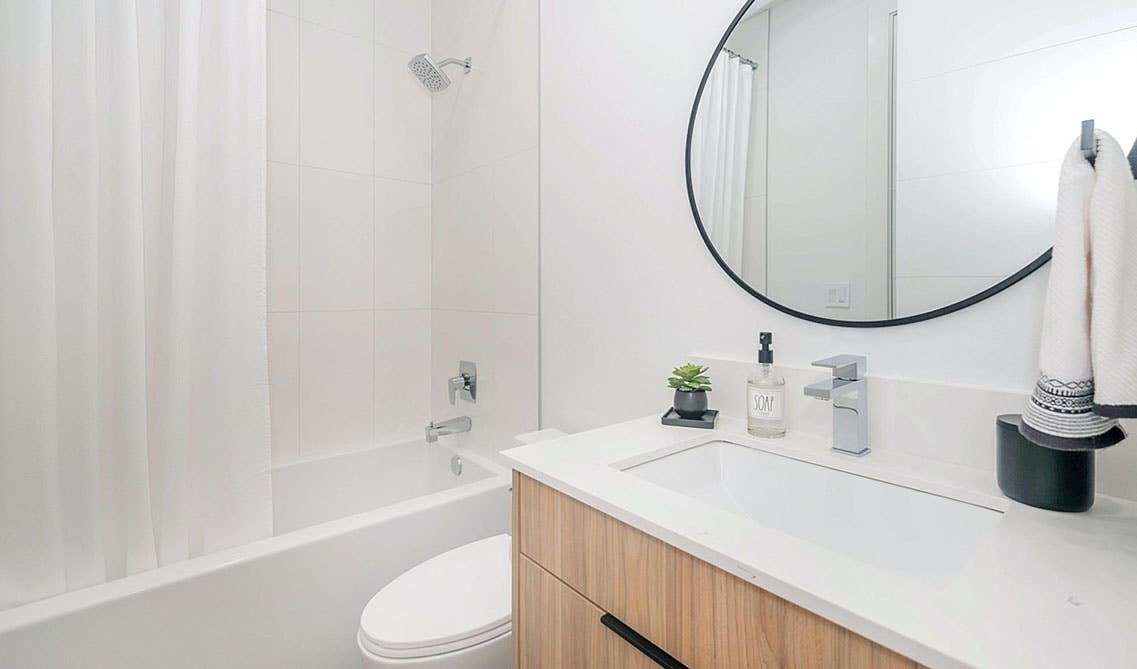 When creating a guest bathroom, there are several things to avoid in order to make sure your guests have a great experience. Here are some tips on what to avoid when designing a guest bathroom:
Don't forget the basics. Make sure that you have all the essential guest bathroom items on hand, such as toilet paper, fresh towels, and soap.
Don't skimp on supplies. Having enough guest bathroom towels and other essentials is a must, so make sure you stock up before you have visitors.
Avoid clutter. Keep countertops and shelves clear of clutter to make the space look inviting and less cramped.
Don't forget the details. Think of little ways to make your guest bathroom more inviting, such as setting out fresh flowers or a nice scented candle.
Don't go overboard. You don't need to have every last detail perfect; keep it simple and your guests will still feel welcome.
Adding Personality To The Guest Bathroom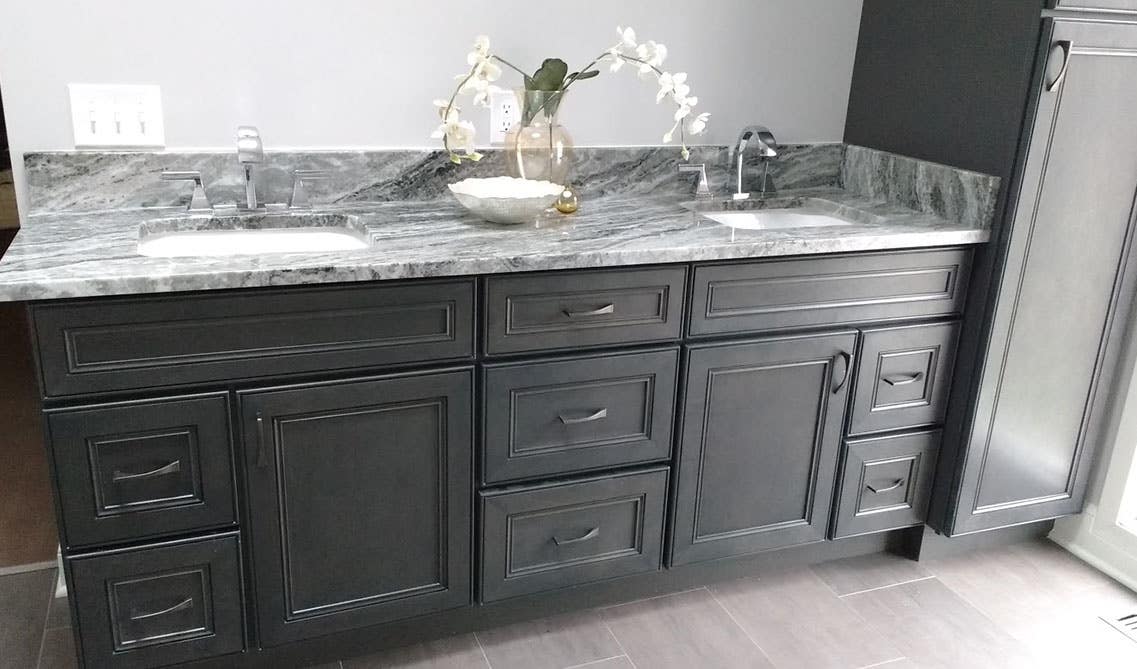 When it comes to creating a welcoming and inviting guest bathroom, It is all in the details. Small touches can make all the difference, allowing your guests to feel like they are really at home. One great way to add some personality to your bathroom is to use decorative hardware on your cabinets.
Lily Ann Cabinets offers a wide range of decorative hardware options, including brushed nickel, chrome, and oil-rubbed bronze, so you can find something that works with your style. Take it one step further and try adding artwork or a simple flower arrangement to your guest bathroom. A nice piece of art can give a room personality and make it feel inviting. For added luxury, consider adding a scented candle or diffuser with a pleasant aroma. You can also add a few personal touches such as framed photos of family and friends or other items that reflect your interests.
In conclusion, by using high-quality bathroom cabinetry from Lily Ann Cabinets and paying attention to the overall design of your bathroom, you can create a beautiful and welcoming space for your guests. With a little attention to detail and some thoughtful touches, you can create a bathroom that your guests will love and that will make a lasting impression. So why wait? Start planning your bathroom makeover today!
Looking for a new bathroom vanity and don't know where to start? Head over to our website and submit your measurements in our FREE 3D design tool to get help from one of our professional designers! 
Related Blogs: 
FAQ
1. What is a guest bathroom? 
A guest bathroom is an extra bathroom in your house that is mainly used for visitors that come over to your house. This gives them extra space for their needs. 
2. What should be in a guest bathroom? 
A guest bathroom should include a vanity supplied with many toiletries your guest may need during their visit. As well as clean towels and enough space for their own toiletries. 
3. What's the best tip for making the bathroom more inviting?
Make sure the bathroom is clean and tidy for guests to feel more comfortable.