When it comes to bathroom design, there are so many different ideas and styles to choose from. It can be overwhelming trying to find the perfect design that fits your home and style.
Whether you're looking for something modern and sleek, or something more traditional and timeless, it's important to do your research and find the right bathroom design ideas that fit your needs. In this blog post, we'll explore some of the most popular bathroom designs and help you determine which of these styles best fits your home.
1. Traditional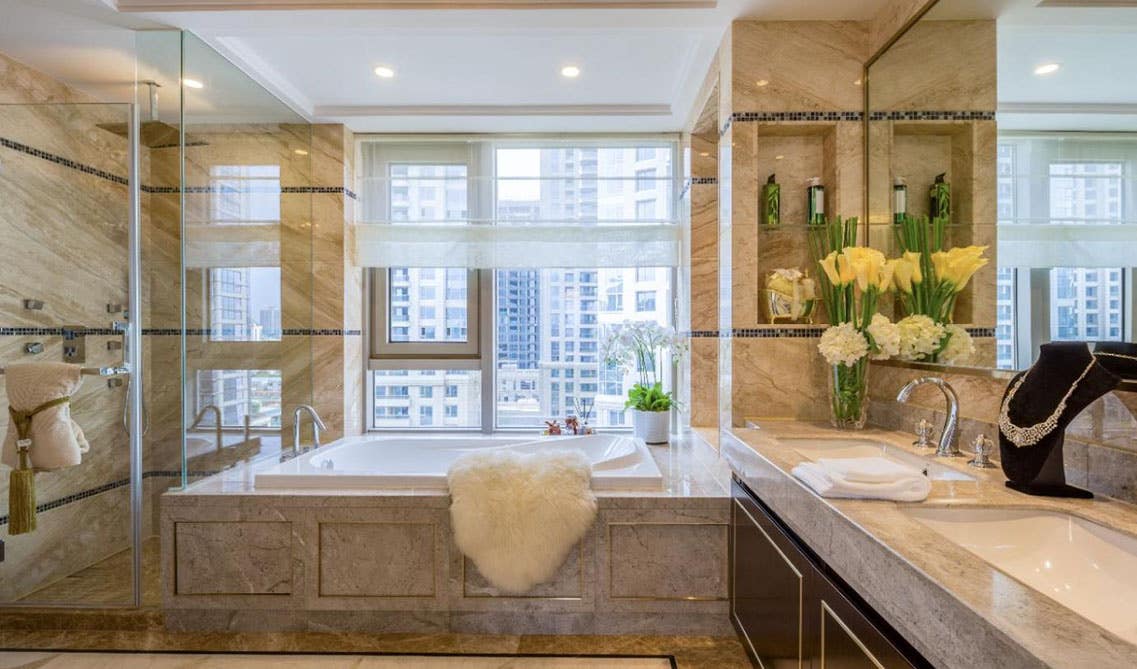 When it comes to bathroom design, traditional style offers a classic look that never goes out of style. Traditional bathrooms feature timeless design elements such as intricate wall tiles, luxurious bathtubs and vanities, and charming accents like ornate mirrors. Whether you're looking for a modern bathroom design or a small bathroom design, you can find inspiration in the traditional style.
Bathroom designs featuring traditional elements are perfect for those who want to make a statement without sacrificing comfort. When designing a traditional bathroom, consider incorporating elegant wallpapers, bold patterns, and classic lighting fixtures to really make the space shine. For those with a smaller bathroom, try using sleek, streamlined fixtures, as well as open shelves and storage solutions to maximize your space. No matter which design ideas you choose, you can guarantee that your traditional bathroom will bring warmth and style to any home.
2. Contemporary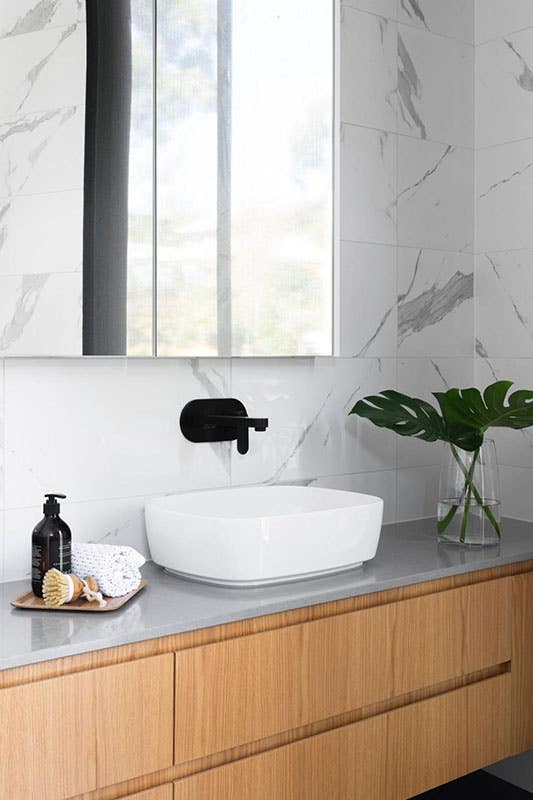 Contemporary bathroom design are all about creating a modern and sleek atmosphere. This style typically features clean lines and minimalistic designs, making it perfect for small bathrooms. A contemporary bathroom should have neutral colors and modern fixtures. Use simple designs to open up the space and create an inviting atmosphere. To complete the look, add geometric patterns and polished metals.
Some popular features of contemporary bathrooms include glass-enclosed showers, floating vanities, and integrated sinks. With the right design, you can create a stylish bathroom that looks modern and inviting.
3. Rustic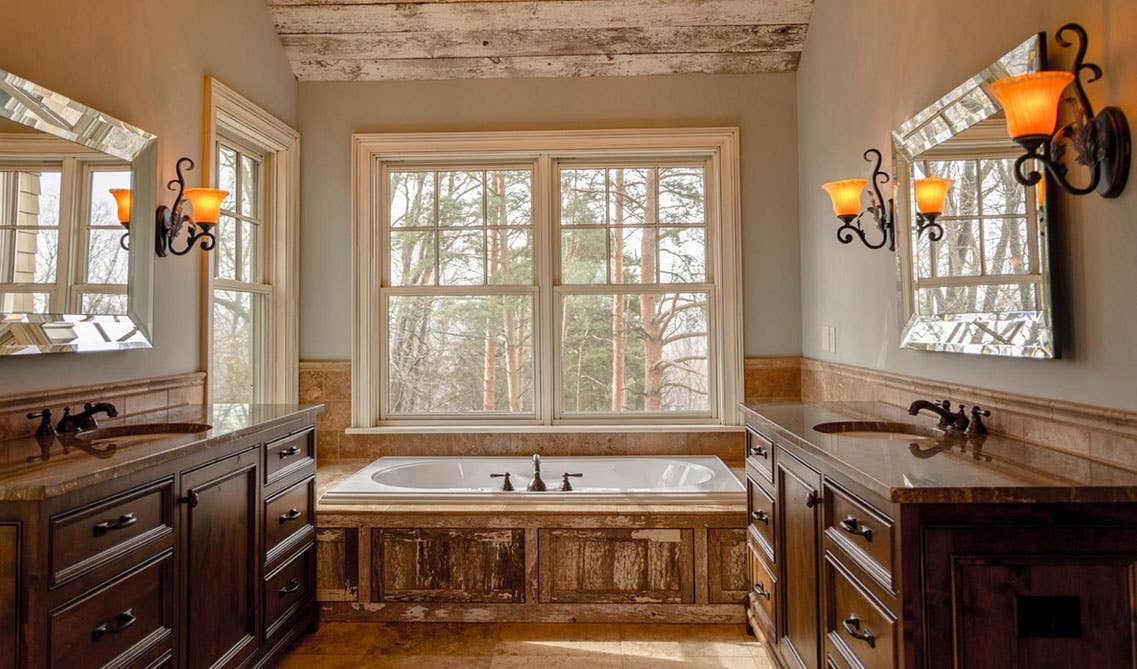 Rustic bathroom designs are a great way to bring an old-world charm and warmth to your home. These small bathroom designs embrace natural elements, including wood, stone, and terracotta tiles. Characteristic features of rustic bathrooms include wooden cabinets, furniture with a distressed or antique finish, and a cozy, inviting atmosphere.
Modern rustic bathrooms often feature modern touches like frameless shower doors, updated lighting fixtures, and neutral colors like gray and white. Designs for a small bathroom can also easily incorporate rustic elements, such as wooden shelves, a vintage sink, and a stone countertop. Adding some rustic elements to your bathroom will create a timeless and warm atmosphere.
4. Minimalist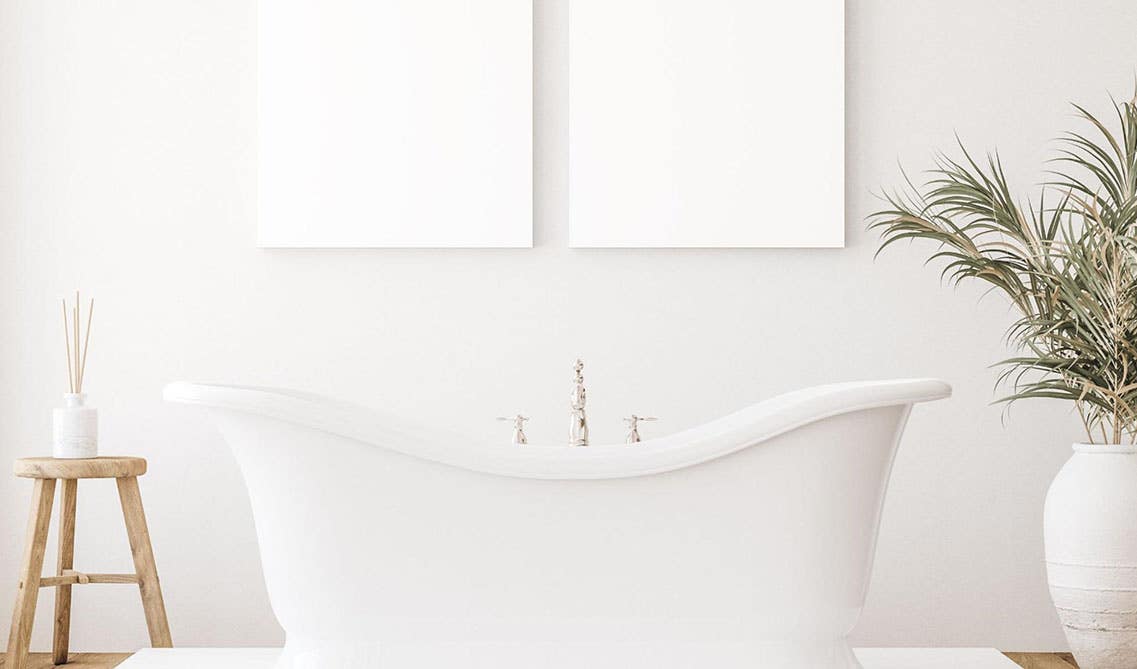 Minimalist bathroom design offer a sleek and modern look that can suit any home. These designs for a small bathroom or large bathroom are perfect for anyone looking to create a contemporary and clean atmosphere. The minimalist style incorporates simple lines, neutral colors, and sleek materials for a timeless and classic look.
In addition to modern bathroom designs, minimalism also offers a feeling of calmness and order. When it comes to choosing the perfect bathroom design for your home, minimalist style is a great choice.
5. Coastal-Style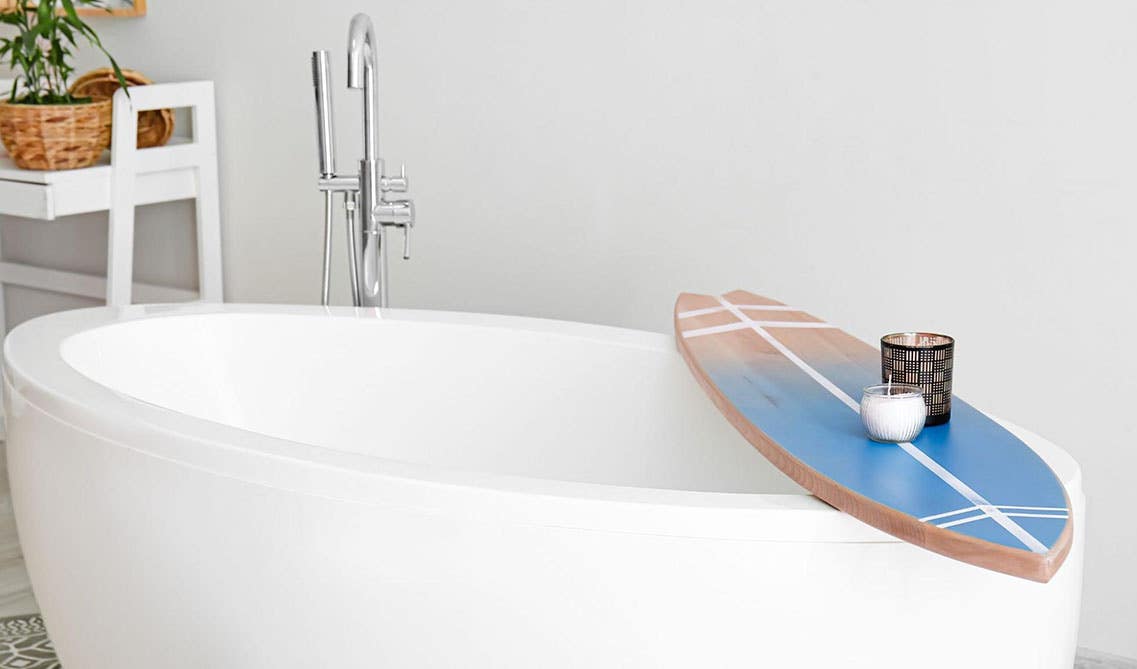 Bring the feeling of being near the beach to your bathroom design with a coastal style. Featuring a light and airy atmosphere with breezy color palettes, warm woods, and natural textures, this look is perfect for small bathroom designs or modern bathroom designs. Utilize white-washed furniture, beach-inspired accessories, and delicate floral prints to achieve a timeless yet beachy atmosphere. To make your coastal bathroom design ideas come to life, incorporate unique light fixtures such as sea glass lamps or rope-wrapped chandeliers.
For smaller bathrooms, consider adding patterned wallpaper for an unexpected but classic touch. No matter the size of your bathroom, you can bring that beachside vibe into your home with a coastal design! 
6.
Farmhouse-Style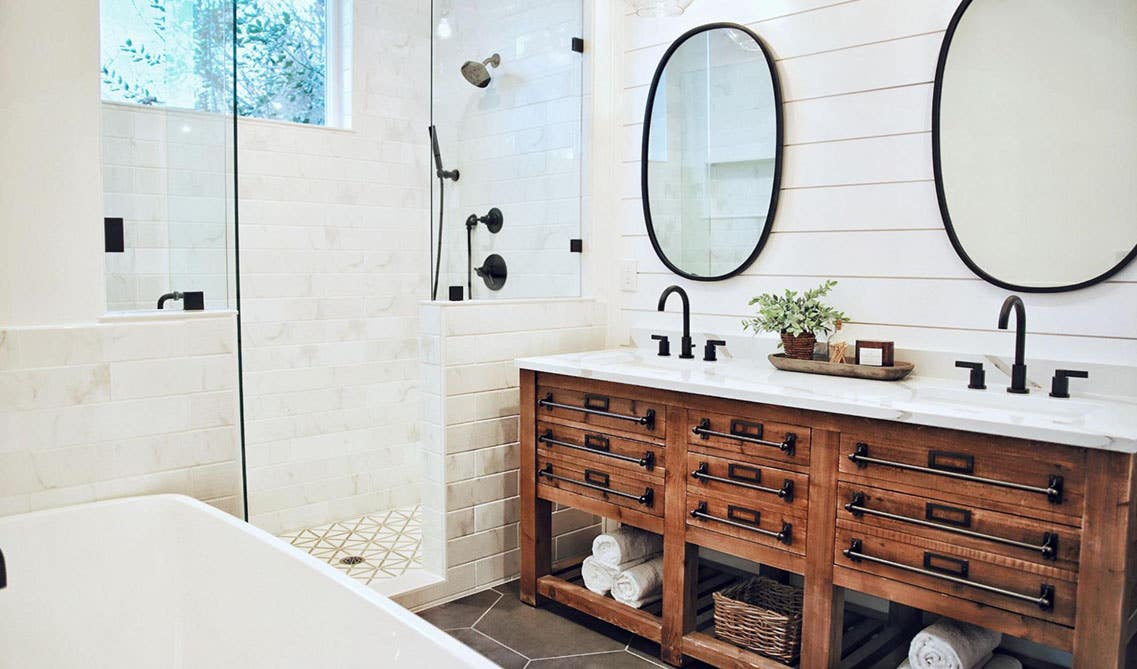 The farmhouse style is a popular choice for many modern bathroom designs. Farmhouse bathrooms feature classic elements like shiplap, exposed beams, and vintage-inspired fixtures that lend a cozy, homey feel to the space. If you're looking for a timeless look, farmhouse style is a great choice. There are also plenty of farmhouse designs for small bathrooms. Look for furniture pieces with a rustic or vintage feel, and make sure to include plenty of white or neutral colors for a bright, airy atmosphere.
You can also opt for plenty of wood accents and unique fixtures to really tie the space together. Small bathroom designs in the farmhouse style often focus on simple lines, natural materials, and plenty of light and airy elements to create a charming yet modern look.
7. All-White Style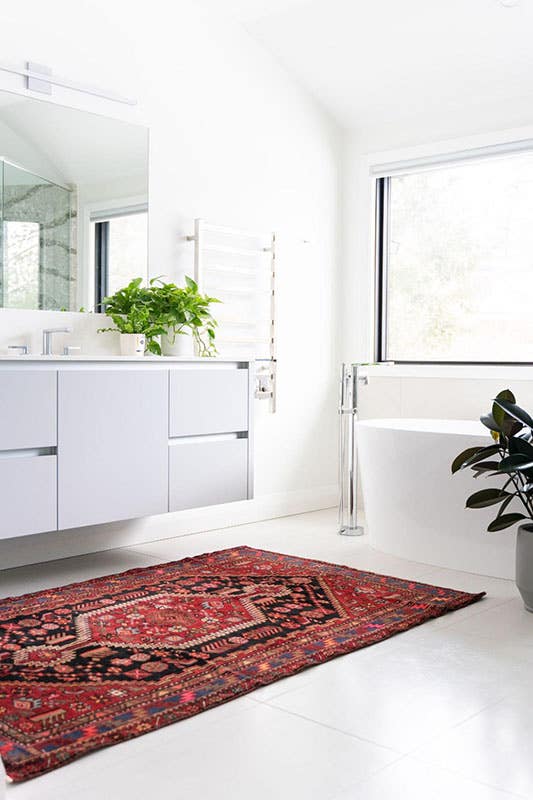 If you are looking for a timeless bathroom design, then all-white is a perfect choice. All-white small bathroom designs create a clean and crisp look that won't ever go out of style. These modern bathroom designs make the perfect backdrop to add your favorite decorative items, like brightly colored towels or vases. You can create a contemporary white bathroom by mixing different textures, such as glossy white tiles with matte paint finishes.
You could also consider adding a white marble vanity to bring some texture and luxe to the design. Small bathrooms are perfect for all-white designs, as it will make them appear much larger than they actually are. With designs for a small bathroom, it is important to create a bright and airy atmosphere, which an all-white design does perfectly.
8. Industrial-Style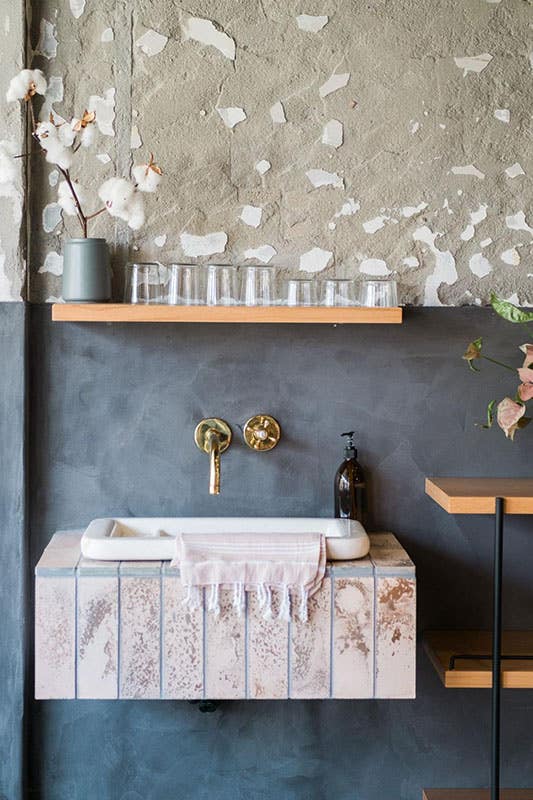 Industrial style is the perfect choice for small bathroom designs. This look blends functionality with edgy and modern aesthetics, creating a space that is both stylish and practical. Industrial bathroom design ideas can be as simple as using exposed pipes and distressed wood to create an eye-catching focal point. Try incorporating bold metals like steel and brass for a truly industrial feel.
For a more subtle approach, consider adding concrete, natural stone or wood to the walls and floors. Industrial lighting, such as metal cage pendants, help bring in an industrial element without overpowering the room. With the right touches, an industrial-style bathroom can be a great way to add a unique touch to your home.
9. Modern-Style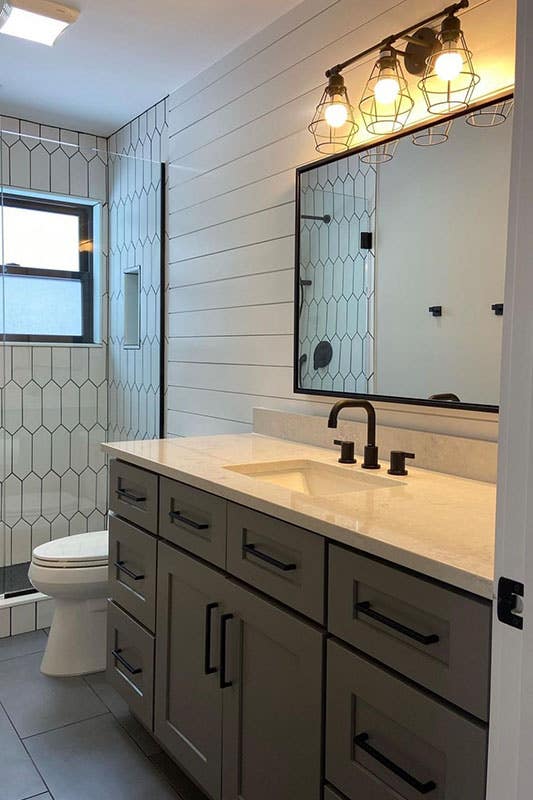 Modern bathroom designs are a great choice for those looking to create a contemporary atmosphere in their home. These designs often focus on clean lines, bold shapes, and minimal decoration. For a sleek look with clean lines, try our Grey Shaker Elite Bath Vanities which will be sure to bring that modern feel into any space. When designing a modern bathroom, it's important to keep in mind the size of the space.
Small bathrooms can often feel cramped, but modern designs can help create an illusion of more space by incorporating light colors and using more efficient fixtures. Large bathrooms are often easier to design, as there is more room to play with color and texture. No matter the size of the bathroom, you can incorporate modern design elements like glass shower doors, sleek vanity cabinets, and geometric tiles. Simple fixtures like faucets and towel bars are also a great way to make your modern bathroom designs pop. Overall, modern bathroom designs can create a beautiful atmosphere in any home with the right fixtures and materials.
10. Bohemian-Style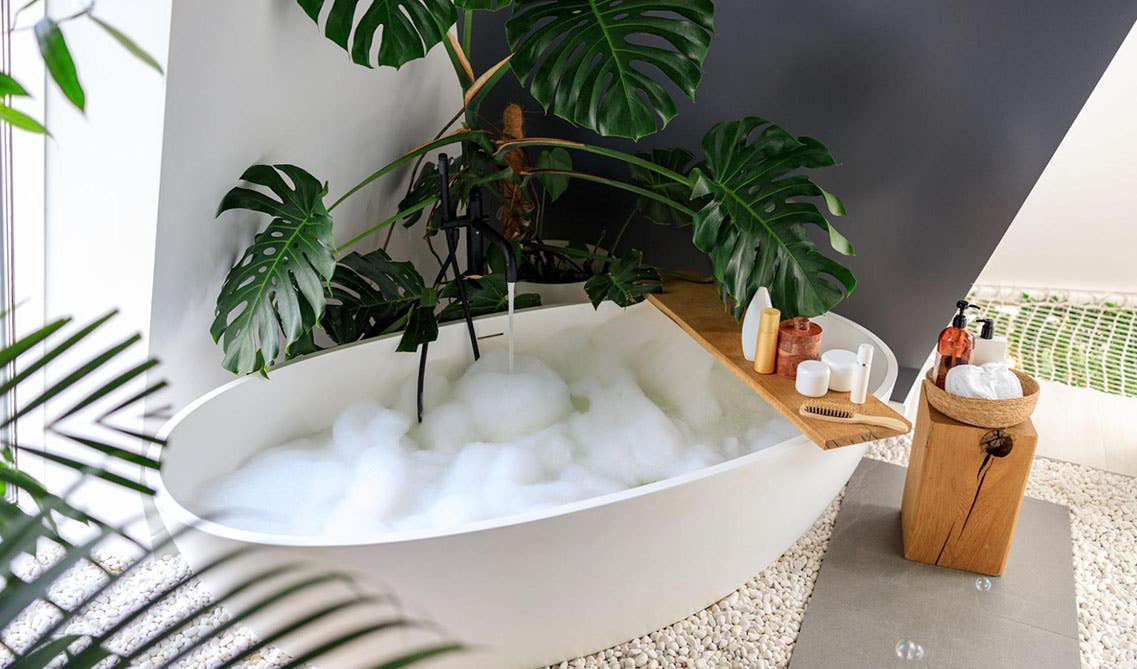 Bohemian bathroom designs are characterized by an eclectic mix of different textures, colors, and patterns. This type of bathroom design is perfect for those who want to express their individuality and add a touch of creativity. The idea is to create an inviting and whimsical atmosphere.
When designing a Bohemian-style bathroom, it's important to include elements that reflect your own personal style. You can incorporate brightly colored rugs, wall art, and plants to give the space a more inviting vibe. If you're looking for bathroom design ideas for a small bathroom, you can take advantage of the bohemian style by adding colorful textiles or patterned wallpaper. A freestanding tub can also add a touch of luxury and a great focal point for the room. To complete the look, don't forget to add some cozy towels and candles for a relaxing atmosphere.
In conclusion, Finding the perfect design for your bathroom can be a challenge. However, with so many different styles to choose from, there's sure to be one that perfectly fits your home and lifestyle. It's important to choose a style that you will love for years to come. From Vanitties, handles, faucets, and any other of your bathroom needs, Lily Ann Cabinets is here to help you create the bathroom of your dreams. With careful consideration and the right design choices, you can transform your bathroom into a beautiful and functional space.
Related Blogs: 
FAQs
1. What are the 2023 bathroom trends
Statement walls will be a bathroom trend in 2023. Whether it's wallpaper, a bold paint color, tiles, or an eye-catching mural, statement walls can be used to make a statement and create a focal point in your bathroom. Open shelving is another popular trend for 2023 bathrooms. Open shelving is great for displaying items like towels and toiletries while creating an airy feel in the room. You can also use open shelving as a place to show off decorative items or plants to bring a bit of nature into your space.
2. What color is most flattering in a bathroom?
Certain colors and hues can make or break your space which is why it is so important to choose a bathroom color carefully. White is an ideal choice for a bathroom as it reflects light, making the room appear brighter and more spacious and it suits most decor styles. Soft shades of blues, greens, and pinks are also flattering in bathrooms since they create a more open and inviting feel. A pop of color in the form of an accent wall or colorful accessories can bring life to the room without making it feel too cramped. The right color can make all the difference in creating an inviting atmosphere that is both stylish and functional.
3. What are 2 things to consider when designing a bathroom?
When designing a bathroom, it is important to take into account the size of the space and the style you want to achieve. Size is particularly important especially if you're working with a small bathroom design. Plan the layout carefully so that all of the necessary fixtures and decor can fit comfortably in the limited space. Style is also important for bathroom designs. The choice of materials, colors, and textures will determine the atmosphere and feel of your bathroom. It is important to select a style that works for you and fits within your desired budget.