Bathroom remodeling is one of the most popular home improvement projects, but it can be costly. If you're looking for ways to spruce up your bathroom without breaking the bank, you came to the right place. With a few simple bathroom remodeling ideas from Lily Ann Cabinets, you can easily transform your bathroom into the dream space you've always wanted.
1. Choose the Right Materials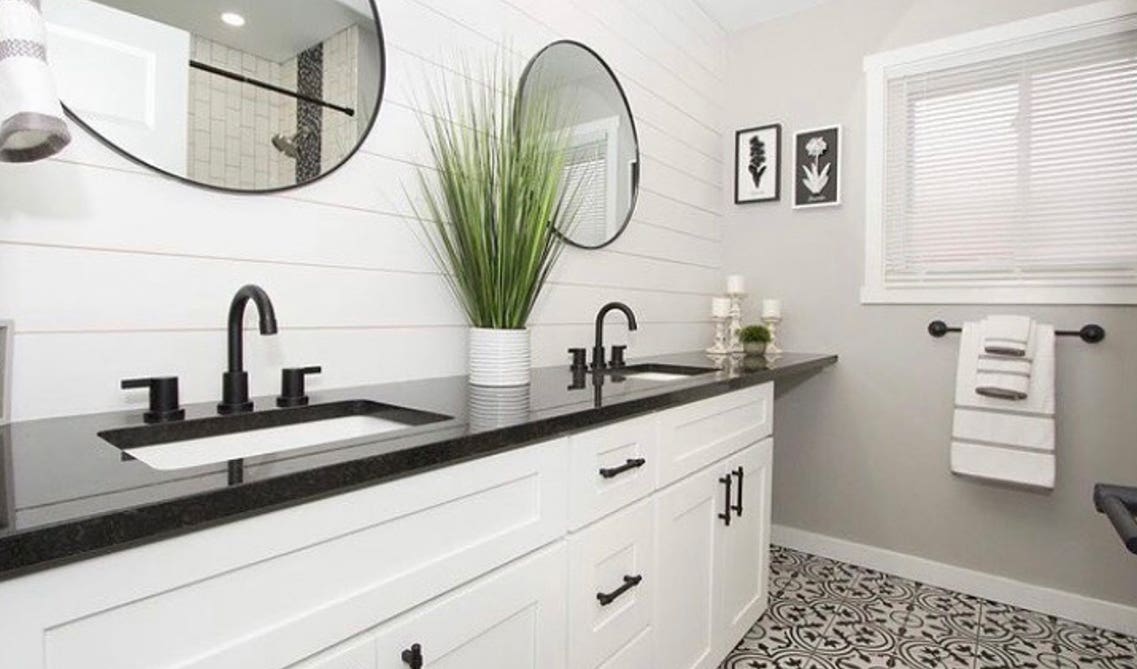 It's important to choose the right materials for the job. You should consider the type of material you want in your bathrooms, such as ceramic tile, porcelain tile, or vinyl flooring. Additionally, when selecting fixtures like faucets and quartz tops, be sure to select high-quality products that will last for years. With Lily Ann Cabinets, you can find the perfect materials to help you achieve the perfect bathroom on a budget. When you purchase from us not only are you guaranteed premium quality materials, but also the best prices. No other competitors compare to our products and cabinetry. Additionally, our warehouse is always in stock and ready to be shipped to your doorstep in less than a week. 
2. Get Creative With Paint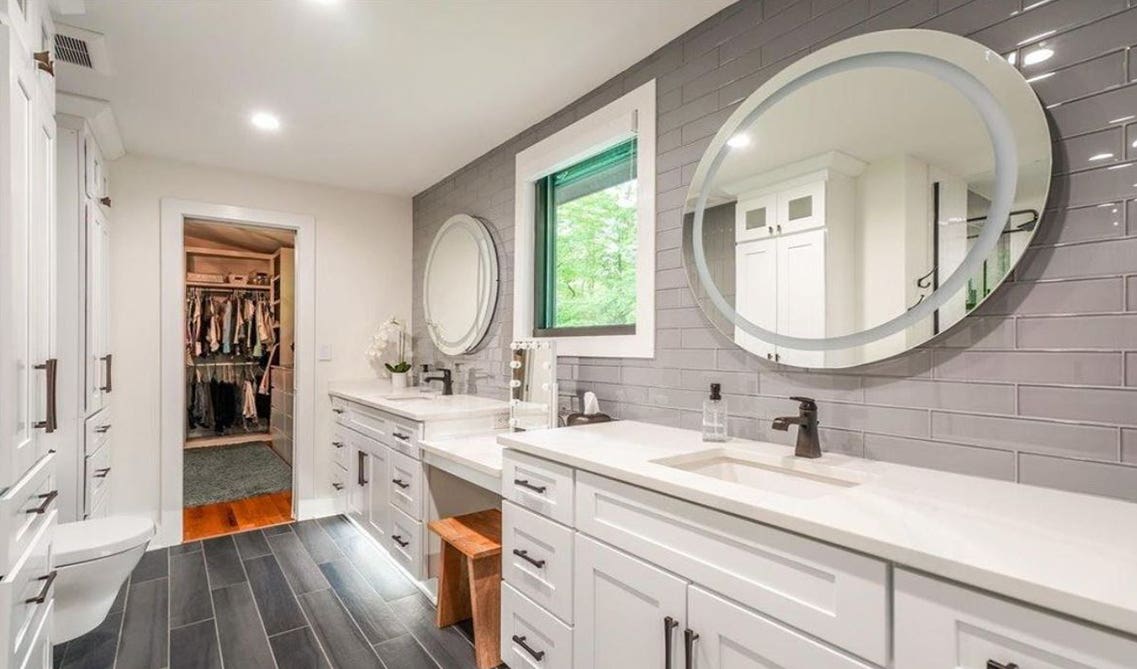 You can get creative with paint to add a fresh look and feel to your bathroom. It's a great way to remodeling your bathroom and give look and feel without breaking the bank. Start by painting the walls with a neutral color, then add accent colors or patterns in smaller areas, such as around windows and doors or in corners. Consider using stencils to create patterns that add texture and personality to your bathroom remodel. If you're feeling adventurous, you can even try wallpapering the walls instead of painting them. There are lots of options for bathroom improvement that don't require a lot of money or time. Get creative with paint and make your bathroom feel like new!
3. Shop at Thrift Stores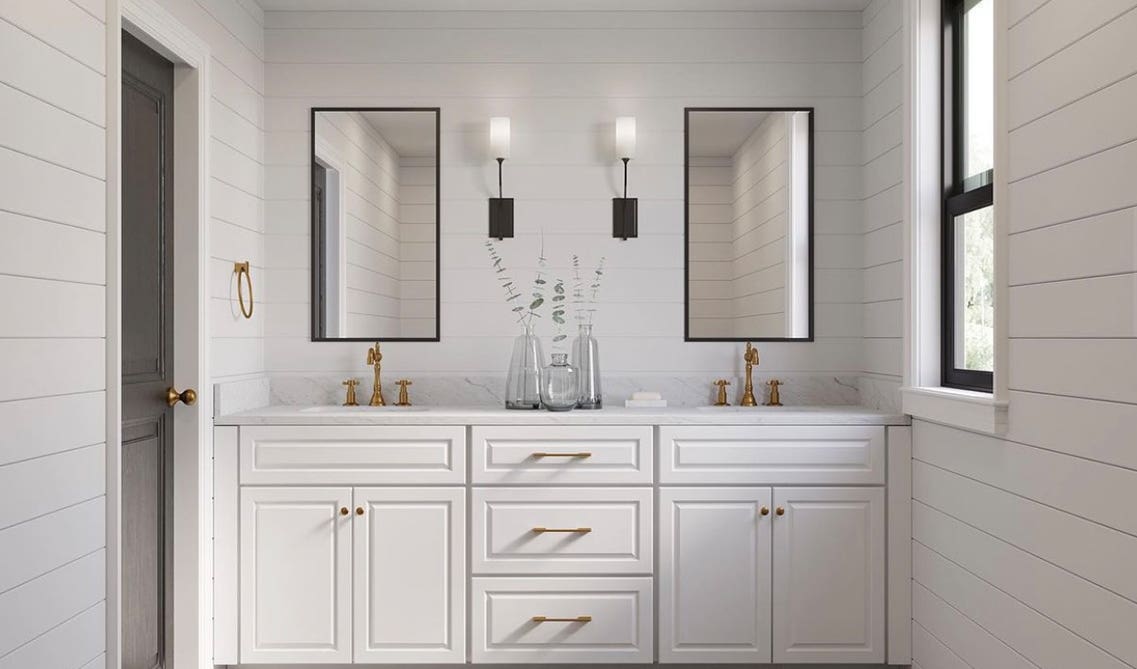 If you're looking to style your bathroom with unique decor, there is always a cost-friendly alternative. Thrift stores often have shelves full of decorative items like artwork, knick-knacks, and baskets that can be used to add a unique touch to any room. You can also find mirrors, towel racks, and other items for a fraction of what you'd pay in retail stores. If you have time, scour the stores for any furniture pieces that could be repurposed into bathroom storage or seating. With a bit of creativity, you can easily transform any thrift store find into a beautiful addition to your bathroom.
Checkout: How to Organize Your Bathroom for More Space

4. Don't Be Afraid to DIY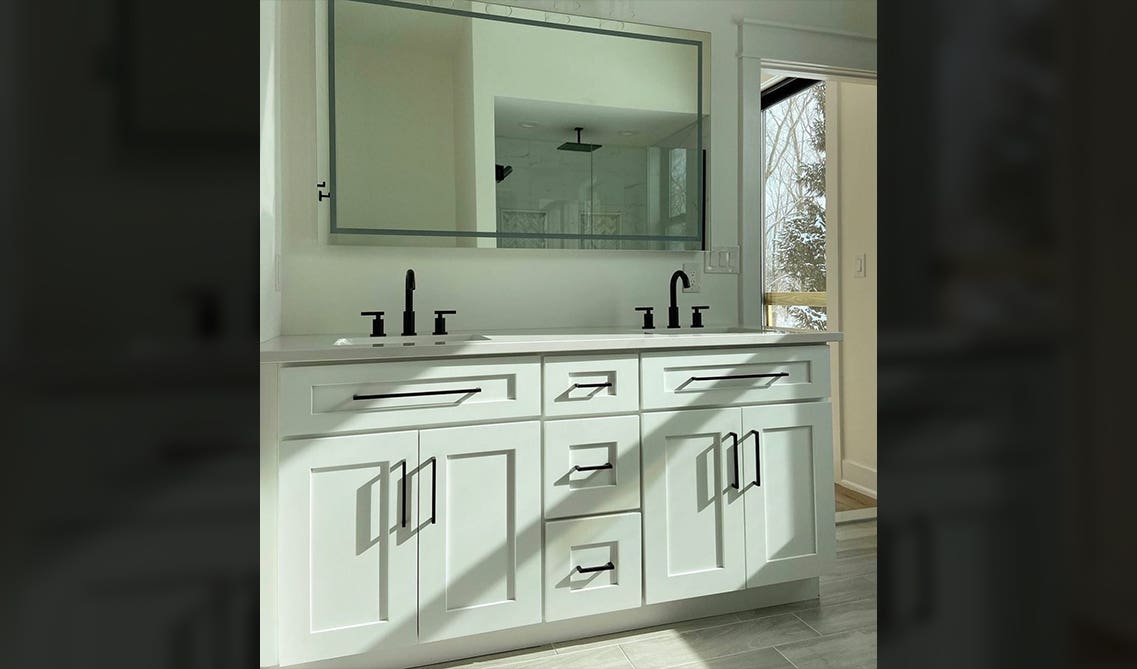 There are plenty of ways to upgrade your space without breaking the bank. When remodeling your bathroom, it can be discouraging to build your cabinets yourself. However, with Lily Ann Cabinets dovetail assembly there's never been an easier way to get the job done. Even if you have never built anything ever, our assembly process is so easy. We also have multiple sources to help guide you in this process, including youtube videos, live video chats and assistance, and lastly the BILT app that takes you step by step through the assembly. Not only will you save money, but you'll also have a sense of pride knowing that you made the changes yourself. So don't be afraid to get creative and DIY – your bathroom will thank you!
Read More: Top Bathroom Design Trends

5. Use Mirrors to Create the illusion of Space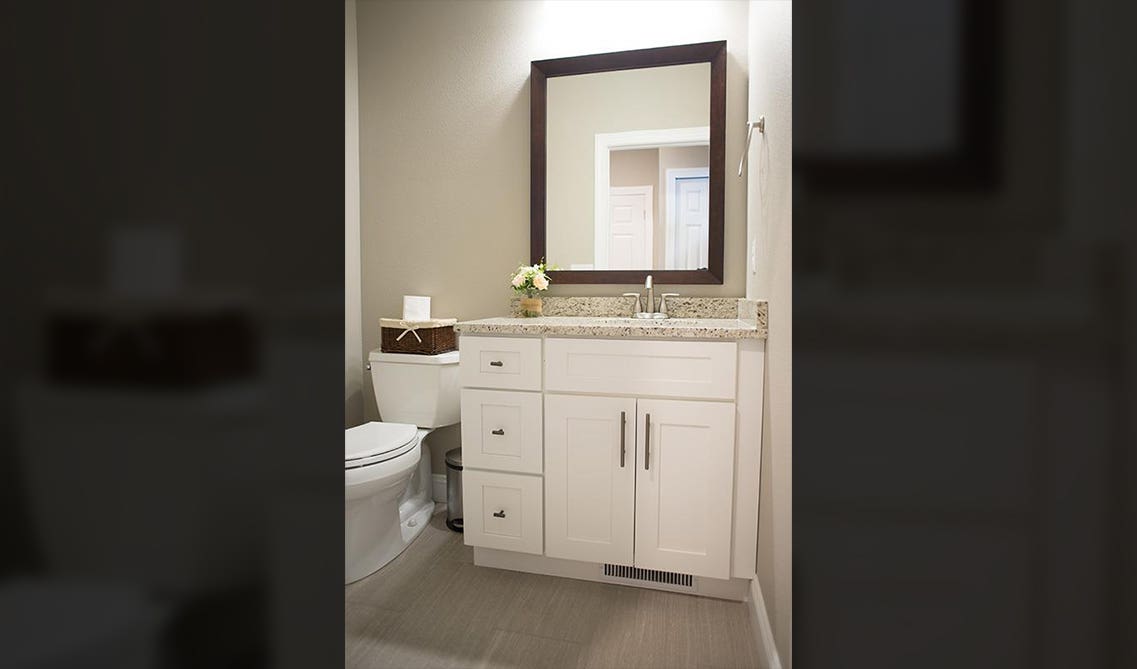 One of the easiest and most affordable ways to add space and style to your bathroom is to use mirrors. Mirrors are a great way to instantly create an illusion of more space, especially in a small bathroom remodeling. You can hang multiple smaller mirrors, or one large one above your sink. This can also double as a great bathroom remodeling idea since it will also help reflect more light throughout the room, making it appear larger and brighter. 
6. Hang Towels and robes on Hooks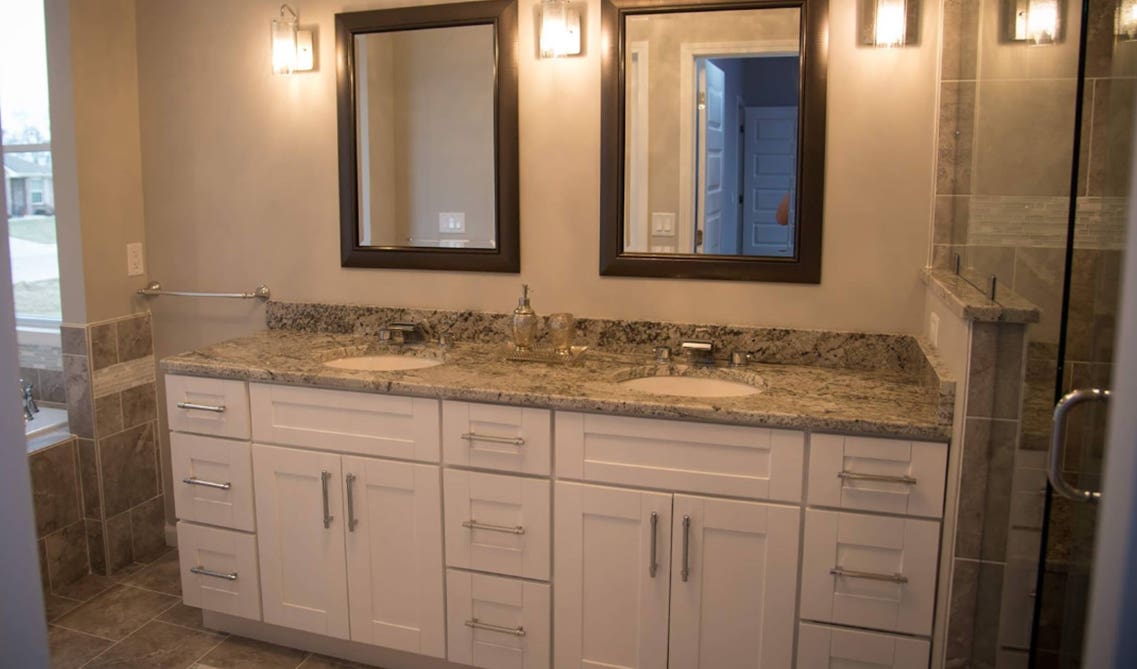 One of the simplest and most effective bathroom remodel hacks is to hang towels and robes on hooks. This is an easy way to add style, convenience, and storage space to your bathroom without having to invest in expensive items. Not only will it create a modern and clean look, but it also keeps towels off the floor and out of sight. You can even find decorative hooks that will bring color and texture to your bathroom. Installing towel hooks is a quick and easy way to spruce up your bathroom and make it more organized.
7. Add Floating Shelves and Plants for a Fresh Look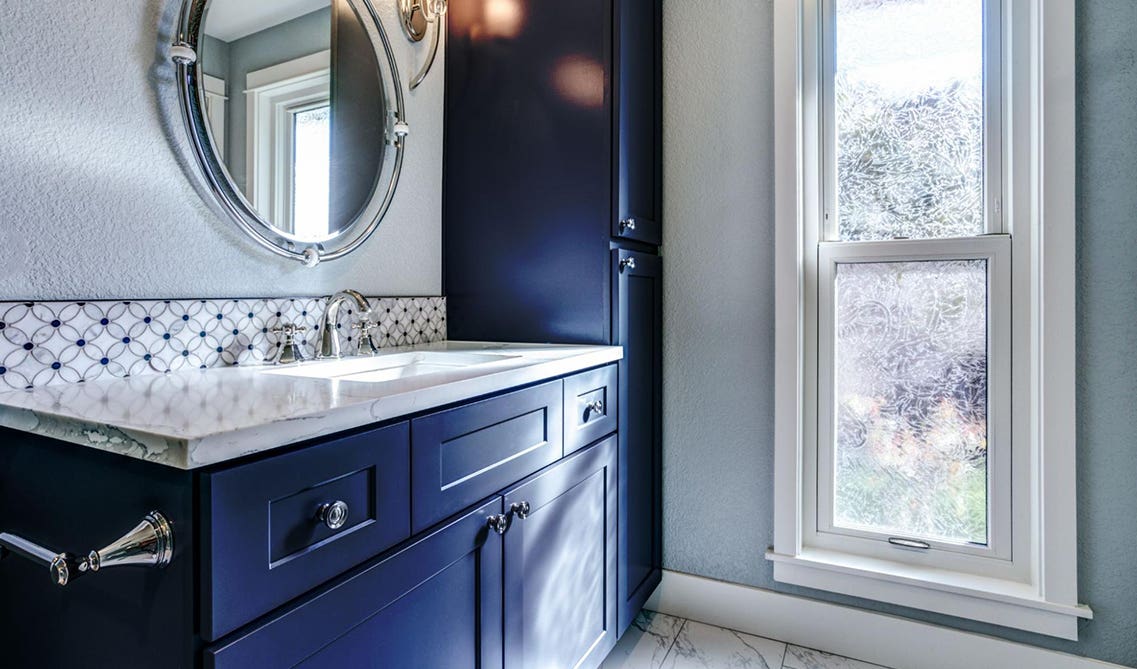 Floating shelves and plants can be a great addition to your bathroom for a low-cost bathroom remodeling. Lily Ann Cabinets floating shelves provide the perfect place to store extra towels, toiletries, and other bathroom items. They also look modern and sleek, making them a great way to upgrade your bathroom. Adding some plants will add a touch of nature and can help to purify the air. Plus, they'll give your bathroom a refreshed and natural look. Be sure to choose plants that don't require too much sunlight and won't get damaged by moisture. With the right materials, you can easily create an inviting and stylish bathroom on a budget!
Are you looking to remodel your bathroom on a budget?
If you're in need of any further assistance in choosing your bathroom vanity or in any other stage of the bathroom remodel process, feel free to contact us for more customer support. 
At Lily Ann, we value your patronage and would be happy to help you realize your ideal home spaces. Happy shopping!