The bathroom vanity cabinet can be an excellent way to add style and functionality to your bathroom, no matter what your decorating style might be. A vanity cabinet can be the piece that ties together the entire look of your bathroom, while also providing storage space for things like toiletries and bathroom accessories. If you are looking to remodel your bathroom, adding or replacing the bathroom vanity cabinet may be just what you need to do so that everything in your bathroom matches seamlessly and looks its best! Here are 8 elegant vanity cabinets that will give your bathroom a fresh new look in 2023!
Chic, Minimalist Design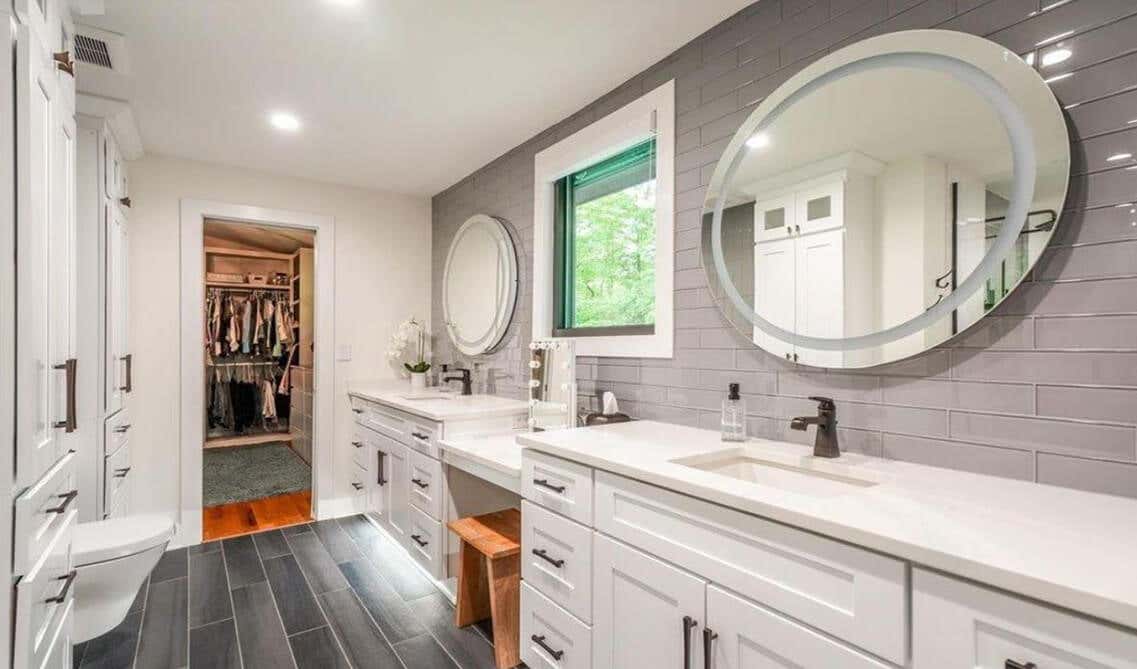 If you're looking for a chic, minimalist design for your bathroom vanity cabinets, look no further than these eight elegant designs. From sleek, white cabinets to rustic wood ones, there's sure to be a style that fits your bathroom's aesthetic. Plus, with plenty of storage and counter space, these vanity cabinets are functional as well as stylish. So why not give your bathroom an update with one of these beautiful bath vanity cabinets?
Large Drawers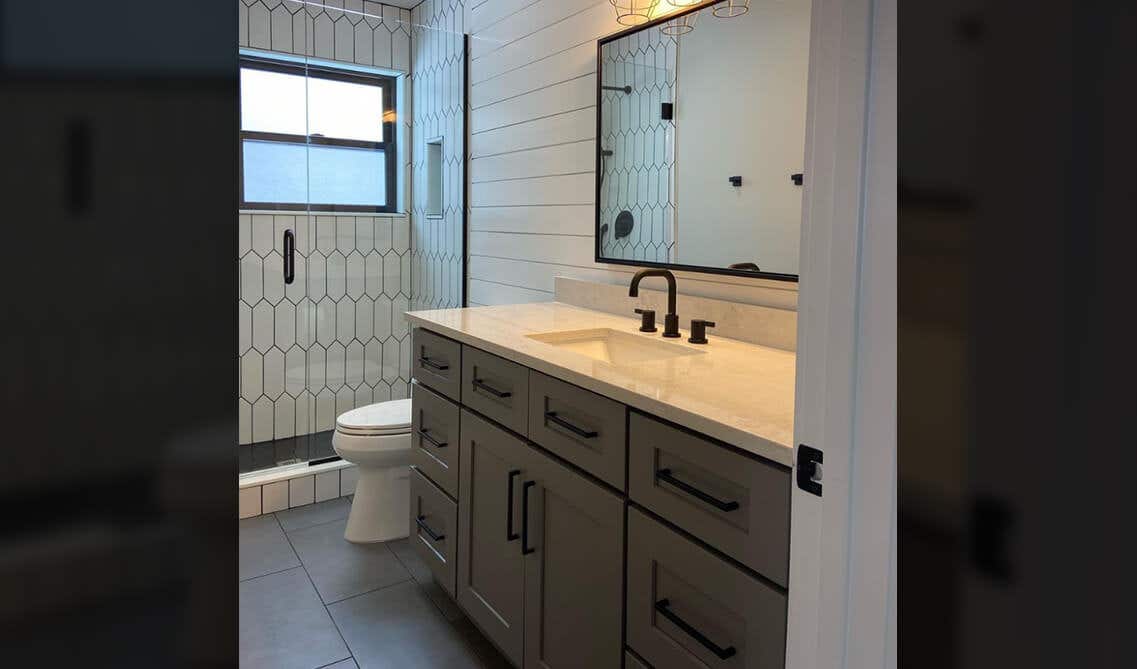 One way to achieve an elegant look for your bathroom is to invest in high-quality vanity base cabinet. Not only do they provide function and storage, but they also add a touch of luxury. If you're looking for something truly unique, consider a custom vanity cabinet. Lily Ann Cabinets can modify the cabinets to fit your depth and liking for the lowest price we can find! Lily Ann Cabinets offers 22 different cabinet styles, so everyone can find a style fit for them. They also offer free samples and a free 3d design, so you can see what your new bathroom will look like before you even spend a penny!
Open Storage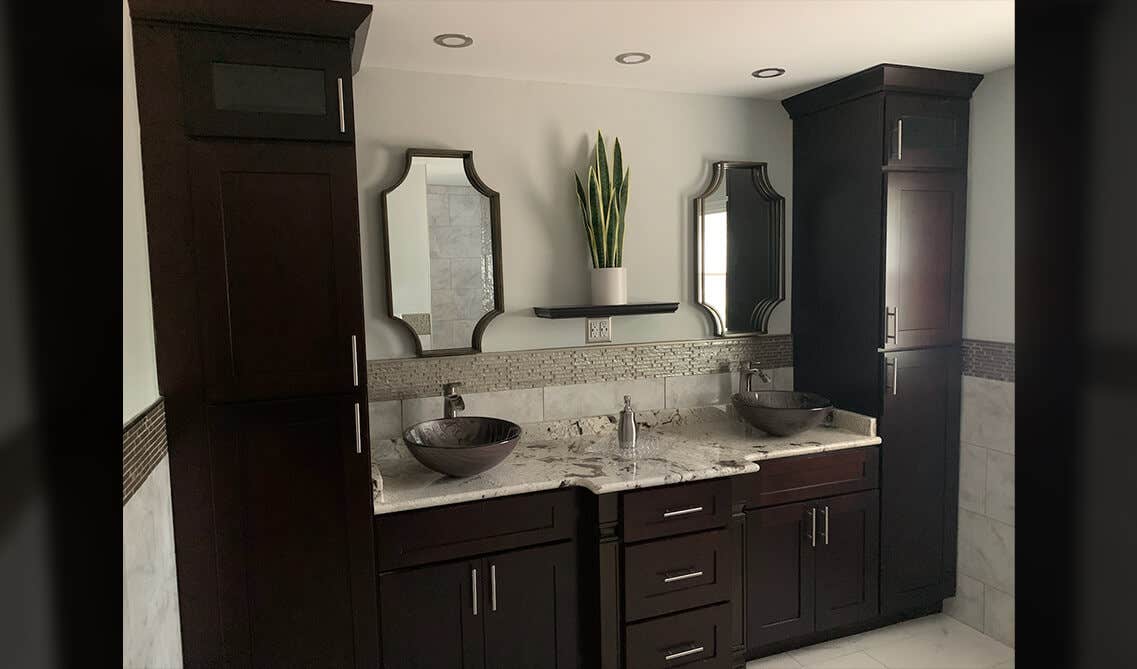 Bathroom vanity cabinets are an important design element in any bathroom. They can set the tone for the space and provide much-needed storage. Open storage vanity cabinets for bathrooms are a great option if you're looking to add a bit of visual interest to your bathroom. Plus, they can help make your space feel more open and airy.
Mirrors
A bathroom is not complete without a mirror. A bathroom vanity with cabinets can help to streamline the space and provide storage for all of your bathroom essentials. Mirrors can also be used to create an illusion of space in a small bathroom. You can also add a cheap mirror from a thrift store to your vanity base cabinets.
Colored Cabinets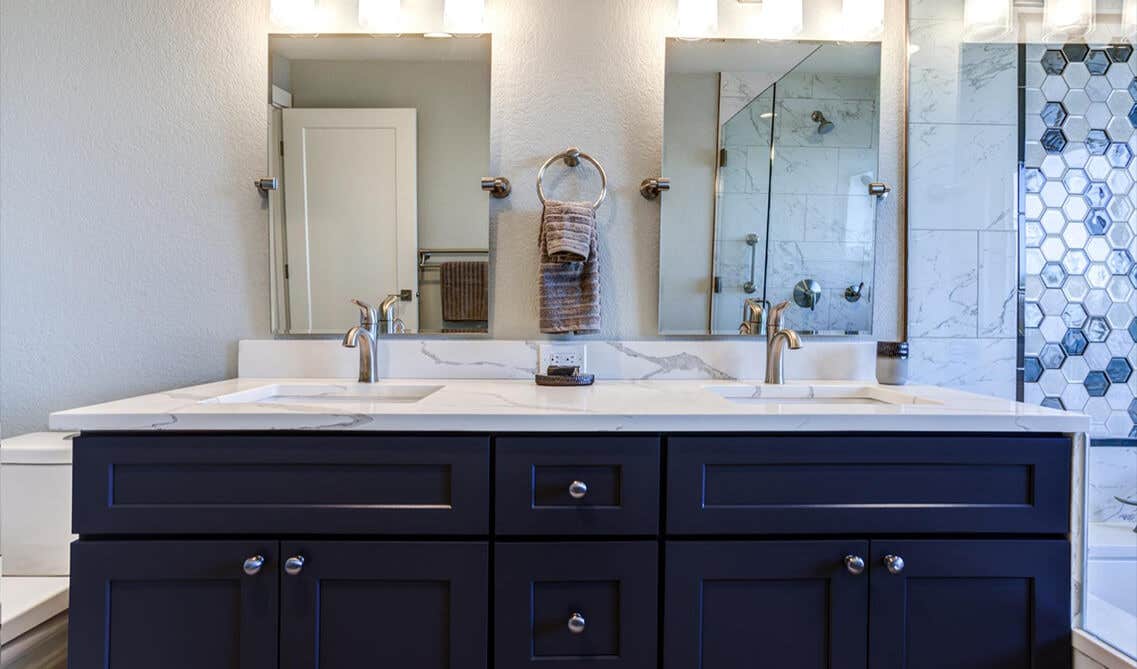 White bathrooms are so last year. If you want your bathroom to look fresh and new in 2023, consider adding a pop of color with your vanity cabinets. Bath vanity cabinets come in all sorts of colors, from bold blues to pretty pinks. Adding a colored cabinet to your bathroom can completely change the look and feel of the space. Plus, it's a great way to add personality to your bathroom without going too crazy with color.
Built-in/ floating Shelves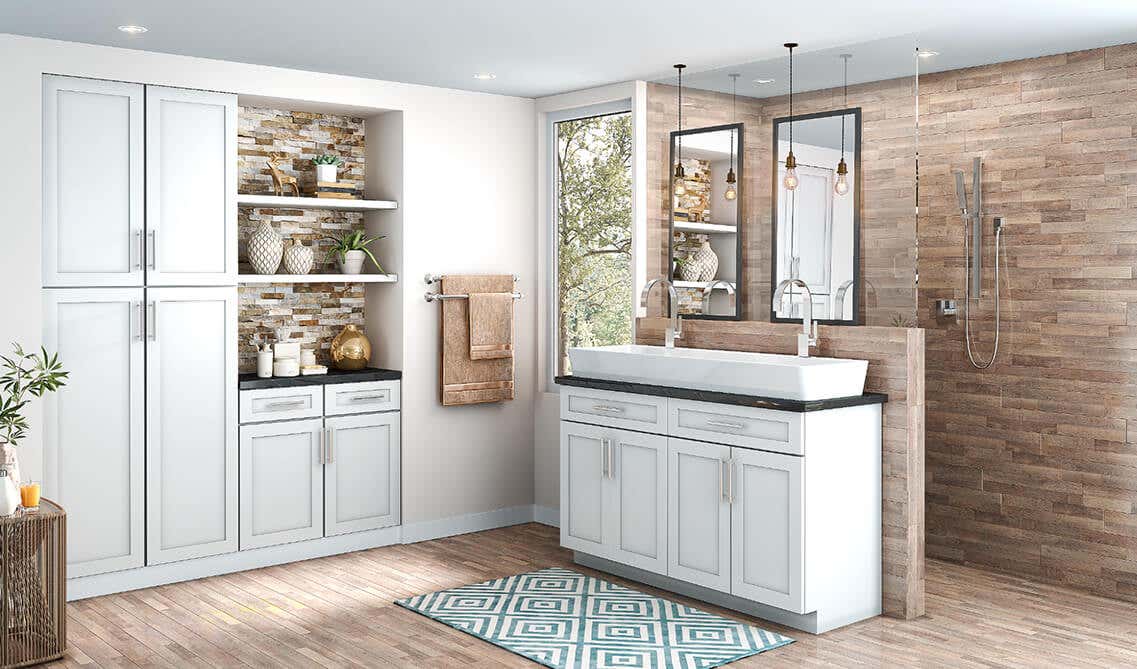 A great way to save space in your bathroom is to opt for floating shelves instead of all bathroom cabinetry. This will give the illusion of a larger space and make your bathroom look more elegant. You can find floating shelves at most home improvement stores or at Lily Ann Cabinets if you decide to go with them for your total kitchen renovation. They can also match the shelves to the cabinetry you choose, so you don't have to try and color match them yourself! The height of a vanity cabinet should also be taken into consideration when installing it in a small bathroom as it could easily dominate an otherwise small room. The standard size is around 24 inches high but it's always best to measure out where you plan on placing the vanity before purchasing one so that you get one that fits well in its designated area. Get a free 3D design from Lily Ann Cabinets so you are able to see what it would look like, and get a professional's point of view of what would be best for your space!
Extra Features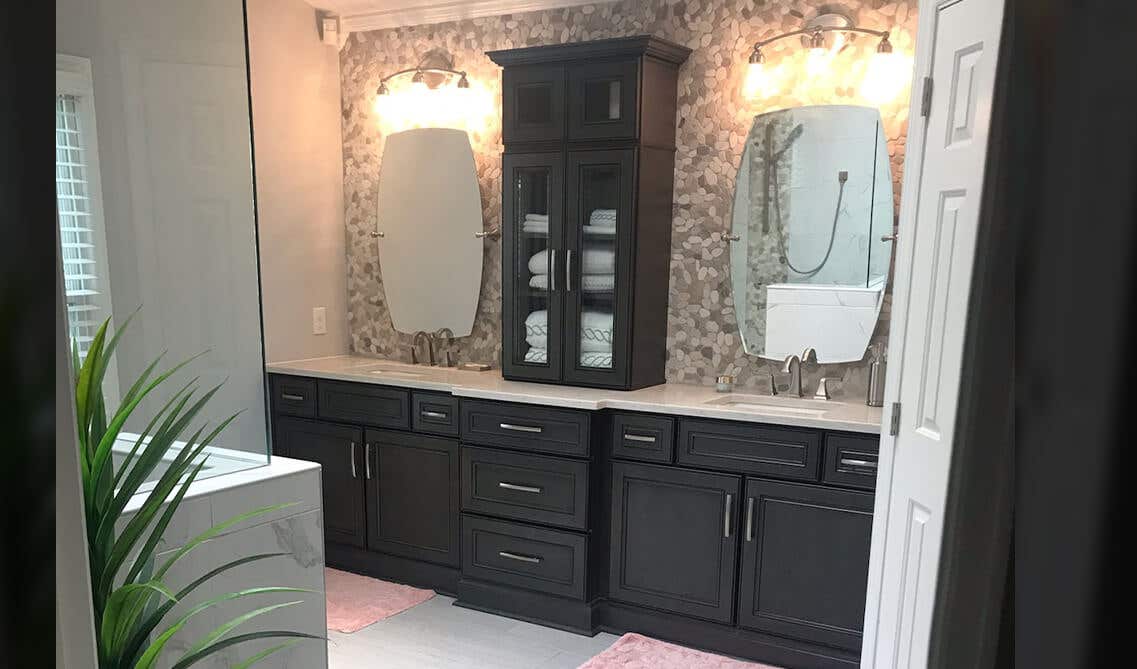 If you're looking to add a touch of elegance to your bathroom, consider installing vanity base cabinets. These cabinets are the perfect way to add storage and style to any bathroom. There are many different styles of vanity base cabinets available, so you can find the perfect one to match your existing décor. You can also find cabinets that come with extra features, such as built-in mirrors or lighting. If you want a complete makeover, consider installing a new bathroom vanity with cabinets. This will give you the most storage space and allow you to completely customize the look of your bathroom. Lily Ann Cabinets bathroom vanities are very easy to assemble and make the difference of a lifetime when it comes to your bathroom's aesthetic. When choosing bathroom vanity cabinets, it's important to consider the material they're made from, as they will be around heat and water. Lily Ann Cabinets only sells all wood premium cabinetry that is built to last for the lowest price possible!
Unique Floating Cabinets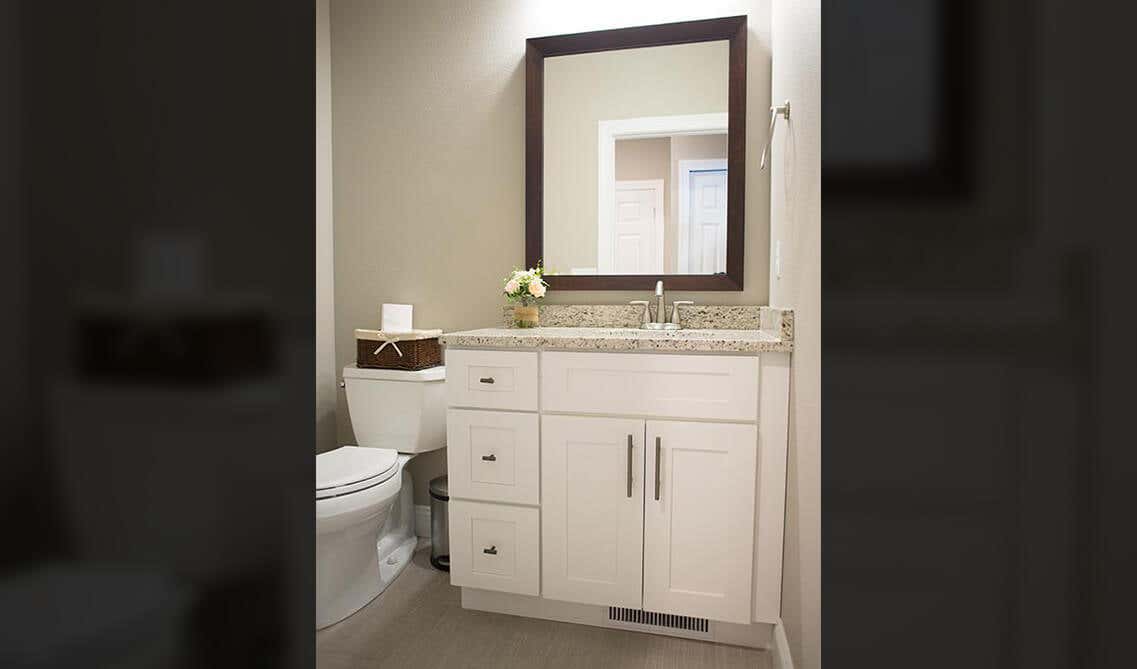 Create the illusion of more space with floating cabinets. By mounting them on the wall and adding toe kick underneath, you'll free up valuable floor space while creating a sleek look. And if you have a small bathroom, this can be a game-changer. Give your bathroom an updated look with new vanity cabinets. If your current cabinets are looking a bit dated, consider replacing them with something more modern. Shaker style cabinets are very popular and are not projected to go out of style any time soon. If you're looking for a look that will take your bathroom to an even higher level, extendent your vanity cabinet to the ceiling. This will help you keep things organized and out of sight. Add some flair to your bathroom with vanity cabinets that have unique features. For example, you could choose cabinets with decorative hardware, glass doors, or a sleek door profile.
FAQ
How to paint vanity cabinets?
You want to begin by removing the doors of the cabinets and sanding each item you are painting. Next go in with your preferred primer. Lastly, begin painting.
How deep is a bathroom vanity cabinet?
The average depth of a bathroom vanity cabinet is 17-24 inches.
What is the height of a bathroom vanity cabinet?
The height of a bathroom vanity cabinet is 32".
How to attach a vanity sink to the cabinet?
1. Assemble to sink/faucet
2. Insert into designated holes on cabinet
3. Secure the vanity top
How to install a bathroom vanity cabinet?
1. Measure the area
2. Choose your vanity sink
3. Remove your old vanity
4. Install new vanity by positioning it on place with outline on wall
5. You can then attach it to the wall