Find a timeless backsplash for white cabinets with this comprehensive kitchen guide.
Are you looking to update your kitchen with a fresh new look? Consider adding a backsplash for white cabinets! A backsplash for white kitchen can provide an eye-catching accent that will completely transform the space. From classic tile to unique and modern designs, there are plenty of backsplash options to choose from. In this blog post, we'll be highlighting 11 fresh kitchen backsplash ideas for white cabinets that will take your kitchen design to the next level.
It's hard not to love the timeless appeal of white cabinets. Not only has white remained the most popular cabinet color for years, it has the added benefit of matching just about any kitchen decor. That means the options are quite literally limitless when searching for the perfect kitchen backsplash for white cabinets.
Read on to explore 11 white kitchen backsplash ideas to inspire your next remodel.
1. Patterned Victorian Tile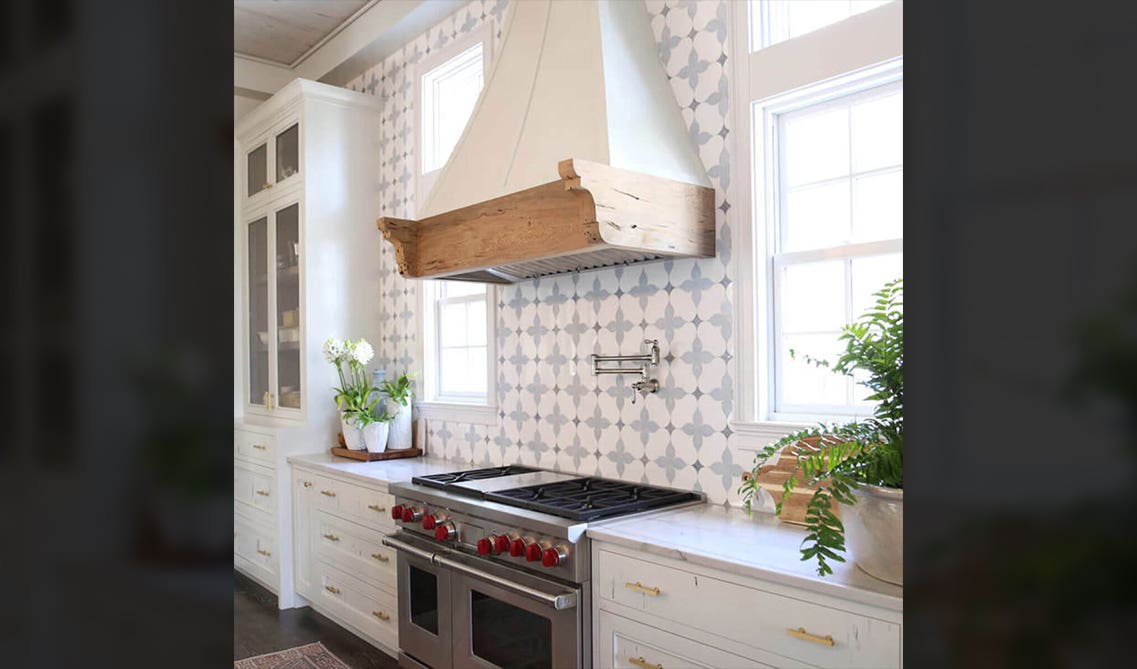 If you're looking for a modern backsplash design to pair with white cabinetry, look no further than the Victorian patterned tile shown here. The glossy tile features cool pastel colors that give the kitchen an interesting visual without being overwhelming. The backsplash extends from the countertops to the ceiling, creating an eye-catching accent wall that's both stylish and subtle. With this backsplash design, you'll be able to enjoy all the benefits of white cabinets and still add a unique touch to your space.
Read More: How To Choose A Kitchen Backsplash?
2. Nautical Navy Tile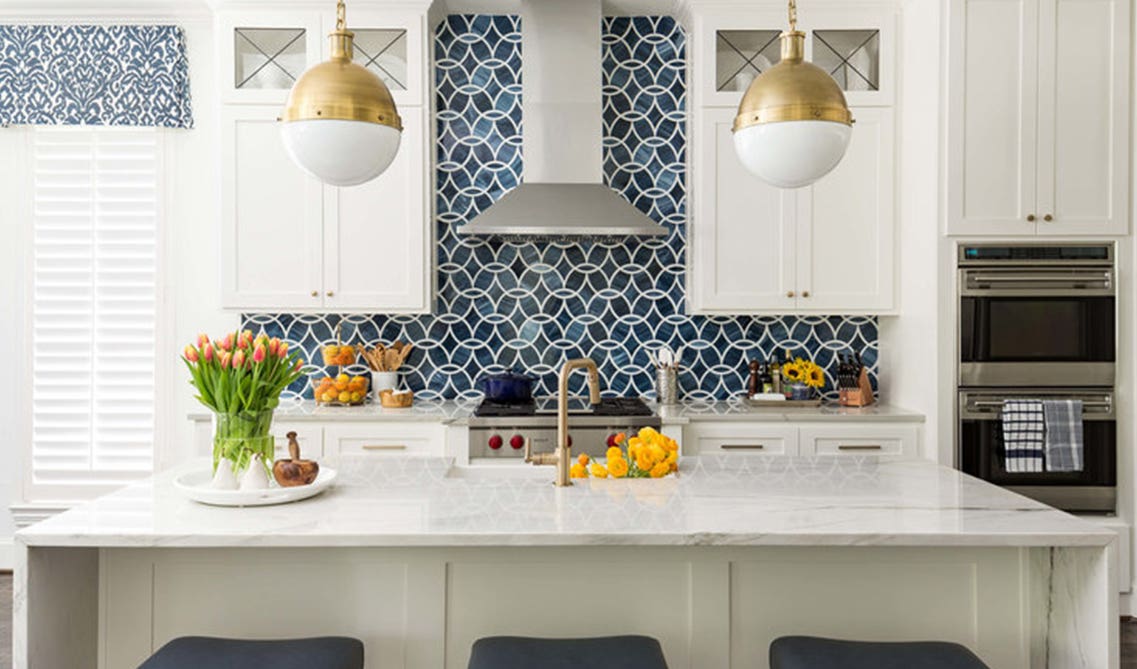 For those who want to add a bit of contrast to their white cabinetry, a modern backsplash design featuring navy blue tile is an excellent choice. This contemporary kitchen by Carla Aston features a striking blue glass tile backsplash that adds a touch of color while still maintaining a balanced color scheme. To complete the nautical look, navy barstool seating and a matching window valance provide additional accents that tie the design together.
As a finishing touch, a brushed brass faucet and globe pendant lights add a bit of luxury and elegance to this beautiful backsplash idea for white cabinets.
Also Read: Delightful Kitchen Backsplash Ideas for Every Kitchen Style
3. Modern Farmhouse Marble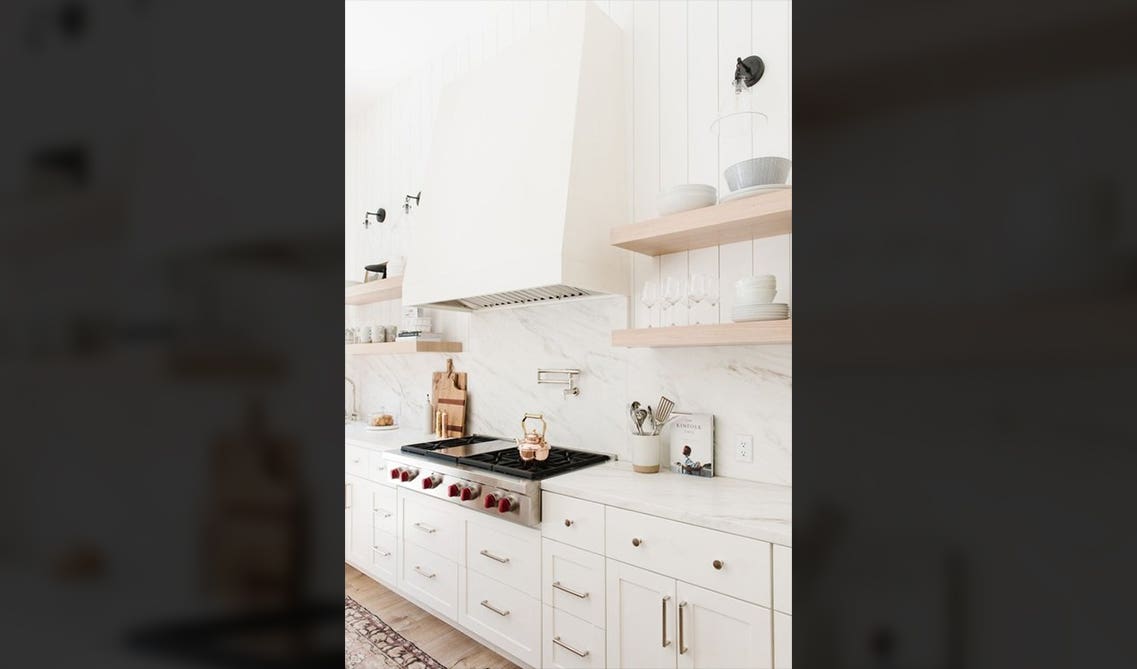 Adding a modern farmhouse marble backsplash to white cabinetry is a great way to add a touch of luxury and style to your kitchen. Marble is timeless and versatile, making it a great choice for backsplash ideas for white cabinets. Studio McGee showcases this modern backsplash design with an all-white kitchen. An elegant slab of marble runs up the walls and frames the space.
It's topped with thick wood floating shelves, replacing traditional upper cabinets. This backsplash design is sure to be the focal point of your kitchen, creating an inviting atmosphere that's perfect for hosting dinner parties and other gatherings.
Also Read: Most Popular Backsplashes for Kitchen Design
4. Stacked Stone Backsplash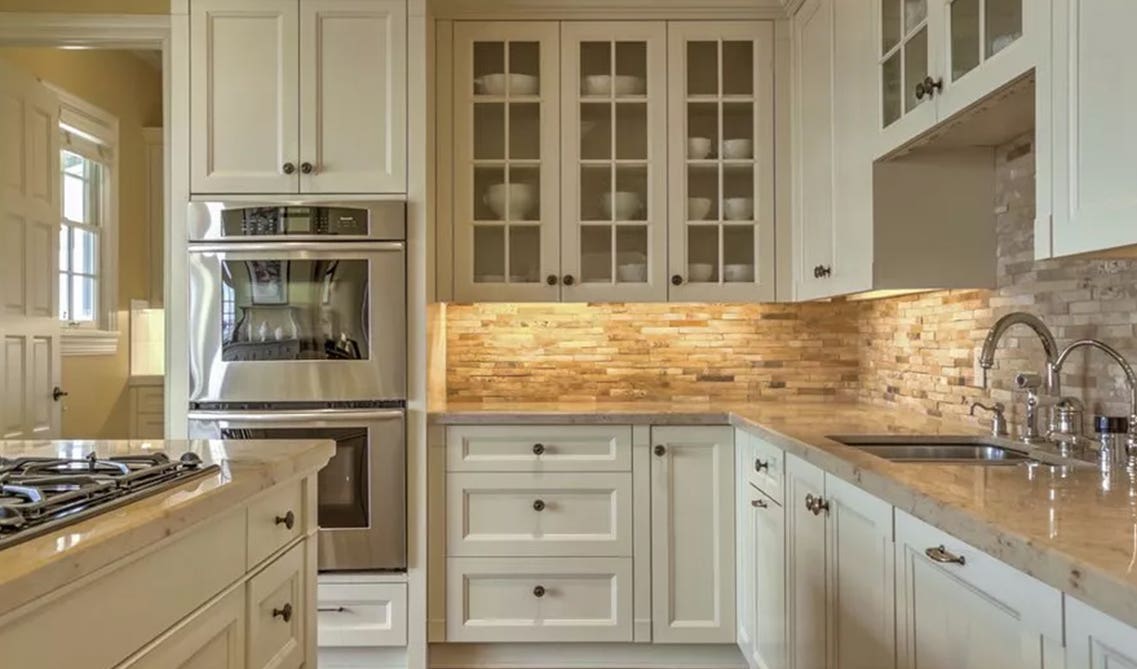 For a rustic feel that pairs perfectly with white kitchen cabinets, try a stacked stone backsplash. This traditional and timeless style is perfect for adding character and texture to the room. The stone can be found in various colors and finishes, allowing you to create a unique look. Under cabinet lighting beautifully highlights the color and texture of the stone, creating a stunning backdrop for white cabinets. Whether you are looking for a classic or contemporary look, stacked stone is an excellent option for adding a touch of nature to your kitchen backsplash for white cabinets.
Checkout: 10 Stone Backsplash Ideas to Bring the Beauty of Nature Inside

5. Pale Blue Herringbone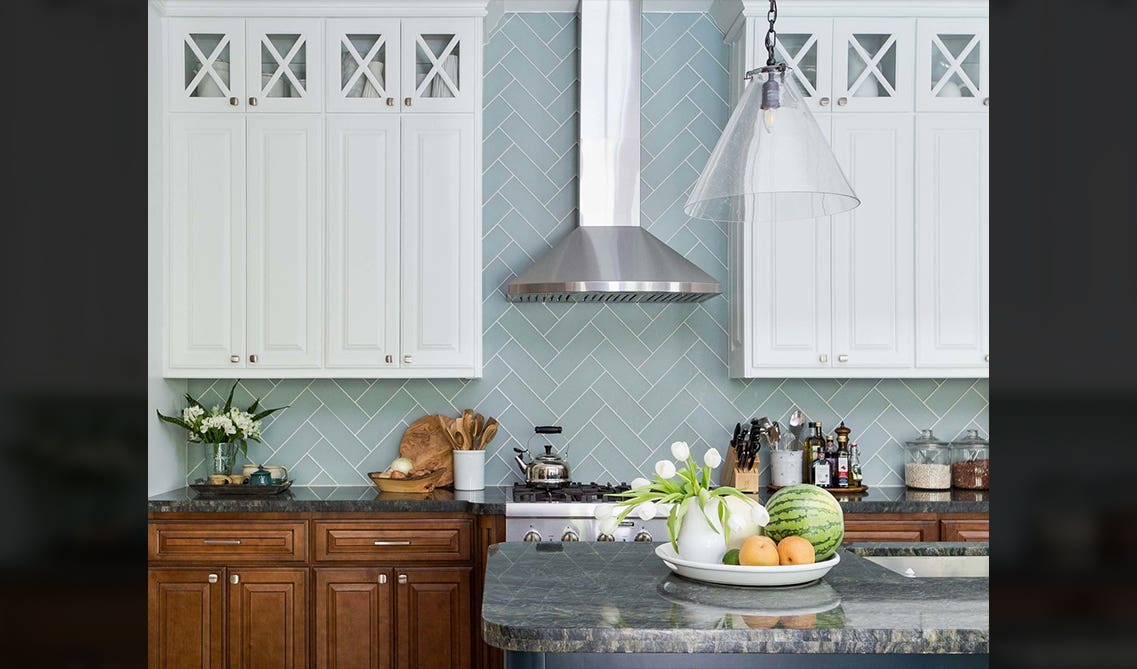 This pale blue herringbone backsplash is perfect for creating a tranquil atmosphere in your white kitchen. The classic pattern adds timeless elegance and a touch of coastal charm, making it a popular choice for both traditional and modern spaces. The color palette brings together warm brown base cabinets with a cool blue backsplash, creating a beautiful, seamless look.
The herringbone pattern is subtle enough to not draw attention away from the other elements in the room, but it's also bold enough to make a statement. The pale blue shade helps add depth and interest without overpowering the design. Whether you're looking for a soft and elegant look or a contemporary and chic feel, this backsplash for white kitchen is sure to provide just what you need.
6. Classic White Subway Tile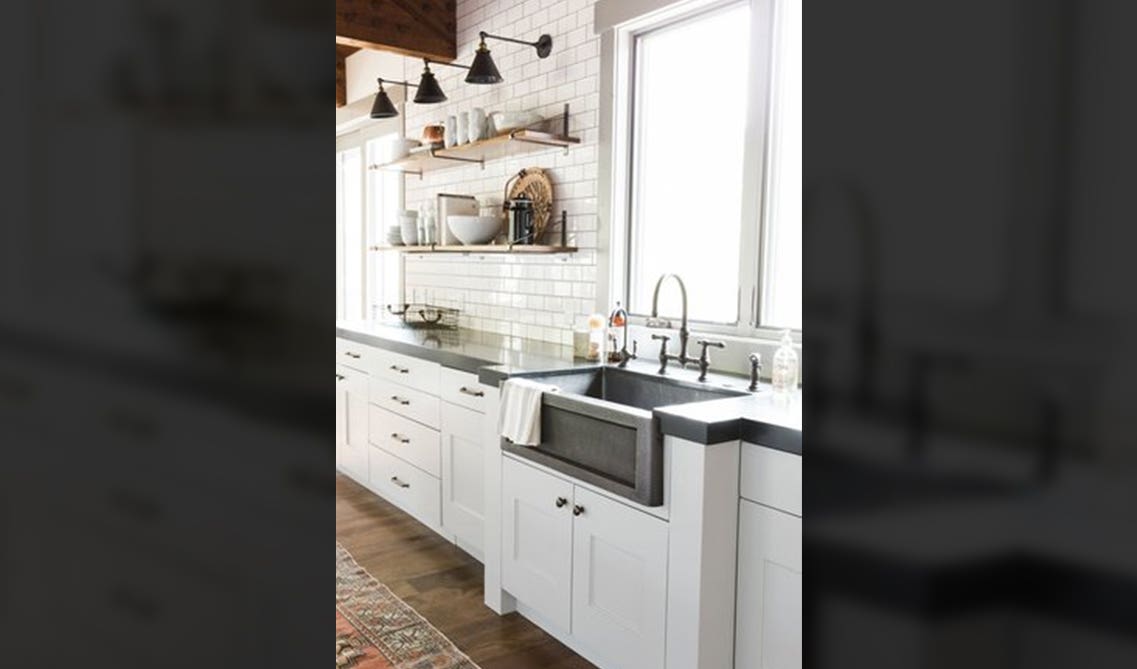 A classic white subway tile backsplash for white cabinets is an absolute must-have in any kitchen. It is a timeless style that can be adapted to suit any home, from modern to traditional. Subway tiles are easy to install and are available in a variety of sizes, making them perfect for creating patterns and designs to bring your backsplash to life. Subway tiles look great with white cabinets as they create a seamless, polished look that will never go out of style. Whether you want something sleek and modern or a rustic look with some character, white subway tile backsplash for white cabinets will always be a great choice.
It is now more popular in farmhouse kitchens, such as this design by Studio McGee. Here, glossy white subway tile blends flawlessly with the white shaker cabinets.
Also Read: 10 Ways to Use Subway Tile in Your Space

7. Charcoal Grey Stacked Stone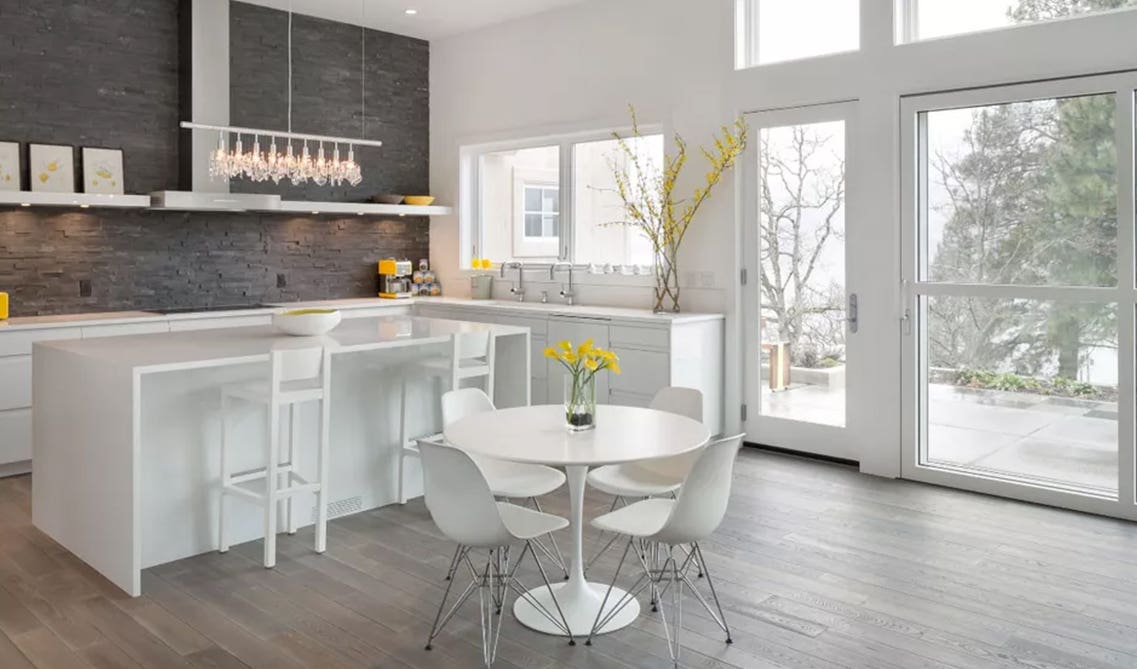 If you're looking for a modern backsplash to complement white cabinetry, charcoal grey stacked stone is a great option. This unique Kitchen design brings a natural and rustic feel to your kitchen. The design starts from the countertops and extends to the ceiling, creating a dramatic and eye-catching accent wall. With upper cabinets replaced with minimalist floating shelves, the backsplash is sure to be the focal point of the room. The charcoal grey stone adds a sophisticated contrast to the bright white cabinetry, creating a stunning backdrop for your kitchen.
8. White Square Tile Backsplash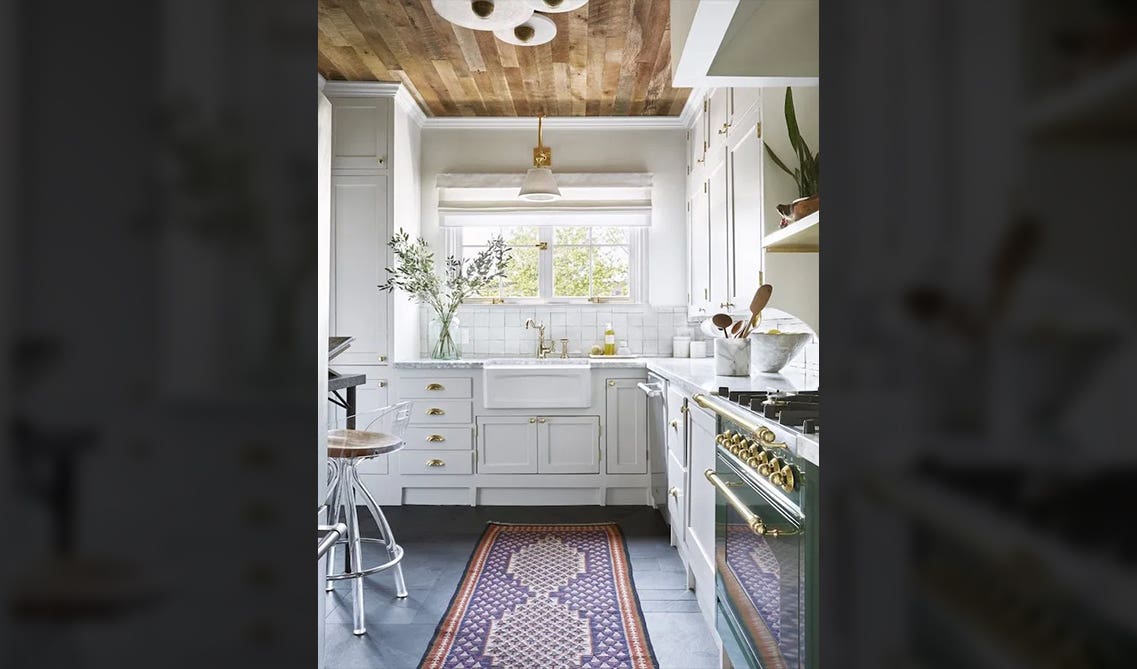 White square tile backsplash is a modern backsplash design that is perfect for white cabinets. The sleek, minimalist look of the square tile adds a touch of sophistication to any kitchen. This style of backsplash pairs perfectly with vintage shaker cabinets and an oriental runner rug for an antique decor style. Square tile backsplashes are an affordable way to bring a classic look into your home.
Plus, since the tiles are versatile, if you decide to swap out your current white cabinetry for a different color, you can keep your existing backsplash as is.
Checkout: 15 Creative Tile Ideas to Bring Your Space to Life

9. Rustic Brick Backsplash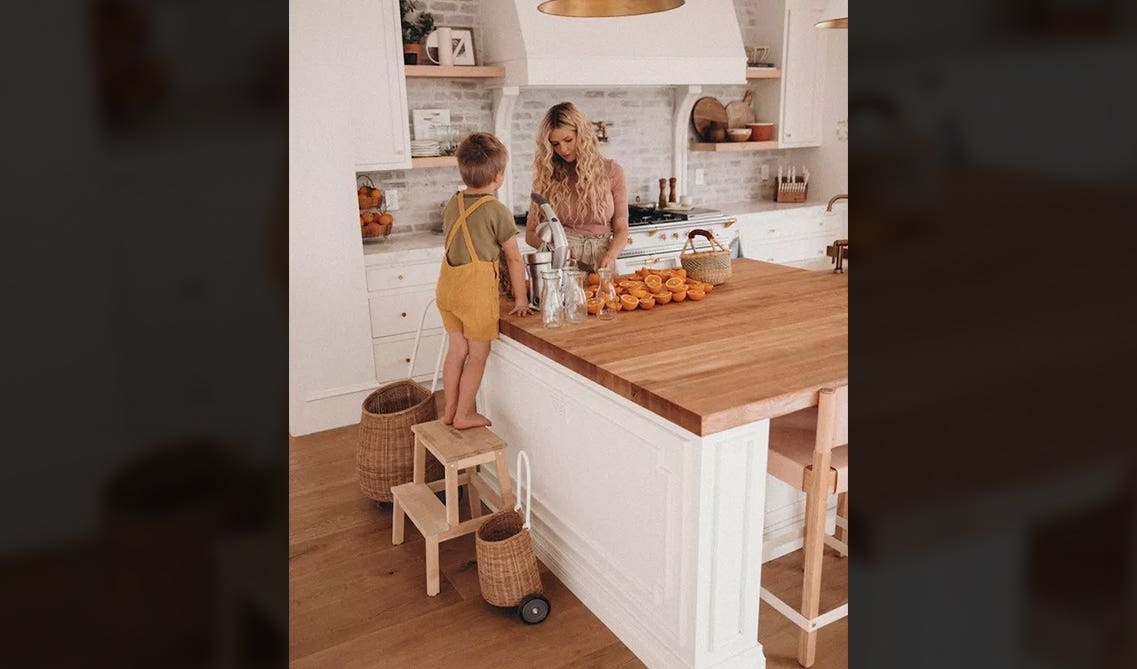 Brick backsplashes add a timeless, old-world European charm to white kitchen spaces. A white washed brick backsplash with warm wood flooring and butcher block island can bring a lovely atmosphere to your kitchen. For those interested in a brick backsplash, you can either choose real brick or a faux peel and stick wallpaper. Either way, the addition of a brick backsplash for white kitchens will add significant character to any space.
10. Avignon Patterned Tile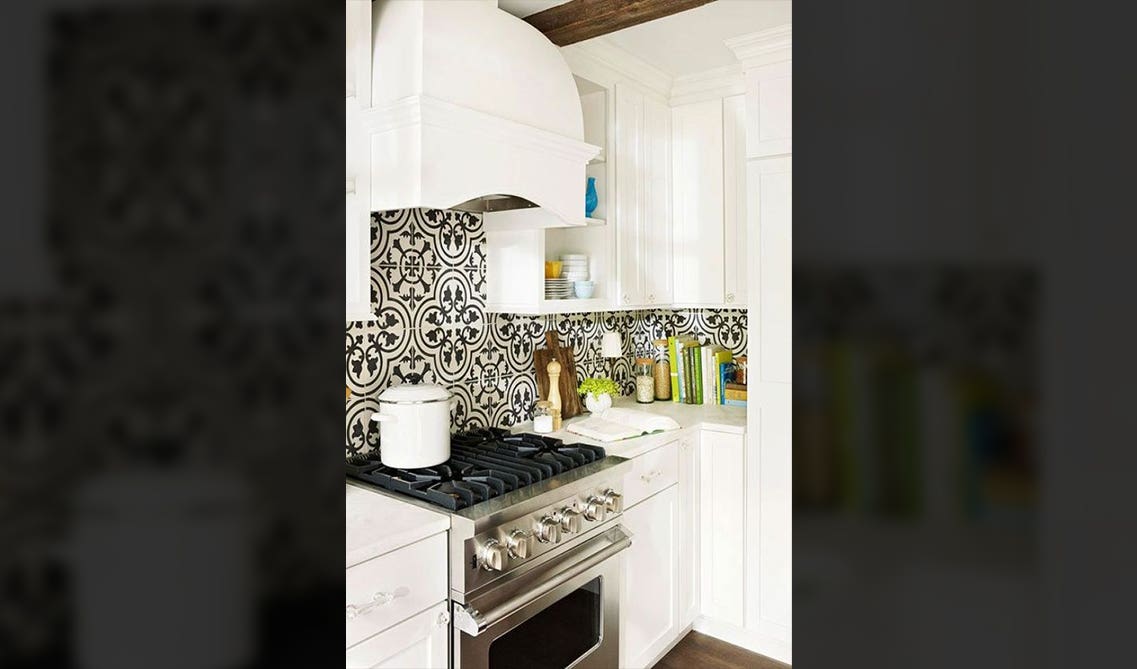 For an instant hit of modern and trendy style, consider the bold and beautiful Avignon Patterned Tile as your kitchen backsplash. This unique design combines a classic black and white pattern with elements of traditional French decor. Perfect for pairing with white cabinetry, this backsplash will give your kitchen a timeless look that is sure to stand out.
The pattern creates an eye-catching focal point, perfect for contemporary and modern homes. With its classic design, this tile is a perfect choice for anyone looking for a modern backsplash design for their white cabinets.
11. Refreshing Green Tile Backsplash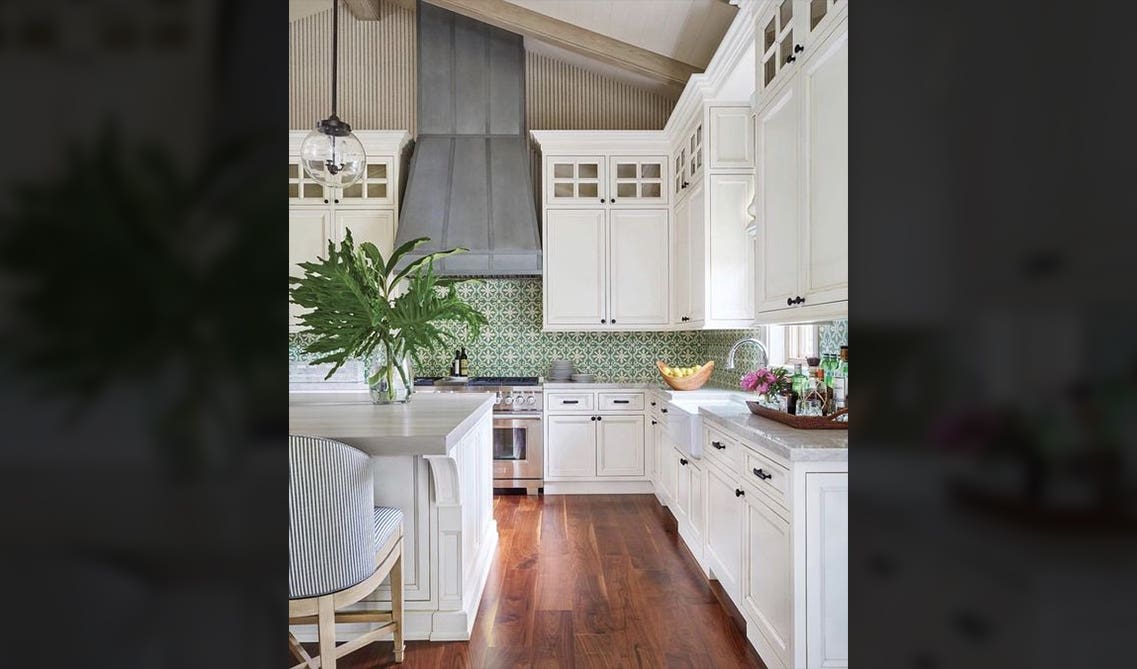 If you're looking for a modern backsplash design that isn't black and white, green tile is a great option. This patterned tile backsplash features a soft, earthy green color that creates a calming atmosphere. The refreshing color of this backsplash brings life and vibrancy to any space with white cabinetry. Add a matching house plant on the island or countertop to complete the modern look and create an earthy oasis.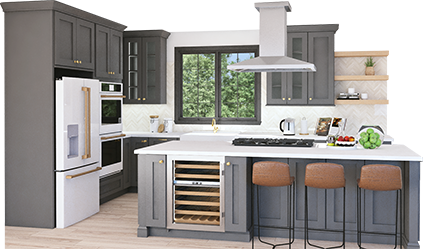 Get your FREE 3D kitchen design today!
Start Now
Related Blogs:
FAQ:
1. What is the most popular kitchen backsplash?
Subway tiles are the most popular kitchen backsplash.
2. What is a good backsplash for a kitchen?
Ceramic is the best option of backsplash for a kitchen. This is because it is easy to maintain, very versatile, and one of the most inexpensive backsplash options. Ceramic tiles come in a large selection of shapes, sizes, and colors.
3. Why is backsplash so expensive?
Backsplashes tend to be expensive because they have to be individually grouted and placed on the wall, and are usually done by professionals meaning you will also have to pay for labor on top of the materials. Ceramic tiles and mosaic tiling that comes in sheets tend to be the most inexpensive options for backsplashes.
4. What is the easiest kitchen backsplash to install?
The easiest kitchen backsplashes to install are ones that come in sheets, peel and stick ceramic tiles, metal ceiling tiles, and faux metal PVC backsplash rolls.
5. Are kitchen backsplashes out of style?
Kitchen backsplashes are not out of style. They keep walls from getting damaged in the kitchen space, making them almost necessary to have if you don't want unexpected costs to incur for wall repairs. If anything, minimalist backsplashes have decreased slightly due to the fact that they show spills and stains much easier than a colored or patterned backsplash would.