The kitchen backsplash is not only a practical element that protects your walls from splatters and spills but also a fantastic opportunity to add personality and style to your space. If you are looking for specifically something that will help your kitchen look nice and modern, you came to the right place. In this blog, we'll explore 20 stunning kitchen backsplash ideas that will transform your kitchen.
1. Colorful Tile Backsplash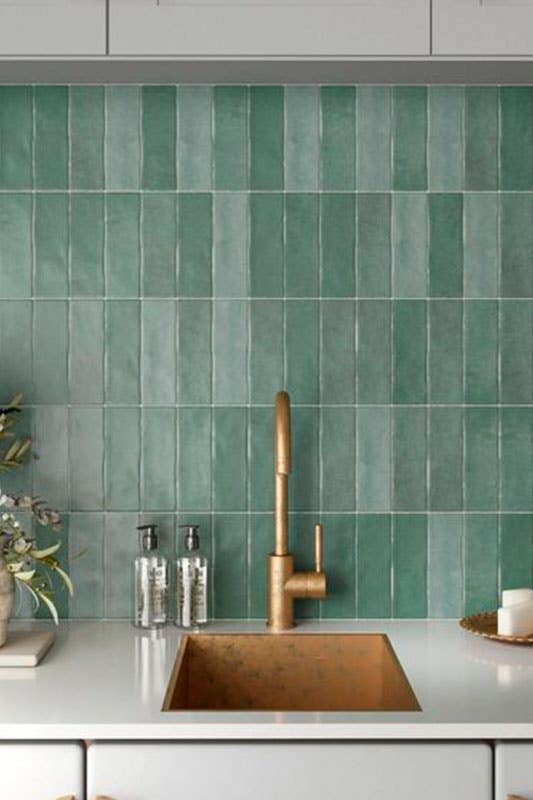 A wonderful modern backsplash idea is to incorporate colorful tiles. They balance the overall look by coordinating with the rest of your kitchen decor. Choose complementary colors or stick to a cohesive color palette to ensure a harmonious and visually interesting result. A colorful tile backsplash is an opportunity to express your creativity and infuse joy and a splash of color into your kitchen space.
2. Subway Tile With A Twist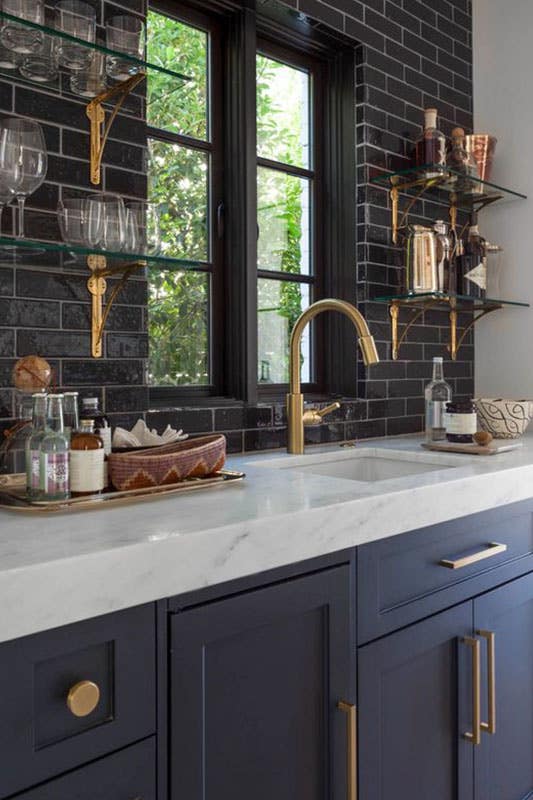 Black subway tiles act as a timeless and all around perfect option for creating a striking and elegant backsplash or wall covering. They bring a sense of drama, and modernity to the space while allowing for various design possibilities. Whether you prefer a sleek and contemporary look or a more traditional and ageless appeal, black subway tiles can be a stunning addition to any home or commercial space.
3. White Herringbone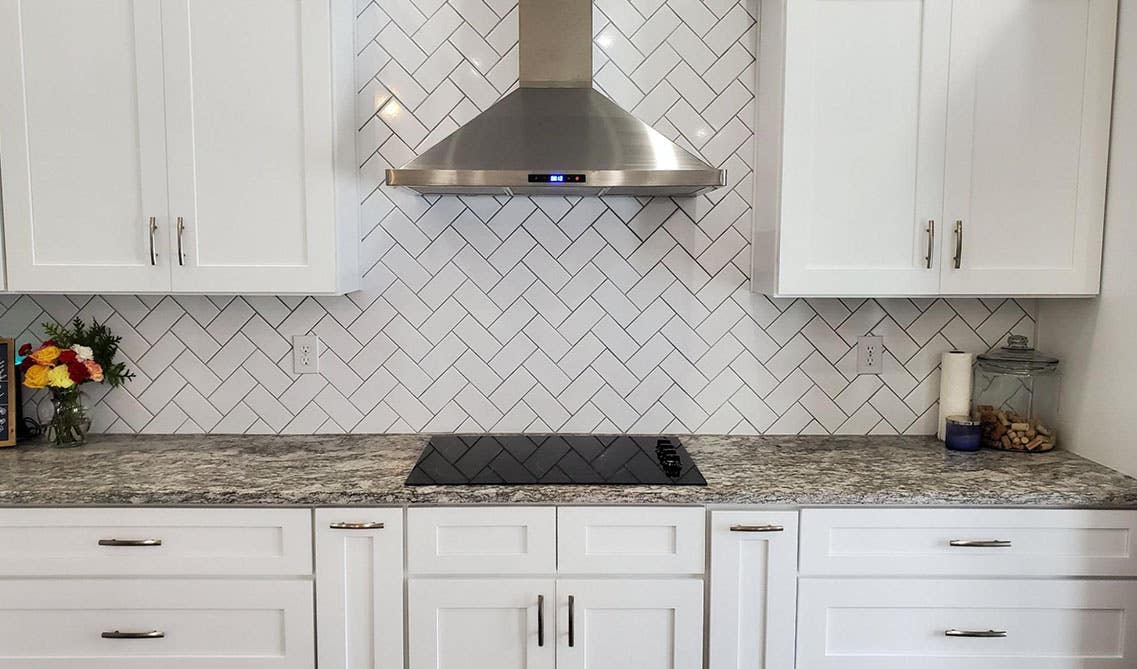 A simple modern kitchen backsplash Idea like a white herringbone backsplash brings elegance, and versatility to a modern kitchen. It has the ability to brighten the space, and seamless coordination with other design elements make it an excellent choice for creating a chic and sophisticated kitchen design.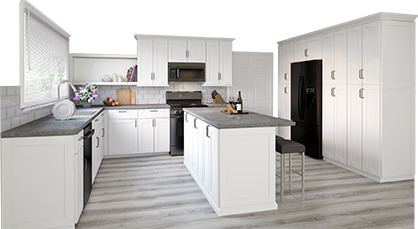 3D Kitchen Visualizer Tool
Bring your dream kitchen to life with our free kitchen visualizer!
Design Now
4. Glass Tile Kitchen Backsplash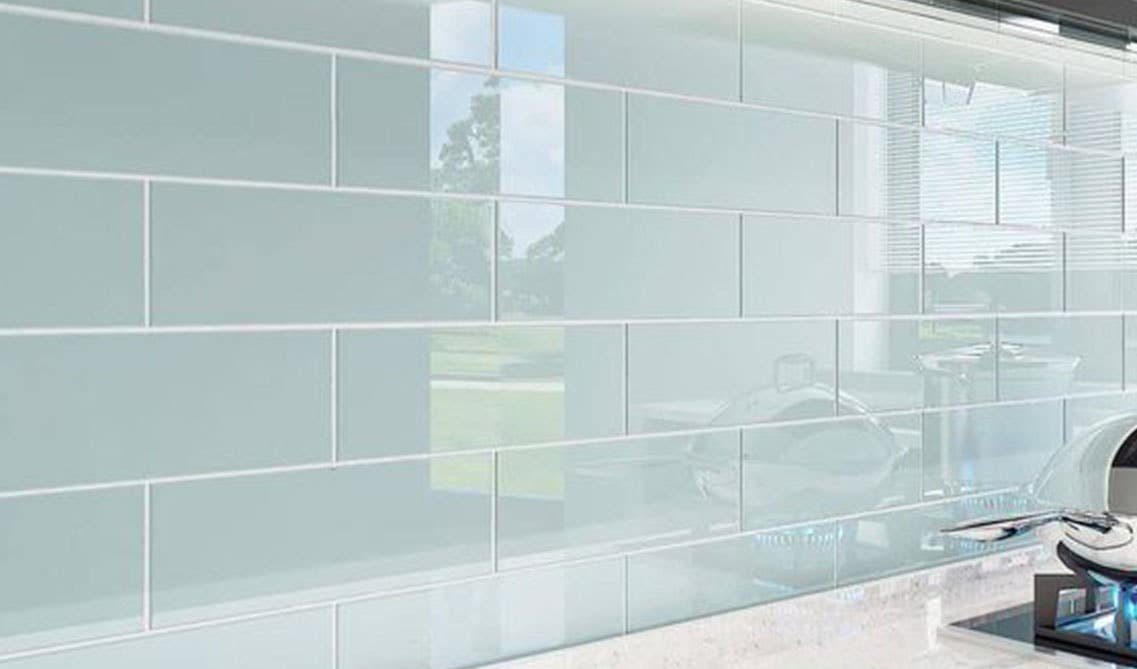 Glass tile kitchen backsplashes are not only aesthetically pleasing but also offer practical benefits such as easy maintenance, and durability. Its ability to reflect light in the kitchen makes it a popular choice for creating a bright and inviting space. Whether you prefer a bold and colorful look or a subtle and neutral design, a glass tile backsplash can enhance the overall appeal of your kitchen and provide a functional and beautiful surface for years to come.
5. Decorative Tile Backsplash
Decorative tile backsplashes offer a multitude of benefits, from enhancing the appeal of the space to providing practical protection for the walls. It allows you to showcase your creativity and personal style while increasing the value of your home. Whether you choose intricate patterns, bold colors, or subtle textures, a decorative tile backsplash can transform the look of your kitchen into a stunning and functional space.
6. Soothing Grey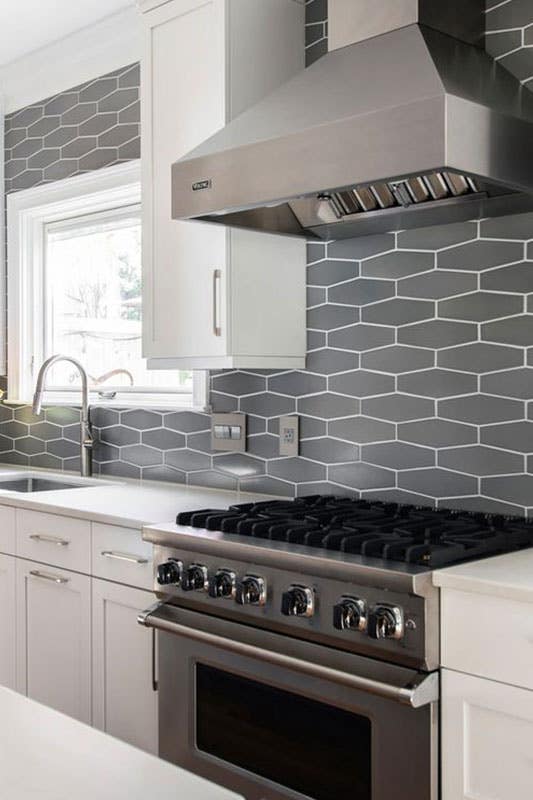 Another great modern kitchen backsplash idea is to incorporate a grey backsplash! This style offers a versatile backdrop for your kitchen. Its calming effect, ability to reflect light, and seamless coordination with other design elements make it a popular choice for creating a serene and stylish space. Whether you prefer a light grey for a bright and airy feel or a darker grey for a more dramatic look, a grey backsplash can elevate the overall aesthetic and ambiance of your home.
7. Moroccan Tiles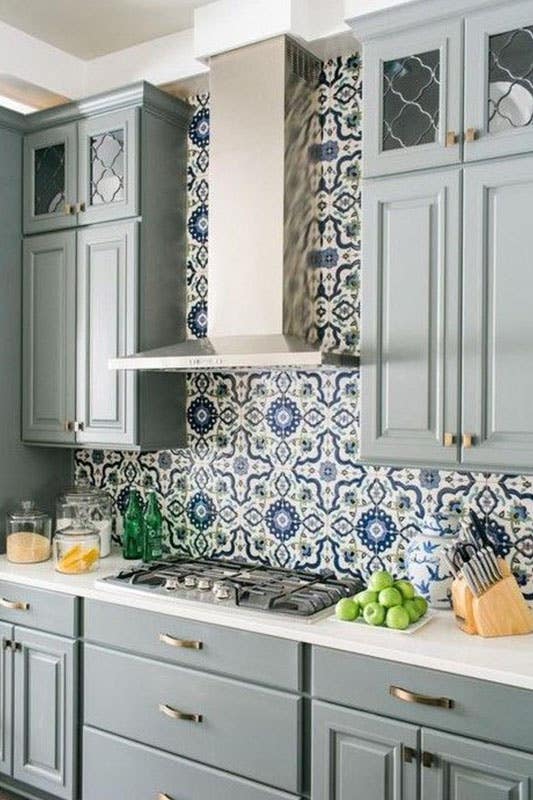 Moroccan tiles feature captivating geometric patterns and designs that add an exotic and unique touch to any space. They stand out as a statement piece, making the decor more visually intriguing. In modern interiors with clean lines and minimalist designs, Moroccan tiles can add warmth and personality to the decor. The timeless charm of Moroccan tiles ensures that they never go out of style, making them a long-lasting and durable choice for your home.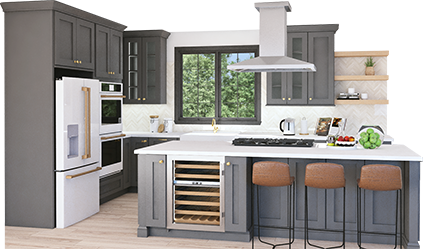 Get your FREE 3D kitchen design today!
Start Now
8. Geometric Patterns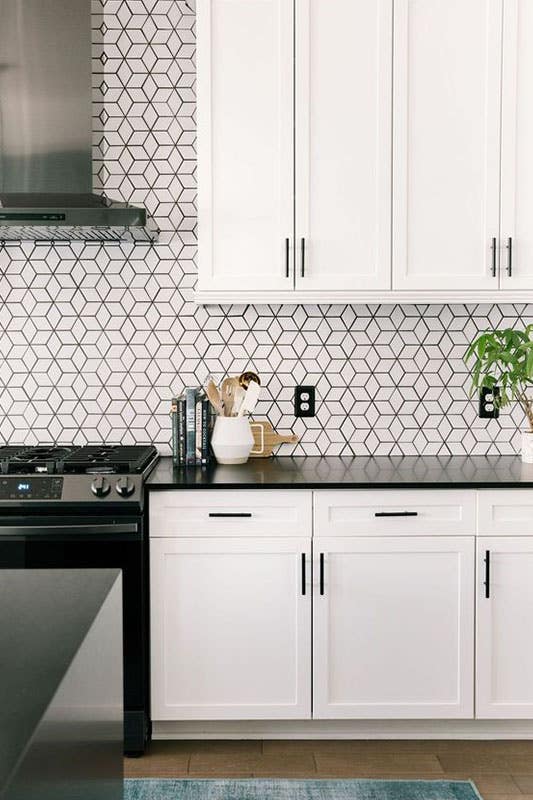 Geometric patterns create visual interest and a sense of movement, adding depth and texture to the kitchen decor. A geometric pattern backsplash can act as a focal point in the kitchen, drawing attention and becoming a statement piece. Many geometric pattern backsplash tiles are available in different colors, sizes, and materials, offering plenty of customization options to suit your preferences. Geometric patterns have an undying quality that transcends multiple design trends, ensuring that the backsplash remains relevant and attractive for years to come. 
9. Marble Slab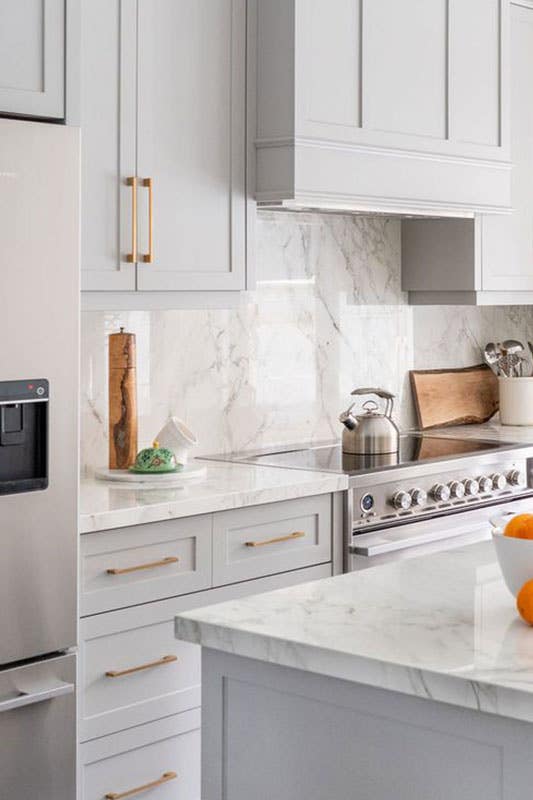 Marble has been a symbol of luxury and sophistication for centuries. Its natural beauty and classic appearance never go out of style, ensuring a timeless and creative look. Marble is a durable material, making it suitable for high-traffic areas and spaces that require longevity and resilience. The presence of marble slabs gives off a sense of luxury, elevating the overall atmosphere of the space.
10. Beautiful Brick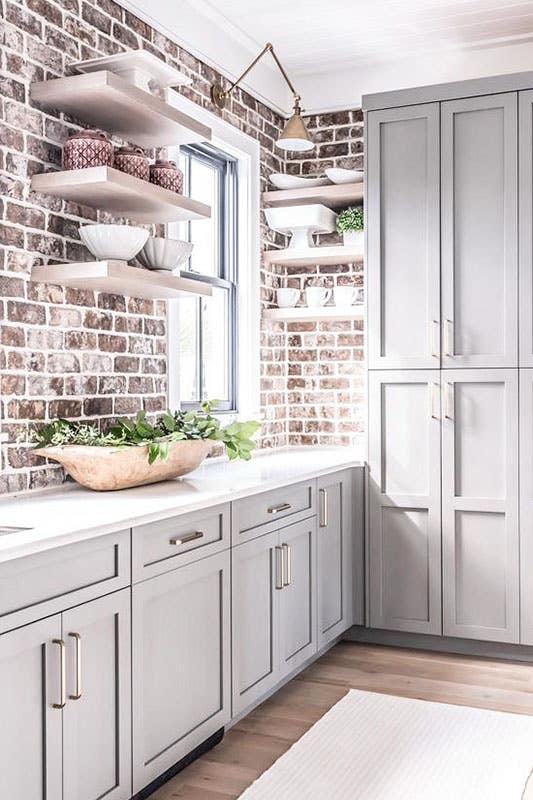 A wonderful rustic kitchen backsplash idea is to use brick! Compared to some other high-end backsplash materials, brick can be a cost-effective option, especially if you use reclaimed or salvaged bricks. It can add a touch of vintage charm and natural beauty to the space. Its durability, design flexibility, and long lasting appeal make it a popular choice for homeowners looking to create a warm and inviting kitchen ambiance. 
11. Chevron Pattern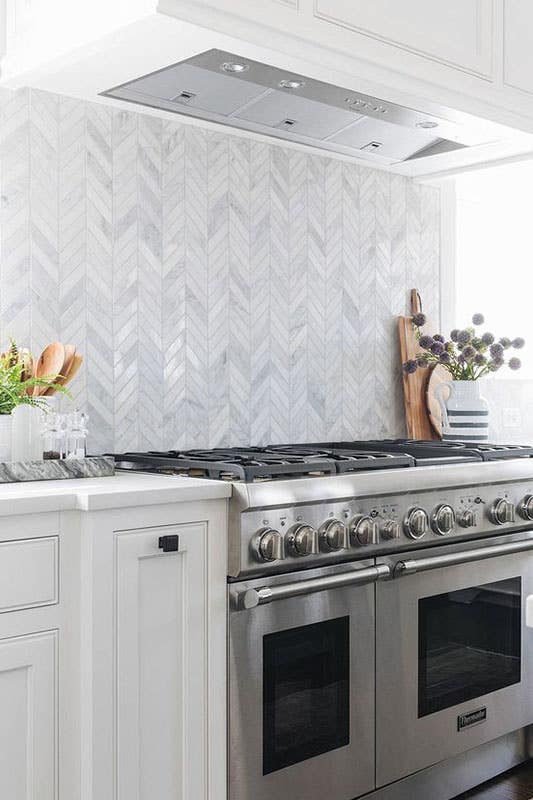 Chevron pattern backsplash can be a bold and contemporary addition to any kitchen. Its dynamic appearance and flexibility make it a popular choice for homeowners seeking to create a modern and visually captivating kitchen design. Chevron patterns can be used with various materials and colors, allowing you to create a backsplash that complements your existing decor. Whether you opt for a monochromatic or colorful Chevron pattern, it is sure to elevate the esthetics of your kitchen. 
12. Patterned Cement Tiles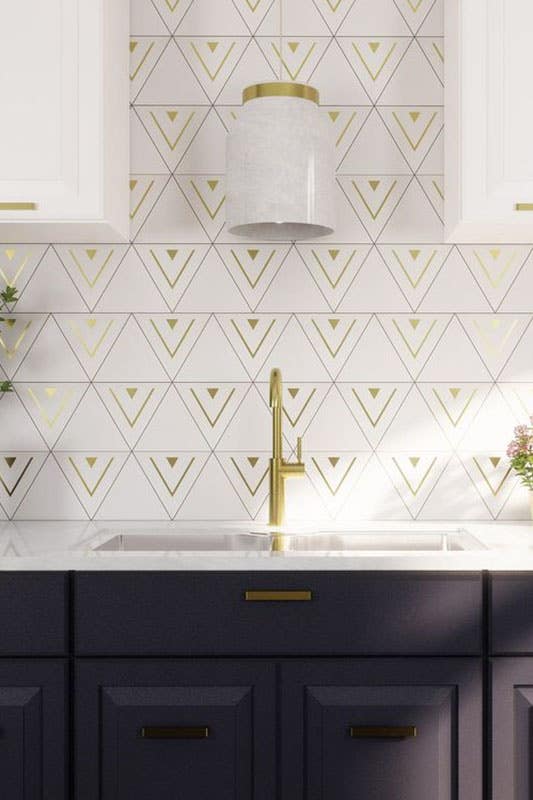 Patterned cement tiles feature artistic designs that can add a one-of-a-kind captivating element to the kitchen. Cement tiles have an abiding quality that transcends design trends, ensuring that your kitchen remains stylish and relevant. Cement tiles are highly durable and resistant to wear and tear, making them suitable for high-traffic areas like the kitchen. The busy patterns of cement tiles can effectively camouflage stains and scratches, keeping the backsplash looking cleaner and newer for longer.
13. Shiplap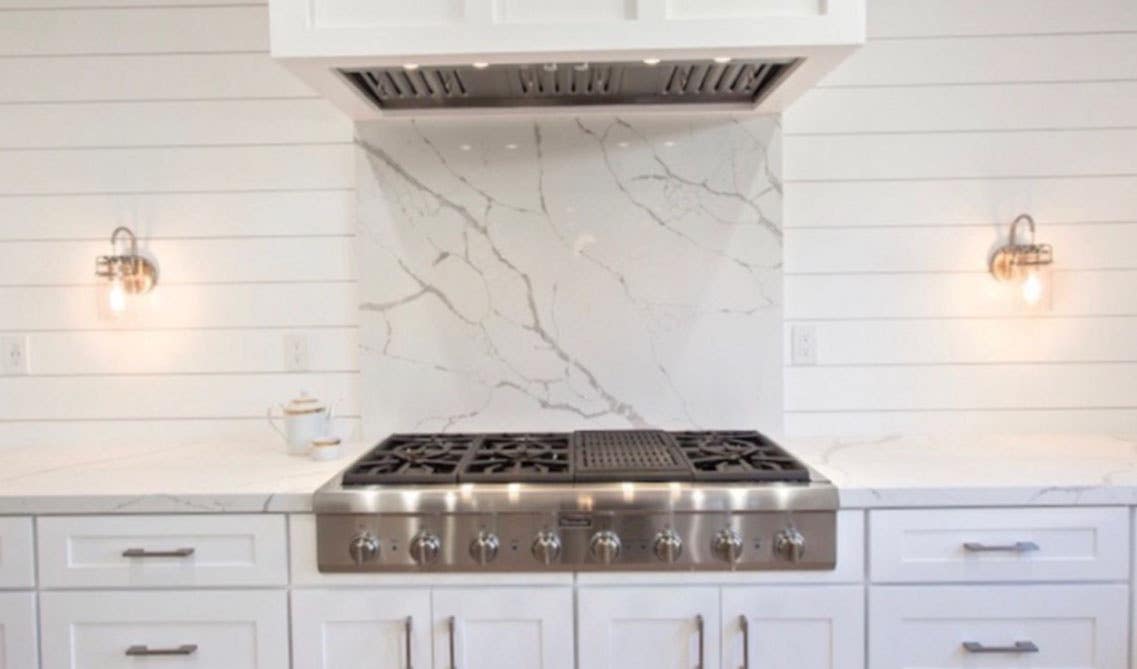 Shiplap works well with various design styles, from farmhouse and coastal to modern and traditional, shiplap is a versatile choice for any kitchen. Shiplap is relatively easy to install, and it can be a cost-effective way to update the kitchen's appearance. It can also be left in its natural wood finish or painted in various colors, offering flexibility to match your desired color scheme. Whether you use shiplap on an entire wall or as an accent feature, it can transform the kitchen into a cozy and inviting space with a distinctive design. 
14. Penny Tile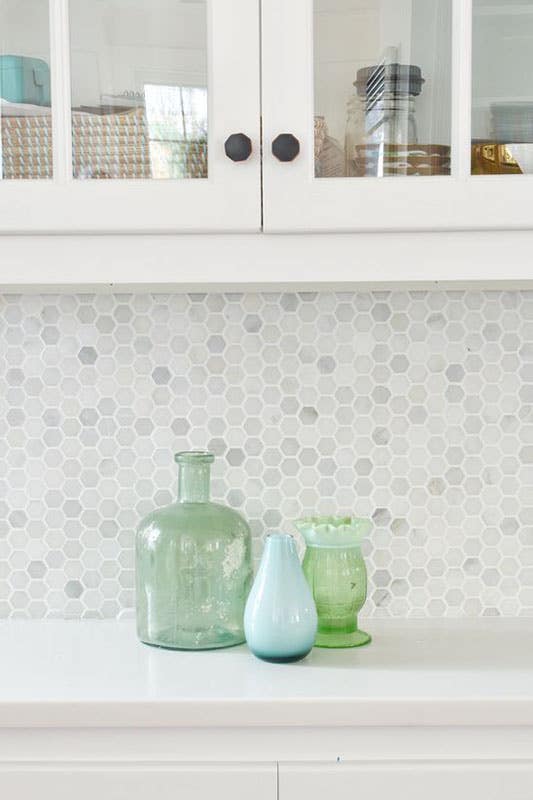 Penny tiles have a distinctive and eye-catching look, adding a unique and stylish element to the kitchen design. The small, rounded shape of penny tiles creates visual interest and texture on the walls or floors, making them a focal point in the kitchen. Penny tiles with a glossy finish can reflect light and create a sense of openness, making the kitchen appear more spacious. When using different colors or textures, penny tiles can create a mosaic effect that adds depth and character to the kitchen.
15. Classic Subway Tile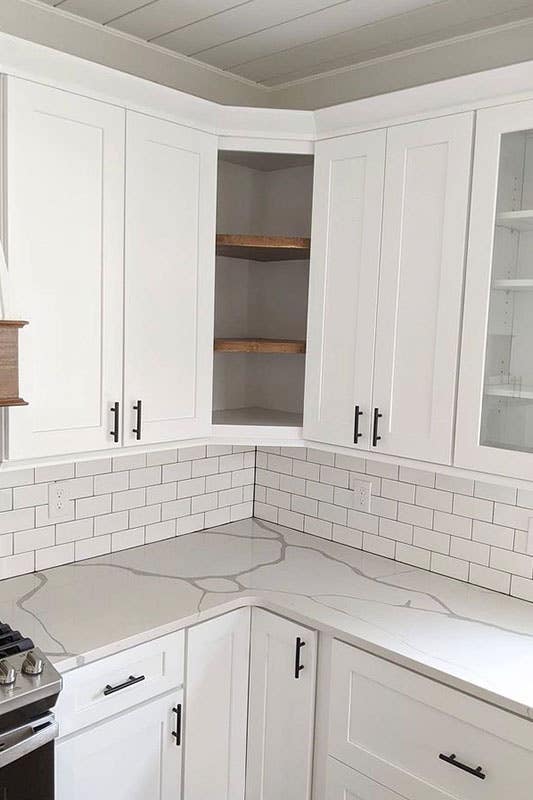 The clean and sleek lines of subway tiles create a polished and sophisticated look in all spaces. Lily Ann Cabinets White Subway tiles are a popular choice for kitchen backsplashes due to their durability, easy maintenance, and ability to complement various countertop materials. Compared to some other tile options, classic subway tiles are often more affordable, making them a cost-effective choice for home improvement projects. Classic subway tiles are sure to elevate the overall aesthetics of your home.
16. Modern Mosaic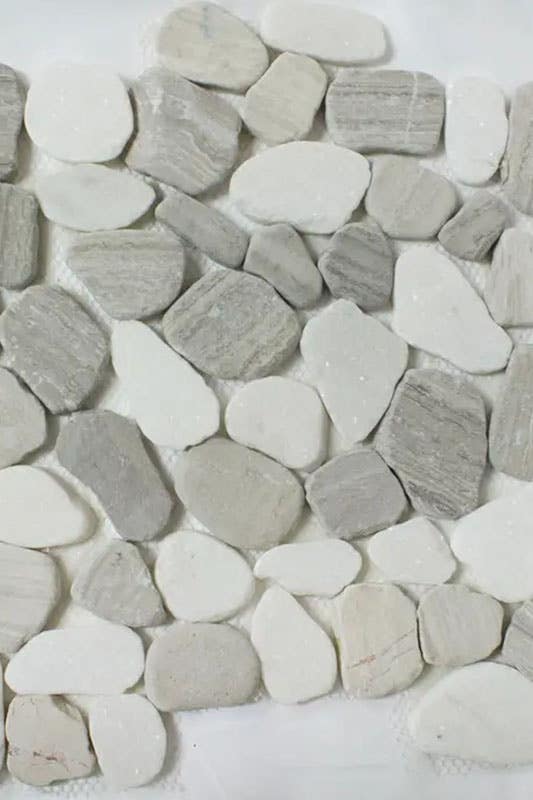 Modern mosaics allow for customization, letting you create a one-of-a-kind design that reflects your taste and style. Mosaic tiles are often mounted on mesh sheets, making the installation process easier and ensuring a seamless and uniform appearance. Mosaic backsplashes align well with modern design themes, contributing to a sleek and contemporary look. Lily Ann Cabinets mosaic tiles can easily blend with other design elements, such as countertops, cabinets, and flooring, creating a beautiful cohesive look.
17. Rustic Backsplash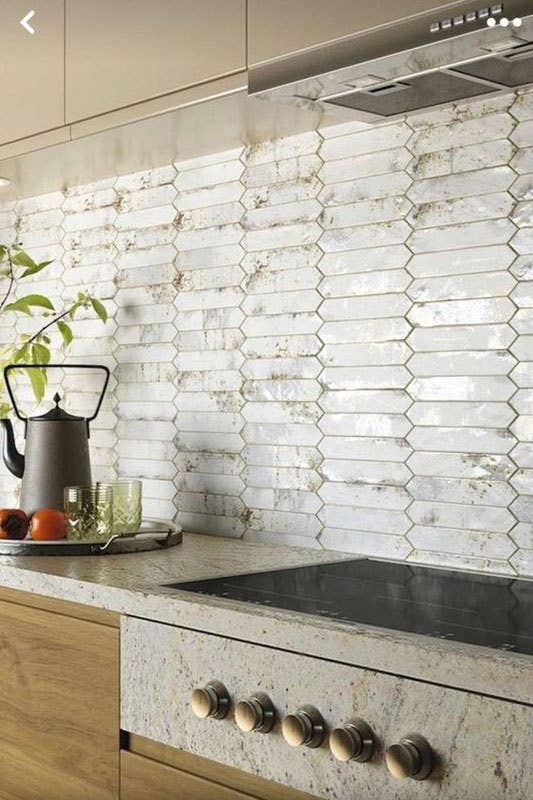 Rustic backsplashes often use natural materials like stone, brick, or wood, connecting the kitchen to nature and adding an organic touch. Rustic backsplashes can complement various design styles, including farmhouse, country, cottage, and modern or transitional themes. Rustic backsplashes can complement various design styles, including farmhouse, country, cottage, and even modern or transitional themes. Lastly, A rustic backsplash can evoke a cozy cottage or cabin feel, creating a comforting and intimate kitchen setting. 
18. Unique Tile Backsplash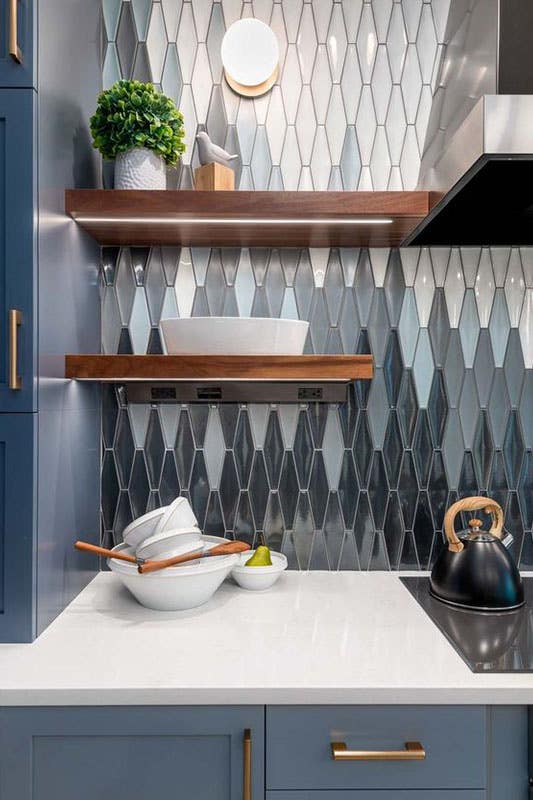 Unique tiles can transform simple materials, like subway tiles, into extraordinary and captivating designs. A unique tile backsplash offers endless possibilities for creative expression and design experimentation. Whether you opt for unconventional shapes, bold colors, or artisanal craftsmanship, a unique backsplash can elevate the aesthetics of any kitchen, reflecting your personal style and making the space truly one of a kind.
19. Stone Backsplash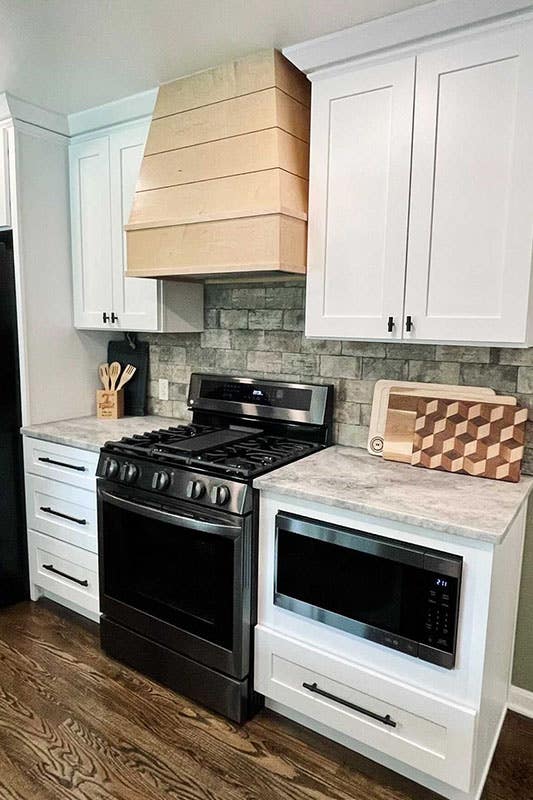 A stone backsplash offers a combination of elegance, durability, and natural beauty that makes it a popular and practical choice for any kitchen or bathroom. Whether you prefer the luxurious look of marble or the earthy tones of slate, a stone backsplash can elevate the beauty and value of your space.
20. Glimmering Gold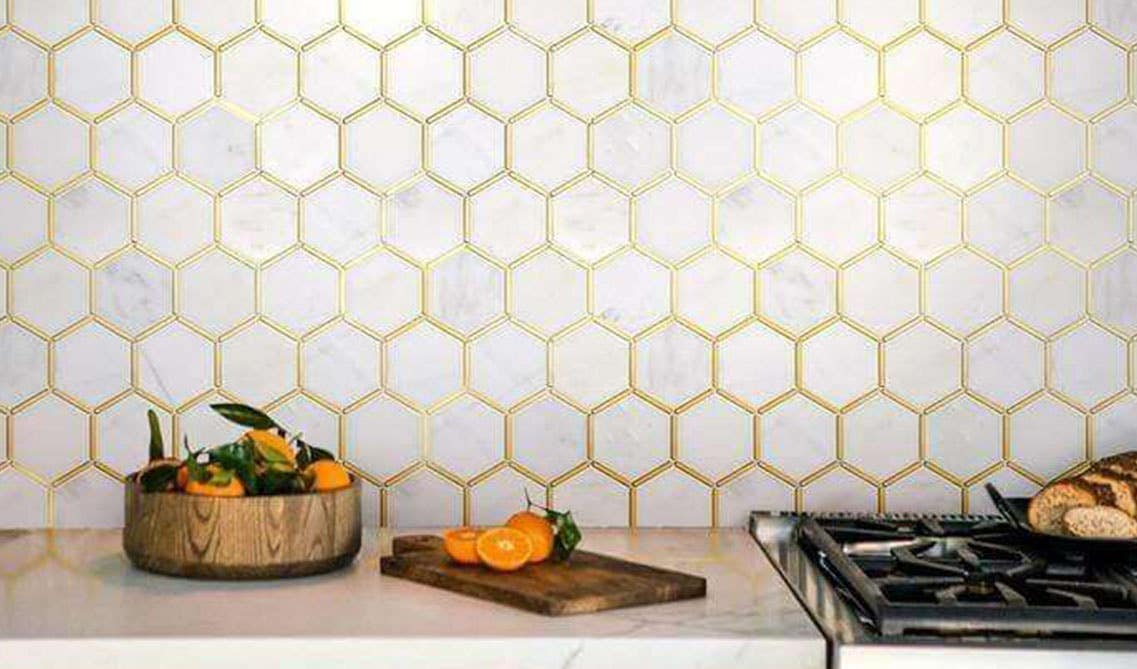 Gold is often associated with luxury and opulence, making a gold backsplash a statement piece that elevates the overall aesthetics of the space. A gold backsplash instantly becomes the focal point of the room, drawing attention and becoming a striking design feature. 
Related Blog:
FAQ's
1. Should backsplash be lighter or darker than walls?
The decision to choose a lighter or darker backsplash compared to the walls depends on various factors, including the overall design style, the size of the kitchen, and personal preference. Both options can work well, and it ultimately comes down to the effect you want to achieve in your kitchen.
2. Should backsplash match cabinets or countertops?
Take into account the color palette of your kitchen and how the different elements, such as cabinets, countertops, and backsplash, will interact. Make sure the colors complement each other and contribute to the overall ambiance you want to create.
3. What is the best low maintenance backsplash?
Glass backsplash tiles are non-porous, which means they are resistant to stains and do not require sealing. They are easy to clean with a simple glass cleaner, and their smooth surface makes it difficult for dirt and grime to stick