There are many reasons kitchen remodelers are drawn to natural stone backsplash for their homes. Not only is stone a striking material that brings unique grandeur to any kitchen, but it is also relatively affordable. Whether you are building a new home or updating your current one, installing a stone backsplash will add timeless value and unique detail to your kitchen backsplash. Plus, stone backsplash matches a variety of different kitchen cabinet styles.
Why Choose Natural Stone Backsplash?
Cost
If you're looking for an affordable yet elegant kitchen backsplash material, stone is a great choice. The average cost per finished square foot of stone backsplash is $8 - $16. The price will vary depending on the type of stone and the method of installation.
Resale Value
Natural stone is a timeless finish that won't fade in popularity when kitchen design trends change. Not only is stone an agreeable finish that most home buyers find attractive, it matches most kitchen styles and colors. A natural stone backsplash can even be the deciding factor of a home purchase for some buyers.
Types of Stone
The most common types of stone used for kitchen backsplash are granite, marble, slate, travertine, limestone, soapstone, and onyx.
Style
There are unlimited design options when it comes to the natural stone backsplash. Some homeowners opt for a custom made stone backsplash to suit their existing kitchen decor. Stone can be cut into a variety of shapes to create different patterns and designs. Since it is available in a wide range of colors, it is easy to find an option that matches the existing floors and kitchen cabinets.
If natural stone backsplash sounds like the right option for you, keep reading to see some of our favorite stone backsplash ideas.
1. Rustic Mountain Charm
Pinterest
The brick stone backsplash in this kitchen transforms the space into an earthy, rustic cooking space fit for a remote mountain cabin. The stained wood cabinets and hardwood floors compliment the contrasting stone backsplash beautifully. For added drama, the brick stones were installed up to the ceiling. This makes the kitchen wall look as though it's been carved out of one big rock—a jaw-dropping detail that brings up the home's resale value. If you're searching for the perfect rustic backsplash, the stone may be the right option for you.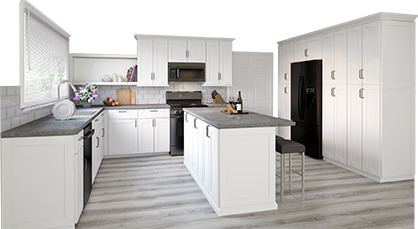 3D Kitchen Visualizer Tool
Bring your dream kitchen to life with our free kitchen visualizer!
Design Now
2. Basement Bar
Pinterest
If your goal is to design the ultimate mancave… Why not make it feel like an actual cave? There's no better way to encapsulate the feeling of being beneath the earth than a raw stacked stone backsplash. With slate grey countertops and floating wood shelves, this mancave drink bar is the perfect rustic getaway. Plus, you can never go wrong pairing a stone backsplash with dark cabinets. To recreate this look, we recommend using our grey shaker cabinets.
3. Alluring Neutrals
Pinterest
This stone tile backsplash has neutral undertones that offer a subtle compliment to the dark stained wood and white shiplap finishes. If you're hesitant about choosing a stone for a kitchen backsplash, remember that it doesn't have to be a stark color or extraordinary design to be beautiful. Oftentimes, the unique texture of the stone is enough to give the room a high quality finish. Try pairing a basic stone backsplash with white cabinets for a simple yet beautiful design.
4. Chic White Kitchen
Pinterest
With white cabinets, there are lots of different options for stone backsplash. This monochromatic kitchen features a white stone backsplash that blends seamlessly with the rest of the decor. Since the mosaic tiles have slight variations in texture and color, they stand out in their own unique way, without demanding too much attention. This stone backsplash is a fresh change from the subway tile traditionally installed with white cabinets.
5. Warm Undertones
Pinterest
Remember that in all natural stones, there will be subtle flecks of color and undertones that can vary in different lighting. Before you choose the stone for your backsplash, bring a sample home and compare it to the cabinets, flooring, and examine its color under your kitchen lighting. Does it have warm undertones? Cool? Neutral?
This particular stone backsplash has warmer undertones, making it the perfect match for the brown hues in the countertops and honey hardwood floors. White cabinets were carefully selected to match the lighter tones in the stone.
6. Lighten Up
Charter Building Group
Since the backsplash in a kitchen is positioned vertically, it automatically garners more visual attention than other design elements like countertops and floors. But what if you want to draw even more attention to this special feature? We recommend installing under cabinet lighting to highlight the texture of the stone and make it the focal point of your kitchen. Cabinet lighting is cheap, relatively easy to install, and makes a world of difference when it comes to the visual appeal of your kitchen.
7. More Ways to Show Off Stone
Pinterest
Stone accents don't have to be confined to the backsplash of your kitchen. If you think outside the box, stone can truly be implemented anywhere. For example—this interior designer created a gorgeous stone design feature above the stove, complete with built-in lighting to accentuate the backsplash beneath it. Other areas where stone can be used to enhance your kitchen's design are the island, floor, or—for the more daring—the ceiling.
8. Black and White
Jennifer Worts
Neutrals never go out of style. If you plan on putting your home up for resale (or even if you don't), you won't regret choosing a grey and white stone backsplash. These colors are complementary to all kitchen designs, from rustic to modern.
This contemporary kitchen design features a light gray stone backsplash that serves as the centerpoint of the space. It's a visual meeting point between contrasting colors of white, black, beige and grey.
9. A Fresh Take on Stone
Pinterest
For something a little different, this homeowner used intricately stacked pebbles for their kitchen backsplash. The movement and texture that this unique backsplash brings to the kitchen design is striking. The imperfections and inconsistencies in the stones give the kitchen a charming country cottage character. Any traditional kitchen can be turned into a work of art with stones and fine craftsmanship.
10. Glass and Stone
All Things G&D
Glass and stone backsplash is increasing in popularity in modern kitchen design. Available in hundreds of color variations, glass and stone backsplash can be tailored to match any kitchen decor. The reflective, glossy finish of the glass offers the perfect complement to the rough texture of stone. Since this backsplash style is multicolored, it goes well with marbled or speckled countertops, like the one shown above.
Before You Buy
Although there are many positive characteristics of natural stone backsplash that make it attractive to home remodelers, there are also a few drawbacks you should be aware of.
First, natural stone is porous. This means that if the stone is not sealed annually, it can absorb liquids and stains that may change its color over time. Additionally, since the stone has sealer on top, you cannot not use cleaning products that contain ammonia, bleach, or vinegar. These substances can strip the sealer off of the stone.
Second, bare in mind that natural stone backsplashes are more expensive than fabricated stone. Faux stone (or stone veneer) is a more affordable option for home remodelers on a tight budget. There are many fake stone backsplash options on the market, including peel and stick varieties. However, fabricated stone can never truly mimic the raw and earthy texture of natural stone.
Get Your Home Remodel On the Right Track
From cabinets to backsplash, Lily Ann Cabinets offers the best discount home products to complete your renovation. If you need help planning your remodel, visit our free 3D design tool. Plus, don't forget to order your free samples! As always, don't hesitate to reach out with questions or concerns. Happy remodeling!