Modern bathrooms are undeniably beautiful—characterized by glossy tile, luxury finishes, minimalist design and sleek style. However, it's easy to get caught up in the notion that a modern bathroom "should" look a certain way, with clean lines and neutral colors. Bathroom vanities can range from modern and sleek to traditional and ornate, allowing homeowners to customize their bathroom to fit their personal style.
In fact, there are hundreds of ways to tweak your bathroom and still achieve the perfect result you desire. Discover the best Unique Modern Bathroom Cabinet and Vanity Design Ideas that you'll love.
1. Natural Wooden Cabinets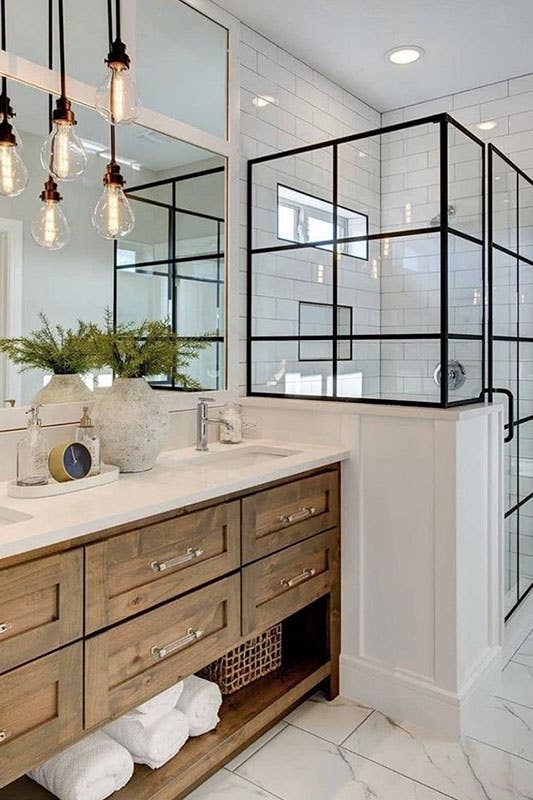 Pinterest
To add an earthy vibe to this modern bathroom design, the interior designer opted for natural wood shaker cabinets to fit the bathroom vanity style. The grain of the wood provides a lovely natural contrast against the stark white shower tile, white countertop and marble tile flooring. Exposed bulb pendant lights illuminate the room and incorporate an artistic touch.
2. Geometric Floor Tiles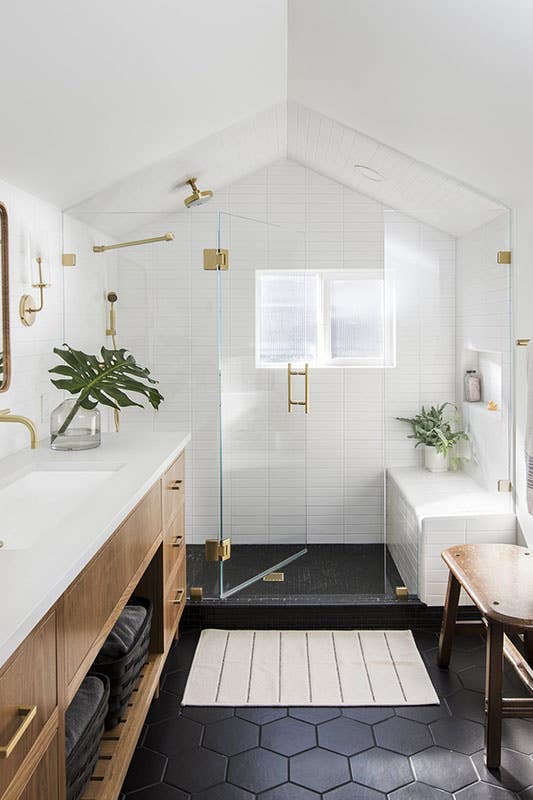 Need to update a contemporary bathroom on a budget? Instead of investing in a full-blown bathroom remodel, consider simply changing up the floor tile. It's surprising how much a unique floor pattern can revive an outdated bathroom. This matte black hexagonal flooring is a great example. It adds some contrast to the color scheme without distracting from the overall design.
3. White Shaker Cabinets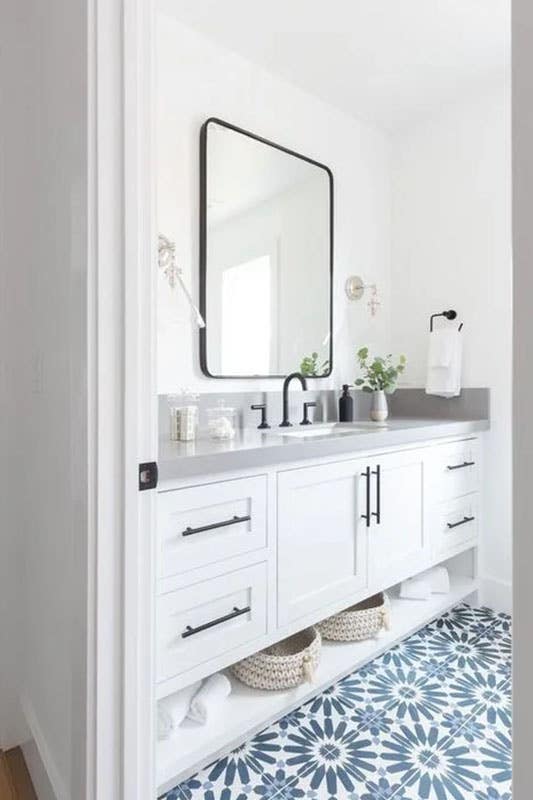 Picking the right cabinets for a contemporary bathroom design can be a challenge. Flat panel cabinets are common in modern bathrooms, but are they the only option? Certainly not! Another affordable and functional cabinet style for modern bathrooms is the classic shaker. The five-panel cabinet door design is simple and understated, but offers a bit more style than a basic flat panel cabinet. Shaker cabinets are also a more affordable option than most other modern cabinet styles.
Checkout: 8 Elegant Bathroom Vanity Cabinet Designs for a Fresh Look
4. Circular Mirrors
One way to add some visual interest to a basic modern bathroom is to install circular wall mirrors in lieu of the traditional rectangular style. Both practical and affordable, circular mirrors are a nice way to add some artistic flair to your bathroom wall. To take the design a step further, match the frame of the mirror with the bathroom hardware.
For example, this white bathroom has circular mirrors framed in brass to match the hanging brass pendant lights.
5. Black-Framed Shower Doors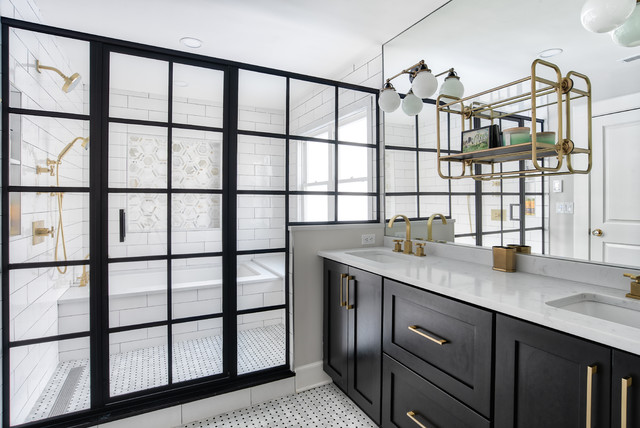 Shower doors with black frames have become increasingly popular in modern bathroom design. They offer a unique blend of modernism and industrial style. This designer paired them with rich espresso shaker cabinets and brass hardware. White subway tile backsplash and white tile floors contrast the dark colors to create a dramatic color palette. The result is a contemporary spa fit for a king.
6. Subdued Color Palette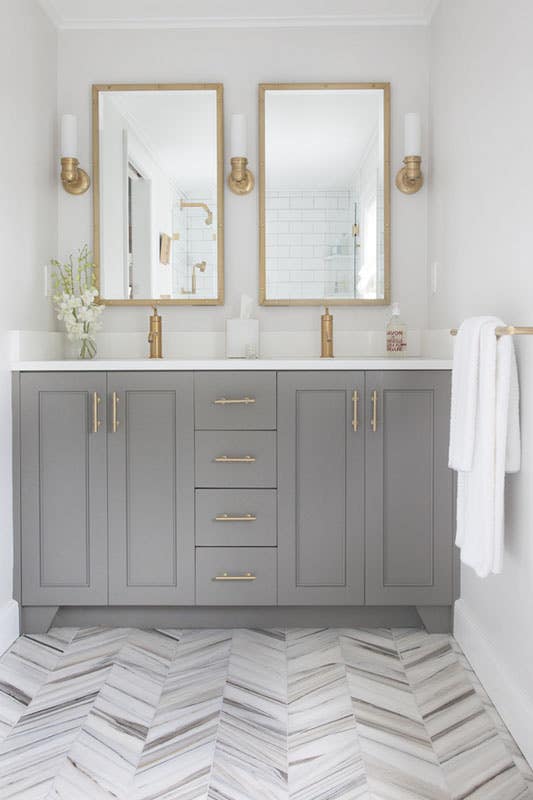 Elements Of Style
A subdued color palette gives a modern vanity bathroom a more gentle and inviting feel. Especially in small spaces, lighter neutrals like white and grey can play in your favor as they make the room feel larger. This modern master bathroom features light grey shaker vanity, brass hardware and herringbone tile floors. The result is a simple space that carefully balances delicacy and intrigue.
Checkout: 8 Ways to Design a Stunning Bathroom with Grey Cabinets

7. Unique Wall Art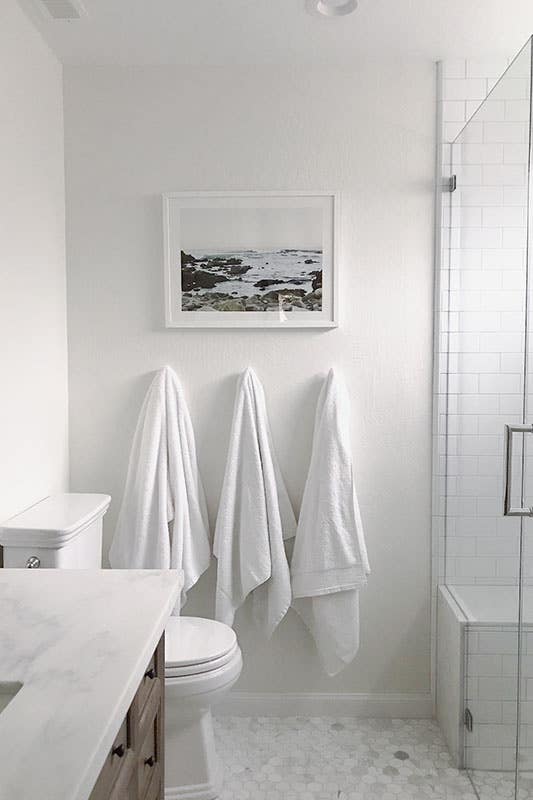 Harlowe James
One inexpensive way to spruce up a modern bathroom wall is with a framed piece of art or one of your favorite photos. This washed out beach landscape ties in perfectly with the bathroom's chic all-white color scheme. A piece of wall art can function as a statement piece that centers the bathroom design. It's also easy to swap out the art or photo for a different print when you decide you're ready for a change.
8. Chic Shower Curtain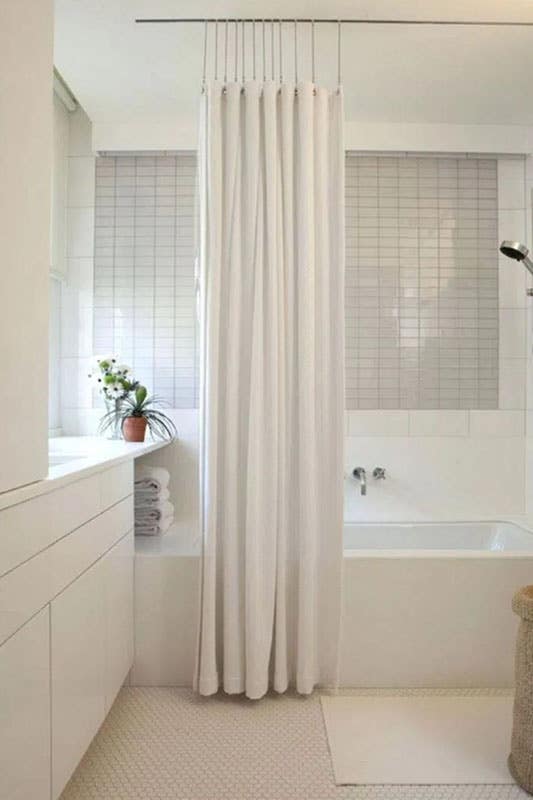 Pinterest
Most ultra-modern bathrooms have glass shower doors. However for many bathroom layouts, a glass door isn't an option. In these cases, a simple modern shower curtain can be a beautiful substitute. It's also a better way to break up a modern bathroom and create more privacy. Extra tall shower curtains with minimal details in neutral colors are often the best choice.
9. Golden Accents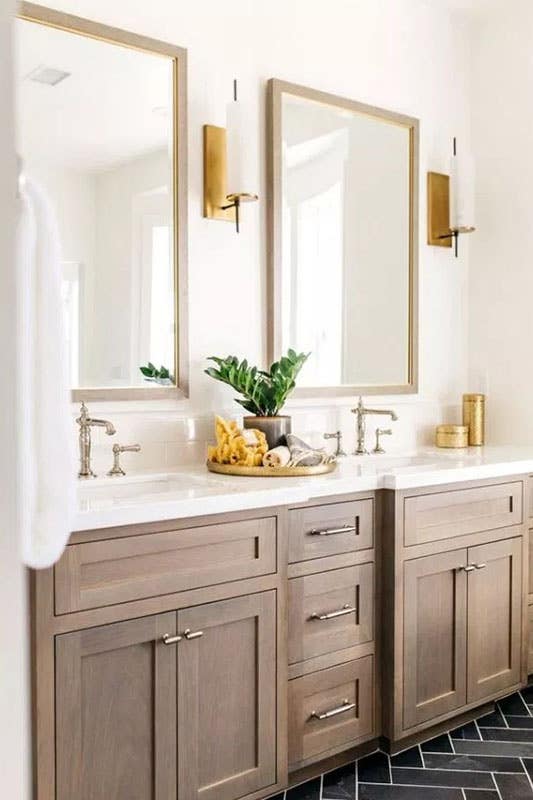 Pinterest
This modern design was given a pop of brass with gold wall candle sconces, a golden tray, and two small golden jars in the corner of the bathroom vanity. Gold can add drama and luxury to an otherwise plain bathroom space, making it a great choice for simple contemporary bathrooms that need a touch of glamour. The good news is, brass or gold hardware can be found at affordable prices. You can save on your hardware and feel great about updating your modern bathroom for less!
Related: 12 Popular Hardware Ideas for Shaker Cabinets
10. Creative Wallpaper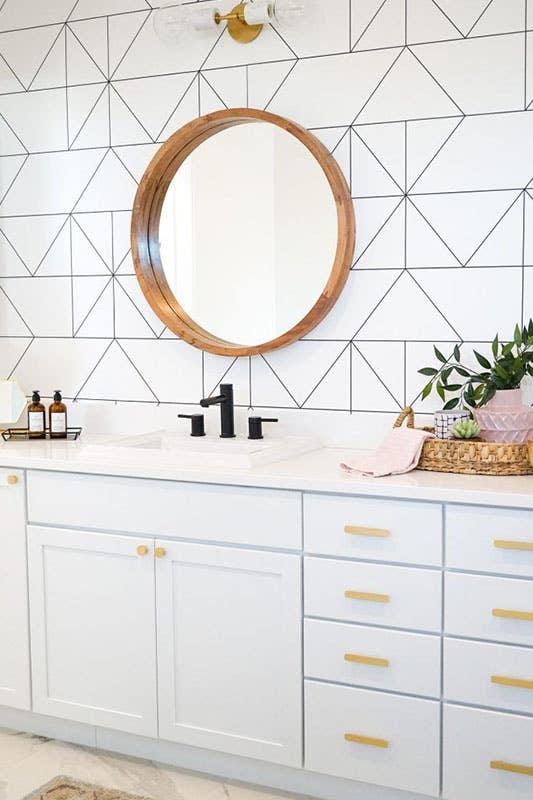 Pinterest
Bored of traditional modern bathroom backsplash and wallpaper? Opt for a patterned wallpaper that adds character to the room without distracting from the rest of the design. This unique yet subdued geometric wallpaper adds some shape to the bathroom without being too busy. Fun wallpapers are great for homeowners with more of a modern eclectic design style.
11. Bath-Friendly Greenery
My Domaine
The "modern jungle" style has become wildly popular in contemporary bathroom design. If you browse bathroom ideas on Pinterest, you'll notice a common theme of greenery. Indoor plants not only give a space a refreshing feel, they purify the air. They're arguably the best home decor—they're affordable and improve your health! Common plants for bathrooms include ferns, air plants, dracaenas, pothos and bromeliads. All of these species thrive in low light and high humidity, making them perfect as bathroom decor.
Checkout: 7 Green Bathroom Ideas for a Fresher, Cleaner Look in 2023
12. Luxe Large Mirrors
Pinterest
Not only do large mirrors make a bathroom feel more glamorous, they also create the illusion of a bigger room. This modern white bathroom includes a double wide mirror and double sink, creating beautiful clean lines. The room is already large, but the oversized mirrors make it feel massive and luxurious. To complete the look, bright white shaker cabinets and chrome hardware were chosen to match the rest of the white finishes.
13. Back To Black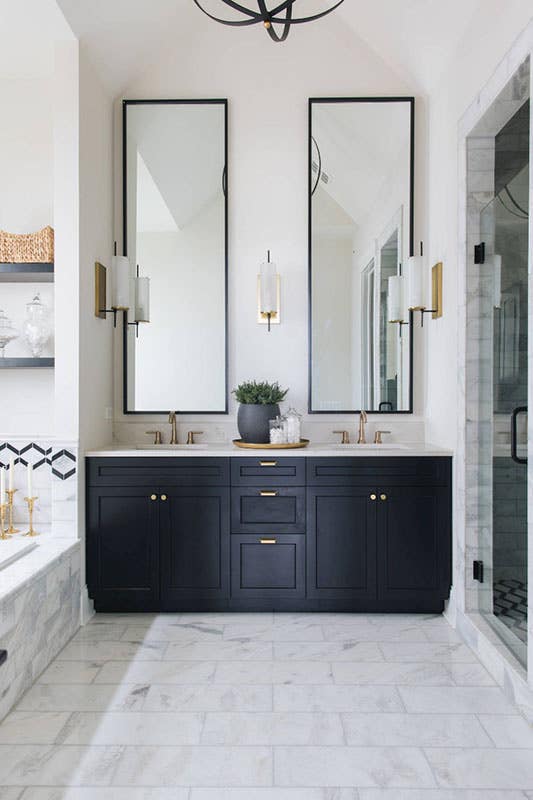 This grand master bath looks luxe with black bath vanity style cabinets. The stark black color is gorgeous against the white marble floors and white wall paint. Making the design feel massive, extra tall black-framed mirrors elongate the height of the pitched ceilings. This bathroom has the perfect blend of dark and light colors and finishes.
Checkout: Guide to Choosing Bathroom Cabinets

14. Cabinet Lighting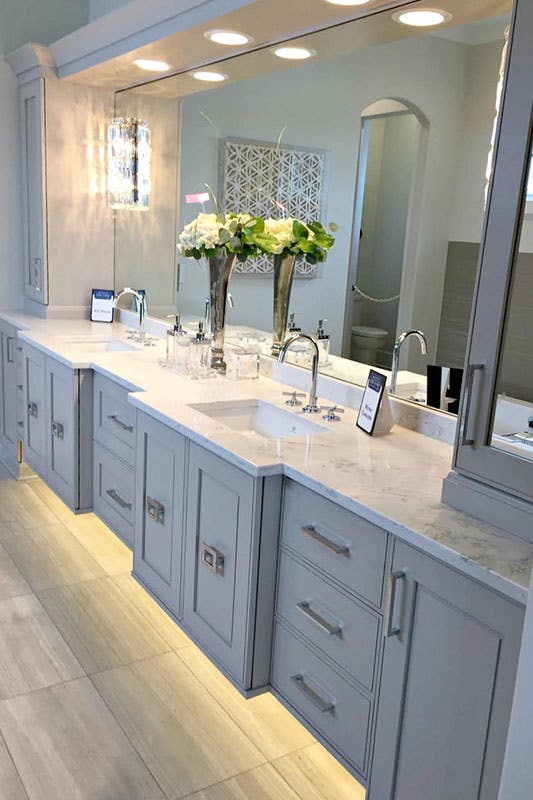 Pinterest
Give your modern bathroom cabinets an illuminated glow with LED under-cabinet lighting. By placing lighting underneath a floating vanity you give your bathroom a unique and amazing look. They are affordable and easy to install, LED cabinet lighting takes a modern bathroom design to the next level. For ultra-modern homes, colored LED lights can also be a striking look. Blue or red lights can be a vibrant futuristic touch to glossy all-black cabinets.
15. Vanity Powder Seating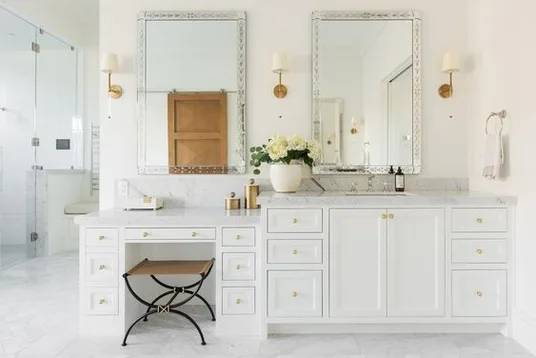 Pinterest
To create a small powder area, leave a gap between the cabinets in a single vanity for a small stool. If you don't have an existing seating area, this is a clever way to add it without installing a separate vanity. This beautiful marble bathroom adds a sitting space between the two double sinks for a gorgeous multi-tasking modern vanity.
Checkout: 8 Budget-Friendly Powder Room Ideas

16. Vessel Sink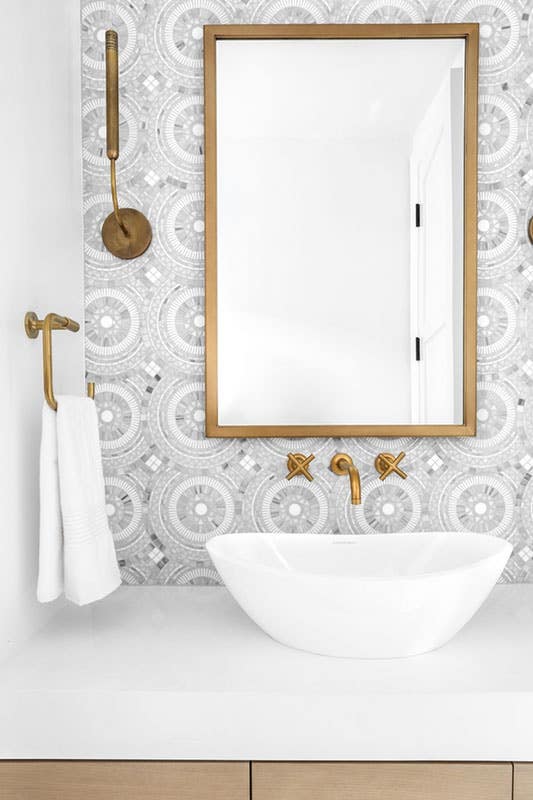 Home Bunch
Modern style bathrooms look stunning fitted with vessel sinks. To add an artistic touch, opt for a vessel sink of a unique shape or material. Common options are ceramic, glass, cement and steel. For modern bathrooms, there are plenty of neutral colors to choose from, but you may also consider marbled, mosaic or hand-painted varieties. Regardless of the style you choose, a vessel sink will add value and luxury to your modern bathroom design.
17. Wood & Ceramic Tile Flooring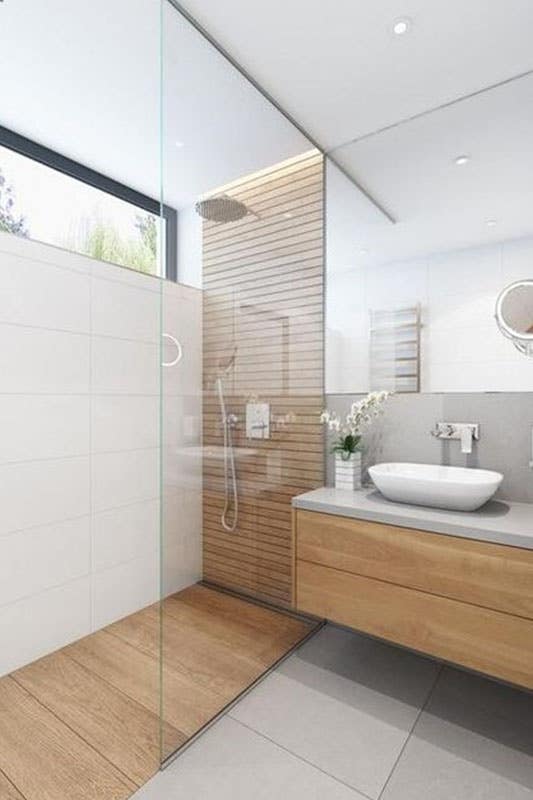 Pinterest
Flooring options for modern bathrooms are limitless. Depending on your unique design style, there are hundreds of different options to choose from. You must keep in mind how much floor space you will want. One unique idea that has recently hit the design scene is mixing wood flooring with ceramic tile.
The combination is not only durable and timeless, it creates a beautiful natural contrast. This interior designer here used grey ceramic tile for the main area of the bathroom, then waterproof wood planks for the shower floor.
18. Back-Lit Mirror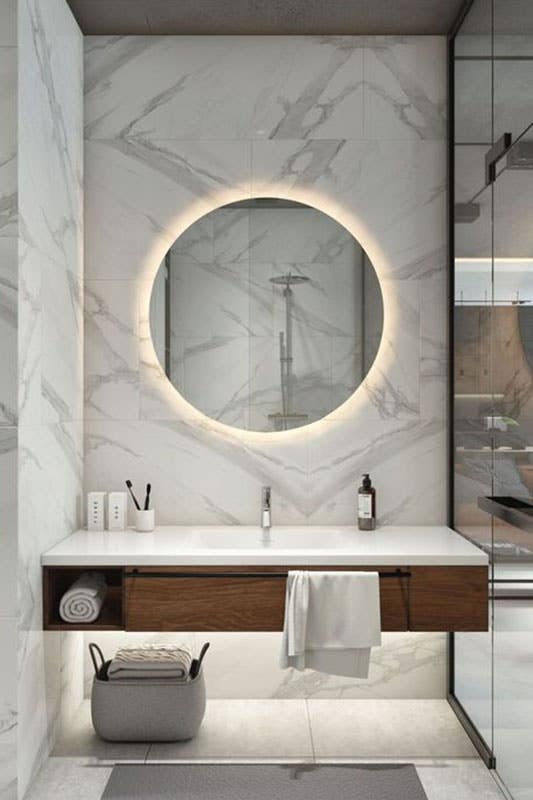 Pinterest
Update your modern bathroom mirror with soft back-lighting. The subdued glow creates optimal lighting to apply makeup or style hair. It also turns the mirror into more of a statement art piece. This is an affordable and easy way to give your modern bathroom a custom touch. This bathroom has lights installed under the floating vanity as well, keeping the room beautifully illuminated without distracting from the overall design.
Modern Bathroom Cabinets
Modern bathroom cabinets don't have to be flat panel and glossy to match the updated finishes of the space. In fact, its possible to incorporate almost any cabinet style into a modern bathroom with the right design plan. One popular (and affordable) cabinet style for contemporary spaces is the shaker cabinet. With a five-piece door frame and minimal details, the no-fuss style of the shaker cabinet is perfect for modern designs.
Popular colors for modern bathroom cabinets include white, grey, black, and navy. Modern bathrooms often feature clean lines, minimalist design, and sleek finishes. Some popular options include floating vanities, wall-mounted cabinets, and cabinets with built-in lighting. These designs can create a streamlined, beautiful look in the bathroom while also maximizing storage space.
Modern Bathroom Vanity
Modern bathroom vanities are a popular choice for homeowners who want to create a sleek and stylish look in their bathroom. These vanities are typically characterized by their clean lines, minimalist design, and high-quality finishes. They often feature simple, yet functional storage solutions such as drawers or open shelving. Some modern bathroom vanities also incorporate unique materials, such as natural stone or concrete, to create a bold and modern look.
Additionally, modern bathroom vanities come in a variety of sizes, allowing homeowners to choose a vanity that fits their space and storage needs. Overall, modern bathroom vanities offer a beautiful and functional solution for those looking to update their bathroom's style.
Modern Color Scheme
Think the only way to design a modern bathroom is in black and white? Think again! Although black, white and shades of grey are the most popular color options for modern bathrooms ideas, you shouldn't limit your design to what is most common. There are many modern bathroom vanities with earthy colors like jade, or emerald green, that can really pop in a modern bathroom. Even bright, non-traditional colors like bright yellow and fire engine red can look stunning on the walls, floors or cabinets. When choosing colors for your bathroom scheme, go with what makes you feel happy and refreshed—that's what matters. Then choose updated modern finishes to match.
Don't be afraid to go against the grain when it comes to making your space feel like home! When it comes down to it, it's your opinion that matters most.
Find Modern Bathroom Finishes For Less
Explore modern cabinets, hardware, backsplash and more at Lily Ann Cabinets for up to 50% off box store pricing. Need help designing your modern bathroom getaway? Get a FREE 3D design today! Please don't hesitate to reach out to our friendly customer service team with any questions.
This is a curated post designed to showcase the work of a number of talented designers. If you would like to have an image removed, please let us know!
FAQ:
1. What is the new trend for bathrooms?
The newest trend for bathrooms is unique tiling. This includes mosaic tile floors or walls, matching marble throughout, gold accents, and spa-like textures and details such as wood and greenery.
2. What colors are trending for bathrooms?
The most popular and trending colors for bathrooms are white, greys, light blue, and dark green.
3. How do you design a good bathroom?
If you want to design a good bathroom, the first thing that you need to do is to define a budget. The next thing to do is to find some inspiration for your bathroom design. Pick a color scheme that fits the space and what style you want to go for. After you have a color scheme, materials for the flooring and shower walls need to be chosen. Free samples of cabinetry can be help. Once you have the colors, materials, and furniture chosen, lay it out together and see if everything goes well together!
4. How do I make my bathroom trendy?
One way to make your bathroom trendy is to keep your bathroom materials and colors light and bright, or double down on dark colors. Large, simplistic mirrors that are backlit will also make any bathroom space trendy. More ways to make a bathroom trendy are to raise the shower curtain rod up as far as possible and get a new curtain that fits the height, add dramatic tiling, and paint the walls with high gloss paint to reflect light.
5. What is the most popular color for a bathroom?
The most popular color for a bathroom is definitely white or a light grey. This is because it makes the bathroom space feel bright, cleansed, and cheery.