When is it smart to choose floating kitchen shelves instead of upper cabinets? Open shelving vs upper cabinets broke onto the kitchen design scene with a bang. You can find it everywhere, but many were first turned onto the trend from the show Fixer Upper on HGTV. 
Essentially, homeowners are opting to install floating wall shelves in their kitchens in lieu of traditional upper cabinets. But is this the right choice for you?
There are several important factors to think about before making this design decision. For instance, are you planning on putting your home up for resale? What is your renovation budget and remodel timeline? The answers to these questions will largely determine whether subbing open shelving for upper cabinets is a good idea for your kitchen.
To help you make an informed decision, we're going over all of the major pros and cons of each choice, diving into the discussion of open shelving vs upper cabinets. The kitchen is the heart of the home, so it's important to find an option that best suits your household's needs and lifestyle.
Open Shelving
PRO: Trendy & Minimal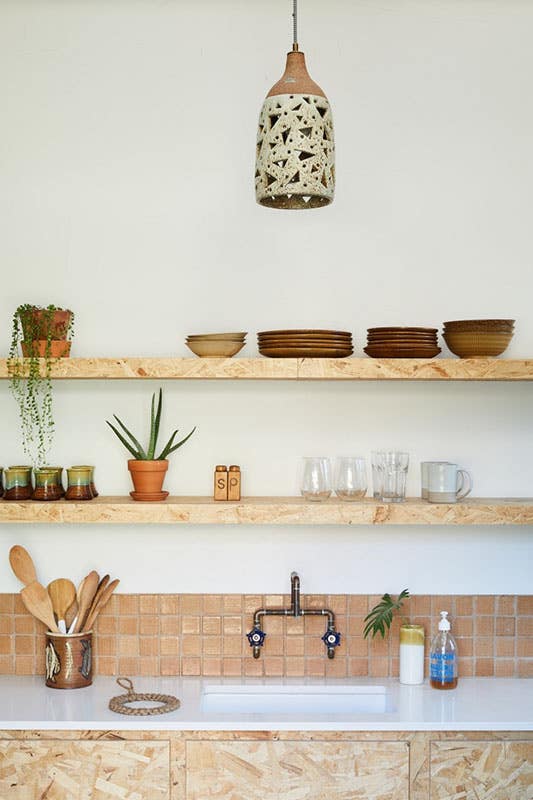 Minimalism is on-trend, and kitchen open shelving is the natural choice for those looking to rid their homes of excess. Open shelves force you to analyze what is most important in your kitchen and eliminate the rest. Say goodbye to clutter for good, because any extra junk won't do justice to your new floating shelves!
PRO: Great For Small Spaces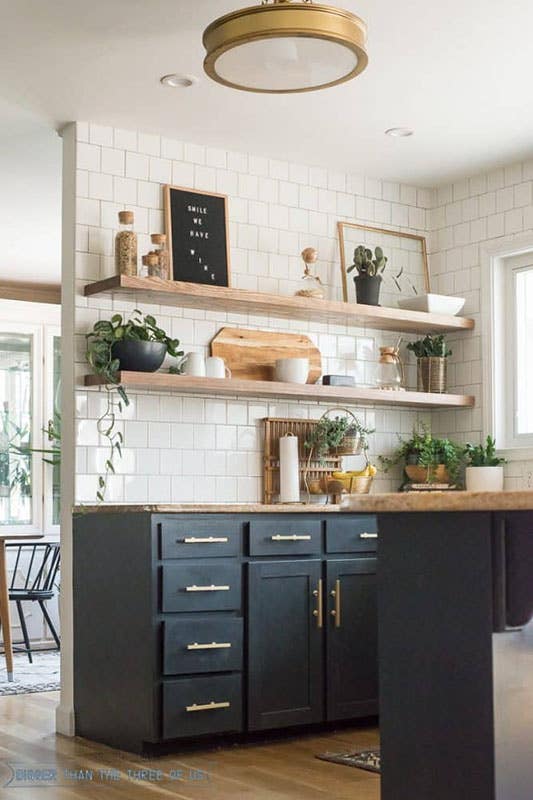 Small kitchens can benefit from open shelving because they open up the space, making the layout feel bright and airy. Although this also largely depends on what you put on your shelves, it can be an added benefit that keeps the kitchen from feeling too dark and cramped. Wall mounted floating shelves without metal brackets, like the ones shown above, look especially striking in smaller spaces.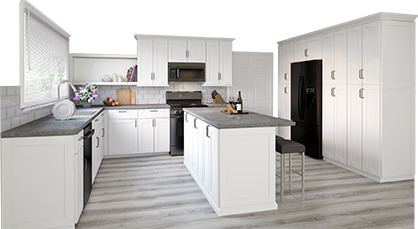 3D Kitchen Visualizer Tool
Bring your dream kitchen to life with our free kitchen visualizer!
Design Now
PRO: Show Off Your Dishware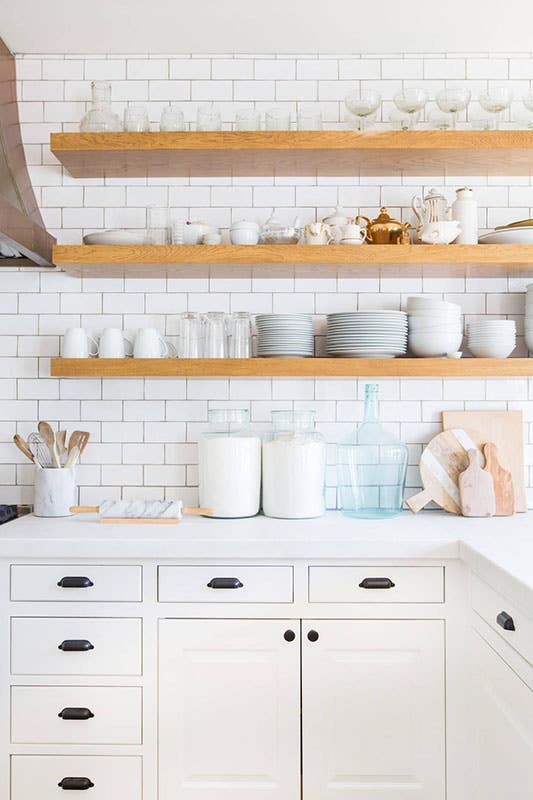 Are you a dishware aficionado? A kitchen design with shelves instead of cabinets may be the right option for you. Display all your favorite mugs, glasses, dish sets, and more where they're always within arm's reach for easy access. We love this kitchen with white cabinets and open shelving.
When it comes to open shelving, matching dishware to other kitchen finishes can have a stunning result. For example, you might choose all-white ceramic dishware to complement a white subway tile backsplash and white shaker cabinets.
PRO: An Affordable Option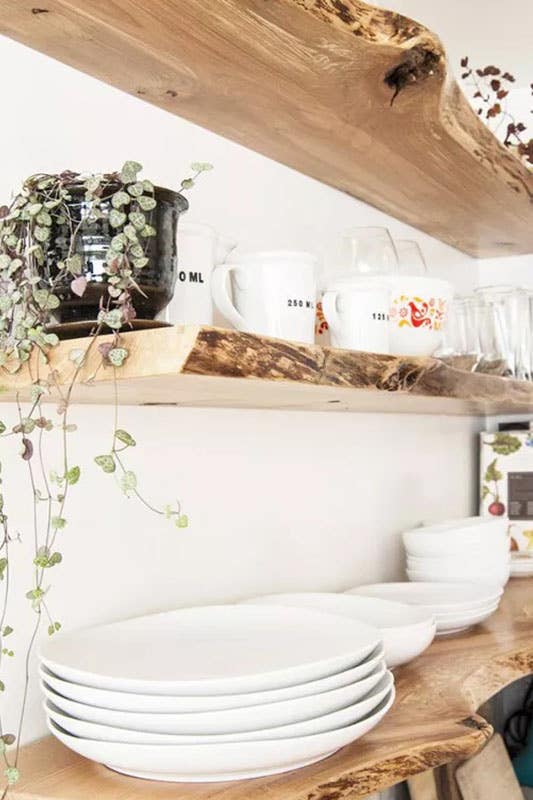 Due to the small amount of material needed, open shelving in kitchen pros and cons lean towards pros when considering the budget. Price will largely depend on the material used, with the most common option being wood. There is a large range of options, including the striking live-edge wood shelves shown above.
CON: Frequent Cleaning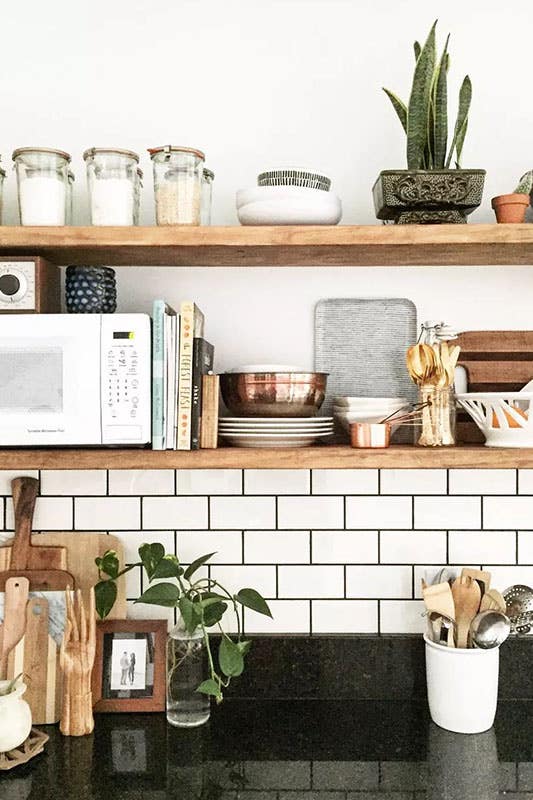 Mattietiegreen | Instagram
Unfortunately, open shelves are more prone to dust. Thus, they need more frequent cleaning. Especially for those with a significant amount of dishes and decor sitting on their shelves, this can quickly become inconvenient. Each shelf as well as the goods sitting on it will need a wipe-down at least once every couple of weeks.
CON: Always Visible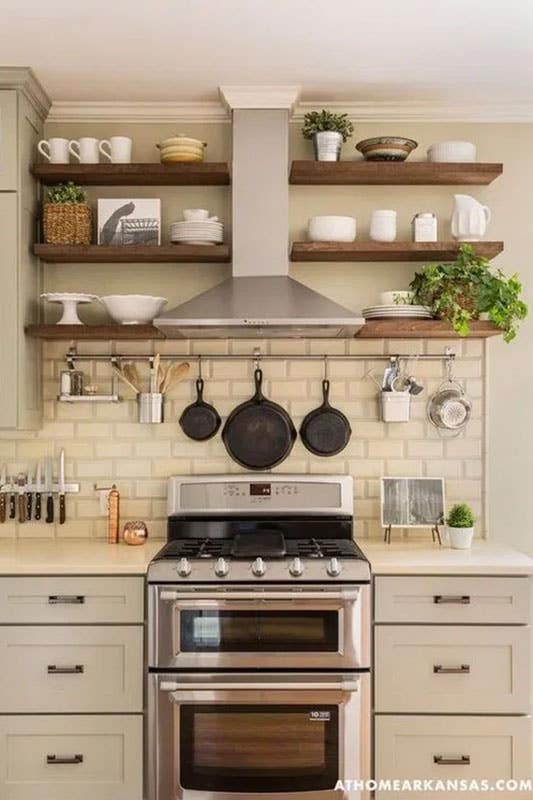 At Home Arkansas
Whether you like it or not, your business becomes everyone's business with open shelves. If your dishware doesn't match or has a few dents and cracks, be prepared to have it on full display. Plus, if the items on your shelves aren't organized, open shelving can quickly start to look cluttered.
Upper Cabinets
PRO: More Design Options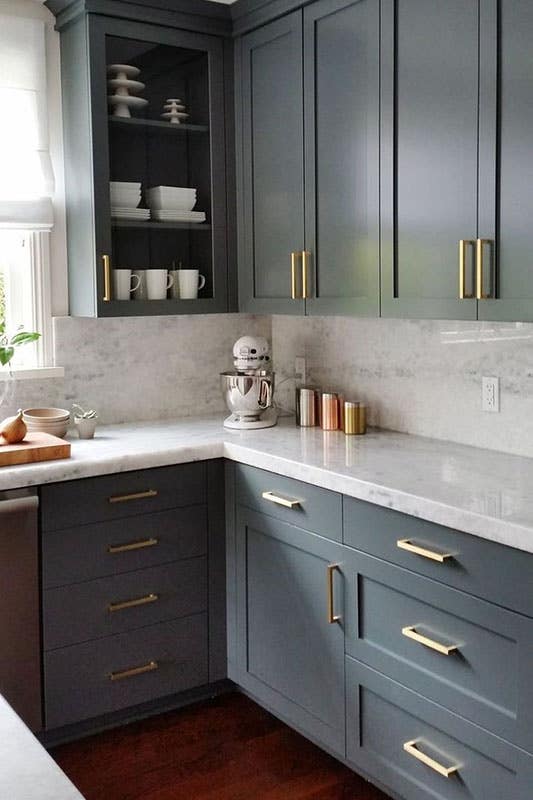 Pinterest
The biggest benefit to installing upper cabinets instead of open shelves is the number of options in terms of design and functionality. Kitchen cabinets come in a variety of colors and stains. There are hundreds of door and drawer styles to choose from, and you will have free range to choose the perfect knobs and pulls to tie your kitchen decor together. Being able to customize these different options allows you to create a more cohesive, blended kitchen design.
Related: How To Match Cabinet Hardware with Kitchen Decor
PRO: Plenty Of Storage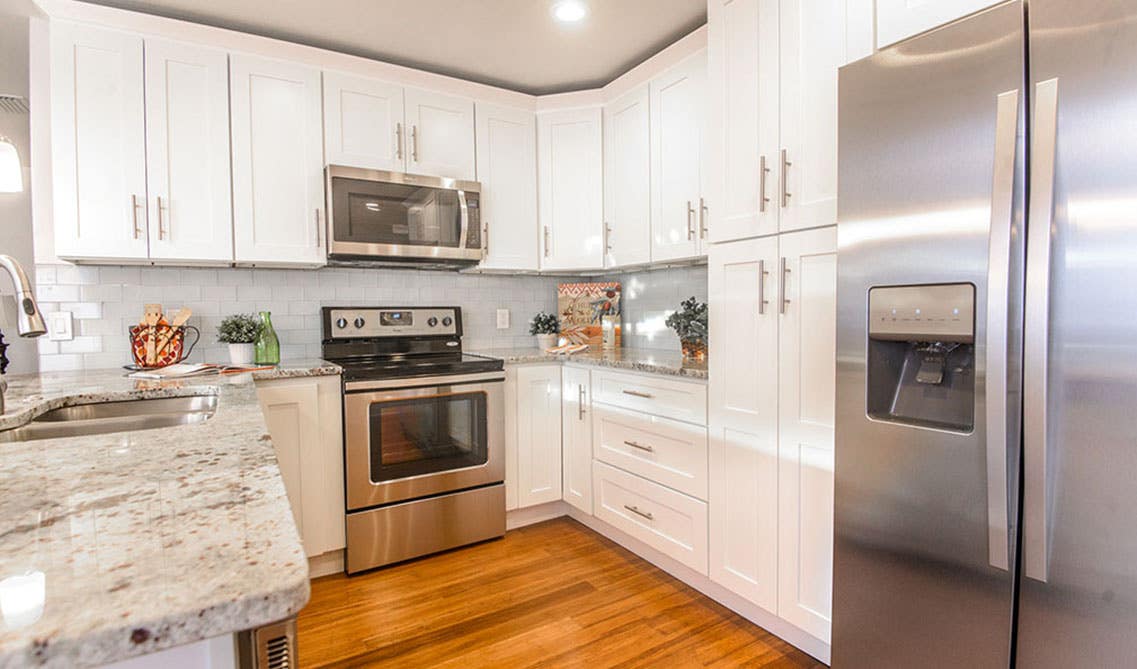 The obvious pro to upper cabinets is more kitchen storage. Many people underestimate the amount of storage they'll need in their kitchen. Upon first moving into a home, you may only have a few boxes of dishware and other kitchen items. But over time, random utensils and dishes will inevitably accumulate, and it's convenient to be able to stow them away in a cabinet. Depending on how many you install, upper cabinets will also help to reduce clutter on your countertops.
Related: White Shaker Cabinets: The Ultimate Design Guide
PRO: Customizable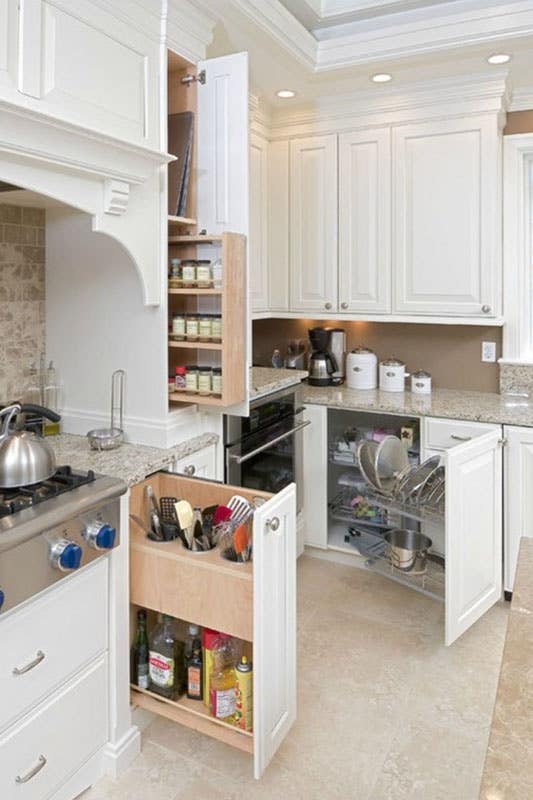 Pinterest
Customization is another feature of upper cabinets that you won't get with open shelving. Not only do cabinets provide more storage space, but there are also countless cabinet organizers like rollout shelves, spice dividers, and door mount spice racks that can be used to add even more storage and functionality. Whereas floating shelves are limited by their horizontal position, cabinet organizers can make better use of empty space by storing kitchen goods vertically.
CON: Higher Price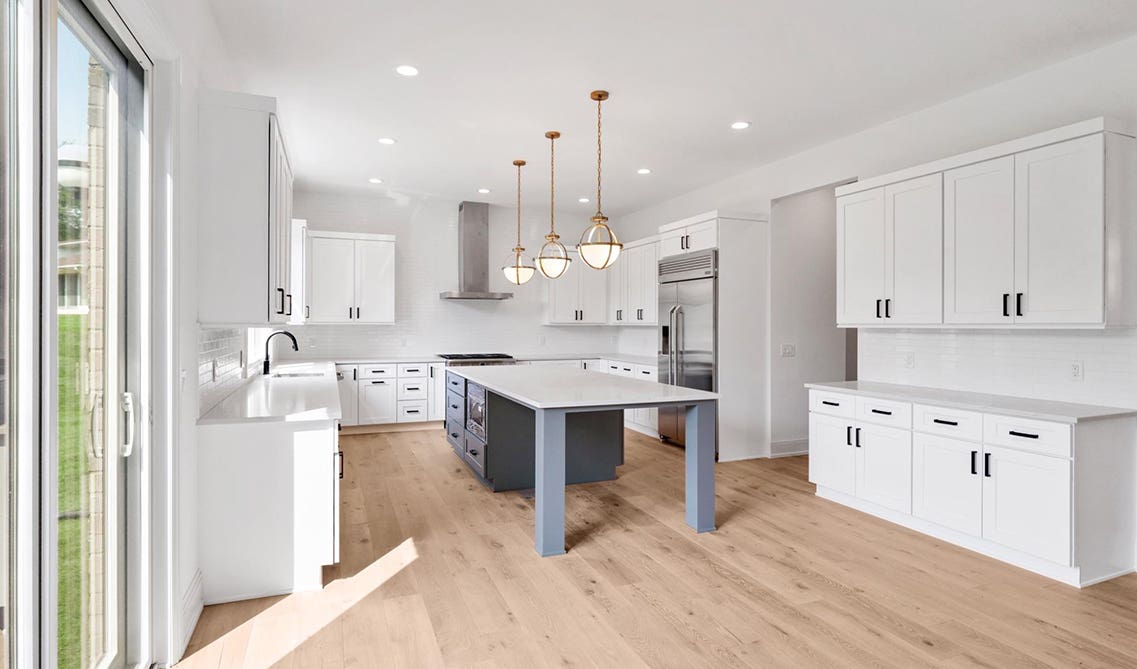 Because they require more materials, opting for upper cabinets instead of open shelving is typically more expensive.
But keep in mind—you can save big on upper cabinets by purchasing them ready-to-assemble. Lily Ann Cabinets sells cabinetry that uses the dovetail assembly process, essentially locking the cabinet pieces together like puzzle pieces. Ready-to-assemble (RTA) cabinets can save you thousands of dollars on your kitchen remodel. Plus, installing upper kitchen cabinets will save you more money in the long run by adding significant value to your home for resale.
Can't Decide? Consider a Compromise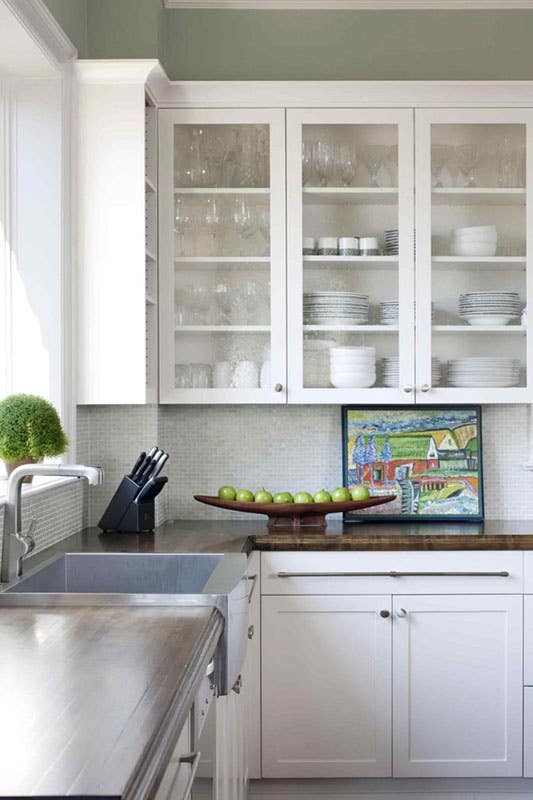 Pinterest
If you want the storage space of upper cabinets but still want to display your dishware and decor, try compromising with glass door cabinets. Glass doors make the kitchen feel open and airy, but still allow you to keep your things neatly stored away.
(Contact us today to ask us about our affordable glass door inserts!)
Best of Both Worlds
Studio McGee
If you love the look of open shelving and the convenience of cabinets, choose both! It's easy to add floating shelves to an existing kitchen with upper cabinets. This kitchen by Studio McGee has open shelves cleverly tucked in the corner to store extra dishes and add some visual interest. Kitchen shelving can help break up space between cabinets and make the design feel more open.
Your Dream Kitchen, For Less
Save big on your dream kitchen. Lily Ann Cabinets offers an extensive range of affordable ready-to-assemble (RTA) cabinets for up to 50% off box store pricing. Need help with the layout of your kitchen? Get a FREE 3D design today! Our professional team of designers will help you decide the best layout for your space and whether open shelves are right for you.
Related Blogs: 
This is a curated post designed to showcase the work of a number of talented designers. If you would like to have an image removed, please let us know!