We recognize subway tile as the beloved backsplash material found in millions of homes… but where did it come from? Given its name, you'd be correct to assume that subway tile originated from none other than the New York Subway. In 1904, designers George C. Heins and Christopher Grant La Farge created the simple 3 x 6" ceramic tiles for NYC's first subway station.
Since the subway tiles were easy to clean and reflected light in the dark underground tunnels, they became the standard for subway stations worldwide. Because of their reputation for cleanliness and purity, they quickly began appearing in home interiors everywhere, eventually making them the most popular subway tile backsplash option for kitchens and bathrooms.
What Is Subway Tile?
Subway tile is one of the most popular decorative tiles, It comes in many colors, including white and beige which are the two most popular varieties used in home kitchens today. Subway tile can be used to make backsplashes, accent walls, floors, and even countertops!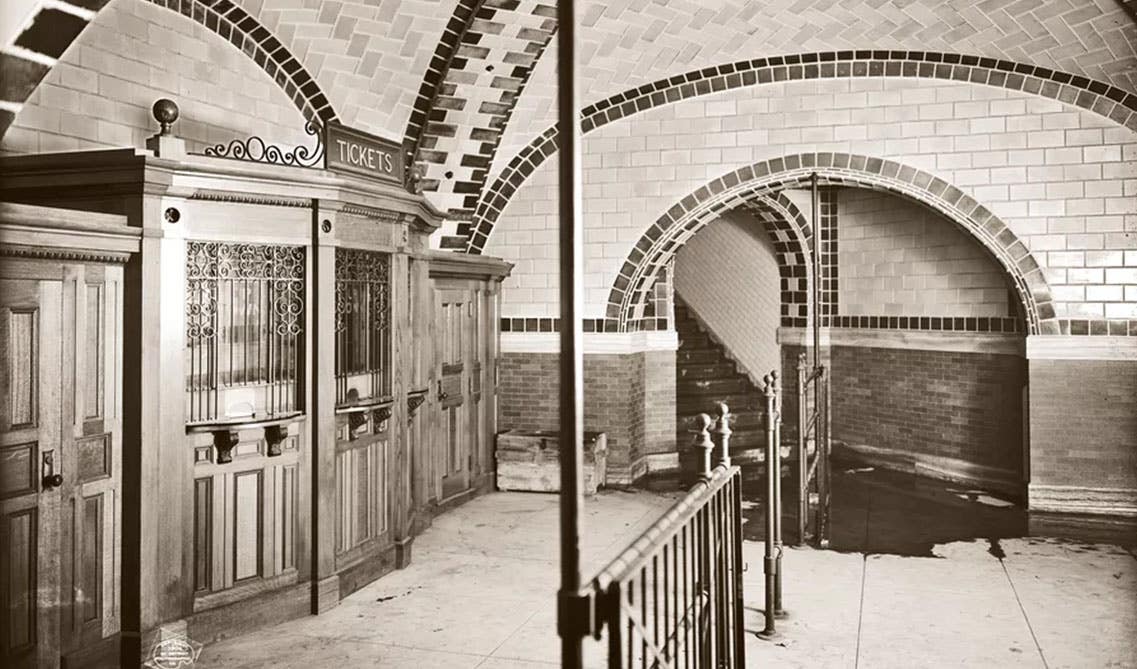 Is Subway Tile Still In Style?
Fast forward to today, and the sweeping influence of subway tile is indisputable. It remains the most popular subway tile backsplash material for kitchens, bathrooms, and even less conventional spaces like fireplaces. Many of our customers ask us if subway tile is a timeless choice for their home remodel, or if it will become outdated and need to be replaced. Our answer? Subway tile is a timeless choice!  Subway tile is extremely versatile and blends with almost any decor style. It is without a doubt that this functional and aesthetic material will be used in homes in 2023 and beyond.
10 Unique Tile Patterns To Try
Before we dive into our favorite subway tile design ideas, let's go over some of the most popular tile patterns. Of course, there is always the classic "offset" subway tile pattern that is most commonly used (#7) — this is the pattern that originated in the New York subways. The offset pattern is truly timeless and adds a classic look to any space. However, the offset isn't the only option.
A few more creative tile patterns that have gained popularity in the modern design scene include herringbone (#3) and crosshatch (#1). These patterns are great options for homeowners who love the convenience and affordability of subway tile but want to add a more sophisticated touch.
9 Subway Tile Designs We Love
Without further ado, we're sharing 9 of our favorite subway tile looks! From kitchens to bathrooms, we've compiled a list of amazing subway tile designs to inspire your home to build or remodel. Check them out and let us know what you think. Plus, use our free 3D design tool to see how subway tile backsplash and a new set of cabinets can transform your kitchen or bathroom.
1. White Subway Tile Bathroom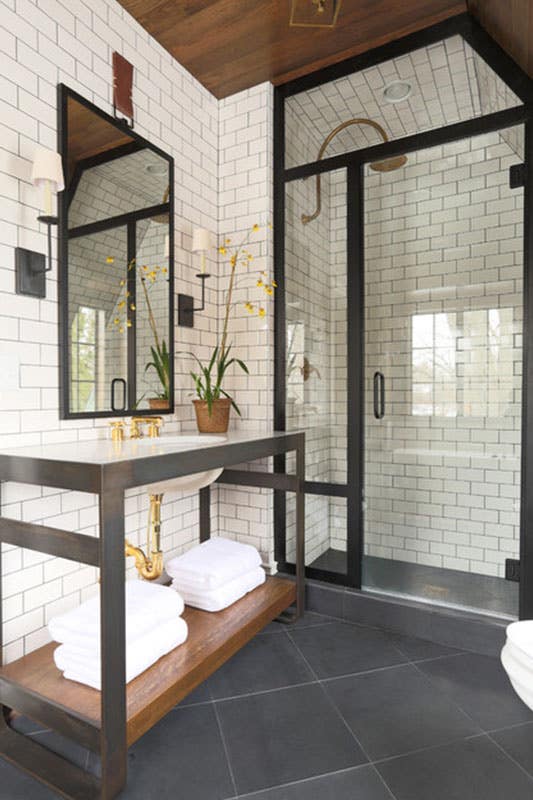 Photo via Summer Thornton Design
In bathrooms and kitchens alike, you can never go wrong with traditional white subway tile paired with black grout. This is the classic look that homeowners love. White subway tile pairs well with almost any decor and allows plenty of freedom to play around with other materials and textures.
For example, in this bathroom design by Summer Thornton, charcoal grey floor tile and a paneled wood ceiling come together to complement the subway tile backsplash effortlessly. We always encourage homeowners to play around with materials to add personality to their space. Subway tile is a great starting point!
2. Subway Tile with Dark Grout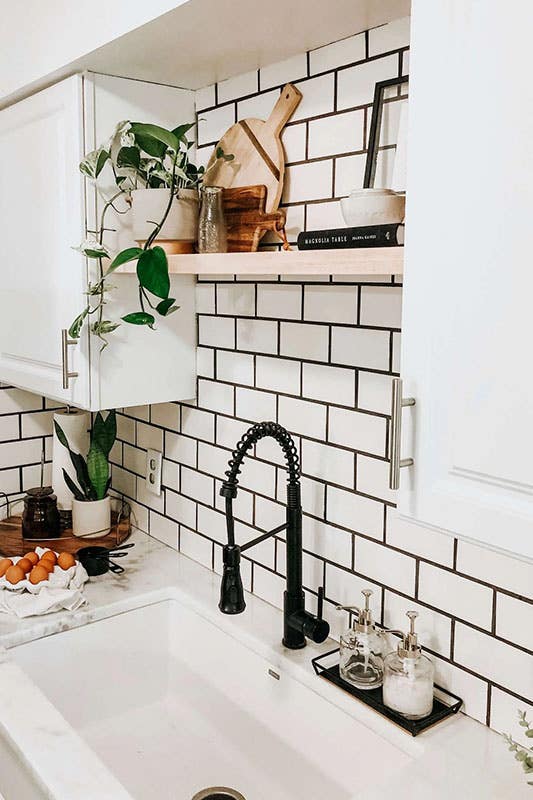 Photo via What Molly Made
White backsplash with black grout adds another level of depth to this kitchen and makes the subway tiles stand out. The grout lines for this tile are slightly larger than the traditional grout size, giving this backsplash a more rustic look. When it comes to grout, the size is completely up to preference, with an average size ranging from 1/8" to 1/4".
3. Modern Farmhouse Kitchen with Glossy Tile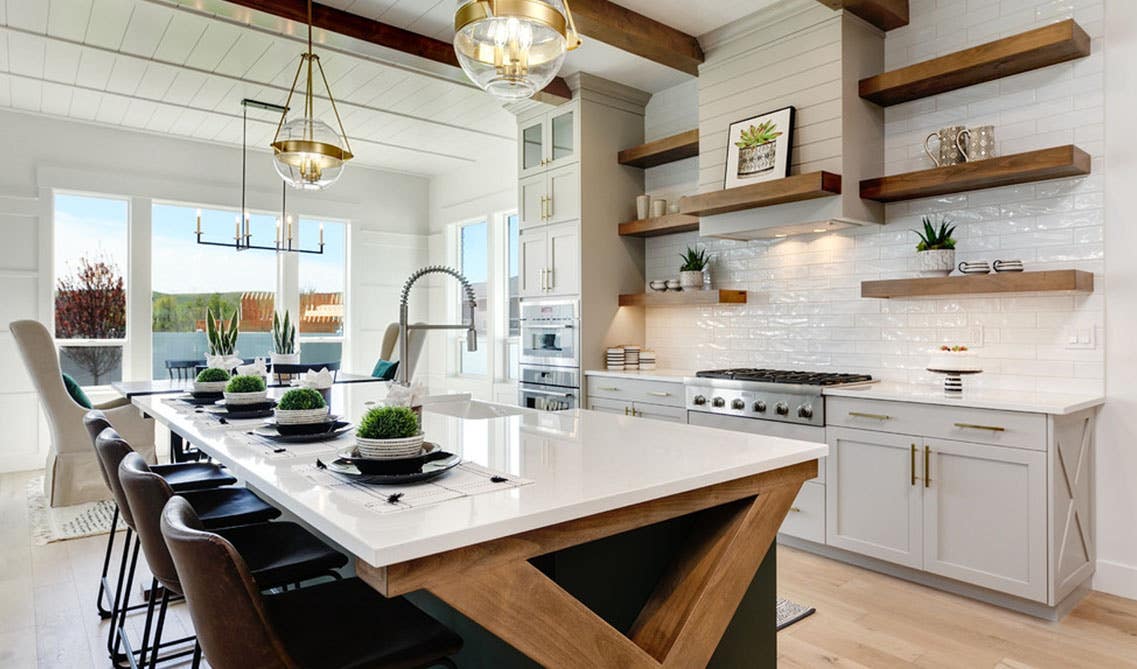 Photo via Solitude Homes
For modern kitchen designs, white glass subway tile is a great option. This kitchen by Solitude Homes exemplifies how a glossy white tile can add dimension to a space. Subbing open shelving for upper cabinets really makes the backsplash stand out. Glossy or glass subway tile looks best in kitchens with plenty of natural light, as light reflects off the surface of the tile for a glistening appearance.
4. Black Subway Tile Backsplash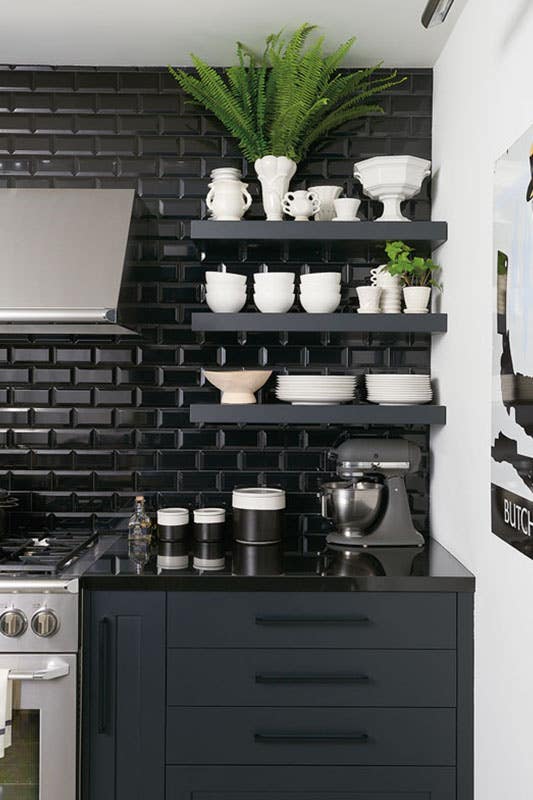 Photo via House & Home October 2016. Photographed by Alex Lukey. Design by Meredyth Hilton.
Black subway tile is appearing more frequently in kitchens due to its dramatic appearance — in any home, black makes a huge statement. This kitchen designed by Meredyth Hilton showcases the grand potential of dark subway tile. A far cry from its more traditional counterpart, this glossy black subway tile adds depth and contrast to any kitchen design. Black subway tile also looks great with white cabinets, as it provides a dramatic contrast.
Get a FREE virtual 3D walk-through of your future kitchen today. Click here to get started.
5. Vertical Herringbone Pattern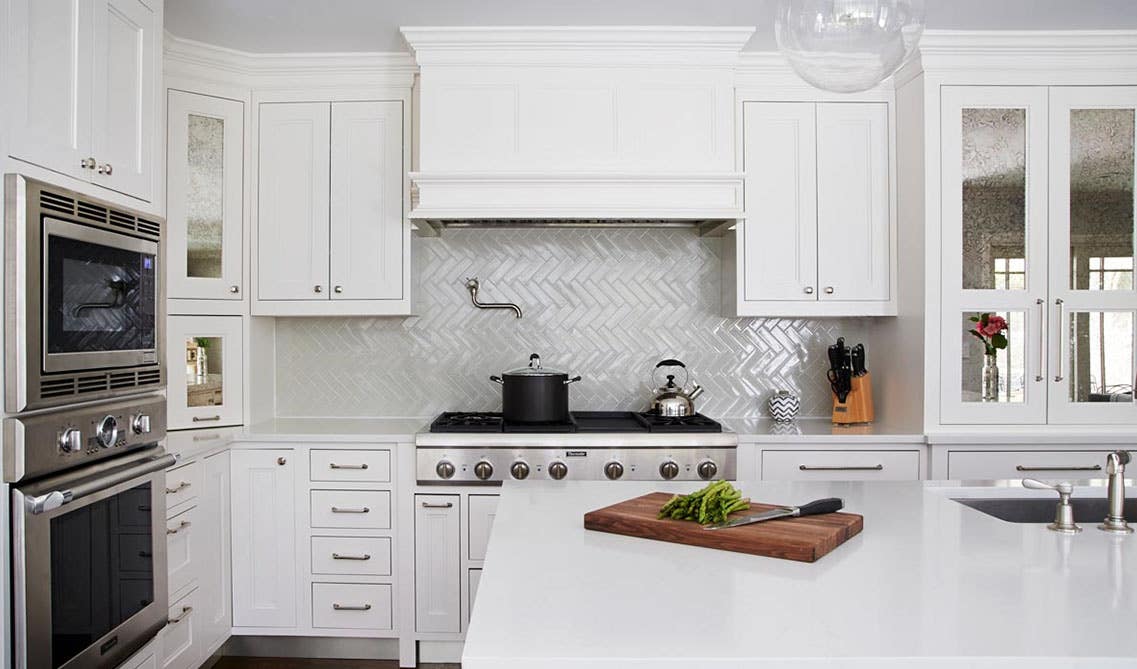 Photo via Studio Dearborn
As previously mentioned, the herringbone tile pattern is a great choice for homeowners who love the look and price of subway tile but are looking for something a bit more artistic. This vivid white kitchen features grey ceramic herringbone backsplash tiles—unarguably making a huge statement in the space. As this design proves, choosing the right subway tile pattern can completely change the dynamic of a kitchen or bathroom! This particular backsplash brings a hint of glamour and sophistication to an otherwise traditional kitchen design.
6. Traditional Herringbone Pattern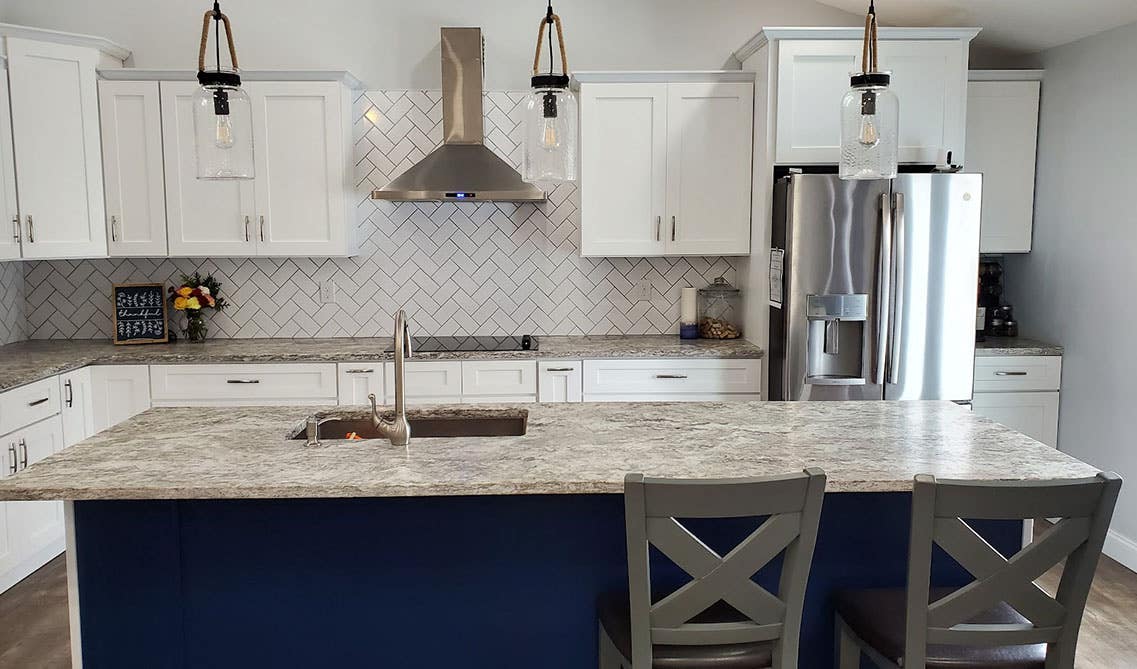 This Lily Ann customer kitchen features a traditional herringbone subway tile backsplash. The white tiles are paired with our classic RTA White Shaker Elite cabinets for a fresh white, vibrant look. When looking for the perfect backsplash color for white cabinets, you can never go wrong with classic white subway tile.
7. Emerald Green Subway Tile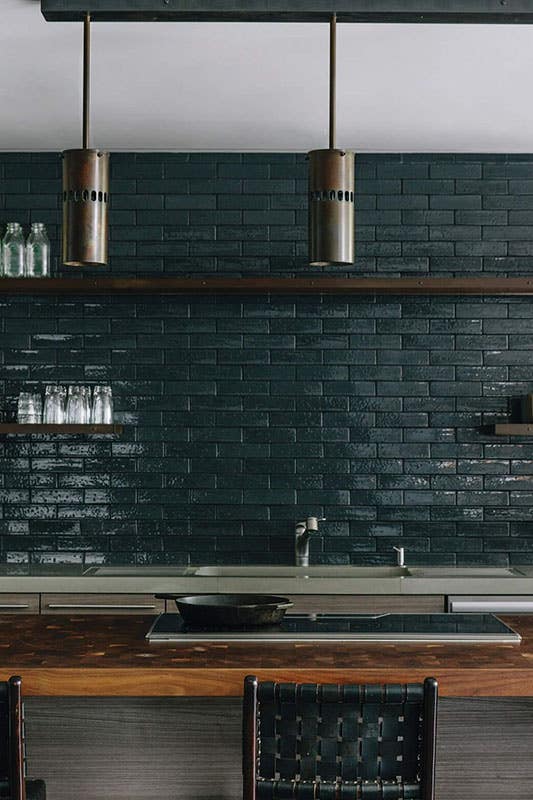 Photo via Catherine Kwong Design
The options are truly limitless when it comes to tile colors. From light pastels to deep, dramatic hues, there are countless options to choose from. This chic, modern kitchen features a counter-to-ceiling backsplash in the color emerald green. The rest of the design is minimalist and sleek since the backsplash steals the show. Although daring, this design has a big payoff.
8. Traditional Tile Bathroom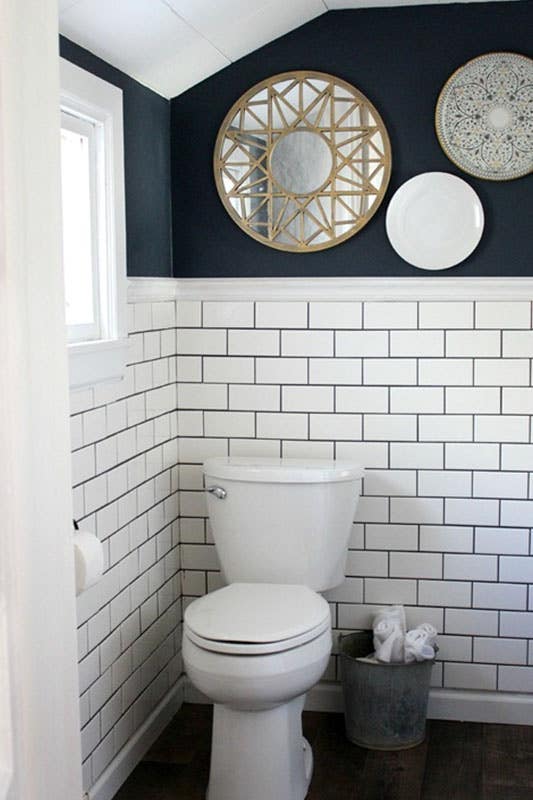 Photo via Christina Maria
This bathroom is a great example of how subway tile can be used to add a fresh look to an outdated space. The tile surface is easy to clean and matches any additional paint colors or decor. If you'd like to spruce up your bathroom, you can even use a peel and stick subway tile to save money and time on your remodel.
9. Glossy Gray Subway Tile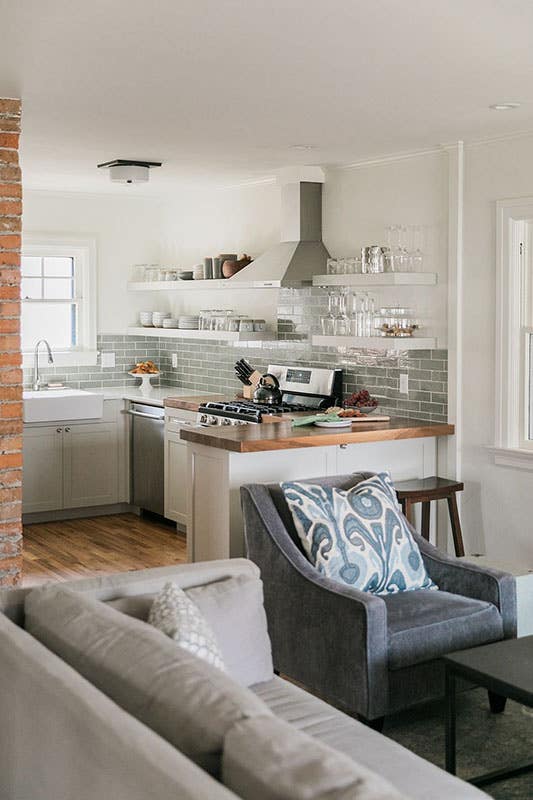 Photo via Maren Baker Design
If a white subway tile backsplash is a little too traditional for you, try gray. A darker tile brings a bit more drama to the space and demands more attention. Gray subway tile works great with white or gray cabinets, as the neutral tones complement each other nicely. Another plus to working with gray tile is that it doesn't show stains as easily as lighter varieties.
Get Started On Your Dream Kitchen Or Bath Today!
Lily Ann Cabinets has everything you need to complete your home remodel for a fraction of box store costs. We offer discount subway tile, RTA cabinets, cabinet hardware, flooring and more so you can renovate for less! Not sure where to start? Get a FREE 3D kitchen design and quote today.
This is an image roundup post created for the purpose of inspiration. We love to feature and promote talented designers to showcase their work. If you would like us to remove an image, please let us know and we will do so promptly.