White cabinets are known for their clean aesthetic and the bright freshness they can lend to just about any kitchen. Better yet, they can do so in all kinds of ways, so no two white kitchens will feel exactly alike.
There are so many ways to style a kitchen with white kitchen cabinets, but a few particular design categories let them really shine.
Formal & Elegant

White cabinets with wood detailing and paired with black hardware can make any kitchen look like a million bucks. Use dark floors and marble or granite countertops to finish off the look. Our Charleston Antique White Kitchen Cabinets would be the perfect style for any formal design.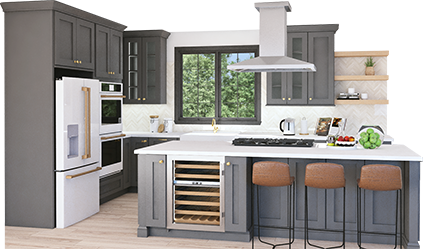 Get your FREE 3D kitchen design today!
Start Now
Rustic & Rural

You can create the farmhouse kitchen of your dreams with white cabinets. Add warm wood tones in either your countertops or floors and a farmhouse sink, and you have a cozy kitchen that's ready for some relaxing cooking sessions. You might also want a hint of warmth in your white cabinets to add to the authentic country feel. For example, with their subtly creamy hue, Bristol Antique White Cabinets are bursting with rustic charm from the moment you get them assembled.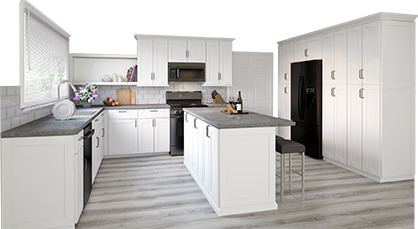 3D Kitchen Visualizer Tool
Bring your dream kitchen to life with our free kitchen visualizer!
Design Now
Sleek & Modern

White cabinets can be styled to fit a modern design as well. Modern designs are all about crisp, clean lines and pure colors, like whites and blacks. If you're ready to bring minimalist style into your kitchen, you need our White Shaker Cabinets, which are the epitome of sleek.
Bright & Beachy

In the right door style and context, white cabinets can make your kitchen feel easy breezy. Creating a seaside feel in your kitchen is all about bright neutral tones accented by hints of calm colors, like navy and seaglass green. Use these accent colors sparingly by keeping them in elements like your backsplash. Choose cabinets in a linen-tone white, like our Key Largo White Cabinets, to give your kitchen the cheerful seaside cottage vibes you're looking for.
Bold & Dramatic

Who ever said white cabinets couldn't be dramatic? If you want a truly eye-catching kitchen, try the bold tuxedo style. Choose dark base cabinets and white hanging cabinets to help draw the eye naturally upward. Our York Antique White Cabinets have ornate detailing that's well-matched for the tuxedo style in even its most lavish form, and can even give your kitchen some vintage flair.
Discover The Perfect Style For Your Dream Kitchen
There are plenty of other white kitchen cabinets in store at Lily Ann Cabinets. No matter what aesthetic you want to bring to your space, you're sure to find a style in our collection of white cabinets that's your perfect match. Browse and request a free sample today.