Rustic has become something of a catch-all term these days. Searching for rustic kitchen design ideas can inundate the designer with examples of a wide variety of styles and furnishings based in traditional or traditionally-inspired composition.
Still, a few signature styles appear to be prominent in modern rustic kitchen design, and it can be helpful to learn more about them in order to decide on the interior design of your kitchen. Included below are a few of those styles, their typical markings, and examples of the rustic cabinets necessary to recreate those styles in your own home.
Rustic American Kitchen Design
Arguably the most popular of the rustic styles, Rustic American design mainly draws its influences from the classic farmhouses of the heartland where country cottages were most common. Rustic farmhouse kitchens benefit greatly from an emphasis on clean lines and understated décor, which add an element of simple, pastoral beauty to your family's gatherings and meals.
Furnishings, in this case, should be drawn from or inspired by your home's surroundings. One of the tenets of rustic design – no matter the style – is a celebration of the traditional way of doing things, which includes honoring the area in which you live and the things that make it great. Simple and understated rustic kitchen decor like open shelves, vintage dishware and repurposed wood make beautiful additions to this kitchen design style.
Consider purchasing the kitchen island and other furniture from antique stores that specialize in local goods and adding crafts or art that is either made in the area or celebrates an element of it. When it comes to the kitchen countertops and cabinets, place an emphasis on natural materials that embody rustic country style, like wood and tile.
Rustic American is unique in that many of the homes from which its influences are drawn were originally owned by individuals who shunned ostentatious colors and designs. That being the case, most of the cabinet styles in rustic style kitchens are either pure or off-white and minimal in their modeling.
Our Summit Shaker White cabinets model is directly inspired by this style of cabinetry and possesses expert, solid-wood construction that would impress even the hardiest farmhand. If you're looking for something a touch more elegant, consider our York Antique White cabinets. This model features the same degree of impeccable craftsmanship while still possessing the classic refinement that epitomizes the Rustic American design style.
When considering rustic kitchen cabinet hardware, opt for matte black or oil-rubbed bronze knobs and pulls. These darker colors will complement lighter shades of wood kitchen cabinets.
Rustic European Kitchen Design
Kitchens created in the Rustic European style don't hem as closely to style guidelines as their American cousins, partly because there are more countries from which this style draws inspiration. Still, there are a few benchmarks on which you can rely on when deciding which version to emulate for your own kitchen.
Warm colors, for example, are much more prominent in the European style and are often anchored by brick or stone floors. Wood panels and beams are other common elements that allow the home to blend seamlessly with its natural surroundings. So as not to distract from these natural elements, Rustic European kitchens often feature beige or black countertops with classic stainless steel appliances.
You should also feel free to use more color in the furnishings of your kitchen. Fresh local flowers and other natural ingredients brighten up the room while celebrating the vibrancy of the surrounding country. In the classic European country kitchen, it is also common to leave out ingredients like fruits, bread and wines to invoke a cozy, welcoming feeling in the home.
That said, simplicity should still be paramount in your design; rusticity in all forms cherishes restraint and elegance. The Rustic European style offers kitchen designers a little more leeway in their cabinetry selections.
If your intent is to recreate the stately refinement of a Northern European farmhouse, you may wish to try our rich Shaker Espresso dark wood cabinets or our classic Charleston Saddle. Looking to make your kitchen that of a French or Italian villa? The bright simplicity of the Shaker Cinnamon or the elegant charm of the Charleston Toffee may be more your speed.
All of these cabinets boast an unmatched quality of construction and an ease of assembly that will have you enjoying your new kitchen quickly and for many years to come.
Rustic Hispanic Kitchen Design
Though not as prominent as the other two styles, Rustic Hispanic offers a great deal to designers who seek to marry rustic charm with a bold and innovative design. As with the European variety, Rustic Hispanic kitchens embrace brightness from floor to ceiling and are not afraid to make use of vivid colors in their furnishings. Patterned tiles, bright paint colors and rustic hickory kitchen cabinets are all decor elements common to Rustic Hispanic kitchens.
Hispanic kitchens, however, take that concept a step further by encouraging busier design and the usage of reclaimed items as home decor. A few modern examples also make smart use of metal in elements such as the backsplash or the kitchen's appliances; just enough to add a hint of contemporary flavor without detracting from the overall rusticity of the room. For rustic kitchen countertops, Hispanic kitchens tend to use wood, cement or soapstone.
This style can act as a solid middle ground for a designer creating a rustic kitchen for the first time, as it allows him or her to dabble in the more traditional elements of rustic style without surrendering the space entirely to them.
As with the European variety, your choice of cabinetry will be determined by the style of Rustic Hispanic kitchen you wish to pursue. Those that wish to recreate the stately elegance of a Spanish hacienda will find much to like in the rich finish and timeless design of our Charleston Cherry model.
If you're looking to make a space a little brighter and more modern, our Charleston Toffee may be closer to what you're looking for. This model possesses the same remarkable durability and understated beauty of the Cherry, but it's lighter finish is more in line with kitchens that let in lots of sunlight and strike a brighter tone.
As with any design choice, the rustic style you choose for your kitchen will come down to personal preference and the nature of your home. Luckily, the rustic style is accommodating enough to allow for a variety of individual tastes; the only guidelines one needs to keep in mind are those that emphasize the clean and traditional design on which all styles of rustic kitchens are based.
Modern Rustic Kitchen Design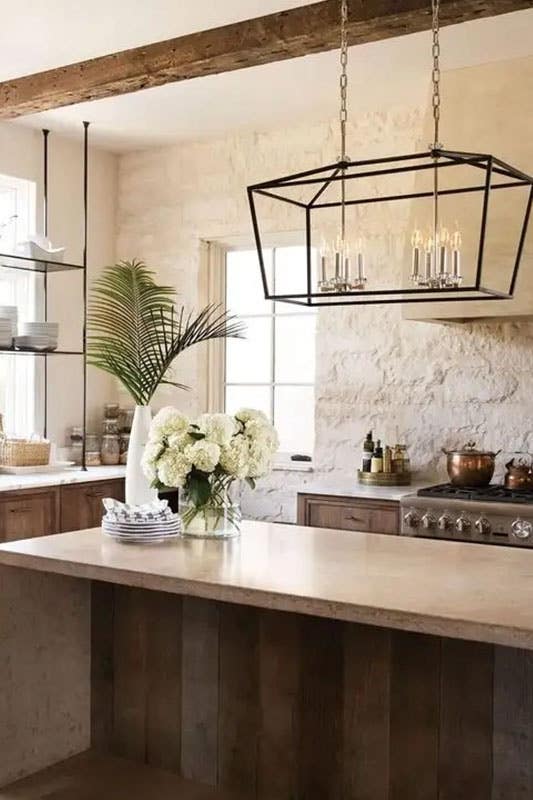 You would assume that a rustic kitchen design would not be able to mesh with a modern kitchen design. To everyone's surprise, this combination of rustic and modern turns out beautifully. To achieve this design, all you have to do is mix the old with the new, and incorporate natural and earthy elements. The kitchen above presents a stunning modern rustic design. The natural elements are the greenery and all of the natural stone that they incorporated on the walls, countertops, and range hood. They mixed the old with the new by incorporating the distressed wood cabinetry and wooden beams, new appliances, shiny new hardware that stands out, and modern light fixtures.
Design Your Dream Rustic Kitchen For Free!
Now that you've found the perfect rustic kitchen cabinets ideas, it's time to create your own rustic kitchen! Lily Ann Cabinets has an extensive selection of ready-to-assemble DIY rustic kitchen cabinets to choose from. To get started on your own rustic kitchen design, visit our free 3D design tool. Feel free to reach out to our customer service representatives if you have any questions regarding your rustic kitchen design.
Related Cabinets: 
FAQs: