Your ultimate guide to designing a classic black and white kitchen.
One kitchen trend that's gaining momentum as we head into the new year is white kitchen cabinets with black countertops, commonly referred to as the 'tuxedo kitchen.' Not only is the contrast of white against black dramatic and alluring, it's practical. Black countertops hide stains and smudges, while white cabinets are a timeless and functional choice for any kitchen design style. Whether your kitchen is traditional, rustic or modern, black and white finishes can have a stunning effect on the overall look.
Ready to design your dream kitchen? Get a FREE 3D design today!
Choosing Black Countertops
Before you decide that a black and white kitchen is right for you, you should explore your options. There are three popular choices for black countertops that we recommend: granite, marble and quartz.
Granite
Black Galaxy Granite | marble.com
Granite is a stunning choice visually, plus it's very durable and easy to look after. It stands up well against daily wear and tears. Granite resists scratches, stains, and heat. Some of our favorite black granite varieties are Galaxy (shown above), Ubatuba granite, and Black Antique.
Marble
Nero Marquina Marble | marble.com
Marble is another gorgeous option for black countertops that will bring luxury into any home. This material is often less expensive than granite or quartz while providing the same elegant feel. Marble is also very durable as it's resistant to heat and scratching. A few great choices for black marble countertops are Nero Marquina Marble (shown above), Black Marquina, and Huma Marble.
Also Read: 16 Striking Kitchen Ideas for Black Kitchen Cabinets
Quartz
Vanilla Noir Caesarstone Quartz | marble.com
Since quartz is a manufactured product, it's available in a wide variety of colors and textures. It has the same durability as concrete or granite, so it won't chip or crack easily. Quartz is also non-porous, so it resists stains better than marble or granite. A few beautiful black quartz varieties are Vanilla Noir Caesarstone (shown above), Marquina Midnight, and Sparkling Black Quartz.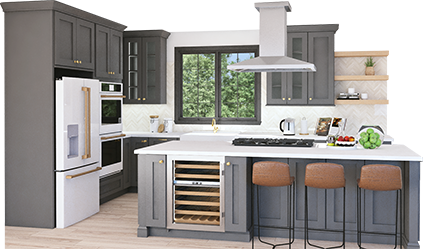 Get your FREE 3D kitchen design today!
Start Now
Choosing White Cabinets
Once you've found a black countertop to suit your tuxedo kitchen, it's time to find the perfect white cabinets. Below are some of the most popular white cabinet styles that we recommend for dark countertops.
White Shaker Elite
The most popular white cabinet style on the market today is by far the Shaker variety. Our White Shaker Elite cabinets are simple, functional, and elegant. The bright white finish looks spectacular against stark black countertops.
Bristol Antique White
For a more traditional or farmhouse look, we recommend the Bristol Antique White cabinet line. The raised panel doors feature elegant detailing and soft creamy color that offers a more subtle contrast against dark kitchen finishes.
Key Largo White
The true white color of the Key Largo line creates a shocking contrast against dark countertops. The fine contours surrounding the center panels give these cabinets a hint of elegant detail without appearing too busy or distracting.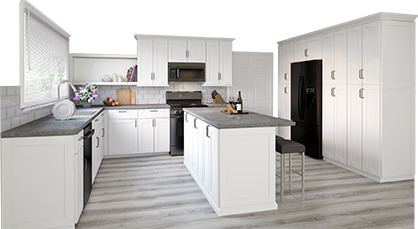 3D Kitchen Visualizer Tool
Bring your dream kitchen to life with our free kitchen visualizer!
Design Now
Best Kitchens with White Cabinets and Black Countertops
It's time to get inspired! Here are 12 of our favorite black and white kitchen ideas to guide your remodel. If any strike your fancy, let us know during your free 3D design consultation. We'll use it as a guide while creating your own dream black and white kitchen!
Design Storms
This high-contrast kitchen by Design Storms feels crisp and elegant. The bright white shaker cabinets pop against black countertops and black brick backsplash. Matte black cabinet hardware marries the finishes together, putting a modern spin on country farmhouse style. A dark stained wood floor keeps the design from feeling too sterile, adding a natural, earthy finish to the design.
Pinterest
A glossy black quartz countertop gives this gorgeous contemporary kitchen a huge personality. The texture and detail of the quartz immediately draw your eye to the center island, while additional finishes like the subway tile backsplash and wooden range hood bring in subtle accent colors. Stark white shaker cabinets and matte black hardware finish off the look.
One Kindesign
If covering your kitchen in black countertops seems a bit daunting, consider choosing a mixture of two different countertop materials. This kitchen by One Kindesign pulls off the look by using a grey island base to tie in the neutral colors of the island countertop. As long as the surrounding finishes (cabinets, floors, etc.) incorporate the same color tones, the kitchen design will feel thoughtful and cohesive. A few colors that look great in black and white kitchens are greys, taupes, and rich browns.
Cooper Pacific
This classic coastal home is so bright and airy, that you barely notice the dark countertops. One key to making sure black countertops don't overwhelm your kitchen is to let in as much natural light as possible. In kitchens that are already dark, black finishes can add to the cramped, shadowy feel of the space. If the natural lighting isn't an option, add recessed or pendant lights with a daylight bulb to mimic sunlight.
Love Create Celebrate
A black sink and faucet can be a stunning addition to black countertops. This kitchen features a matte black sink basin with a matching faucet. When the countertops match the sink, the flow of the countertop isn't disrupted, which can be a huge plus for smaller kitchen layouts. Black sinks are also increasing in popularity as they have a more modern appearance and are less likely to show stains and scuff marks.
Pinterest
This farmhouse kitchen got a modern twist with the addition of a matte black countertop. The black countertops add drama to the design while white cabinets, white shiplap walls, and open shelving keep the space feeling bright. Although floating shelves limit the amount of storage space when compared to upper cabinets, they make the kitchen feel larger and more open.
Pinterest
What color appliances go best with a black and white kitchen design? Most often, tuxedo kitchens are fitted with stainless steel appliances. However, if you want to go bold, black appliances can also have a striking look. This dark and dramatic kitchen features a black stove, black range hood, and dark wood floors. The surrounding white cabinets make these dark finishes pop. If high contrast is your goal, black appliances are a great option for your kitchen. Another bonus to installing dark appliances is that they are less likely to show stains and smudges.
I.fromkin Interiors
This expansive kitchen features bright white shaker cabinets with black countertops. The large L-shaped island steals the show, customized with a mini fridge and wine rack—perfect for entertaining! To add an artistic touch to the design, long cylindrical black pendants hang above the island to match the counters. As not to distract from the beautiful shaker cabinetry, these homeowners opted for a custom paneled fridge, seen on the left of the space. Taken together, this romantic black and white kitchen is the perfect spot to sip fine wine and relax!
Pinterest
With an exquisite eye for traditional charm, this kitchen designer pulled all the stops to create a dreamy old-world kitchen. The first thing that draws your eye to this black and white design is the beautiful handcrafted white cabinetry. For a vintage look, the cabinets are paired with brass hardware and matching pendant lights. The elegant black countertop reflects light and creates a compelling contrast against the white cabinets. This kitchen design shows that the black and white color scheme works for any design scheme, from traditional to modern.
Dear Lillie
This farmhouse kitchen remodels got a sleek upgrade with black pearl granite countertops and white raised panel cabinets. The kitchen island features the same glossy granite as the surrounding countertops, adding a feeling of visual consistency to the space. Two black iron pendant lights contribute to the traditional, country charm vibe. To finish off the look, small matte black knobs and pulls were chosen to complement the kitchen cabinets. Altogether, this quaint black and white kitchen design are simple yet compelling, thanks to its high-quality finishes.
USI Design
Our customers often ask which range hood will best suit their kitchen's color scheme. Typically, we advise that the range hood incorporates at least one of the colors from the cabinets, backsplash, or countertops in the kitchen. However, in this kitchen by USI Design, the range hood uniquely pulls together colors from the dark wood ceiling beams and black countertops. Since the ceiling beams are a prominent feature of this space, the resulting design is exquisite. The deep brown color with black accents adds a bit of drama to this kitchen.
Urrutia Design
This kitchen by Urrutia Design features a highly composed mix of colors and textures. White shaker cabinets are installed on the right wall of the space, aimed to contrast the black countertops and brown subway tile backsplash. Opposite the white shaker cabinets is a large center island with dark brown flat panel cabinets and a white countertop. Taken together, the mix of dark, rich color tones with the white cabinets and countertop creates a striking contrast. Incorporating brown into a black and white kitchen design is risky, but when it's blended in thoughtfully it results in a dramatic and vivid color scheme.
Also Read: 14 Amazing Color Schemes for Kitchens with Dark Cabinets
Your Dream Black and White Kitchen, For Less
Find your favorite white ready-to-assemble cabinets for less at Lily Ann Cabinets. When you've found your perfect white cabinet style, visit our FREE 3D design tool to get started on your new kitchen. Our experienced team of expert kitchen designers will be there to walk you through the entire remodel process. If you have any questions, please feel free to contact us at info@lilyanncabinets.com. Your dream kitchen is just a click away!
FAQs
What color backsplash with white cabinets and black countertops?
For a kitchen with white cabinets and black countertops, a neutral or lighter-colored backsplash would work best. Try out a beige-toned backsplash, light grey, or patterned tile.
What color countertops go with white cabinets and black appliances?
For a kitchen with white cabinets and black appliances, a white countertop with black or grey veining would look best.
Are black kitchen countertop out of style?
Black kitchen countertops are not out of style, in fact, they seem to be evolving and becoming more popular. We see a lot of new kitchens that incorporate black countertops that have very minimal white veining and impurities instead of just pure black countertops.
Are black countertops hard to keep clean?
Black countertops are the best color of countertops to help conceal dirtiness and imperfections. Depending on the material of the countertop is what makes it easier or harder to keep clean.
Are black and white kitchens timeless?
Black and white kitchens, or "tuxedo kitchens" have been making a major comeback in recent years. Done correctly, these kitchens are beautiful and timeless!