White kitchen cabinets are perfect for a contemporary kitchen design. However, many kitchen remodelers worry about maintaining their flawless white cabinets throughout the years of cooking and traffic to come. Don't let fears of nicks and discoloration deter you from your dream kitchen! There are plenty of simple solutions that will keep your white kitchen cabinets brilliant and beautiful.
Shield Against Sun Damage
A common concern for white kitchen cabinets is that their lifetime is shorter than other cabinets due to discoloration issues. When white cabinets face frequent and consistent sun exposure, they start to yellow over time.
To keep your bright white cabinets looking crisp and keep your antique white kitchen cabinets from looking too antique, you should invest in drapes, blinds or film for your kitchen windows. Reducing the amount of time your cabinets spend in direct sunlight will help keep light-related discoloration at bay. Plus, a pop of color in your drapes can create a fun focal point amongst the sleek, neutral colors of a contemporary kitchen design.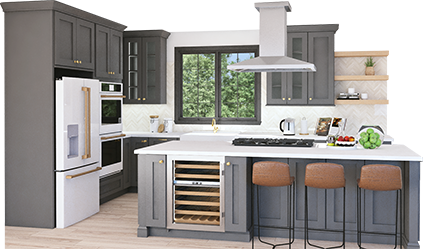 Get your FREE 3D kitchen design today!
Start Now
Guard Against Grease Particles
Cooking on the stovetop or in a skillet can send tiny particles of grease and moisture splattering all over your counters, appliances and cabinets. Over time, they can build up and eat away at the finish on your kitchen cabinets, causing them to peel and discolor. The cabinets will start to feel and look grimy if they aren't wiped down regularly.
To combat grease, your first step should be to use your oven's hood vent when preparing food on the stovetop. This will help channel some of those particles up and away from your pretty white surfaces. After cooking, do a simple wipe down with warm water and a soft cloth to ensure no stray grease splatters are left over. Additionally, you should do a regular deep clean of your kitchen cabinets using a mixture of vinegar, warm water, and baking soda. The solutions helps eliminate stains and cut through grease in an effective but gentle way.
Avoid Abrasive Cleaners
You might be tempted to use powerful cleaners and scouring pads to keep your white kitchen cabinets pristine. However, using such cleaning products is actually harmful to the surfaces of kitchen cabinets. Harsh chemicals can dissolve the defensive layer of the cabinets' finish over time, and using steel wool or other scouring pads will leave noticeable dull patches and scratches. As a rule, avoid these products when washing your kitchen cabinets:
Bleach
Ammonia
Harsh detergents
Strong Soaps
Solvents
Steel wool
Scouring pads
Silicone-based products
Petroleum-based products
The vinegar, water and baking soda mixture mentioned earlier is perfect for cleaning your kitchen cabinets. You can also try a gentle dishwashing liquid and warm water mixture if you're having a particularly hard time breaking through the grease. Just be sure to rinse and dry off your cabinets immediately so there's no chance of moisture damage!
Have A Touch-Up Kit Handy
No matter how sturdy your new white kitchen cabinets might be, they're bound to get a few nicks over the years. You might even scratch them accidentally during the assembly process when you buy RTA cabinets. For these cases, it's important to have a touch-up kit handy.
You can find kitchen cabinet touch-up kits at most home improvement stores. It's advisable to get your kit from the same manufacturer that made your cabinets, since they will be able to give you the best color match. Either way, a touch-up kit will help disguise any imperfections and keep your kitchen cabinets looking flawless.
Add Interior Lining
Having interior lining will help keep your white kitchen cabinets spotless inside and out. While you don't need to line every single cabinet, it's a good idea to have it in the cabinets that house your sink piping. If there's ever a minor leak, the waterproof lining will make the mess easy to wipe up and your cabinets won't sustain any water damage. You may also reduce the risk of mildew or mold due to moisture.
Find The Perfect White Kitchen Cabinets
Lily Ann Cabinets offers a great selection of RTA cabinets for the modern, contemporary or classic kitchen design of your dreams. From antique white cabinets to white shaker cabinets, you're you're sure to find the ideal style for your remodel — and you'll know how to care for them, too! Browse our full catalog and request free samples today.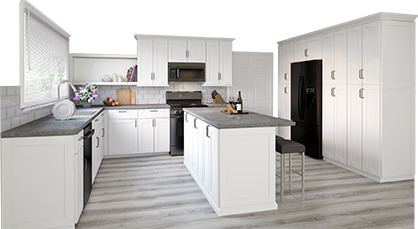 3D Kitchen Visualizer Tool
Bring your dream kitchen to life with our free kitchen visualizer!
Design Now