Are you ready to witness the magic that thoughtful design can weave in the tiniest of spaces? Welcome to our exclusive guide to turning your small bathroom into a captivating sanctuary! While some might see limited square footage as a design challenge, it is actually the perfect opportunity for creativity and innovation. 
In this blog, we present you with 30 ingenious small bathroom ideas that will elevate your compact space into an enchanting oasis that unlocks the room's full potential.
1. White out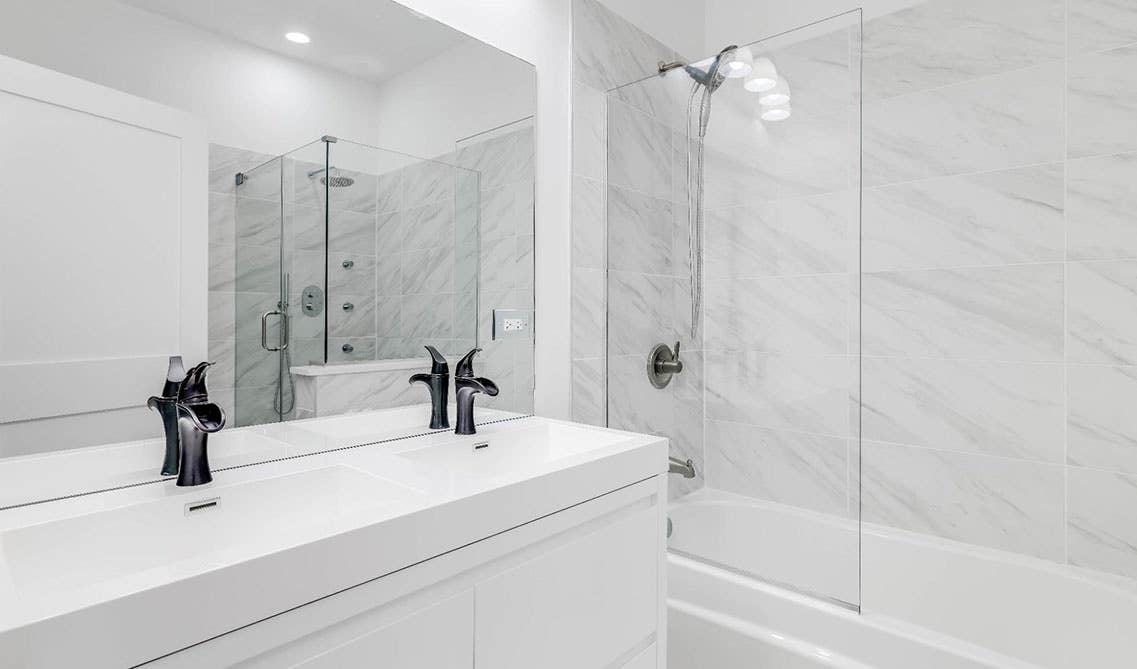 Keep your space looking fresh and clean with an all white bathroom. With an entirely white area, there is more space for creativity and flexibility with decor as it will not clash with the rest of your bathroom. White also will make your space appear larger than it would with a darker tone.
2. Translucent Shades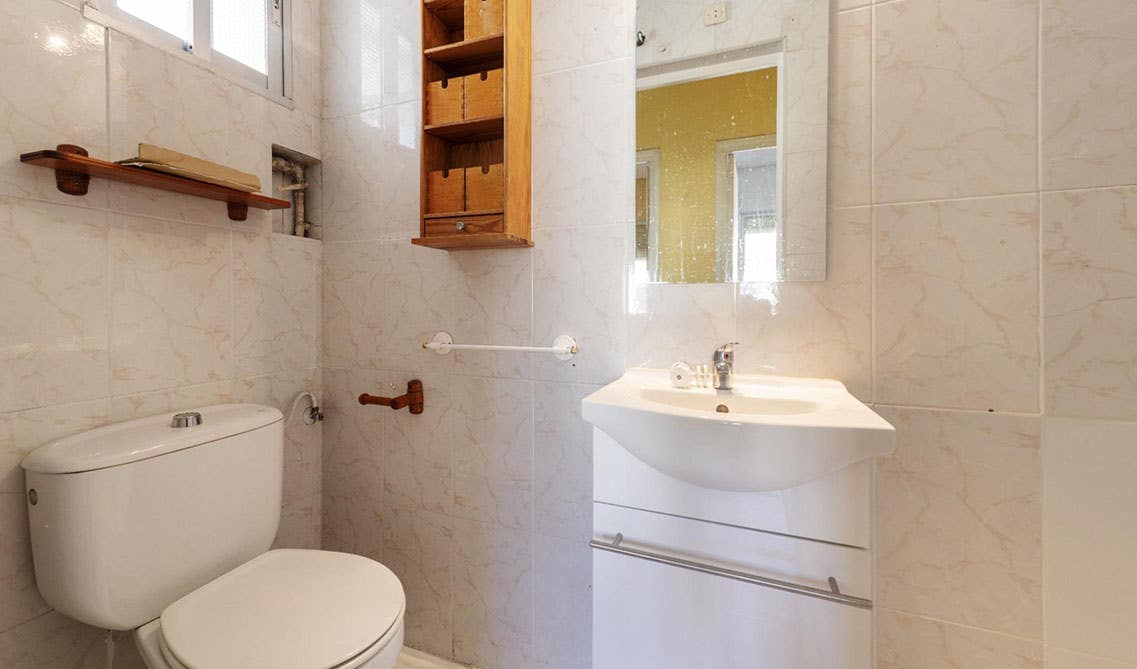 With translucent designs in your bathroom, ensure your privacy while still allowing plenty of natural light to brighten up your space. Translucent glass windows are also perfect to add texture to your bathroom.
3. Textures from nature
Bring the outside in, try incorporating elements such as stone, brick, wood, etc. as a wall or as your backsplash behind your mirror and sink. You can also add greenery as decor!
4. Open windowing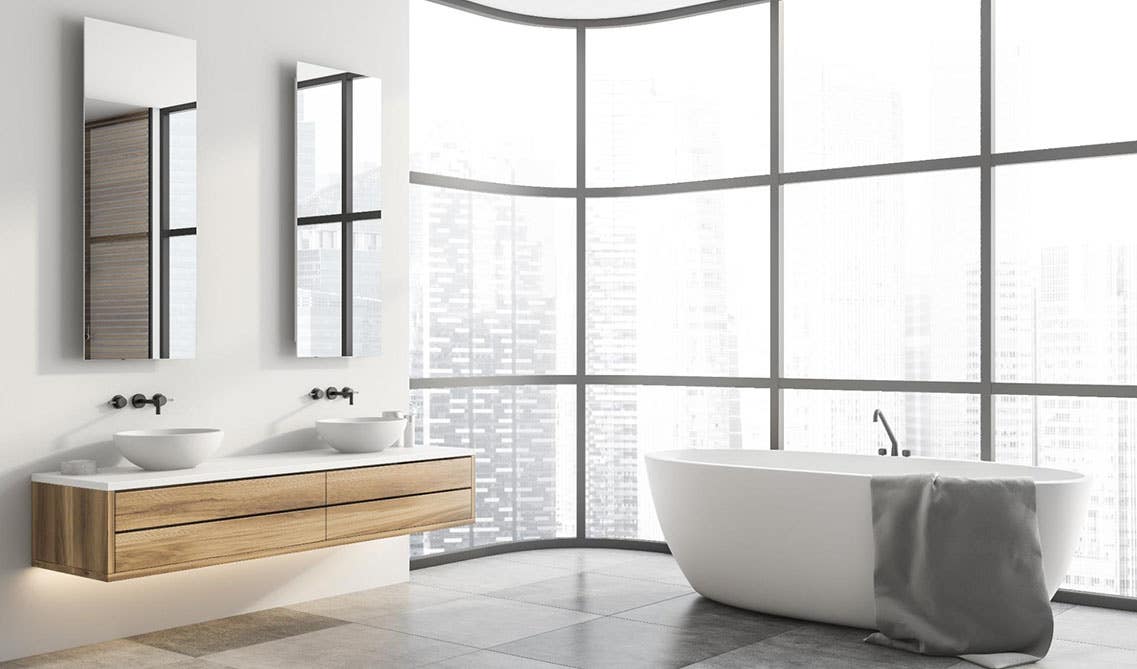 If your bathroom is high enough or out of the way so that privacy is not an issue, consider keeping your windows stripped and simple with no curtain covering. This will ensure natural lighting gaping through to brighten up your bathroom all throughout the day.
5. Unique Entrance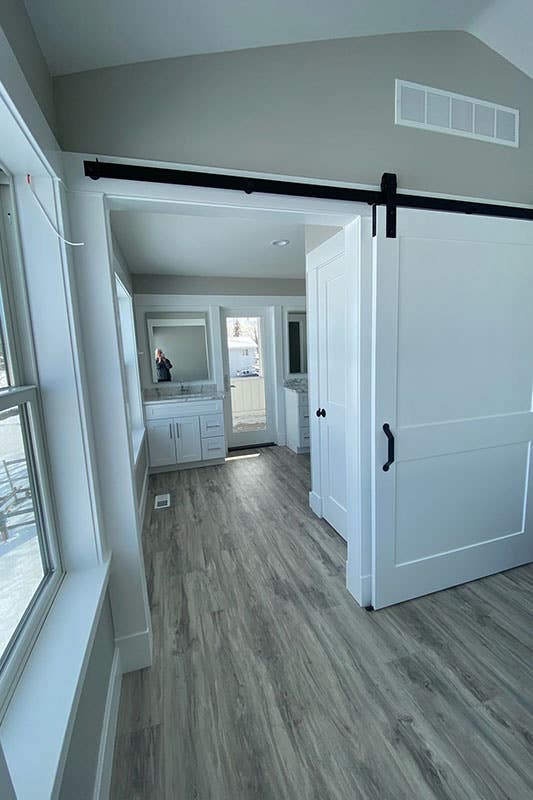 Rather than adding your traditional hinged door to enter and exit your bathroom, try using a sliding barn door or two sliding doors. A barn door would open up space since it doesn't swing open and limit traffic space. 
6. Keep your appliances hidden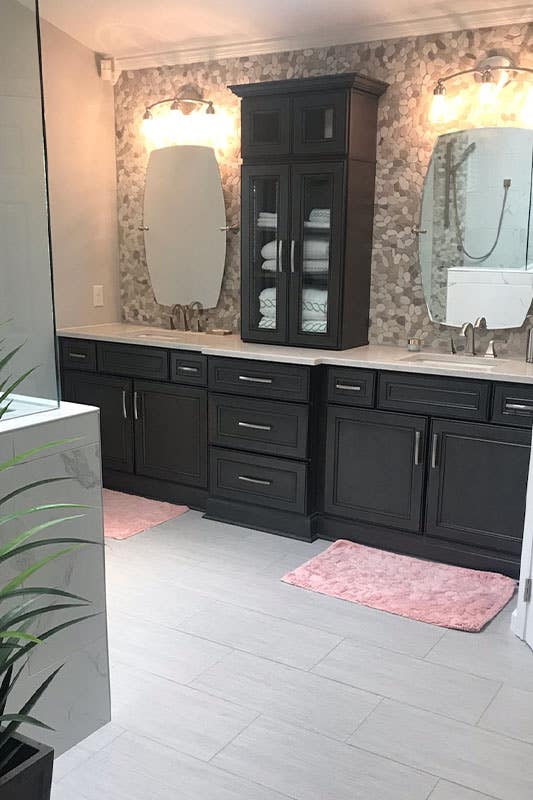 Rather than keeping all your products and appliances out in the open on display, keep them tucked away to keep your space looking organized. Consider investing in a cabinet organizer from Lily Ann Cabinets to satisfy organization throughout your bathroom, as well as the interior of your cabinet. Not only will this create a more visually appealing sight, it will also be easier to keep track of all your belongings when you are ready to use them!
7. Work around the structure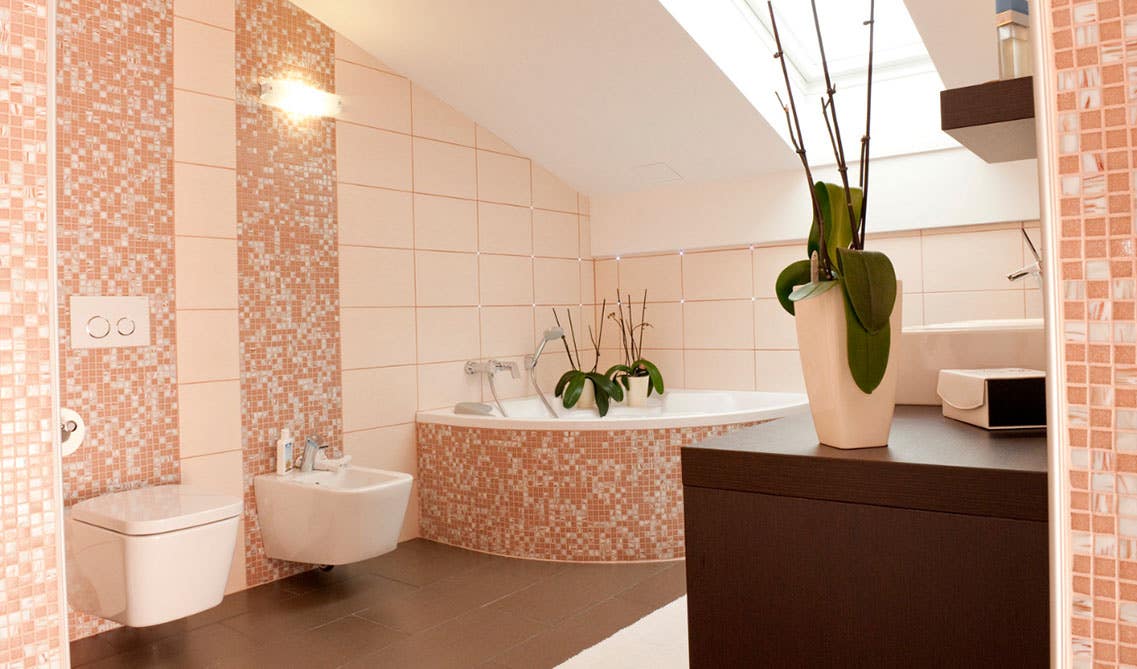 For those bathrooms that are a unique structure, for example with a slanted roof, work its shape into your design, rather than allowing it to hold back and limit your layout.
8. Cut out Shelves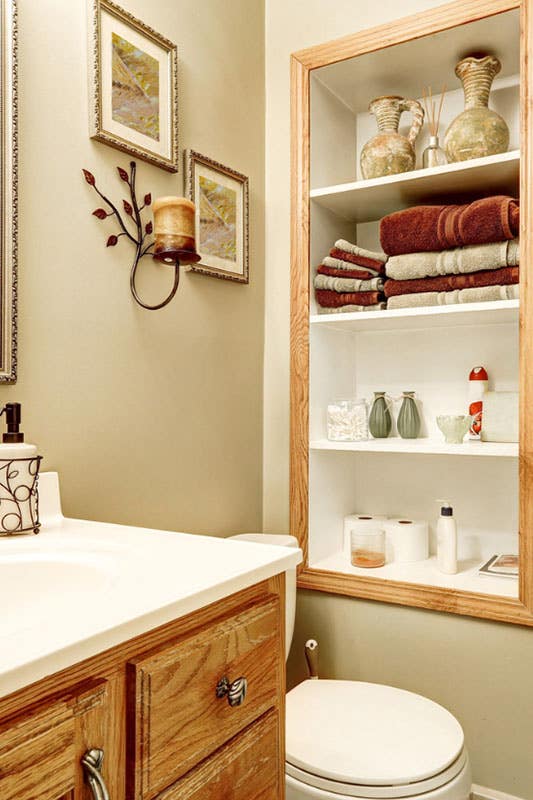 Maximize your space with the addition of cut out shelving. These will keep the shelves out of your way to prevent bumping into them, but make all necessities easy access to you while taking up no additional wall space.
9. One small Floating Shelf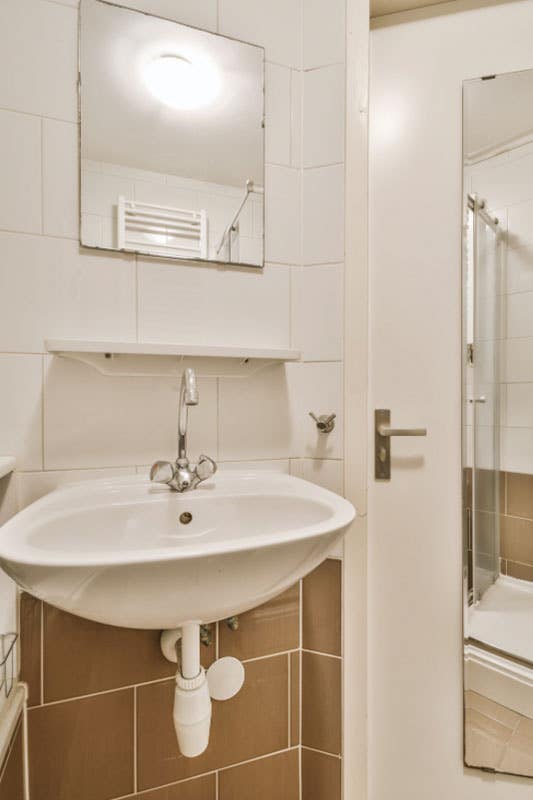 Do you use the same small products throughout your day and want to keep them handy? Try mounting a small floating shelf below the mirror to keep these products convenient and quick to use each time.
10. Built in Storage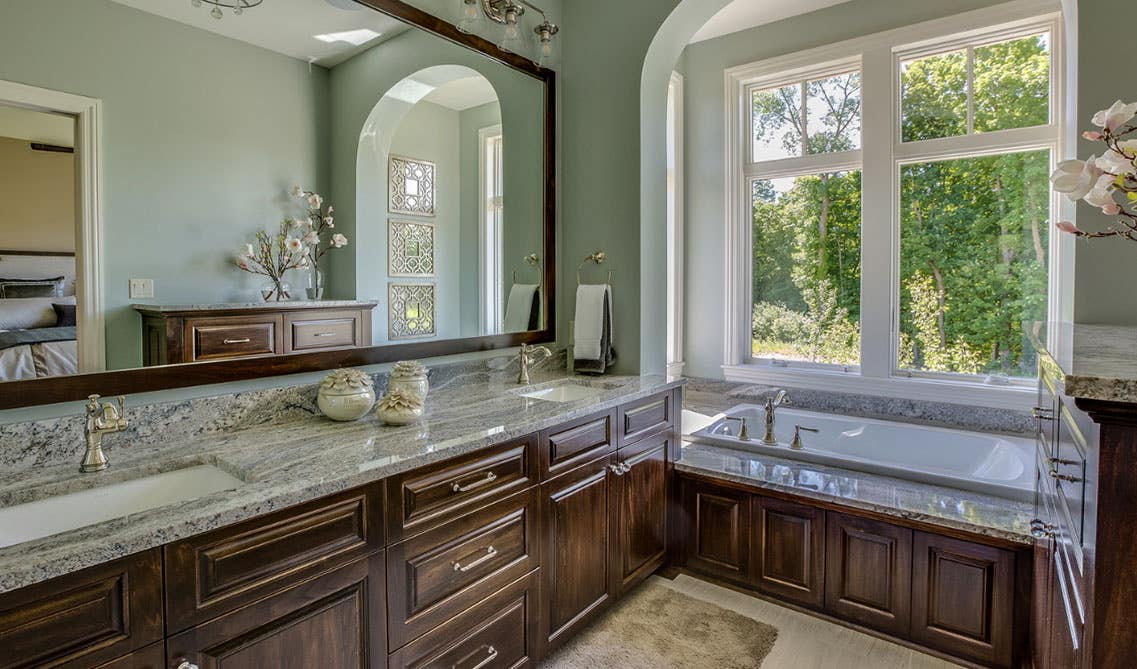 Take advantage of small spaces throughout your bathroom design. If your space includes a bathtub, consider including lower storage to ensure everything you need is available just one step away. This look can be accomplished by closing cabinet doors to keep it looking neat, or open if you prefer to add to the aesthetic and color code towels and such.
11. Add Geometry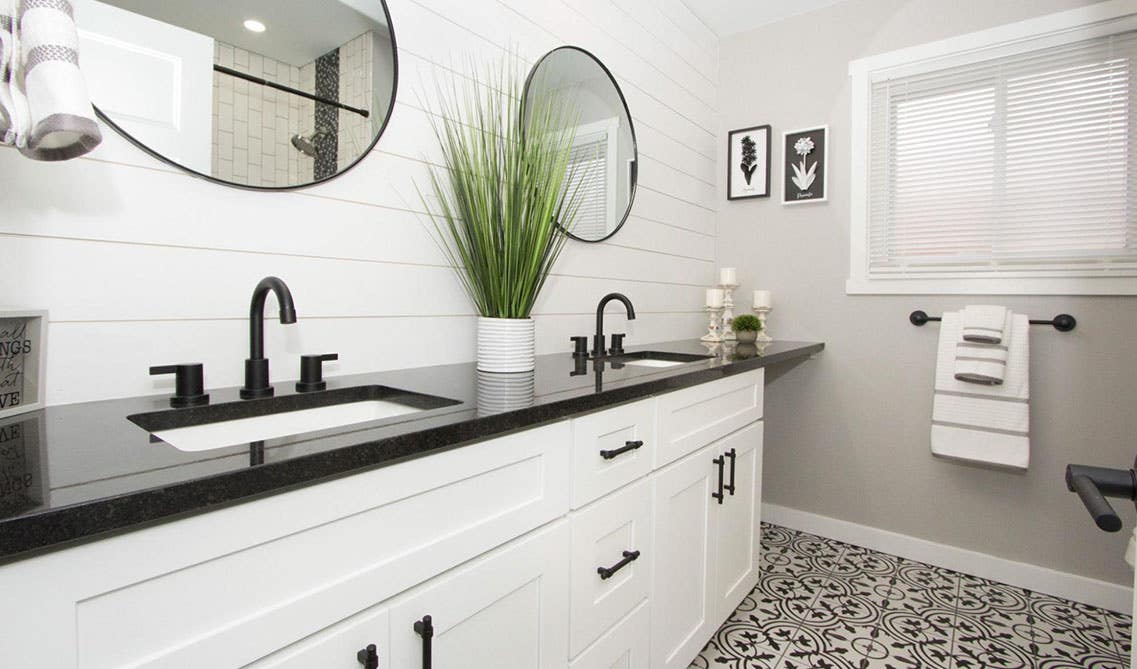 Lily Ann Cabinets: White Shaker Elite vanity
Instead of the traditional square mirror, try adding a circular one to make your bathroom more distinctive from others.
12. Self sitting appliances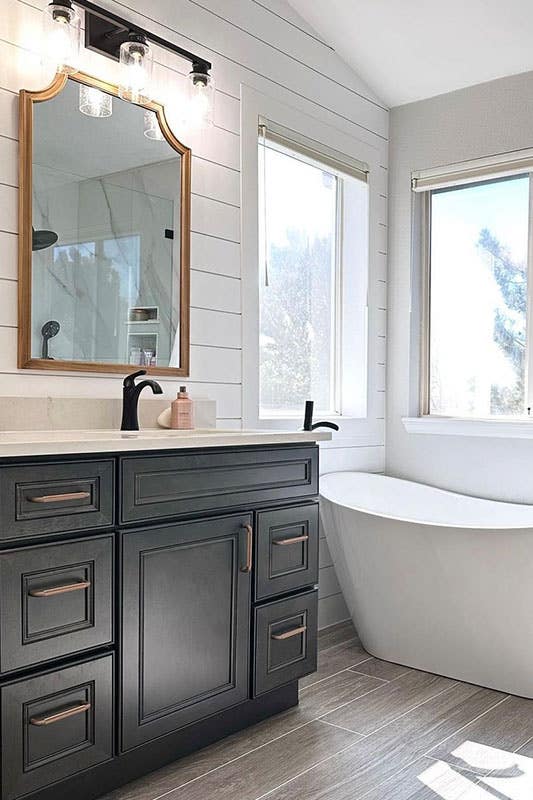 Lily Ann Cabinets: York Driftwood Grey
For a more contemporary look, try adding a vessel sink or a freestanding bathtub. These can give your bathroom the extra touch it needs and at a relatively low cost.
13. Sliding Shower Doors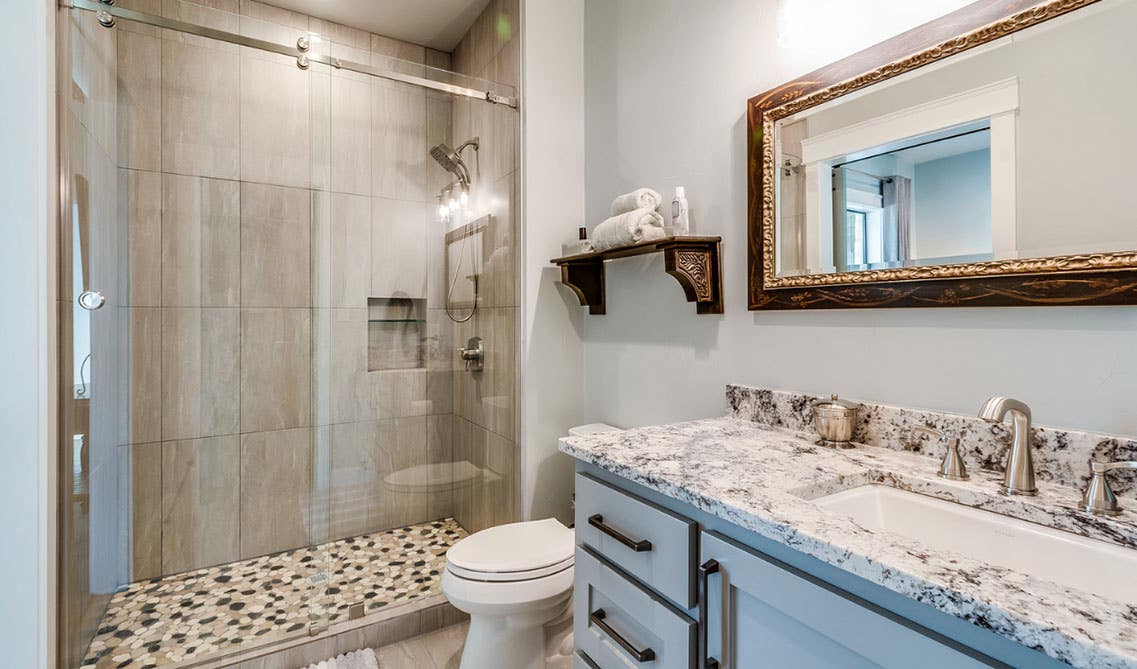 Try adding sliding shower doors instead of the traditional shower curtain. Glass doors are long-lasting, easy to clean, and they are beautiful! Along with the contemporary aesthetic, these glass panel doors are the perfect way to open up your bathroom.
14. Contrasting Color Scheme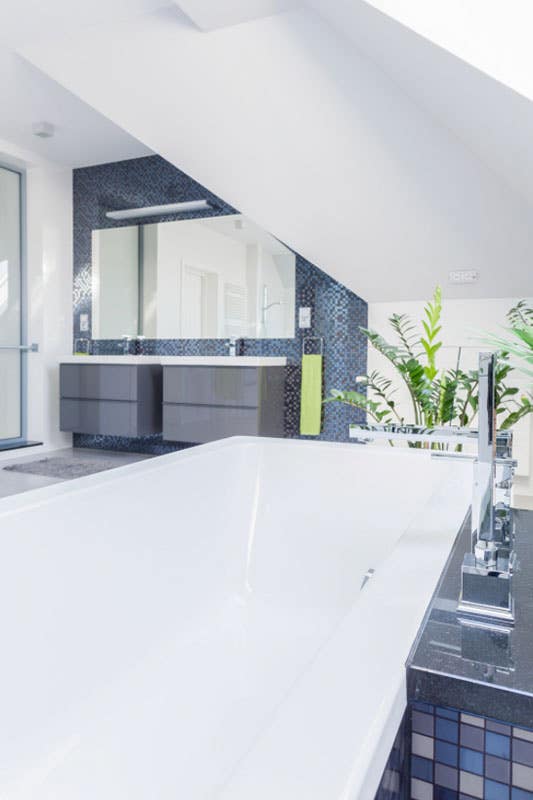 If a simple light toned bathroom is not your style, try adding more striking colors to create contrast. Some excellent choices include navy blue and grey or white, or yellow walls with white cabinets. Check out Lily Ann Cabinet's navy blue shaker cabinets, grey shaker elite, or summit white shaker cabinets to see 3 excellent choices to easily match and achieve the look! 
15. Half Shower Wall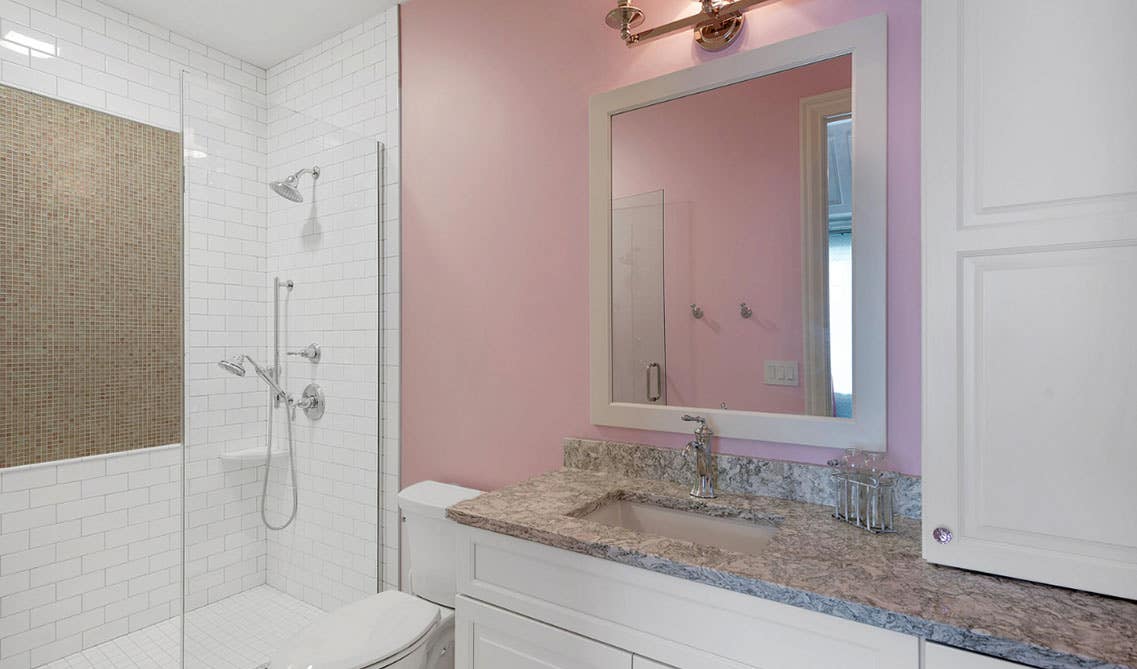 Add some security to your bathtub while you shower, while still giving your bathroom an open concept with a one-sided shower bath wall.
16. Lit Up Appliances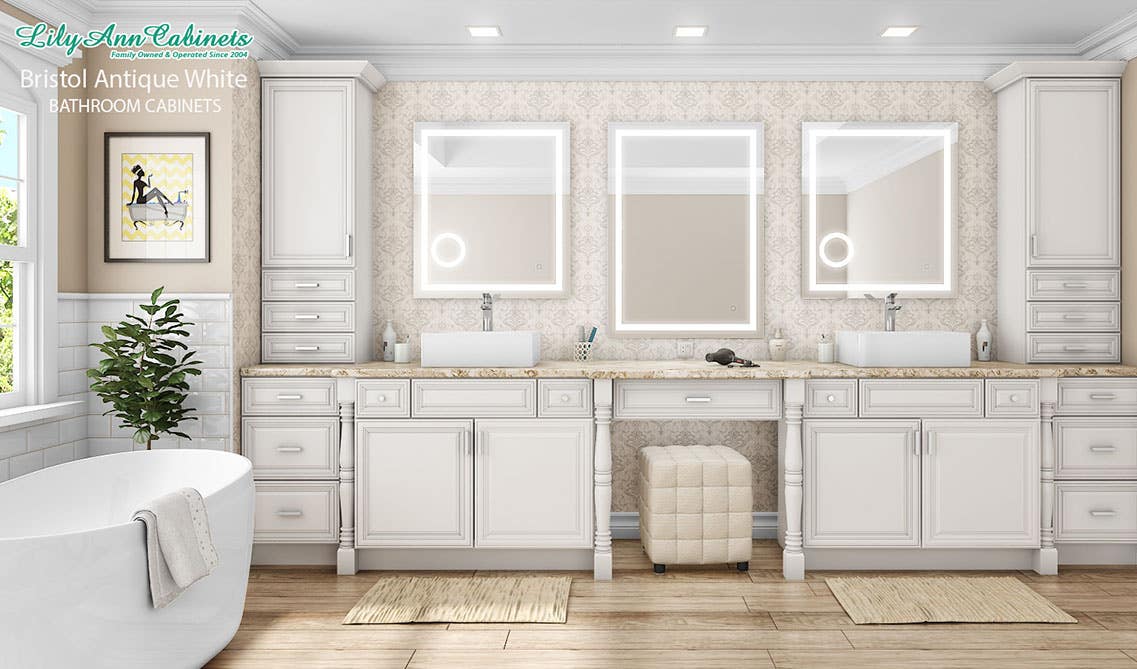 Lily Ann Cabinets: Bristol Linen
A great way to help brighten up your bathroom is with the addition of well lit appliances. These can be added below your sink, mirror, shelves, or any cabinet in your space. At Lily Ann Cabinets, we offer lower cabinet lighting, easy to add onto any of your appliances to greatly shape the overall look of your space!
Checkout: 12 Bathroom Lighting Ideas That Will Inspire Your Next Renovation Project

17. Soft Shades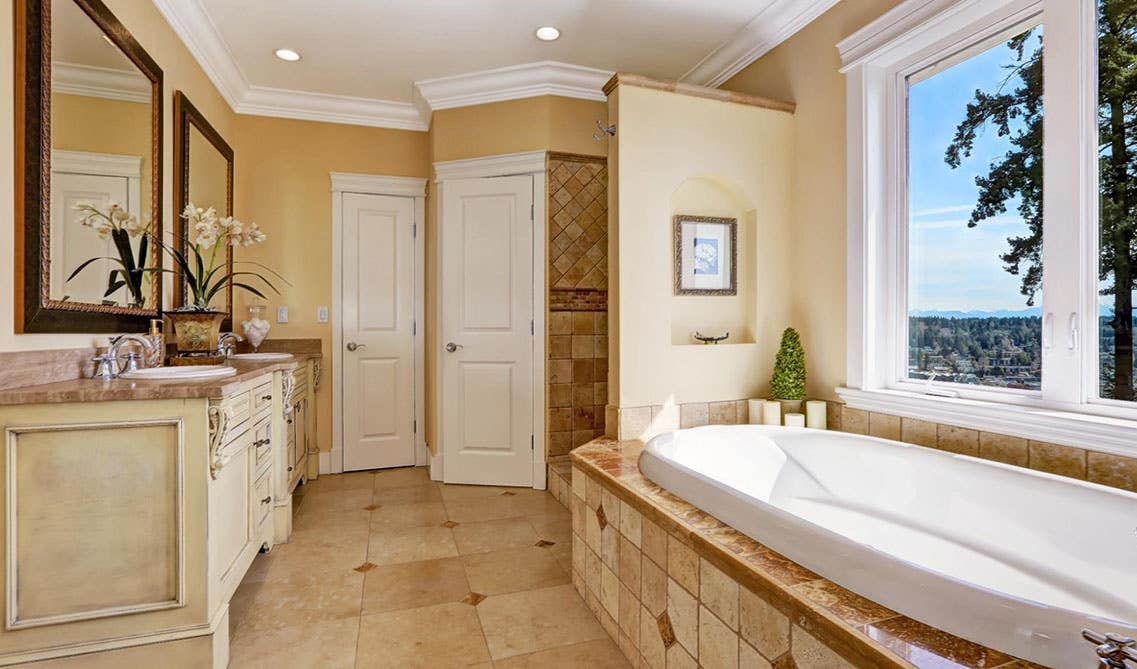 Stuck on which shades would look best in your bathroom? You can never go wrong with simple and neutral tones. Using tones of beige, cream, white, etc. will give your space a clean appeal and make it look bigger.
18. A Wet Design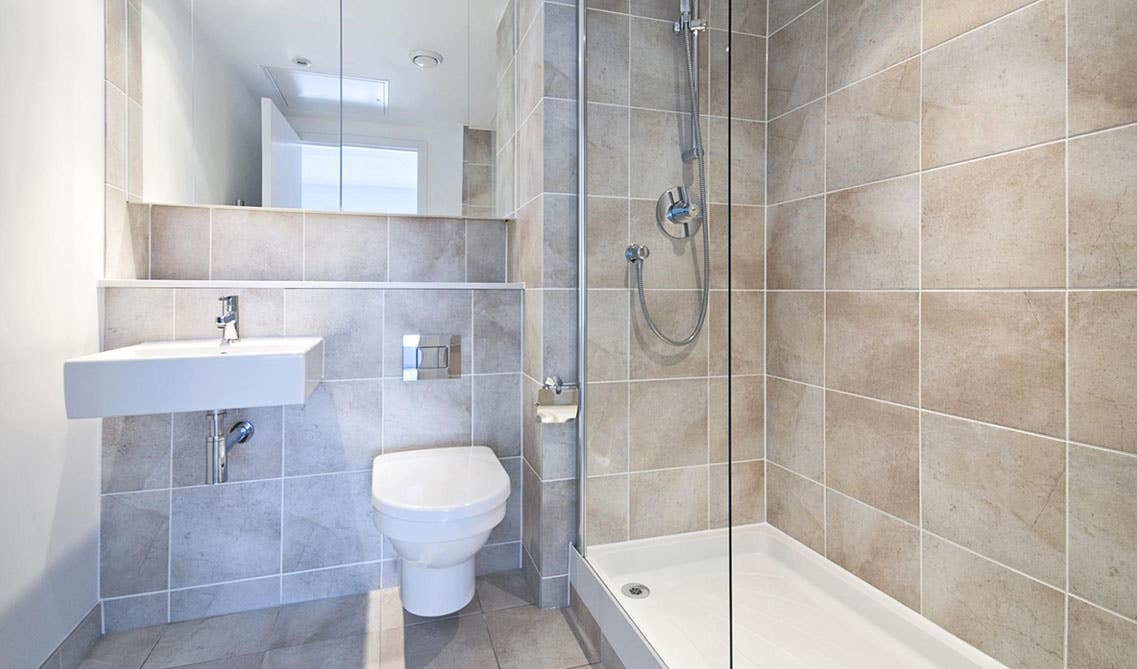 A safe and creative design for your bathroom is with a wet design. In the average bathroom, there are plenty of opportunities throughout the years that could potentially cause water damage via the shower, bathtub, and sink. With a wet design, you can feel secure that your bathroom will stay water damage free even when it gets wet.
With materials such as ceramic, glass, porcelain, sealed concrete, natural stone, and metal, your space is guaranteed to be safe, while maintaining a unique and stylish appeal for your bathroom.
19. Darker Design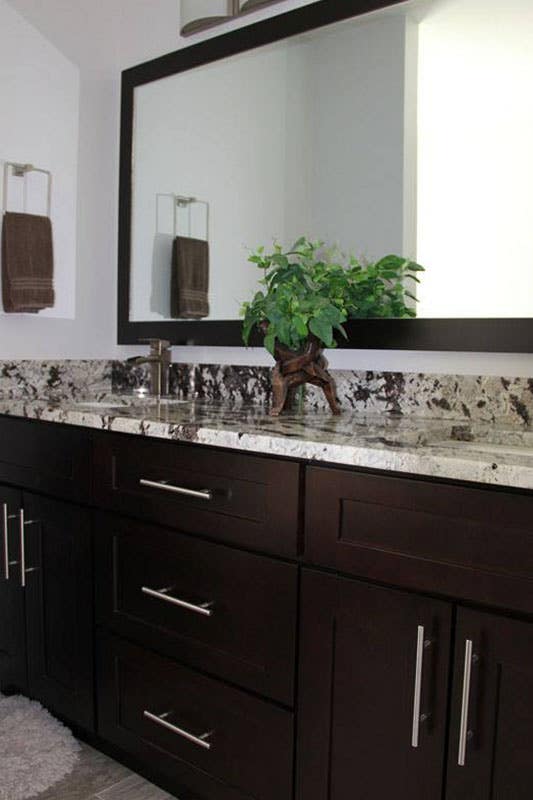 Lily Ann Cabinets: Shaker Espresso
A less traditional bathroom design is with the use of darker tones. Try using dark grey appliances with touches of lighter grey to contrast. This design is easy to maintain as it hides watermarks and dust. Dark tones are more opt to absorb light, so with the addition of natural lighting, your space will be made to feel larger than it actually is.
20. Mini Half Wall
Adding an additional half wall space off of the original wall can be the perfect solution to hiding things such as wall plug ins, water pipes, and flush pipes. Along with the perk of hiding these types of fixtures, the top of the half wall also provides an additional shelf, perfect for plants or other decor.
21. Mix and Match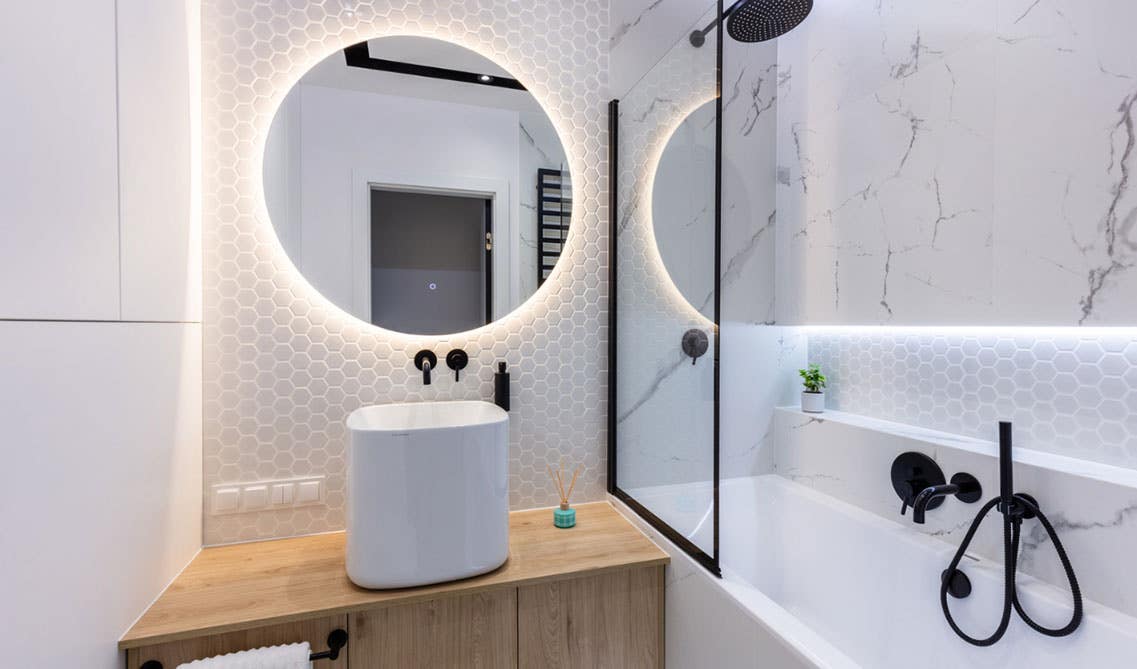 If you choose to use wood as your countertops in your bathroom for your sink, don't feel like you are limited to only that wooden material throughout the rest of the bathroom. Try mixing other materials into the space with the addition of granite, stone, shelves, or a different textured wall! 
22. Floating Appliances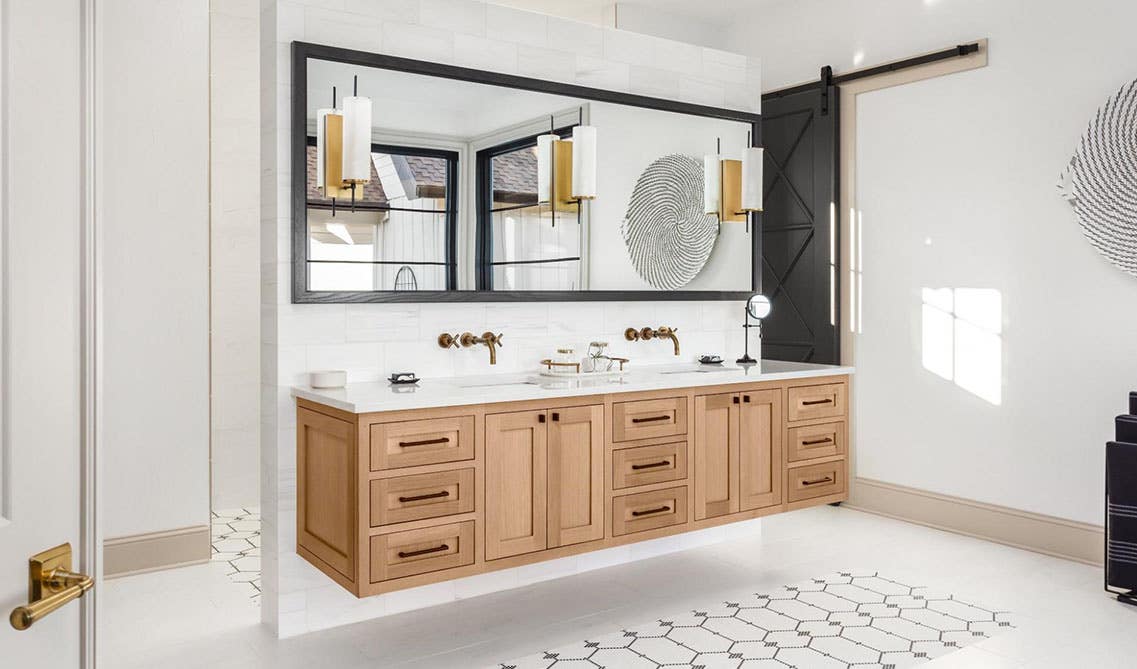 Try adding floating appliances where possible to maximize floor and wall space and create a modern design. Easy ways to accomplish this look are through floating shelves, floating vanities below the sink, and a floating toilet paper holder.
23. Utilize Spaces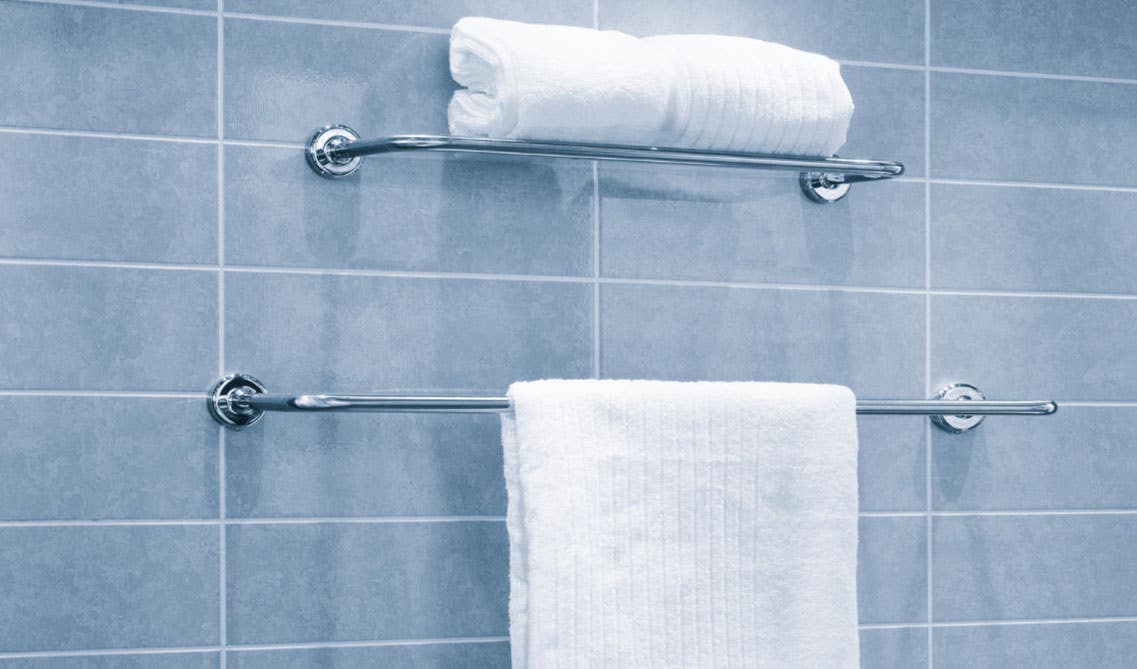 Make the most of your wall space by taking advantage of the area to put something you use every day. For example, rather than leaving your towels folded in a basket on the floor, add a towel rack, hanger, or rail to minimize the amount of things that are on the floor.
24. Keep It All The Same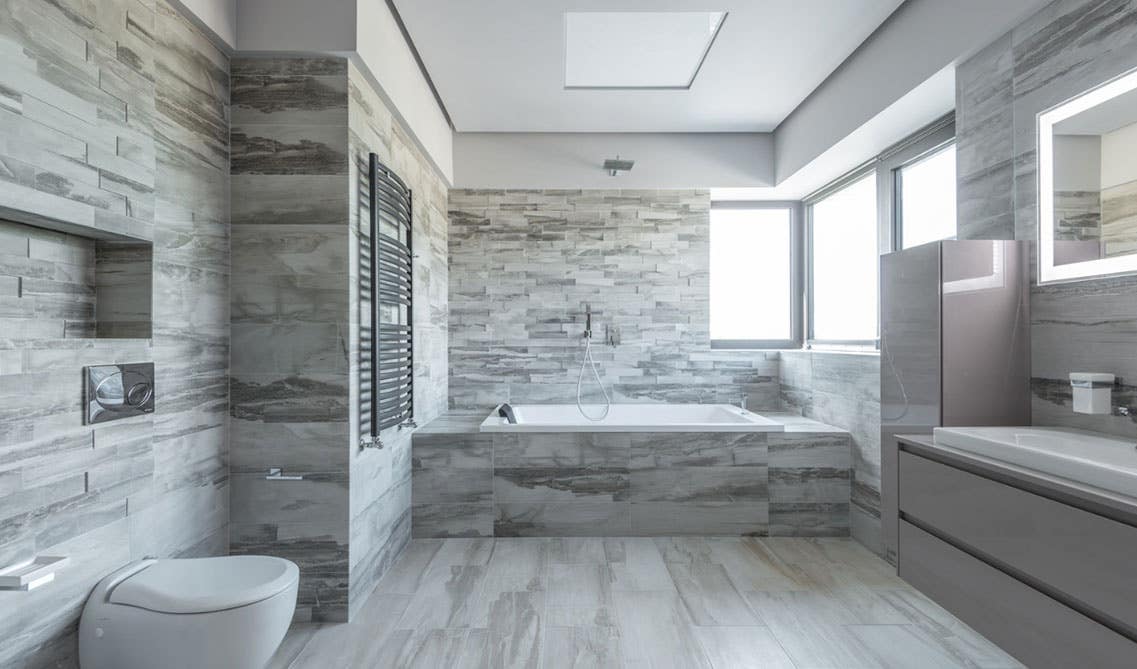 Instead of the average painted walls and tiled floored bathroom, try using all the same materials. It would be best to use a flooring material with laminate over it to avoid water damage. Once you have found your favorite, use that same material for both the walls and floor. 
25. Half Way Tiled Walls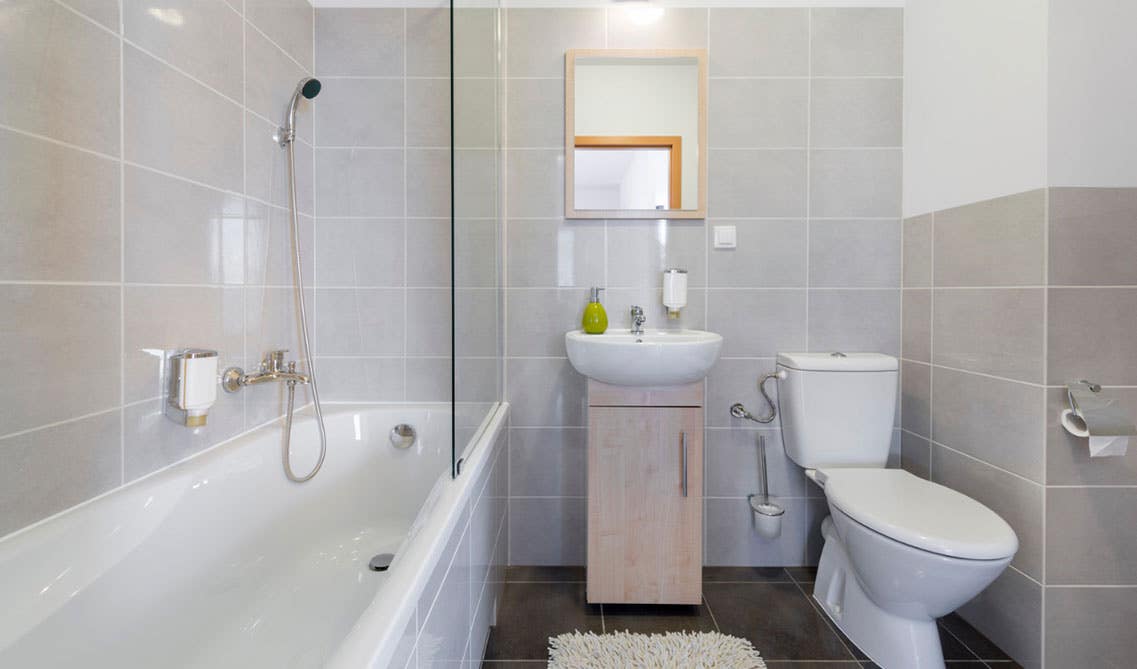 Create an easily maintained, yet beautiful aesthetic with a halfway tiled wall. This is a durable option that is guaranteed to last your bathroom throughout the years. Ensure the paint color on your walls is a light tone to reduce clashing between your walls and the tiling. This is also a great opportunity to add contrast to your bathroom by making the tiled wall stand out.
26. Shiplap Paneling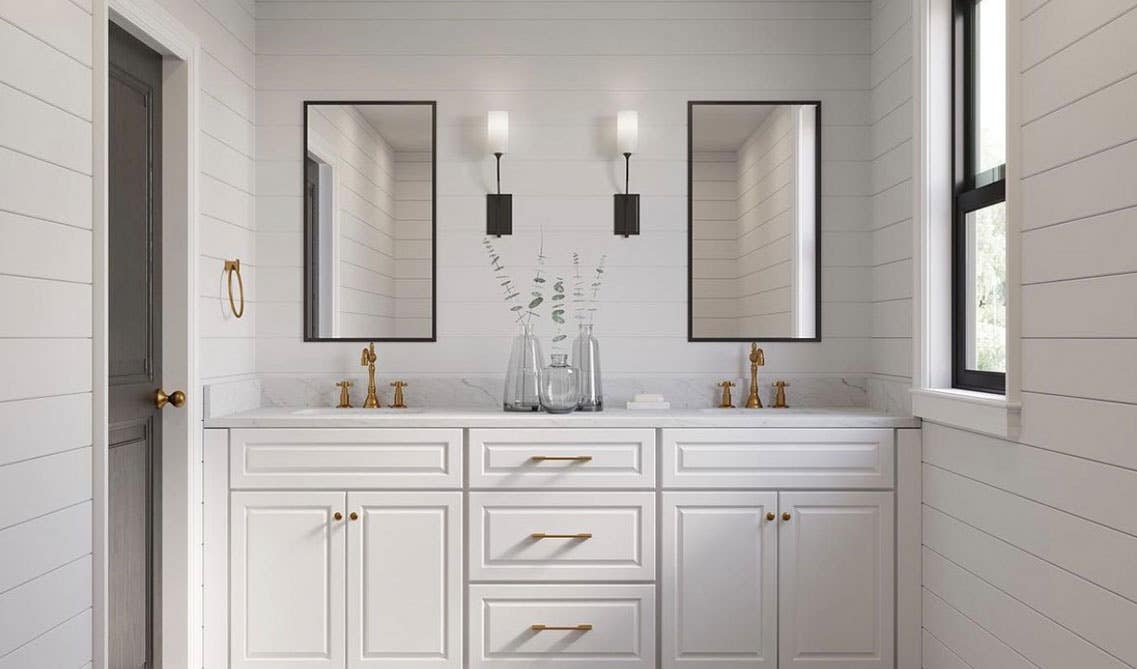 Lily Ann Cabinets: Key Largo
Include shiplap paneling in your bathroom for an open and homey feel. You can keep the panels white or cream colored for a coastal vibe, or paint them a color such as grey for a more modern and uniform look.
27. Step Up To Bath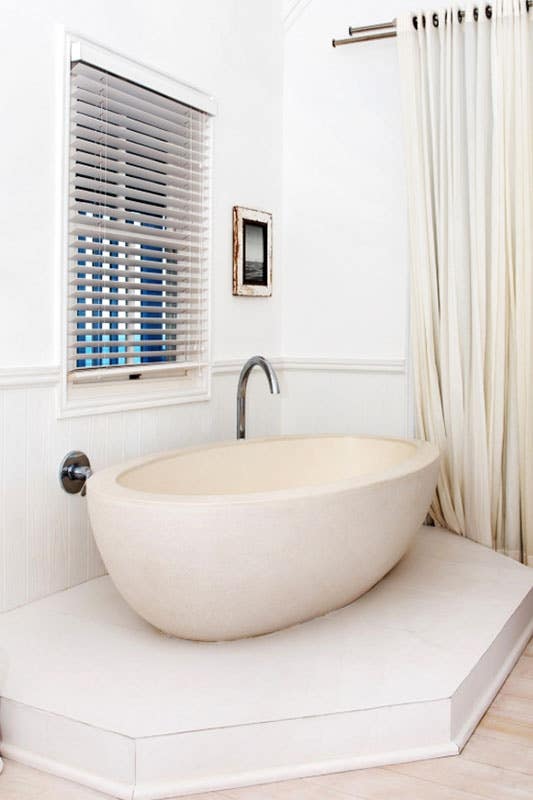 A step up bathtub creates a more convenient environment. Not only does it reduce the amount of space for clutter surrounding the step, but it also adds more to the bathroom space to create a statement piece.
28. Less is more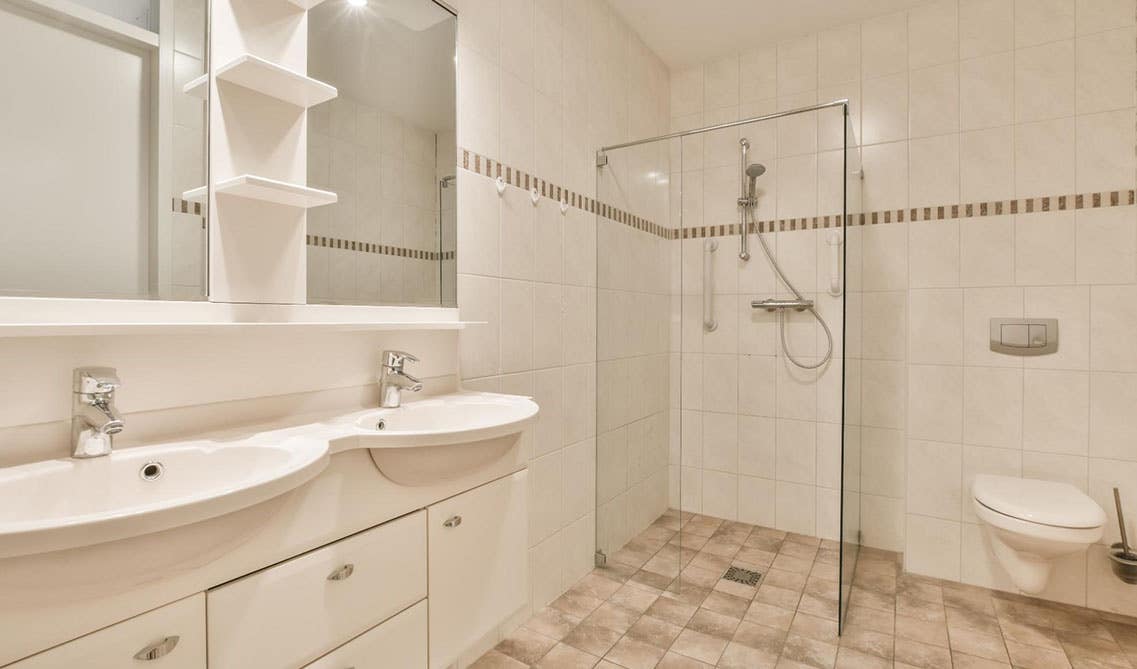 Create a minimalistic bathroom with less decor and more space. This designs a clean and neat space with less clutter to be in your way. 
29. Large Glass Mirrors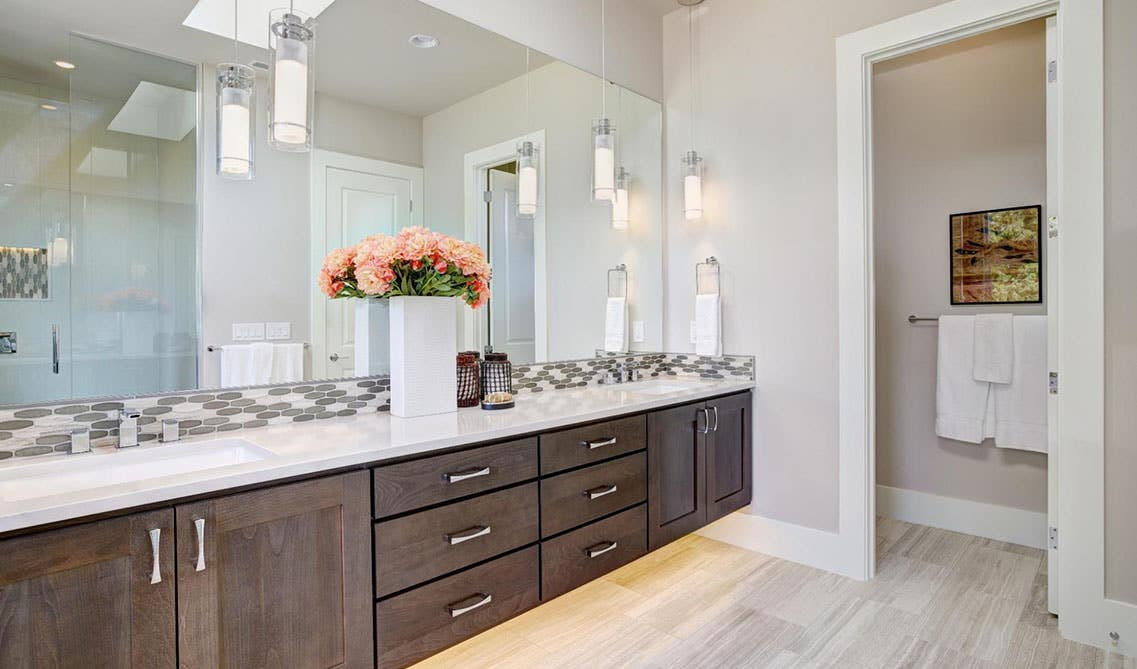 Try adding a large glass mirror to your bathroom to take up more wall space and help open up the area. This is also a great way to reduce the amount of clutter in your bathroom and complement the room.
30. Privacy Wall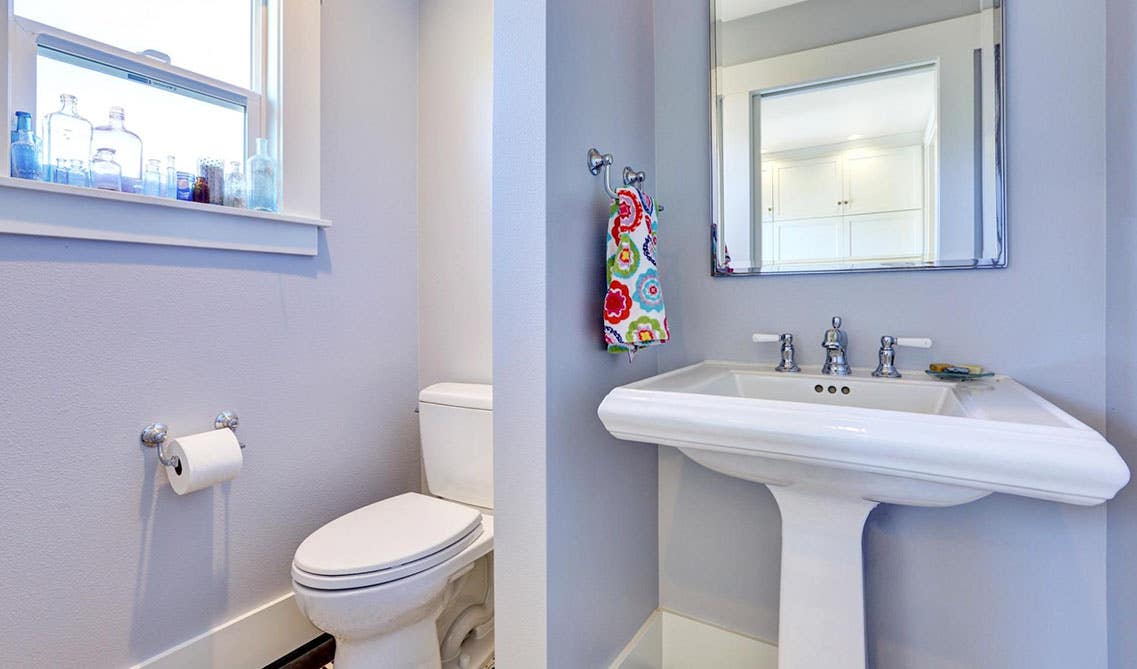 For those bathrooms that are longer in size versus wide, consider adding a small privacy wall to separate the toilet from the sink and the rest of the space. This could be from the floor, up about 3 feet, or extending out from the wall a few feet vertically.  Not only does it offer more seclusion from the rest of the bathroom, but it also adds more to the space by making it not look so long.
Conclusion: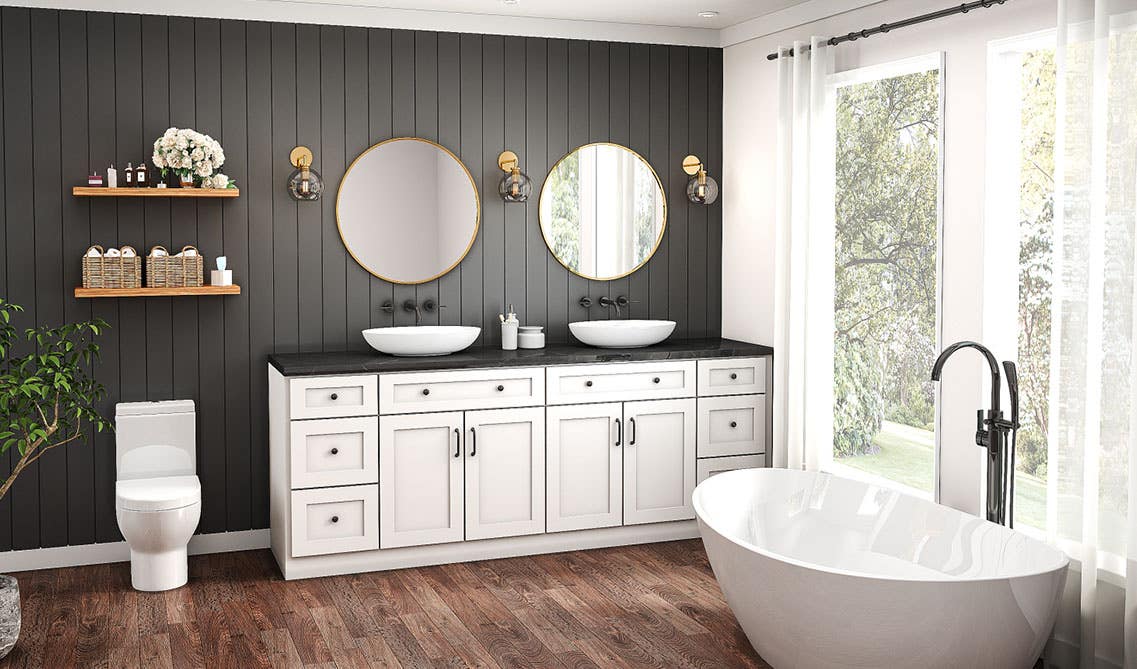 In the realm of design, even the smallest canvas can be transformed into a masterpiece. These 30 small bathroom ideas encapsulate the essence of ingenuity, proving that style knows no boundaries, not even the constraints of space. From clever storage solutions that harmonize functionality and aesthetics, to bold color choices that redefine dimensions, each idea is a testament to promote creativity.
Embrace the challenge of a tiny bathroom, and let it become a sanctuary of style and innovation. Remember, true style isn't about size; it's about making a statement that resonates far beyond the limits of space.
Related Blogs: 
FAQ'S
1.
How do you make a minimalist bathroom?
Creating a minimalist bathroom involves focusing on simplicity, functionality, and the efficient use of space. A few ways to create a minimalist space include: decluttering, adding greenery, neutral tones, simple fixtures, hidden storage, open space, lighting, and limited patterning
2. What colors make a small bathroom look bigger?
Certain colors can create the illusion of a larger space in a small bathroom by reflecting light and enhancing the sense of openness. These colors include: white, pastels, neutral grey and beiges, cool tones, and mirrored surfaces.
3. How small can I make my bathroom?
In order to have a comfortable, full bathroom with a toilet, sink, and shower, it is advised to ensure your space is at least 40 square feet. Dimensions may vary for half-bathroom designs.