Lately, it seems the minimalist movement has taken the world by storm. Organizational shows like "Tidying up with Marie Kondo" have taken decluttering and getting rid of unnecessary things that don't "spark joy" to another level.
Though some may say it's a fad, others designate the calm and tranquility that comes from clutter-free living as a way of life. In a world of stress, excess, and junk, the simplistic lifestyle may be just what you need. After all, a clutter-free home is a happy home, right?
So, where do you start? The kitchen is a mainstay in every house and a room where clutter often migrates, but the bathroom is the quintessential room to start your minimalism journey. It's often filled with tools, trinkets, unflattering objects, hordes of products, and décor. Not only that, but it's also one of the most used rooms in the house!
An important staple of the home, the bathroom is one place where minimalism can be aesthetically pleasing while still remaining functional. A sleek and simple bathroom will refresh your space, your mind, and your life.
Here are some tips to help you create the minimalist bathroom of your dreams.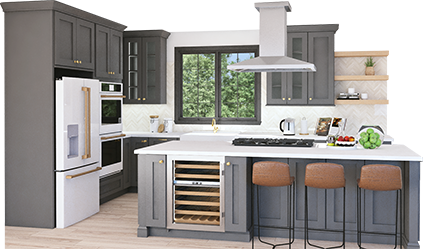 Get your FREE 3D kitchen design today!
Start Now
Neutrals

You can't go wrong with neutrals! Most home designers utilize a neutral color palette for minimalist bathrooms. A neutral color palette for tiles, paint, countertops, fixtures, and accents can create a clean and streamlined room.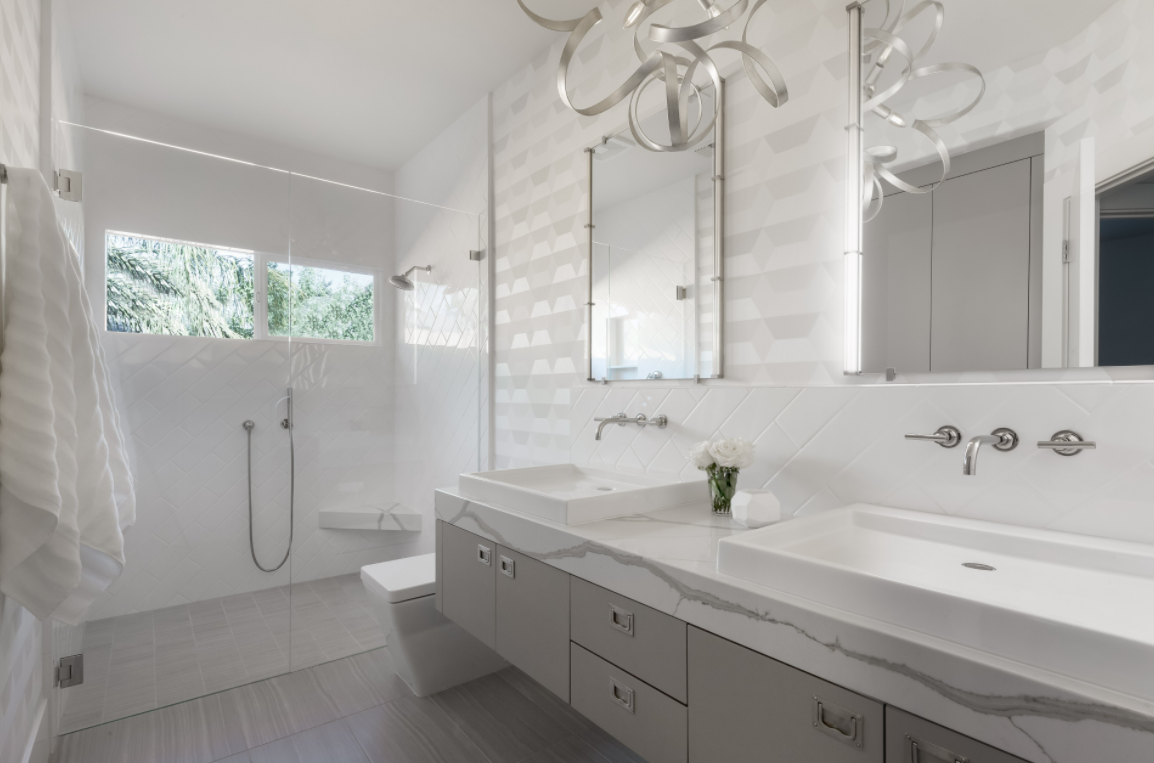 Source: Wendy Glaister Interiors
Check out this example of an open, clean master bathroom. The neutral white tile, grey cabinets, and floors, paired with the natural light from the windows, creates a refined minimalist look. Less is more!
Though most people consider lighter colors as neutrals, dark grey is also a great option for bathrooms. Here's an example of a home in Baltimore that ran with the color and produced a sleek, modern look for their home.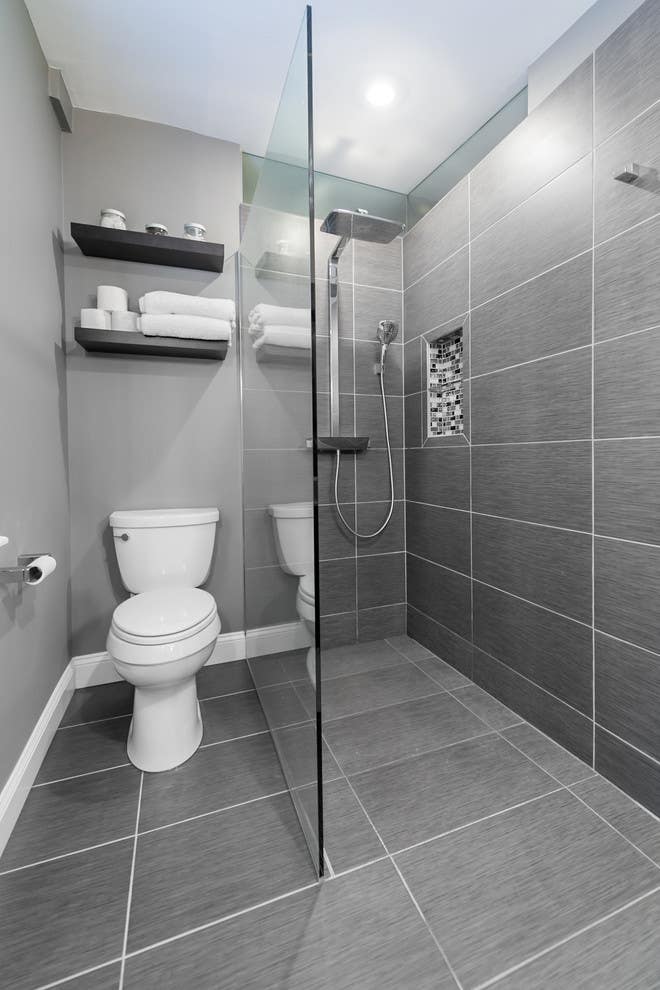 Source: Maryland Home Pros // Ian Dawson, C&I Studios

That hint of color takes us to our next idea for your minimalist bathroom renovation: dark, bold colors.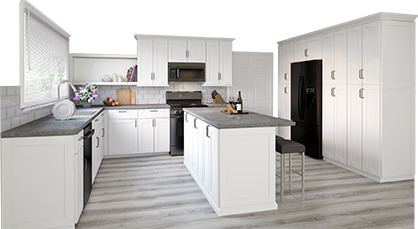 3D Kitchen Visualizer Tool
Bring your dream kitchen to life with our free kitchen visualizer!
Design Now
Dark Colors
Though neutrals can really open up a room and create a refreshing space, dark colors aren't something to shy away from. Darker hues can create a beautiful contrast in a minimalist bathroom.
Look at the dramatic ambiance of this minimalist gray tile walk-in shower. The darker tile provides a sophisticated look that lighter neutrals can't offer.
Here's another example of dark minimalism done right. The black walls are a bold choice, but if that's your style, go for it.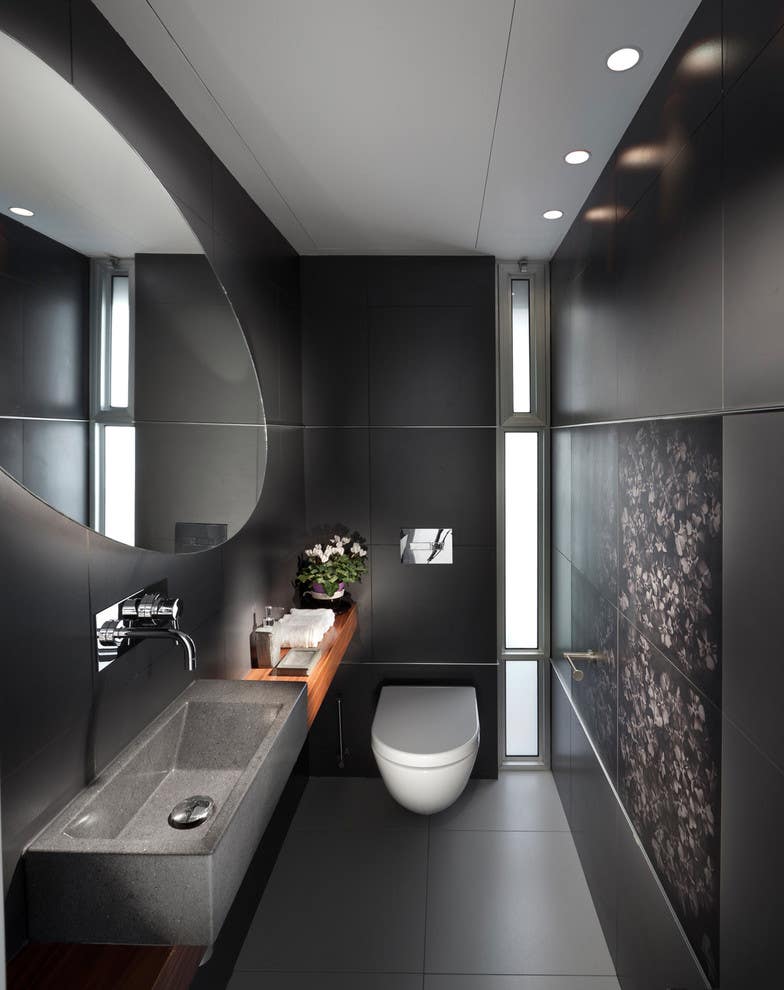 Source: Elad Gonen // Shiraz Solomon
Pops of Color
Though most minimalist bathrooms feature neutral colors or darker hues as we mentioned, sometimes a pop of color can add a nice accent to a minimalist space. Without overwhelming the space, a fresh, bright color tile against white-painted walls or cabinets can make a big splash.
For example, check out this bathroom in San Francisco. The clean white is met with a beautiful blue from the terrazzo tiles, which flows from the back of the tub across the floor.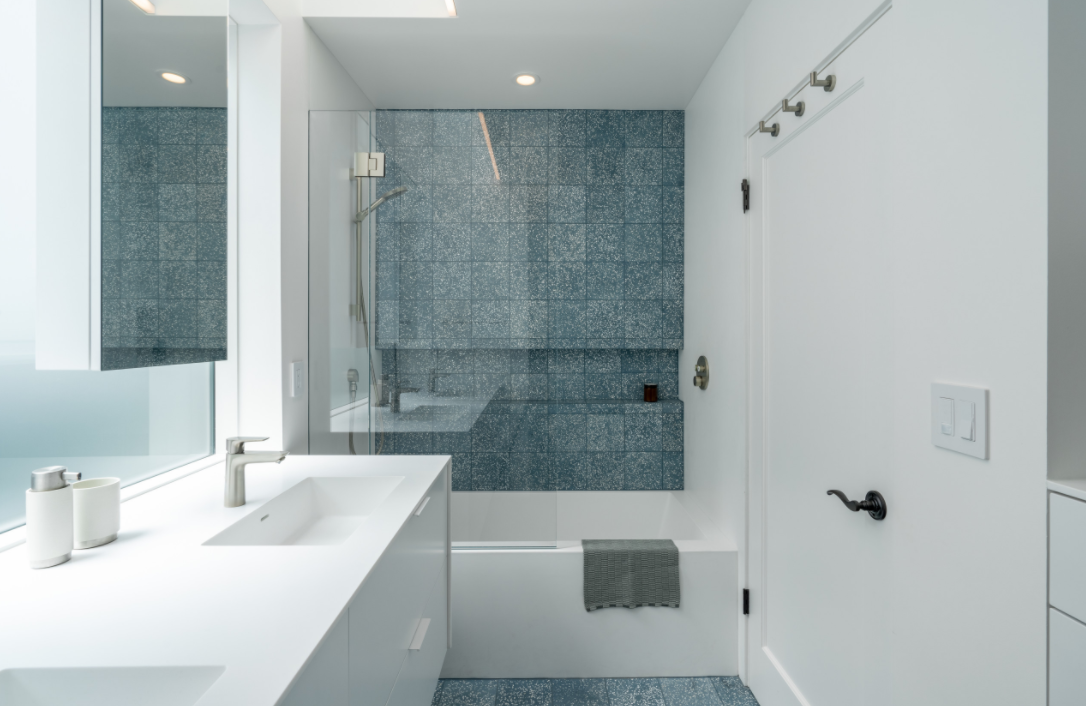 Source: building Lab, inc.
Modern Elements

It's no surprise that modernism goes hand-in-hand with minimalism. The sleek designs of both movements feature clean lines, neutral color palettes, and limited clutter. Since there is no junk to focus on, the design relies solely on the quality of the modern accents.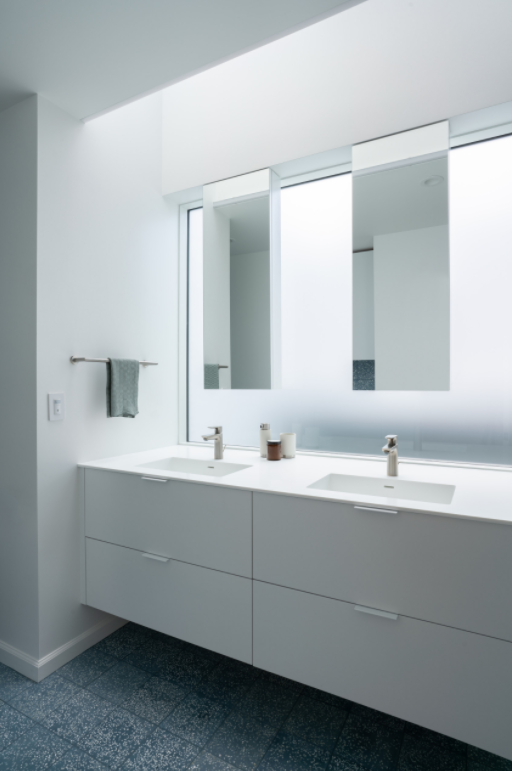 Source: building Lab, inc.
Take a look at this modern bathroom with double sinks in San Francisco. The flat-panel white vanity and bold, accented, yet modern medicine cabinet mirrors create an incredibly streamlined modern look.
Add a Tub

Tubs can make a huge difference in the look of a modern, simple bathroom. An elegant statement piece or a modern focal point, tubs can take the bathroom to new heights.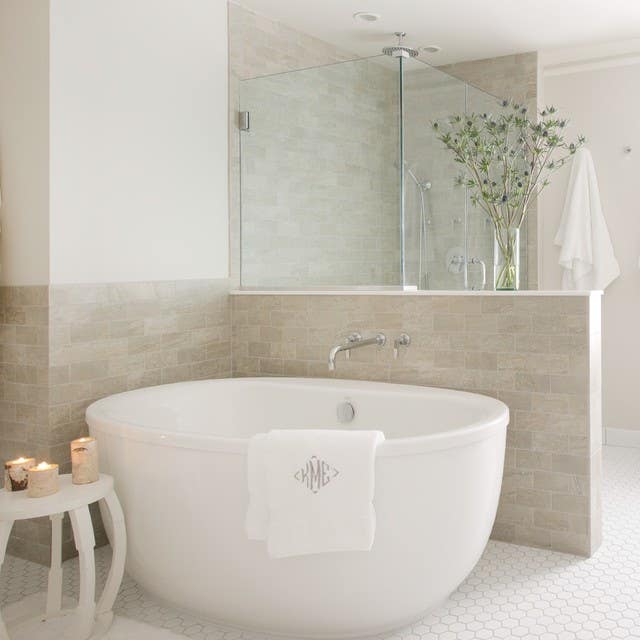 Source: DesignDot & Jane Beiles
Here's an example from New York. The neutral color scheme of this bathroom is played up with the white tub and subway tile porcelain tile.




Tile

Tile can change a room's look for less. Adding either a simple tile or a slightly patterned tile can amplify your bathroom's character while still maintaining your minimalistic bravado.
Check out this streamlined grey and white tile that encompasses the whole room. The marble tile gray floor meshes well with the alcove bathtub design, as well as the white cabinets, to create a modern bathroom.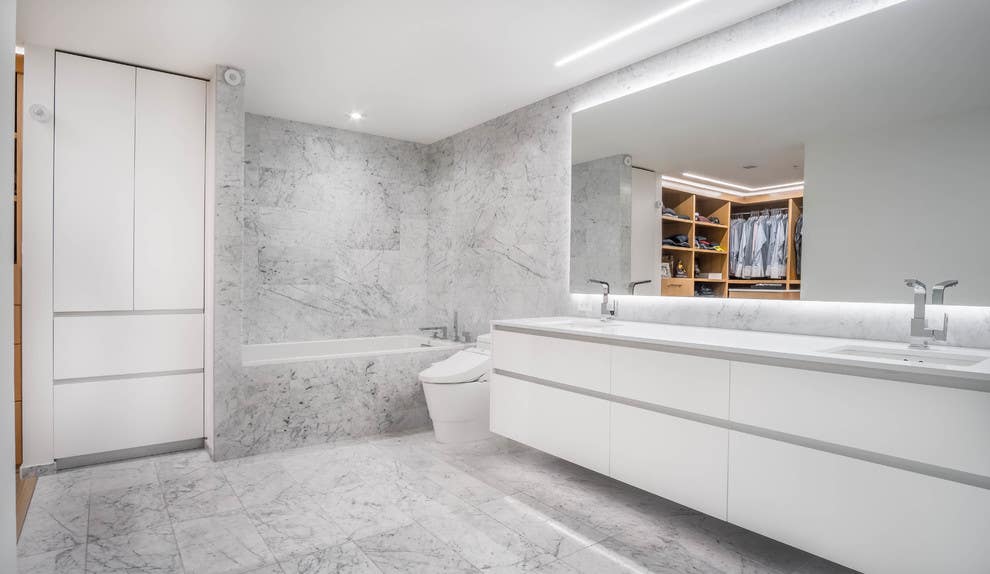 Another stellar idea for creating a minimalistic bathroom is adding just a touch of texture, color, or variety to your tile in one part of the room. So, pick a beautiful tile for your shower to stand out against your white fixtures or walls. Or pick a beautiful tile floor to go against your neutral paint scheme. The options are endless!
Here's an example of a beautiful, crisp, white bathroom, complete with dark floor tile. The modern bathroom was a renovation and redesign of a 1980s addition to a DC Metro home in Maryland. What an open, airy look, right?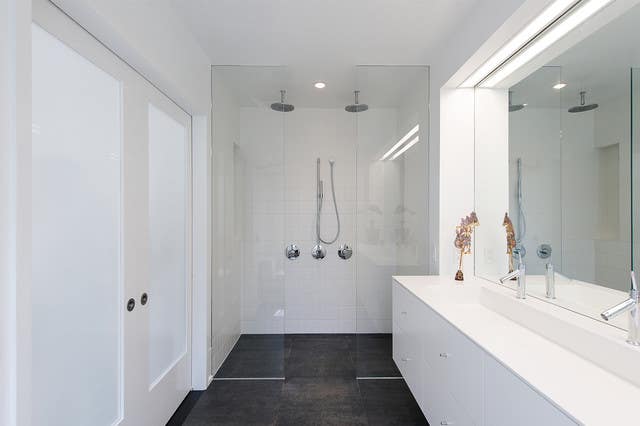 Source: CARIB DANIEL MARTIN
Lighting

Oh, what good cabinet lighting can do for you! In a minimalist bathroom, lighting can make all the difference. With minimal designs and colors, a beautiful set of lights can give the room a warm glow (after all, you don't want it to be sterile or hospital feeling). Maybe a chandelier is more up your alley, adding the detailed flair you desire in your simplistic space. Regardless, there are a variety of options to choose from.
Take this beautiful lighting, for example. It adds a warm, subtle glow while accentuating the room in a bright, yet subtle way.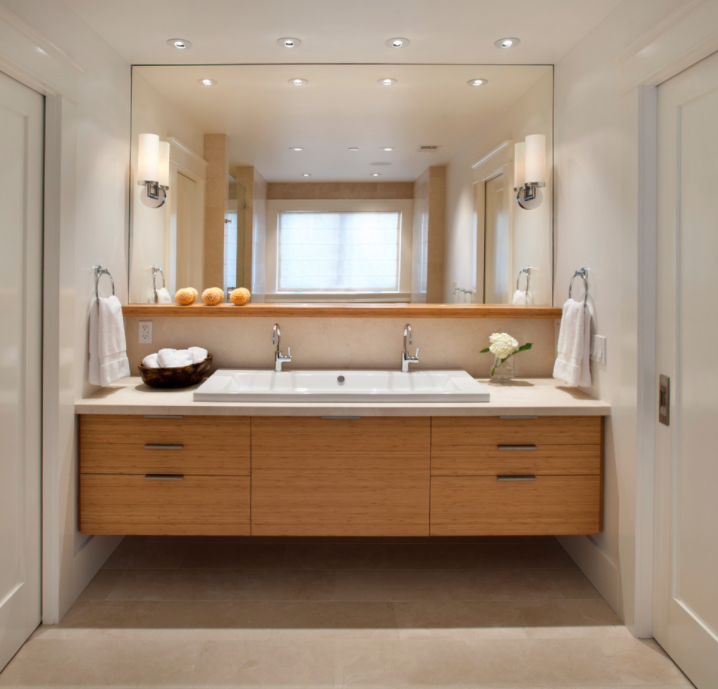 Source: Sullivan Design Studio
While that lighting remained subtle and warm, you can also go more outwardly bold with your lighting accents as well. Check out these hanging lights from a home in Grand Rapids, Michigan. They add an interesting touch to the minimalistic, modern bathroom.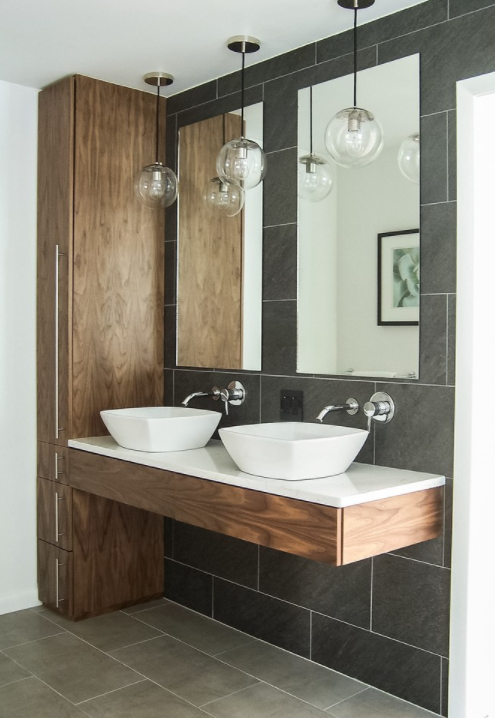 Source: Storybook Interiors
Accents

Mixing in beautiful accents into a minimalist bathroom is a truly inspirational trick of the trade. It allows you to play with colors, while still keeping things simple.

For example, a white bathroom with dark black fixtures and accents adds a touch of class to an otherwise clean bathroom, like this master bathroom in Seattle. The high contrast in colors standout with the backdrop of oversized subway tiles.
Or maybe you want to feel a little fancy and create an elegant-looking bathroom. Gold accents in an overly white-colored bathroom are a great plan of attack for some high-class designs.
Here's a great example from a bathroom in New York! The pop that comes from the towel rack and various other fixtures adds a perfectly accented touch to an otherwise minimalist room.



Mirrors

Playing with different mirror shapes can create a completely different look in your minimalist bathroom. If you're into the modern look, you can choose a square or rectangle shape. Or maybe you want to play with accents! You can pick a gold-lined mirror to play up your gold bathroom fixtures.
Decor

Practicing minimalism doesn't mean you can't have any décor in your bathroom. Though its intentions are to minimize junk and clutter, your personal style is still just that... personal!
A touch of greenery in the form of a plant (check out that mirror example above for a great example!) or a painting that fits your vision are items that will bring spice into your bathroom without going back into a disorderly state.
The key is to place them intentionally. Break up your white space and use intricate patterns and darker colors to offset your simplicity a bit. Or add some burst of colors in (like we talked about earlier with tile).
A practice that will help you decide if your wall art is here to stay is removing everything from your minimalist bathroom and taking a few days to live in the space as a "clean slate." Does it make you feel better? Or does it bring up feelings of negativity? Depending on your answer, add pieces back in slowly, making sure that they truly bring you joy and help refresh your space.
Lily Ann Cabinets offers an extensive selection of minimalist bathroom products including cabinets, faucets, lighting, flooring, backsplashes, and more. Check out our vast array of products to see how we can help you fulfill all your minimalist bathroom ideas!
This is a curated post designed to showcase the work of several talented designers. If you would like to have an image removed, please let us know!