Lily Ann Cabinets: Navy Blue Shaker
Intro: The bathroom is often an underrated space in our homes when it comes to interior design. However, with the right attention to detail, it can become a stylish and functional space. One essential aspect of bathroom design that can make a significant impact is the choice of bathroom hardware. From faucets and showerheads to towel bars and toilet paper holders, the right hardware can elevate the overall look and feel of your bathroom. In this blog, we'll explore 12 trendiest bathroom hardware ideas that can transform your space into a luxurious retreat.
1. Elegant Knobs and Pulls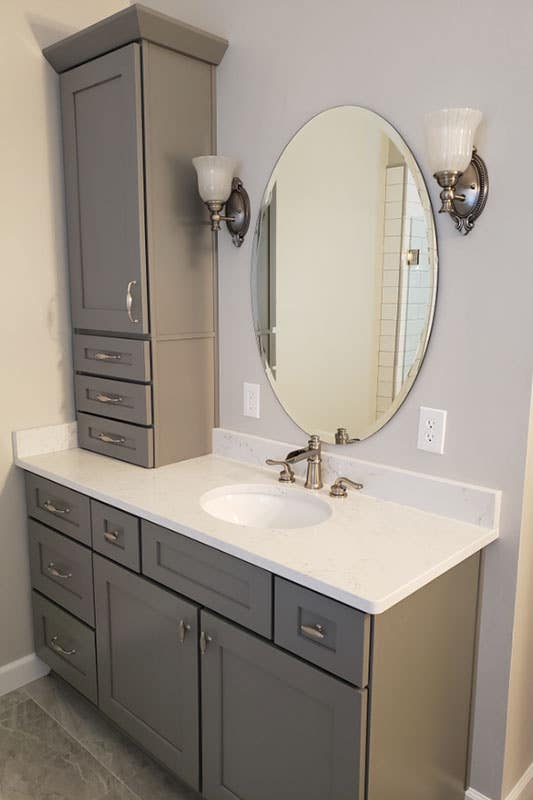 Lily Ann Cabinets: Grey Shaker Elite
Elevate your bathroom's style with elegant knobs and pulls that add a touch of sophistication to your cabinets and drawers. For a trendy look, consider using sleek chrome knobs like the ones seen above which complement a wide range of bathroom themes, from contemporary to traditional. These small yet impactful details can transform the entire appearance of your bathroom storage and create a cohesive and polished look.
If you like the way these knobs look with the cabinetry, you can recreate this look yourself with Lily Ann Cabinets' Grey Shaker Elite cabinets and one of our chrome knobs or pulls to achieve a trendy bathroom.
2. Modern Faucets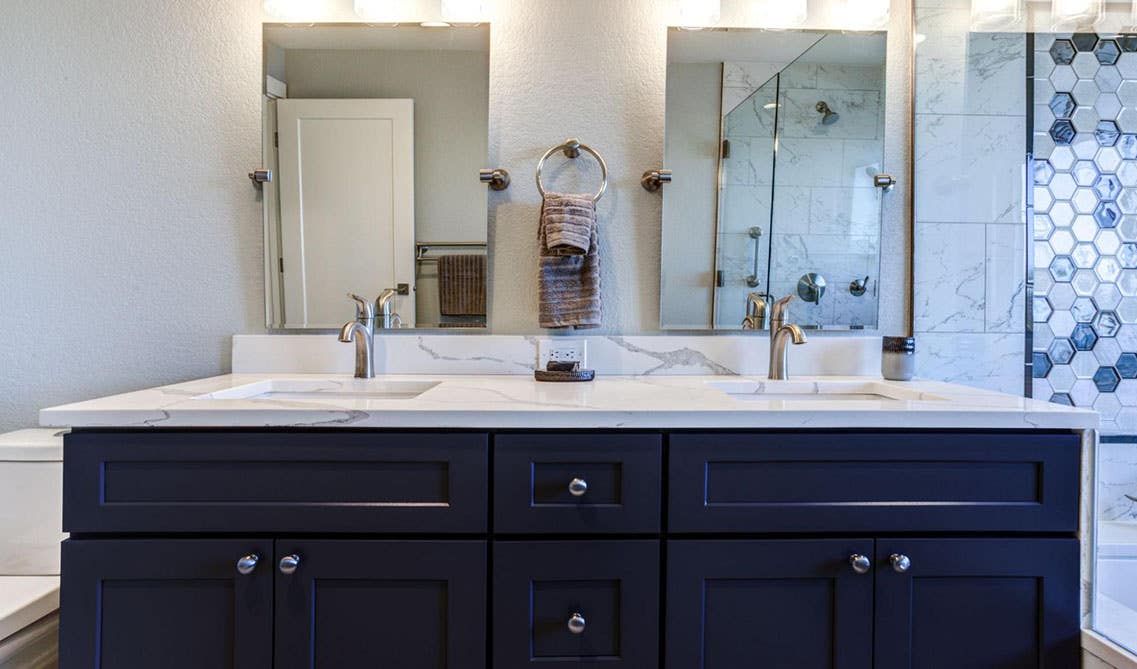 Lily Ann Cabinets: Navy Blue Shaker
Upgrade your bathroom's functionality and style with modern faucets. Choose from a variety of sleek and minimalist designs, featuring single-handle operation and innovative features like touchless technology. These faucets not only add a touch of elegance but also offer convenience and water efficiency.
2. Statement Showerheads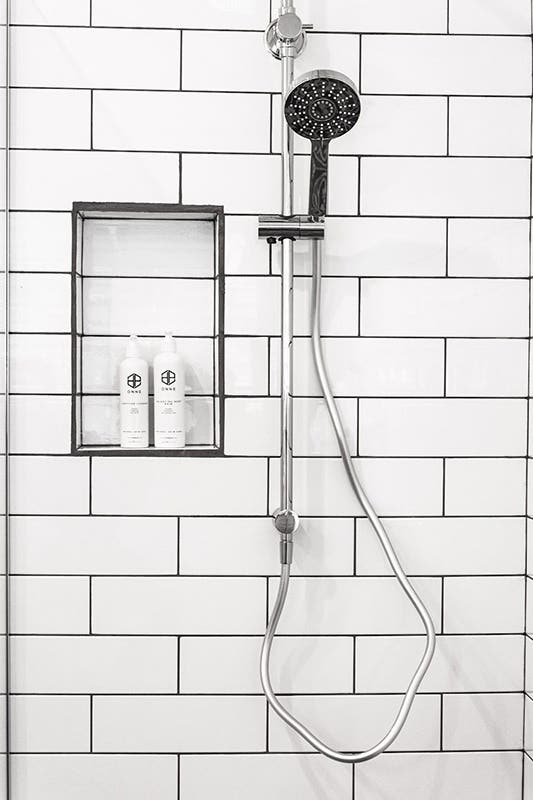 Transform your daily shower routine into a spa-like experience with statement-making showerheads. Rainfall showerheads mimic the sensation of a gentle rain shower creating a relaxing space. Choose finishes that complement the overall theme of your bathroom, such as black as seen in the photo above which features our White Shaker Elite cabinets..
4. Towel Bars and Hooks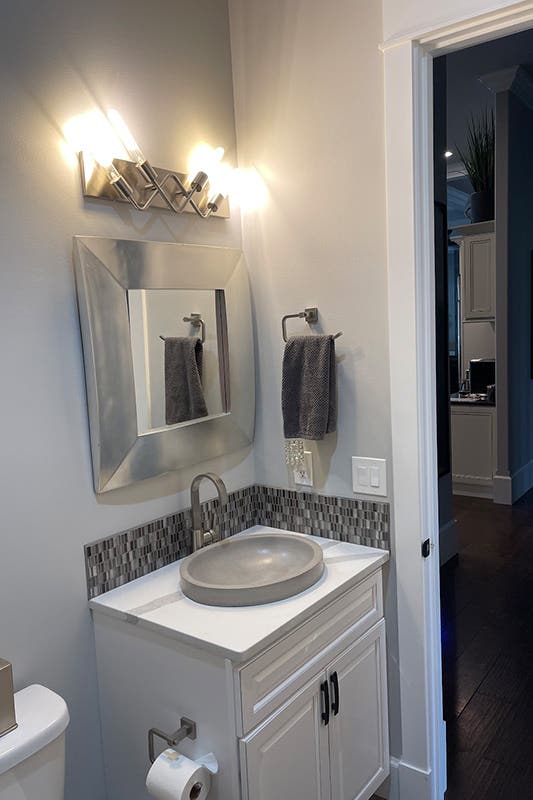 Lily Ann Cabinets: Key Largo
Keep your towels within reach and organized with trendy towel bars and hooks. Opt for stylish and unique designs that complement your bathroom's theme. From sleek and modern towel bars to ornate and vintage-inspired hooks, these fixtures add both functionality and style to your space.
5. Toilet Paper Holders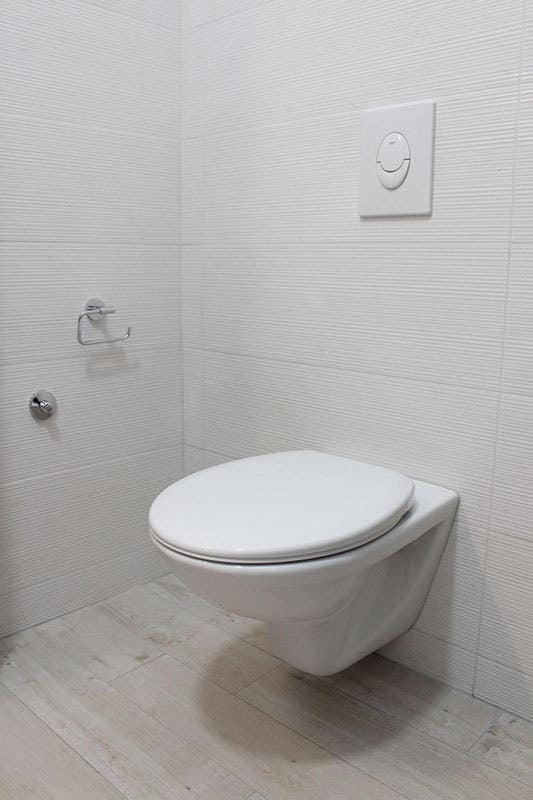 Don't overlook the small details like toilet paper holders. Choose holders that add a touch of elegance to your bathroom. Consider finishes like brushed nickel or matte black for a contemporary look or opt for chrome for a more traditional vibe. These holders blend seamlessly into your bathroom decor while keeping essential items accessible.
6. Stylish Mirrors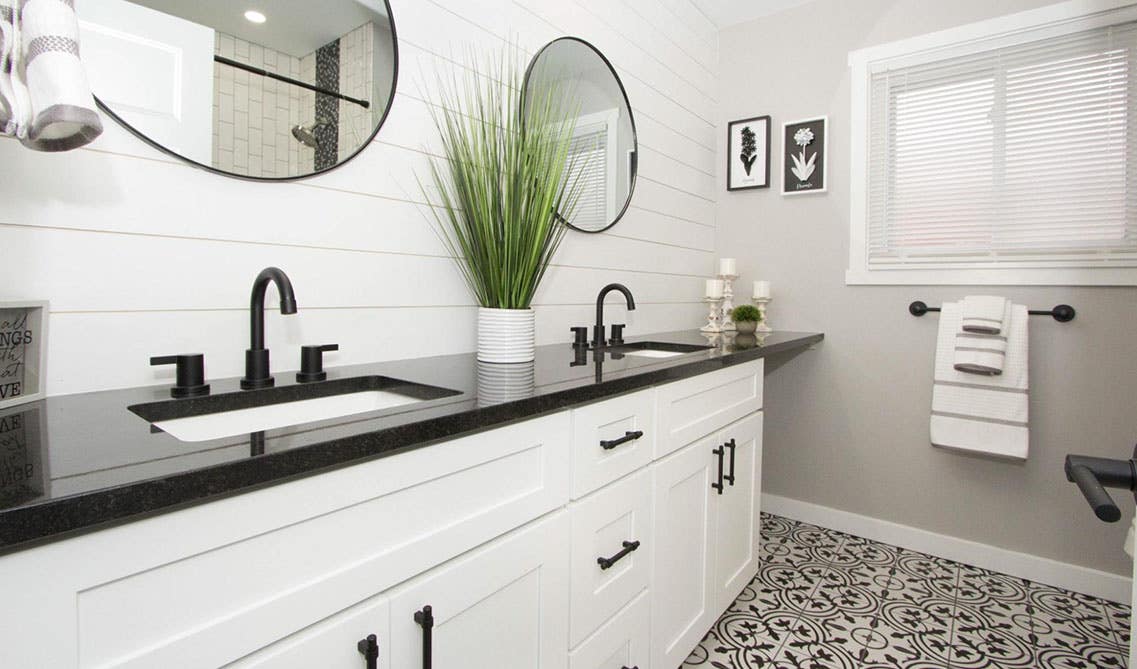 Lily Ann Cabinets: White Shaker Elite
Oversized mirrors, uniquely shaped designs, or ornately framed options can become stunning focal points while adding depth and personality to the space. Choose mirrors that reflect your personal style and complement your overall bathroom theme.
7. Chic Vanity Lighting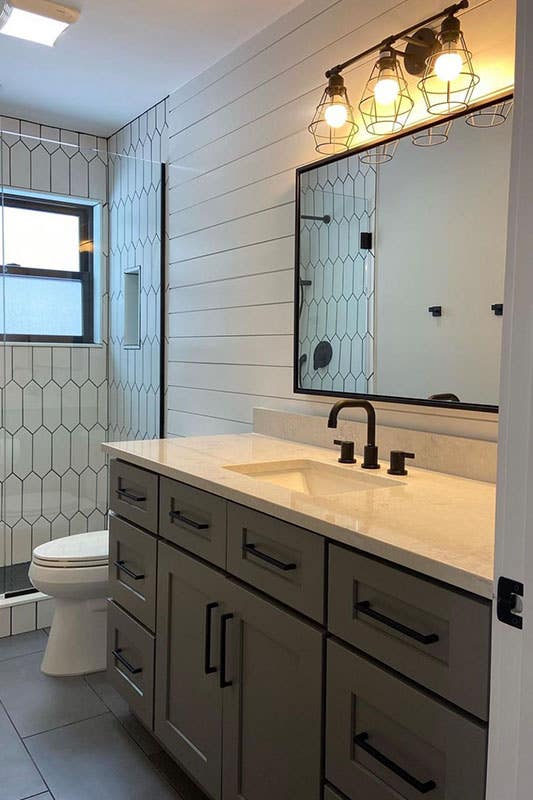 Lily Ann Cabinets: Grey Shaker Elite
Set the right mood and elevate your bathroom's style with chic vanity lighting. Consider modern LED fixtures with sleek designs that provide flattering, soft lighting for your vanity area. The right lighting not only enhances your daily grooming routine but also adds a touch of elegance and warmth to your bathroom space.
8. Luxurious Towel Warmers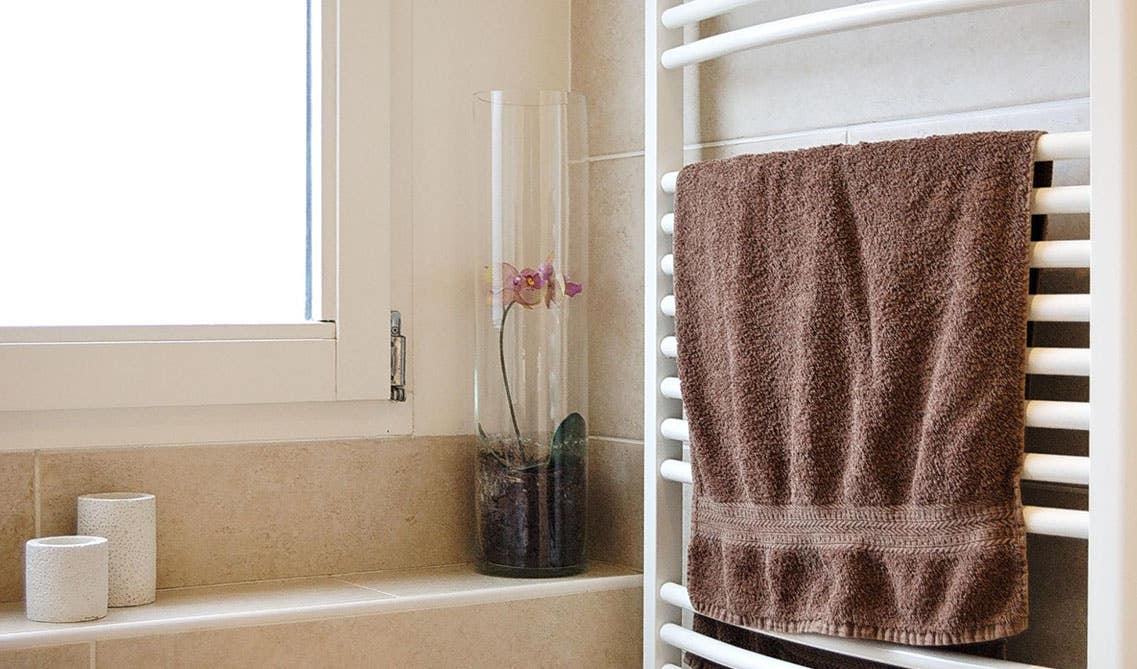 Indulge in the comfort of warm towels with luxurious towel warmers. These upscale fixtures not only keep your towels toasty and dry but also add a spa-like touch to your bathroom. Choose from wall-mounted or freestanding options, and enjoy the ultimate pampering experience every time you step out of the shower. 
9. Designer Soap Dispensers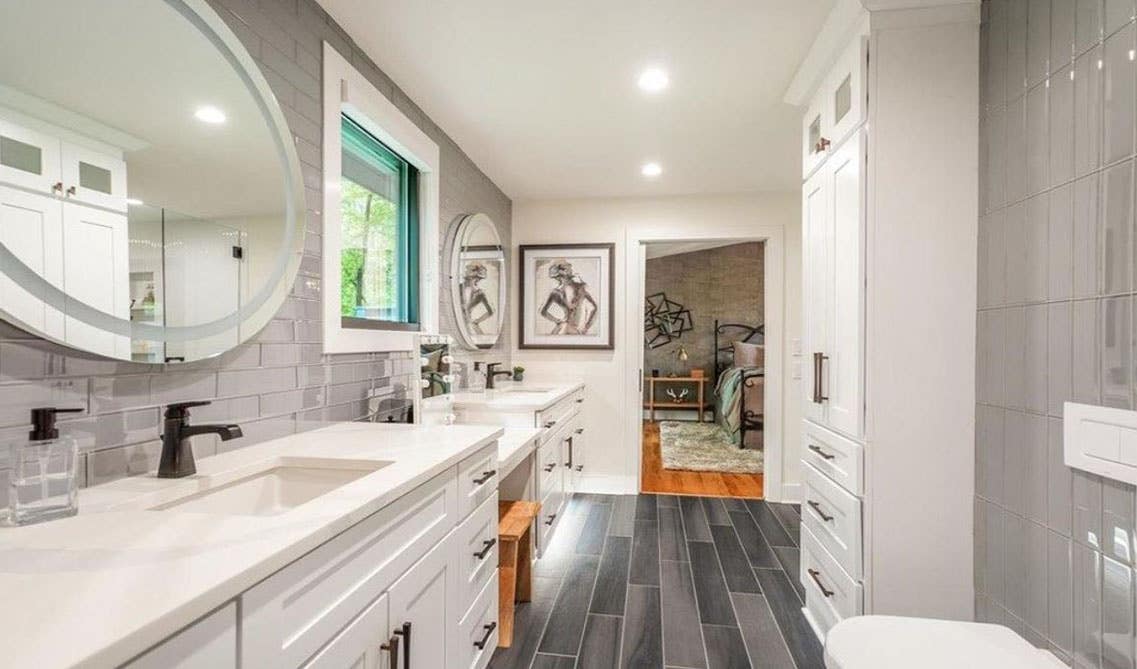 Lily Ann Cabinets: Colorado White Shaker
Another one of our trendy bathroom hardware ideas is to replace generic plastic bottles with stylish glass or ceramic dispensers that add a touch of sophistication to your sink area. Choose designs that complement your bathroom's overall aesthetic and add a subtle touch of luxury to your everyday routine.
10. All Black Hardware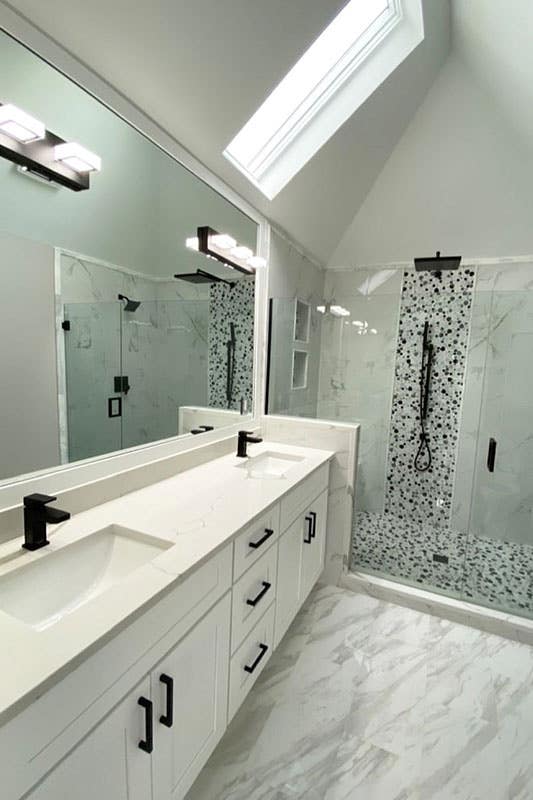 Lily Ann Cabinets: White Shaker Elite
Embrace the sleek and contemporary allure of all-black hardware. Black faucets, showerheads, and cabinet pulls add a dramatic and modern touch to your bathroom design. The black hardware effortlessly complements light-colored or monochromatic bathroom themes, making it an ideal choice for those seeking a bold and minimalist aesthetic.
11. All Gold Hardware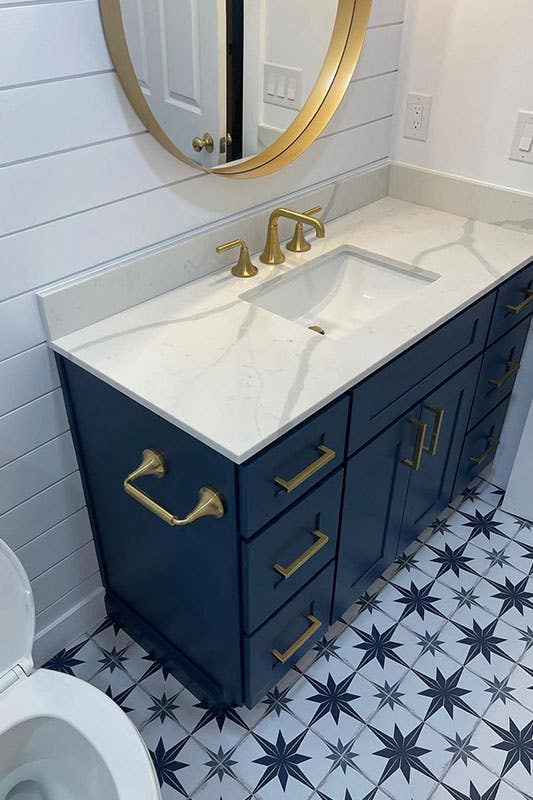 Lily Ann Cabinets: Navy Blue Shaker
For a lavish vibe, go all in with gold hardware. Gold fixtures, like faucets, knobs, and towel bars, bring a touch of extravagance and warmth to your bathroom. Whether you opt for a subtle champagne gold or a bold polished gold finish, this trend is sure to make a statement and leave a lasting impression.
Gold or brass hardware can contrast nicely with a bold cabinet color choice such as Lily Ann Cabinets' Navy Blue Shaker as seen above.
12. Mix and Match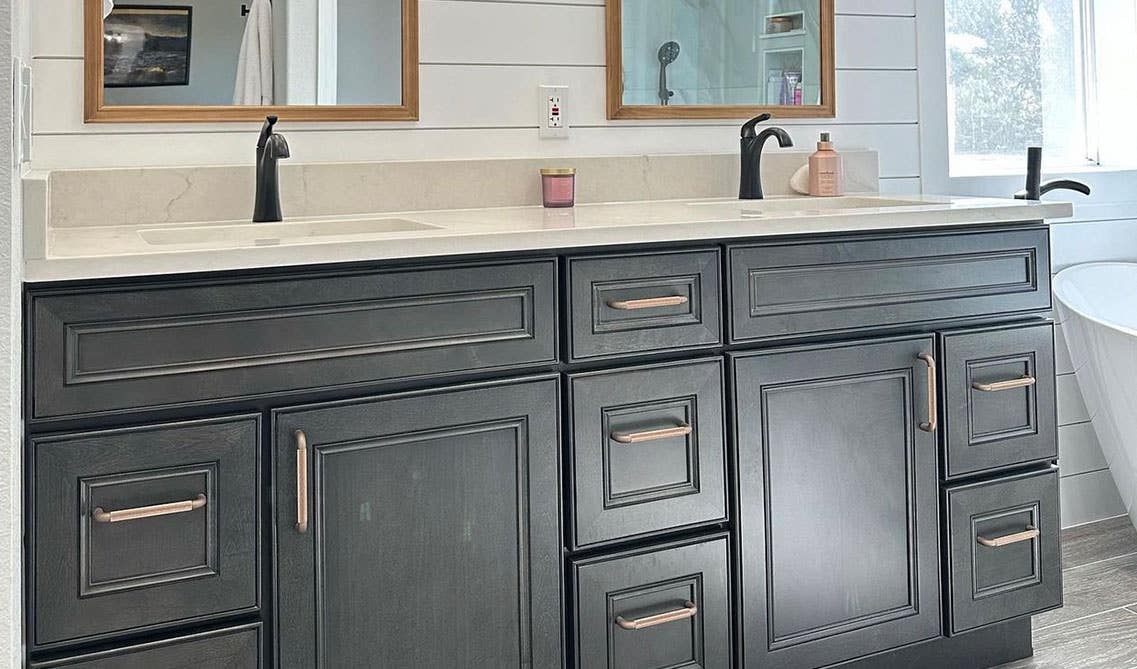 Lily Ann Cabinets: York Driftwood Grey
Break away from convention and embrace the mix-and-match trend for your bathroom hardware. Play with different finishes, such as brushed nickel, black, or brass, to create a unique and personalized look. Combining various hardware styles adds an element of creativity and modernity to your bathroom, giving it a fresh and eclectic charm.
You can incorporate this mix-and-matched look in your bathroom with our York Driftwood Grey cabinets paired with black and champagne bronze knobs or pulls
Checkout: Learn More About Lily Ann Cabinets' Premium Cabinetry
In Conclusion…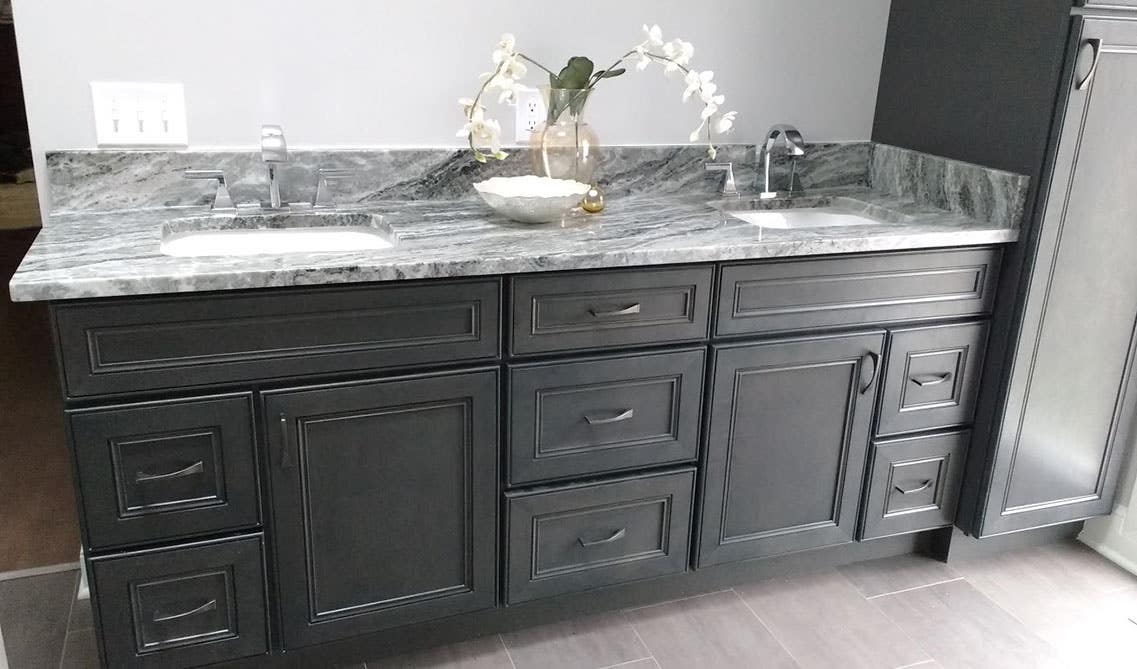 Lily Ann Cabinets: York Driftwood Grey
These 12 trendiest bathroom hardware ideas offer a plethora of options to elevate your bathroom's style and functionality. Each idea brings a unique touch to transform your bathroom into a trendy and inviting space. Embrace these design inspirations to create a bathroom that reflects your personal taste and offers a luxurious escape from the everyday hustle.
At Lily Ann Cabinets, we believe that you deserve a dedicated space to use as your own personal getaway. With both FREE samples and FREE 3D designs, we are here to help you achieve your dream spa in your very own bathroom. Take a look at this bathroom layout tool as well to see how each color will look together. Whether you are looking for bathroom cabinetry, hardware, or any of our other products, we'll work with you every step of the way till you are satisfied with the outcome. Order cabinets online at Lily Ann Cabinets today!
Related Blogs:
Guide to Choosing Cabinet Hardware
Premium Shaker Cabinets Hardware Designs
How To Choose Knobs and Pulls for Kitchen Cabinets
9 Inspiring Blue Bathrooms That Will lighten up your Space
FAQs
1. What bathroom fixtures need to match?
When it comes to matching bathroom fixtures, the key is to create a cohesive and harmonious design. Matching finishes create a polished look and tie the bathroom design together seamlessly. Generally, bathroom fixtures that are visible at the same time, such as faucets, showerheads, and towel bars, should match in terms of their finish.
2. What does bathroom hardware include?
Bathroom hardware encompasses a wide range of essential accessories that enhance the functionality and aesthetics of your bathroom. It includes items like faucets, showerheads, towel bars, hooks, toilet paper holders, soap dispensers, cabinet knobs, and pulls, among others. These fixtures play a crucial role in defining the style and overall theme of the bathroom while providing practical solutions for storage and organization.
3. What is the best material for bathroom accessories?
Stainless steel is highly durable, and resistant to rust and corrosion, making it perfect for the moist and humid environment of bathrooms. It is easy to clean and maintain, ensuring long-lasting quality.