In the realm of interior design, bathrooms have transcended their functional role and transformed into personal spaces. Blue bathrooms stand out as a captivating choice that effortlessly combines tranquility, style, and a touch of sophistication. In this blog post, we will explore bathrooms with blue cabinetry, and why this design trend continues to captivate homeowners and interior designers alike.
1. Coastal Style Design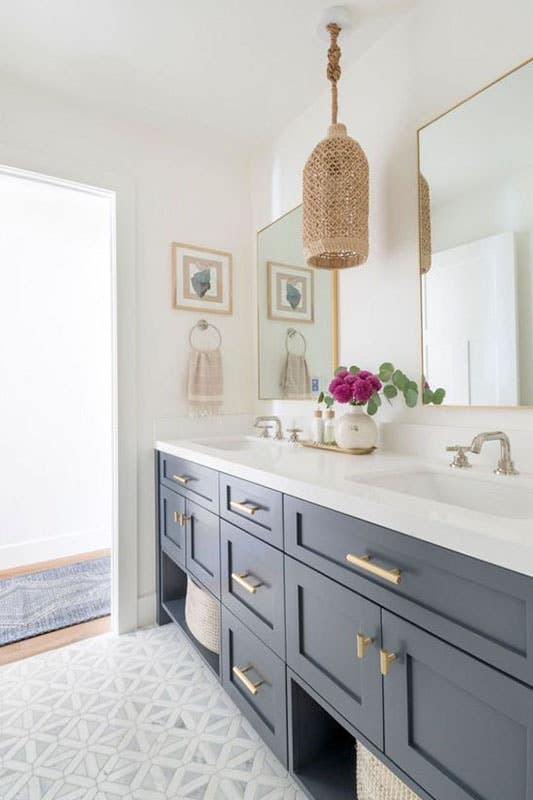 To create a coastal-style bathroom, start by selecting a light and airy color palette that reflects the coastal style you want. Shades of white, cream, sandy beige, and soft pastels serve as a backdrop for the rest of the design. You can incorporate pops of color like Navy Blue with cabinetry or tiles. 
Check out Lily Ann Cabinets Navy Blue vanities! Not only are these vanities beautiful, they are also affordable and made from premium all-wood cabinetry! Their durability ensures that they last for years to come, making them perfect for your space! 
2. Spa-Inspired Oasis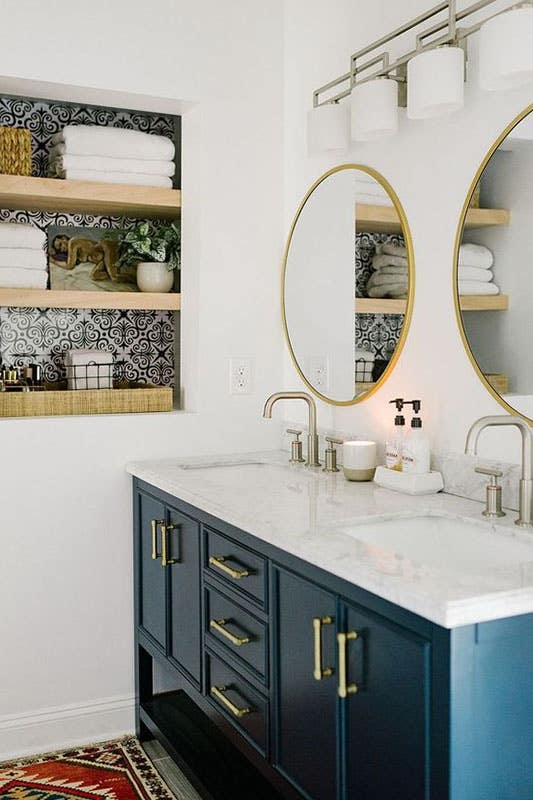 Design a spa-like bathroom with soothing shades of blue. Start by painting the walls a light blue, and try to incorporate natural stone tiles. Incorporate marble as a backsplash and countertop! A bathtub will also add a luxurious touch. Enhance the ambiance with dimmable lighting, plush towels, and candles. 
3. Modern Elegance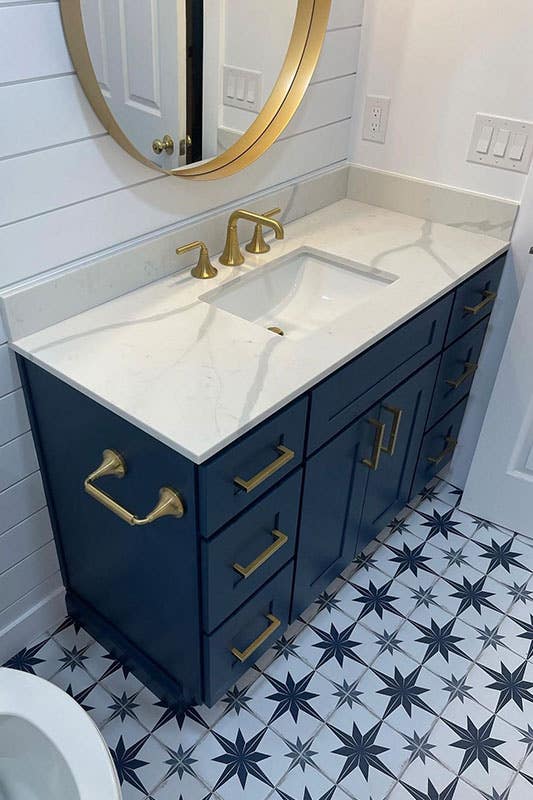 Choose a bold shade of Navy blue for a contemporary and sophisticated bathroom. Incorporate high-quality materials to add a touch of luxury to your bathroom. Use materials like marble, quartz, or granite for countertops and flooring. 
Take it up one notch by Incorporating sleek and polished finishes such as chrome or brushed nickel hardware, showerheads, and faucets. The use of these premium materials enhances the overall elegance of the space tying it all together.
4. Nautical Vibes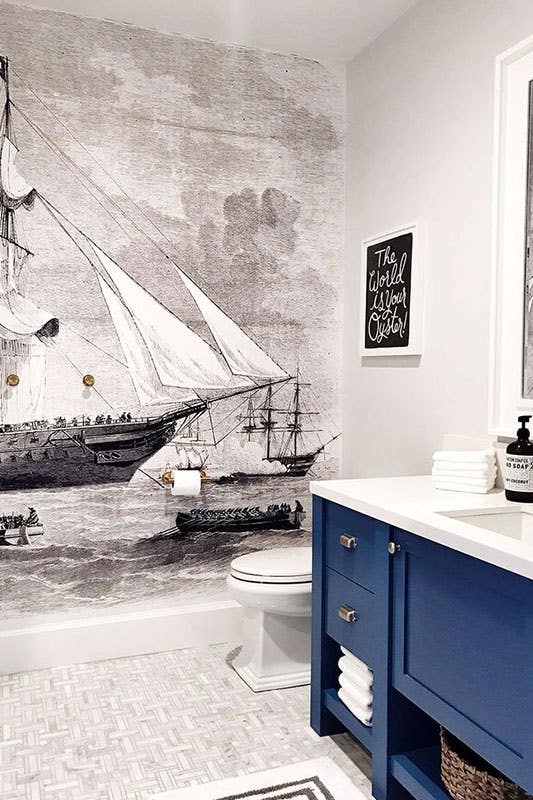 Embrace a nautical theme by two-toning navy blue and white shaker cabinetry. Install white subway tiles as a backsplash, and add navy blue accents like towels or a striped shower curtain. Additionally, incorporate brass or rope details in the hardware and accessories for that nautical feel.
5. Tranquil Zen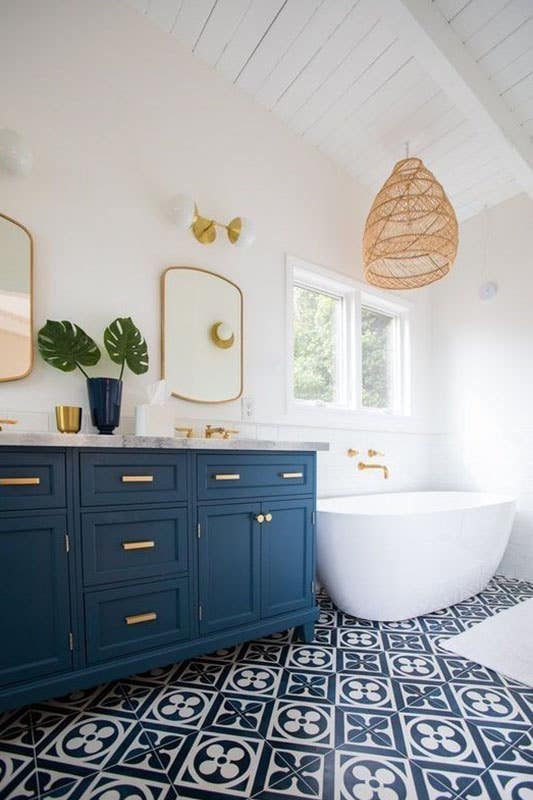 In order to create a peaceful bathroom space, paint the walls a soft blue-gray, add bamboo, teak wood elements and nature-inspired decor. Install a rain showerhead, and add pebble or mosaic tiles. Lastly, to create the tranquil space you want, add plants and unique lighting fixtures to enhance the relaxing ambiance.
6. Vintage Charm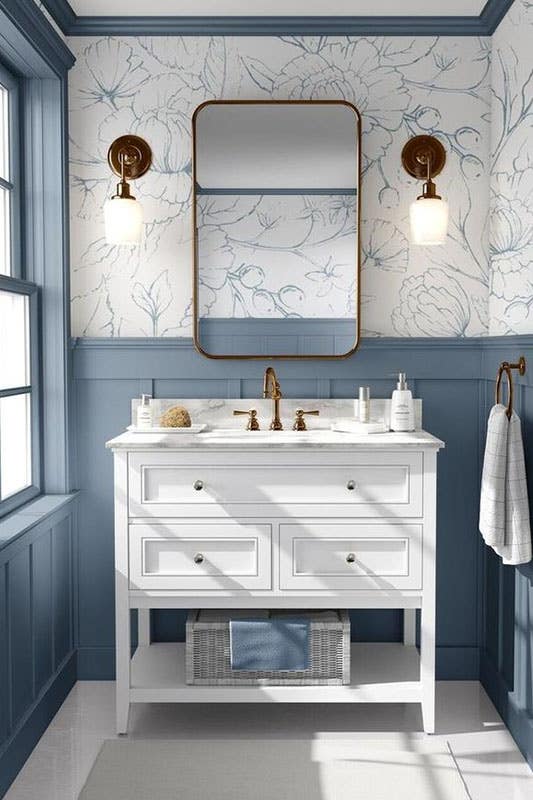 Bring blue vintage charm to your bathroom with light blue walls and vintage-inspired fixtures. Look for antique-style faucets, a clawfoot bathtub, and decorative mirrors with a unique frame. Finally, accessorize with vintage glass jars, porcelain containers, and ornate soap dispensers.
7. Contemporary Cool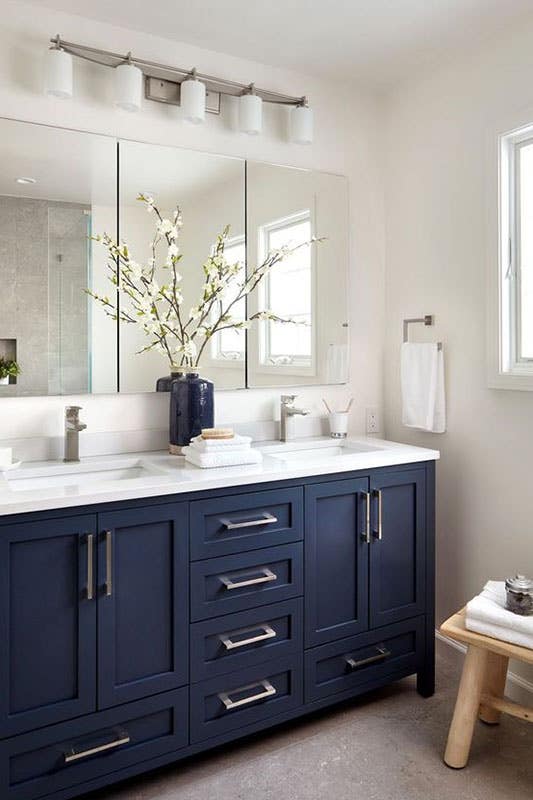 To create a contemporary look with blue and silver accents. Choose sleek and glossy finishes, such as polished chrome hardware and mirrored cabinets. Check out Navy blue shaker cabinetry, and use glass tiles or a glass shower enclosure to reflect light. This will create a sense of spaciousness and bring out unique features in your bathroom.
8. Minimalist Serenity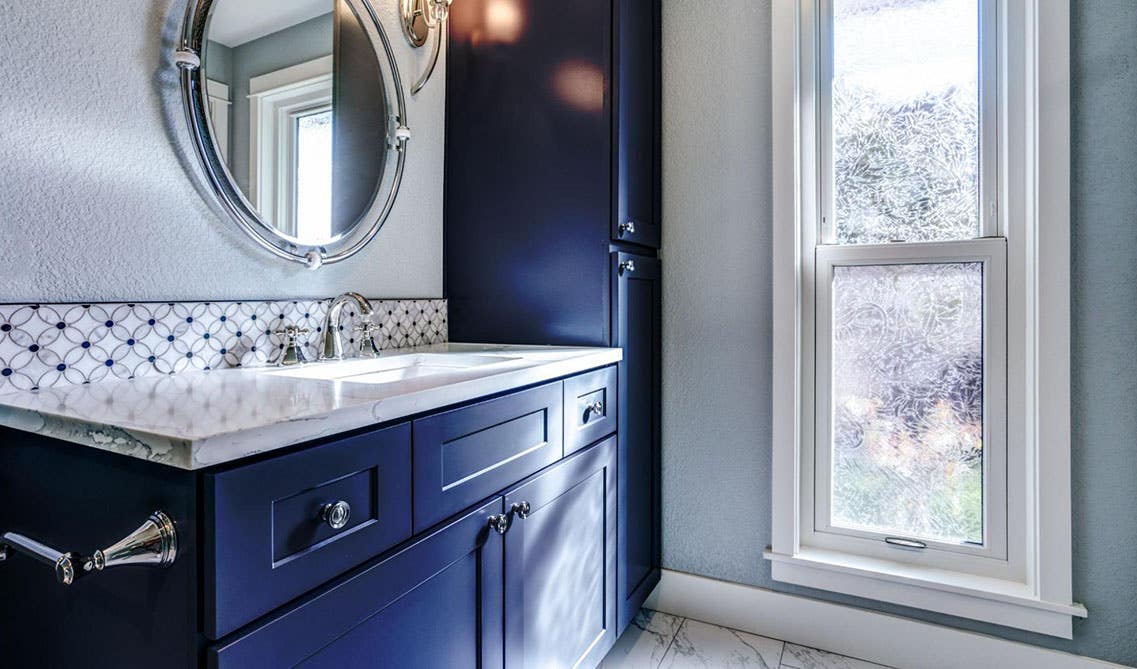 Design a minimalist bathroom with a monochromatic palette of light blue and white. Choose minimalist furniture and accessories that complement the blue color scheme. For example, opt for a simple vanity with clean lines and minimal hardware. Use storage solutions to keep toiletries and personal items hidden, maintaining a clutter-free space.
9. Stay Classic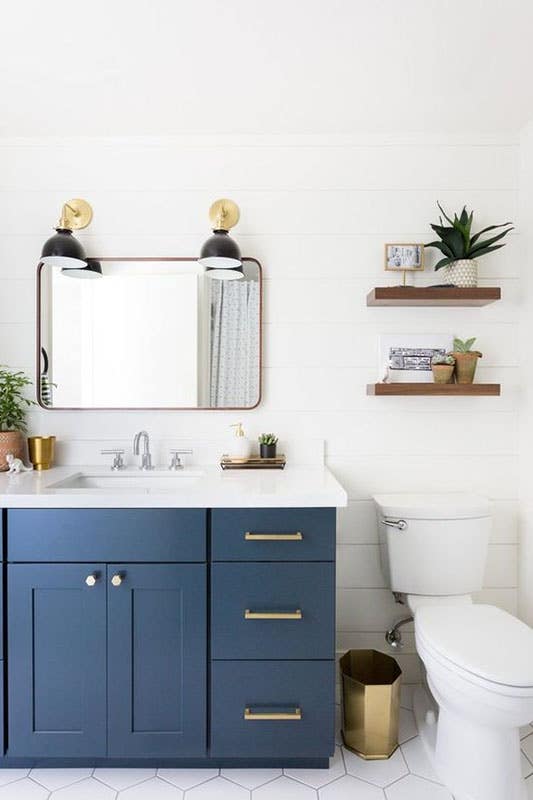 Select traditional-style fixtures and fittings that have a vintage or antique feel. Opt for clawfoot tubs, pedestal sinks, and chrome or brass faucets. These elements will contribute to the classic aesthetic. Consider using marble, porcelain, or ceramic tiles for the flooring. Classic designs often feature checkerboard patterns or simple, elegant tile layouts. Alternatively, hardwood floors can also add warmth and character to a classic bathroom design.
Remember, these ideas are meant to inspire you. Ultimately, the choice of color for your bathroom depends on your personal preference and the overall aesthetic you want to achieve. If blue resonates with you and complements your desired style, it can be an excellent choice for your bathroom. Adapt and customize these ideas to suit your personal taste and preferences.
FAQ's
1. Is blue a good color for a bathroom?
Blue is a versatile color that can work well with various design styles and aesthetics. Whether you prefer a light and airy bathroom or a more bold and vibrant look, there are different shades of blue to suit your preferences.
2. What color is most complementary to blue?
Blue pairs well with white or neutral colors, you can throw in wood tones to make a unique space. These colors work well and complement one another the best.