Oak kitchen cabinets are a popular choice for many homeowners due to their durability and classic look. However, if you're looking to update your kitchen's appearance, you may be wondering how to make your oak kitchen cabinets look modern. Fortunately, there are several ways to achieve a modern look while still maintaining the natural beauty of oak wood. Here are 10 ways to modernize your oak kitchen cabinets:
Paint or Refinish Your Cabinets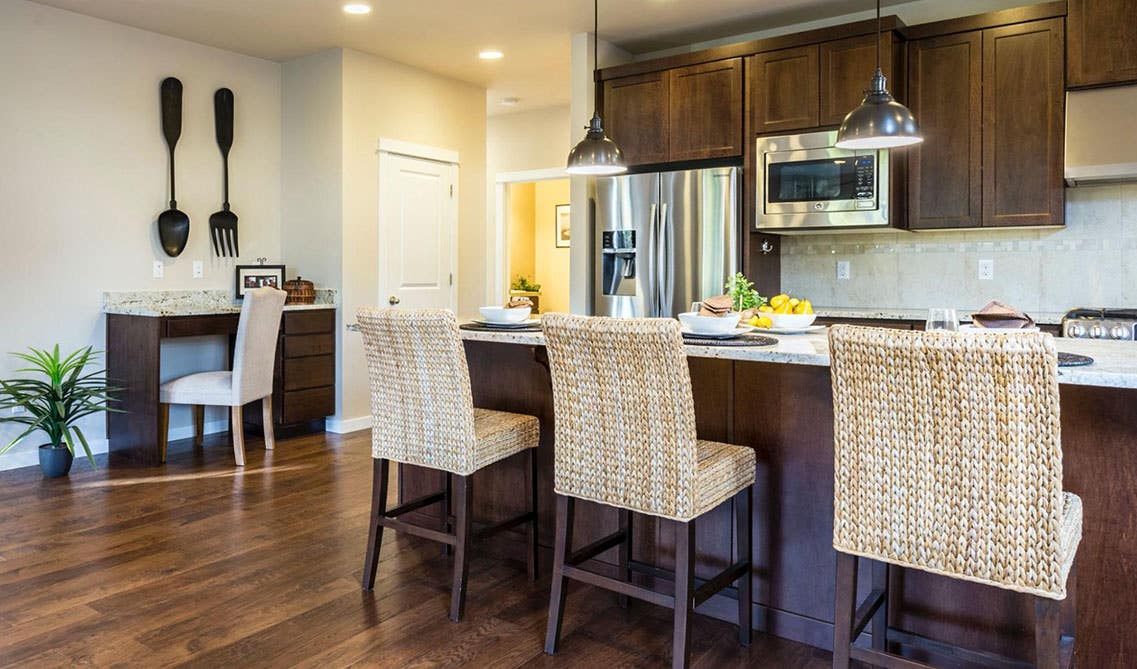 Painting or refinishing your oak kitchen cabinets can be an effective way to give them a more modern look. This is because oak wood is known for its warm, natural color that can sometimes appear dated or traditional. By painting or refinishing the cabinets, you can update the color and texture of the wood, giving it a fresh, contemporary appearance.
If you choose to paint your cabinets, you can opt for a color that complements your kitchen's overall design style. For a modern kitchen with oak cabinets, you may want to choose a neutral color such as gray, white, or black. These colors are popular in modern kitchens because they create a clean, minimalistic look that pairs well with sleek appliances and hardware.
On the other hand, if you decide to refinish your oak cabinets, you can remove the original stain or finish and replace it with a more updated one. You may want to choose a finish that is lighter or darker than the original color of the wood, or you can choose a finish that has a more matte appearance, which can create a modern, sophisticated look.
Add New Hardware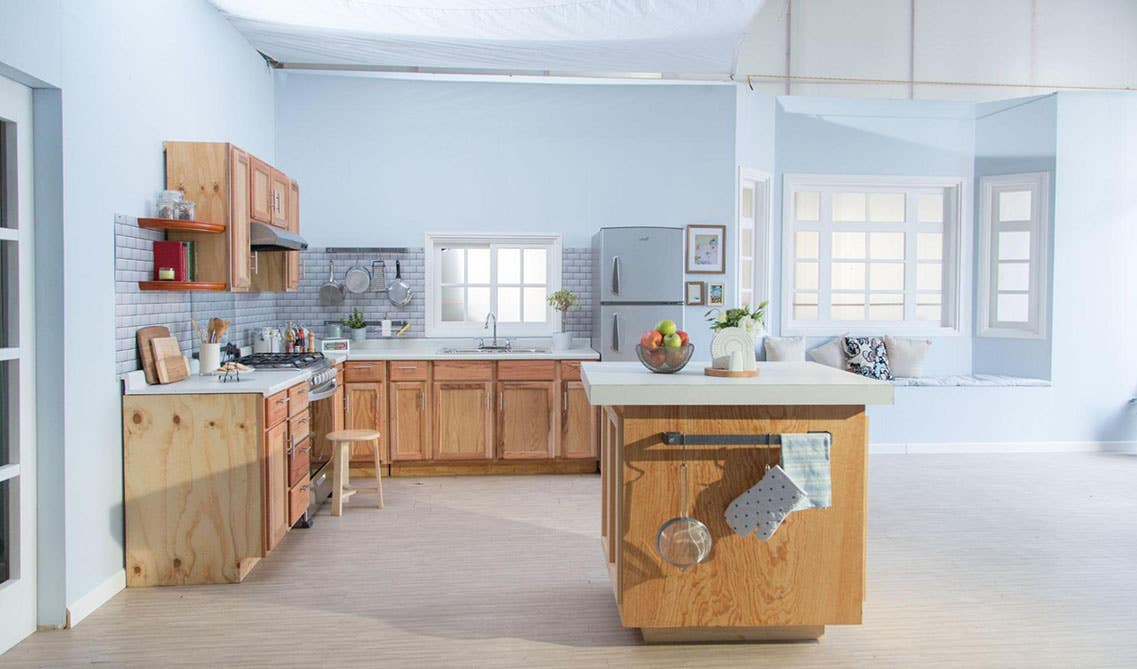 One of the easiest and most cost-effective ways to update the look of your oak kitchen cabinets is by adding new hardware. The hardware on your cabinets includes the handles or knobs that you use to open and close the doors and drawers. By replacing outdated or worn hardware with new, modern options, you can instantly give your cabinets a fresh, contemporary look.
Modern cabinet hardware tends to have a sleek, minimalist design with simple lines and geometric shapes. For example, you might choose handles or knobs that are square or rectangular with straight edges, rather than curved or ornate designs. Matte or brushed finishes in black, nickel, or other metals are also popular choices for a modern kitchen with oak cabinets.
Adding new hardware to your oak cabinets can also be an opportunity to tie your kitchen's design elements together. If you have modern appliances or a contemporary backsplash, you can choose hardware that complements these elements and creates a cohesive look throughout your kitchen.
Use Open Shelving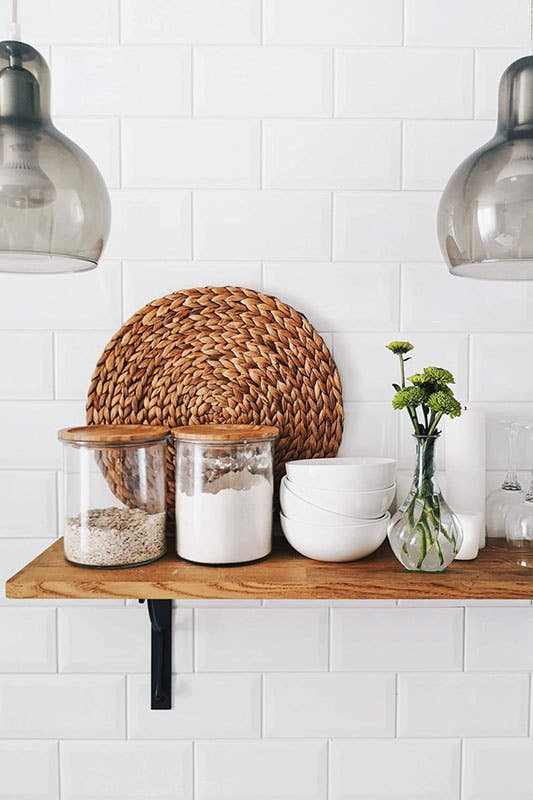 Open shelving is a popular design trend that has become increasingly popular for a modern kitchen with oak cabinets. By removing the upper cabinets and replacing them with open shelves, you can create a more spacious, airy feel in your kitchen while also giving it a modern, sophisticated look.
In the case of oak kitchen cabinets, adding open shelving can help to break up the monotony of the wood and create a more dynamic, layered look. It can also create a contrast between the warmth of the oak and the coolness of the metal shelving brackets or the dishes displayed on the shelves.
Additionally, open shelving allows you to display your favorite dishes, glassware, and cookware, adding a personal touch to your kitchen. This not only creates a more inviting atmosphere but also helps to keep your essentials within easy reach.
Install New Lighting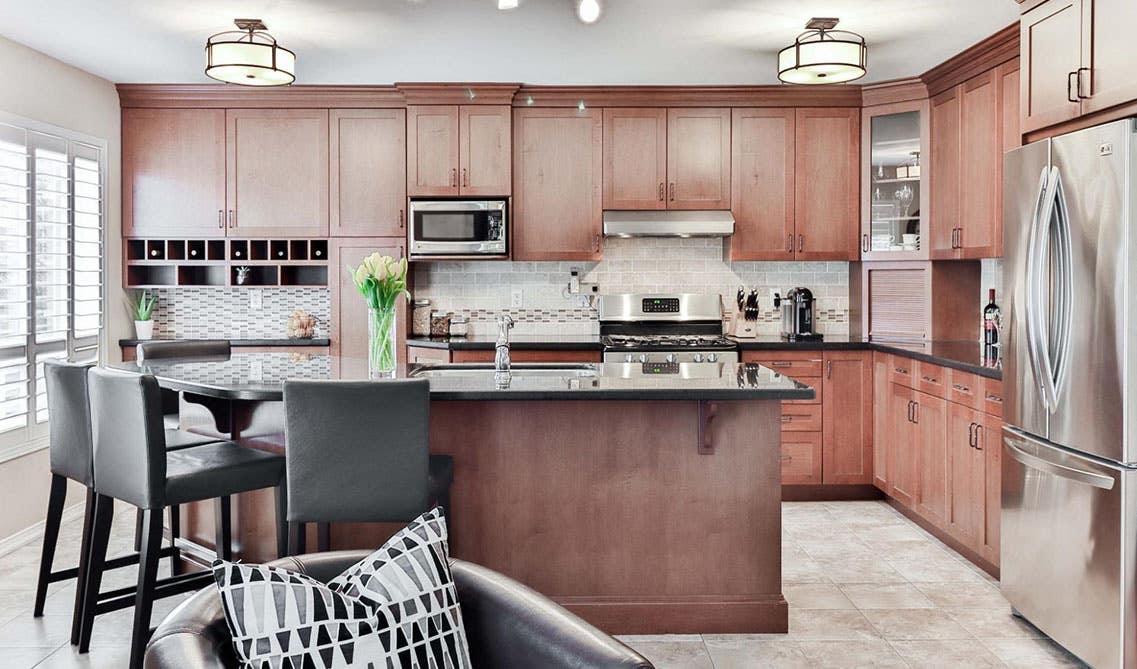 Installing new lighting is an effective way to modernize your oak kitchen cabinets. Proper lighting can highlight the unique features of your cabinets, such as the grain of the wood, and draw attention to specific areas of your kitchen. Additionally, modern lighting fixtures can add an element of style and sophistication to your kitchen.
Pendant lights, for example, are a popular choice for a modern kitchen with oak cabinets. They provide focused task lighting over the kitchen island or dining table while also serving as a stylish design element. Installing under-cabinet lighting is another way to modernize your kitchen cabinets. This type of lighting creates a warm, inviting atmosphere and illuminates the countertops, making it easier to prepare food.
In addition to functional lighting, decorative lighting fixtures can also make your oak cabinets look more modern. Chandeliers, for example, can add a touch of glamour to your kitchen and create a dramatic focal point. Alternatively, sleek and minimalist lighting fixtures with geometric shapes and matte finishes can give your kitchen a modern, industrial feel.
Mix and Match Materials
Mixing and matching materials is a great way to modernize your oak kitchen cabinets. By combining different textures and finishes, you can create a unique, contemporary look that complements your oak cabinets. For example, you can pair your oak cabinets with a glass or stainless steel backsplash, a concrete or quartz countertop, and modern appliances in sleek, matte finishes. These materials provide a sleek, modern contrast to the warm, natural look of oak wood.
Mixing and matching materials can also create depth and visual interest in your kitchen. The combination of different materials can create a layered look that draws the eye and adds visual texture. By choosing materials that complement each other, you can create a cohesive, modern look that brings your kitchen to life.
Another benefit of mixing and matching materials is that it allows you to add your own personal touch to your kitchen. By choosing materials that reflect your style and personality, you can create a unique space that feels like home.
Replace Cabinet Doors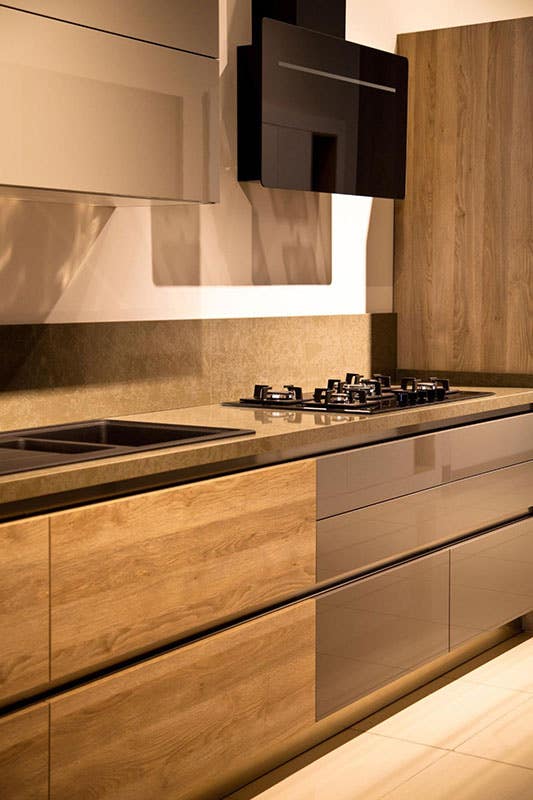 When you replace your oak kitchen cabinets with modern options, you have a wide range of styles and designs to choose from. You can opt for flat-panel or shaker-style cabinets, which have simple, clean lines that give your kitchen a streamlined, contemporary look. These cabinet styles are popular in modern design and complement other modern elements in your kitchen, such as sleek appliances, minimalist hardware, and neutral color schemes.
New cabinets also provide you with the opportunity to choose a new finish, color, or material that better complements your kitchen's decor. You can choose from a variety of finishes such as glossy or matte, which can help to add depth and dimension to your kitchen. You can also select from a range of materials, including wood, laminate, or glass, to create a modern and unique look.
Replace Countertops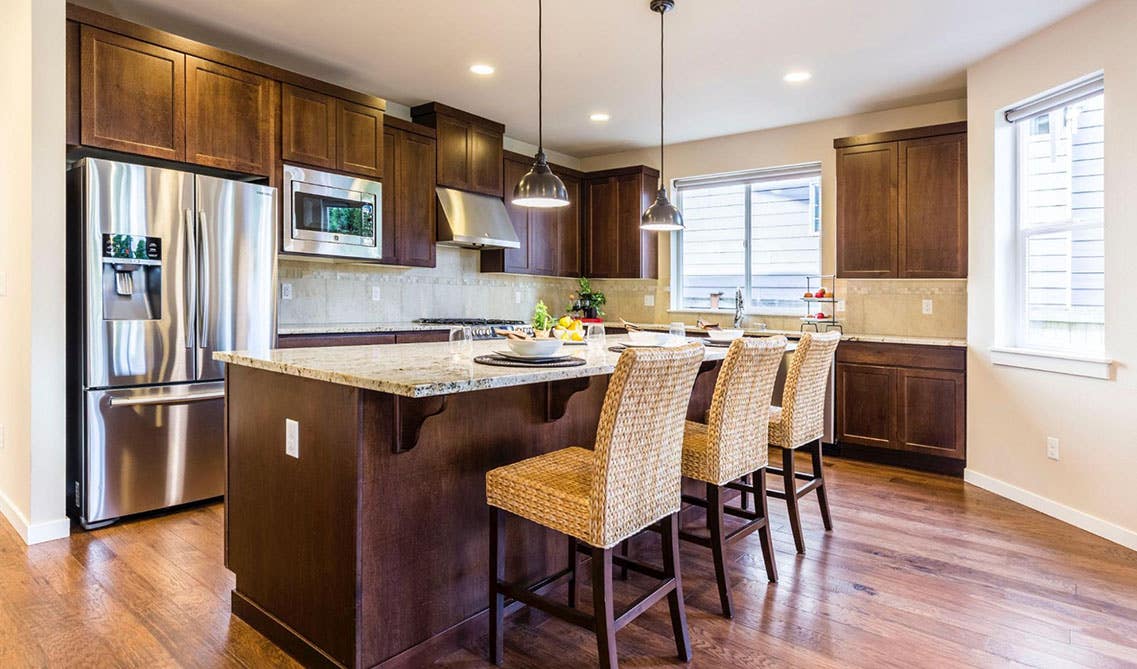 Countertops play a crucial role in tying the whole kitchen together, and they are one of the most visible parts of the kitchen. Upgrading the countertops from outdated materials to more modern ones can give your kitchen a fresh and contemporary look.
Modern countertops come in a wide range of materials such as quartz, marble, and concrete. These materials have a sleek, smooth, and sophisticated appearance that can instantly make your kitchen look more modern. For example, quartz countertops are popular because of their durability, low maintenance, and variety of colors and patterns. Concrete countertops, on the other hand, are a popular choice for those seeking a more industrial look.
In addition to modernizing the appearance of your kitchen, replacing your countertops can also improve their functionality. Modern materials are often easier to clean and maintain, and they may also be more resistant to scratches and stains.
Add a Backsplash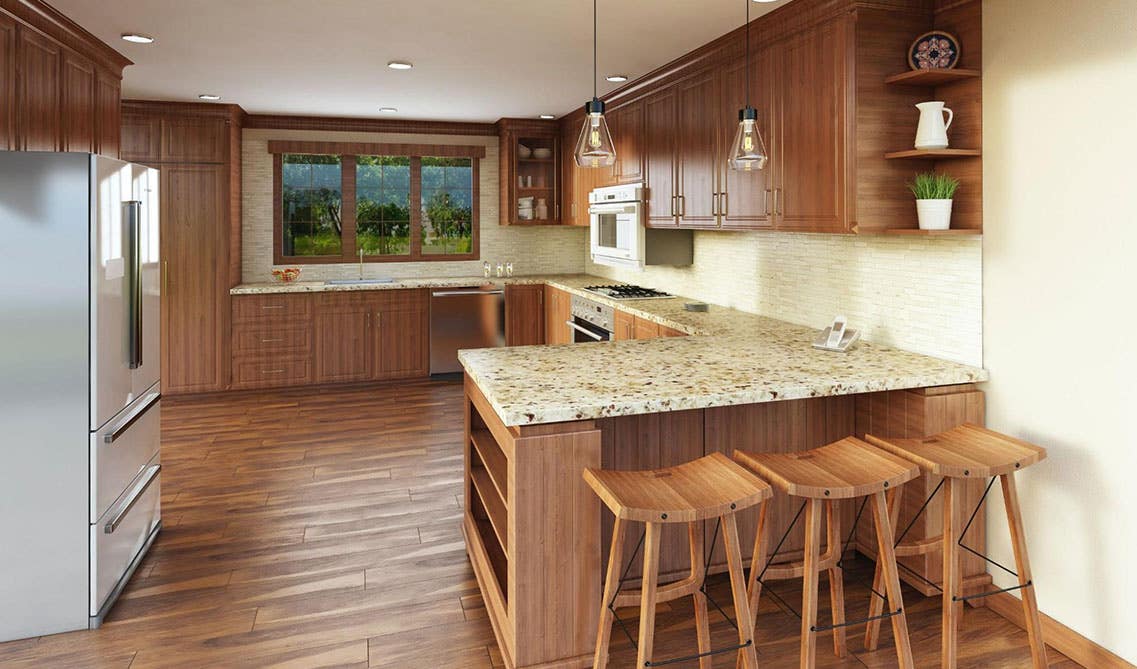 Adding a backsplash is a practical and stylish way to update your kitchen and give it a more modern appearance. A backsplash is a panel of material installed on the wall behind the sink, stove, or countertop to protect it from splashes, stains, and moisture. However, a backsplash can also help tie your oak kitchen cabinets into a more modern design scheme.
A backsplash can create a focal point in your kitchen, drawing the eye towards it and away from your oak cabinets. This can be especially helpful if your oak cabinets have a traditional design that you want to modernize.
They also can help create a cohesive design scheme by tying together different elements in your kitchen. For example, a white subway tile backsplash can complement white countertops, while a colorful mosaic tile backsplash can tie together different shades in your cabinets and countertops.
Add Texture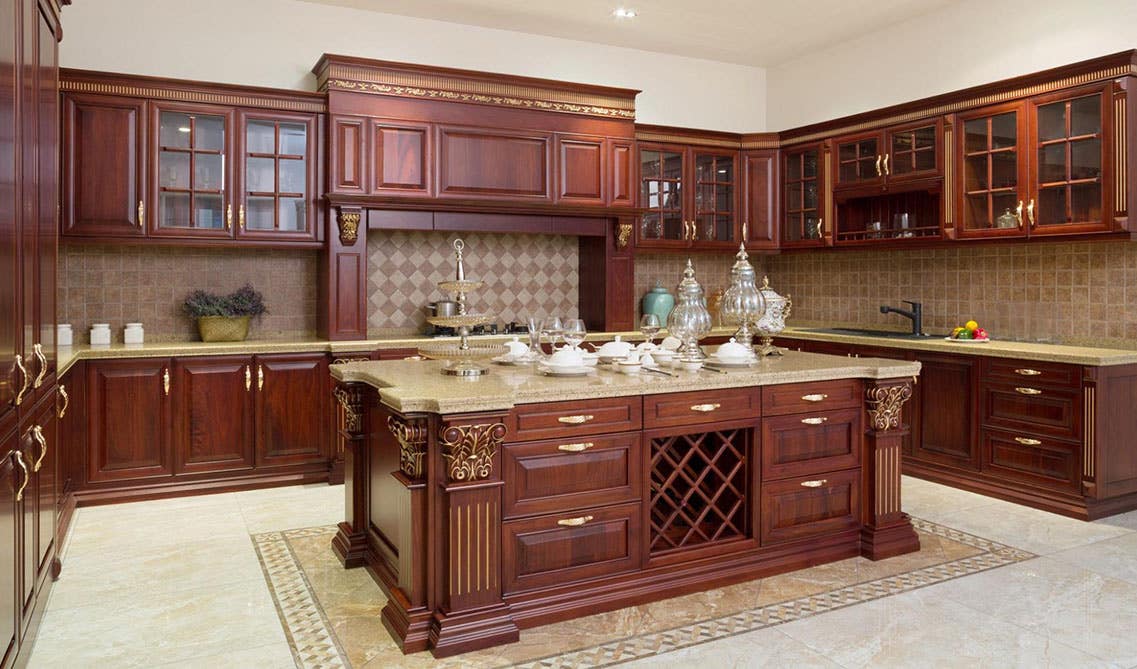 Adding texture to your kitchen can help to make your oak kitchen cabinets look more modern by adding visual interest and creating a sophisticated, contemporary look. Texture can be introduced in a variety of ways, such as through backsplash tiles, flooring, or even the cabinet finish itself.
For example, a backsplash made of textured tiles or a patterned material can create a sense of depth and dimension that can make your oak cabinets look more modern. Similarly, adding a textured finish to your cabinets, such as a brushed or matte finish, can create a more contemporary look and make them stand out in a stylish way.
In addition to creating a modern look, adding texture can also help to soften the natural, rustic appearance of oak cabinets. It can help to balance out the warm, earthy tones of the wood and prevent your kitchen from looking too traditional or dated.
Add a Pop of Color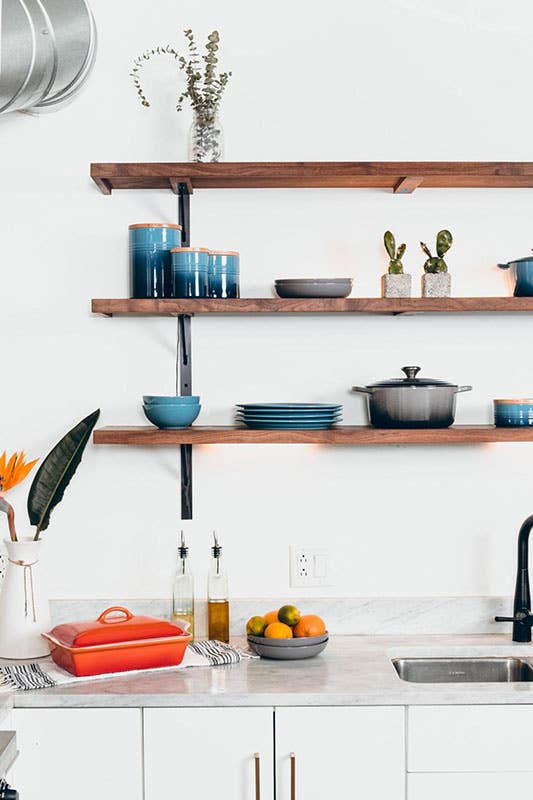 When it comes to updating your oak kitchen cabinets, adding a pop of color can be an effective way to make them look more modern. Oak wood has a natural warmth and texture that can sometimes feel traditional or dated, but incorporating a bold, vibrant color can bring new life to your kitchen and create a more contemporary look.
Adding a pop of color can be as simple as painting a single element in your kitchen, such as the island, pantry door, or even just a few cabinets, in a bright and bold color. This creates a focal point that draws the eye and adds visual interest to the space. Another way to add a pop of color is through accessories and decor. Brightly colored bar stools, a patterned rug, or even colorful dishware can inject personality and energy into your kitchen.
When choosing a color for your pop of color, consider your existing color palette and choose a hue that complements or contrasts with your oak cabinets in a stylish way. A bold blue or green can provide a fresh and modern feel, while a bright red or orange can add warmth and vibrancy.

With these design tips and ideas, you can transform your oak kitchen cabinets into a modern and stylish space that you'll love spending time in. By combining contemporary design elements with the natural warmth and beauty of oak wood, you can create a kitchen that feels fresh, inviting, and perfectly suited to your personal style and needs.
If you're in the market for high-quality kitchen cabinets, Lily Ann Cabinets is a great place to start your search. With a wide variety of cabinet styles, colors, and finishes to choose from, Lily Ann Cabinets offers something for every taste and budget. Our cabinets are made from top-quality materials and are built to last, ensuring that your investment in your home will pay off for years to come. With a team of experts ready to assist you every step of the way, from design assistance to shipping and installation, we go above and beyond to ensure that your experience is smooth and stress-free. Overall, if you're looking for top-quality kitchen cabinets that combine style, durability, and affordability, Lily Ann Cabinets are the way to go.
FAQs
Is oak good for kitchen cabinets?
Yes, oak is a popular choice for kitchen cabinets and has been used for many years due to its durability and attractive grain patterns. Oak is a hardwood that is known for its strength and resistance to wear and tear, making it a suitable material for kitchen cabinets that are exposed to daily use and moisture.
What is the average price of oak kitchen cabinets?
The price of oak kitchen cabinets can vary widely depending on a number of factors, including the quality of the wood, the size of the cabinets, and the complexity of the design. On average, you can expect to pay anywhere from $3,000 to $10,000 or more for a set of oak kitchen cabinets. However, this is just a rough estimate, and the actual price could be higher or lower depending on your specific needs and preferences. It's always a good idea to get quotes from multiple cabinet makers or home improvement stores to get a better idea of the cost.
What hardware goes best with oak cabinets?
When it comes to choosing hardware for oak cabinets, there are several options that can complement the natural beauty of the wood. Some popular choices include brushed nickel, oil-rubbed bronze, and black hardware. These finishes can provide a subtle contrast that highlights the warm tones of oak. Another option is to choose hardware that matches the color of the cabinets, such as brass or gold hardware for light oak cabinets, or dark hardware for dark oak cabinets. Ultimately, the hardware you choose should complement the overall style of your kitchen and enhance the look of your oak cabinets.