Your kitchen is the hub of your home. It's where friends and family gather to spend time, eat food, and enjoy each other's company. So when designing it, you need to blend a fresh design with functionality. Modern kitchen designs offer the functionality you need with a level of comfort and aesthetic to please everyone. Here are 8 things to incorporate into your design to get the modern kitchen of your dreams.
1. Horizontal Lines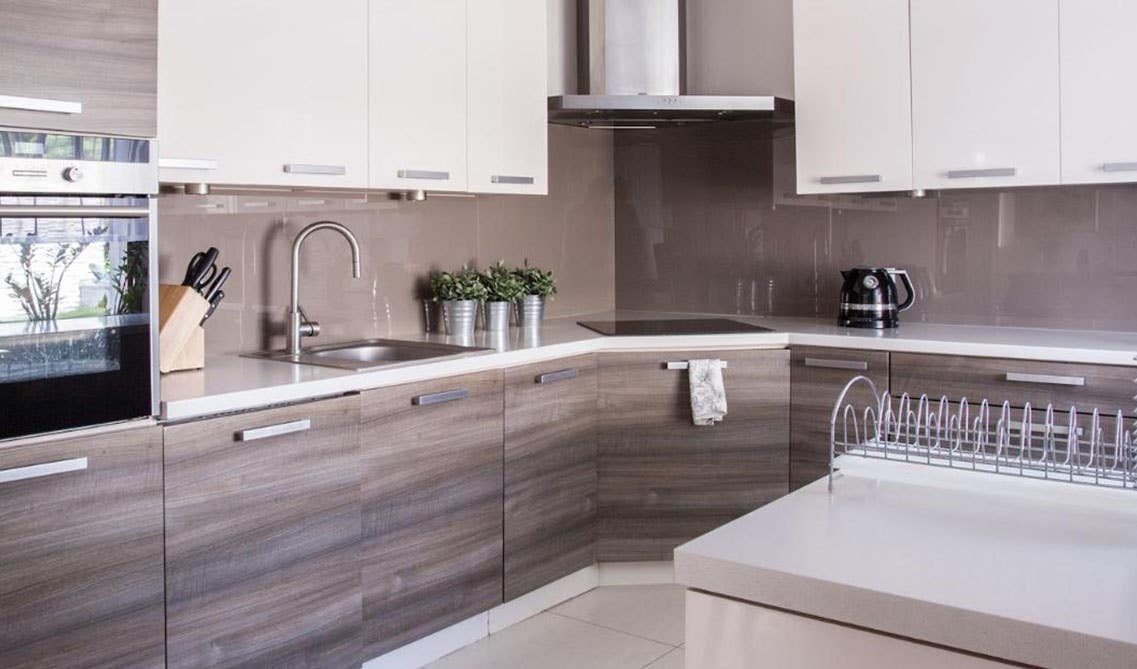 When you think of a modern kitchen, you probably think of the simplicity and functionality of the space. While you may not notice at first glance, much of this simplicity comes from the tendency to use horizontal lines in the space. Using long, wide, stacked, ready-to-assemble kitchen cabinets lined in a row with simple flat hardware can accentuate these lines and the simple style they create. Put a long island in the center of your kitchen running parallel to your kitchen cabinets to create a large horizontal line as the focal point.
2. Frameless or Full Overlay Kitchen Cabinets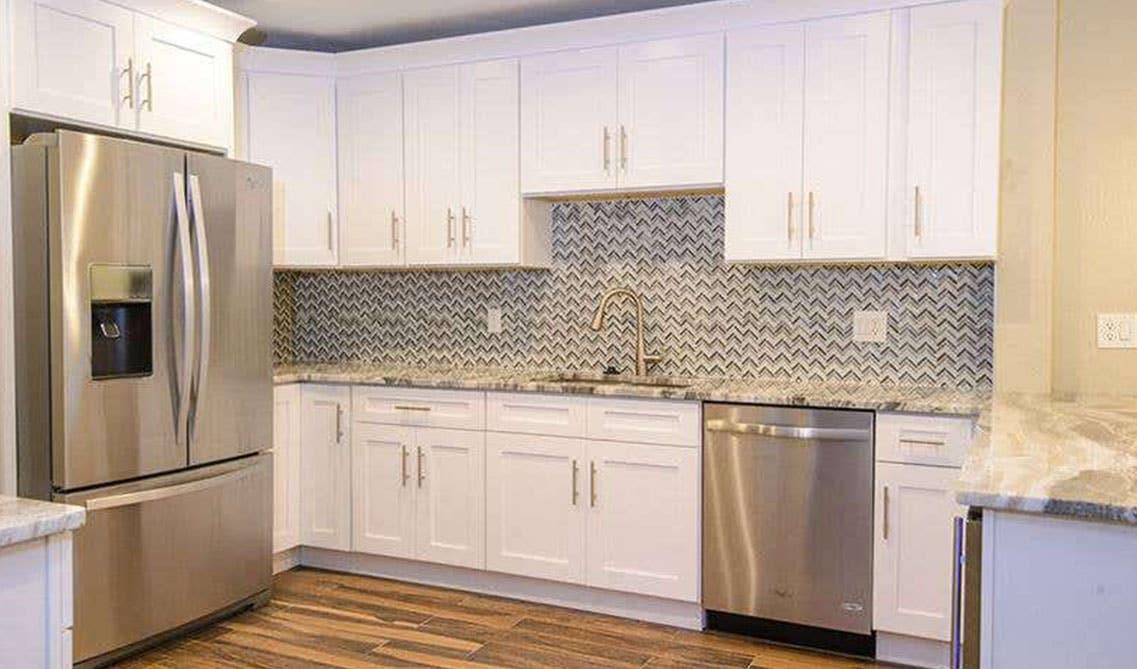 Modern kitchen designs put emphasis on clean lines and minimalistic design elements, making frameless kitchen cabinets a must-have. These type of cabinets have many names: frameless, full overlay, European, full access, but they all mean the same thing.
Frameless cabinets are those where the door overlays the cabinet box giving a refined, elegant look. In a face frame cabinet, doors and hinges are attached to the stiles and rails that make up the front, whereas overlay cabinets have the doors and hinges attached directly to the cabinet box.
Most modern kitchen cabinets are frameless because of their stark, simple look. Flat panel and shaker cabinets are both common frameless cabinets used in modern kitchens. The smooth surface of the flat panel and the single recessed panel of the shaker style cabinets tie in seamlessly with the full-overlay cabinets.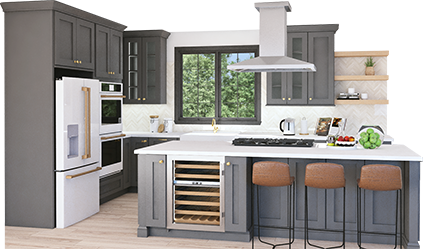 Get your FREE 3D kitchen design today!
Start Now
3. Monochromatic Color Palettes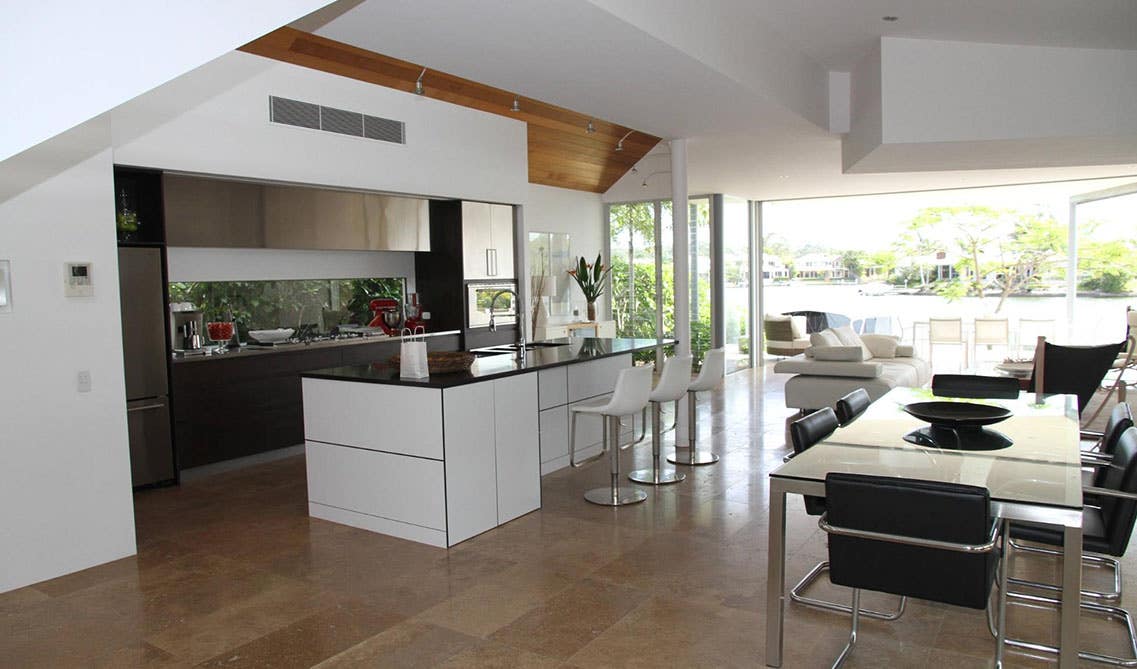 To complement the simplicity of flat panel or shaker kitchen cabinets, use a monochromatic color palette in your design. Many modern kitchens these days feature bright white kitchens with grey accents, or a muted white and grey color scheme with a bright, bold accent color.
Aside from an accent color or two, keeping your flooring, walls, kitchen cabinets, countertops, and other decor and appliances down to one color will bring the modern feel you are looking for. Although white cabinets are the most popular choice for creating a modern kitchen, wood cabinets are also a popular choice when paired white walls and other industrial accents. If you choose to use dark cabinets, ensure you are using light accents as to not darken the space and make it feel cramped.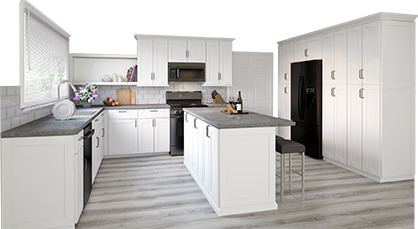 3D Kitchen Visualizer Tool
Bring your dream kitchen to life with our free kitchen visualizer!
Design Now
4. Minimalistic Details and Ornamentation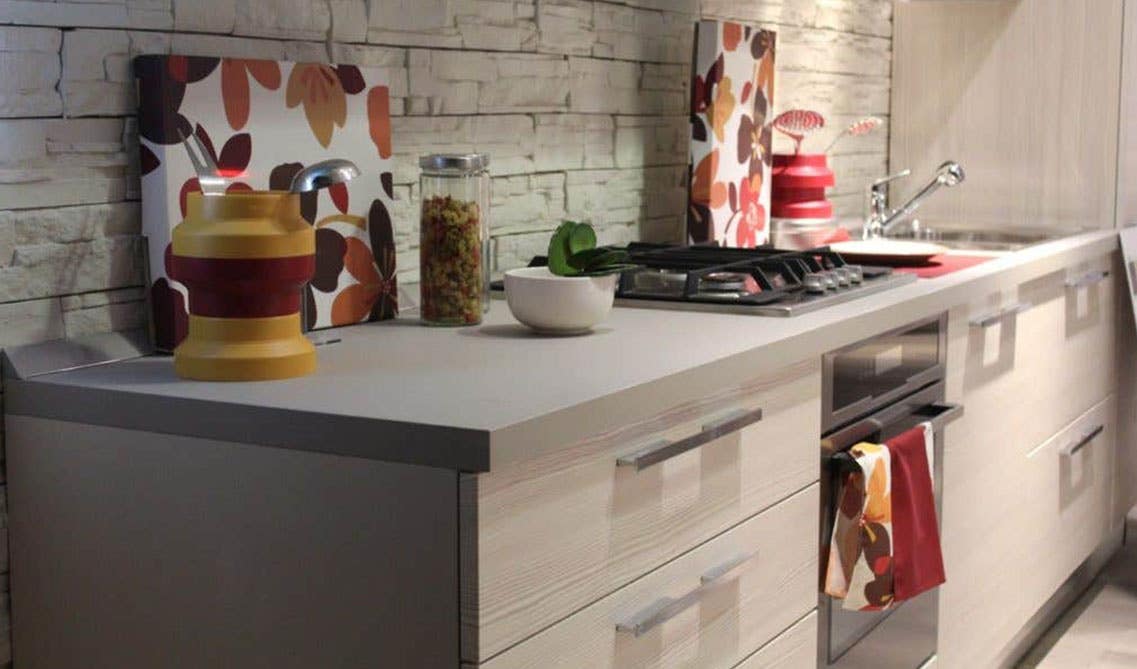 Modern kitchens put the focus on the integral elements of the space: the appliances, cabinetry, countertops, etc. That's why most modern kitchens you see don't have wall art and decor adorning the walls or busy textures distracting from the big picture. You won't see intricate backsplash patterns, patina, or multiple materials with notable texture in a modern kitchen, less is more! This also leaves way for creating a stunning focal point for the kitchen with a special material, bright color, or bold hardware. 
5. Natural Materials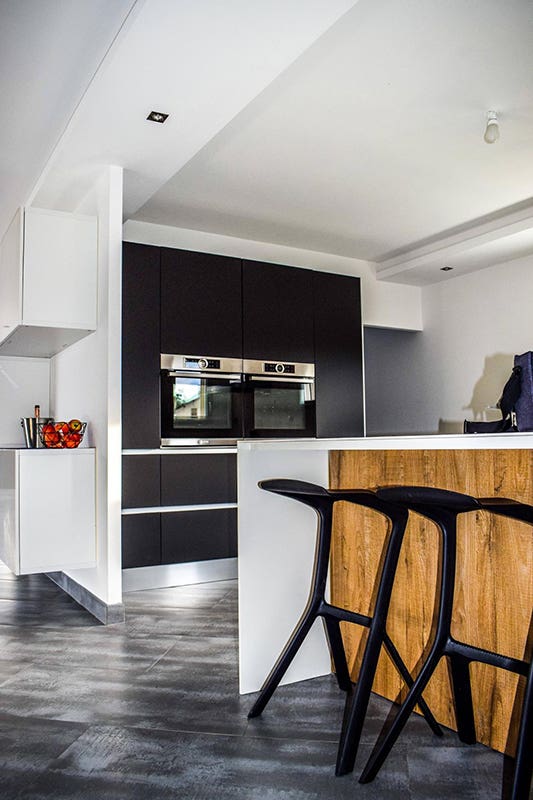 The lack of ornamentation creates an opportunity to let the natural materials in your kitchen shine. Whether you choose wood-stained cabinets or a bright, beautiful marble countertop, accentuating nature's beauty in your kitchen can give you the modern design you are looking for.
The grain of natural wood in flooring, countertops, or cabinetry is a great texture to have exposed in a modern kitchen. Or, create an exposed brick or wood slatted backsplash for a wow factor. When deciding on what natural characteristics to leave exposed, ensure you are only doing one because using multiple can create a busy look, opposite of a modern kitchen design. 
6. Simple Hardware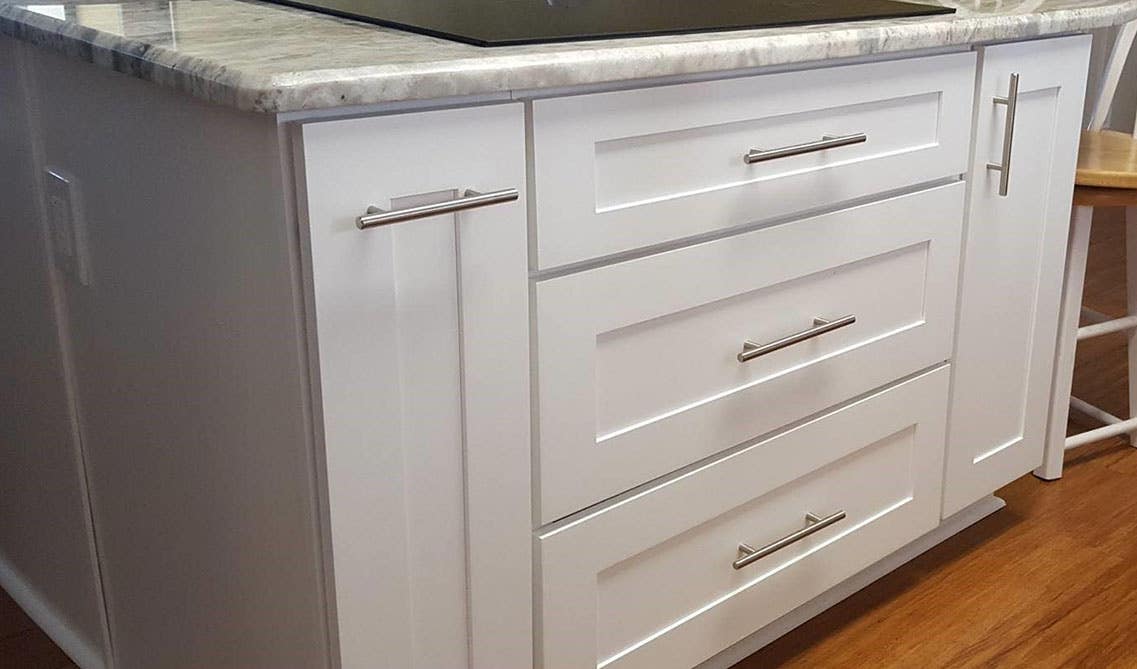 C-Channel hardware, flat linear pulls, and tubular pulls are some of the most common types of kitchen cabinet hardware for modern designs. The strong horizontal lines of these hardware types accentuate the linear elements of the kitchen cabinets. Additionally, hardware that runs the full length of the cabinet drawer is popular in modern kitchens as they really bring attention to the lines.
7. Consistent Colors and Styles of Accent Pieces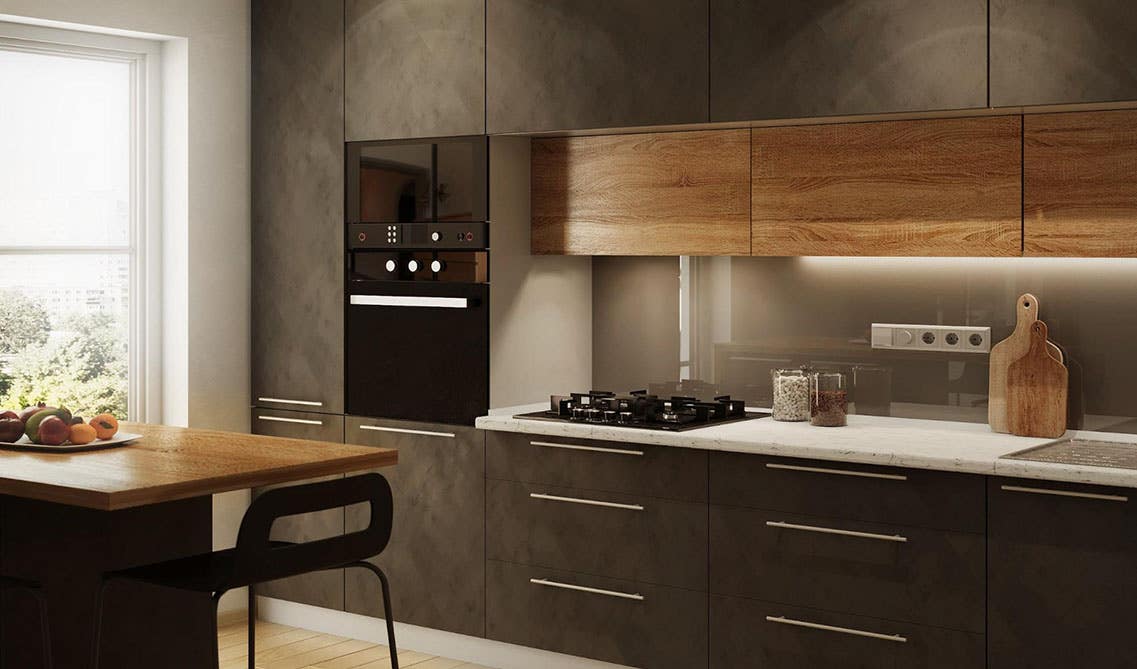 When designing your kitchen, it's important to keep in mind the stools, chairs, tables, lighting, and other accents, as they all play a role in the overall modern design. Just like with the hardware, cabinetry, and color scheme, these elements should remain consistent across all items, and keep with the simplistic theme. 
8. Industrial Accents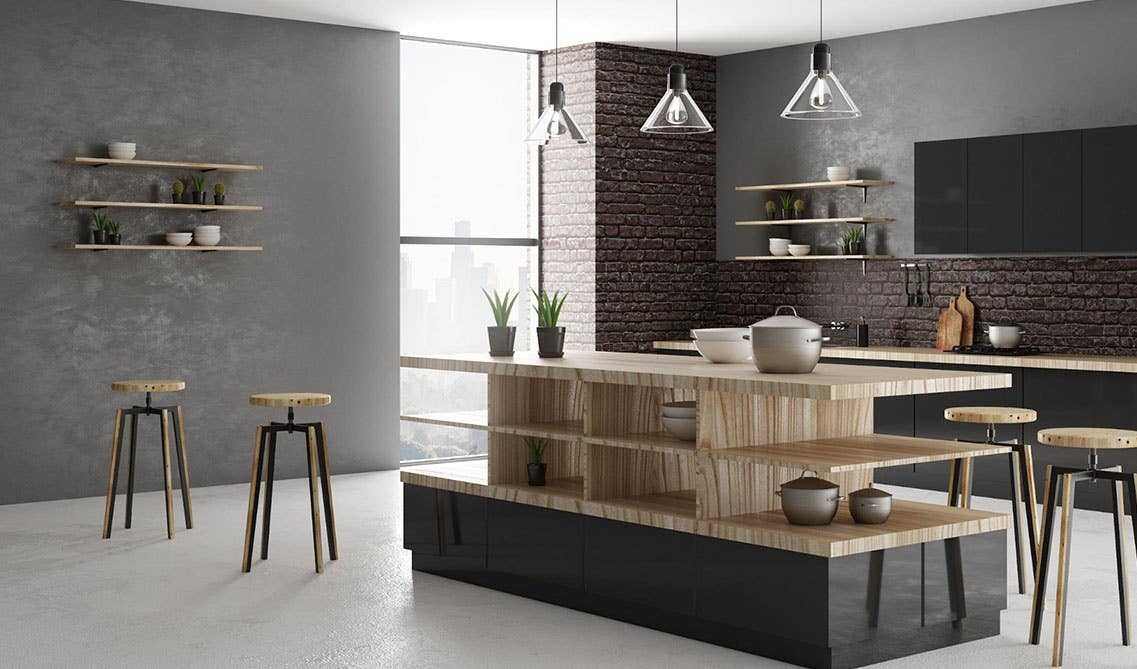 Whether you go with exposed brick walls or backsplash, an open ceiling to see pipes and fittings, or a concrete slab countertop, adding in a neutral-colored industrial accent is the best way to put the finishing touch on your modern kitchen design. There are endless ways to incorporate industrial accents into your kitchen whether it is a small such as the hardware or lighting, to focal pieces like the countertops or walls. 
Create a Modern Kitchen With Lily Ann Cabinets
Use these 8 tips to help you design the modern kitchen of your dreams. If you need help picking out the right white kitchen cabinets or other modern cabinets, contact our expert customer service team or get a free 3D kitchen design.
Related Blogs: