How do you create the perfect color combination for your kitchen? This question has been asked by homeowners from all walks of life, as it's the perfect opportunity to make your kitchen stand out from all the others on the block. Whether you want to go bold or play it safe, there are plenty of options out there – you just need to know what they are! That's why we've put together this ultimate guide to kitchen color combinations to help you decide what works best for your home and your budget.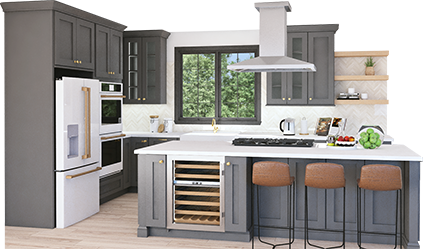 Get your FREE 3D kitchen design today!
Start Now
Recommended for you: 15 Unique 2022 Kitchen Trends To Incorporate In Your Kitchen
1) Classic Kitchen Color Schemes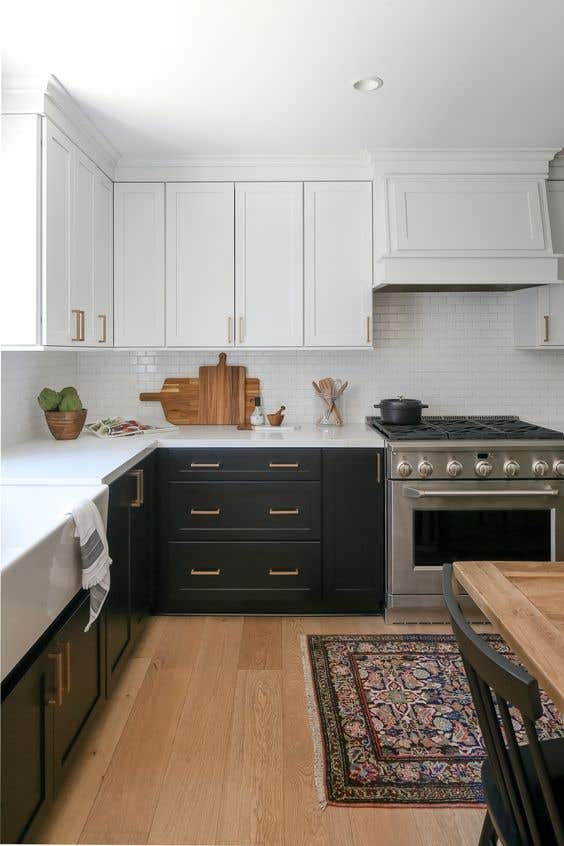 Classic color schemes are always in style! Black and white is an excellent choice because it brings timeless style while also creating a space that's not too loud. For other classic kitchen color schemes, try grey and white, brown and cream, or blue and white. You can easily create your own classic kitchen by incorporating one of these colors into your design plan along with neutrals like off-white or soft gray. It's also easy to add accents of brighter colors like red, earthy green, or orange if you want something slightly more eye-catching without straying too far from traditional design ideas. When working with dark shades, remember that walls absorb much more light than cabinets or countertops; adding bright pops of color on those elements can help them stand out against darker walls.
Browse Lily Ann Cabinets' selection of classic RTA kitchen cabinets.
Inspiration For Classic Kitchen Color Schemes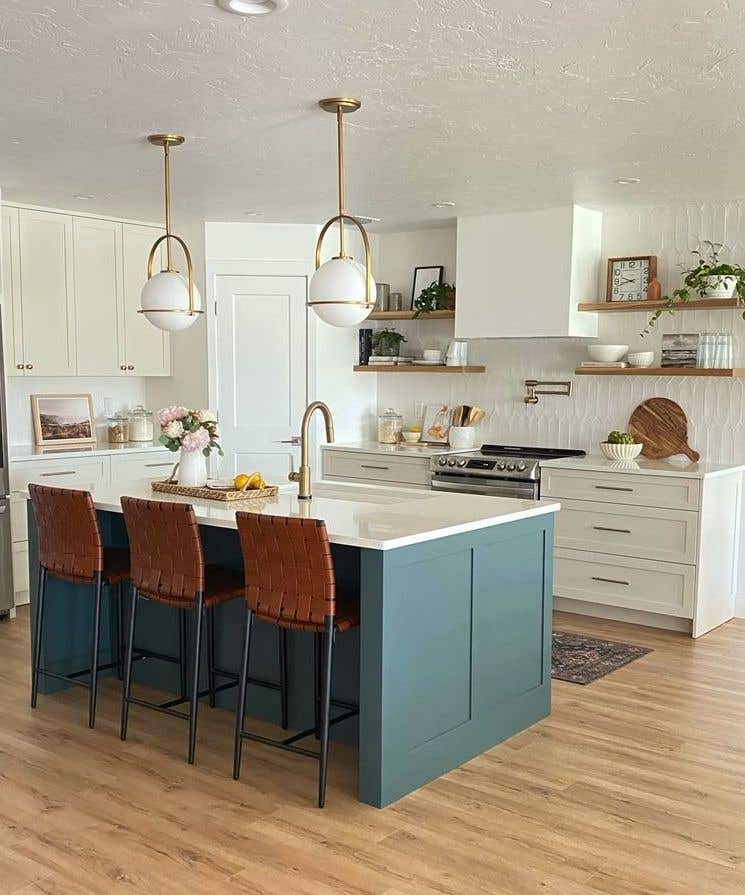 This kitchen incorporates a classic combination of white shaker cabinets and a blue-green center island. Adding an extra color of cabinets to the space, it keeps the classic style while also adding a pop of color.
Get a FREE kitchen cabinet sample at Lily Ann Cabinets!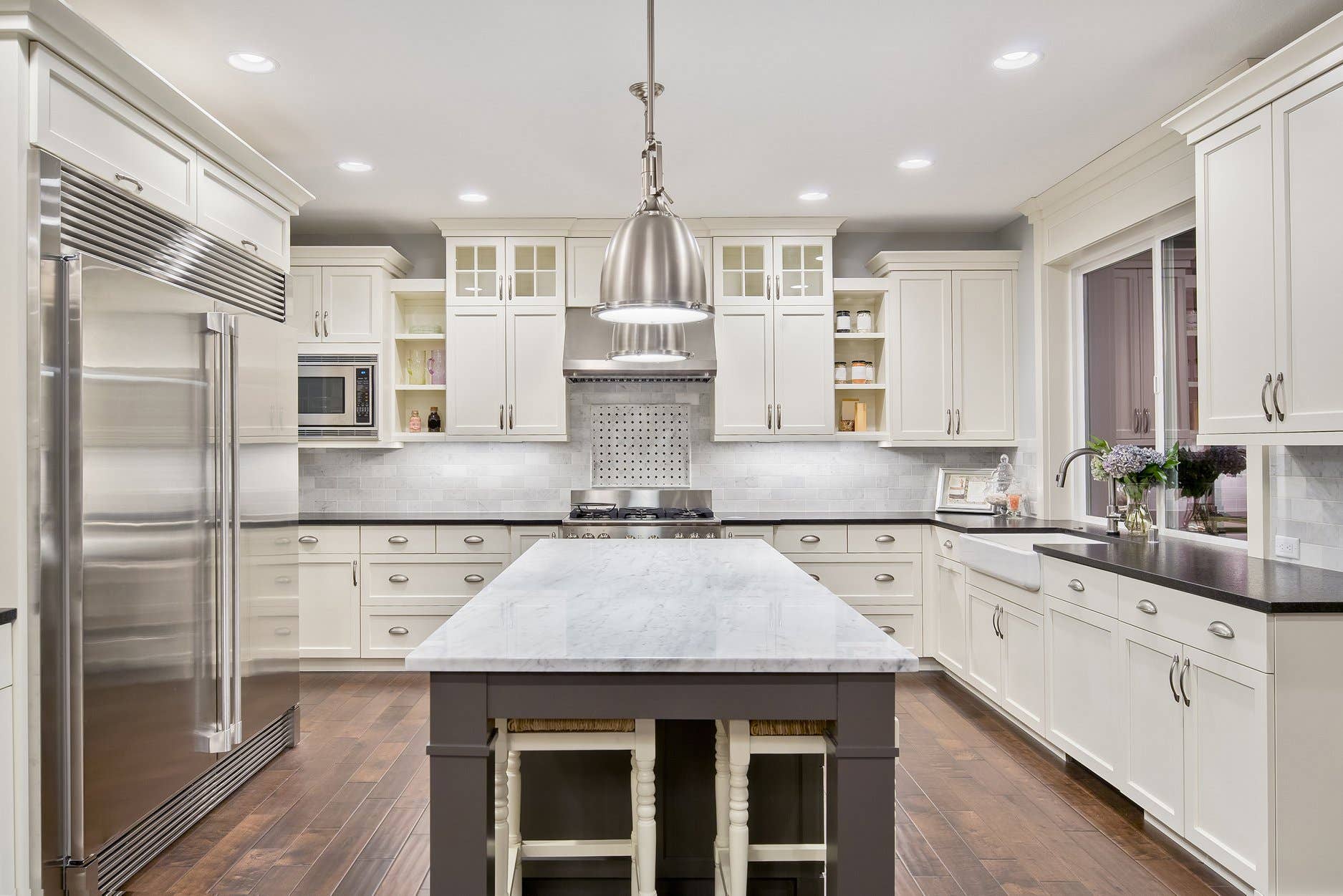 Lily Ann Cabinets - Summit Shaker Cabinet
This kitchen is the definition of classic and timeless. The mixture of white cabinets and a grey shaker cabinet island, as well as contrasting dark countertop and white countertops, provides the perfect classic look.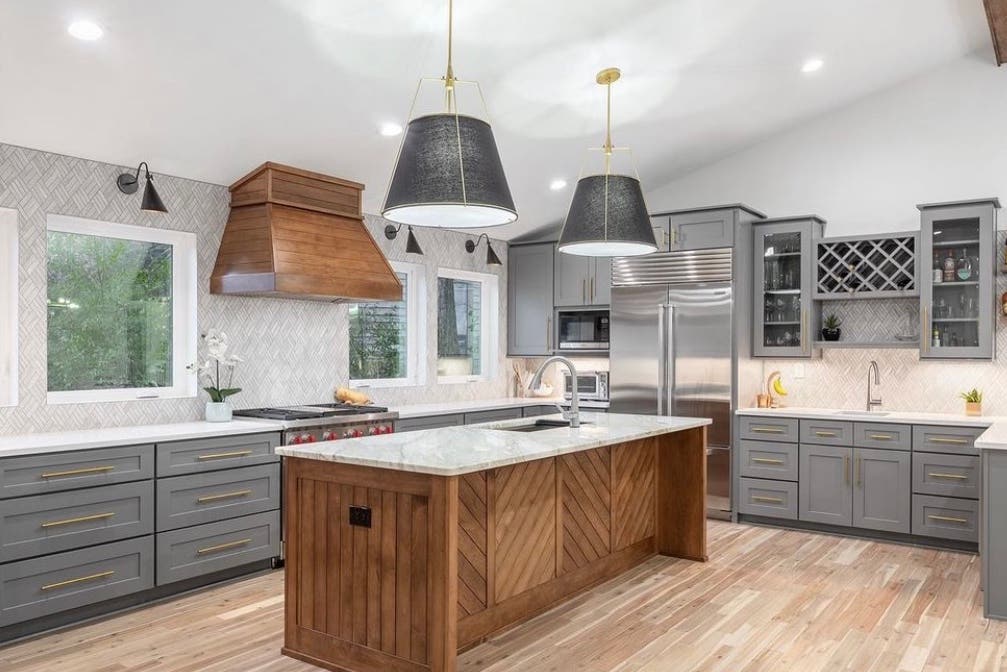 Lily Ann Cabinets - Grey Shaker Elite Cabinet
Another classic kitchen color combination is the natural wood look paired with grey cabinets. This combination presents a sophisticated yet also welcoming feel, perfect for any kitchen space!
2) Modern Kitchen Color Schemes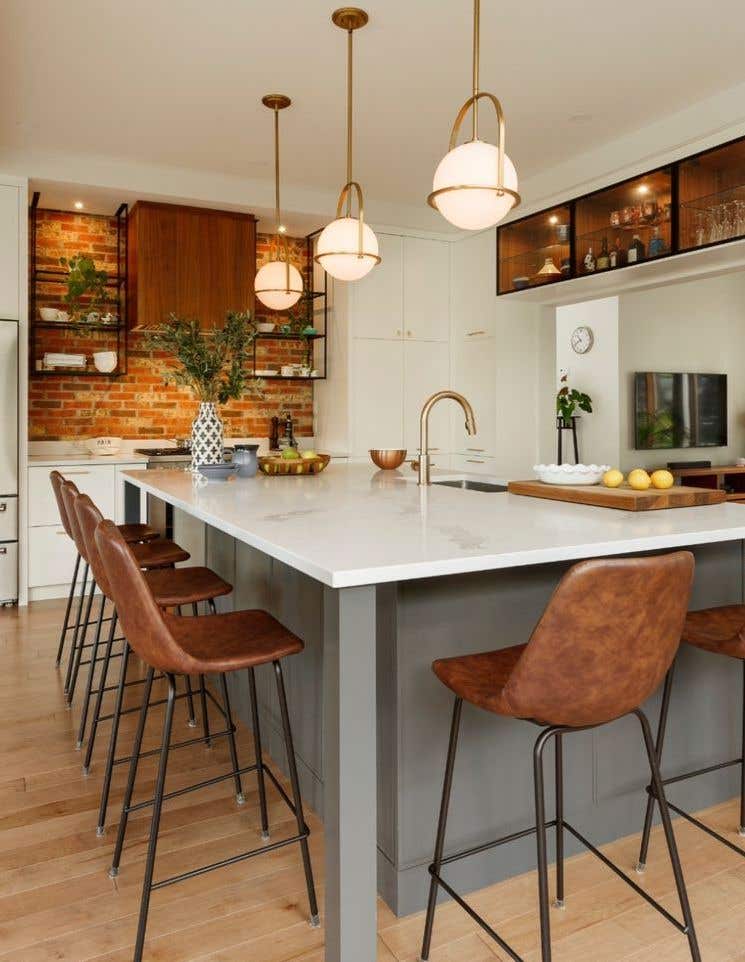 The kitchen is one of the most important rooms in your home. After all, it's where you do your best cooking, socializing, and entertaining. It also tends to be one of your favorite rooms—until you have to sit down and pick out paint colors. If that sounds familiar, then you're in luck! Below are some great tips for choosing color schemes for kitchens with a modern vibe.
Recommended for you: 16 Striking Kitchen Ideas for Black Kitchen Cabinets
Inspiration For Modern Kitchen Color Schemes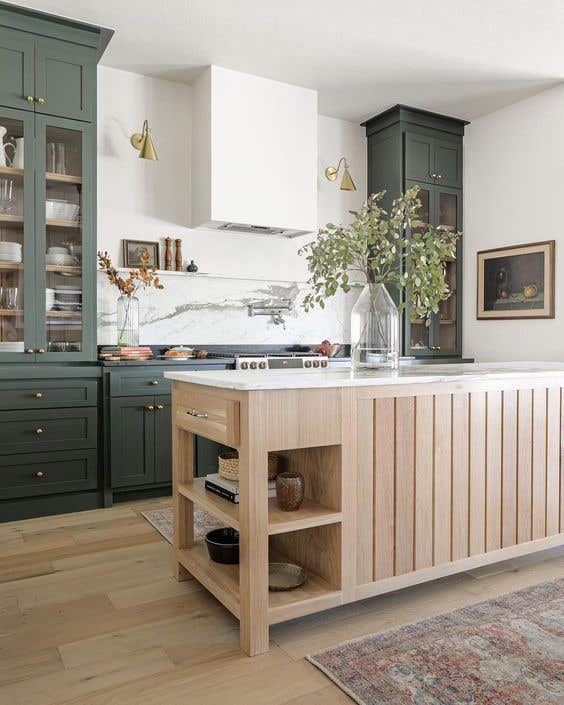 For a modern yet welcoming feel in your kitchen, combining a soft green cabinet with white and natural wood accents is the way to go. This modern combination of colors will make your kitchen feel inviting, yet still has elements to make it trendy.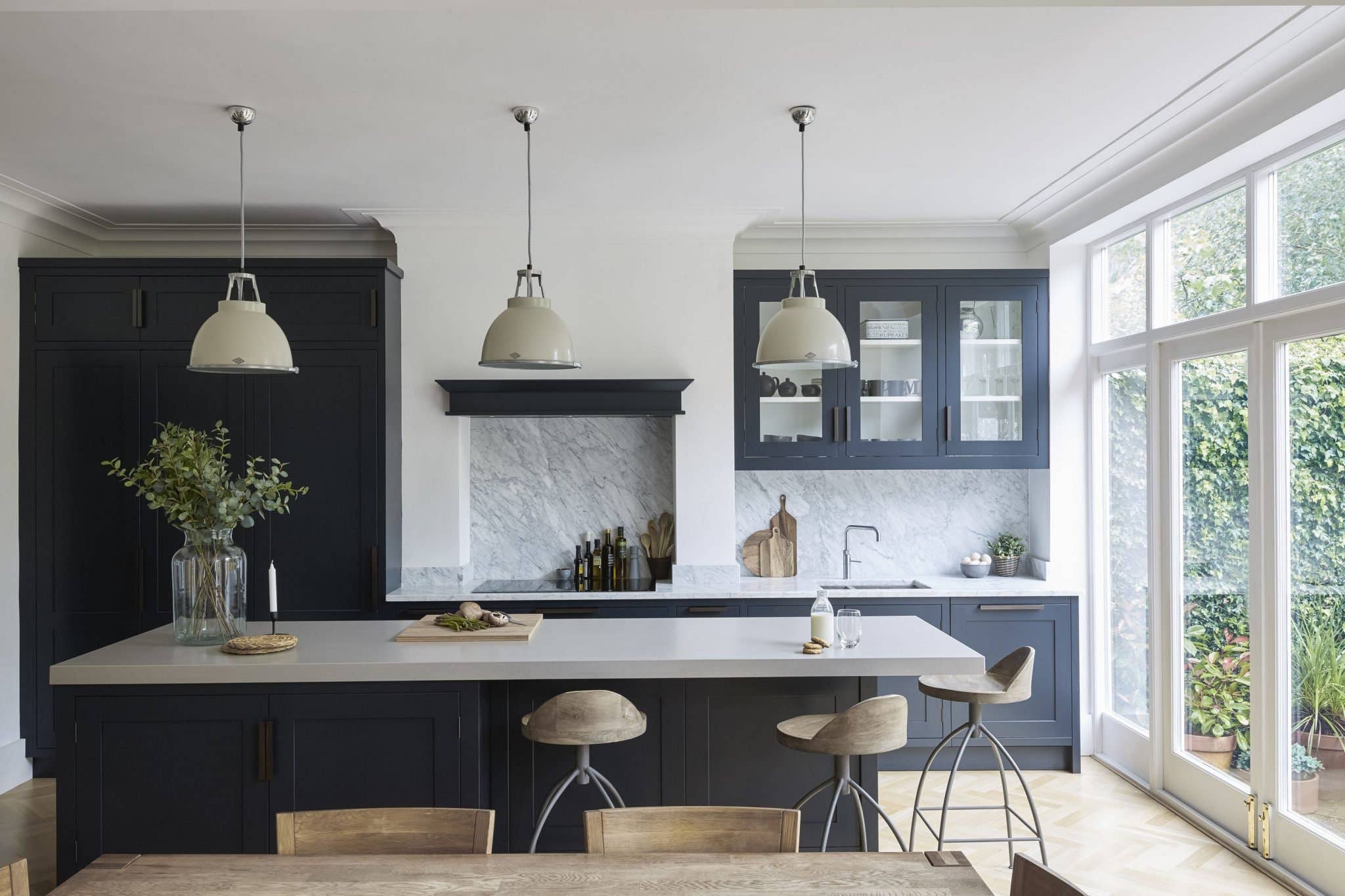 The classic black and white kitchen will always be in style, and always be one of the most modern kitchen color schemes. Typically referred to as a 'tuxedo kitchen', black and white kitchens present an elegant, simple look that is perfect for a modern space.
Are you in need of new kitchen hardware? Browse Lily Ann Cabinets' large selection of kitchen cabinet pulls and knobs!
3) Rustic Kitchen Color Schemes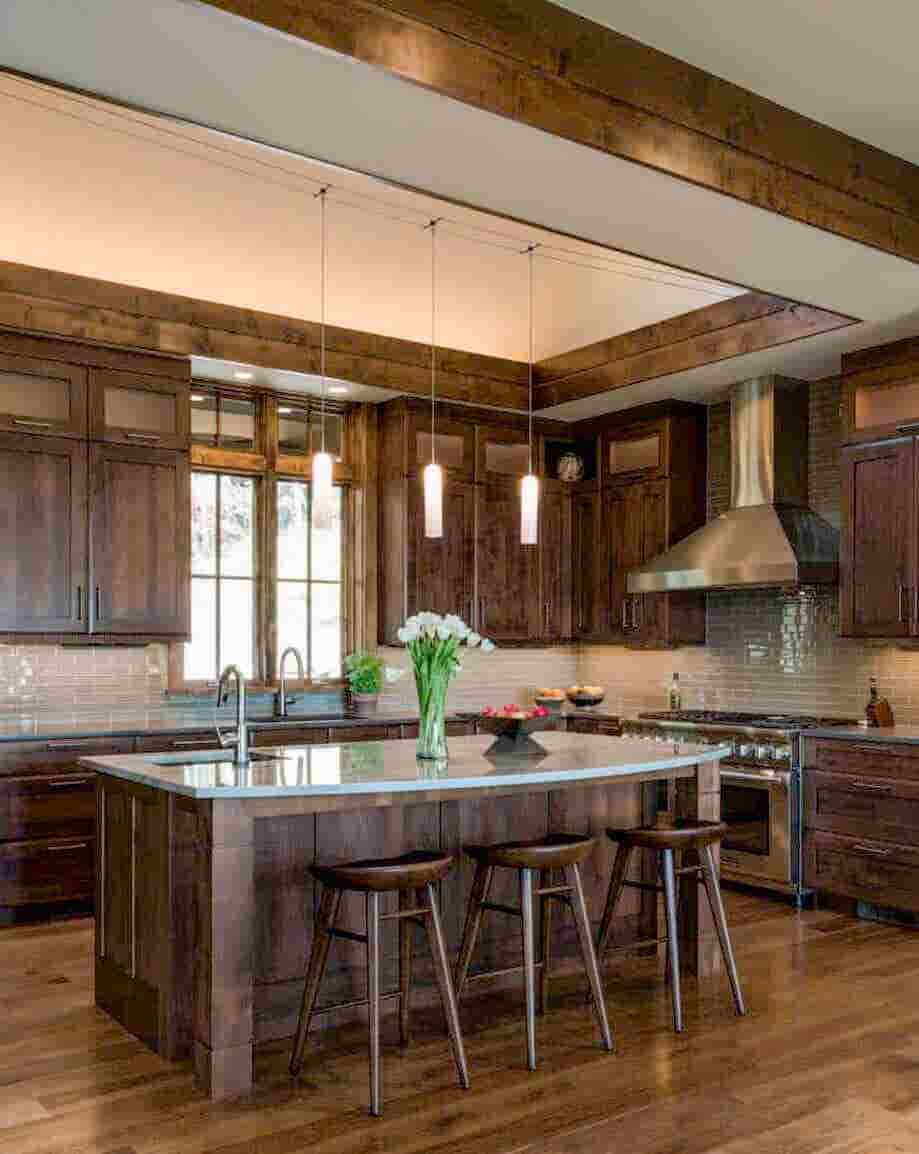 Rustic kitchens are classic, warm, and homey. They aren't typically associated with bold color schemes. But that doesn't mean there aren't ways to make rustic kitchens pop with color; it just takes a little bit of creativity. Pick one solid base color—white, cream, taupe, or gray will work nicely—and then accent walls with prints like bold florals or graphic prints (think African fabrics). This keeps things cozy and calm without clashing colors too much. Add light wood paneling throughout the kitchen for an extra rustic touch.
Recommended for you: Guide For The Perfect Rustic Kitchen: 15 Ideas + Tricks
Inspiration For Rustic Kitchen Color Schemes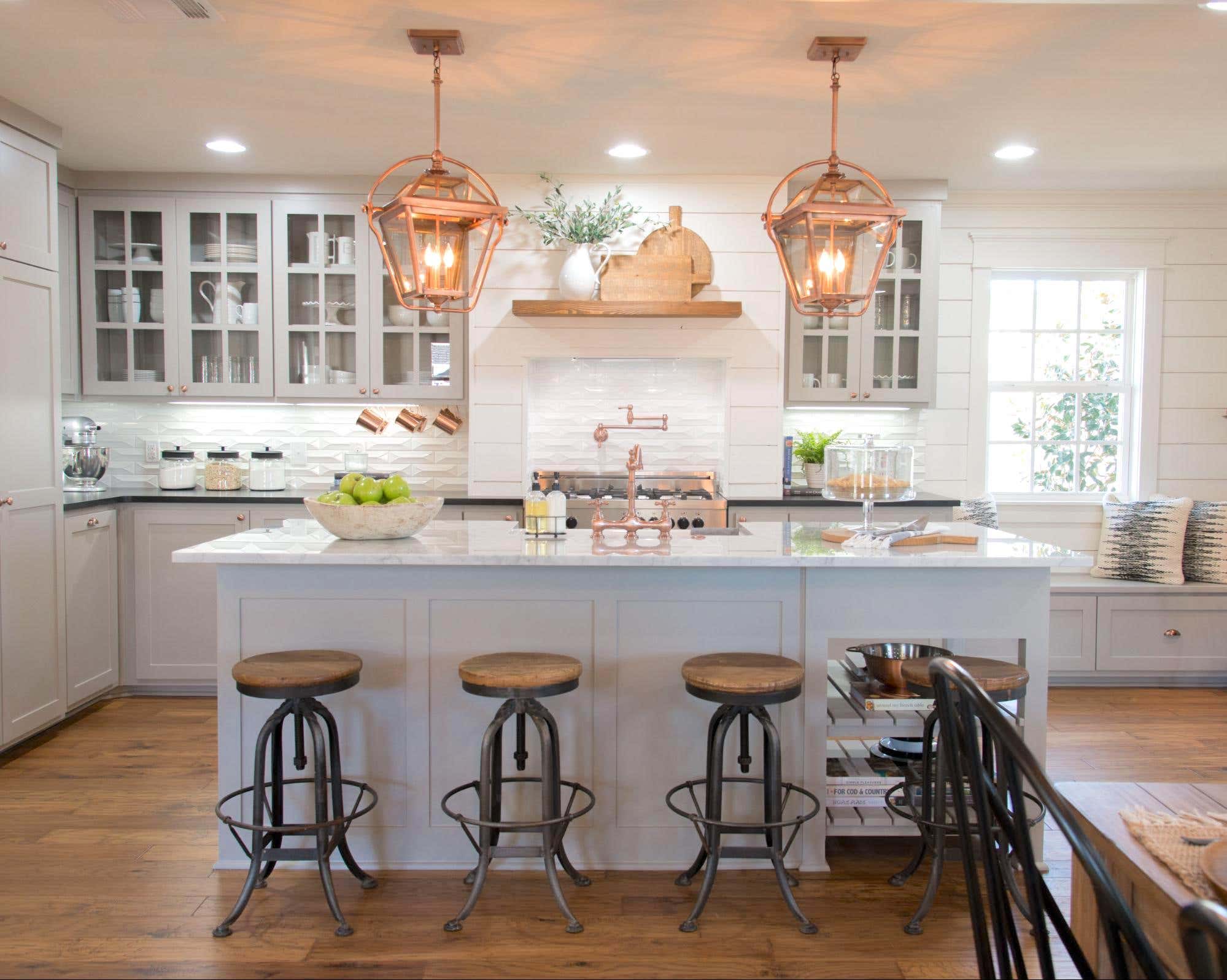 A white rustic kitchen is a gorgeous combination of sleek and warm. When it comes to rustic kitchens, simplicity is key. The color scheme should be kept simple and monochromatic, with white being dominant.
For the perfect rustic white kitchen, check out our Summit Shaker White cabinets!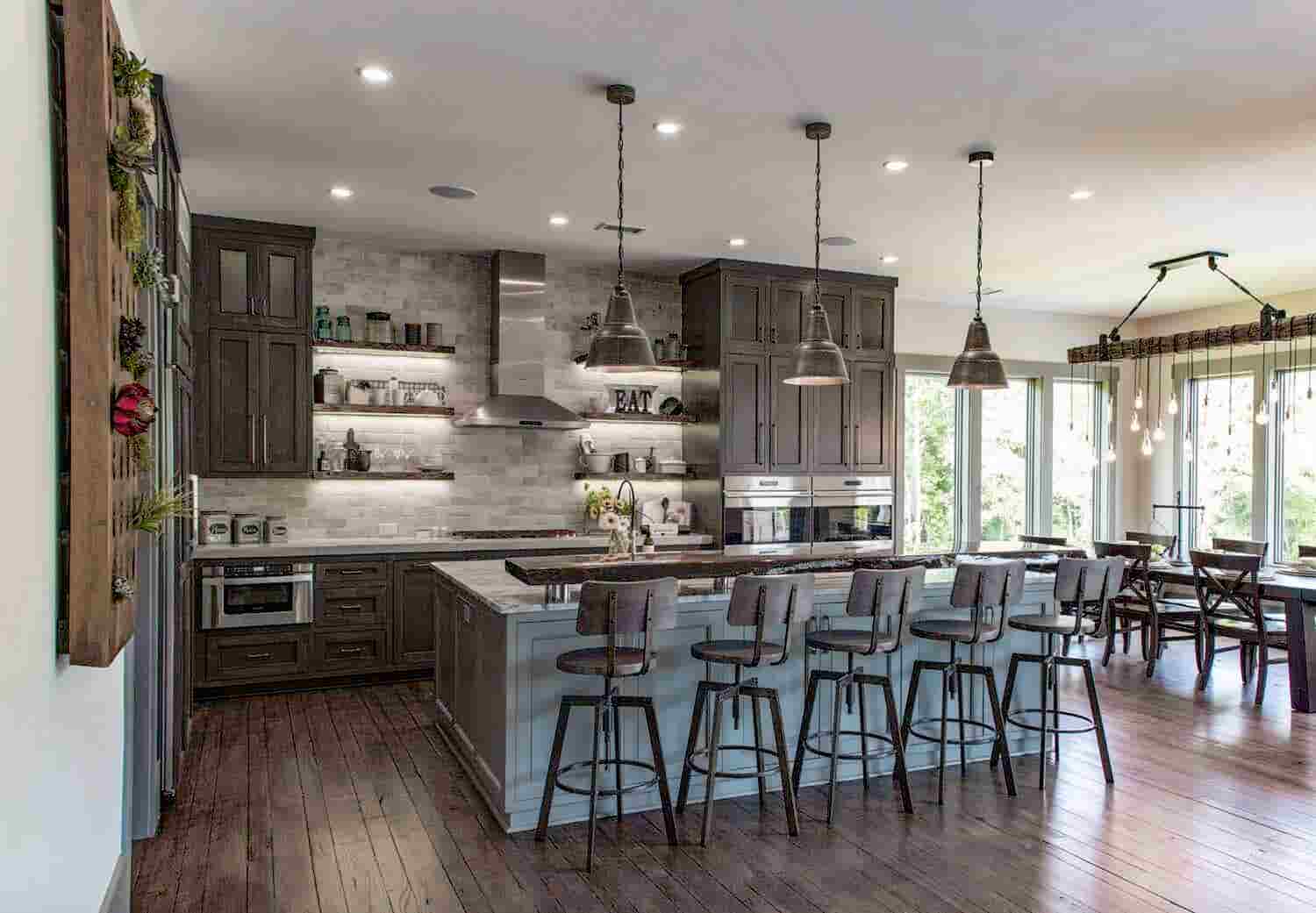 When creating a darker-toned rustic kitchen, there are a couple of different colors that work best in this type of space: shades of browns and greys. This kitchen incorporates dark grey cabinets with a lighter grey backsplash and countertop, along with dark brown wood flooring.
For the perfect dark, rustic look, check out our dark grey York Driftwood kitchen cabinets!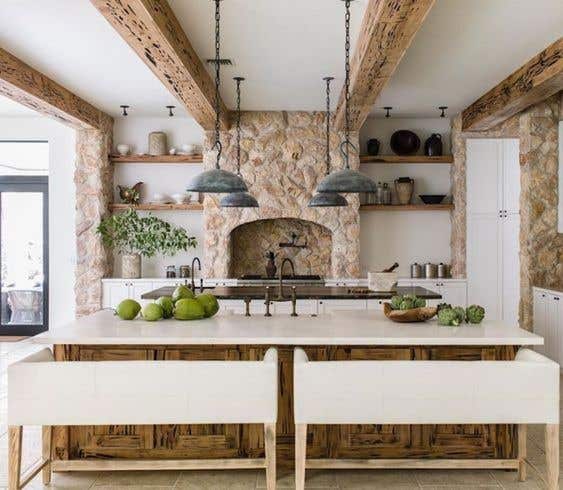 Becki Owens
For more of a natural and neutral rustic look, using the colors that you see right outside your window is the best way to do so. This includes white, tan, brown, and greens. Incorporating wood, natural stone, and metal details will bring the colors together to form a beautiful, rustic kitchen space!
4) Minimalist Kitchen Color Schemes
The idea behind a minimalist kitchen color scheme is to pick a few colors and use them consistently throughout your kitchen. All it takes is a few well-placed pieces to accentuate these colors, which usually make up neutral background. This minimalist approach is perfect for smaller kitchens or those that don't get much natural light.
Inspiration For Minimalist Kitchen Color Schemes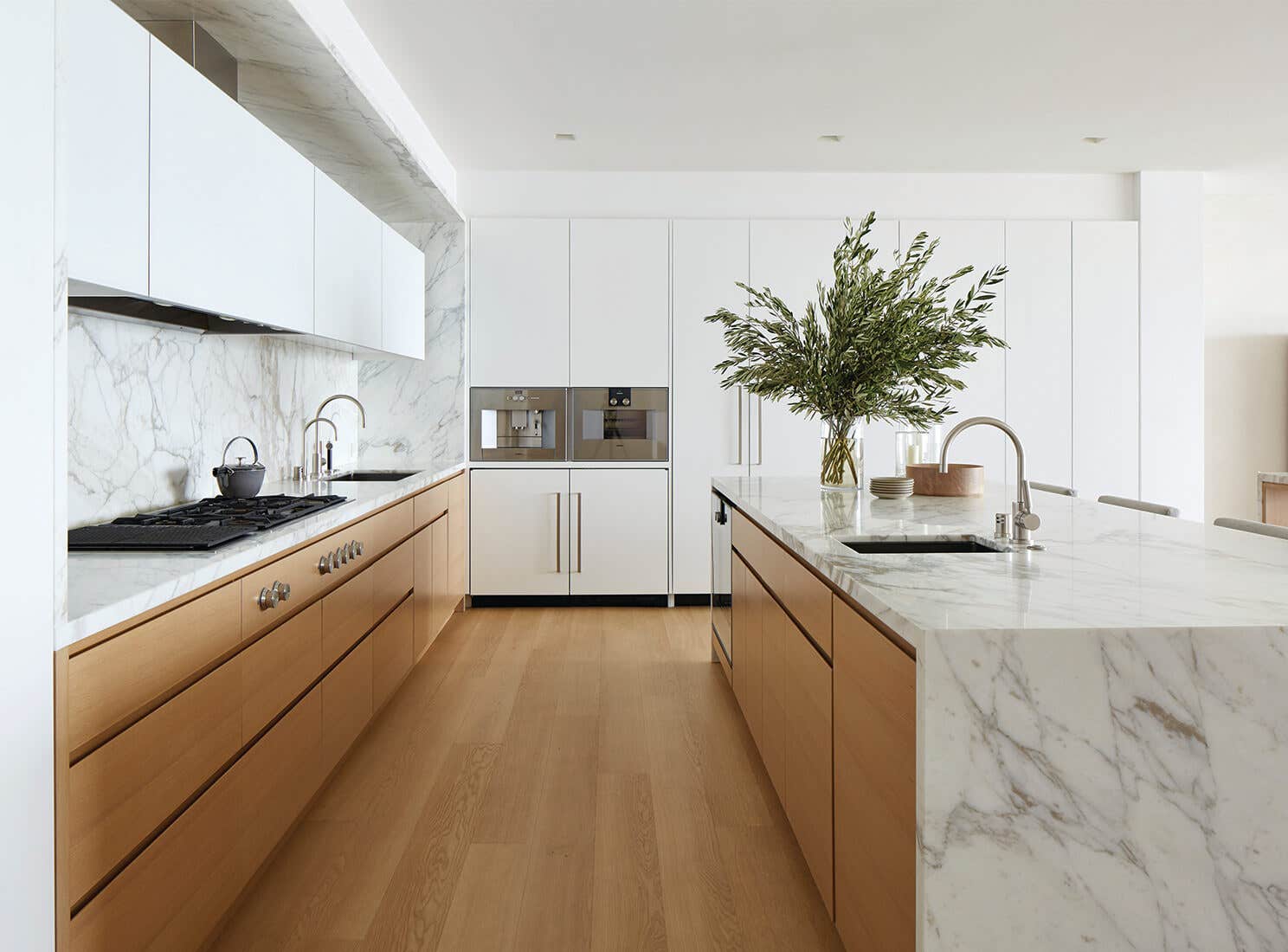 Looking for the ultimate minimalist kitchen color combination? The mixture of natural wood and white is surely one of the best minimalist color schemes if you're looking for a bright and inviting look. The kitchen pictured above incorporates a beautiful white and grey-veined marble countertop to add some pattern, and it surely makes a statement alongside the minimalist elements.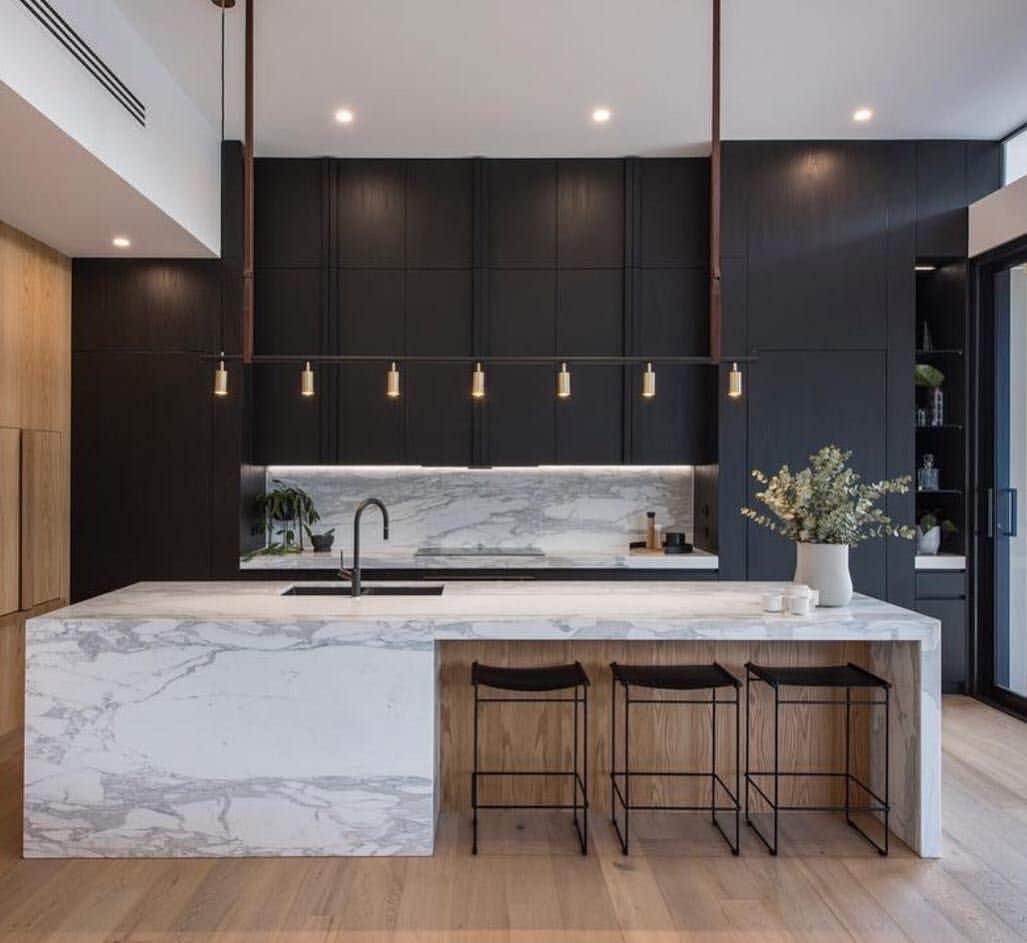 For a darker minimalist kitchen color combination, black kitchen cabinets with natural wood accents and white countertops are a perfect option. Opting for black minimalist cabinets instead of white presents more of a bold, striking look.
Enjoy the look of darker minimalist cabinets? Check out the Grey Shaker Elite cabinet!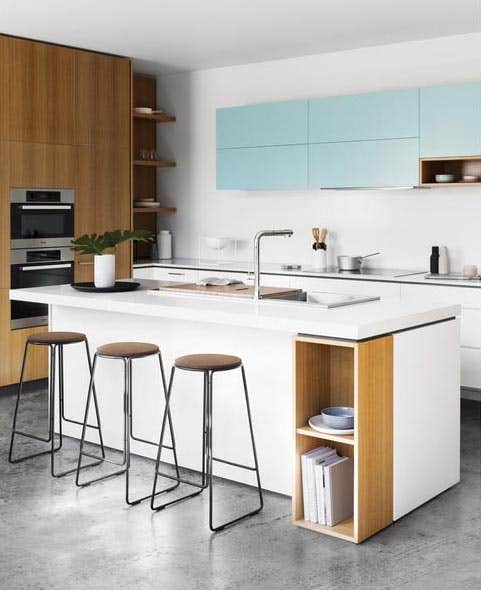 Adding a pop of color to your minimalist kitchen color combination might be the right choice for you if you want to add a little spice to the minimalist style. Similar to the kitchen pictured above, adding a pop of color can be done with the cabinets, or a backsplash, the decor, or countertops.
5) Eccentric Kitchen Color Schemes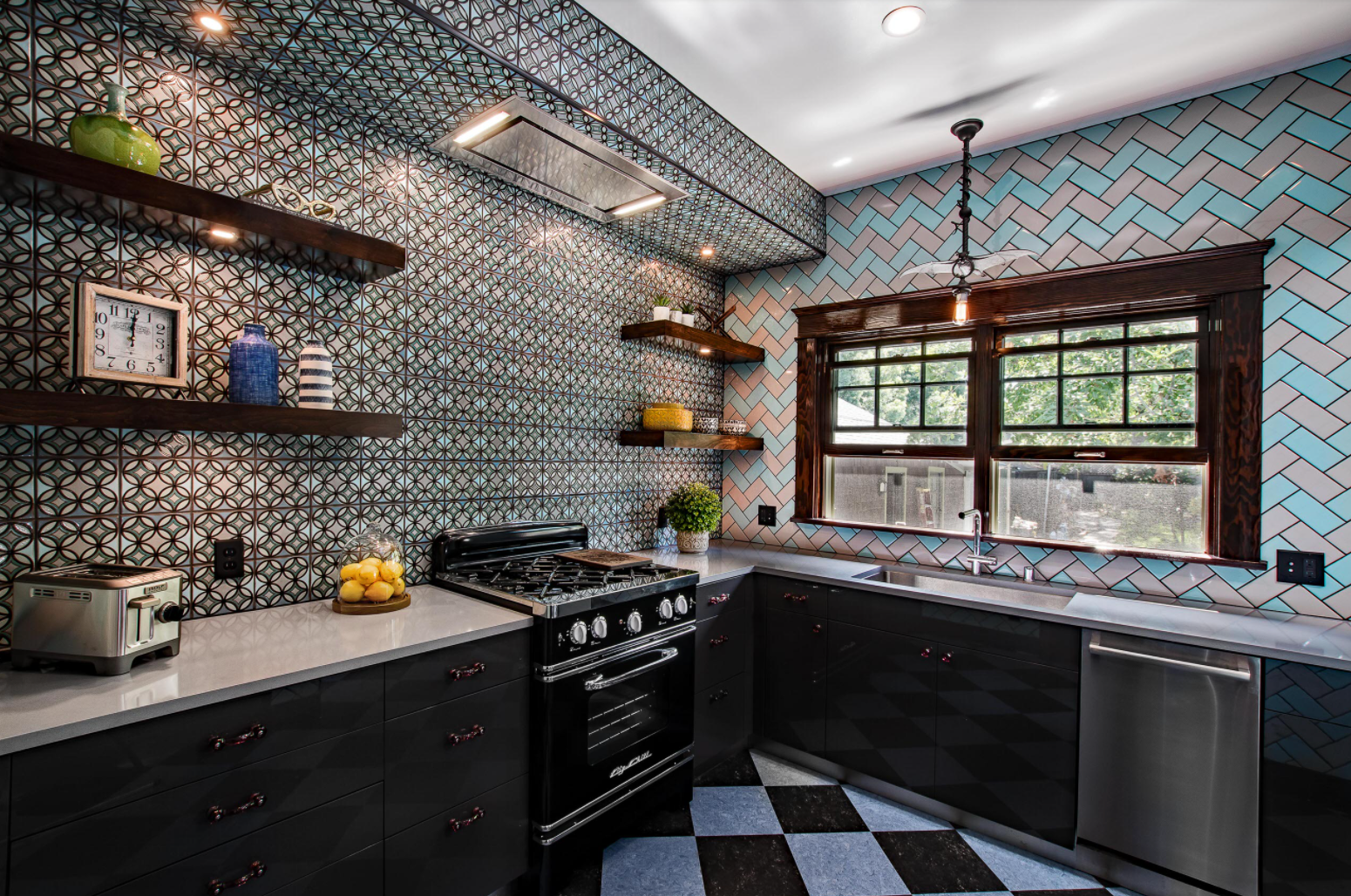 Choosing an eccentric kitchen color scheme can be difficult. If you're looking for a bold combination, make sure your individual colors are still comfortable with each other. For example, don't choose purple and yellow unless you really like purple and yellow together! This is not only true when selecting primary colors, but also secondary ones. For example, don't go with bright blue and orange unless both of them look good together in your opinion. Having said that, if you choose one non-standard color (i.e., red) for something like your backsplash tiles or countertops, it can help ground what might otherwise be too eccentric of a combination.
Inspiration For Eccentric Kitchen Color Schemes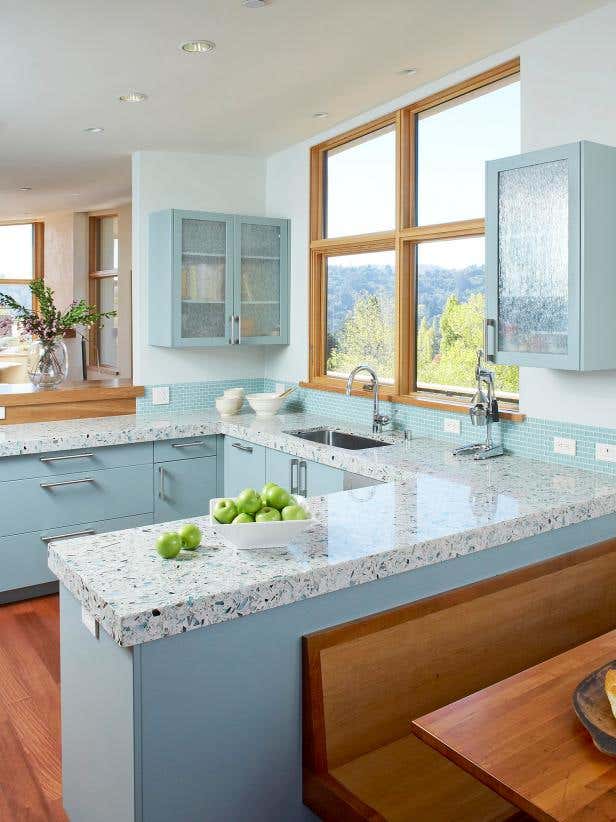 A mellow, yet still eccentric color combination for a kitchen is different shades of blues, similar to the kitchen pictured above. The busyness of the countertops brings more of an eccentric feel into the space. If you are looking for more of a mellowed-out eccentric kitchen, choosing a lighter color combination and including a busier backsplash or countertop is a great way to do so!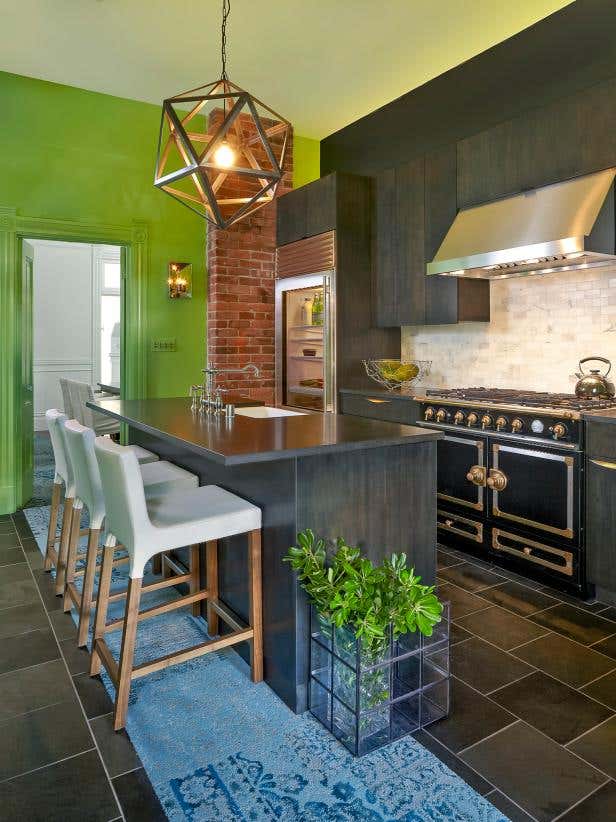 For more of a bold eccentric look, the kitchen above used the color combination of black, white, bright green, and blue, paired with natural brick and wood decor. If green is not your color pop of choice, this look will match with any other color imaginable, so get creative!
6) Bohemian Kitchen Color Schemes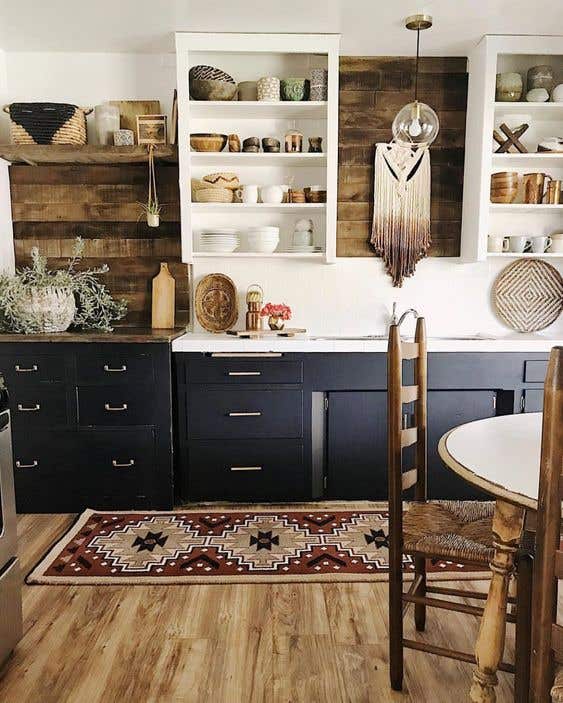 Designing your kitchen is an eclectic bohemian style can be a challenge, especially when it comes to color combinations. To make things easier for you, we've designed three simple kitchen color schemes that capture both whimsy and glamour.
Inspiration For Bohemian Kitchen Color Schemes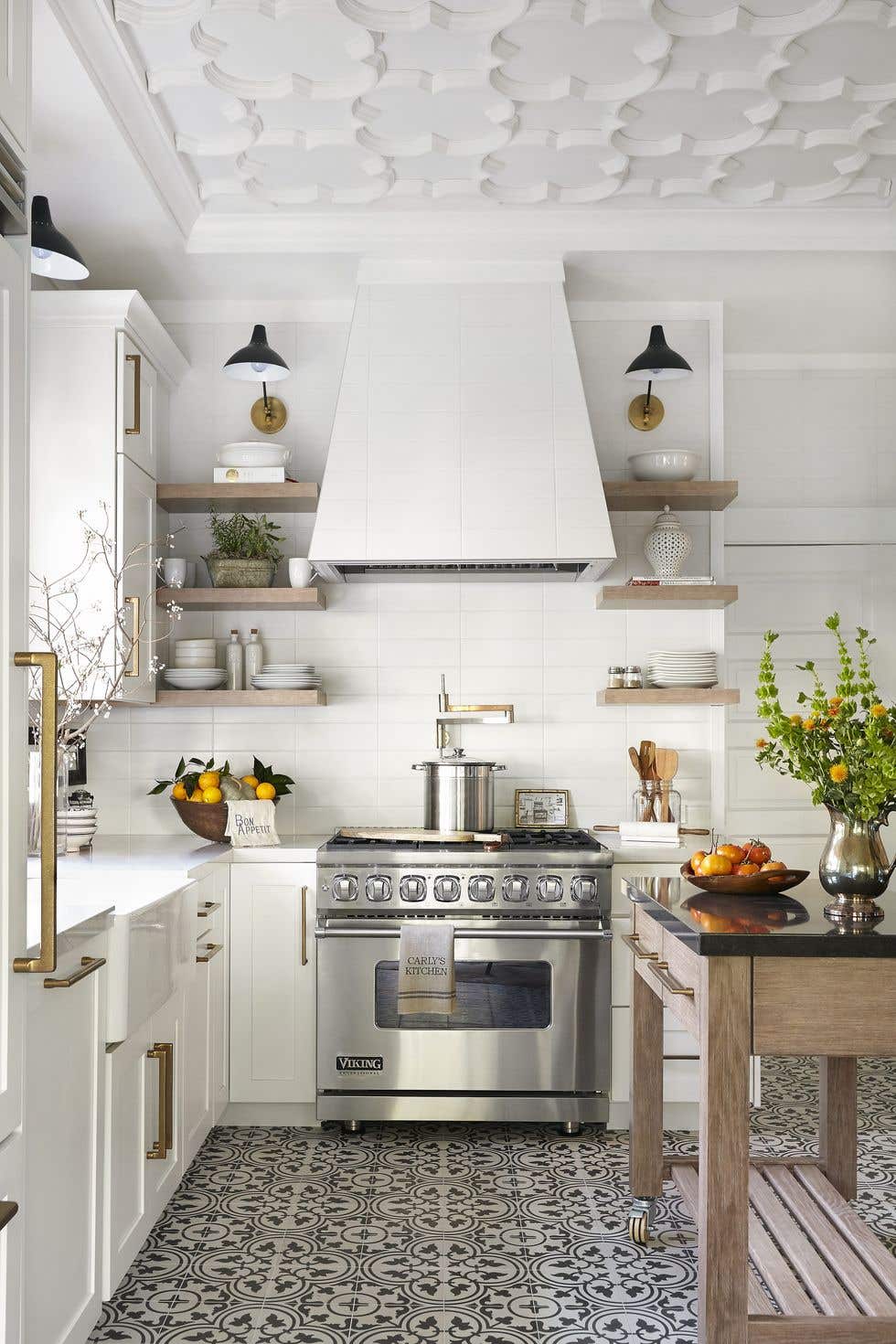 For a subtle, clean bohemian kitchen, opting for a black and white color combination will present a classic boho look. The white shaker cabinets, range hood, backsplash, and walls mixed with the boho black and white floor tile make for the perfect, timeless bohemian kitchen. Adding natural wood elements and gold hardware warms up the space and makes the kitchen look more inviting.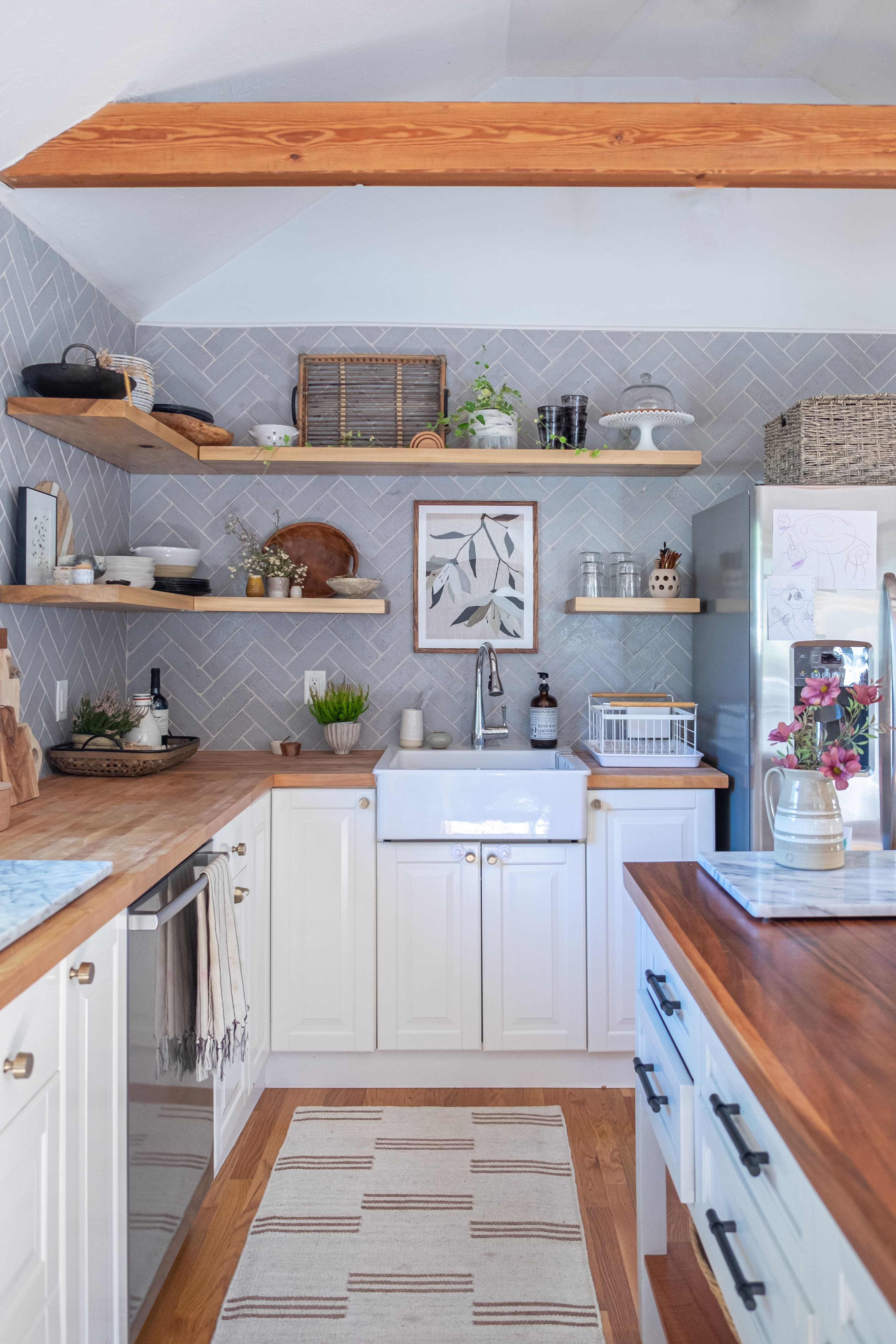 For a warmer bohemian look, opting for more natural wood elements will do just the trick. This boho kitchen implements natural wood open shelving, floors, countertops, and even a stunning wood ceiling beam. The grey tiled backsplash adds a patterned element to the space, as well as another color to cool down and complement the warmer elements in the rest of the kitchen.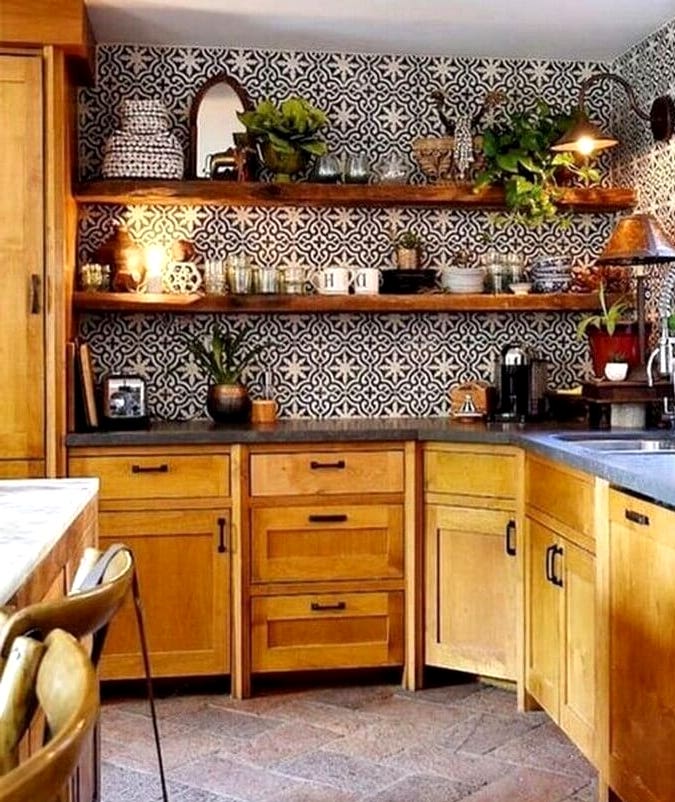 For the ultimate boho style kitchen, combining a patterned tile with open shelving and natural wood cabinets will create a beautiful, bohemian space. The natural wood elements create a warmness for the space, while the dark countertops and backsplash create stunning contrast. Definitely consider incorporating a painted mosaic tile in your bohemian kitchen!
7) Farmhouse Kitchen Color Schemes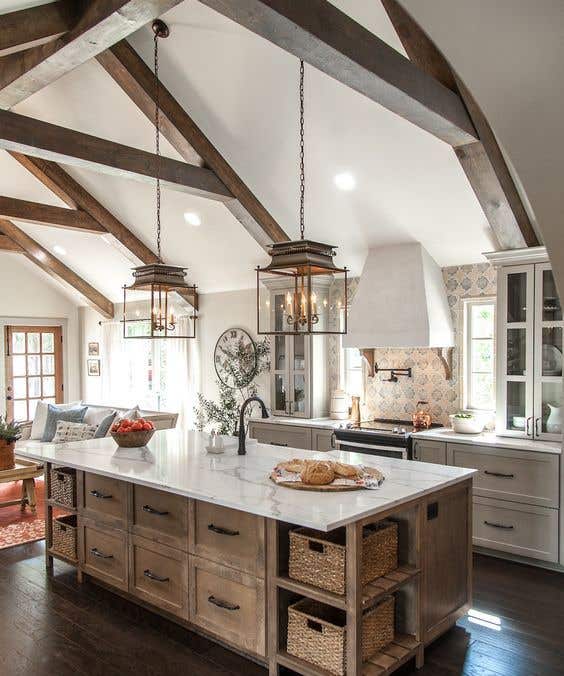 Some people like their kitchens to be traditional and rustic while others want a more modern and elegant style. No matter your style preference, one thing is certain: it's crucial to use color wisely in your kitchen. Farmhouse kitchens typically feature warm-colored cabinets with light countertops and white cabinetry accents so don't hesitate to mix orange, yellow, red, and tan/brown tones together when you're selecting cabinets for your new space!
Inspiration Pictures For Farmhouse Kitchen Color Schemes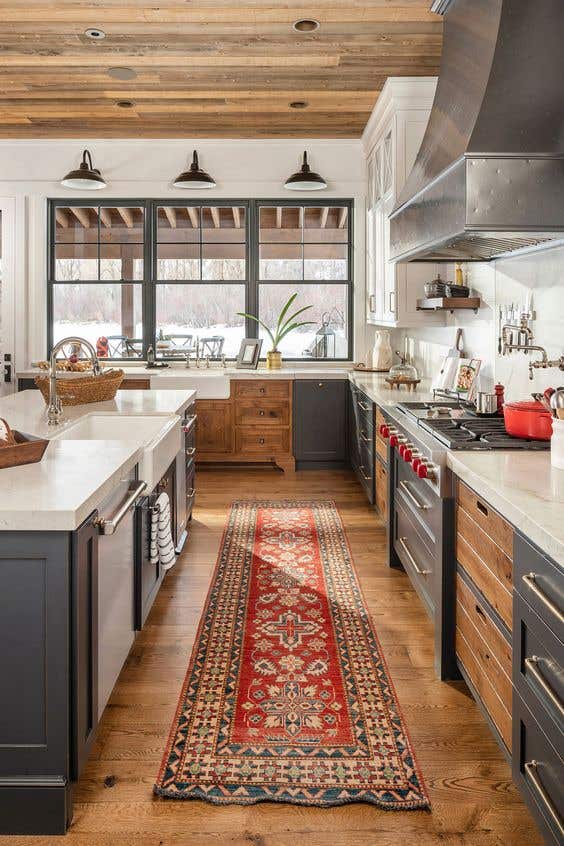 This beautiful farmhouse kitchen incorporates natural wood elements and dark cabinetry, paired with white elements such as the backsplash and countertops. This combination of natural wood elements, dark colors, and white accents presents a stunning farmhouse look that will look amazing in any home!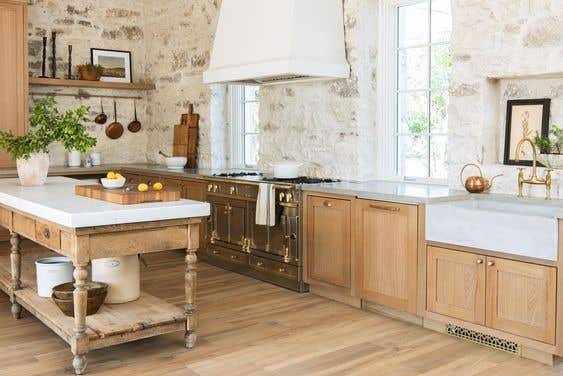 Opting for warm colors and natural elements will create a beautiful, rustic farmhouse look. Combining colors like white, tan, and grey alongside natural stone and wood presents a bright and inviting space that's perfect for any home.
8) Coastal Kitchen Color Schemes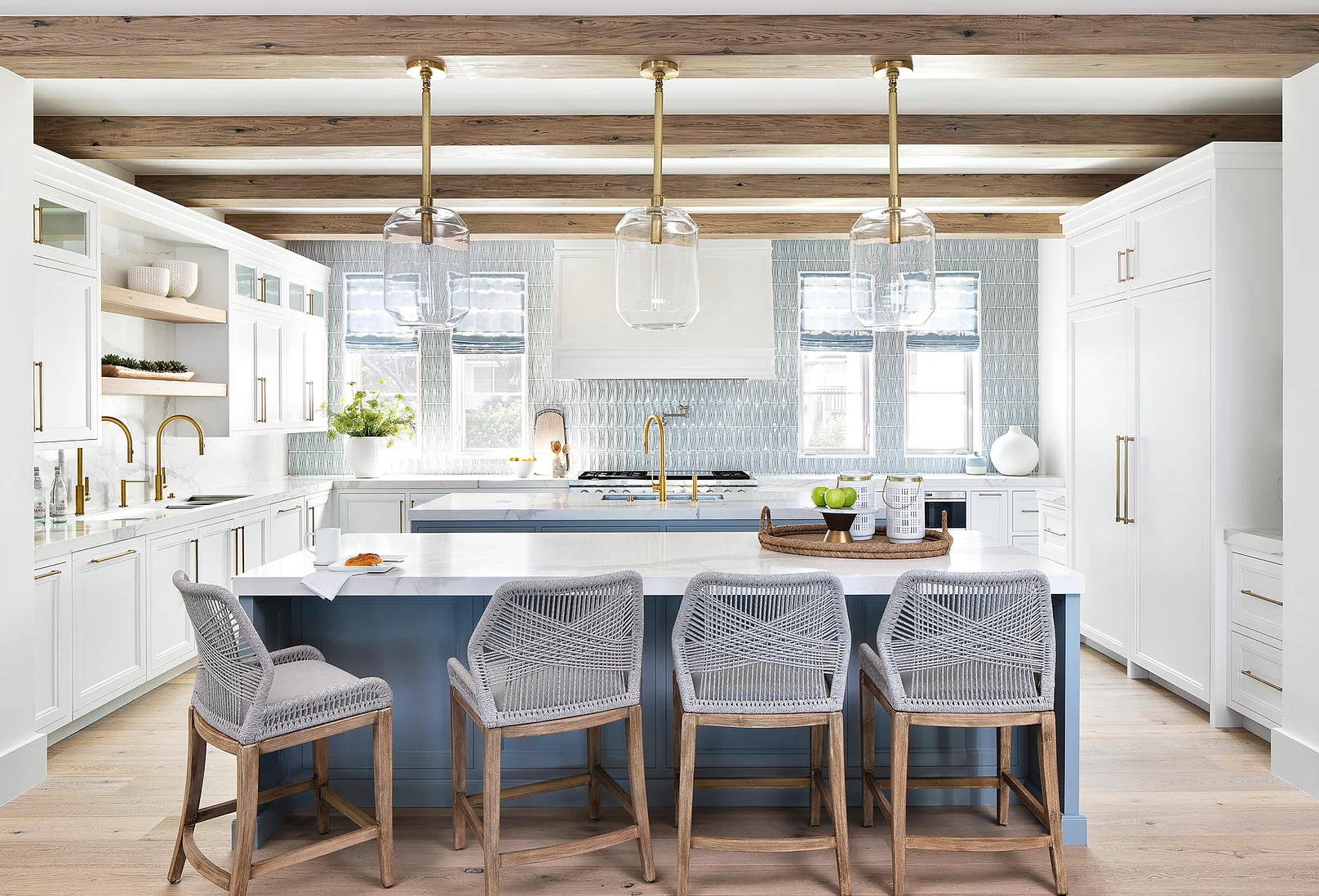 White is a classic, timeless color that is perhaps one of a handful of colors that could be used in almost any room. Pairing it with just about any other color – as long as there's some white or light woodwork or flooring – will result in a look that's clean and inviting. Want proof? Just take a gander at almost any beachside house's interior design. Blue also offers a similar hue: it may not evoke images of clear skies and tropical beaches quite like white do, but many people still see blue as an easy-to-use kitchen color scheme. Look for shades like sky blue or robin egg blue if you want something soft and soothing.
Searching for the perfect blue shaker cabinet? Check out Lily Ann Cabinets' RTA Navy Blue Shaker cabinet, and pair them with the White Shaker Elite cabinet for a stunning, beachy look!
Inspiration Pictures For Coastal Kitchen Color Schemes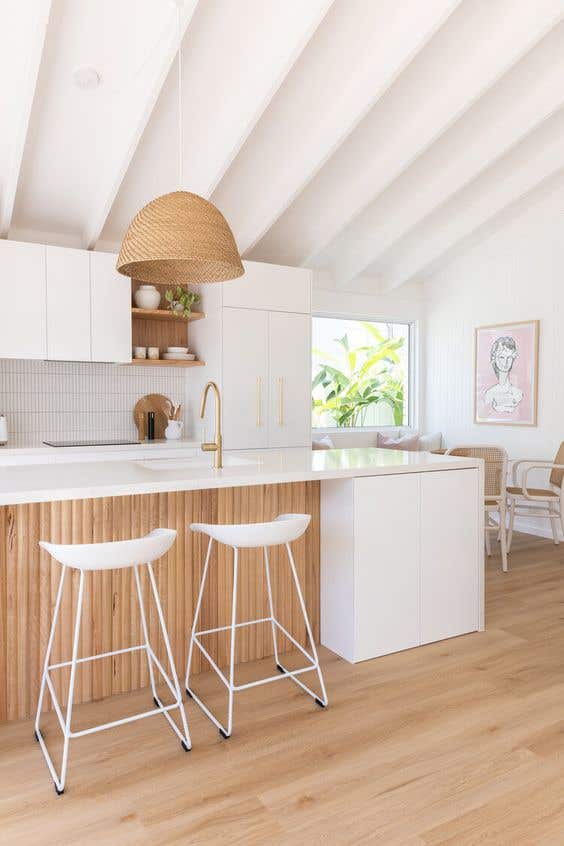 For more of a minimalist coastal kitchen look, all you have to do is combine colors like white and tan alongside accents such as wicker, wood, and gold. The kitchen above does this perfectly, creating a bright space but also feels inviting and beachy. Start with an all-white kitchen, and from there add decor and materials such as wood or stone to make it feel more like a coastal cottage!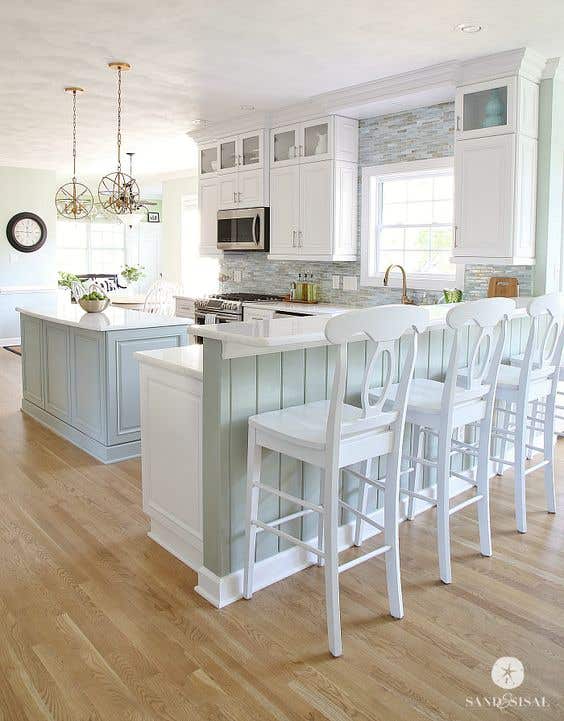 Adding a pop of color like mint green, shades of blue, or yellow is a great way to have more of a classic beach house style in your kitchen. The kitchen above incorporates white and light green cabinets, white countertops, and a grey tile backsplash, all working cohesively together to create a stunning beach house kitchen!
Create Your Dream Kitchen With Lily Ann Cabinets
We offer a wide selection of premium cabinetry, hardware, shelving, and more to help you create a room that stands the test of time. Pick from our large array of kitchen and bathroom cabinetry, including white shaker cabinets that come with soft-close hinges. Our professional designers are on standby to work with you — we offer FREE samples and FREE designs and quotes. Visit our FREE 3D design tool to get started today!
FAQs
What are good color schemes for a farmhouse kitchen?
Good color schemes for a farmhouse kitchen include blues with white, white, and grey, and beige and white. Red and white create a beautiful, traditional farmhouse look as well.
What are good color schemes for a beachy/coastal style kitchen?
Good color schemes for a beachy/coastal style kitchen are blue and white, green and white, yellow and white, or white and beige.
Where is an inexpensive place to buy kitchen and bathroom cabinets?
Lily Ann Cabinets sells durable kitchen and bath RTA cabinets at up to 50% off box store pricing.