Find inspiration for your kitchen floors with these 10 beautiful design ideas.
The kitchen is one of the most important rooms in a home. Not only do you want it to be comfortable and welcoming, but you also want it to be stylish and modern. If you're looking into renovating or buying a new home, you want to make the best, most cost-effective decisions for your space.
When it comes to the designing process, the kitchen floor is an important place to start. There are a multitude of options out there to suit different tastes and budgets. However, with all kitchen floor ideas, the most important thing to think about is durability. As one of the most used rooms in a house with high traffic and plenty of wear-and-tear, picking the right flooring for you and your family is a must.
Here are the top 10 styles of kitchen floors on the market today.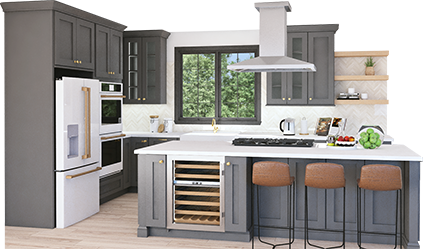 Get your FREE 3D kitchen design today!
Start Now
1. Hardwood
Hardwood flooring has been popular for ages, and thanks to improvements in products and sealers, it's still a viable, durable flooring material in kitchens today. Wood adds a sense of timelessness and warmth that fits any style, cabinet color, and décor. There are multiple colors to choose from, from dark wood to lighter colors to grey! It's a bit softer underfoot than tile, and it can be refinished if it becomes damaged or worn. It can be expensive, but the ease of maintenance and the style make it all worth it. Bonus points: If you have an adjoining living room or an open-floor plan, you can use the same wood material in adjoining rooms!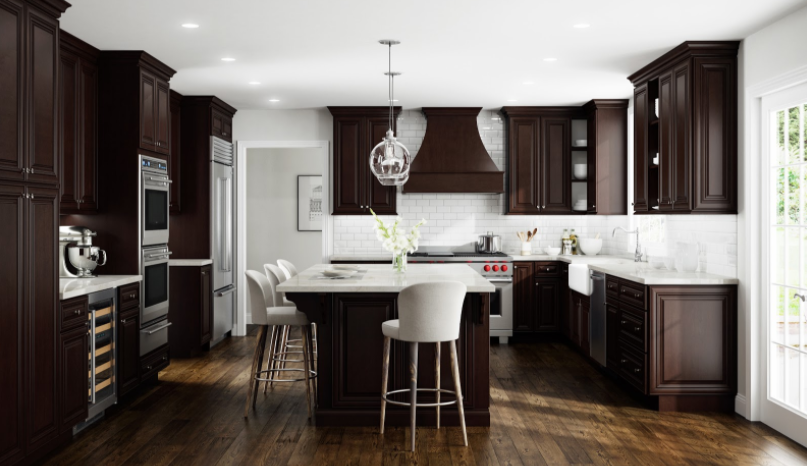 Bristol Chocolate cabinets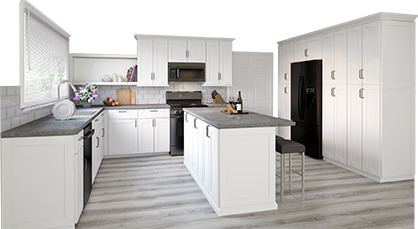 3D Kitchen Visualizer Tool
Bring your dream kitchen to life with our free kitchen visualizer!
Design Now
2. Laminate
Laminate is all the rage these days. An affordable alternative to hardwood, laminate is a synthetic flooring made up of layers of resin and fiberboard. It comes in a variety of styles and colors, often mimicking tile, stone, wood, or ceramic. It doesn't involve the care and maintenance associated with other natural floor options and has a more superficial feel. It's highly durable and easy to install, making it one of our favorite kitchen floor ideas.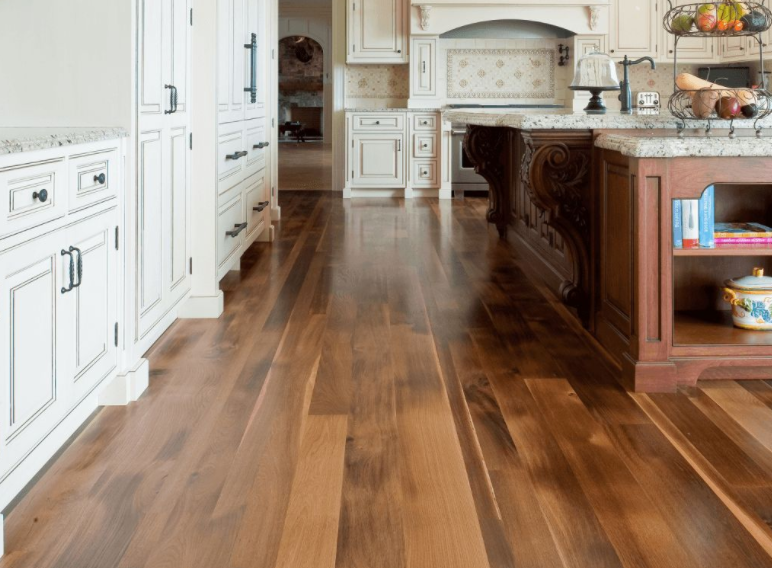 homedit.com
3. Vinyl
Vinyl flooring has been around the block once or twice, but it's back and better than ever with an updated image! This budget-friendly synthetic material has had help from new technologies, which have made it more closely imitate the look of stone, wood, tile, etc. It's usually available in two different styles: sheet vinyl, which are 6- or 12-foot-wide sheets that are easily rolled onto floors, or vinyl tile, which are 12- to 18-inch tiles and imitate ceramic. Both styles are easy-to-install for DIYers. Just like hardwood, vinyl flooring is soft underfoot, and just like laminate, it's water-resistant, making it incredibly easy to clean.

Lily Ann Cabinets offers high quality SPC flooring (stone plastic composite), which is known for being 100% waterproof with unparalleled durability. The engineered luxury vinyl planks mimic natural wood and stone at a much lower price point. They're abrasion-resistant, easy to clean, fire resistant, impact resistant, and provide acoustical benefits, underfoot comfort, and a barrier against mold or mildew. Lily Ann SPC flooring comes in three colors: driftwood, weatherwood grey, and rustic brown oak.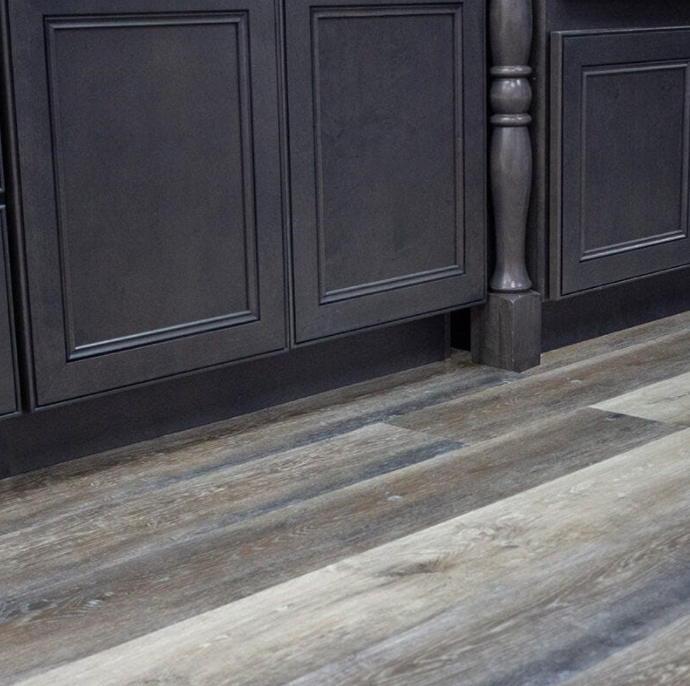 Lily Ann Cabinets Driftwood SPC Flooring
4. Cork
We're not talking wine corks and pushpin boards here. Cork is an eco-friendly material that can also be used for flooring. Often overlooked yet great for kitchens, the natural material comes in various colors and patterns, and is sustainable, warm, comfortable, and cushioned. Make sure to seal it to prevent water damage and protect it from spills. Another plus about cork, it can be refinished just like hardwood floors if it needs a touch-up, and you'll clean it as you would wood.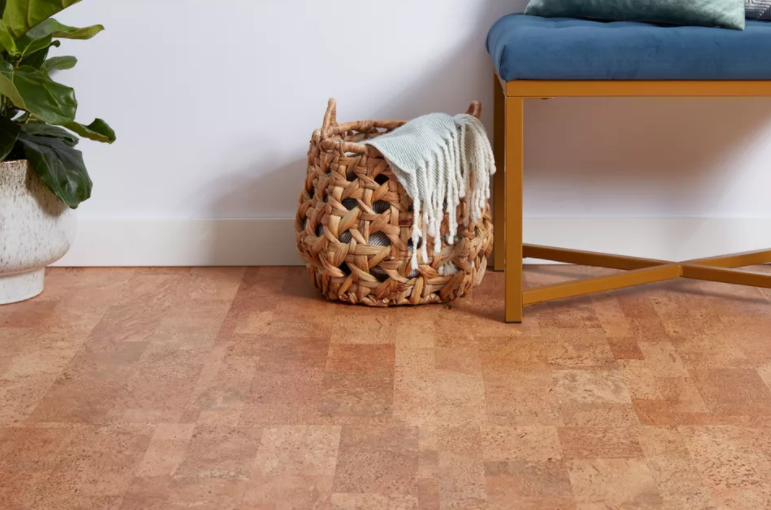 5. Bamboo
As with cork, bamboo is a renewable, sustainable resource, so it's yet another eco-friendly kitchen floor choice. It's also incredibly similar in looks to hardwood floors, though it's technically considered a grass. It's strong, durable, and has a built-in resistance to moisture and insects (bonus points!). And it can be refinished too!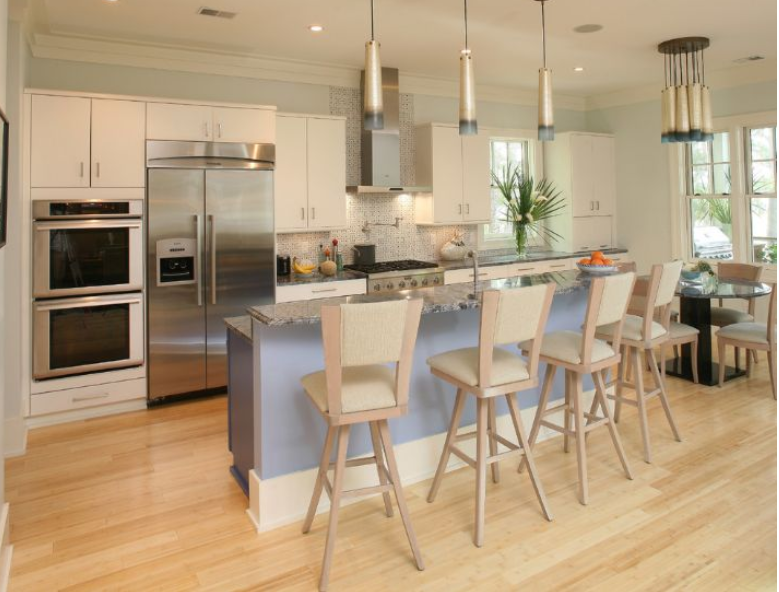 6. Concrete
Concrete is a kitchen floor style for those that are looking for more of an industrial look. It's low maintenance and durable; however, it's rather difficult to install. Homeowners will have to work with an engineer to make sure their house is able to properly support the weight of a concrete floor.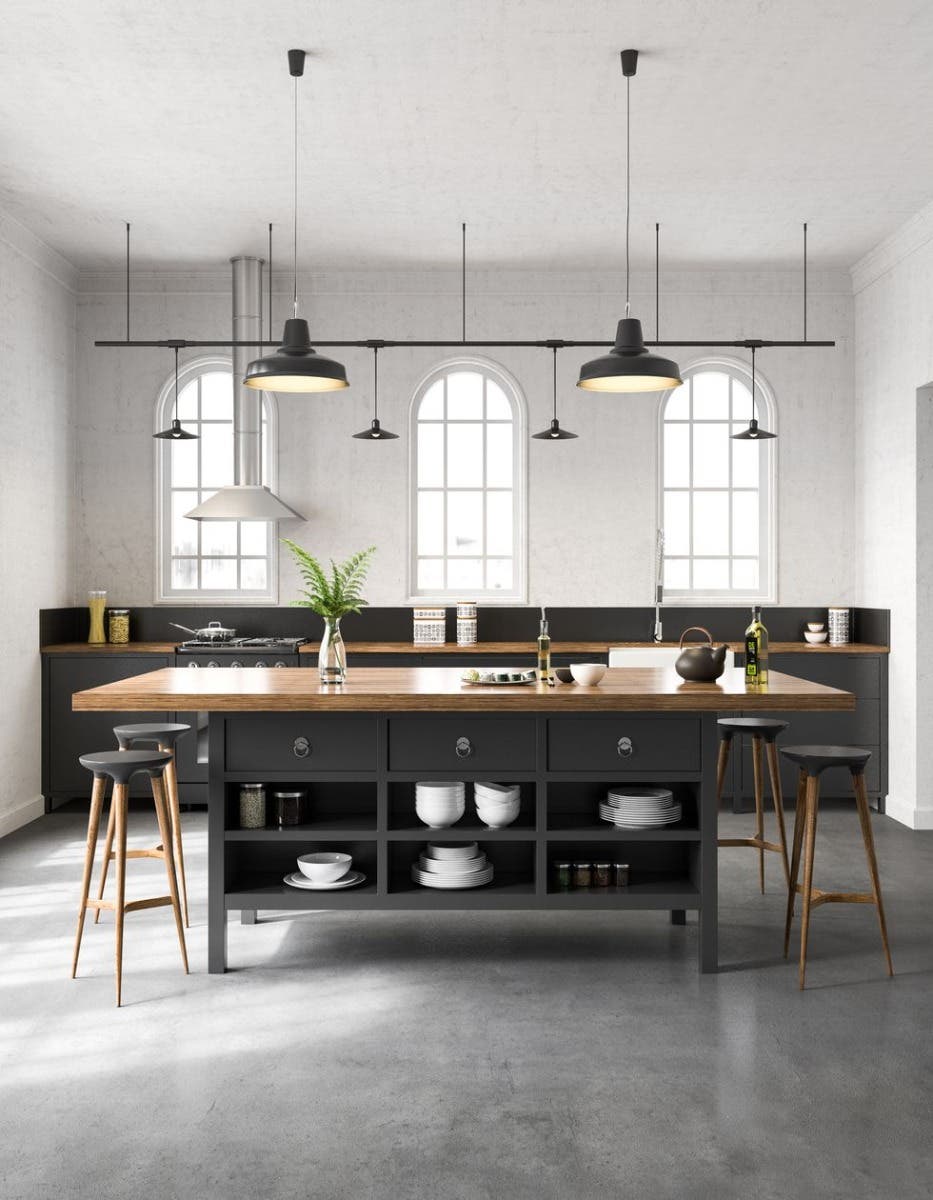 Nelleg/Getty Images
7. Stone Tile
Stone is one of the most beautiful and elegant materials for kitchen floors. It's timelessness, natural durability, and perfect contrast for any kitchen décor make it a great fit for any space. Another benefit is the vast range of stones to choose from, from slate to limestone to marble. Though impressive, its price tag is usually much higher than other flooring options, and you'll need a strong subfloor to handle the stones' weight. It's also a bit harder underfoot than synthetic materials and hardwood.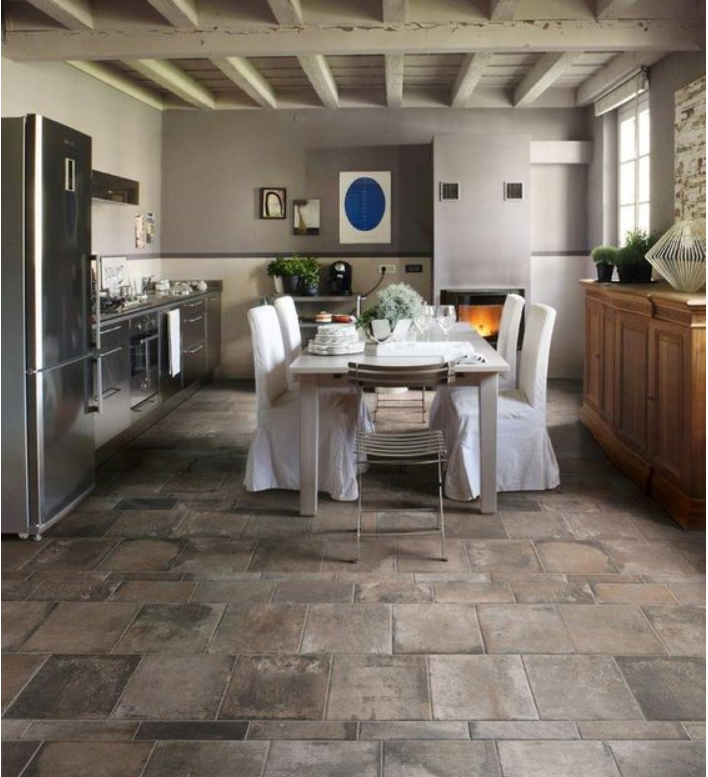 8. Ceramic Tile
If you're looking for the kitchen flooring with the most color options, this is it. Ceramic tile offers the widest variety of styles and can be customized to fit any kitchen. They're popular for their durability and cost-effectiveness. However, they do have their downsides as well. They can be cold and uncomfortable, hard underfoot like stone tile. Grout lines are also a major concern, as they can hold dirt easily. A larger piece of tile might be better for a seamless look with fewer grout lines.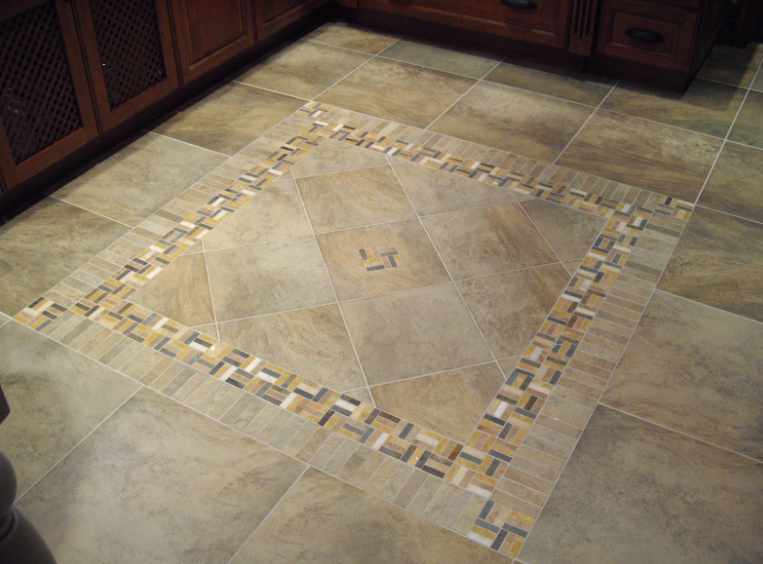 Photo via Pinterest
9. Linoleum
Linoleum has been around for a while – in fact, it might make you reminisce about your grandparents' retro kitchen floor – but it's been picking back up in popularity again. Linoleum is similar to vinyl, but is instead an all-natural, eco-friendly material. It provides a hint of springiness, making it a comfortable kitchen consideration, but it can get discolored and dented over time. Just like vinyl, linoleum is available in sheets or tiles.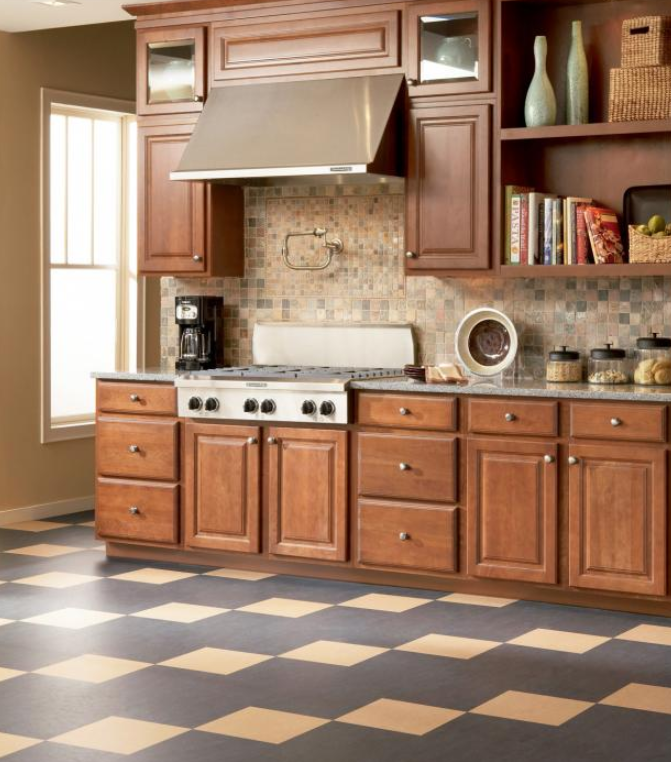 9. Terra Cotta Tile
Next on our list is a rather unique option, terra cotta tile. Though it's technically a ceramic, the earthy-toned terra cotta tile is made from a reddish clay, which makes it stand out. Offered in a range of colors, from beige to charcoal, terra cotta tile is in a class all its own. When considering it for your kitchen, pick out a high-density material, as low-density options are porous and susceptible to staining and water damage – not conducive to kitchen messes!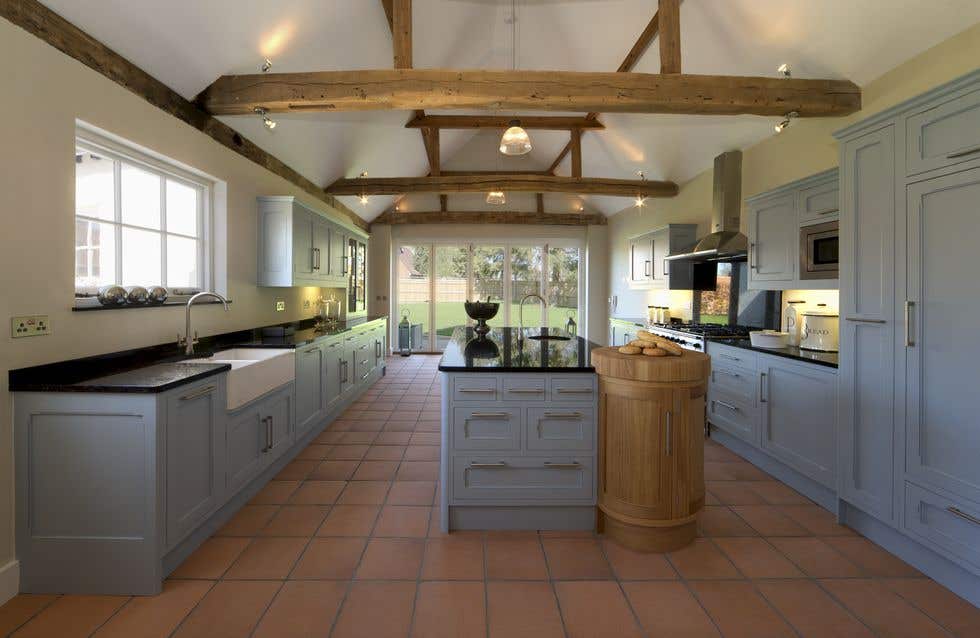 Phototropic/ Getty Images
10. Porcelain Tile
While often associated with bathrooms, porcelain tile is a gorgeous, low maintenance option for your kitchen floor. In high traffic areas, it will out-perform a lot of the other options in both long-term appearance and durability. It's less porous, which means it's more impervious to moisture than ceramic tiles, so spills and stains are non-issues. The one downside, though, is it can be a bit pricey, and even though it's easy to install, it can be time-consuming to do it right.

Lily Ann Cabinets offers some stunning porcelain wall and floor tiles, in the colors silver and sand in two different sizes: 6-inch by 24-inch and 12 inch by 24 inch. Since we ship factory direct, our premium tiles are available for a fraction of box store pricing!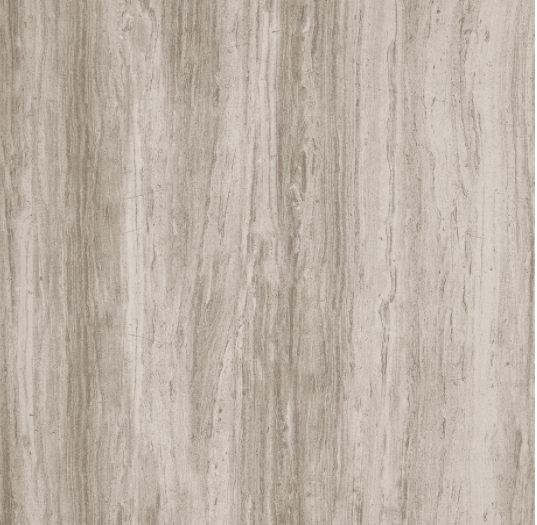 Lily Ann Cabinets Porcelain Tile
Best Kitchen Floor Ideas for Different Cabinet Styles
When it comes to matching your kitchen floor with your cabinets, there's no real wrong answer. Style is all subjective! However, there are some top options that will be sure to make your guests say, 'Wow!"
For white cabinets, try some dark hardwood. The contrast is breathtaking, and dark floors can anchor all the floating white in the room. If you don't want to go dark, try light wood tones, beige natural stone or ceramic tile. It will keep a light feel in the kitchen. Somewhere between dark and light is medium color flooring. A grey/beige hardwood would go lovely with white cabinets or warm gold accents.
For brown cabinets, there are tons of options. Natural stone looks beautiful and gives it a stylish, charming look that adds warmth and color. Warm beiges bring out the brown tones of the kitchen, making it feel homey and inviting. And natural wood can produce a rustic charm!
For grey cabinets, a dark wood floor and white accents can really piece together a fresh look. Grey flooring, like Lily Ann Cabinets' porcelain tile or SPC flooring, in a contrasting shade can really brighten up a space and create a beautiful, modern look.
But, again, there are a variety of different color combinations that can make your kitchen a comfortable, stylish room of your house.
Get Your Dream Kitchen For Less With Lily Ann Cabinets
Having trouble deciding which finishes will suit your dream kitchen? No worries! Get a FREE 3D kitchen design today! Our professional kitchen designers are on standby to help you create your ideal kitchen space. Visit our design tool to get started!