Cherry kitchen cabinets are rich, luxurious and serve as a timeless addition to any home remodel. With old-world style and many varieties to choose from, you can't go wrong with a classic cherry cabinet!
Cherry cabinets have been a staple in rustic, traditional, and modern kitchen designs for many years. This highly popular hardwood is known for its unique aging process and stunning warm color variations.
Since cherry cabinets have been around for so long, many homeowners ask us if they are going out of style. In short, no! Cherry cabinets will not be leaving the forefront of kitchen design anytime soon.
Think your cherry cabinets are ugly or outdated? Need to figure out ways on how to fix your cherry wood cabinets in the kitchen? Below are numerous different ways that you can modernize your cherry kitchen cabinets without breaking the bank.
If you decide to replace your cherry cabinets, consider looking into Lily Ann's modern cabinet selection. We offer free samples on all of our cabinetry lines. Or, if you are looking for new kitchen cherry cabinets, we have those too!
Are Cherry Kitchens Outdated?
Many people are indecisive about cherry-toned cabinets because they don't want their kitchens to go out of style. It's no secret that cabinets with cherry tones are known to have a rustic look. But fear not, cherry cabinets are here to stay.
Whether you're looking for a cozy, country-inspired style kitchen with dark cherry wood cabinets or an elegant, traditional kitchen with solid cherry wood hues, or a modern kitchen with beautiful cherry color, you can rest assured that your kitchen will remain up-to-date for years to come.
There are a few different and simple ways to modernize Cherry Kitchen Cabinets. Let's take a look!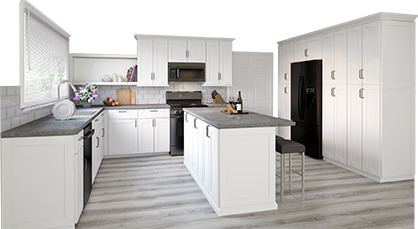 3D Kitchen Visualizer Tool
Bring your dream kitchen to life with our free kitchen visualizer!
Design Now
1. Modernize Cherry Cabinets with White Countertops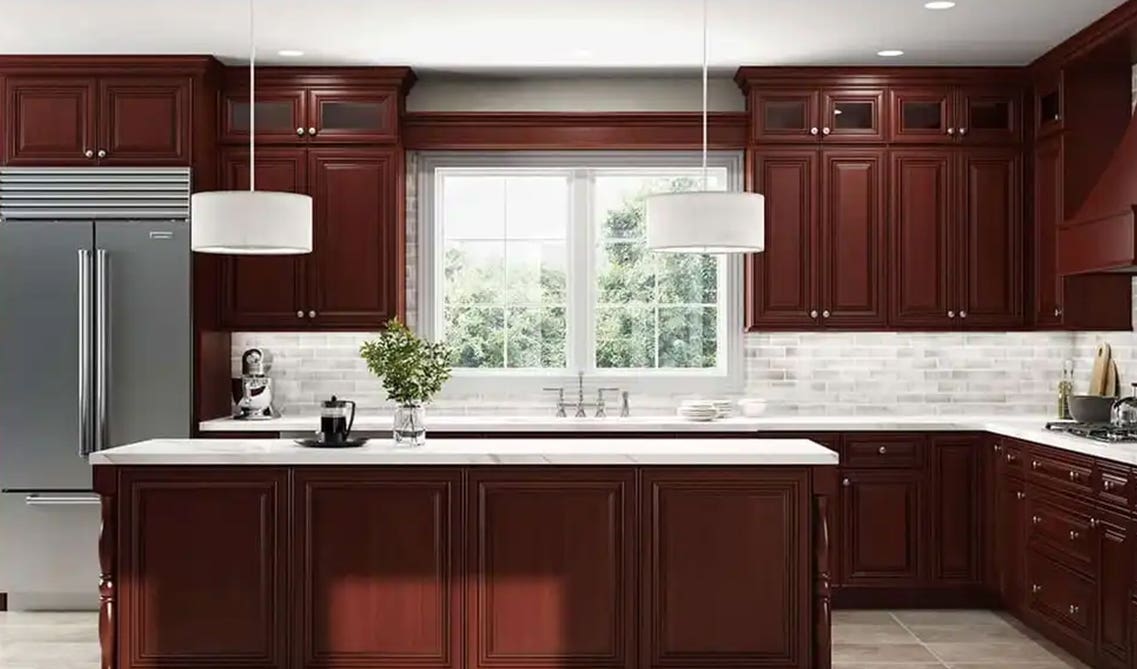 No doubt about it, white countertops can change a dark, drab, outdated kitchen immediately into a modernized kitchen. With their sleek, bright look, white countertops look amazing when paired with any hue of cherry cabinets. If this color combination doesn't look right with the pre-existing backsplash, a simple and affordable white subway tile will easily complete the look!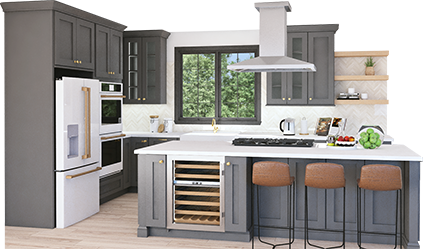 Get your FREE 3D kitchen design today!
Start Now
Also Read: Best Quartz Countertops Colors for Your Kitchen
2. Modernize Cherry Cabinets with a Light Backsplash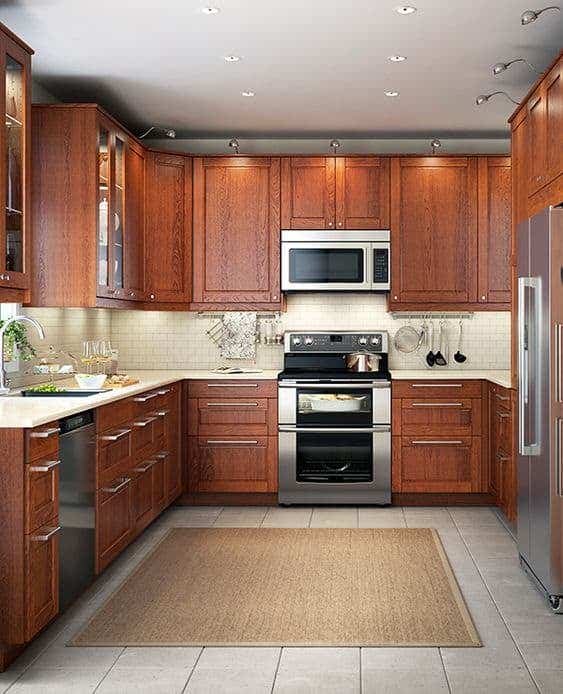 Photo: Pinterest - Kitchens & Appliances
You can never go wrong with a simple white backsplash in the kitchen. When you pair a white or a light neutral backsplash with cherry cabinets, or cherry cabinet doors, they will stand out more and be more of a statement within the kitchen. A simple, white subway tile won't break the bank and will coexist perfectly alongside the cherry cabinets!
Checkout: Most Popular Backsplashes for Your Kitchen Design

3. Modernize Cherry Cabinets with New Appliances & Hardware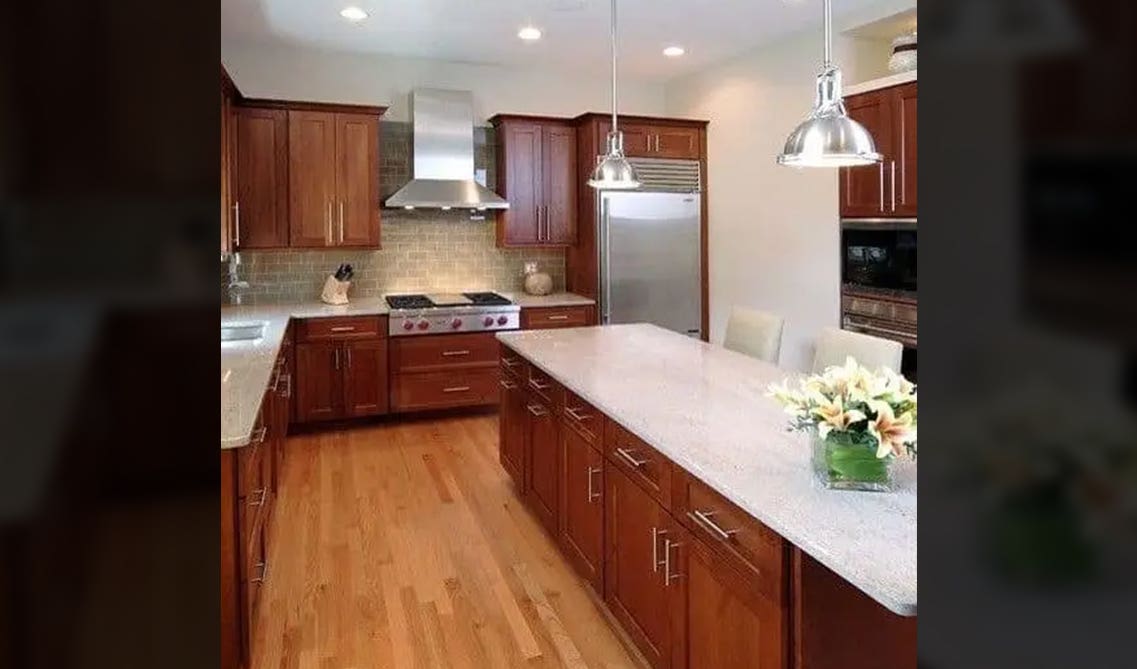 Photo: Pinterest - Kitchens Design
Have a traditional cherry cabinet kitchen with old appliances? Another way to fix a drab, dull cherry cabinet kitchen is to replace the appliances with brand new ones. Appliances that will make a statement can either draw eyes away from the cabinets, or make the cabinets appear more modern and new than they actually are.
Once you've got your shiny new appliances, adding new hardware to the cabinets will do nothing but enhance the modern feel of the kitchen. With new hardware and matching stainless appliances, your cherry cabinets will look brand new even if they are 20 years old! You don't need an entire kitchen remodel when renovating your cabinet doors or your hardware!
Check out Lily Ann's selection of premium decorative cabinet hardware (up to 50% off trending hardware styles!)
4. Modernize Cherry Cabinets with White Uppers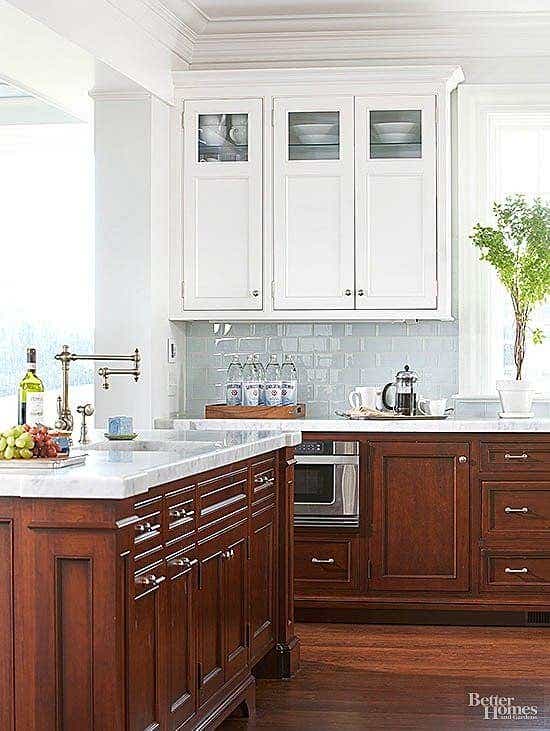 Photo: Pinterest - Kitchen Cabinet Wood Choices
A two-toned cabinet kitchen has become quite popular in recent years, so why not try it with cherry cabinets? Just like the picture above, if your kitchen has existing cherry lower cabinets, adding new white upper cabinets will make your kitchen look brand new. Paired with light and bright countertops, backsplash, and hardware, and you have got yourself a modernized kitchen!
Finding The Right Colors For Your Cherry Toned Kitchen
Before sharing some of our favorite cherry toned kitchens, let's talk about colors. The first thing you need to consider is how dark you want your cherry cabinets to be. Dark, medium, and light cherry all have differing complementary color shades.
Before installing cherry kitchen cabinets, it's important to choose complementary countertops, hardware, floors, and backsplash.
Here are some color pairing tips from our expert kitchen designers:
5. Pastels, Beige and White Colors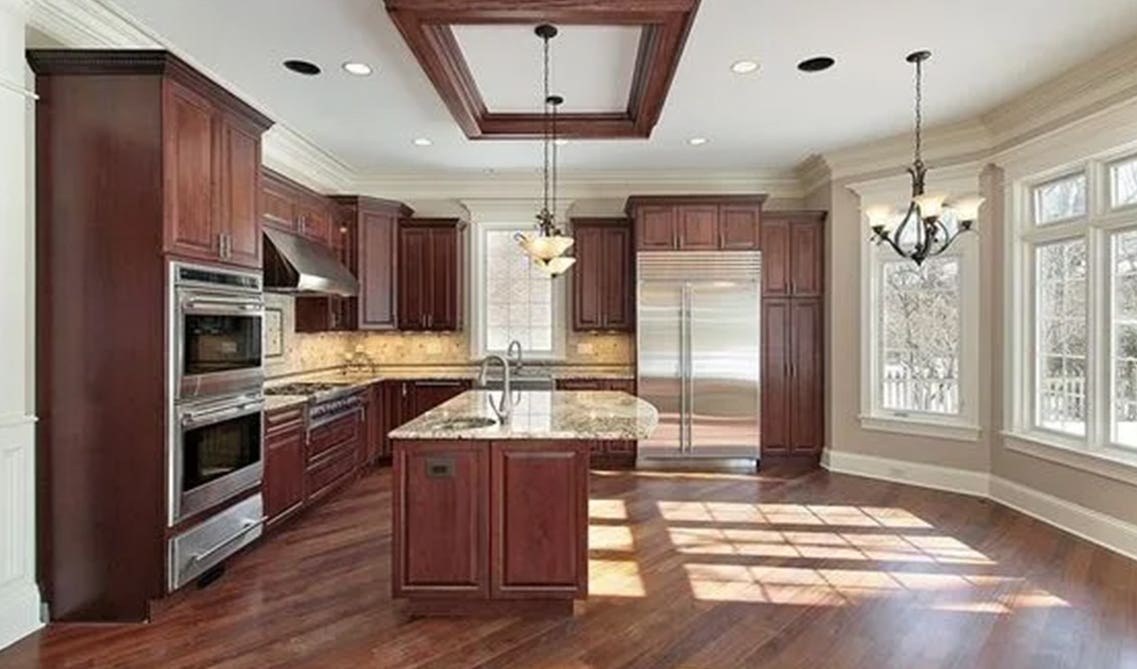 Photo: Pinterest - Medium Wood Kitchens
If you have a small kitchen you can utilize pastels, beige and white colors to give your kitchen space an open feel. Cherry cabinets are dark-toned, so you will want to add bright colors to balance out your kitchen space.
White or beige countertops and kitchen backsplash are a great option for cherry cabinets. Using a lighter color with your cherry kitchen cabinets will help bring in natural light.
Also Read: Color Schemes for Kitchens with Dark Cabinets
6. Grey and Blue Colors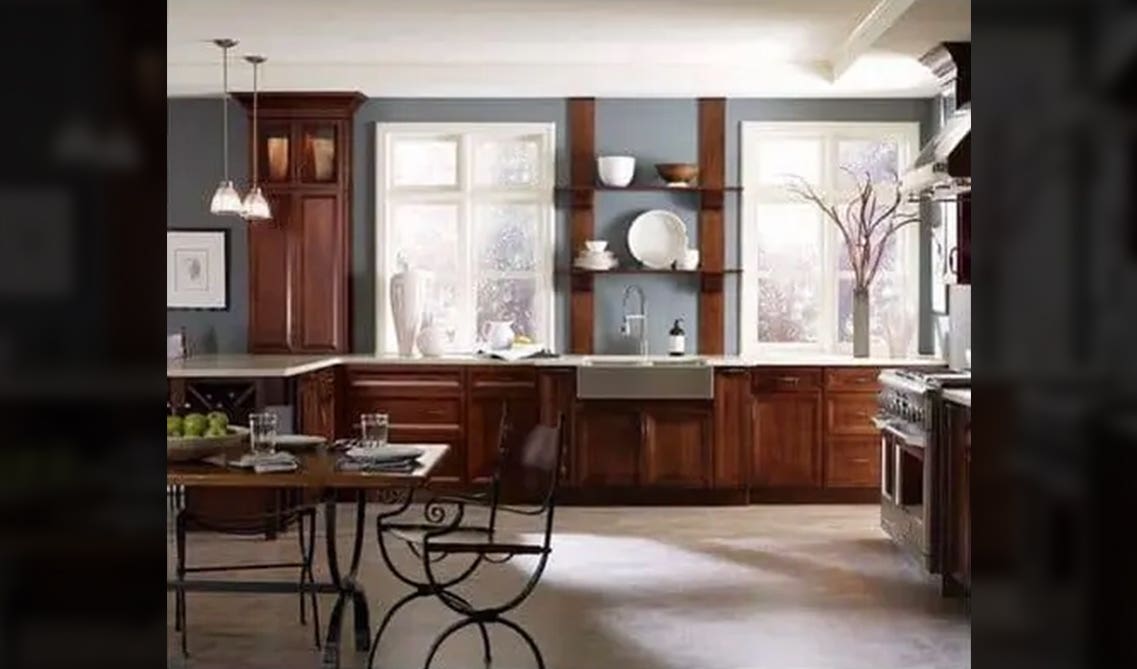 Photo: Pinterest - Dark Cherry Cabinets
If you want to add contrast to the reddish undertones of your dark cherry cabinets to make them pop, go for neutral colors. Look for greens, greys, and browns to make the red pop. Like in the picture above, the blue-grey color on the walls tones down the vibrancy of the cherry cabinets.
If this is something you want to do, then painting the walls a similar color is a good option! You may also want to add decor that is grey or a neutral color for that pop of color!
Checkout: Top 10 Wall Paint Colors To Elevate Your Kitchen Space

7. Green Colors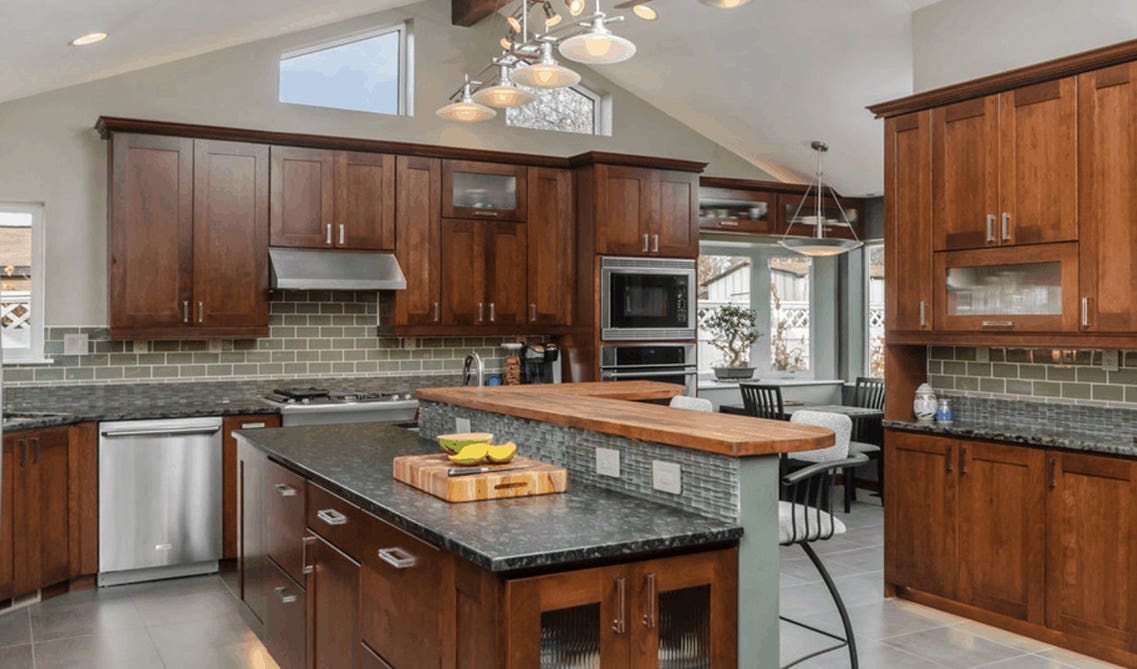 Photo: Houzz - Green Kitchen
You may also opt for complementary colors for your floors, countertops, and hardware. You can also use a color wheel for this. Look for colors that are opposite of red; they'll perfectly complement the reddish tones of the cherry kitchen cabinets.
Many people may stray far away from greens when designing a kitchen with cherry cabinets, but it truly works. Like in the picture above, the green subway backsplash and light green wall color coincides amazingly with the cherry wood cabinets.
Kitchen Design Ideas for Cherry Cabinets
There is no denying that cherry kitchen cabinets are here to stay. Their classic style adds value to any home, which is important to keep in mind if you ever consider selling.
To inspire your remodel, here are some of our favorite cherry cabinet kitchen designs!
8. Cherry Cabinets with Grey Accents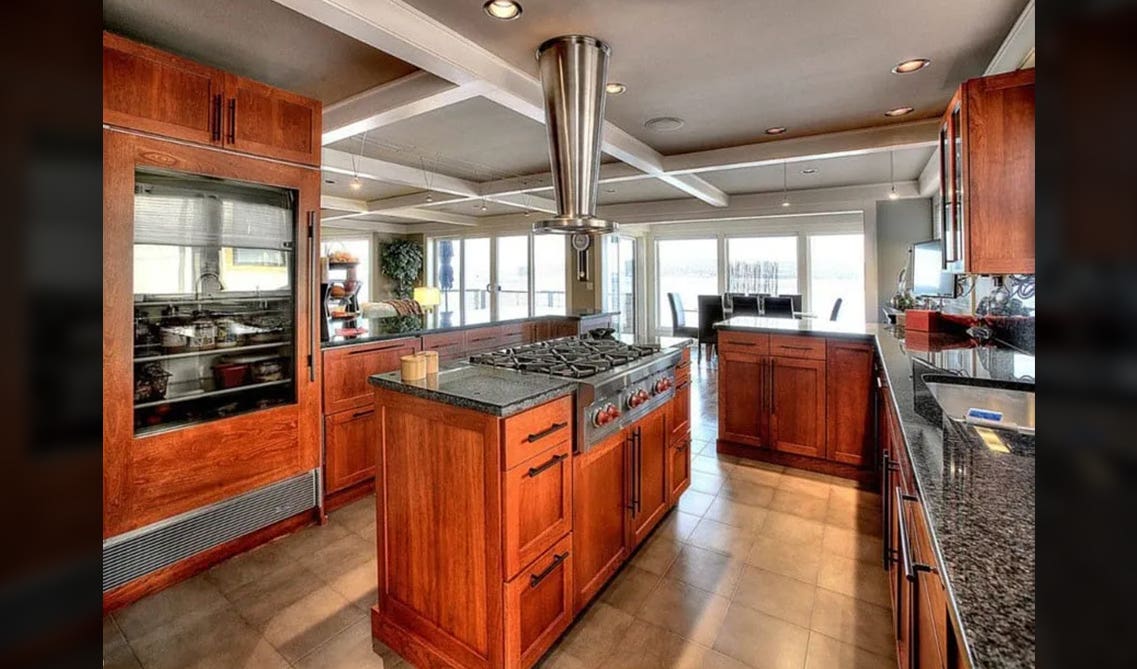 Photo: Design Idea - Cherry Wood Kitchens
The open space concept of this kitchen makes the cabinets the star of the show. With a grainy, dark countertop and beautiful natural lighting, the cabinets' medium tone stands out without overpowering the grey. Grey can be incorporated in a few different easy ways, such as through the appliances, wall color, flooring, or the countertops.
The new appliances add a sleek, cohesive style that modernizes the space, and the flooring and countertops neutralize the vibrancy of the cherry cabinets.
9. Shaker Cherry Cabinets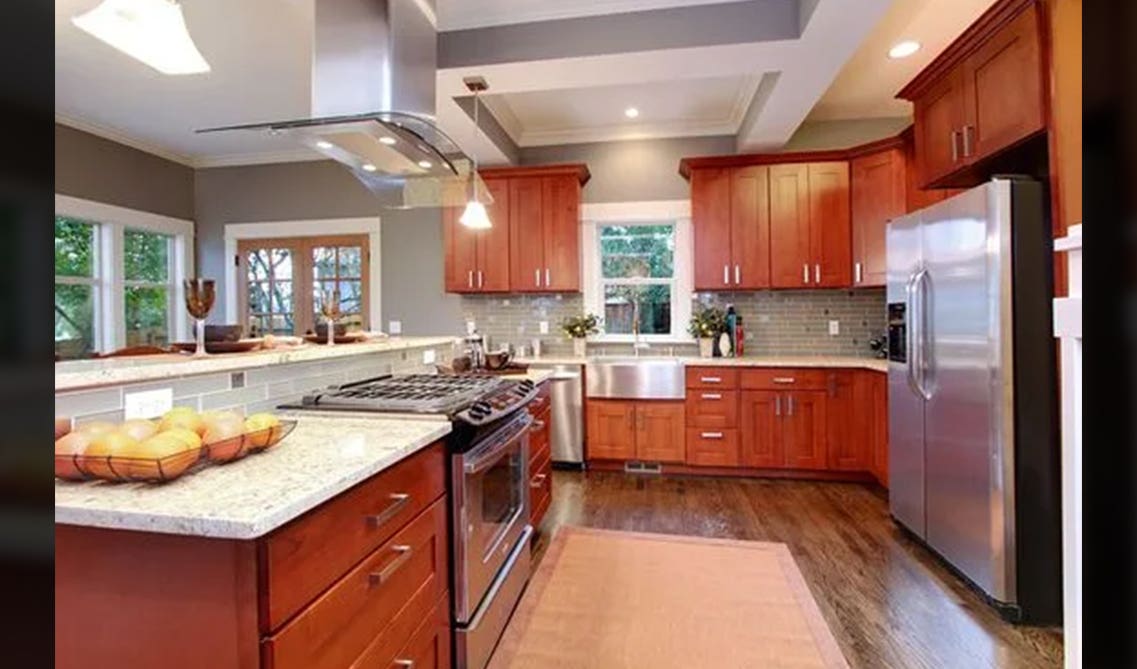 Photo: Pinterest - Natural American Cherry Shaker
Shaker cabinets are mostly known for their modern and sleek appearance. Cherry shaker cabinets keep the modern and sleek feel, but add much more color within the kitchen. With a grey backsplash, white countertop, and modern hardware, the kitchen above hit the nail on the head with their kitchen design!
10. Traditional Kitchen with Cherry Cabinets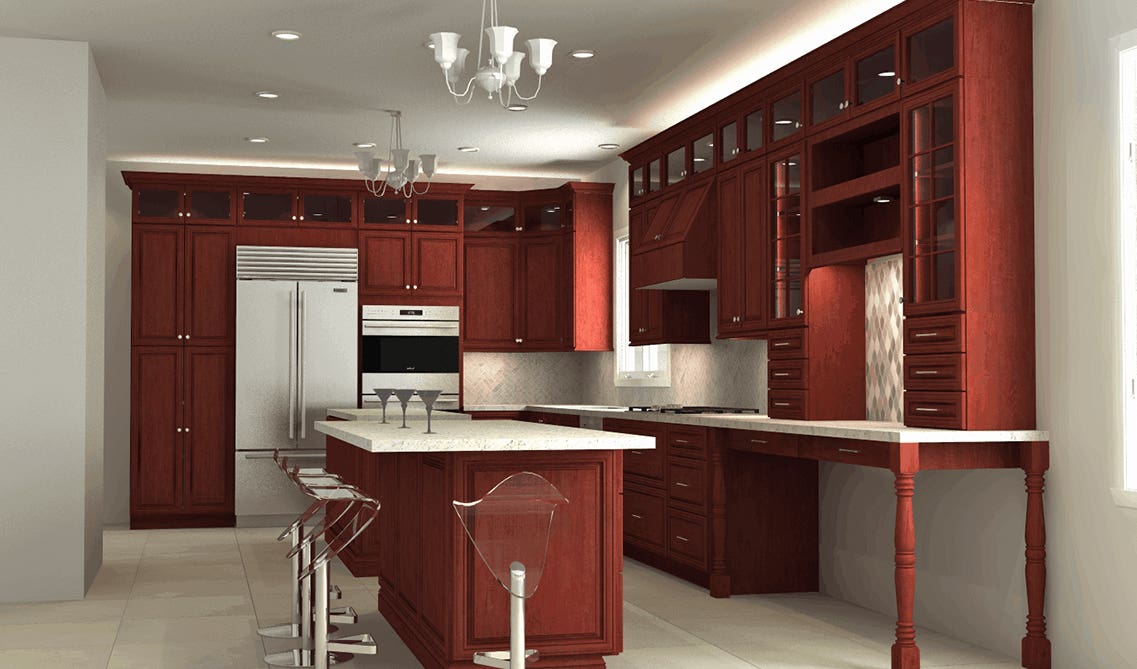 Charleston Cherry Kitchen Cabinet
Everyone loves big kitchens with enough storage space and space to move around without bumping into anything.
This kitchen is designed with cherry cabinets that reach the ceiling for more storage space. Although these cabinets are traditional, the arrangement here gives them a modern look. With white countertops, a light tiled floor, and a bright backsplash paired with the cherry cabinets, this design takes "traditional" to a whole new level!
11. Cherry Cabinets with White Accents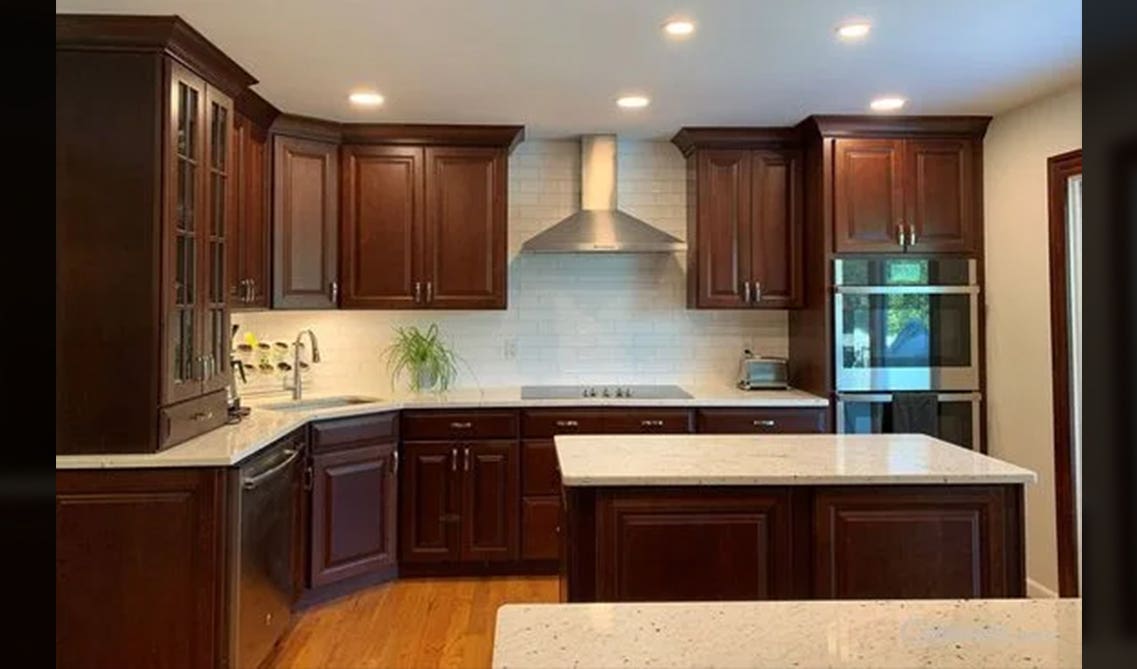 Photo: Pinterest - Traditional Kitchen
Sometimes, simplicity is key when it comes to cherry cabinet design styles.
The dark tone of these cabinets is stunning, while the white granite countertops and stainless appliances complement the solid cherry finishing on the raised-panel cabinets. The large island is perfect for entertaining and dining in.
Another great addition to cherry cabinets is the white subway tile like in the picture above. White subway tile is very versatile, being it comes in any size and can be placed in any formation. Pairing white subway tiles with cherry cabinets provides a feel that is not too modern and is not too traditional!
12. Black Countertops with Cherry Cabinets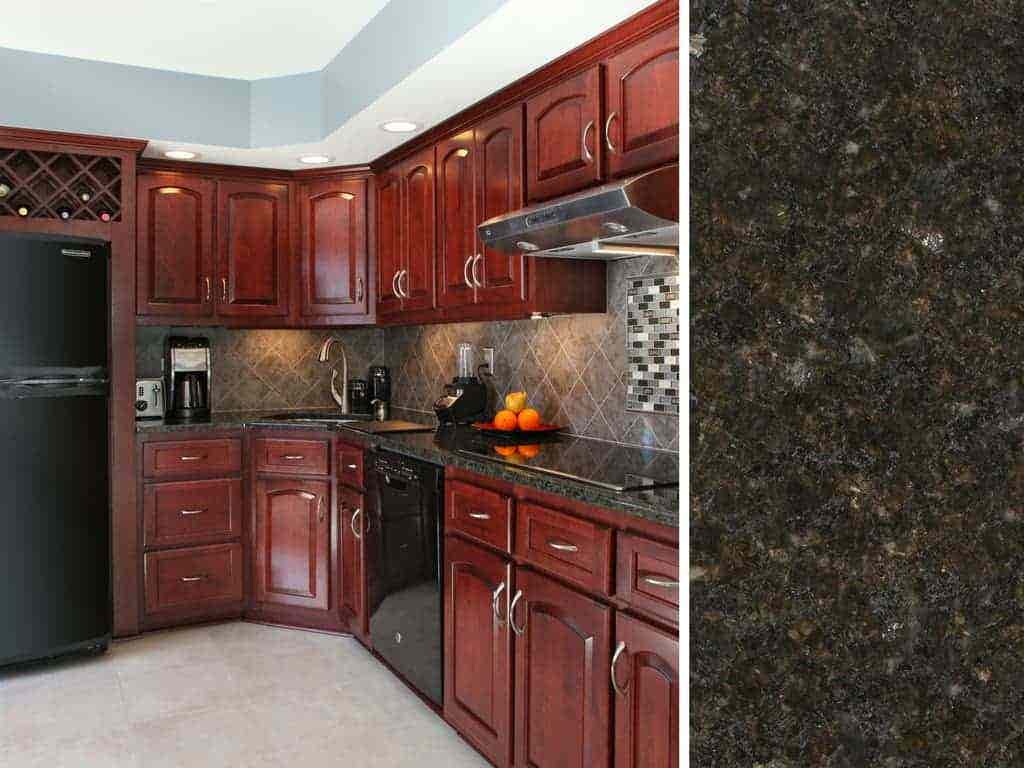 Photo: Pinterest - Black Countertop
Black countertops paired with cherry cabinets is another great option. The darkness of the countertops allows the cherry cabinets to look brighter and really pop within the kitchen. With such dark elements in the kitchen, pairing these two items with stainless steel appliances and a lighter backsplash will do the job perfectly if you want to lighten up the space.
13. Cherry Kitchen Cabinets and Blue Island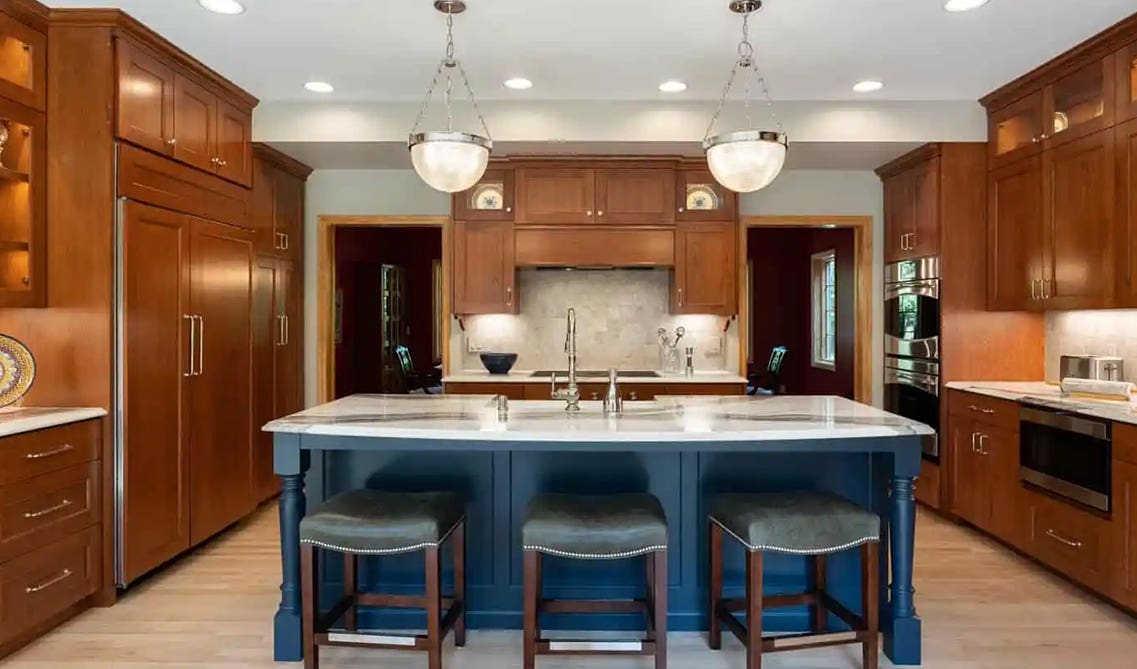 Photo: McDonald Remodeling
Sometimes, choosing a nontraditional accent color pays off! This beautiful cherry kitchen features a dark blue island with white countertops. Although blue may seem like a strange accent choice for some, it adds the perfect pop of color to complete the design. Paired with white countertops and a tiled backsplash, this is a timeless kitchen design that is truly inspiring!
How to Clean Cherry Kitchen Cabinets
Good cabinet care is required to maintain the luster of your kitchen cabinets. You can use a soft cloth with warm water and gentle dish soap to wipe down grease and dirt. For tough stains, use a blend of water, baking soda or vinegar to wipe. Avoid using sponges, strong cleansers or bleach.
Lily Ann's Charleston Cherry cabinets are naturally UV coated, making them super durable and much easier to clean than any other cabinet!
Affordable Cherry Kitchen Cabinets at Lily Ann Cabinets
Cherry cabinets are beautiful, especially when you pair them with countertops, hardware, and floors in complementary colors. If you're set to install some beautiful dark cherry cabinets, browse our Charleston Cherry cabinet line for over 50% off big box store pricing! Our professional designers are on standby to work with you — we offer FREE samples and FREE design and quote.
FAQs
1. Are cherry cabinets expensive?
With cherry wood being considered a premium style of wood, the pricing of cherry cabinets can get steep. Ordering RTA cherry cabinets (Ready-To-Assemble) will decrease the costs significantly, present the same beautiful look in the kitchen, and are just as durablez.
2. Is cherry or maple better for cabinets?
Picking whether cherry or maple is better for cabinets depends on the look you are going for. For a darker look, cherry is the best option. Cherry also presents distinct grain patterns which can be enticing to certain people for their kitchen design or style, rather than the look of maple. Generally, maple is more durable and will cost you less on average than cherry cabinets will.
3. How to lighten up a kitchen with cherry cabinets?
Lightening up a kitchen that has cherry cabinets will just take a few steps. Choosing a white kitchen countertop will brighten up the darkness of the cherry cabinets immediately throughout the entire space. To add to that, a white or light-colored backsplash will also compliment the white countertops and cherry cabinets perfectly. Last, adding light-stained cabinet hardware will also brighten up the cherry cabinets, so stick to chrome or silver hardware.
4. How to clean cherry wood kitchen cabinets?
Not only are cherry cabinets a deep, alluring color, but they also are durable and easily cleanable. In contrast to white or lighter colored cabinets, cherry cabinets will hide stains and dirt for much longer, and make cleaning simple with their natural UV coat and multi-step finishing process (which is unique to these cherry cabinets). A simple cleaning spray will keep these cabinets looking beautiful!
5. What color paint goes well with cherry wood kitchen cabinets?
Cherry cabinets can be a difficult style of cabinet to match paint colors to. White, greys, tans, and greens are all good options to pair with cherry cabinets depending on the style of your kitchen. Thisicle will help!