Are you looking to add a touch of sophistication and elegance to your kitchen? Look no further than granite kitchen countertops. Granite is one of the most popular choices for kitchen countertops, as its stunning natural beauty and durability make it a great choice for any kitchen. In this blog post, we will be discussing 12 different granite countertop ideas for your kitchen, from classic to modern, that are sure to take your kitchen to the next level. Whether you are looking for a timeless look or something unique, you are sure to find something that fits your style and budget among these kitchen granite countertop ideas.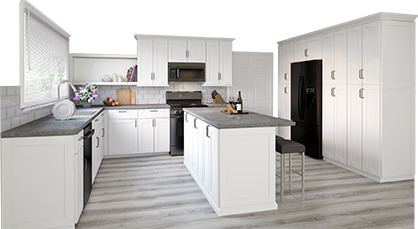 3D Kitchen Visualizer Tool
Bring your dream kitchen to life with our free kitchen visualizer!
Design Now
1) Black Countertop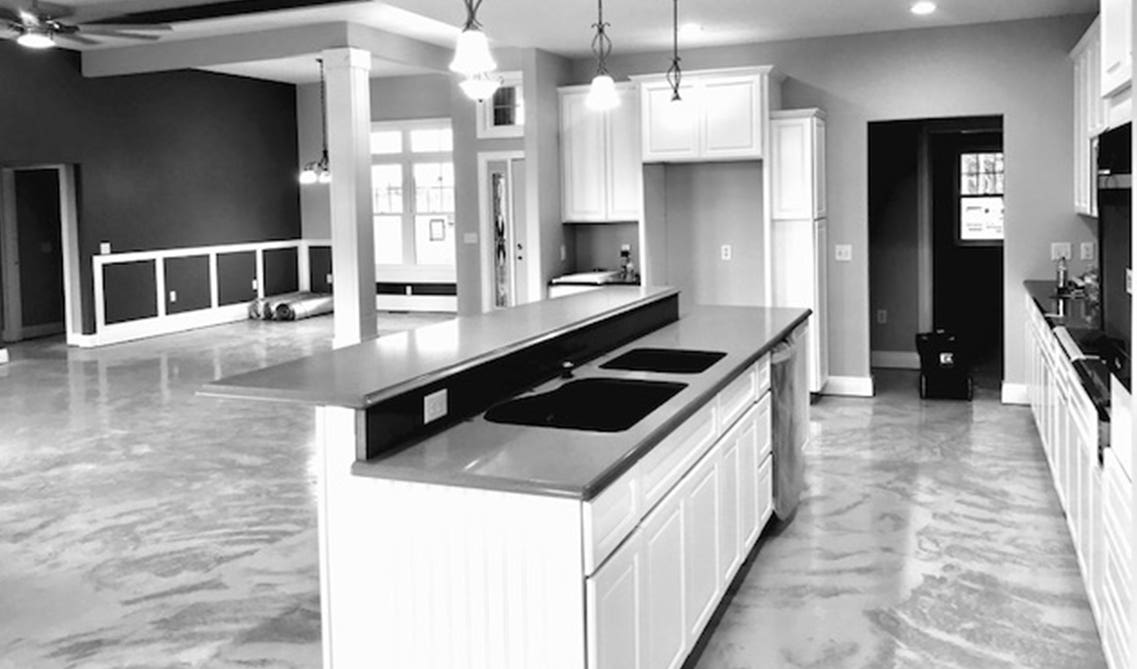 Black granite countertops are a luxurious and stylish option for any kitchen. This beautiful stone is known for its black background, which can be sprinkled with flecks of silver or gold for an eye-catching effect. Not only does it add an elegant touch to your kitchen décor, it's also incredibly durable, meaning that your granite countertops kitchen will last for many years to come. Black granite can be used in many different styles of kitchen, including modern and traditional, making it a great choice for those who want to keep up with current trends while still having the classic look of granite. Additionally, you can choose from a wide range of edge designs and custom finishes that will make your countertops truly unique.
2) Beige Countertop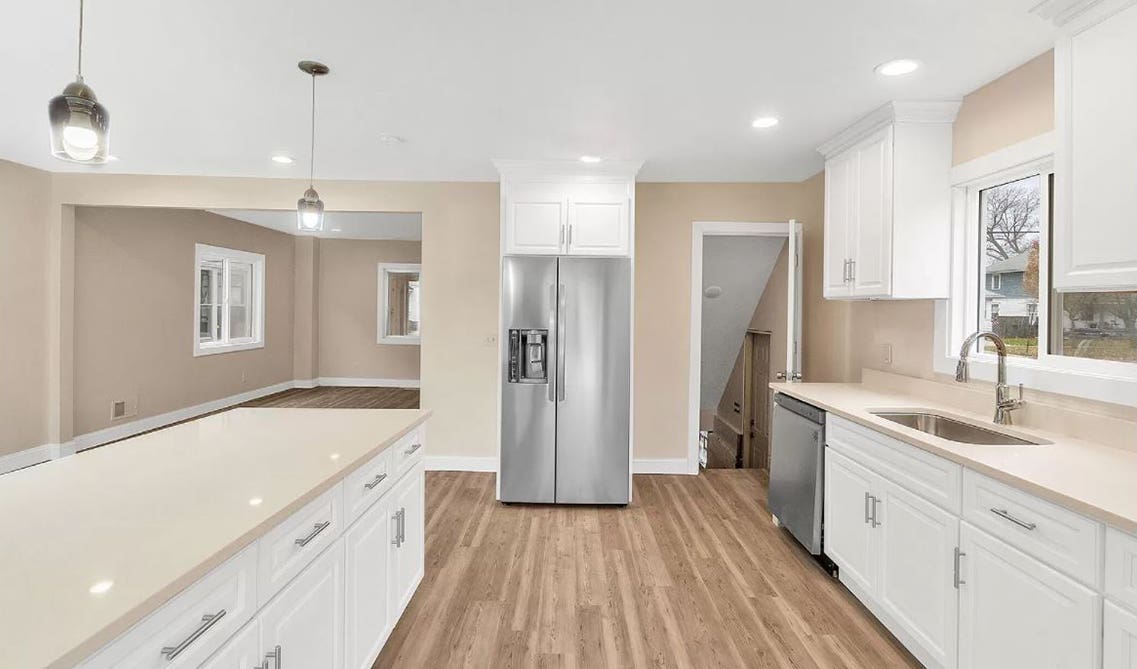 Consider Butterfly Beige granite countertops if you're looking for an elegant and timeless look for your kitchen. This unique, patterned stone is sure to add a classic feel to any kitchen. Its neutral tones make it easy to pair with many different color schemes and cabinet styles. Plus, the textured surface creates a warm and inviting feel in any space. If you're looking for creative tabletop ideas, consider adding an island top also made from Butterfly Beige granite. The neutral hues make it perfect for a variety of different décor styles.
We are loving the clean, simple look of these white cabinets. Check out the beautiful Key Largo White Cabinets.
3) White Countertop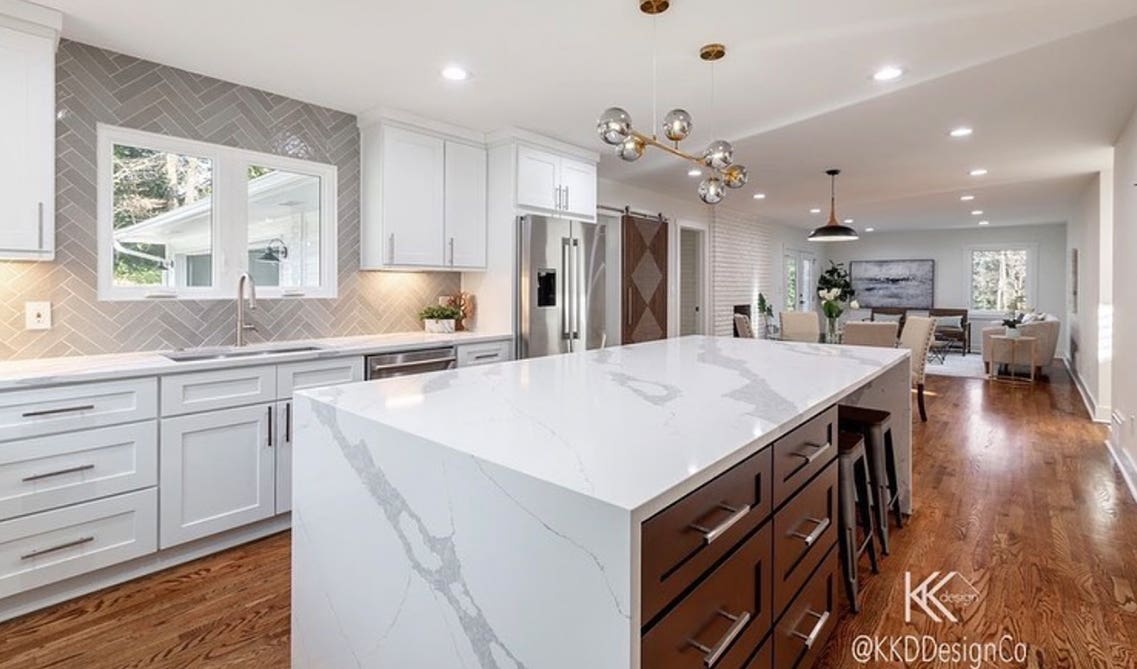 White granite countertops are among the most popular choices for kitchen design. Not only is white granite timeless, but it also adds a classic yet modern look to any kitchen. With its clean and bright hue, white granite makes for an elegant choice for countertops that will add a chic touch to your kitchen decor.
4) Brown Granite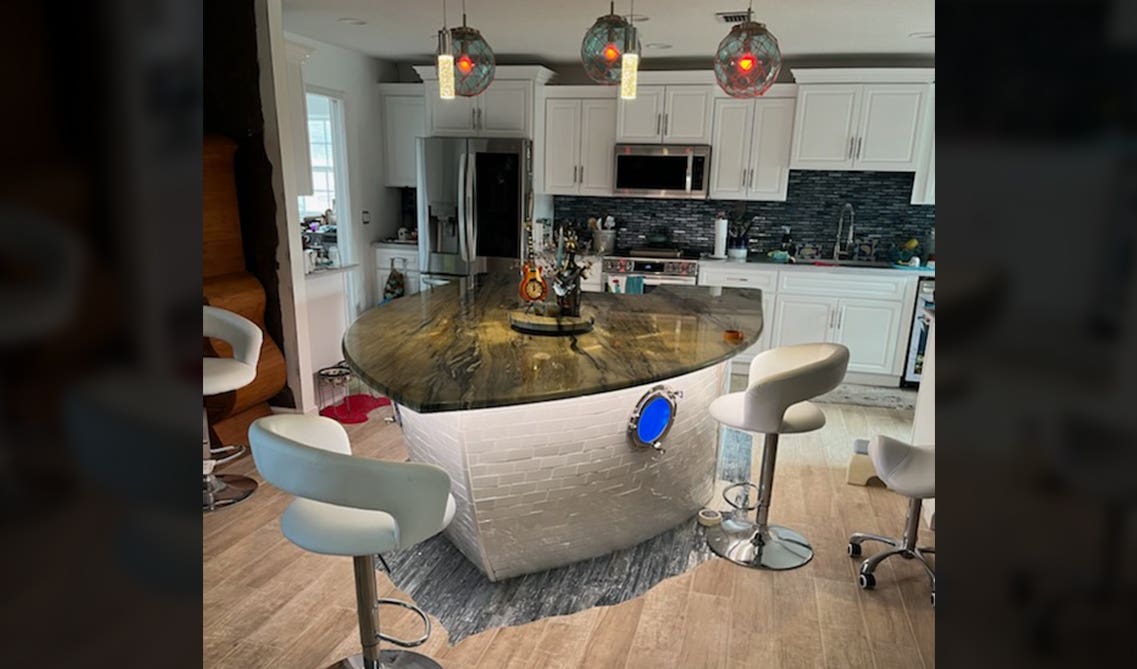 One other creative tabletop ideas for your kitchen is Brown granite countertops. Brown is a beautiful shade, creating an elegant and luxurious look that will instantly elevate the style of your kitchen. It's one of the toughest and most durable types of granite, making it perfect for busy kitchens and high-traffic areas. Brown is also stain-resistant and heat-resistant, meaning it will maintain its beauty for years to come. With the right installation, this granite will be sure to make a statement in your kitchen.
5) Emerald Pearl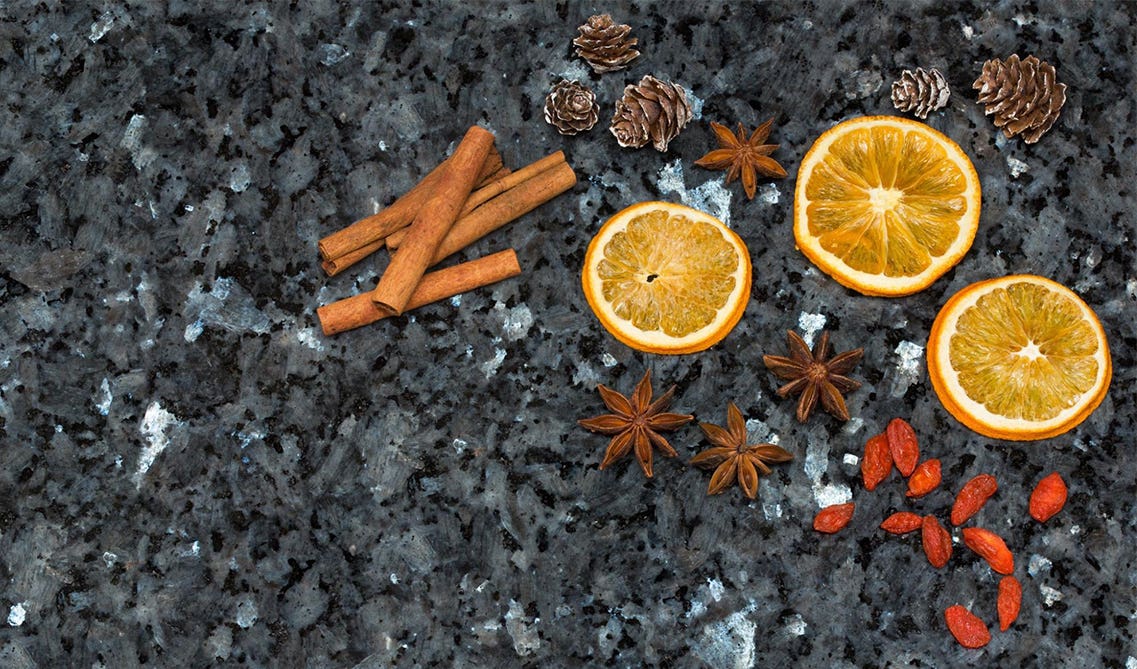 If you're looking for a beautiful and luxurious kitchen granite countertop, then Emerald Pearl is an excellent choice. Its subtle green and gray shades, mixed with its flecks of copper, create a stunning addition to any kitchen. The granite has a unique, iridescent quality that changes as the light catches it, making it an eye-catching piece in your kitchen. Emerald Pearl granite is perfect for both modern and traditional designs, and its durability makes it a great long-term investment.
6) Blue Marble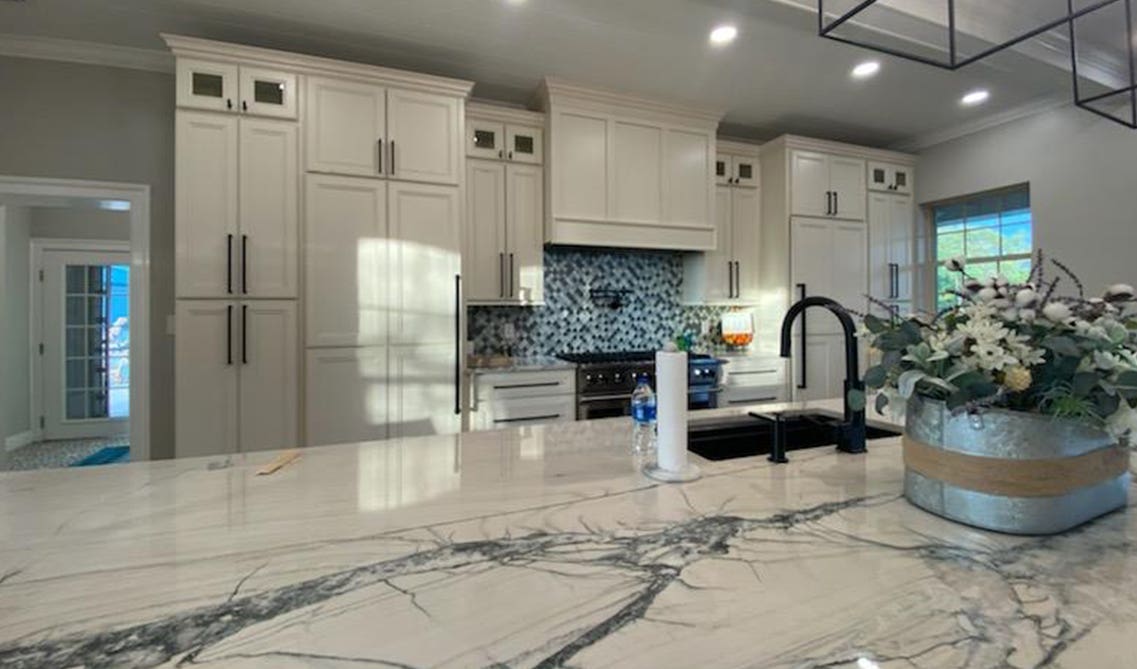 Blue marble countertops are quickly becoming one of the most popular current countertop trends. The light and dark hues of this granite create a dramatic look in your kitchen, making it the perfect choice for those looking to give their kitchen a modern, luxurious upgrade. With its striking color combination and unique patterns, Blue Pearl granite countertops will make a great addition to any kitchen space. If you're looking for a luxurious kitchen granite countertop, Blue Pearl is an excellent option.
7) Sea Pearl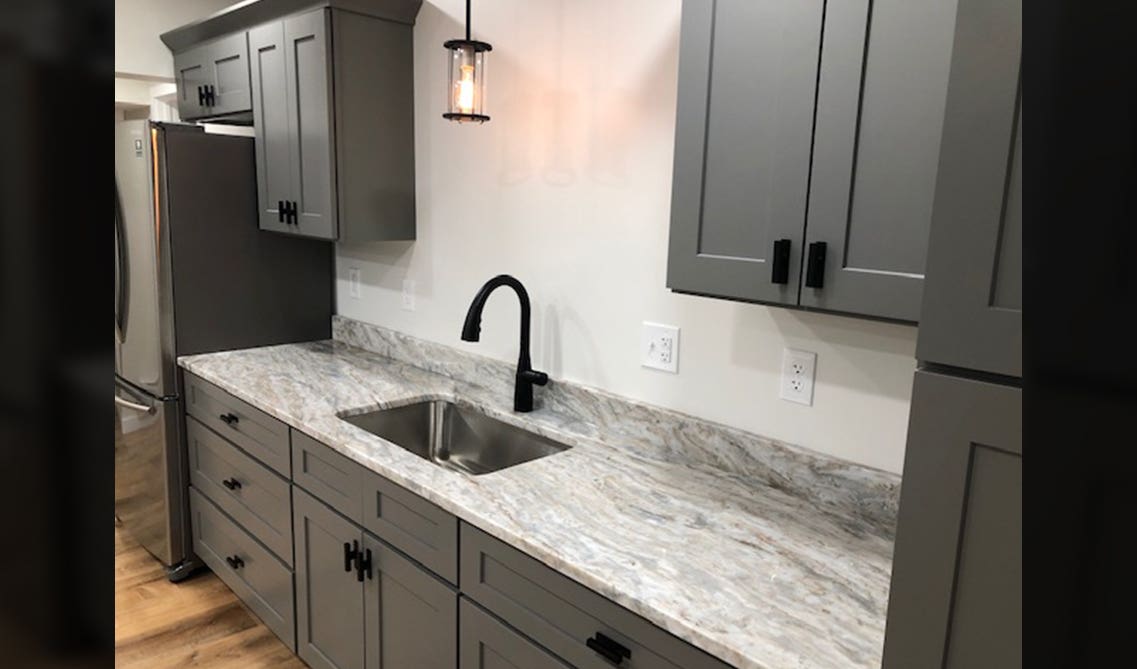 Sea Pearl granite countertops are among the current countertop trends due to their classic and timeless style. This type of granite is characterized by its muted whites, grays, and blues with striking veins running throughout. It's a perfect choice for those looking for a subtle yet elegant look for their kitchen.
Like the look of these kitchen cabinets? Check out the beautiful Grey Shaker Elite Kitchen Cabinets.
8) Santa Cecilia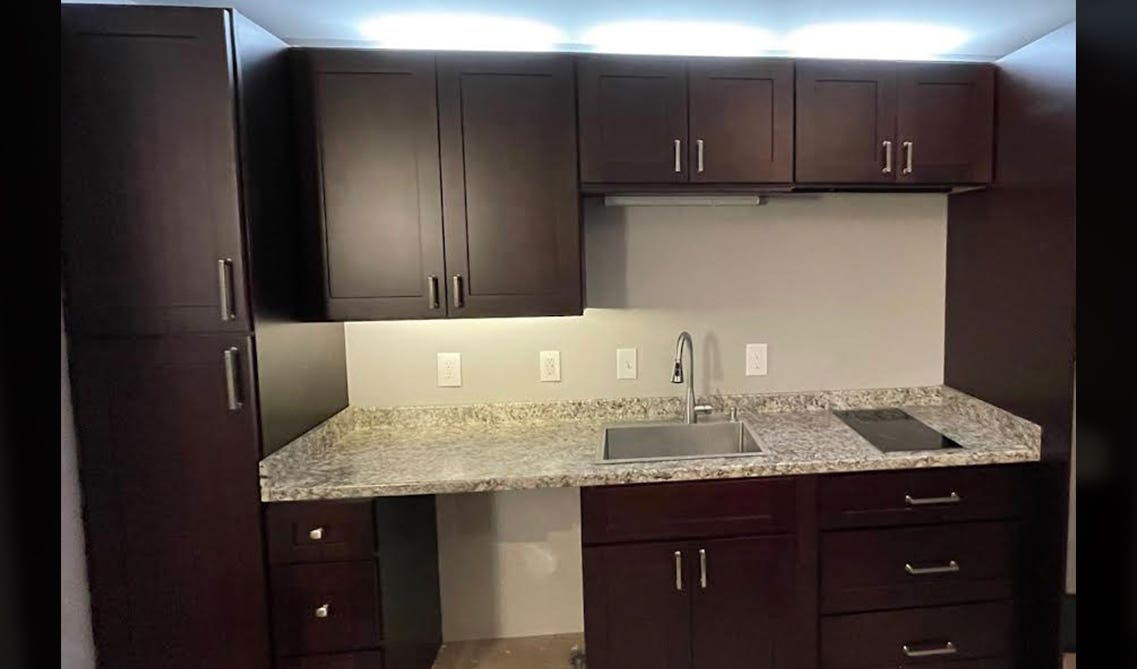 The Santa Cecilia granite countertop is a great choice if you like a combination of beige, gold, and gray hues, it will instantly add a touch of elegance and style to any kitchen space. Not only does it have a unique pattern, but it is also incredibly durable and stain-resistant, making it the perfect material for busy kitchens. In addition, its natural shine helps to bring out the color and beauty of the stones, adding more interest to your kitchen décor. Whether you're looking for something sleek and modern or something more traditional, Santa Cecilia granite countertops can provide the perfect look.
Looking for the perfect brown kitchen cabinets?  Check out the beautiful York Chocolate Brown Kitchen Cabinets which are up to 40% off box store pricing!
9) New Venetian Gold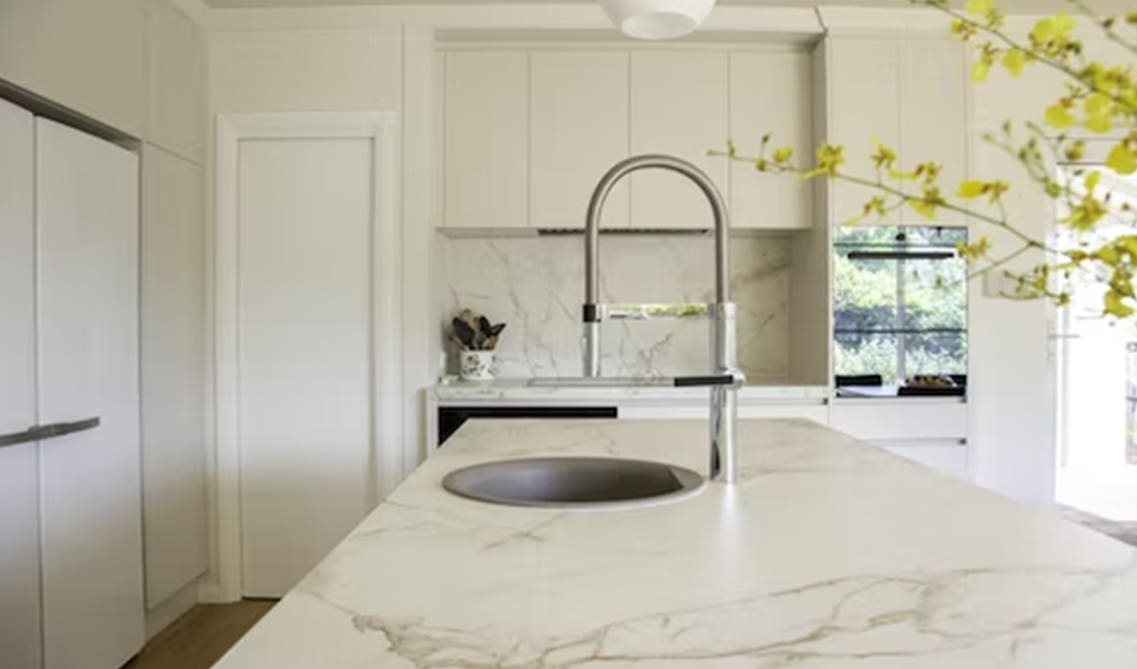 The New Venetian Gold has been a popular granite that has been used for centuries to adorn homes, and it's still one of the most popular countertop materials today. With its striking beige, gold, and grey veins, New Venetian Gold granite is sure to make a statement in any kitchen.
10) Grey Granite
Another creative tabletop idea to add a sophisticated touch to your kitchen, grey granite countertops are a great choice. Grey granite is an on-trend material that provides a modern and chic look to any space. Grey granite can be used in a variety of ways to give your kitchen an elegant feel. The subtle color of grey granite pairs nicely with a wide range of hues, making it easy to create a unique and inviting kitchen design.
11) Brown Marble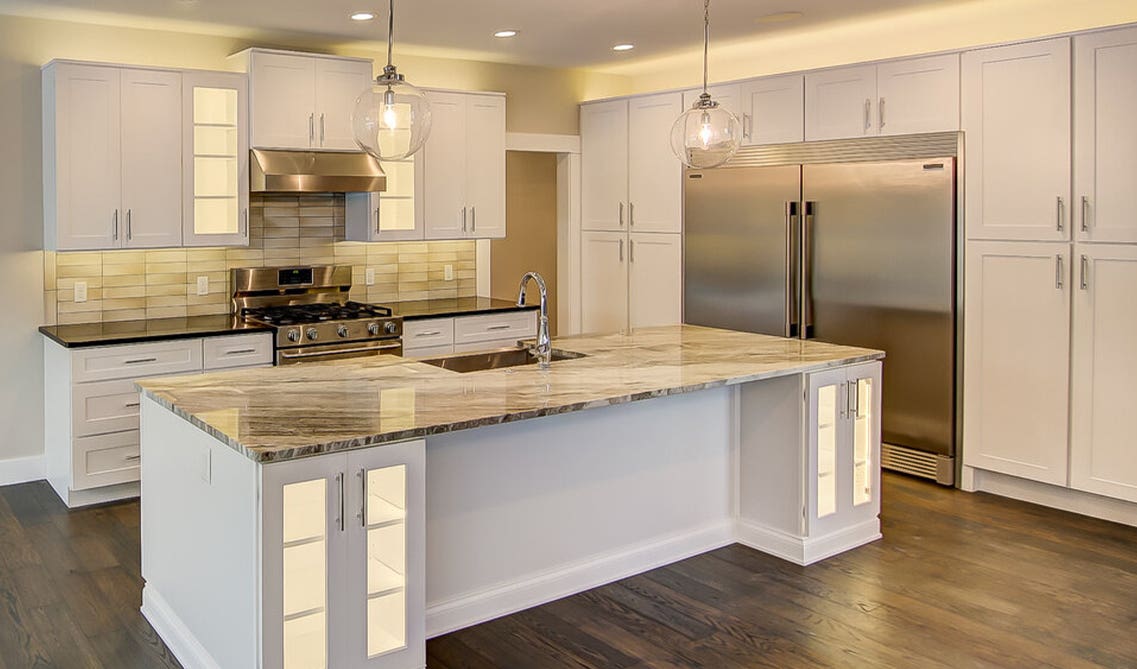 If you're looking for a way to spice up your kitchen, why not consider adding a Tropic Brown granite countertop? This classic shade of brown is both timeless and contemporary, making it perfect for modern kitchen designs. With its dark hues, it can easily be the centerpiece of any creative tabletop ideas, while still being versatile enough to fit in with current countertop trends. Whether you choose a full granite countertop or just accents of Tropic Brown throughout, it will surely bring warmth and depth to your kitchen.
12) Wood Countertops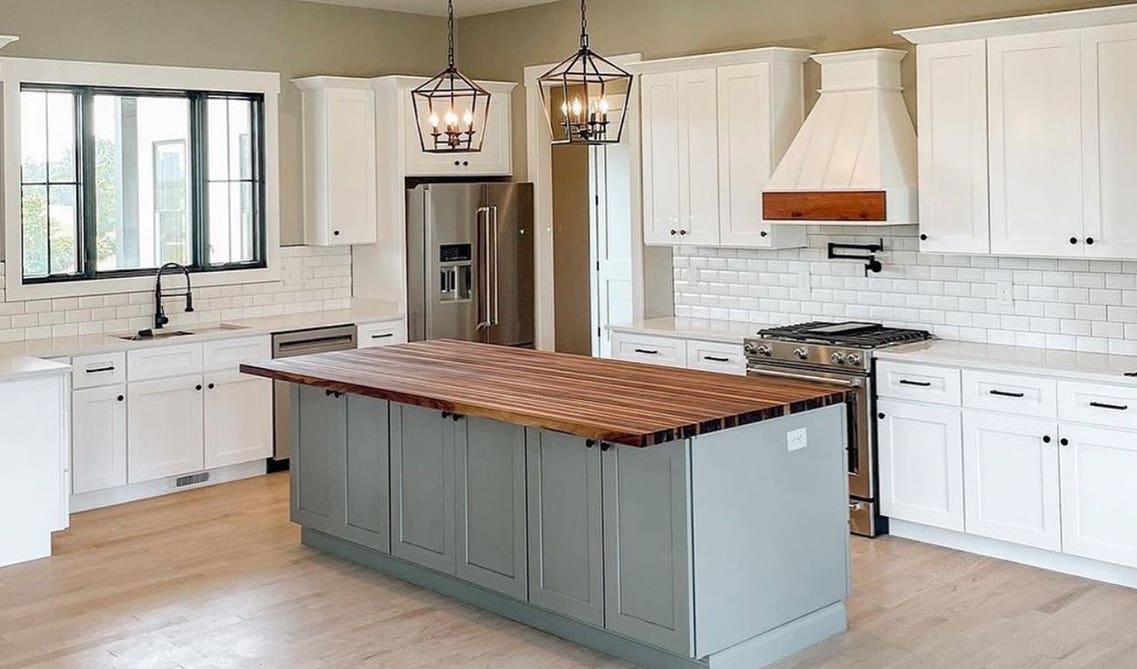 To make a bold statement in your kitchen, a wood style countertop may be a perfect choice. Creative tabletop ideas have been growing in popularity and brown is one of the most current countertop trends. Wood countertops bring an interesting, unique look to your kitchen.
Create Your Dream Kitchen With Lily Ann Cabinets
We offer a wide selection of premium cabinetry, hardware, shelving and more to help you create a room that stands the test of time. Pick from our large array of kitchen and bathroom cabinetry, including white shaker cabinets that come with soft-close hinges. Our professional designers are on standby to work with you — we offer FREE samples and FREE design and quote. Visit our FREE 3D design tool to get started today!
FAQ's
1. Is granite good for kitchen countertops?
Granite is the best choice when it comes to countertops
2. What are the best granite colors for white cabinets?
White cabinets go great with any granite countertops, however we recommend to pair your countertops with whatever paint color you choose for your walls
3. How long will granite countertops last?
Granite countertops last many years because of the high grade quality of the natural stone.