Whether you're a new home buyer or remodeling an existing place, kitchen cabinets are undoubtedly one of the most important aspects of the overall design. The kitchen is the heart of the home, and cabinets usually take up the bulk of the space there. It's important to get the cabinet color right! Read on to get Amazing color schemes for kitchens with dark cabinets.
Choosing the Perfect Dark Cabinets
Although white kitchens are typically the go-to in traditional home design, we urge you to consider going dark. The allure of dark kitchen cabinets is obvious—they're dramatic, striking, and demand your attention immediately upon entering the room. What's not to love? Available in hundreds of stains and colors, dark cabinets suit any kitchen style, from rustic to modern.
In addition to choosing the perfect shade of dark kitchen cabinets, you must also consider how to tie your other kitchen finishes into the design. From finding the perfect paint color to the best lighting, there are many decisions to make to ensure your dark cabinets are the star of the show. If you really want your dark cabinets to shine, the rest of the finishes in the kitchen must be complementary to their color and depth.
So how does one achieve the perfect dark kitchen? What are the best color schemes for kitchens with dark cabinets? Continue on as we answer these popular questions and showcase some of our favorite dark kitchen cabinet design ideas.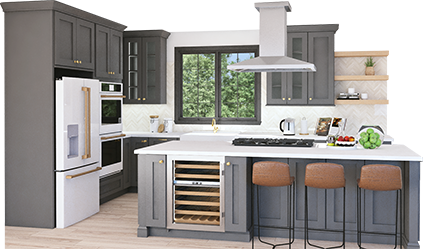 Get your FREE 3D kitchen design today!
Start Now
1. Rustic Transitional
EKD Design
There are lots of contrasting finishes going on in this transitional kitchen—hardwood floors, a natural stone accent wall, dark grey cabinets, and a waterfall marble island contribute to the unique rustic design. The warmth of the wood floor gives contrast to the otherwise neutral color palette. Plenty of natural light floods the room through three large windows. The result is absolutely stunning.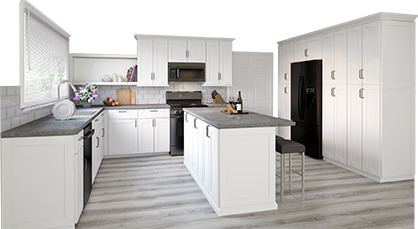 3D Kitchen Visualizer Tool
Bring your dream kitchen to life with our free kitchen visualizer!
Design Now
For similar dark grey cabinets, check out york driftwood cabinets!
2. Dark Shaker Contemporary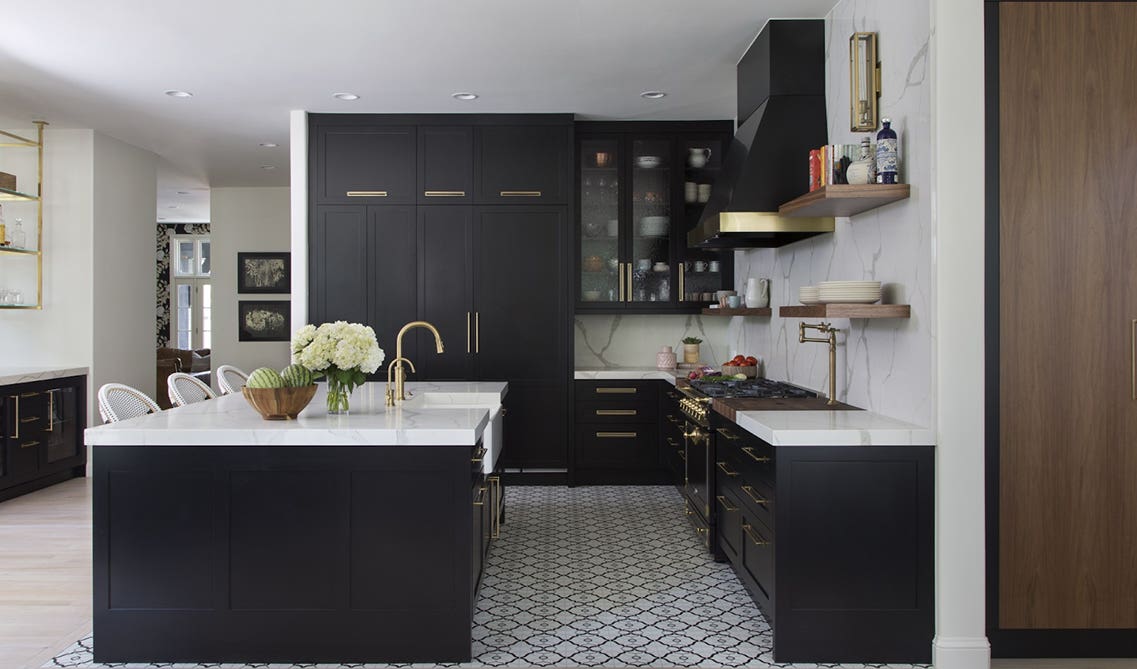 Kitchen colors don't have to be complicated. This black, white and brass color scheme is simplified yet elegant. The black shaker cabinets in this sleek contemporary kitchen are dramatic and give a bold contrast to the bright white walls. We love the oversized brass bar pulls—they're understated yet effective.
3. Mediterranean Getaway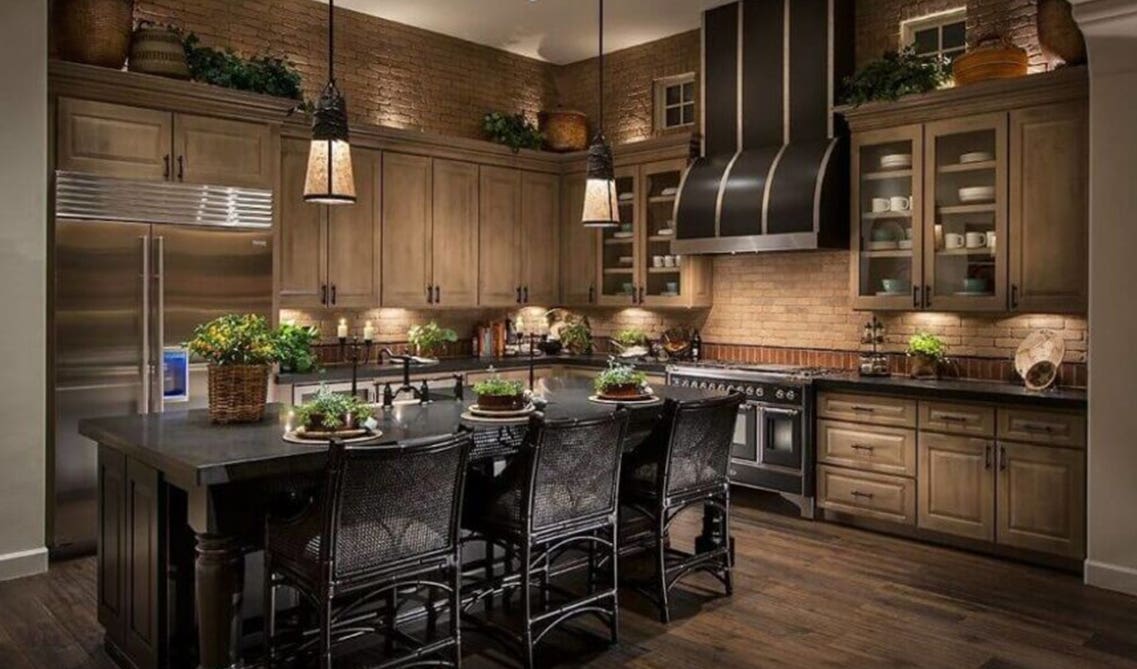 Dark cabinets don't have to be black—if the midnight mood isn't for you, consider a lighter shade of brown. This kitchen features a more neutral beige tone of cabinets with under-cabinet lighting for dramatic appeal. Accent colors include a deep brown range hood, black kitchen island, and deep grey marble countertops. For an added creative touch, this interior designer added glass door cabinets to display matching dishware.
Also Read: 11 Easy Ways To Modernize Brown Cabinets
4. Two Tone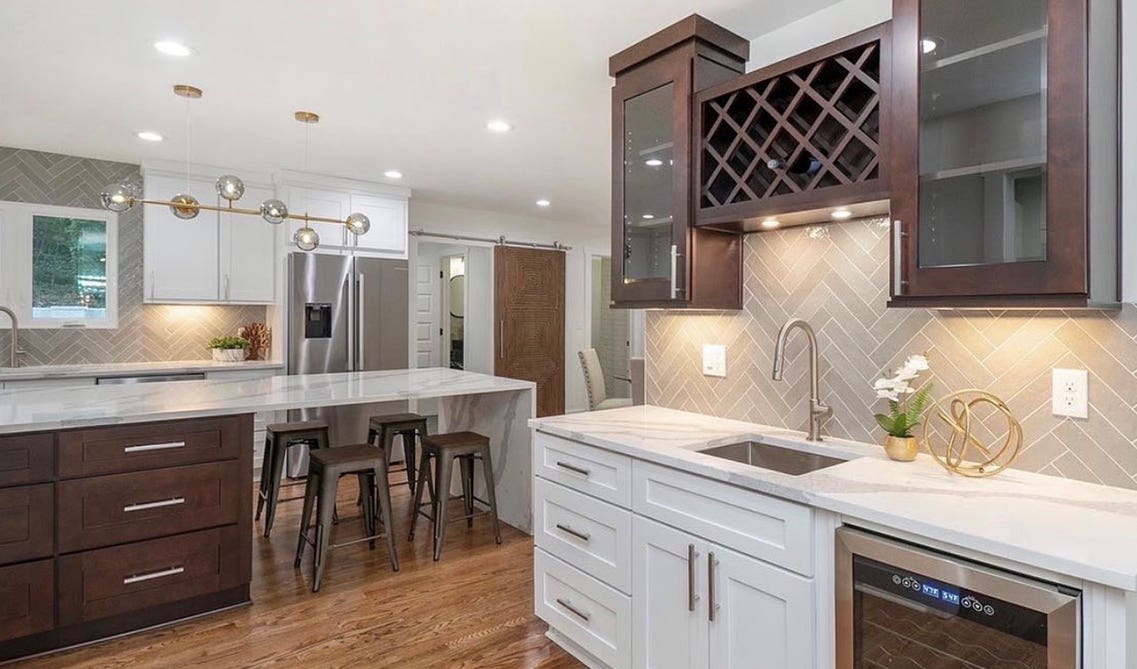 Adding a dark colored cabinet with a light colored cabinet is the perfect way to add contrast and personality into your home. Doing a two tone look with your cabinetry is very popular. White and navy blue cabinets, white and grey cabinets, and white and espresso cabinets (pictured above) are three very popular two tone Kicthen ideas!
Check out: Get the Two Toned Cabinets Look | Creative Tips & Photos

5. Rich Chocolate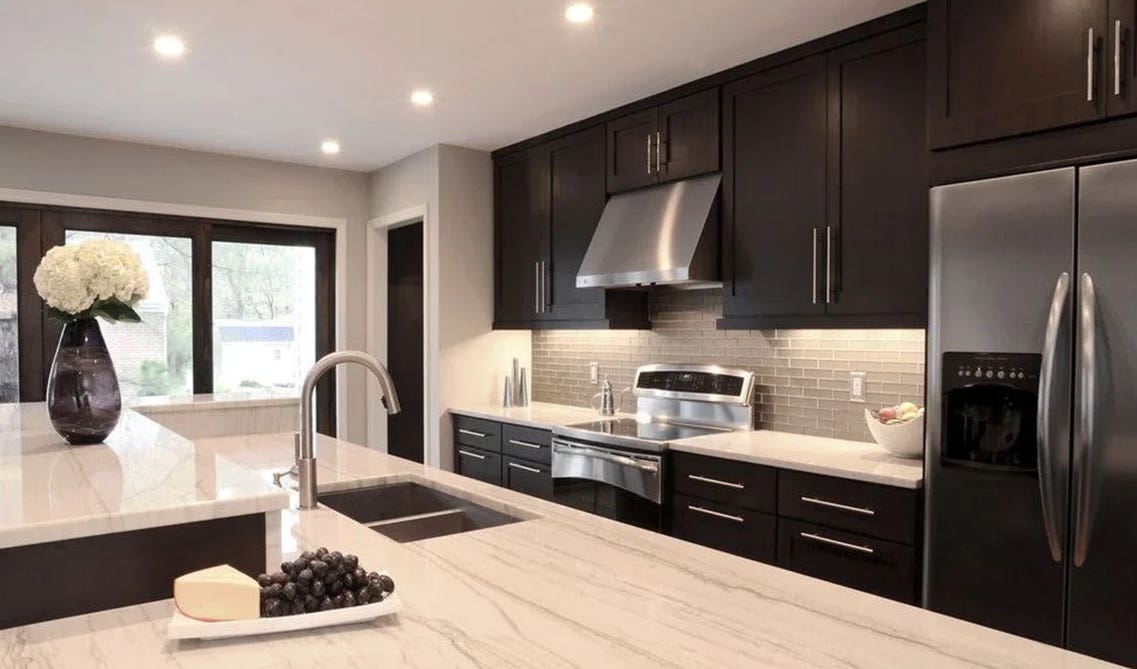 Lily Ann Cabinets - York Chocolate Brown
For a more traditional look, this kitchen features dark chocolate brown cabinets. A mosaic tile backsplash and white wall paint brighten up the room and contrast the deep brown hue of the cabinetry. A small island provides more workspace and shows off more of the gorgeous grey-brown countertops.
6. Sleek & Modern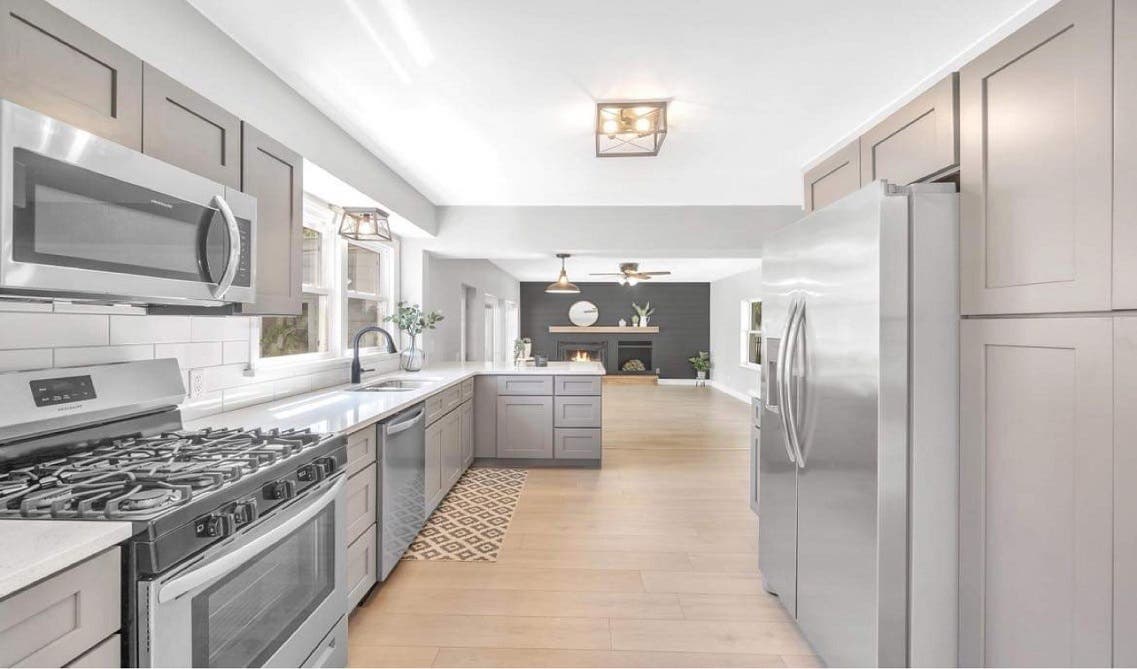 With an open layout and oversized island, this expansive modern kitchen feels anything but stuffy. The dark grey cabinets don't feel overbearing, but rather inviting and riveting. The light gray walls, a popular kitchen paint color for dark cabinets, provide subtle contrast and keep the room feeling bright and airy. A glossy subway tile backsplash ties the room together. We also love how the glass pendant lighting makes an artistic statement.
Also Read: 8 maple Kitchen Cabinet Design Ideas for a Sleek and Modern Look
7. Stainless Style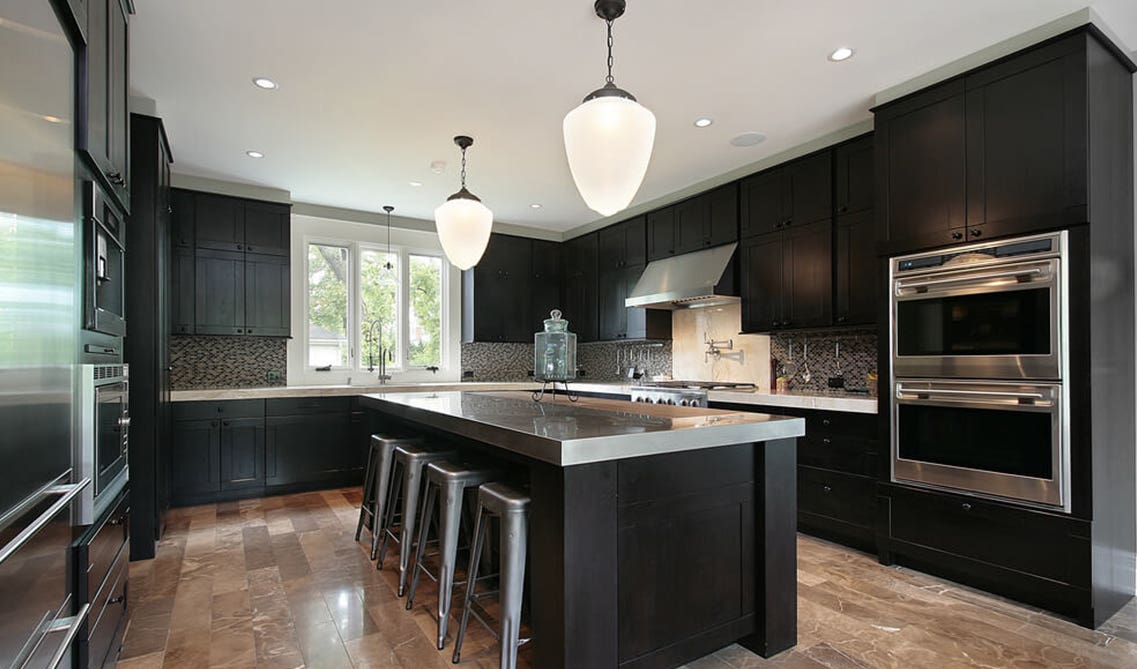 What appliance finish goes best with dark cabinets? Without question, stainless steel. Not only are stainless steel appliances timeless and accommodating to all cabinet colors, but they are also durable and withstand the daily wear and tear of a busy family kitchen. This black kitchen boasts all stainless steel finishes, with metal barstools and grey countertops to complete the look. Unique pendant lighting gives the room an artistic touch.
8. Mountain Escape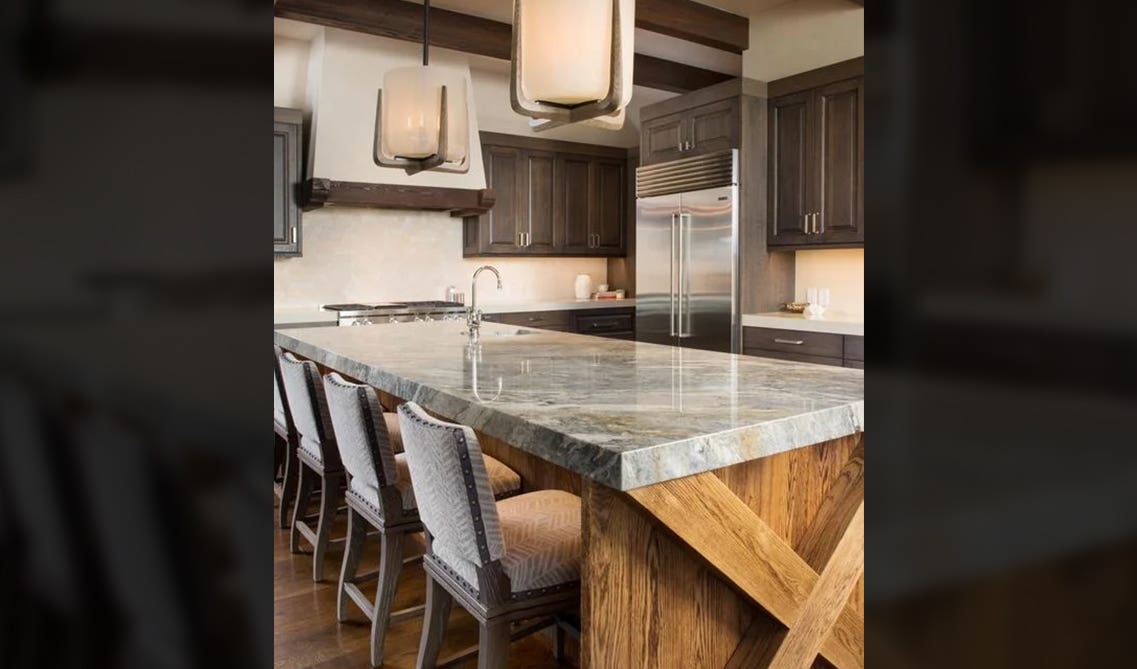 Pinterest
Dark kitchen cabinets are a popular choice for rustic, cabin-style homes. This dreamy mountain kitchen features sleek black shaker cabinets with large wood beams, a natural stone accent wall, and plenty of overhead lighting to keep the space bright. If the cabin style is what you aim for, incorporate lots of raw and earthy materials to ground the design and help it blend with the surrounding nature.
If you aren't ready to commit to an all black cabinet, dark brown cabinets such as espresso cabinets may be the way to go!
Also Read: Best Kitchen Cabinet Color Ideas with Long-Lasting Appeal
9. Minimal Dark Cabinets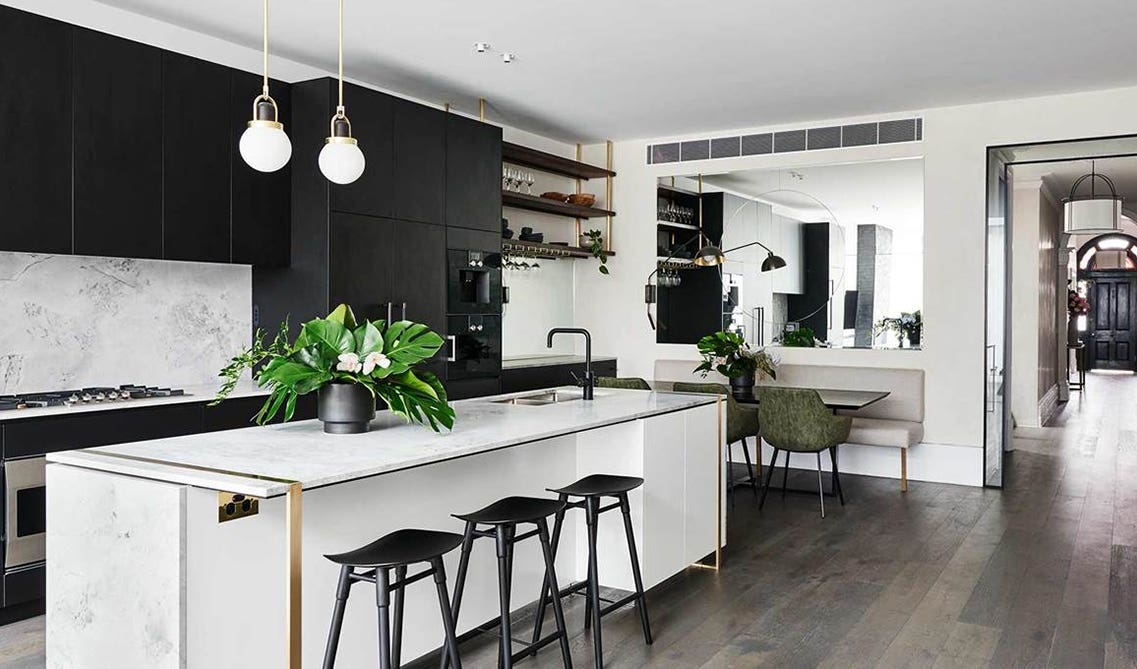 Homes To Love
This modern kitchen in Melbourne, Australia is the picture of minimalism. The timber flooring blends the rooms in the home together to encourage the feeling of one large, incorporated layout. Simple black cabinets with minimal hardware keep the design uncomplicated and effortless. The large white island is the CenterPoint of the room, acting as the central hub for family and friends to gather around and socialize.
10. Classic Craftsman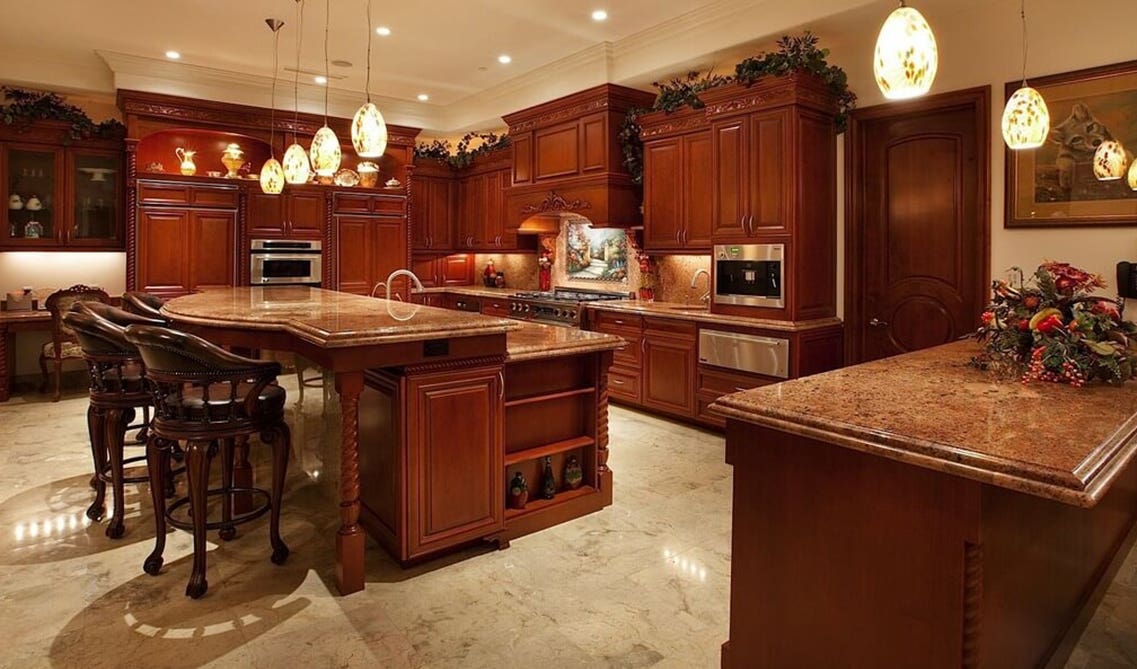 In this oversized kitchen, all focus is on the warm cherry cabinets. Although cherry cabinets are considered a darker shade, their reddish hue gives them a brighter appearance. This kitchen designer paired them with cream-colored wall paint, warm brown granite countertops, and creative blown glass pendant lights. The result is a majestic, expertly crafted space fit for a king.
Cherry cabinets are a great dark cabinet choice for those who are looking to have dark cabinets with a brighter appearance! Cherry cabinets are also said to make a kitchen appear larger!
Recommended: 13 Ways To Modernize Cherry Cabinets
11. Elegant Espresso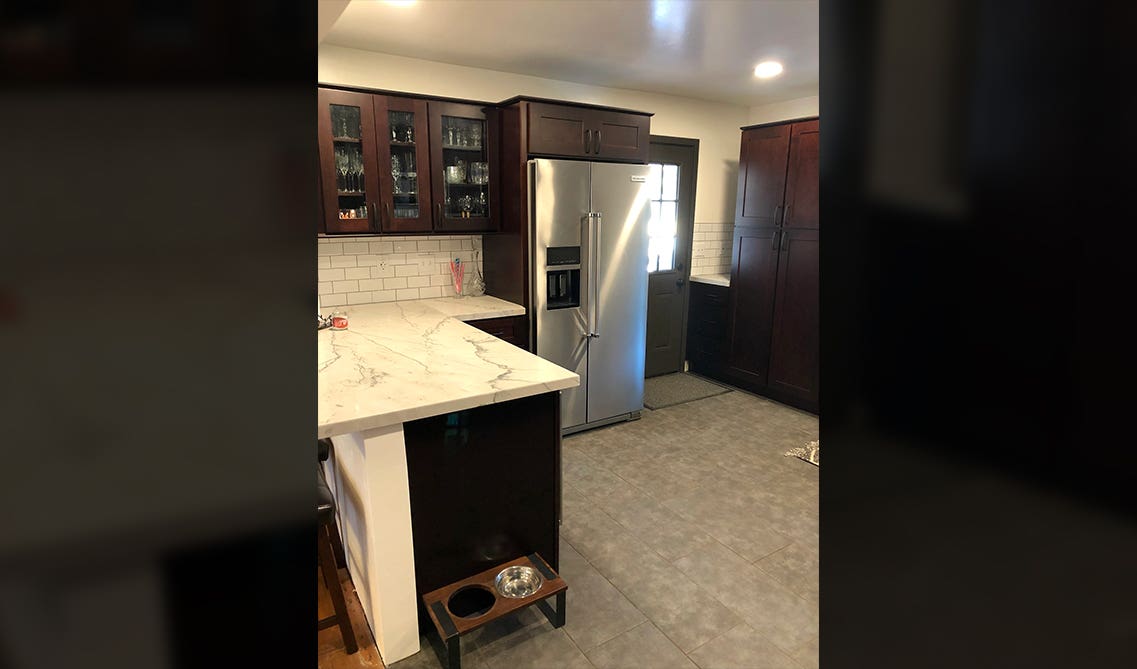 Lily Ann Cabinets - Espresso Shaker
Who says small kitchens can't be elegant? This petite L-shaped kitchen features sleek espresso cabinets and a large matching peninsula for a refined and cultivated design. With plenty of natural light and grey tile floors, this kitchen appears much larger than it really is. Many homeowners believe that the only solution to a small space is white cabinets, but this kitchen proves otherwise.
Also Read: Popular Hardware Styles For Espresso Kitchen Cabinets
12. Dark & Calm
Often, simplicity is key in a dark kitchen. The focus should be on the cabinets and not much else. This homeowner made the simple, unornamented black cabinets the main focus of their kitchen. Clean, straight lines and organic finishes modernize the look and invite a feeling of calmness and serenity. Black cabinets don't have to be stark and dramatic—they can also appear relaxed and tranquil.
13. Dramatic Navy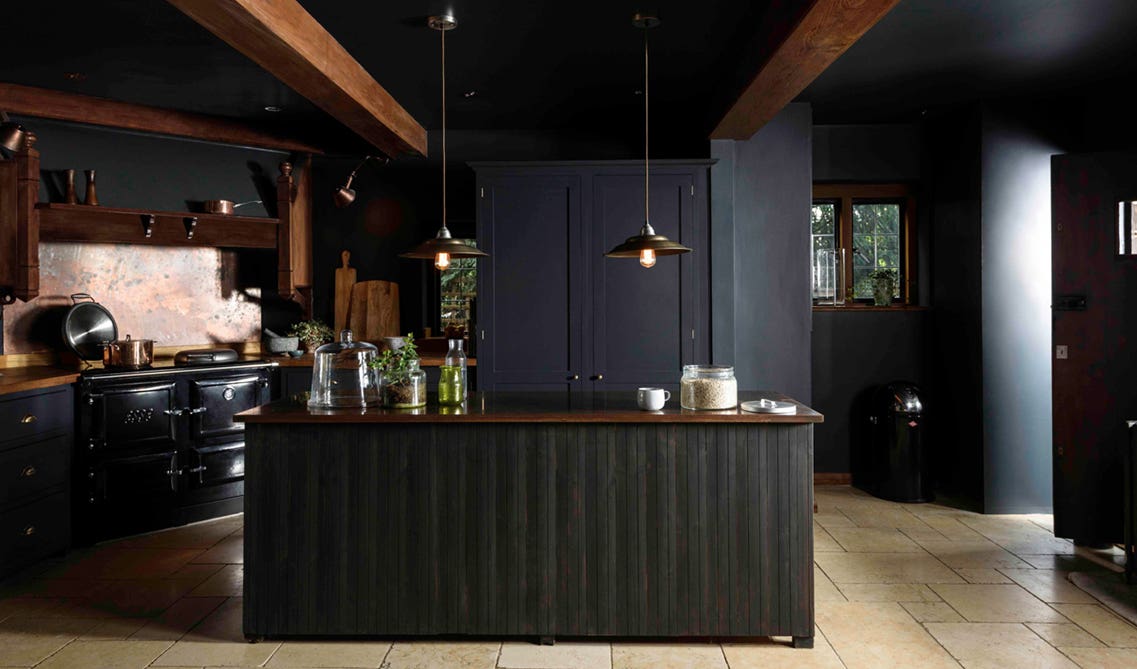 Remodelista
A commonly used shade of blue for kitchen cabinets, navy is moody and thrilling. Although it is most often used in contemporary homes, navy blue can be a gorgeous accent color for any kitchen style. This kitchen features an eclectic mix of old and new finishes for a design that is truly unique. It is certainly more shadowy than your average kitchen design—however, for that craving for dramatic darkness, this design is a perfect inspiration.
Looking for dark blue kitchen cabinets? Check out Lily Ann Cabinets navy blue kitchen cabinets a high-quality RTA cabinet line.
14. Beaming Blue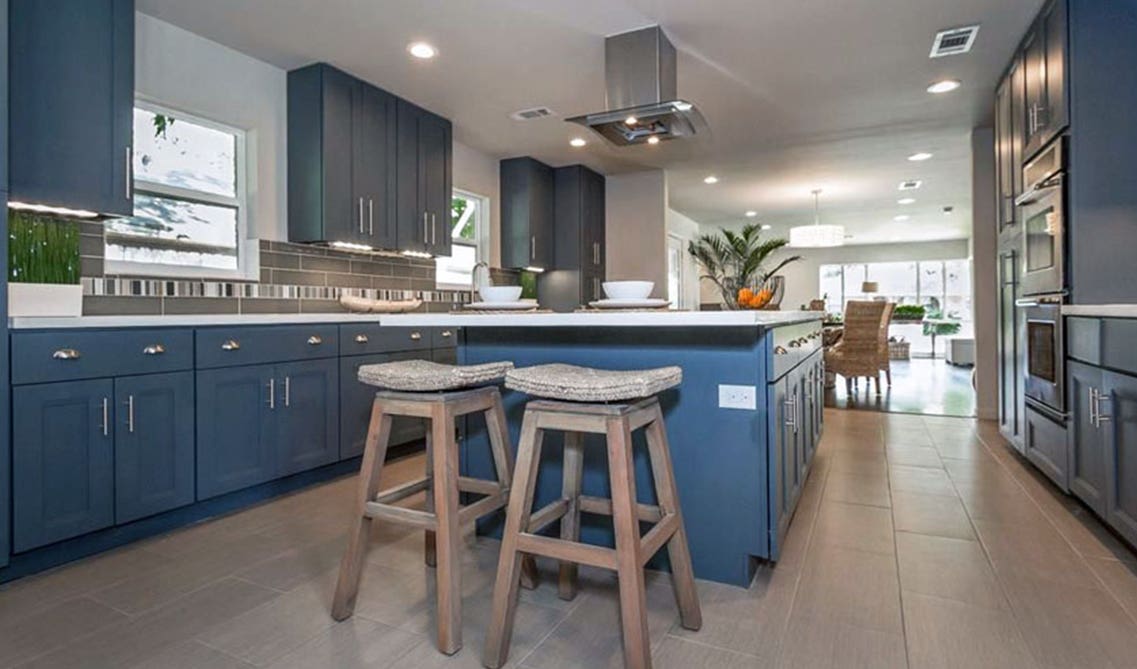 For something a little different, this homeowner opted for sapphire blue kitchen cabinets in their contemporary design. Combined with white countertops and white walls, the rich blue color gives off the feeling of a calming coastal getaway. To keep the kitchen from feeling too dim, large windows and lots of recessed lighting bring in some much needed brightness.
Create Your Dream Kitchen With Lily Ann Cabinets
We offer a wide selection of premium cabinetry, hardware, shelving, and more to help you create a room that stands the test of time. Pick from our large array of kitchen and bathroom cabinetry, including white shaker cabinets that come with soft-close hinges. Our professional designers are on standby to work with you — we offer FREE samples and FREE design and quotes. Visit our FREE 3D design tool to get started today!
Lily Ann Cabinets will soon offer a black cabinet! Please sign up for our emails to hear when our black cabinet line launches!
This is a curated post designed to showcase the work of a number of talented designers. If you would like to have an image removed, please let us know!
FAQs
If my kitchen is small can I still include dark cabinets?
Yes! Even if your kitchen is small or has bad natural lighting, there are ways to make your space feel less cramped even if you do incorporate dark cabinetry. Dark cabinetry mixed with a white or light-colored backsplash, white walls, a light-colored countertop, and warm decor tones will do the trick perfectly. Hardwood floors or tiles when placed going in a certain direction can also give an illusion that the space is larger.
What are the best hardware choices for dark cabinets?
For a modern or minimalistic look, sleek bar pulls are the best choice for dark cabinet hardware. For more of a traditional look, knobs and decorative hardware is the way to go. Depending on the look you are going for, dark modern cabinets look best paired with warm-toned hardware such as gold or brass.
What countertops pair best with dark cabinets?
Since dark cabinets in a kitchen can be overpowering when it comes to other elements of the kitchen space, pairing dark cabinets with a light-colored countertop is the best option. So there isn't such a stark difference, go for a countertop that is mainly a light color such as beige, white, or light grey, that also has darker veining to pair with the darkness of the cabinets.
Where can I buy high-quality, inexpensive dark cabinets online?
Lily Ann Cabinets sells many different kinds of dark cabinets. They can come to RTA (Ready-To-Assemble), are made of high-quality materials, and are up to 50% off box store pricing. They often have sales on their cabinet lines on top of this as well. Check out the different cabinet lines that are offered here.