Some designers shy away from using dark cabinets in their kitchen furnishings out of a concern that they may seem stuffy or stale when compared to their white kitchen cabinet counterparts. Those that take the plunge, however, will find that the rich tones and clean lines of dark wood cabinets lend a warm, timeless style that shines in both modern and rustic spaces. Below, we've included some guidelines to help you determine the types of décor that best complement the sleek romance of dark kitchen cabinets.
Rustic Kitchen Ideas with Dark Cabinets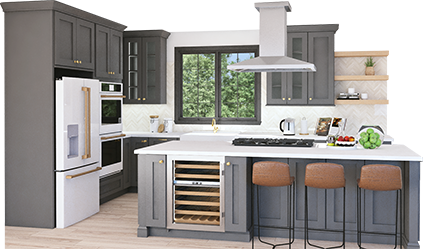 Get your FREE 3D kitchen design today!
Start Now
In our How to Design a Rustic Kitchen post, we discussed the various versions of rustic kitchens and the classic elegance that can be achieved using clean, traditional designs. Part of that discussion centered on the rustic styles that encourage the usage of dark wood kitchen cabinets, such as Shaker Espresso, Charleston Saddle, and Charleston Cherry. These rich, stately cabinets are a great base from which to begin the creation of your new rustic kitchen, but they're just the beginning of an entire design makeover. Here a few ways to pair those cabinets with the proper décor in order to create a vibrant and enduring style for the entire kitchen space.
Appliances
Rustic kitchens based in white tones are more likely to feature appliances that match those colors for a clean uniformity. Rustic kitchens based in dark tones, on the other hand, typically make use of appliances whose stainless steel finishes complement the bold colors of the surrounding furniture. An added benefit is that stainless steel appliances are easy to clean and adept at hiding dirt. What's more, their ability to stand out in a variety of designs makes them an excellent choice for homeowners who love to experiment with different styles and fashions.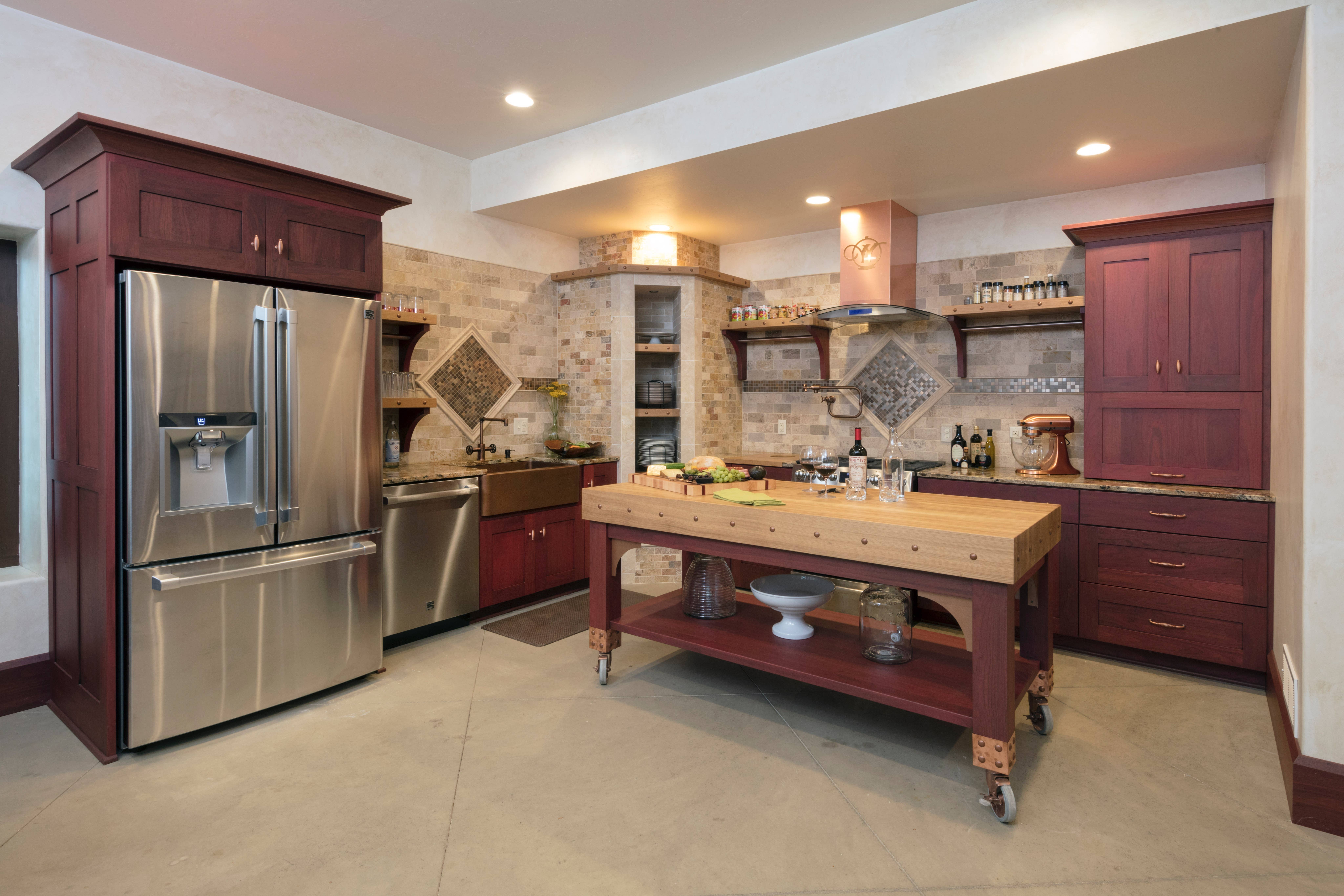 Backsplash
Depending on the rest of your kitchen's decor, there are many kitchen backsplash ideas for dark cabinets. Light-colored stone or tiling is a popular choice for kitchens where dark colors are otherwise prominent, as the contrast adds a degree of brightness to the room while still maintaining the rustic style. Depending on how busy you like your design, the stones or tiles can come uniform or in a variety of colors and sizes; the final decision will likely come down to how they look against the style of dark kitchen cabinets you've decided upon.
Flooring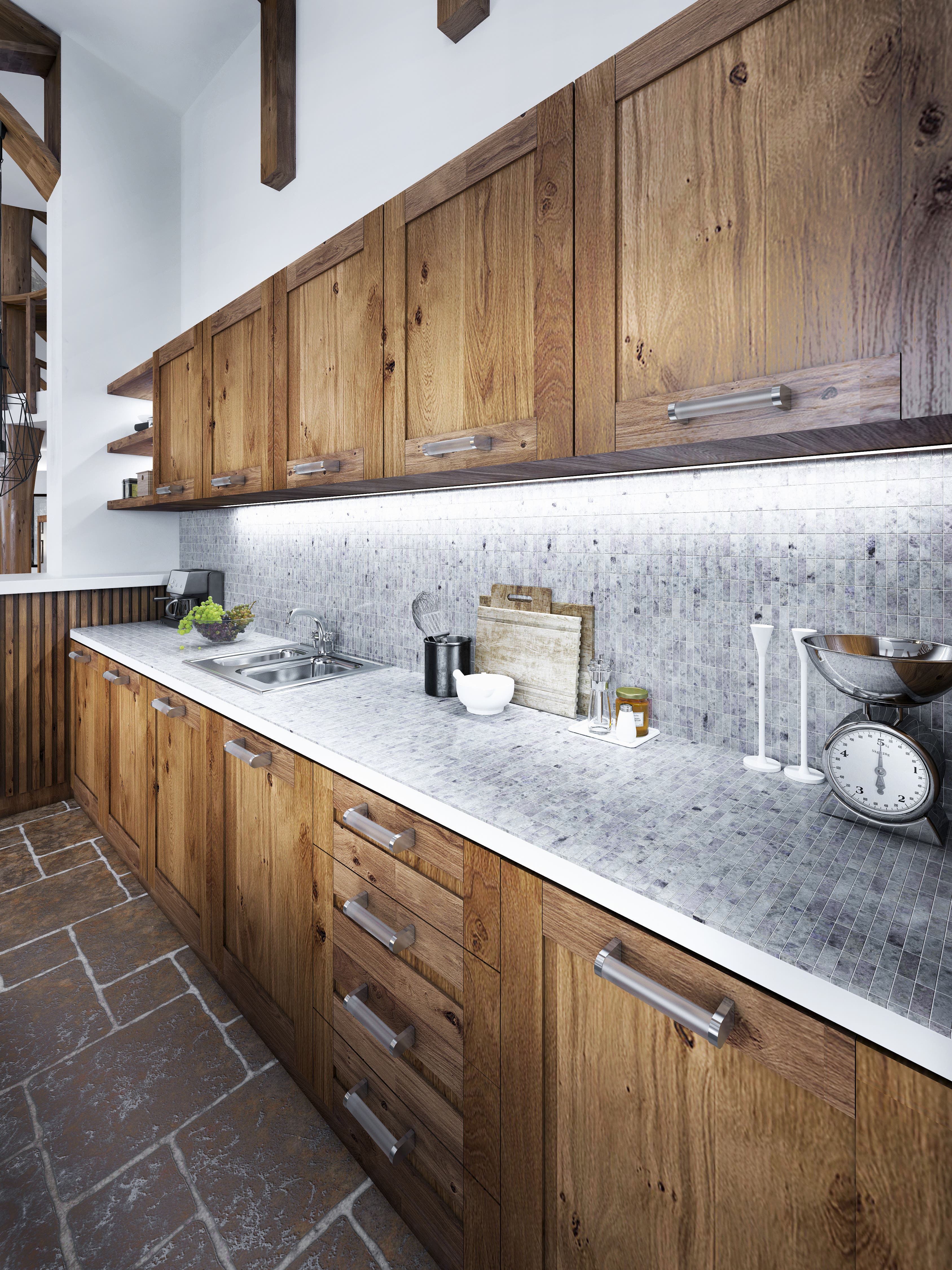 Deciding what color flooring to match dark cabinets is an important choice. Cabinets of rich, dark wood deserve flooring that mirrors their beauty. Though the floor does not need to exactly match the tone of the kitchen cabinetry, the overall feel of the room will be more cohesive if the colors are close. Wood floors are a popular option for maximizing the natural feel of a rustic kitchen. But no need to fret if hardwood flooring isn't an option; many homeowners have used rustic tiling in similar ways to great effect.
Countertops
As with the backsplash, the kitchen's countertops provide an opportunity for contrast against the darkness of the cabinetry. Many homeowners go with stone options, such as gorgeous granite or classic marble countertops. Sometimes it's easier to decide on the nature of your countertops after you choose your backsplash, as many kitchens opt to match the colors of those two elements.
Furniture
The furniture often says more about the feel of your rustic kitchen than any other decor. Going for simple farmhouse stateliness? Wooden dining set in an understated finish can speak volumes about that concept. Looking for something a little bolder? Feel free to get creative with wrought iron and other striking metal-based designs. No matter what you choose, clean lines and craftsmanship are paramount in rustic interior design.
Hardware
As with the furniture, your choice of hardware will be determined by the style of rustic kitchen you pursue. If you want the design to be subtle and understated, it's easy to blend in your handles, knobs, and pulls by having them stained in the color of the cabinets. Dark brown kitchen cabinets will look seamless and natural with matching hardware. If you want them to stand out a little more, try a dark metal. Dark shades of metal hardware will still fit the style of the room while adding a bit of extra design flair.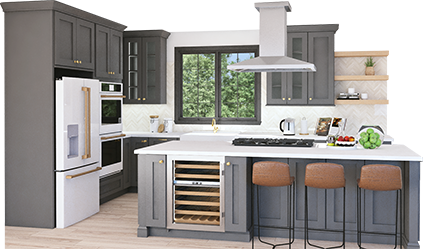 Get your FREE 3D kitchen design today!
Start Now
Modern Kitchen Ideas with Dark Cabinets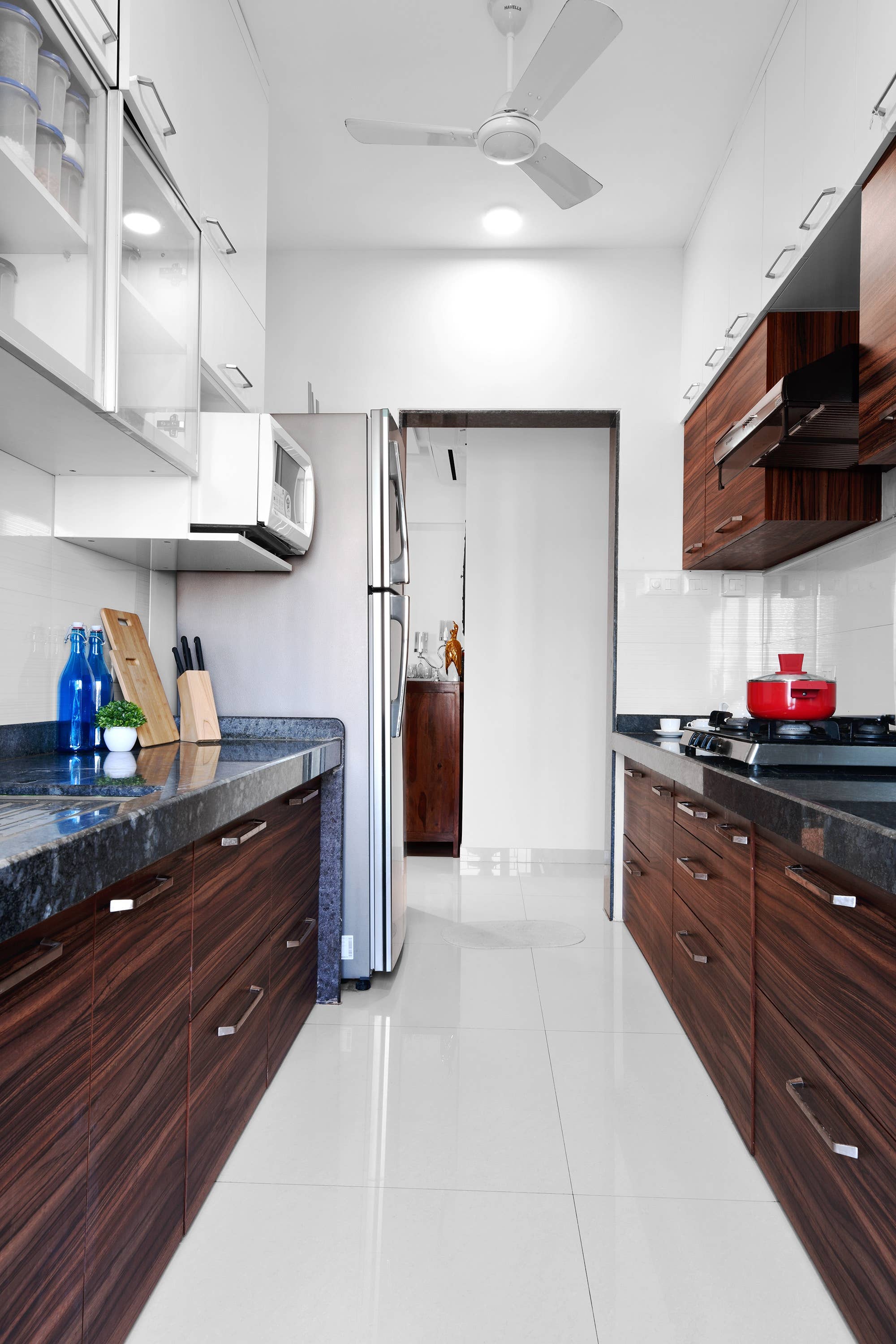 Though brightness and clean design are staples of modern kitchen design, that doesn't mean there's no room for cabinetry in dark, rich tones. On the contrary; dark cabinets can provide a striking contrast against an otherwise monochromatic space. Dark RTA kitchen cabinets bring beauty and craftsmanship into a modern space and serve as the room's boldest element. Here are a few suggestions on furnishings that beautifully share the spotlight with magnificent dark cabinets.
Appliances
Stainless steel is also the go-to finish for modern kitchen design. The shine of stainless steel appliances complements the other sleek elements of a modern kitchen. Whereas a rustic kitchen would likely use more understated hardware, a modern kitchen embraces the use of metal in its handles, knobs, and pulls. The result is a sub-current of matching elements that at once enhances the overall look of the room and stands beautifully on its own.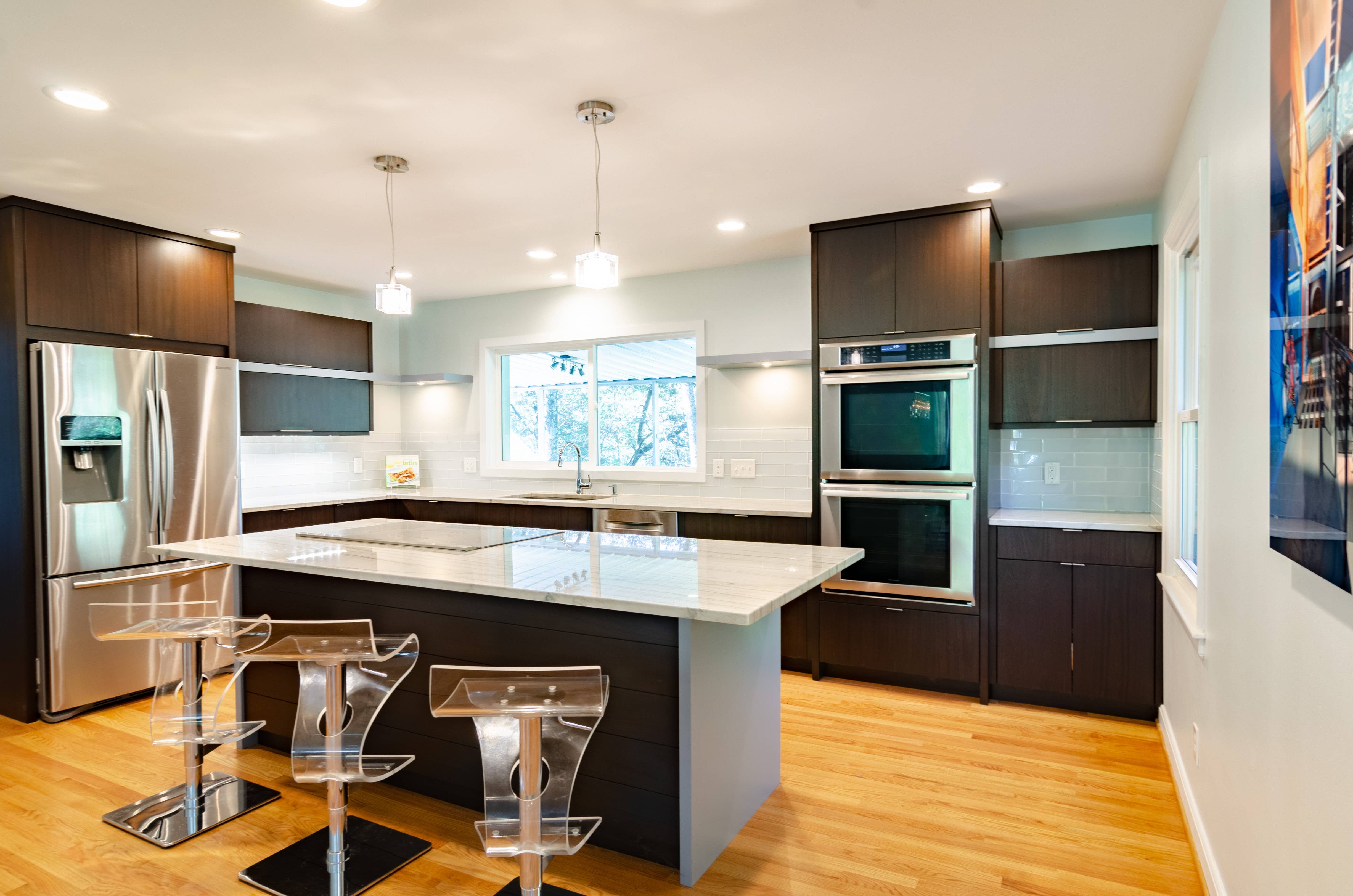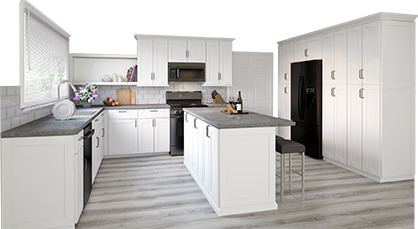 3D Kitchen Visualizer Tool
Bring your dream kitchen to life with our free kitchen visualizer!
Design Now
Backsplash
Tiles are the go-to material for a modern kitchen backsplash, as stone can be too busy for the uniformity of modern design. Likewise, the tiling itself is often of uniform size in its application, though the colors can be varied in order to match the main tones of the space. In many dark modern kitchens, the tiling matches the countertops. However, using a contrasting color for your backsplash can also keep your kitchen visually interesting.
Countertops
There are considerably more countertop choices afforded to the modern kitchen design. While stone is still the standard – and options like marble or granite are still the most popular – bolder options like quartzite, soapstone, and limestone can also perform beautifully so long as they hem to the tones and aesthetic of the space. That said, a countertop's main function in a kitchen with dark cabinetry is to provide contrast against that cabinetry. For example, white countertops can look striking against the deep tones of dark kitchen cabinets. Keep that in mind when choosing both your cabinet model and the material of your countertop.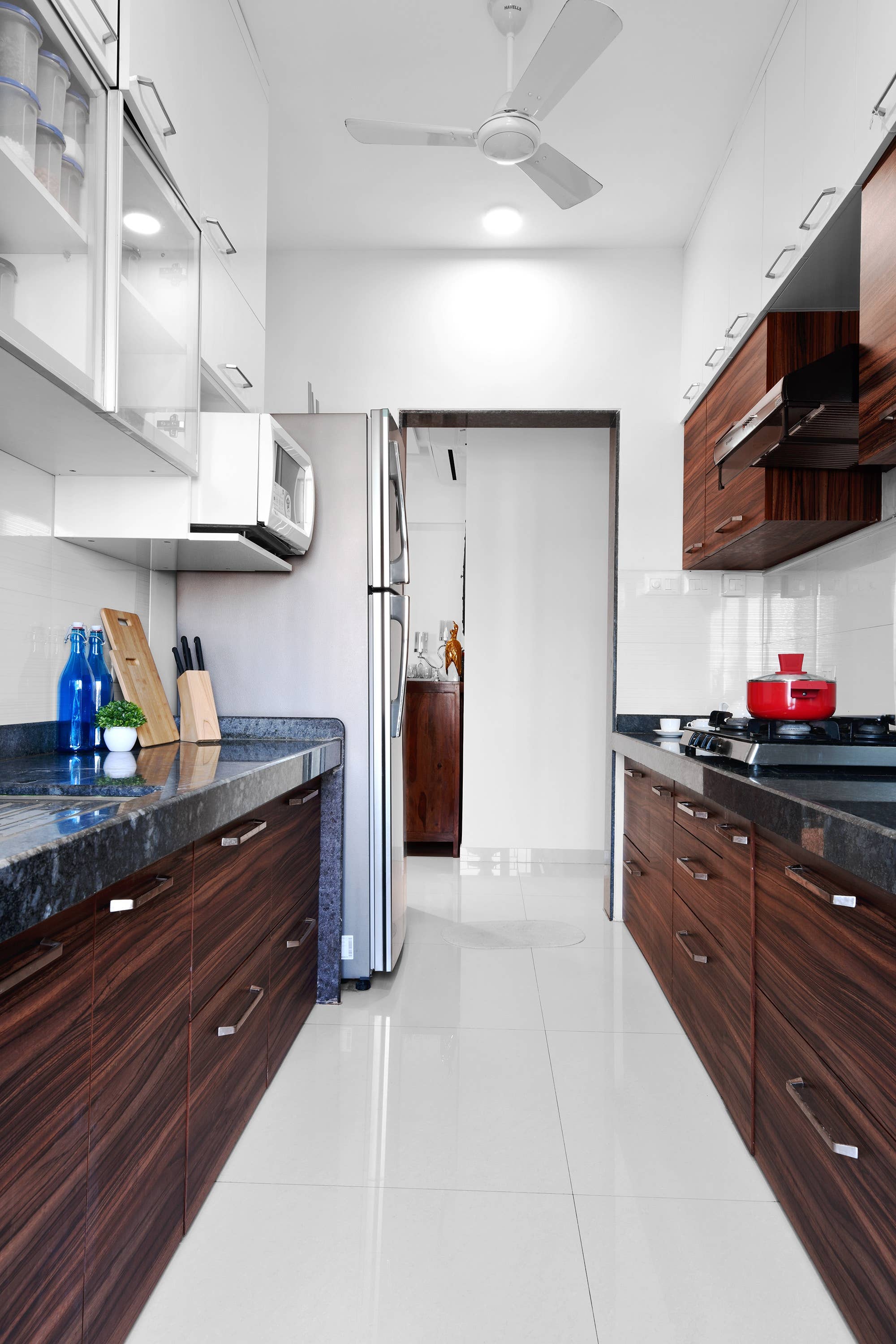 Flooring
Though dark stained wood is a popular choice in modern kitchens, feel free to experiment with tiles and stone flooring. If you go with a more muted cabinet – such as our Driftwood Grey cabinets – you may choose a marble or granite floor that mirrors that tone. A cabinet in a richer color – such as our Shaker Espresso cabinets – can really shine when paired with wood. In either case, simplicity is paramount; bolder design choices in modern kitchens are typically reserved for other elements.
Furniture
Clean lines are the guiding principle of modern kitchen furniture. Straight-backed chairs based on square or rectangular designs make bold statements within simple designs. If you're looking for something a little more casual, consider a set of barstools that follow the same guidelines. Above all else, look for pieces that are sharp yet not so outrageous that they outshine the rest of the space.
Hardware
As mentioned in the appliance section, hardware in modern kitchens has more freedom to stand out and act as an active part of the room's design. The impact made by your handles, knobs, and pulls can either come through their sleek and linear style or through their complete absence. Some cabinets popular in modern kitchen design (like our Shaker Espresso) forego handles entirely for a totally clean and uniform look.
The benefits of designing your kitchen with dark cabinetry are numerous. The flexibility in styles and tones allows the homeowner a great deal of flexibility in the style of kitchen they wish to pursue and the nature of the cabinet furnishings. If you have any questions, feel free to get in touch with one of our friendly customer service representatives. Or, if you're ready to get started on a dark kitchen cabinet design, visit our free 3D design tool today!