Learn the best color combinations for cabinets and get inspired by our favorite two-toned kitchen designs.
Can't choose between two kitchen cabinet colors? Our advice: buy them both! Two-toned kitchen cabinets are a design trend that won't be fading anytime soon. The enduring appeal of contrasting cabinet colors has made its mark on homes nationwide, replacing the usual uniformity in kitchen design with a more creative alternative.
Whether you want to keep things neutral with a classic grey and white look or add a pop of color, there is a two-toned kitchen design for everyone! Read on to learn some of our best tips and tricks for making dual-colored kitchen cabinets blend seamlessly with the rest of your home.
#1. Downplay the Countertops
Make the cabinets the star of the kitchen by keeping the countertops muted and simple. This space features matching marble countertops and backsplash that are elegant yet understated. Gold cabinet pulls and stainless steel appliances add a modern touch without distracting from the white and jade cabinets. To tie the space together, dark wood floors add a pop of contrast against the other light, subdued hues.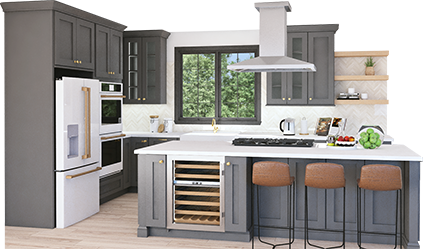 Get your FREE 3D kitchen design today!
Start Now
#2. Create a Focal Point
In this calming coastal design, Tiffany blue cabinets are used to draw the eye to the center kitchen island. The perimeter of the space is fitted with bright white shaker cabinets and a white subway tile backsplash. The blue and white combination is reminiscent of a dreamy, whitewashed coastline. One look at this effortless open kitchen design confirms that simplicity is often key when it comes to two-toned cabinets. To create the perfect focal point, just add a subtle pop of color to the island.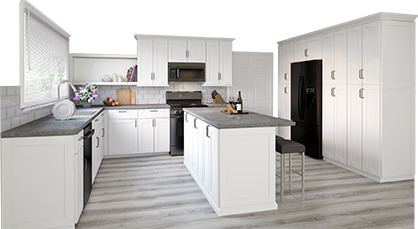 3D Kitchen Visualizer Tool
Bring your dream kitchen to life with our free kitchen visualizer!
Design Now
#3. Try Out Tuxedo
Another popular color combination for kitchen cabinets is black and white, or "tuxedo." This stunning design by Studio McGee has an enduring style that will undoubtedly last through every popular design phase. Patterned tile flooring and white subway tile backsplash brighten up the kitchen so it doesn't feel overwhelmingly dark. In fact, this two-toned kitchen feels anything but. To keep your black and white design as bright and beaming as this one, keep the black cabinets on the bottom and opt for white countertops and backsplash.
#4. Tie It Together with Hardware
When designing with mismatched cabinet colors, we typically advise against using two-tone cabinet hardware. In most kitchens, having different colored cabinets is enough to make your design stand out—hardware should be the glue that holds it all together. This eclectic kitchen design features charcoal grey and white cabinets with gold square pulls. A gold pendant light and matte black sink faucet add to the contemporary beauty of this unique space.
#5. Add Visual Interest to a Small Space
Who says small kitchens have to be boring? This tiny kitchen interior design feels lively and spirited with grey and white two-toned cabinets. To avoid claustrophobia, a row of top cabinets is substituted for open shelving. Although small, this quaint kitchen space feels illuminated and spacious. The contrasting cabinets give it a unique style that distracts from its compact layout. If you're faced with a pocket-sized kitchen, consider the two-toned look as a possible design option.
#6. Consider Antique Cabinets
Don't overlook antique cabinets as a design option for your two-tone kitchen. The intricate details of antique cabinetry serve as a beautiful supplement to any two-tone design. This grey and white kitchen utilizes a white range hood and small white cabinets surrounding the stove to break up the room and contribute to its visual drama. Multiple hues of grey, white and black complement each other to give this kitchen a highly-designed appearance and immediate sense of grandeur.
#7. Use Earthy Hues for Farmhouse Kitchens
For farmhouse kitchens, we recommend choosing cabinet colors inspired by the beauty of nature. As this kitchen demonstrates, dark earthy neutrals are a timeless choice. The effortless combination of deep brown and white cabinets creates a contrast that wows. The white porcelain basin sink and rustic silver hardware give this kitchen a classic country farmhouse vibe, without distracting too much from the gorgeous cabinetry.
#8. Make It Modern
For the ultimate modern look, this kitchen combines natural wood and matte black slab cabinet doors. Forfeiting hardware for a seamless look, all focus is placed on the sleek floor-to-ceiling cabinets and understated accents. To keep things light, a simple white square backsplash is used and continues the clean parallel lines throughout. Designing a modern two-toned kitchen, there is ample room for creativity. No color combinations are off limits, as long as you stick to the uniform simplicity and minimalism that is common to modern kitchen design.
Get a Free Two-Toned Kitchen Design
Create the perfect two-toned kitchen with Lily Ann Cabinets' extensive collection of affordable solid wood cabinets. Need some help with your design? Visit our free 3D design tool to connect with one of our professional kitchen designers. Or, if you have any questions, don't hesitate to reach out to our dedicated customer service team.