Bring your brown-toned kitchen into the 21st century with these revitalizing design ideas.
Are you tired of your brown kitchen cabinets? Do they feel outdated or past their prime? You aren't alone. Brown cabinets were extremely popular in traditional kitchen designs throughout the 1900's. Now, in the 21st century, many are wondering if brown kitchen cabinets are out of style. Homeowners are ready to ditch their chocolate-toned kitchens in favor of more modern color schemes. But is this a hasty decision? Are brown cabinets in fact out of style?
The verdict: Brown kitchen cabinets are here to stay!
Whether you already have brown cabinets installed or are looking to purchase some in the near future, fear not… Brown cabinets are as great a choice as ever. In fact, there has actually been an uptick in the use of brown cabinets as homeowners welcome the feel of earthy, environmental vibes in their homes.
From barn doors to handcrafted antique designs, there's a multitude of brown cabinet styles to choose from that will add value and style to your kitchen. Additionally, there are many ways to enhance your kitchen design to modernize the look of brown cabinets, from appliances to hardware. Read on to learn all the best ways how to modernize brown kitchen cabinets without completing a full remodel.
1. Upgrade The Hardware
To modernize an outdated brown kitchen for less, try swapping out the cabinet hardware. You'd be surprised how much of an effect knobs and pulls have on the overall look of a brown kitchen design. For a futuristic modern look, try chunky chrome bar pulls (like those pictured above). Larger cabinet handles are not only on-trend, they're great for distracting the eye from any imperfections on the cabinet door, like stains or scratches.
Another Popular Hardware Finish: Brass
Home Bunch
If chrome isn't your style, brass is another popular hardware choice for brown kitchen cabinets. Brass or gold cabinet knobs and pulls are a bit more traditional than chrome and still match any appliance finish.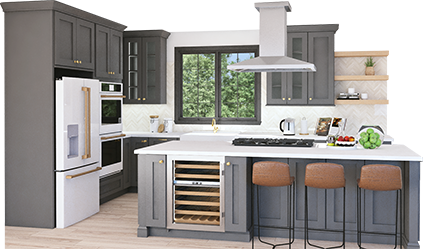 Get your FREE 3D kitchen design today!
Start Now
Also Read: Popular Hardware Styles For Espresso Kitchen Cabinets
2. Upgrade to Stainless Steel Appliances
Out of all the appliance finishes, stainless steel is the most attractive option for brown kitchen cabinets. The dark color of the cabinets contrasted by the bright, reflective steel offers a contemporary style that other finishes just can't beat. To really make the appliances pop, use chrome or silver cabinet pulls and knobs to match. You can also mix and match with a few brass finishes if you want to get creative, like the kitchen above.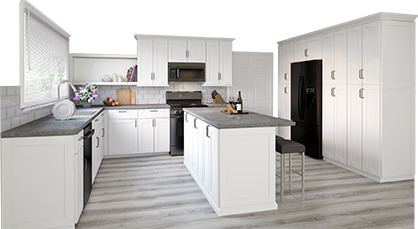 3D Kitchen Visualizer Tool
Bring your dream kitchen to life with our free kitchen visualizer!
Design Now
3. Paint The Walls White
Risa Boyer Architecture
One of the best kitchen paint colors for brown cabinets is white. This contemporary Portland kitchen utilizes white finishes including the walls, countertops, and window frames to reflect natural light and make the space appear larger. The white also offers a gorgeous contrast against the dark brown shaker cabinets. If repainting your kitchen isn't an option, get creative—add a white art piece to the wall, buy white ceramic dishes to display, or install a white peel-and-stick backsplash. You'll be surprised, a little bit of white goes a long way in a predominantly brown kitchen scheme!
Also, Read:14 Amazing Color Schemes for Kitchens with Dark Cabinets
4. Embrace Natural Wood
Home Edit
With dark brown kitchen cabinets, you can't go wrong with natural wood. Whether it's hardwood flooring, wood beams, a wood island, or even vintage reclaimed wood furniture, adding wood to a brown kitchen enhances its rustic charm. Keep it modern with a glossy tile backsplash and sculptural pendant lighting. You may also consider adding other natural materials like stone, tile, bamboo, or even concrete if you want to create an earthier design.
5. Try Two-Tone Brown and White Cabinets
Eric Gedney
Sometimes, the darkness of brown cabinets can feel a bit overwhelming, especially if they occupy multiple walls in the kitchen. To brighten up the space, consider swapping some of the brown cabinets for white. In this large Seattle kitchen designed by architect Eric Gedney, a section of white cabinets makes all the difference installed on the back wall. The result is a refreshing brown-and-white contrast that doesn't feel too cramped. Before you commit to a full-blown remodel of your brown kitchen, it may be a smart idea to consider only swapping one section of your cabinets to a brighter color first.
Brown Base & White Upper Cabinets
Home Bunch
You may also opt for an equal mix of brown and white cabinets in your kitchen design. If this is the case, we recommend keeping the brown cabinets on the bottom and white on top to balance out the look. To incorporate the two colors even further, try a white range hood with brown trim, or a center island with brown base cabinets and a white countertop. This kitchen also features a traditional white subway tile backsplash, creating a cohesive look that also brightens up the room.
Also Read: Dark Kitchen Cabinet Ideas: The Ultimate Styling Guide
6. Opt For Modern Lighting
Lighting can dramatically change the mood of a kitchen. From recessed lighting to pendant lighting to chandeliers, there are plenty of options to choose from. If your brown kitchen currently features traditional ceiling lights, consider adding unique pendant lighting to modernize the design. Great pendant lighting materials for modern kitchens include glass, metal brass, iron, and even rattan. There is a huge variety of sculptural shapes and styles to choose from. Swapping outdated lighting for sleek, modern lights will make a huge difference in modernizing brown kitchen cabinets.
7. Install a New Backsplash
ASD Interiors
Another easy way to bring new life to brown cabinets is to install a new kitchen backsplash. For a modern look, try a herringbone pattern that incorporates brown and neutral tones. Another great choice is geometric tile. For a more subdued look, try classic white subway tile or a marble slab backsplash. Not ready for the cost and commitment of a brand new backsplash? Try a peel-and-stick variety for an equally elegant touch.
Also Read: Delightful Kitchen Backsplash Ideas for Every Kitchen Style
8. Switch Up The Countertops
Contrasting Countertops For Brown Cabinets
Recreate this look with Shaker Espresso & White Shaker Elite cabinets
Make your dark kitchen cabinets pop with a contrasting white countertop. White varieties of marble, quartz, or laminate look stunning surrounded by dark wooden or painted brown cabinetry. White countertops are luxurious and tasteful, making them the perfect refresher for a kitchen fitted with brown cabinets. Finish off the look with light neutral wall paint and modern backsplash for a clean and polished design.
Complimentary Countertops for Brown Cabinets
NW Home Designers
This contemporary kitchen features a dark granite slab island that ties in the rich chocolate color of the surrounding oak cabinets. With plenty of natural light and a bright white backsplash with matching counters, the design doesn't feel dark and dreary—rather, quite the opposite. When deciding what countertops will go with dark cabinets, don't be afraid of deep browns or even black. Often, darker tones in the countertop create an alluring drama that brings character to the space.
Also Read: The Top 6 Kitchen Countertop Design Trends + More Ideas In 2022
9. Get Creative With Custom Features
Kitchen Studio Kansas City | Ask us about our affordable wine rack wall cabinets to create this look!
To keep your brown cabinets from feeling dull, add exciting custom features that will benefit the design both stylistically and functionally. The kitchen above utilizes unique metal open shelving and a wine rack cabinet instead of upper cabinets to keep things fresh and modern. The result is the perfect blend of traditional brown cabinetry and modernized storage solutions.
10. Don't Forget About Antique
Alan Mascord Design Associates Inc | Recreate this look with Bristol Chocolate cabinets
A question we receive frequently is whether antique brown kitchen cabinets are going out of style. The answer is certainly not! Although modern brown cabinets have moved to the forefront of kitchen design, antique cabinets are still close behind. There remains a stately charm in the vintage, old-age look of finely ornamented cabinets. Modernism isn't for everyone, so there will always be a demand for antique brown cabinets that have a unique handcrafted feel. If your kitchen has antique brown cabinetry and it feels a bit outdated, consider sprucing up the design with a tile backsplash, granite countertops, wood flooring, or a few new pendant lights.
11. Match The Dining Table
Love this look? Recreate it with Espresso Shaker Cabinets
Purchasing a new dining table can work wonders for optimizing an outdated kitchen design. Finding a table that matches the color of your brown cabinets will create a more cohesive style that appears well thought out. This open kitchen plan features deep espresso shaker cabinets with a matching wood dining table. Whereas a lighter wood table could have been distracting from the overall design, the matching espresso finish pairs perfectly with the cabinets for a fresh contemporary look.
Also Read: What Wood Kitchen Cabinet Colors Say About You
Your Kitchen Remodel Destination
Lily Ann Cabinets offers an extensive selection of RTA (ready-to-assemble) kitchen cabinets for up to 50% off box store pricing. Whether you're in the market for brown cabinetry or just browsing, we have exactly what you're looking for! Need some help visualizing your dream kitchen? Get a FREE 3D kitchen design today. As always, don't hesitate to reach out with questions or concerns. Please feel free to contact us at 800-551-1438 or info@lilyanncabinets.com.
FAQs
1. What color knobs for brown cabinets?
Oil-rubbed bronze hardware finishes, black finishes, and chrome hardware finishes all pair well with brown cabinets.
2. Are brown kitchen cabinets still in style?
Brown kitchen cabinets are here to stay and are still in style!
Whether you already have brown cabinets installed or are looking to purchase some in the near future, fear not… Brown cabinets are as great a choice as ever. In fact, there has actually been an uptick in the use of brown cabinets as homeowners welcome the feel of earthy, environmental vibes in their homes.
3. What color tile goes with brown cabinets?
For flooring tiles for kitchens with brown cabinets, dark grey, light grey, and beiges go together best with the brown cabinets.
4. What color backsplash with brown cabinets?
Backsplash colors that go well with brown cabinets include white, beiges, greens, and greys.
5. How to decorate a kitchen with brown cabinets?
To decorate a kitchen with brown cabinets, first, decide on a color scheme. Brown cabinets go well with the colors white, beiges, greens, and greys, and finishes like gold, chrome, black, and oil-rubbed brass. Once you have your color scheme chosen, decorate the kitchen with items that pair nicely with the color scheme.
6. What color walls go with brown cabinets?
Wall colors that go well with brown cabinets include white, beiges, greens, and greys.
7. What color countertops go with brown cabinets?
Countertop colors for brown cabinets include white, grey (or cement), beiges (like stone), and certain granites and marbles that have veining to match the brown cabinets.