First, let's talk about maple wood kitchen cabinets. A maple cabinet is a strong, resilient hardwood that typically features uniform graining as compared to other wood types. You may also hear about maple when talking about shaker-style cabinets. The wood is used in the same way that cherry wood and other hardwoods are used on kitchen cabinets because it has a rich color and texture that looks beautiful when finished with clear varnish or lacquer. Lots of homeowners today are renovating their space with maple style cabinets today. If you're building new cabinets or remodeling your kitchen, these 8 maple kitchen cabinet ideas will get you started on your journey towards a beautiful and sleek modern design look.
1. Spice Up the Kitchen With Madison Toffee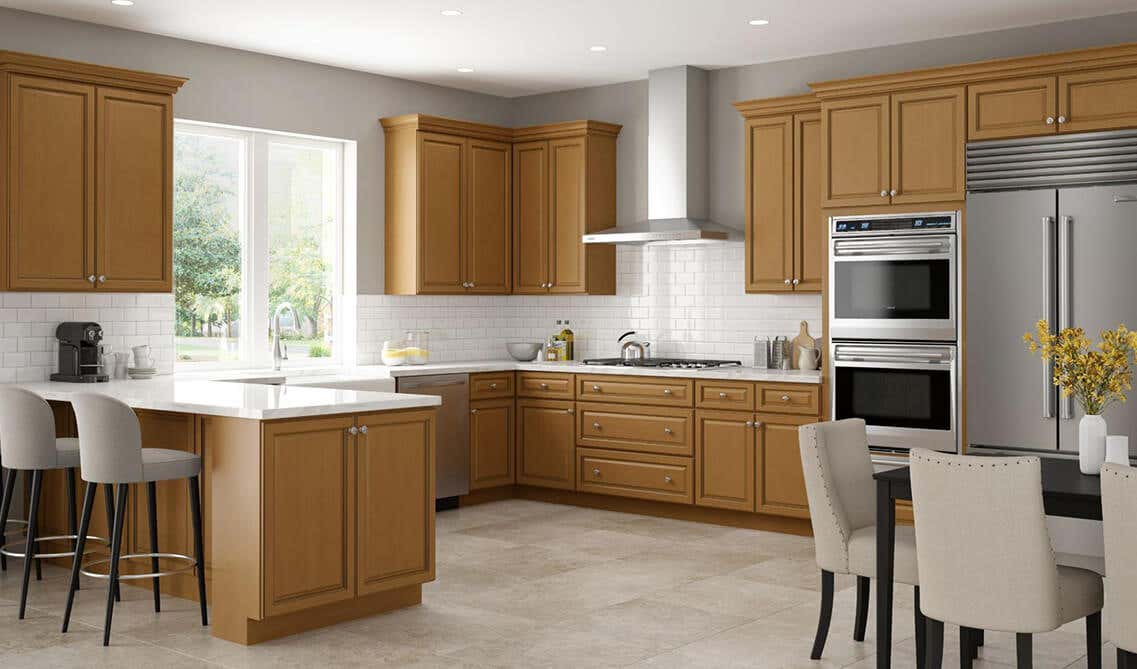 Forget about boring old white cabinets! If you're looking to add a touch of class to your kitchen, go with maple cabinets. Natural maple cabinets have a sleek and modern look that will spice up any kitchen. Plus, they're easy to care for and maintain. If you're not ready to commit to an all-maple kitchen, try adding light maple cabinets to your existing kitchen for a fresh new look. If you're into maple cabinets check out our Madison Toffee. Our Lily Ann Cabinets website offers many styles of cabinets to choose from. 
2. Consider Using Shaker Cinnamon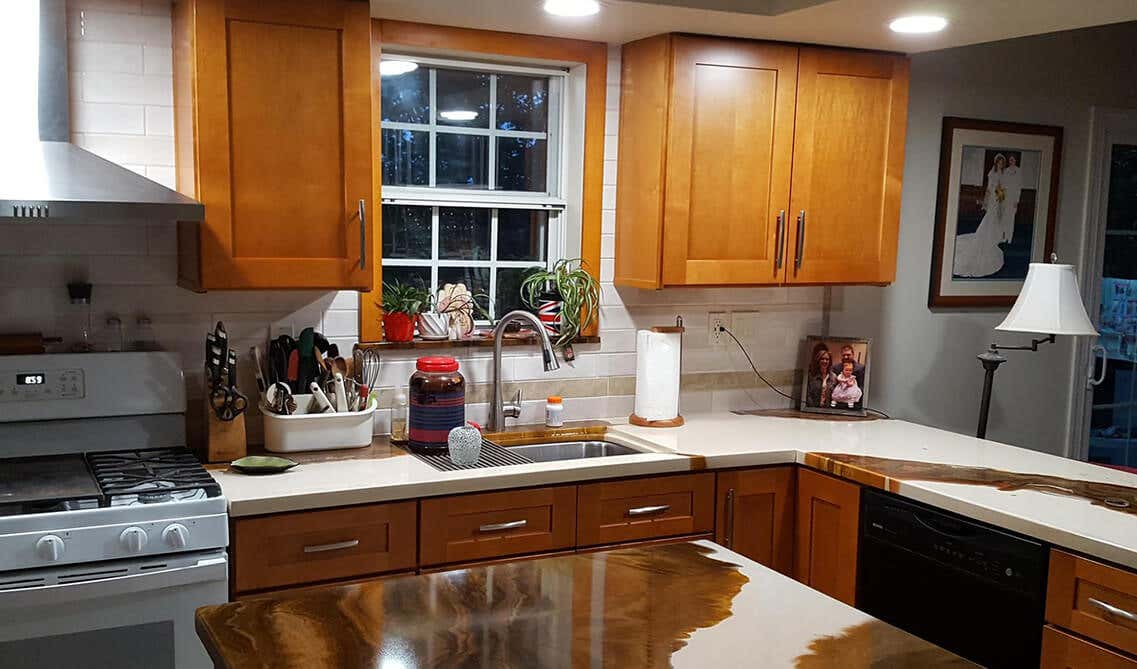 One of the most popular styles of maple kitchen cabinets is the Shaker style. This look is achieved by using natural maple wood cabinets with a light maple finish. If you want a modern twist on this classic style, consider using shaker cinnamon cabinets. These cabinets have a light maple wood and have a rich, warm finish that will add depth and character to your kitchen. Additionally, since this cabinetry is shaker style, it will give your space an amazing modern sleek look. 
3. Use Charleston Toffee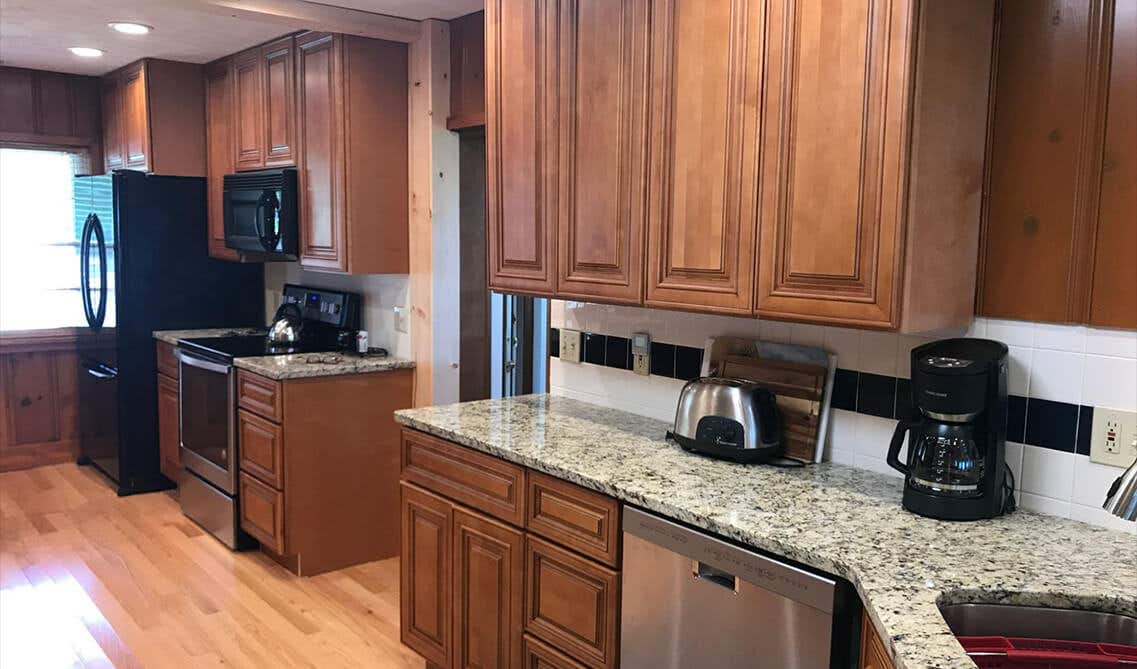 Looking for a way to modernize your kitchen without breaking the bank? Look no further. Consider using maple kitchen cabinets in the style, Charleston Toffee. This cabinetry is beautiful and provides the sleek, modern look you are searching for. They're affordable and will easily fit your budget. Check out our Pinterest for inspiration to help guide you. 
4. Brighten Up Your Cabinets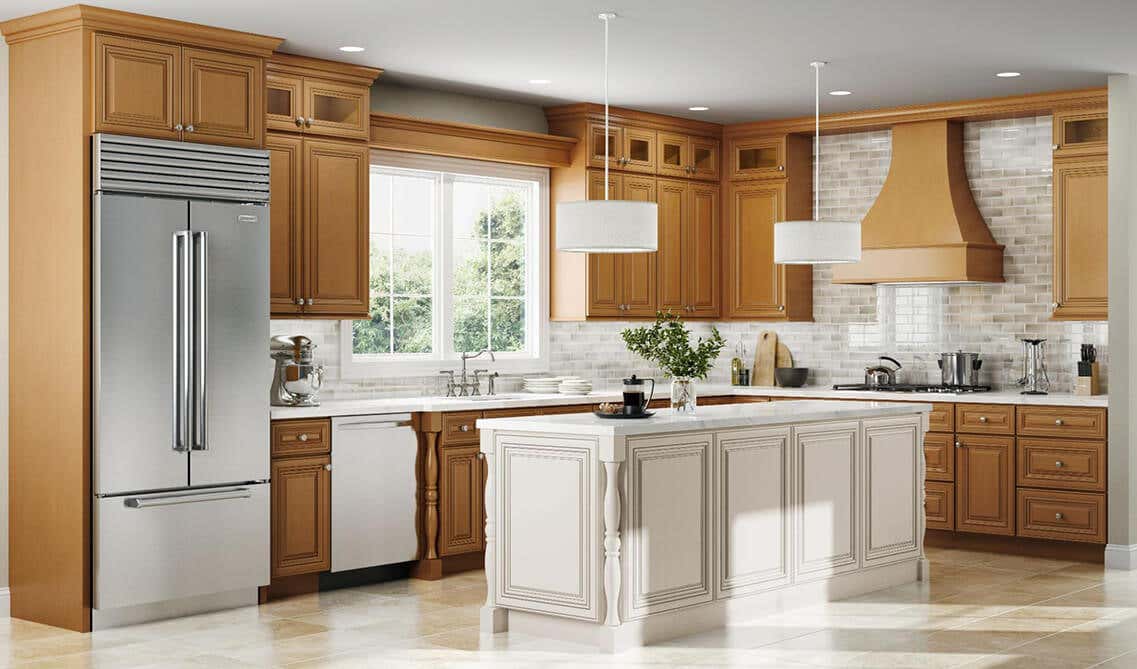 Pairing light maple cabinets with white countertops and backsplash is an easy way to lighten up your cabinets. Add in some stainless steel appliances and you've got a bright, clean look that's perfect for any kitchen. If you want something a little bolder, try natural maple cabinets with black granite countertops. The contrast creates a beautiful, modern aesthetic that is perfect for any home.
5. Stain White Cabinets Maple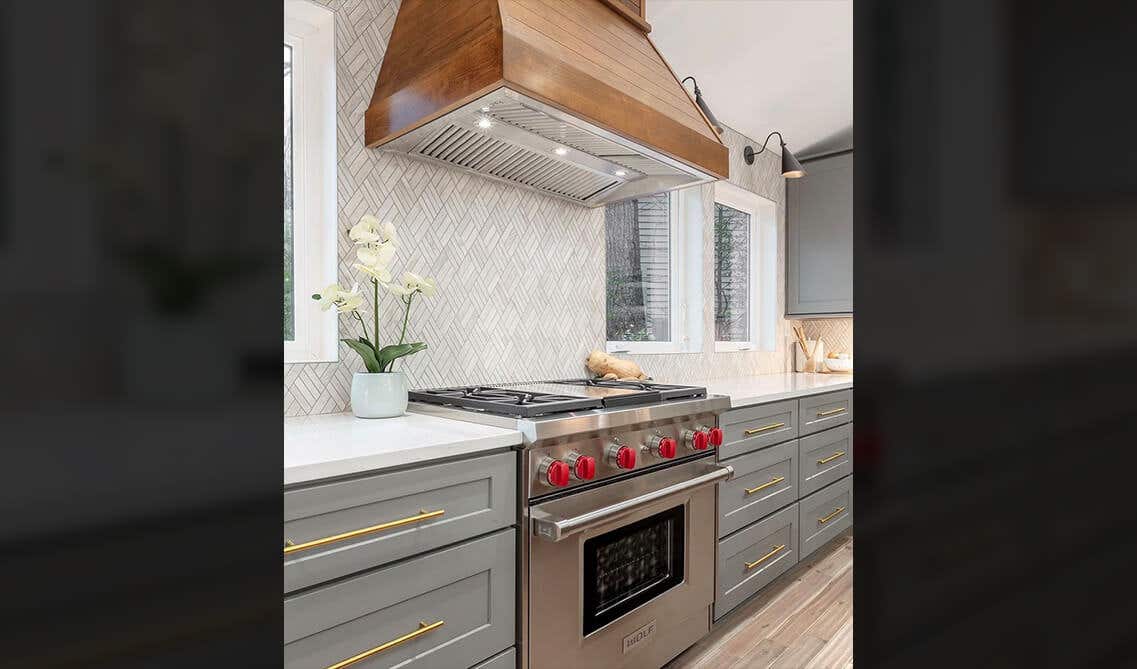 If you're looking for a sleek and modern look in your kitchen with maple cabinets but want to do it yourself, consider staining white cabinets. White Cabinets are versatile wood that can be stained any color to create a contemporary look. Kitchens with maple cabinets are becoming increasingly popular, as they provide a clean and stylish look. Easily create a warm and inviting kitchen with maple cabinets in a natural finish.
6. Be Bold when Choosing Wood Tone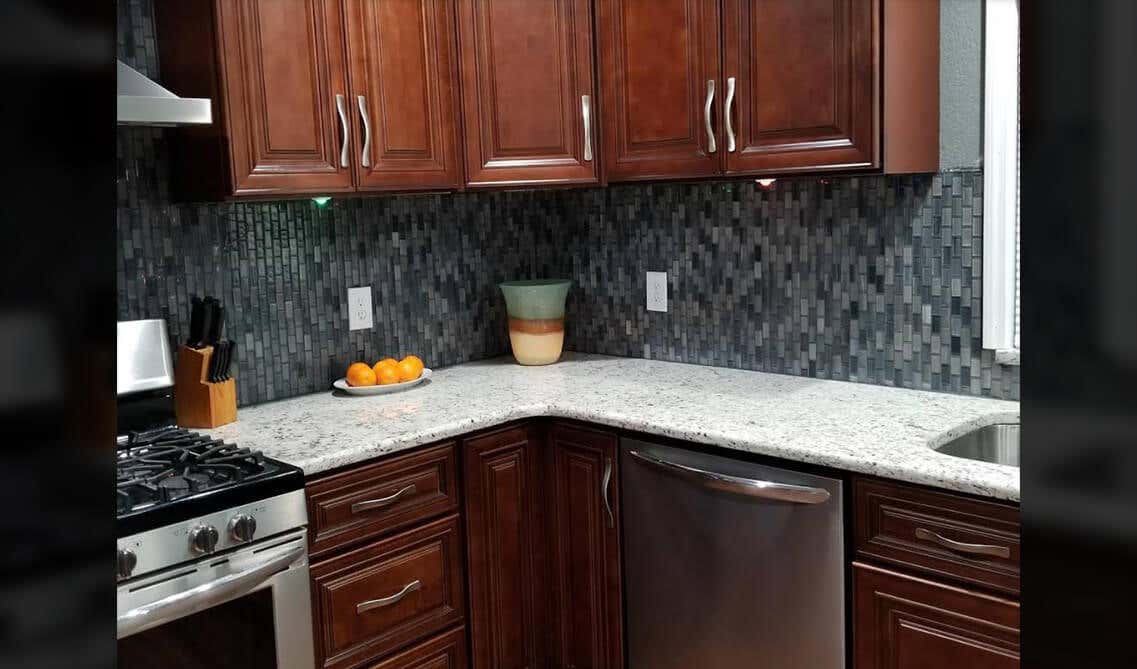 How could wood be bold? We'll tell you how. When deciding on a wood tone for your kitchen cabinets, don't be afraid to go against the grain—literally. Maple is a versatile wood that can take on many different hues, from warm honey tones to rich espresso. This wood is naturally hard and durable, it's perfect for high-traffic areas like kitchens. So if you're looking to add a touch of elegance or modernity to your space, consider using maple cabinets. Easily get free cabinet samples from Lily Ann cabinets to visualize which one will be best for your space. 
7. Try a Dark Maple Cabinet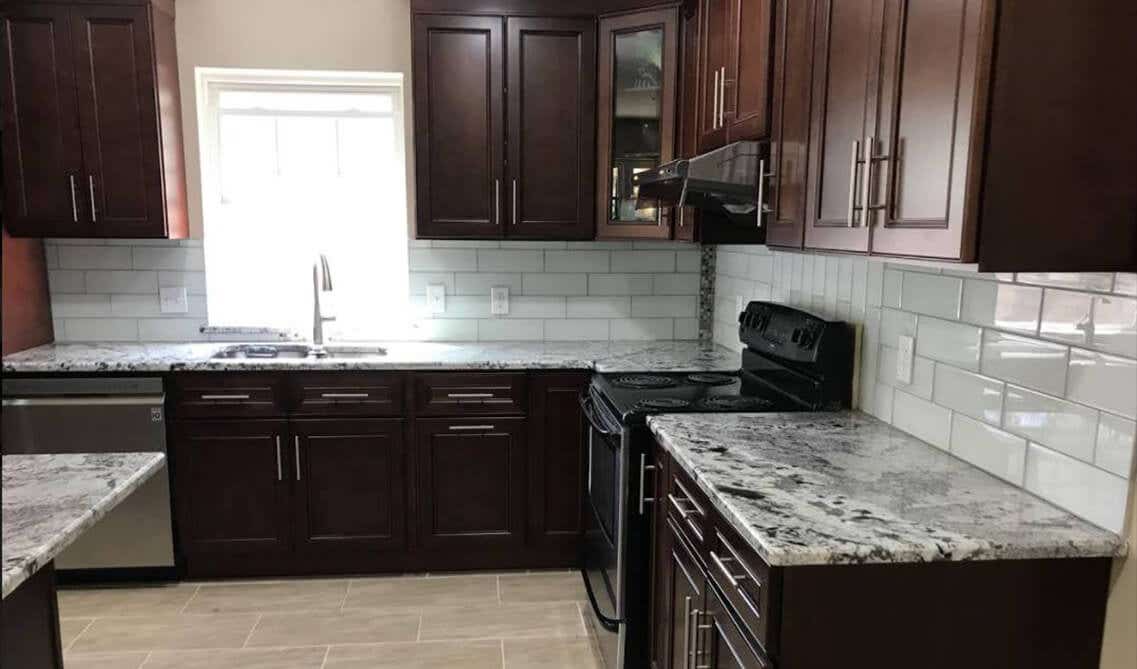 Since you're looking for a way to achieve a sleek and modern look, try using dark maple cabinets in your kitchen. Maple cabinets are made from wood that can be dark in color, making them perfect for painting or staining. You can also find natural maple cabinets, which are unfinished and have a more rustic look. If you want to add some contrast to your kitchen, try using darker maple cabinets. Lily Ann Cabinets York Chocolate could be perfect for your space. Get a free 3D design to see what it would look like in your space.
8. Use Charleston Cherry Cabinetry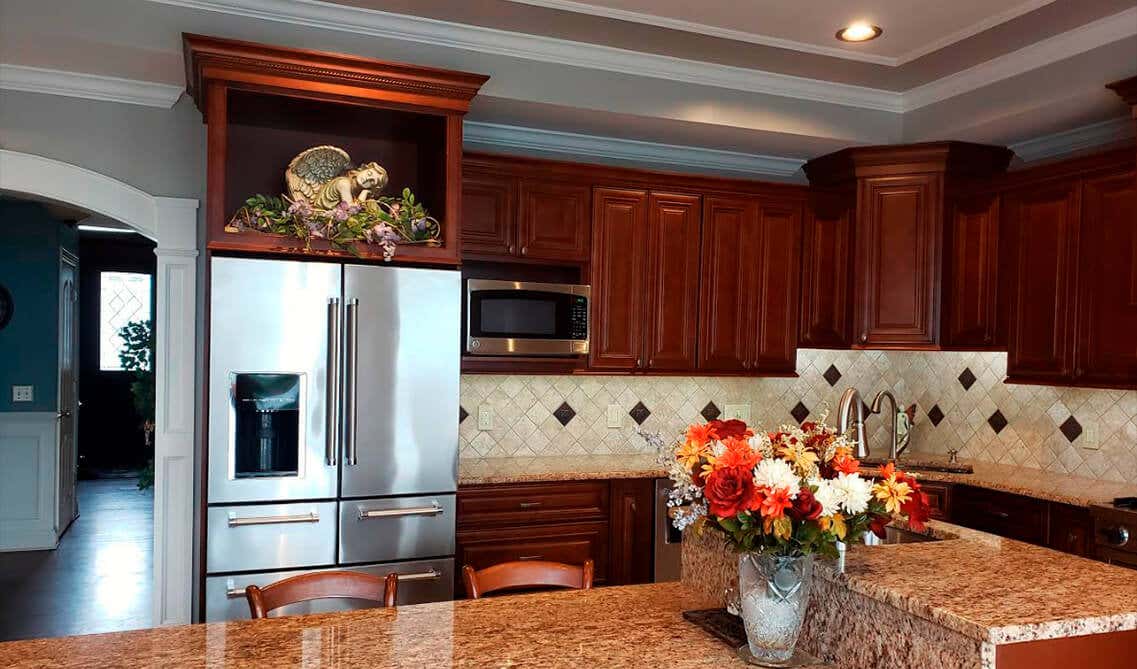 Using dark maple cabinets to create a sleek and modern look in your kitchen is a very popular trend in 2022. Maple cabinets are perfect for creating a contemporary kitchen design and for adding pop of color to your kitchen. Natural maple cabinets are perfect for your space, thanks to their materials and durability. For a modern twist on traditional maple cabinets, use Charleston Cherry cabinetry. Shop at Lily Ann Cabinets for a dark cherry color that will look amazing in your kitchen.
FAQ's
1. How to make maple cabinets look modern?
Use Shaker Cinnamon, these cabinets have a light maple wood and a rich, warm finish that will add depth and character to your kitchen
2. What color compliments maple cabinets?
White is a simple affordable color that compliments maple cabinets, especially if you're looking to achieve a sleek modern look.
3. How to update maple kitchen cabinets?
Easily update maple kitchen cabinets with a fresh stain, or renovate with Lily Ann cabinets for the best prices. 
4. Is maple wood good for kitchen cabinets?
Maple wood is very good for kitchen cabinets because it's extremely durable and natural. 
5. Are maple cabinets still in style?
Maple cabinets are coming back in 2022, many customers are looking to renovate their kitchens with maple cabinets!