While traditional countertop colors will always be on-trend, there are many other beautiful colors and countertop design trends that will make a statement in your kitchen. Think quartz countertops colors like taupe, haze blend, pacific quartz, or midnight black. If you want a timeless look, consider colors like grey or the ever classic bright white. Here are the most popular quartz countertop colors for kitchens in 2022.
You can also pick countertop colors that showcase your personality. One of the simplest ways to do this is by selecting kitchen countertop colors that highlight your style and fit your vision.
No doubt, the vast number of available kitchen countertop colors can make choosing a color an exhausting process, especially if you want to remodel.
It can be frustrating when you've picked every accessory, fitting, and planned your kitchen style to a T, but can't seem to settle on a kitchen countertop color. No worries, we've put together some of the best quartz countertop colors to help you make a statement in your home!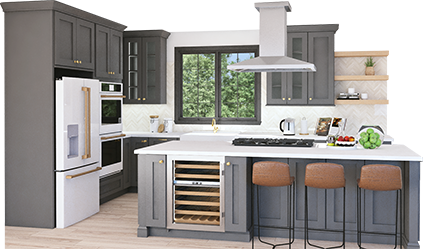 Get your FREE 3D kitchen design today!
Start Now
Why Quartz?
Quartz countertops have gained popularity over the years for their numerous benefits. Formed with 90% quartz, this engineered stone is extremely tough and resistant to stains.
This stone also comes in an array of styles and colors, giving you plenty of design versatility. Quartz countertops don't crack, and the non-porous characteristic makes cleaning and warding off bacteria easy.
With countless aesthetic choices, you have plenty of options when it comes to texture and style. This makes your kitchen space appear modern and streamlined with all the extra advantages.
With quartz, the options are endless! If you've been searching for the perfect countertop color, here is a guide to the best quartz countertop colors to help you narrow your selection.
Black Quartz Countertops
Black countertops are versatile and set the tone for a unique and stylish kitchen. It is the perfect color choice for homeowners who want to create a strong modern vibe.
One of the reasons why black quartz remains popular is that it is durable. With proper maintenance, they will last a lifetime in your kitchen.
Black quartz countertops also accentuate subtle colors in painted cabinets, such as the white cabinets and crackle subway tile in this kitchen by Eric Aust Architect.
Photo: Eric Aust Architect
If you're going for a black quartz countertop, make sure it fits with the flooring and backsplash of the interior.
If you love sparkles, think sparkling black quartz countertops. The shiny sparkles combined with light highlights will add depth and allure to your kitchen. As seen in this kitchen by MSI, you can match the black countertop with white cabinets for added contrast.
Photo: Houzz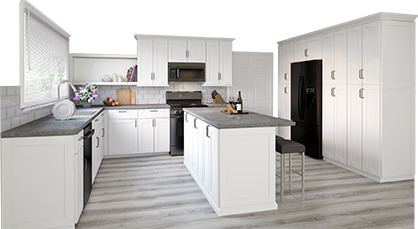 3D Kitchen Visualizer Tool
Bring your dream kitchen to life with our free kitchen visualizer!
Design Now
Babylon Grey Quartz Countertops
If you're looking for a dark grey quartz countertop with a sleek, modern look, you'll surely love Babylon grey quartz countertops colors.
Durable and elegant, the dark hue of this quartz countertop enhances all kitchen designs. It features an alluring velvety texture and neutral coloring.
Photo: Sky Marble
Babylon grey quartz is also ideal for light-colored cabinetry. It suits kitchens with white and black coloring especially well.
What's more, this countertop coordinates smoothly with a variety of floor tiles and wall tiles, allowing you to add a bit of charm and style!
Sparkling White Quartz Countertops
Want to add more pizzazz to your kitchen? Bring your kitchen to life with a sparkling white quartz countertop. This unique stone is speckled with clear quartz and features an ice white background. It also comes with bright speckles for a subtle touch.
For a personalized look, use pops of subtle color and dramatic lighting to make a statement.
Customized lighting, as displayed in this kitchen by Cipriani Remodeling Solutions, inspires interest and charm. It makes the white quartz pop against the other kitchen finishes.
Photo: Houzz
Ultimately, white quartz countertops have it all; from elegant style to carefree maintenance, its easy to find a quartz surface that offers a variety of looks.
Cascade White Quartz Countertops
This countertop works excellently with light, subtle color tones and white cabinetry to give your space a calm and mild ambiance.
For example, the cascade white quartz countertop below features a medium taupe to gray patterning, providing an attractive contrast against light-toned cabinets and flooring.
Photo: MSI
Use this countertop in your kitchen space to create a uniform look synonymous with luxury.
Cashmere Oro Quartz
Cashmere Oro Quartz kitchen countertops are the epitome of a prime, elegant look. With the striking blend of mild veining and bright white coloring, this countertop is the best compliment to a range of decor styles, as depicted in this modern kitchen.
Photo: MSI
This countertop is not only stunning, it is easy to maintain and decidedly durable, making it the perfect choice for busy kitchens.
Get this countertop to add an elegant touch to your kitchen space.
Fossil Grey Quartz Countertops
If you want to add contrast to light grey or white cabinetry, then you may consider fossil grey quartz countertops. The countertop offers the visual allure of natural stone while adding warmth to your kitchen. When paired with whites or mid-toned greys, this countertop, as seen here, will add elegance and depth to your kitchen.
Photo: Houzz
Midnight Black Quartz Countertops
Take a look at this kitchen, what do you see? This midnight black quartz countertop's color is bold, beautiful, and dramatic. No doubt, this will enhance your kitchen space with a bold dose of glam.
Yes, midnight black quartz countertops are known for their versatility. However, they also set the stage for a unique and visually stylish kitchen.
Photo: Houzz
Choosing the Right Quartz Countertops Colors
Choosing the ideal quartz countertop color doesn't have to be difficult. To assist you in your selection process, we've put together some easy tips for how to design a beautiful kitchen with the right quartz countertop and cabinet colors.
Get A Sample
You may have a potential countertop color in mind, but when you visit a showroom, you might decide to buy one immediately. Don't be hasty. Collect samples first and compare them with wall paint, cabinetry, flooring to know how the countertops will look once installed. Plus, you'll have a lot more time to make a decision!
Remember Lighting
Quartz countertops can vary visually in different lighting. Make sure you choose the right lights to complement your countertop material. Typically, sparkling white looks stunning under natural or bright artificial lighting. Darker countertop colors like blue and black look better under minimal light.
It's possible that a countertop color appears beautiful under showroom lighting, but looks unappealing under your chosen lighting. Lighting is vital, remember that!
Choosing a Cabinet Color
It's critical to select a countertop color and floor style that matches your kitchen cabinets. Make sure it has just the right amount of contrast for a seamless finish.
For instance, neutral-colored cabinets go well with a blend of white and grey quartz countertops.
Contrasting quartz countertop colors are great too! If you want an elegant and modern look, you can choose a contrasting countertop color. For example, white cabinets give the perfect backdrop to black quartz countertops. Use your creativity, find inspiration photos, and find the perfect combination that speaks to you and your own unique decor style.
For example, this kitchen by BG Granite LTD looks amazing with a black quartz countertop and white cabinets. The contrast looks just right.
Photo: Houzz
If you have duo-toned cabinets, you should also make sure to choose a quartz countertop color that will complement both cabinet colors. For example, if your cabinets are brown and white, a white quartz countertop with brown veining would tie together the design flawlessly.
The Takeaway
Indeed, quartz kitchen countertops have found a loyal following as a result of their beautiful appearance, strength, and of course, colors. Whether you want to design a new kitchen or remodel an existing one, these quartz countertops colors will give your kitchen the visual splendor it needs.
Get Your Dream Kitchen For Less With Lily Ann Cabinets
Overall, it's important to determine your design goals before choosing a countertop color. The best way to do this is to work with a professional kitchen designer beforehand. At Lily Ann Cabinets, we offer a FREE 3D kitchen design package to help you establish the perfect finishes for your dream kitchen. Visit our design tool today to submit your information and work with one of our kitchen design experts!
This is an image roundup post created for the purpose of inspiration. We love to feature and promote talented designers to showcase their work. If you would like us to remove an image, please let us know and we will do so promptly.