There are many options when it comes to choosing a wall color for your kitchen space - so how do you choose? The perfect kitchen wall color can make a huge difference in any space, whether it's creating contrast or blending seamlessly with other elements in the room. From moody blues to stark white, we're going over all the best kitchen paint colors to bring your space to life.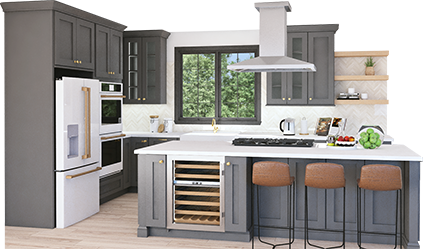 Get your FREE 3D kitchen design today!
Start Now
Let's check out 10 kitchen wall colors that are sure to complete your kitchen space!

Recommended for you: 11 Stunning Kitchen Theme Ideas
Deep Grey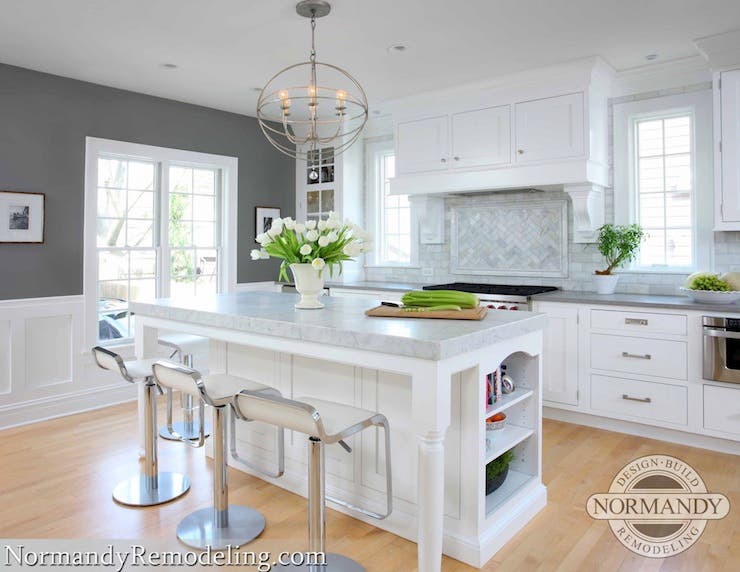 A rich, dark grey paint in a kitchen space promotes a modern and sophisticated feel. Paired best with lighter materials such as white cabinets and light-colored countertops, the dark walls and bright materials balance each other out perfectly. A dark grey wall color also presents many opportunities for decor, since it matches nearly any other color or material. Benjamin Moore Dior Gray is a great dark grey color for the kitchen!

Recommended: high-quality, RTA white shaker kitchen cabinets (at up to 50% off box store pricing!)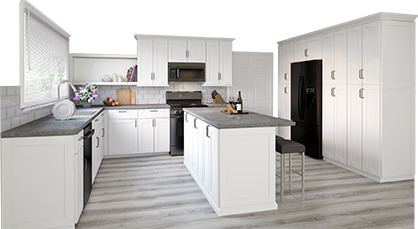 3D Kitchen Visualizer Tool
Bring your dream kitchen to life with our free kitchen visualizer!
Design Now
Minty Fresh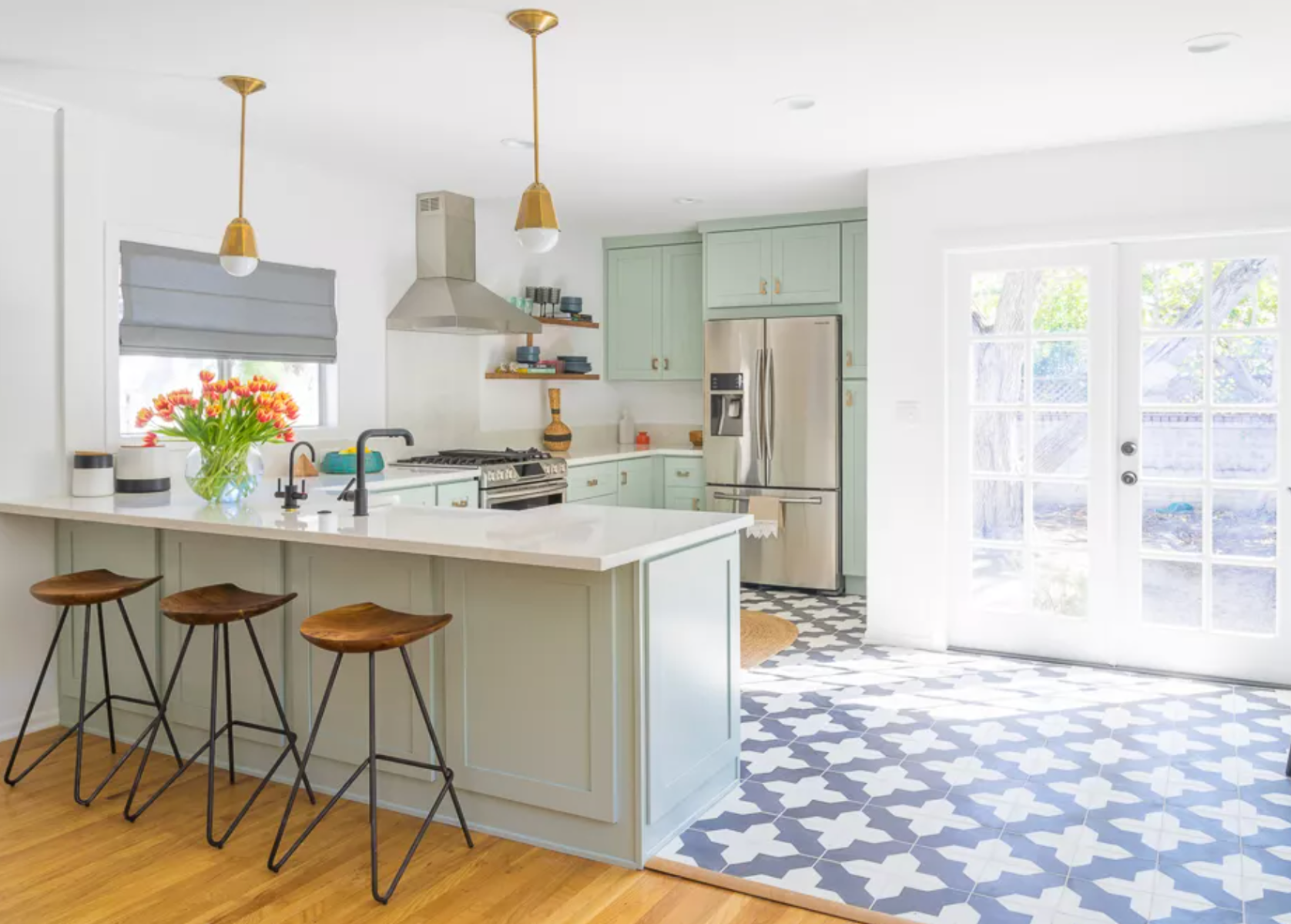 The kitchen pictured above showcases beautiful mint-colored cabinets that brighten up the entire space. This color, Mint Julep by Benjamin Moore would be perfect as a wall color in the kitchen, paired with white shaker cabinets and gold hardware. This minty color is perfect to keep a space light, bright and feel refreshing at all times of the day!
Recommended: RTA kitchen cabinets and high-quality hardware at up to 50% off box store pricing!
Latte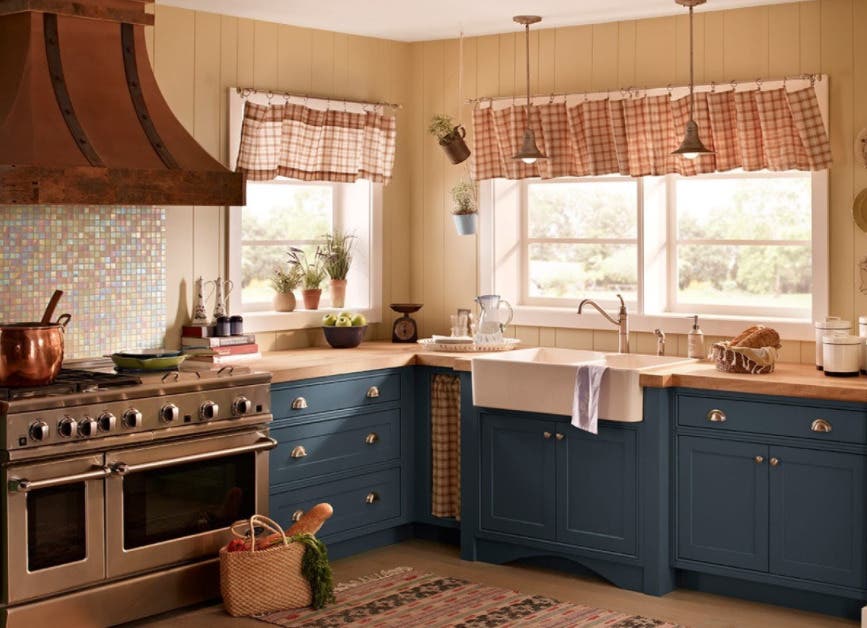 This beautiful latte colored kitchen wall color is a great choice if you have a traditional style kitchen. The paint color, Raffia Ribbon (PPU7-20) by Behr will go perfectly with nearly any color of cabinetry. The kitchen pictured above used this wall color with blue shaker cabinets and gold hardware, balancing warm and cool tones flawlessly.
Dark and Mysterious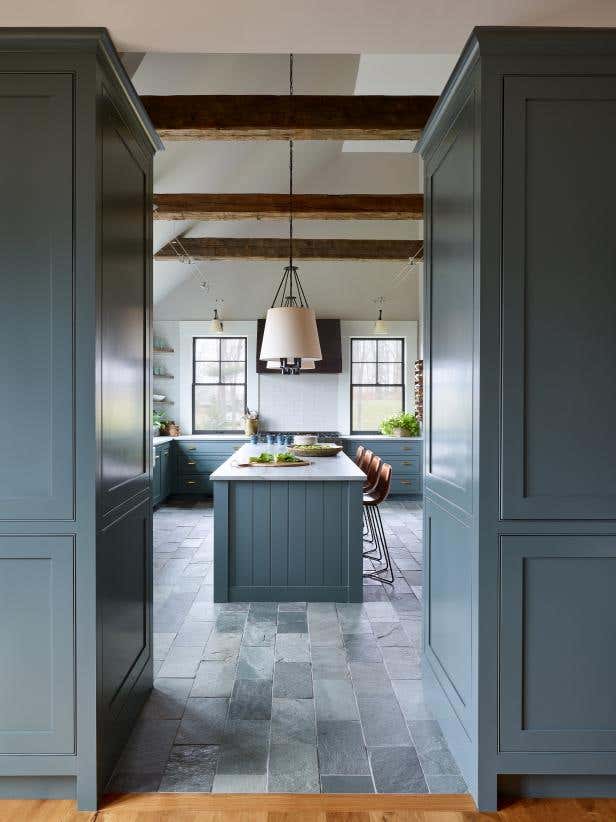 This modern kitchen features a beautiful grey-ish blue color for the kitchen cabinetry and the walls, creating a seamless and sophisticated look. The paint color, Quarry Rock by Benjamin Moore, is a great paint choice for any kitchen. This paint will match any traditional color cabinetry, whether it's brown, white, grey, black, etc., while still maintaining the same sophisticated look!
Recommended for you: cinnamon colored shaker cabinets
Bright Yet Sophisticated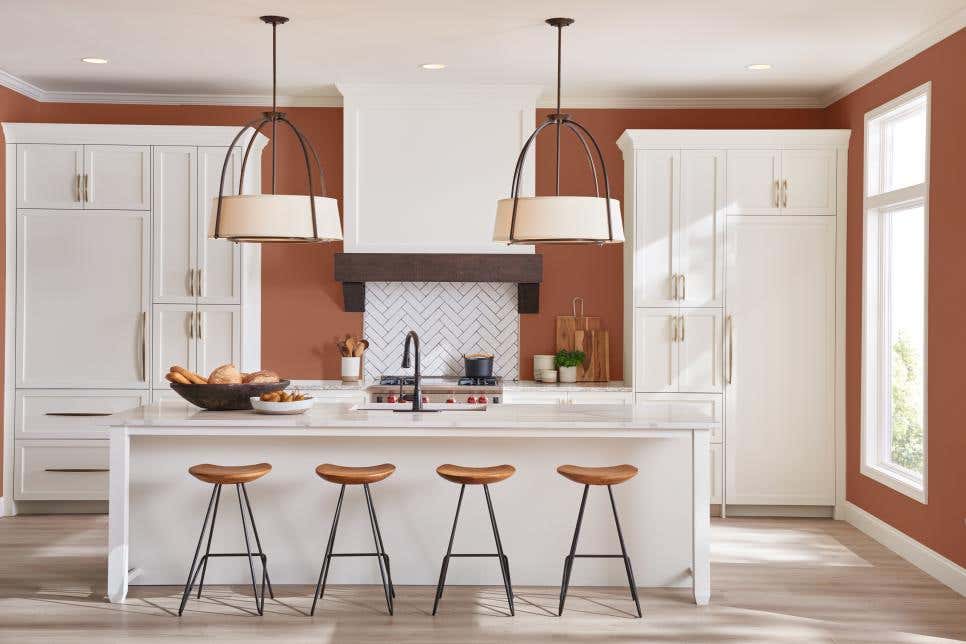 Looking for a kitchen paint color that is subtle yet bold? Cavern Clay by Sherwin-Williams is the perfect choice with it's mixed tones of orange, red, and brown. Paired with crisp white cabinetry and warm toned hardware, the kitchen space will be ready for the cover of a magazine!
Forest Green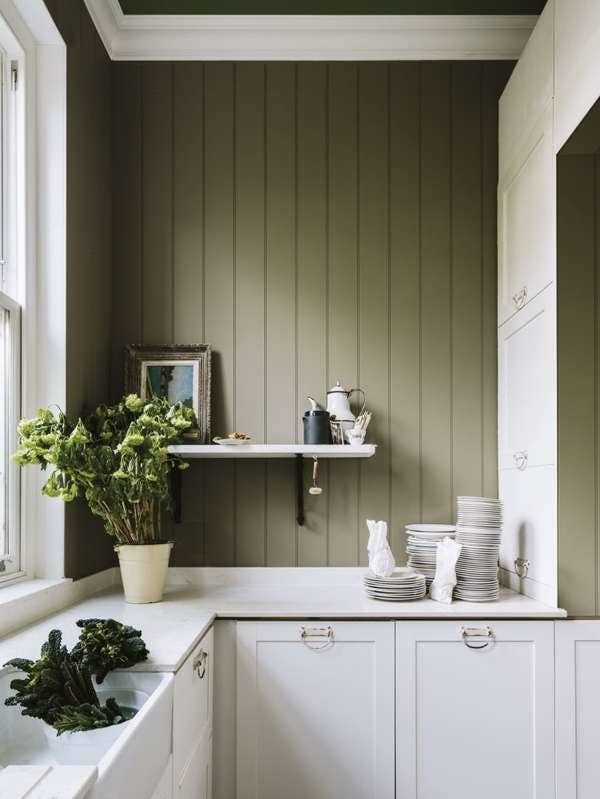 Green kitchens are all the rage right now, and if you aren't interested in green cabinets, a beautiful green wall color will work wonders! This paint color, Treron (No. 292) by Farrow & Ball is a stunning, deep tone of green that is not too light or too dark. Paired with light colored cabinets, such as a light wood, white, or light grey will balance the space out perfectly.
Recommended: high-quality grey shaker cabinets at up to 50% off box store pricing!
Pure White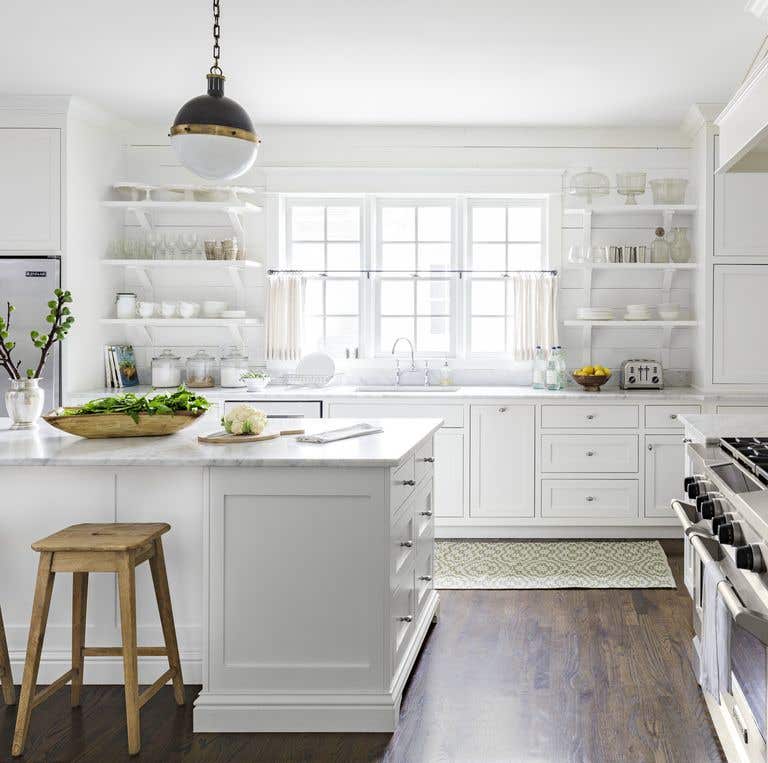 You can never go wrong with a crisp white wall color, especially in the kitchen space. White Dove by Benjamin Moore is the perfect white wall color option for any style of kitchen. It keeps the space light and bright, feels clean, and presents more design opportunities for the rest of the room.
Dark Chocolate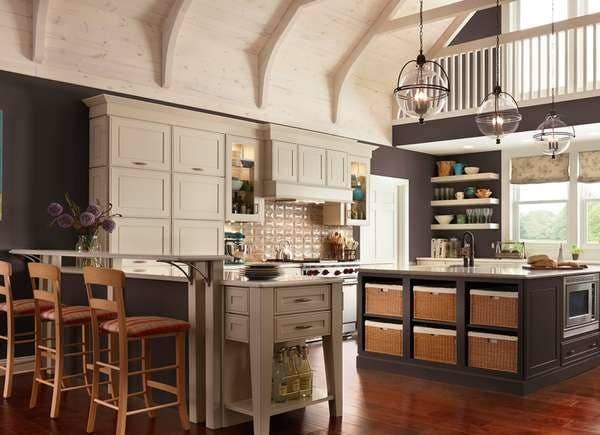 Many think that brown walls are just too dark or not modern enough. But the truth is, brown walls in the kitchen present a sophisticated, elegant feel that can easily feel modern with the right design. Paired with light colored cabinetry like white shaker cabinets and modern fixtures, your kitchen space will look stunning! This beautiful paint color is Berry Brown (PPU24-02) by Behr.

Recommended for you: white shaker cabinets which will pair amazingly with brown walls!
Moody Blue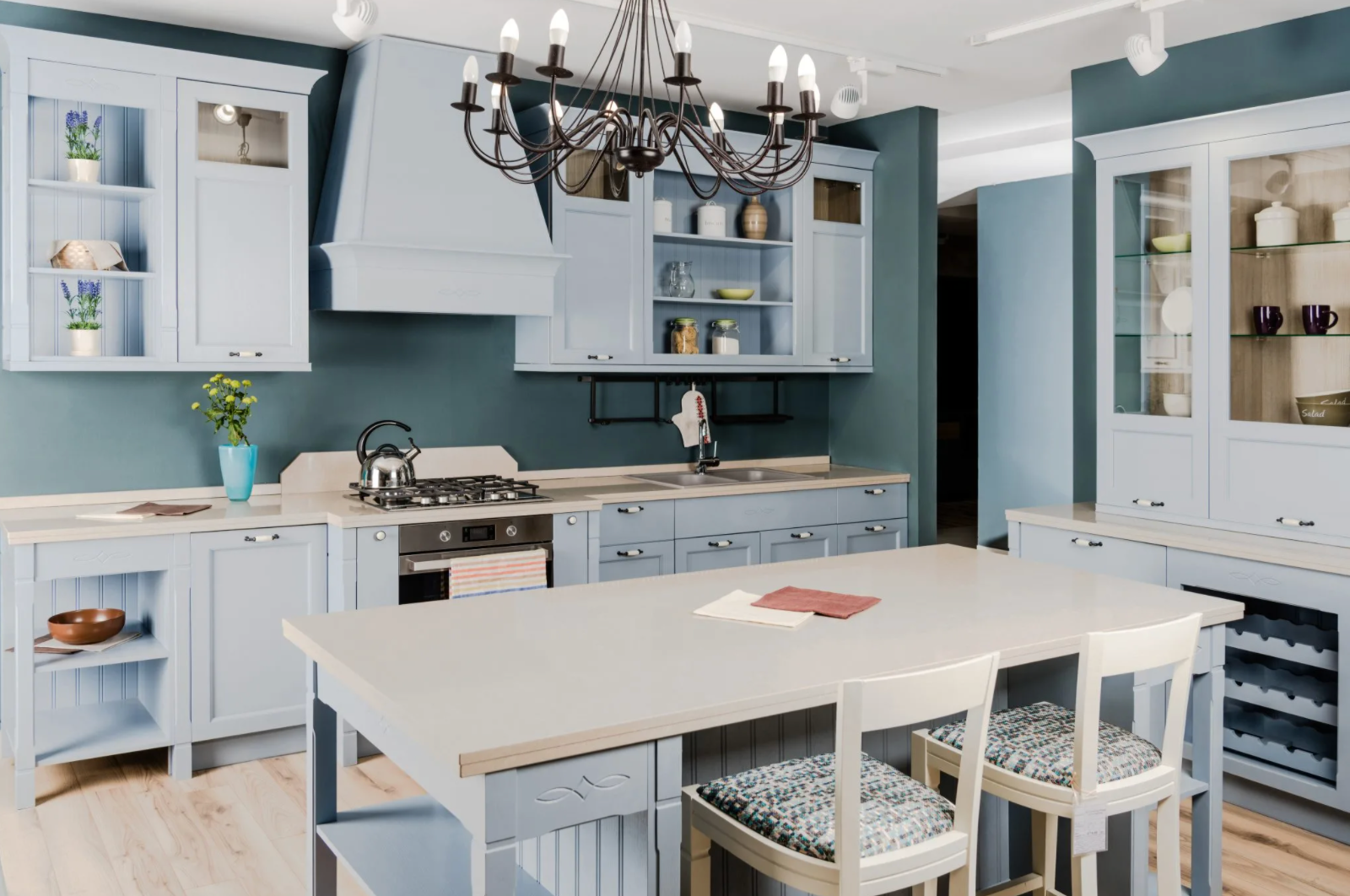 If you are looking for a kitchen paint color that is colorful, bright but not too bright, and will match nearly any color of cabinetry, this moody blue shade is the perfect option for you! Moody Blue by Sherwin Williams, as pictured above, would look especially stunning paired with light colored cabinetry. You may think this color presents a coastal or beach house look, but when paired with the correct materials and decor, this wall color will look modern and clean.
Greige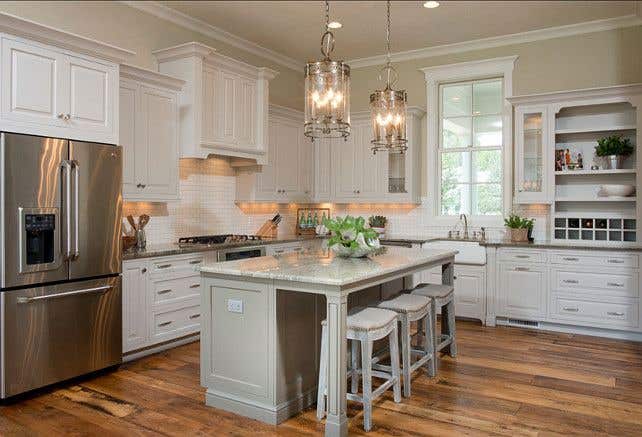 Ever heard of the color "greige"? It's all the rage in kitchens this year, with many people painting either their cabinetry or kitchen walls this "greige" color, and for good reason. Greige is the mix of beige and grey, making a beautiful, contemporary color that matches any style of kitchen space. Yarn MAG054 by Magnolia Home is a perfect greige color for a kitchen. Paint your kitchen walls greige, you won't regret it!
Recommended: Lily Ann Cabinets' elegant Bristol Linen cabinet line that comes with 4 different glaze options!
Create Your Dream Kitchen with Lily Ann Cabinets
We offer a wide selection of premium cabinetry, hardware, shelving and more to help you create a room that stands the test of time. Pick from our large array of kitchen and bathroom cabinetry, including an array of brown cabinets. Our professional designers are on standby to work with you — we offer FREE samples and FREE design and quote. Visit our FREE 3D design tool to get started today!
FAQ:
What are the best kitchen paint colors?
For a modern look in the kitchen, the best paint colors for the walls would be tones of grey, white, or a deep blue depending on the materials used in the rest of the kitchen. Bold, bright colors like red, yellow, and green also appear modern when the rest of the space is decorated properly.
What wall paint color is best for contemporary kitchens?
For a contemporary kitchen, the walls usually are painted in tones of white or beige.
What kitchen wall colors are trendy right now?
Trendy kitchen wall colors right now include deep blues, dark greens, greige, and light grey. Read through this article to find names of these paint colors and pictures of them in kitchen spaces!
What is the best kitchen wall color for oak cabinets?
If you are going for a modern look with oak cabinets, a white or light grey wall color will do just the trick. For a more traditional look, a light beige color will continue the traditional style.