Lily Ann Cabinets - White Shaker Elite cabinet
The kitchen countertop serves as the centerpiece of the room, and it often plays a huge role in the overall design of the kitchen. With that in mind, it's no surprise that kitchen countertop design trends change frequently. In fact, it's only natural to feel overwhelmed by all of the possibilities available today. But with these top kitchen countertop design trends in 2023 you can easily find something that will work within your home decor and still keep your space feeling modern and stylish as new fads emerge over time.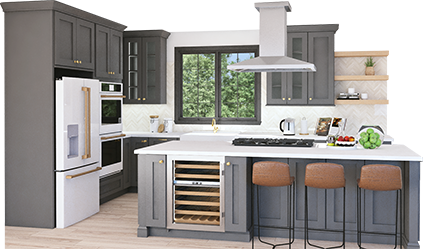 Get your FREE 3D kitchen design today!
Start Now
Recommended For You: Small Kitchen Design Ideas To Make The Most Of Your Space
1) Quartz Kitchen Countertops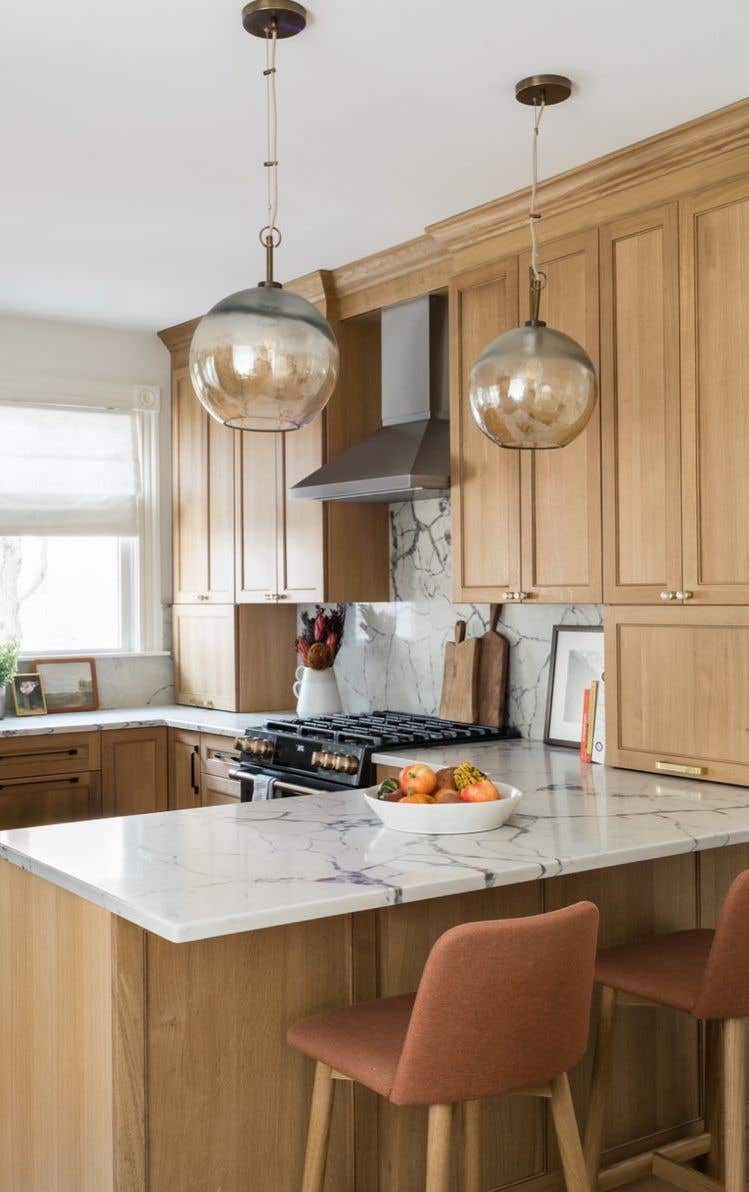 Quartz countertops have become incredibly popular and for good reason. Quartz is much harder than granite and other stones, which makes it more resistant to scratches, dents, and cracks. In addition, it's nonporous—meaning it resists stains much better than most kitchen countertops do. Because of its hardness, quartz countertops also tend to be easier to clean than granite or marble because they don't absorb liquid like those materials do. Quartz also comes in many different colors and pattern variations, making it so there is an option for any style of space. Choosing quartz over marble will also allow more room in the budget for other parts of your kitchen!
Like the look of these kitchen cabinets? Check out the beautiful Shaker Cinnamon cabinets which are up to 50% off box store pricing!
2) Bold Marble Kitchen Countertops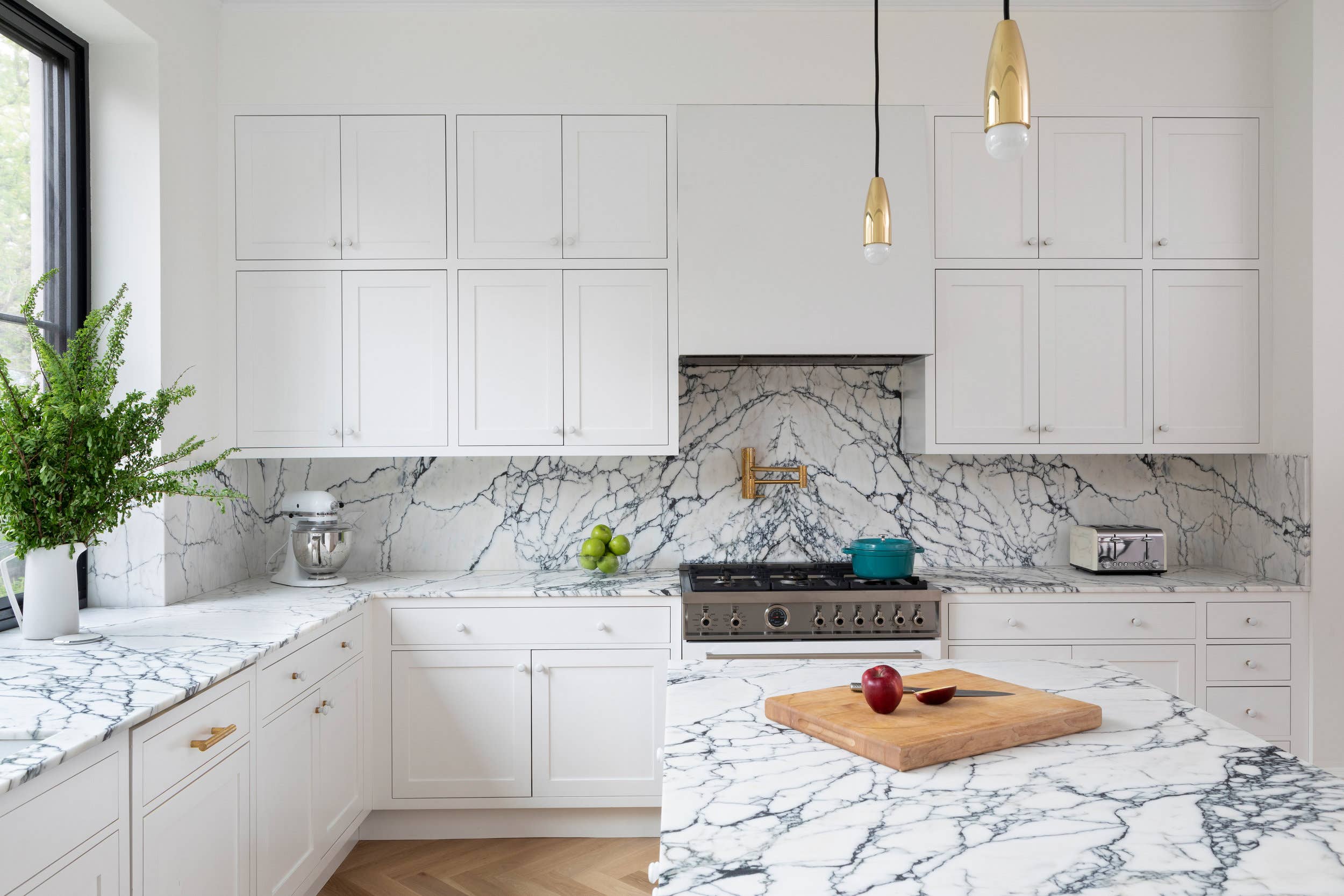 Marble countertops are a true classic in kitchen design, having been popular for decades. Trendy but timeless, marble adds an elegant touch to any kitchen design style. In fact, when it comes to countertops, marble is definitely one of today's top kitchen trends.
We are loving the clean, simple look of these white shaker cabinets. Check out the White Shaker Elite cabinets for a similar look!
3) Tiled Kitchen Countertops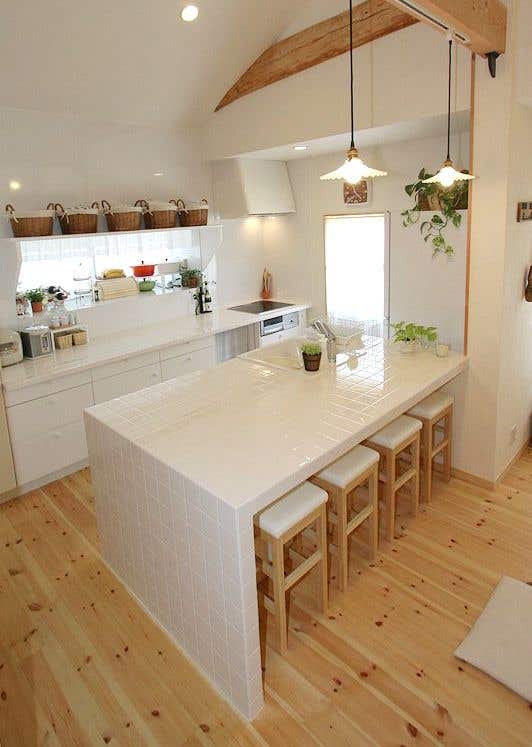 One of top kitchen countertop design trends for the last few years, tiles are a time-tested and often fail-safe choice. Now more than ever, homeowners are looking to integrate their backsplash tiles into a cohesive whole with their countertops. Tiled countertops can be just as modern or traditional as you'd like them to be; they're endlessly customizable. Ceramic is one of our top choices for kitchen countertops in 2023!
4) Butcher Block/Wood Kitchen Countertops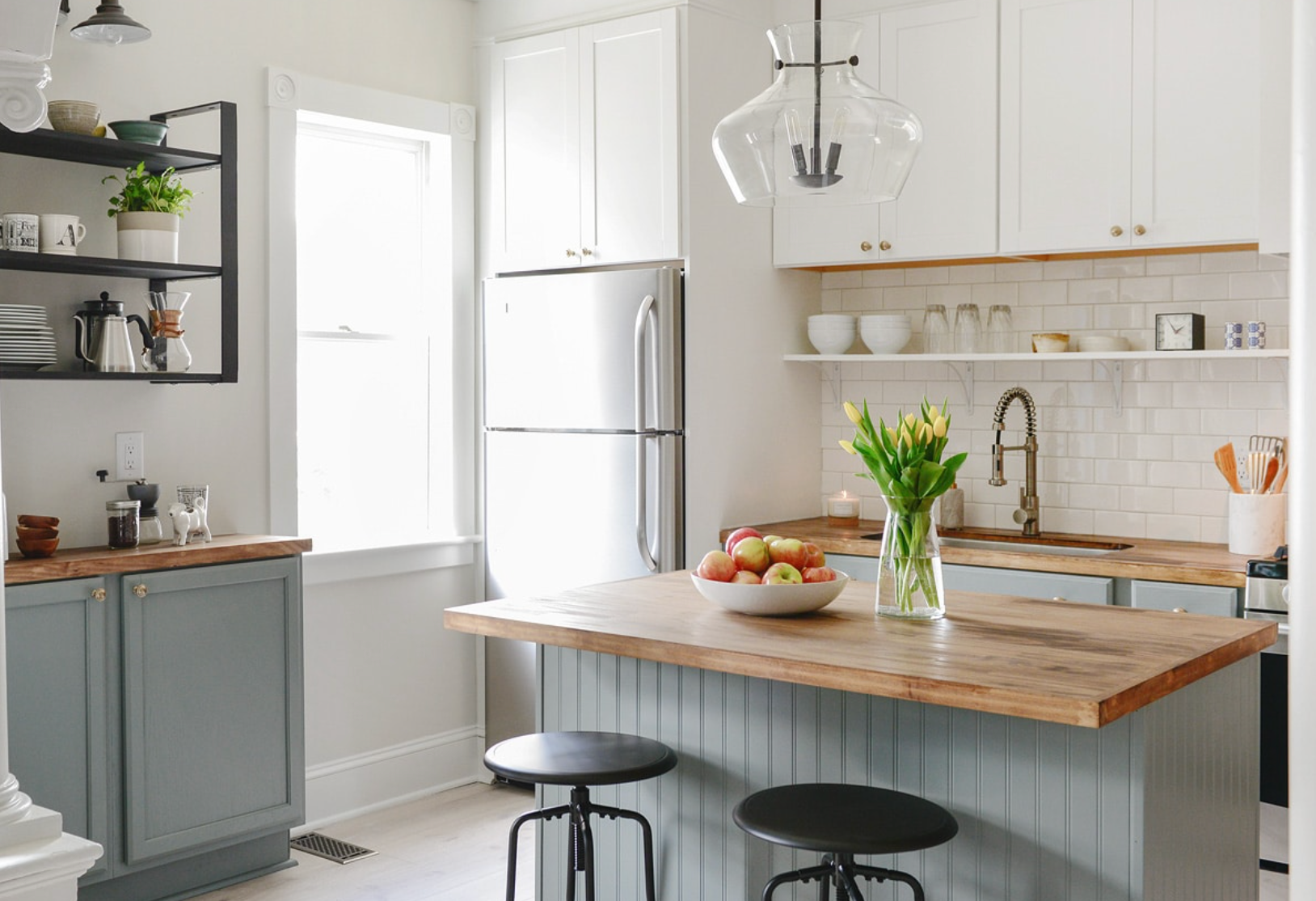 Butcher block wood kitchen countertops are a classic and stylish choice that can look traditional or modern depending on how you style them. If you're working with an open-concept kitchen, butcher block countertops can be a great choice for your cook space. They're functional and beautiful at the same time.
5) Metal Kitchen Countertops – copper and stainless steel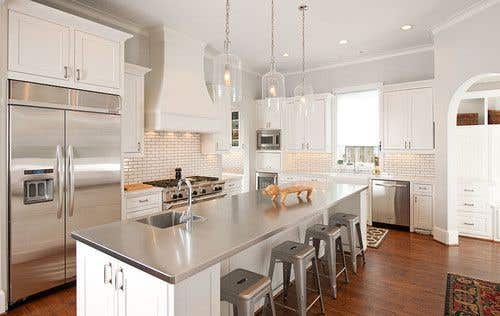 Copper and stainless steel kitchen countertops have always been popular, as they provide an element of luxury while also being affordable. Metals tend to be resistant to rust and staining, making them both durable and attractive, with copper providing a warm, rich tone that is distinctive without being too gaudy. If you're looking for something more modern or unique than copper or stainless steel, then try one of these trendy kitchen countertops in 2023.
Find all of your cabinet hardware needs from pulls to knobs in all finishes here!
6) Concrete Kitchen Countertops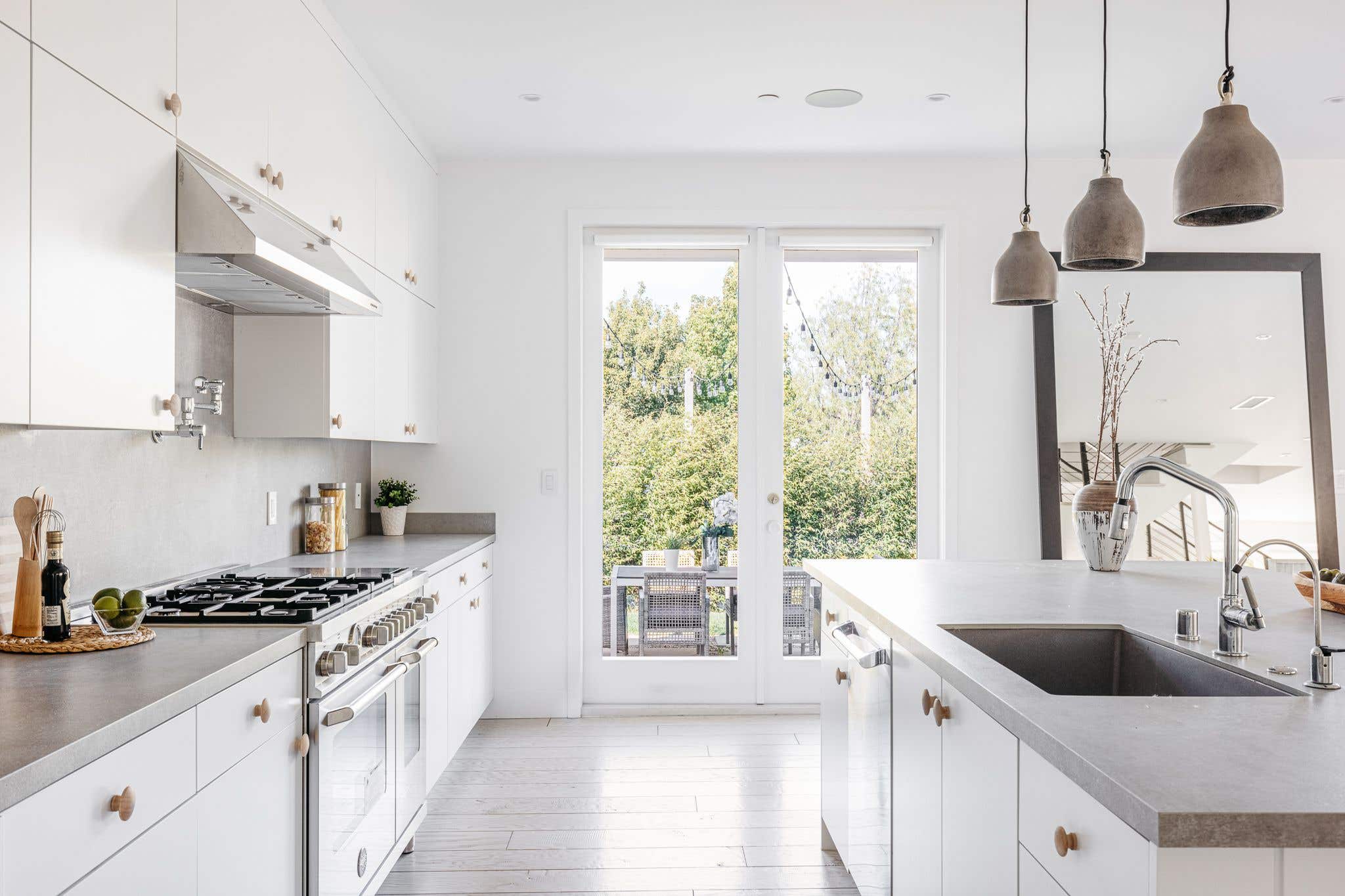 Concrete is a trendy kitchen countertop material that never goes out of style. It's durable, affordable, and looks fantastic in modern kitchens with minimalist designs. Bright colors work well with it, as do marble-look alike countertops. While concrete is easy to clean and maintain, some stains can be hard to remove—be sure to follow cleaning instructions carefully so your countertops remain looking as great as they did when you first installed them!
Different Design Trends For Kitchen Countertops
There are tons of kitchen countertops out there to choose from. After all, not everyone is a fan of granite or marble; if you're looking for something else, such as concrete or soapstone countertops, there are plenty of alternatives. But what are kitchen countertop design trends? If you're wondering whether your favorite will become popular in upcoming years, take a look at these top 3 ideas that seem to be trending right now.
Waterfall Edge Countertops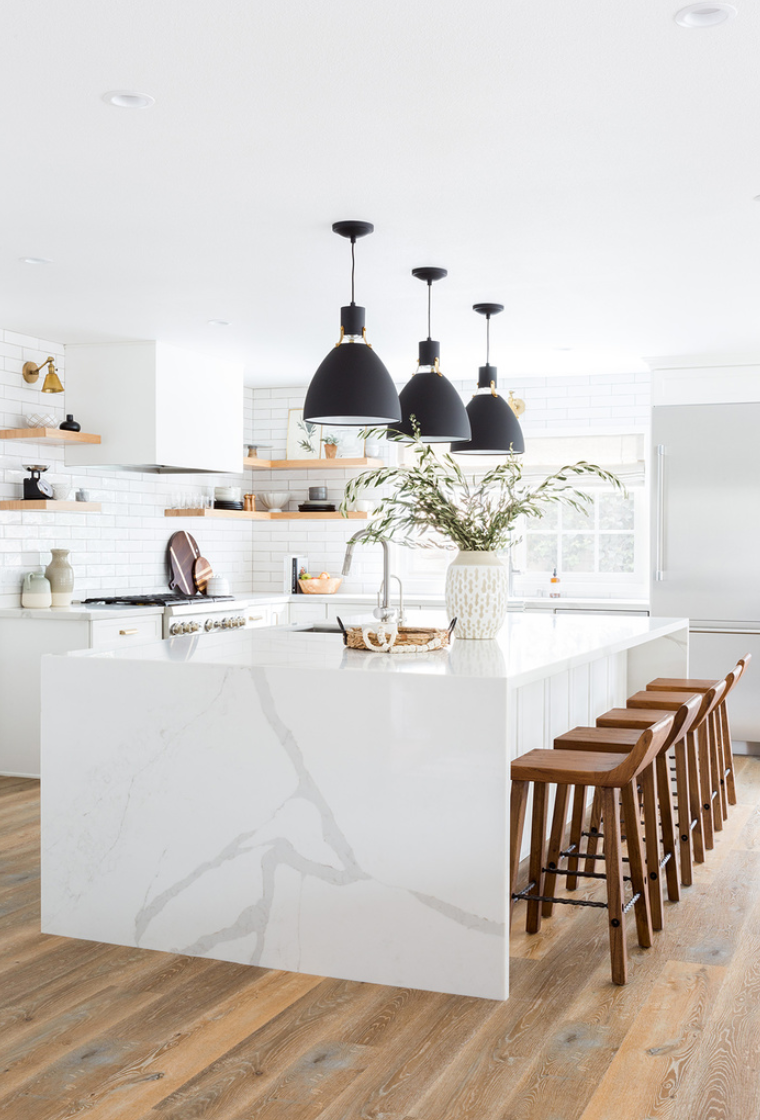 The waterfall edge countertops design incorporates a top edge that gently falls down in a linear pattern, rather than leveling off into a flat plane. This design can add interest to your kitchen's countertops,  and will be popular with homeowners who want their kitchens to stand out from other homes. 
Looking for the perfect cherry kitchen cabinet? The Charleston Cherry cabinet line will enhance any kitchen space!
Illuminated/Backlit Countertops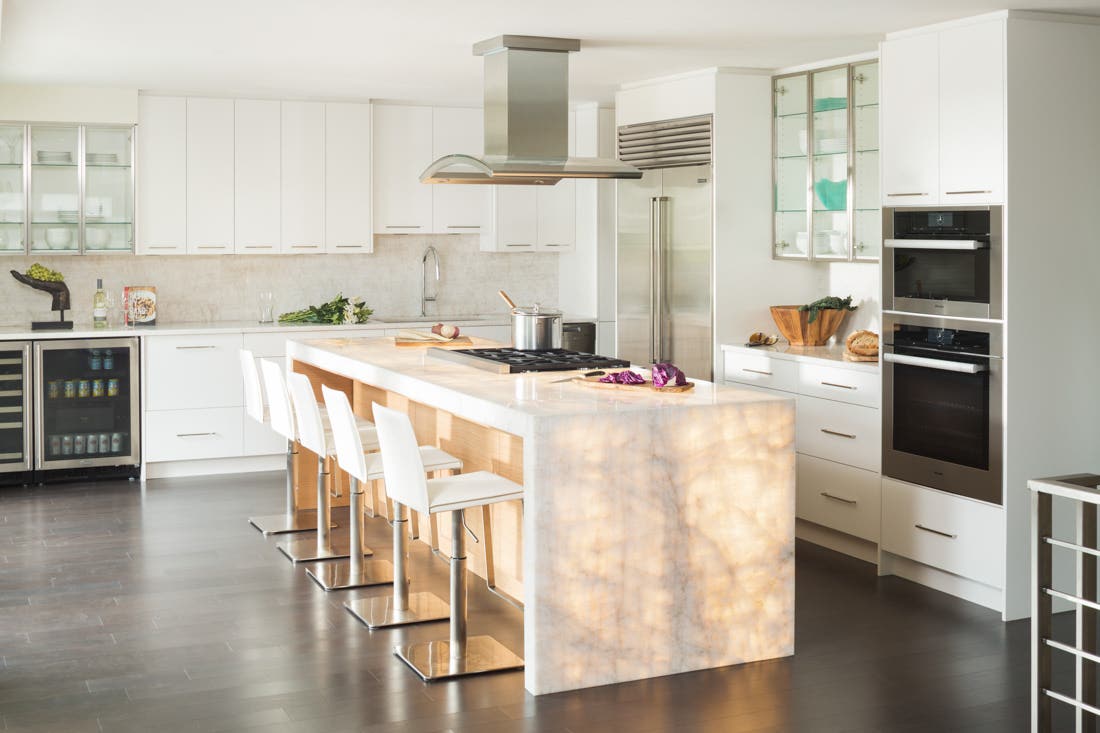 Interior Solutions Design Group
One of today's most popular kitchen countertop design trends is backlit countertops. They're great if you like to cook in front of your family at night, or host parties regularly—with a few dimmable LEDs around, you can create a space where everyone feels comfortable while still being able to see what they're doing. This trend is new and continues to grow as people realize how different and fun the addition of a light-up countertop is.
Matching Countertops + Backsplash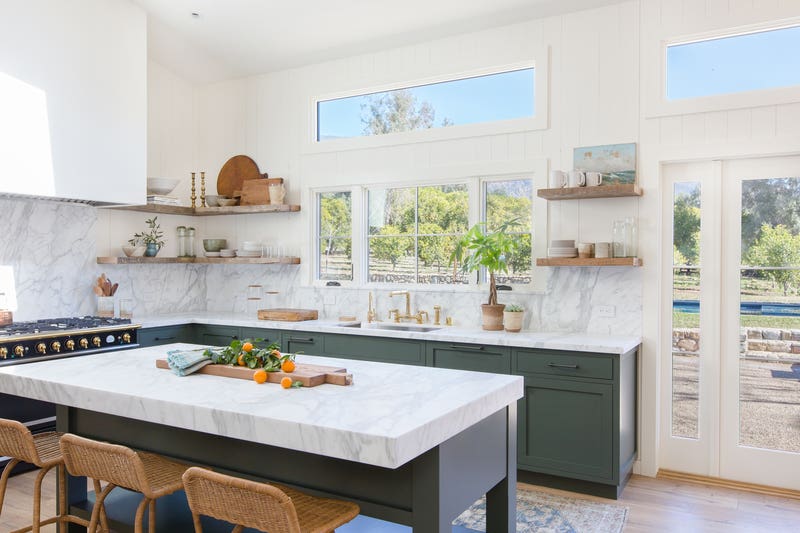 Matching your countertops to your backsplash is an easy way to tie your kitchen together and ensure that every piece in your space has a purpose. This creates a seamless look that's also easy on the eyes.  Quartz is one of our favorite materials for both countertops and backsplashes, because it pairs well with just about any style of cabinet or appliance.
Create Your Dream Kitchen With Lily Ann Cabinets
We offer a wide selection of premium cabinetry, hardware, shelving and more to help you create a room that stands the test of time. Pick from our large array of kitchen and bathroom cabinetry, including white shaker cabinets that come with soft-close hinges. Our professional designers are on standby to work with you — we offer FREE samples and FREE design and quote. Visit our FREE 3D design tool to get started today!
FAQs
1. What is the most popular countertop for 2023?
The most popular and trending countertop for 2023 is a marble countertop. Closely trailing behind is concrete countertops and butcher block countertops.
2. What countertop edge is in style?
Waterfall edge countertops have been on the come-up for years now. They add drama and style to any kitchen and are definitely worth the extra money!
3. What type of countertop is trending?
The most popular and trending countertop for 2022 is a marble countertop. Closely trailing behind is concrete countertops and butcher block countertops.