Farmhouse style isn't just for large, expansive country farm bathrooms… Rustic charm can be achieved in small bathrooms, too! From cabinets to flooring, we're going over all of the best ideas for your small farmhouse bathroom remodel. Keep reading to get inspired by the best rustic home decor pictures.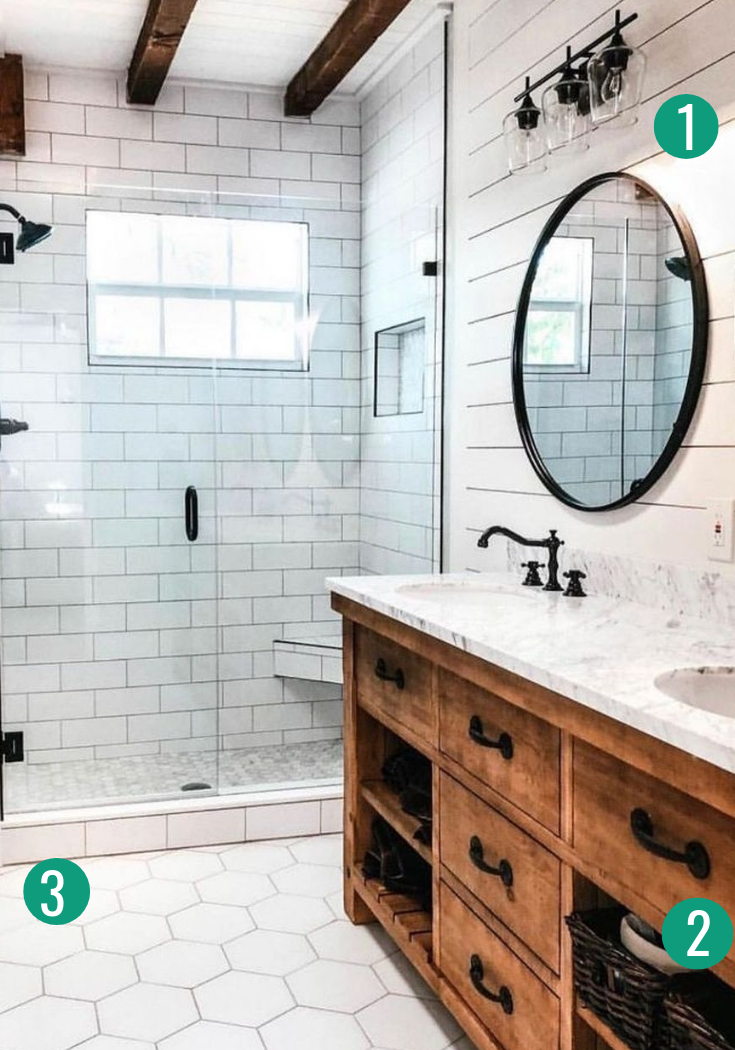 1. Fresh White Shiplap Walls
White shiplap walls are a staple for farmhouse style bathrooms. Popularized by Joanna Gaines on Fixer Upper, the shiplap look is a key feature in rustic bathrooms. Some homes are lucky enough to have original shiplap walls. But if not, there is a simple solution—MDF boards can easily be applied to drywall to achieve the sought-after shiplap style (Check out Studio McGee's guide to creating shiplap walls!)
2. Wood Vanity with Reclaimed Wood
Farmhouse bathroom features usually include natural, earthy materials. Wood, marble, and stone are all beautiful touches to a farmhouse bathroom. This bathroom features a wood vanity with reclaimed wood—adding an aged yet sophisticated style. If reclaimed wood isn't an option, look for rustic cabinets with a natural wood grain.
3. White Tile Floors
To maintain the classic country look, opt for white tile flooring in the bathroom if possible. Add an eclectic touch with geometric tiles, like this unique hexagon pattern. For consistency, this bathroom continues the white theme into the shower with a subway tile backsplash.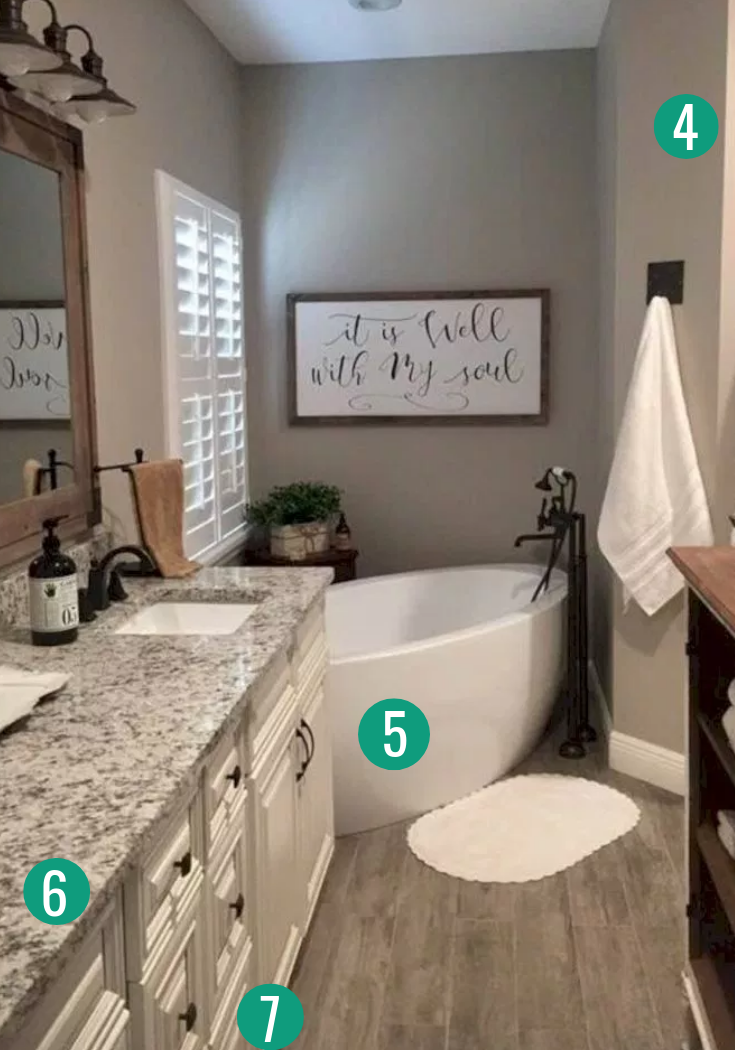 4. Neutral Colors
To maintain the earthy natural feel, stick with neutral paint colors like light beige, pale blue, greys, and whites. Currently, trending colors are 'greige,' taupe, and dove white. When choosing a neutral color for your bathroom, remember to keep the undertones in mind. Always choose a few samples first to compare on your bathroom wall to see what undertones look best in your space.
5. Freestanding Tub
No matter how small your bathroom is, it's always possible to squeeze in a freestanding bathtub! Tubs come in a variety of shapes and sizes, so there are lots of options to choose from. True to the original farmhouse style, freestanding tubs are the perfect way to unwind after a long day of work.
6. White and Grey Marble Countertops
Farmhouse countertops range from bright white to solid black. As long as the tone is neutral, most countertops will fit with the rustic style. A safe choice is always white and grey marble countertops, making sure to match them to other features like the walls, cabinets and flooring.
7. Antique White Cabinets
From the barn to the bathroom, antique white cabinets are the ideal addition to any rustic home. Just make sure you opt for solid wood, soft-close bathroom cabinets to ensure the highest quality that will last a lifetime.
(Renovating a farmhouse kitchen too? Check out this blog!)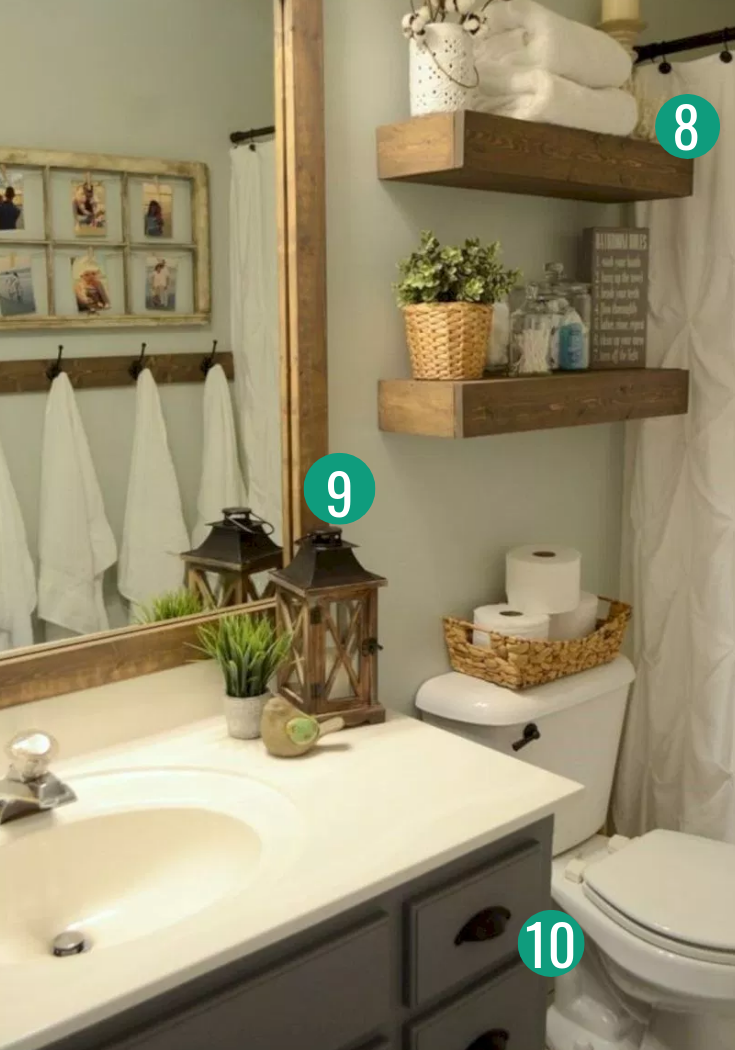 8. Open Shelving with Farmhouse Decorations
Open wood shelving is an inexpensive way to add farmhouse flair to your bathroom. Use open shelves to display farmhouse decor like baskets, small plants, towels and glass jars.
9. Wood Framed Mirror
Pull together the rustic elements of your bathroom with a large wood framed mirror. Not only is a wood framed mirror a gorgeous decor element on its own, it can make a tiny farmhouse bathroom appear much larger. No need to expand your space—add a mirror and watch it transform!
10. Matte Black Hardware
Add a pop of contrast to farmhouse cabinets with elegant matte black decorative hardware. For a more industrial style, choose cabinet pulls with exposed screws. Another popular hardware finish for farmhouse bathrooms is oil-rubbed bronze.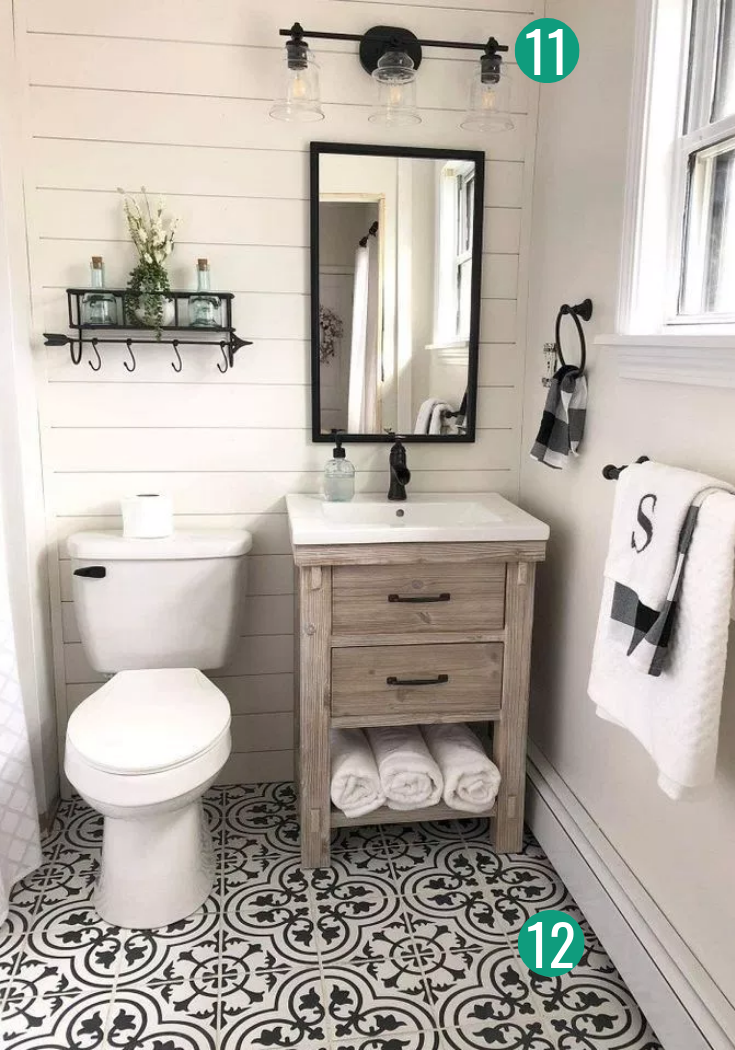 11. Rustic Light Fixtures
Choose a rustic light fixture in oil-rubbed bronze or matte black. This charming rustic bathroom matches the mirror, light fixture, sink faucet and other decor elements to pull the room together. If you want to save money on your bathroom remodel, try looking for vintage lights at your local furniture thrift shop—you never know what treasures you might find!
12. Mosaic Tiles
Mosaic floor tiles are a popular choice for interior designers because they can be utilized as a statement piece that brings character to any drab bathroom. Common patterned tile colors for farmhouse bathrooms are black, white, grey, navy blue, and pale yellow.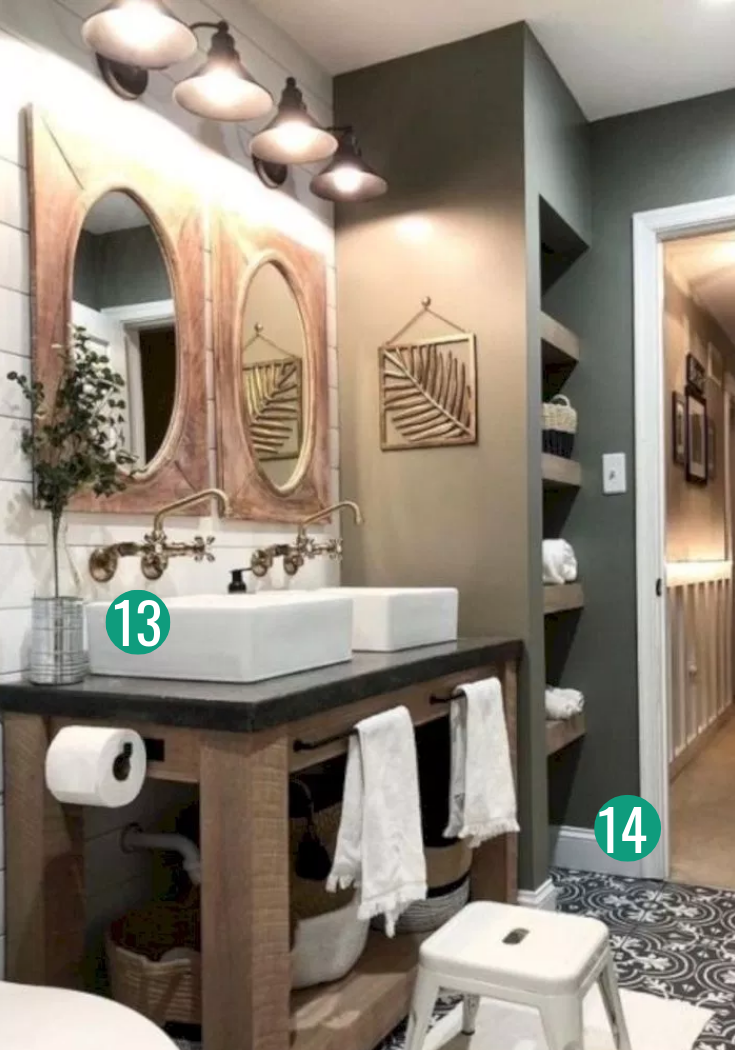 13. Vessel Sink
A double sink bathroom doesn't have to be huge to be functional! These small square vessel sinks are the centerpoint of the bathroom, pulling together all of the farmhouse decor with a touch of modern flair. To keep it rustic, this homeowner added farmhouse faucets. Although this bathroom is on the smaller side, the his-and-hers sinks and double mirrors make it appear much larger.
14. Earthy Natural Color Scheme
The soothing natural green paint color in this bathroom provides the perfect contrast to the white shiplap above the sink. When it comes to small spaces, most designers advise to use light neutral paint colors, which make the room feel bigger. However, this dark-painted bathroom maintains a spacious feel due to a few pops of white in the door moulding, sinks, shiplap wall and vessel sinks.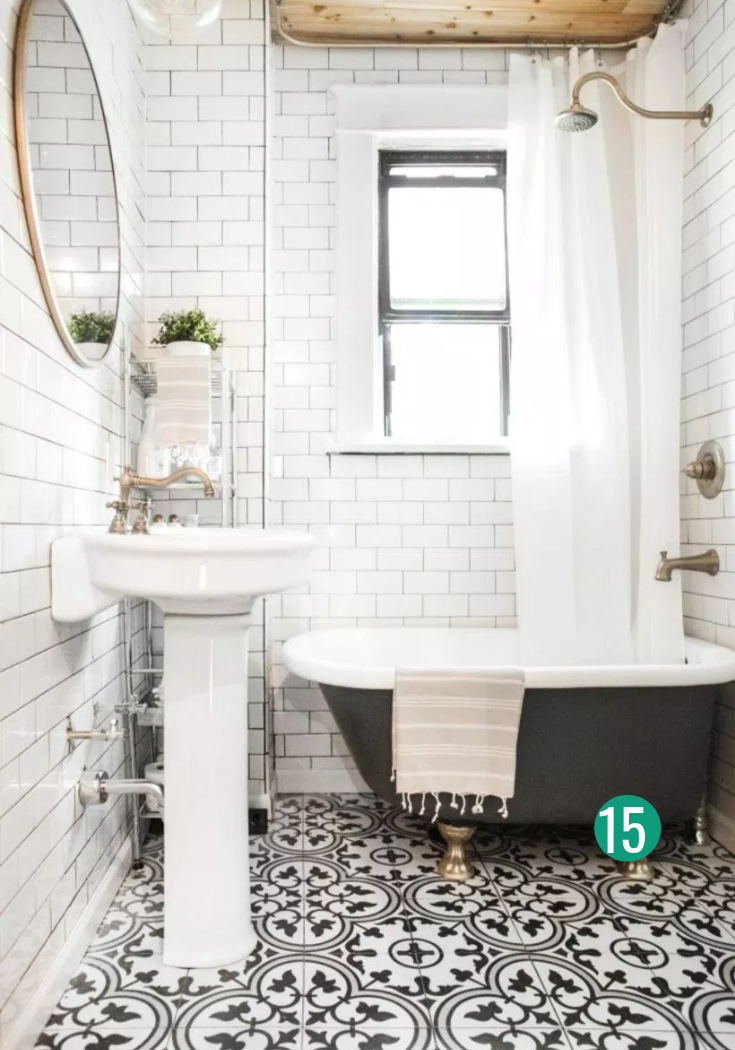 15. Clawfoot Tub
There's nothing quite like unwinding after a long day in a stately, elegant clawfoot tub. True to original farmhouse design, clawfoot tubs have been around for centuries. It is not uncommon to find vintage clawfoot tubs in small farmhouse bathrooms from a century ago. Combined with a matching small farmhouse bathroom sink, this tub turns a tiny guest bath into a spa fit for a king.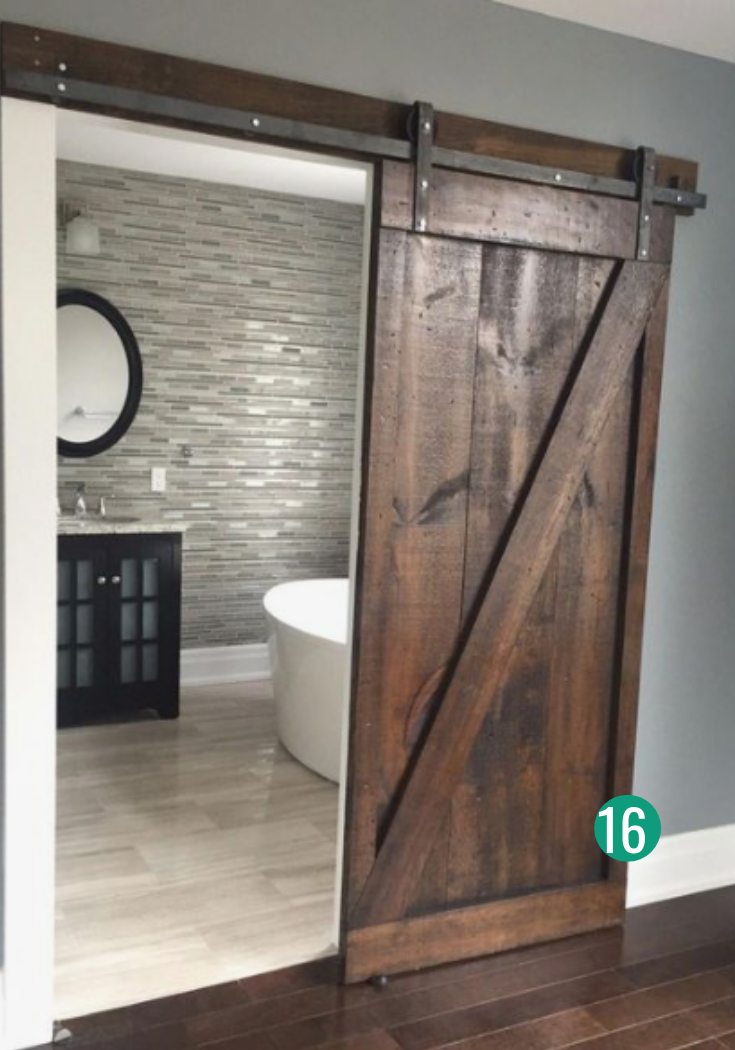 16. Sliding Barn Door
As modern farmhouse bathrooms become more popular, sliding barn doors have exploded in popularity. A barn door doubles as a functional design element and stunning decor piece. For a more vintage farmhouse look, choose a sliding barn door with a light stain that is slightly distressed. Or, for a more modernized and sleek look, go for a barn door that is stained dark, as pictured below.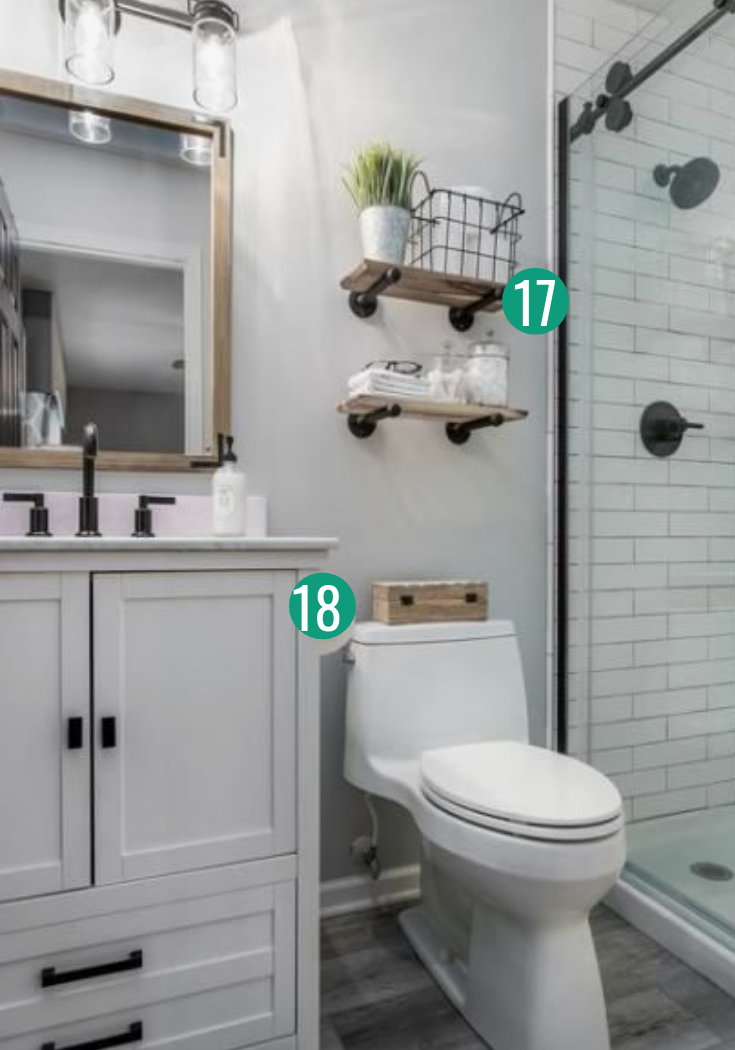 17. Wire Basket Decor
If you've ever watched Fixer Upper, you know that wire baskets are a must for farmhouse design. Not only are they inexpensive, they match any color scheme and help to store your bathroom products in style.
18. White Shaker Cabinets
White shaker cabinets are undoubtedly the most popular option for farmhouse bathrooms. This cabinet style looks gorgeous with any hardware. It will also last through all of the newest design trends—white shaker cabinets match traditional, modern and rustic bathroom styles! They are also an extremely affordable option for those trying to save on their remodel.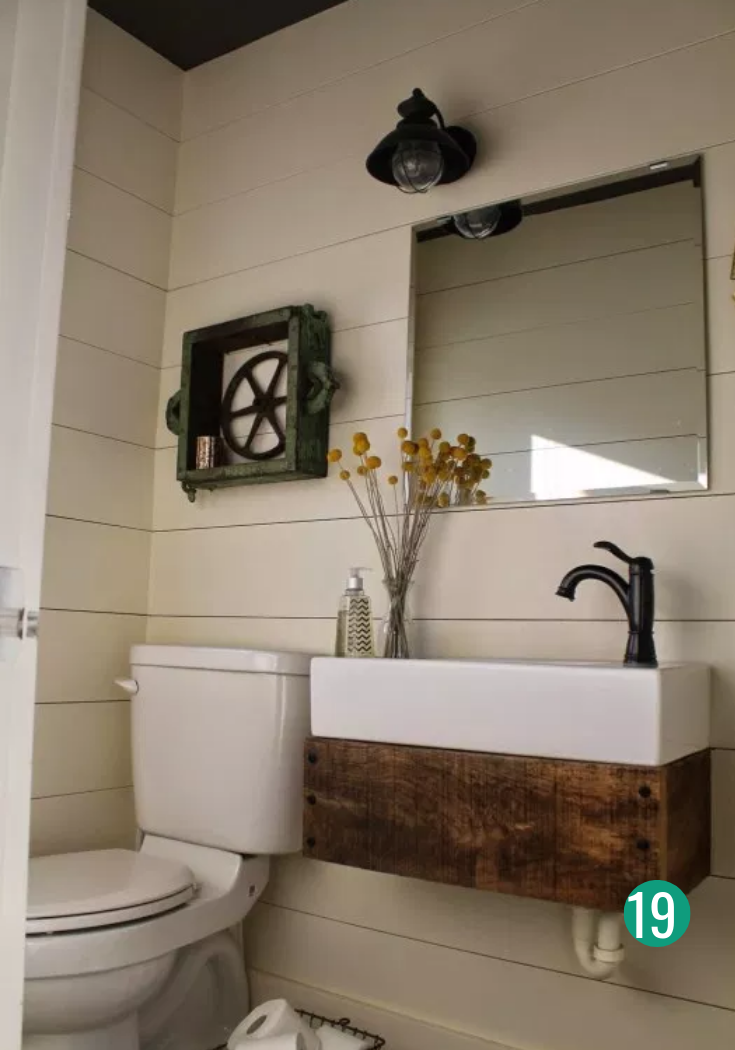 19. Floating Vanity
One of our favorite clever tiny farmhouse bathroom ideas is swapping out a full vanity for a floating vanity. Albeit you'll lose some storage space where the cabinets used to be, what you'll gain is more open space to make the room appear larger. Plus, sometimes simplicity is key.
Create the Perfect Small Farmhouse Bathroom with Lily Ann Cabinets
Now that you've compiled some great ideas for small farmhouse bathroom design, let's get started on making them a reality! First, order your free cabinet door samples. Then get a free 3D kitchen design from our professional design experts. Congratulations! You're on your way to achieving your dream farmhouse bathroom. Please don't hesitate to contact us with any questions or concerns.
Related Blogs