Farmhouse kitchens are one of the most popular trending design styles nationwide. The farmhouse style kitchen has been catapulted into the public eye through TV shows like Fixer Upper and We Bought The Farm. But how do you achieve the farmhouse kitchen feel? Since cabinetry takes up the bulk of your kitchen space, we recommend starting with the right farmhouse cabinets.
Below we're exploring various farmhouse kitchen design ideas from popular interior designers, from white shaker to dark oak. We'll also delve into other rustic kitchen design elements like farmhouse sinks, countertops, cabinet knobs and more. Keep reading to get inspired by 12 farmhouse-style kitchen photos and design ideas.
1. Farmhouse Kitchen Cabinets with Open Shelving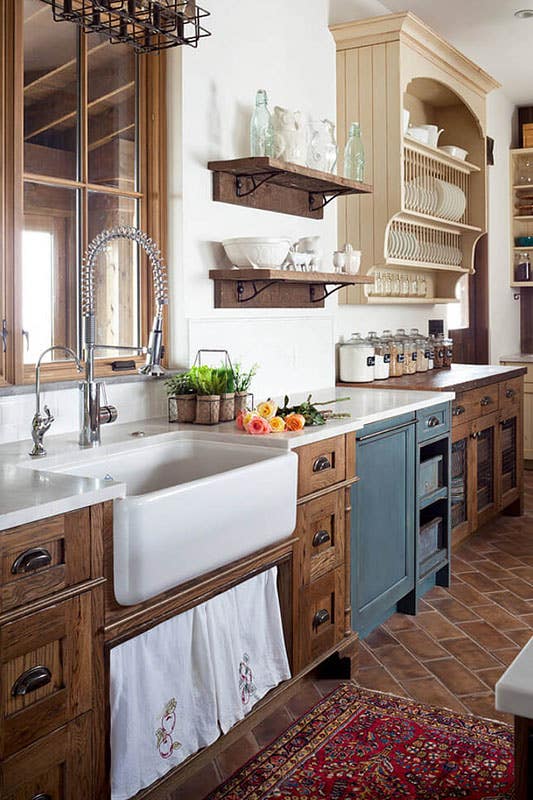 This kitchen pairs distressed wood open shelving with matching cabinets for a classic farmhouse feel. The dark wood and black brackets of the open shelves give a nice pop of contrast against the white wall. Open shelving in a farmhouse kitchen is a great way to display antique vases, white bowls, glass jars and other vintage decor.
Shelves are also more accessible than door-front cabinetry, allowing you to keep all of your dishware at an arm's length to grab-and-go. Make sure to add farmhouse kitchen cabinet hardware to your kitchen for the final touch!
Checkout: Open Shelving: Better Than Upper Cabinets?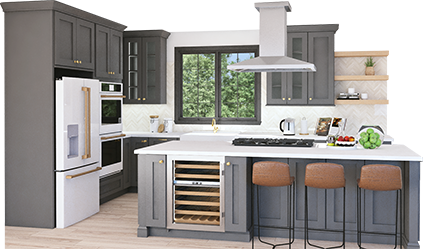 Get your FREE 3D kitchen design today!
Start Now
2. Rustic Charm & a Touch Of Stripes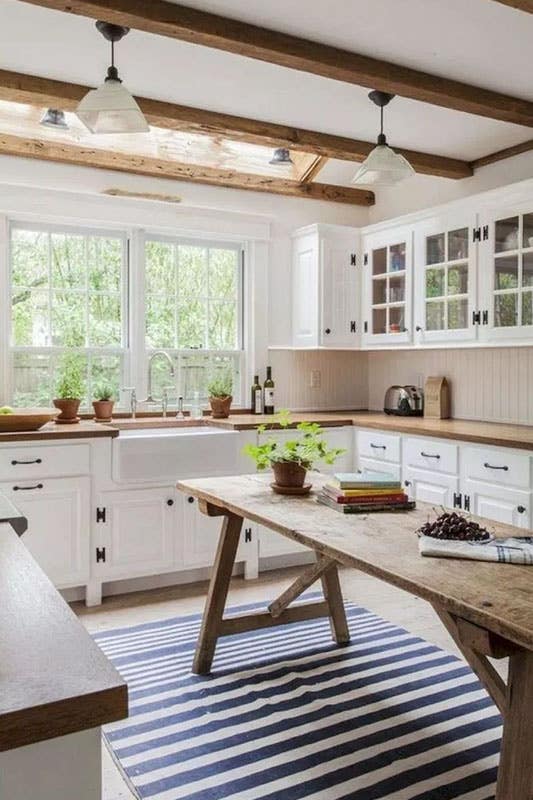 Spice up your farmhouse with a touch of stripes! This large country kitchen immediately catches your eye with its bright white cabinets, vintage wooden table, and large navy-striped rug. Adding farmhouse white kitchen cabinets to give it a vintage feel is also a popular option when creating your farmhouse kitchen!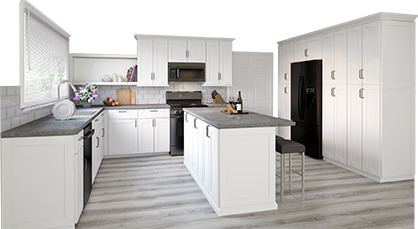 3D Kitchen Visualizer Tool
Bring your dream kitchen to life with our free kitchen visualizer!
Design Now
3. Bright White Cabinets & Large Wood Island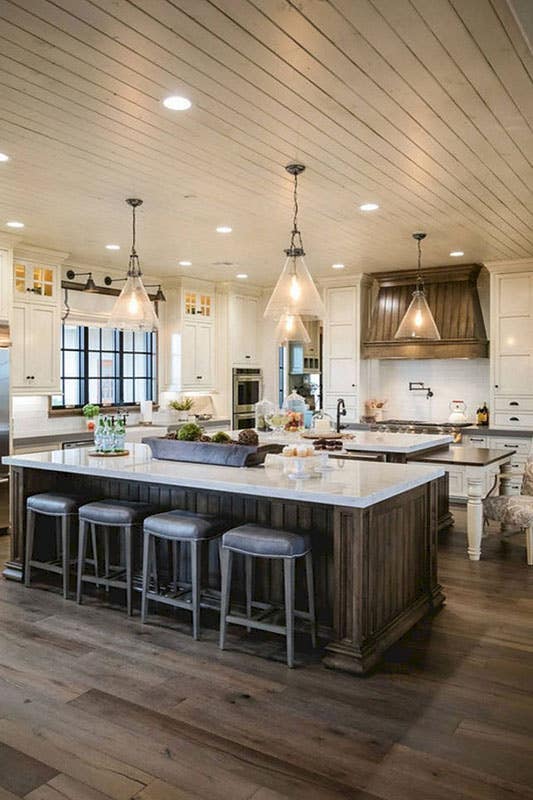 This enormous farmhouse kitchen island serves as a statement centerpiece that beautifully contrasts the surrounding white cabinetry. With dark stained wood and intricate detailing, this paneled island was designed to function as the central gathering space for this modern farmhouse kitchen. A matching range hood pulls the kitchen together elegantly, without seeming too matchy. The expansive shiplap ceiling and stained wood floors bring an effortless rustic style to the space without distracting from the other design elements. To emphasize this kitchen's open layout, a mixture of inset and pendant lights are used to give the room a bright and airy feel.
4. White Shaker Cabinets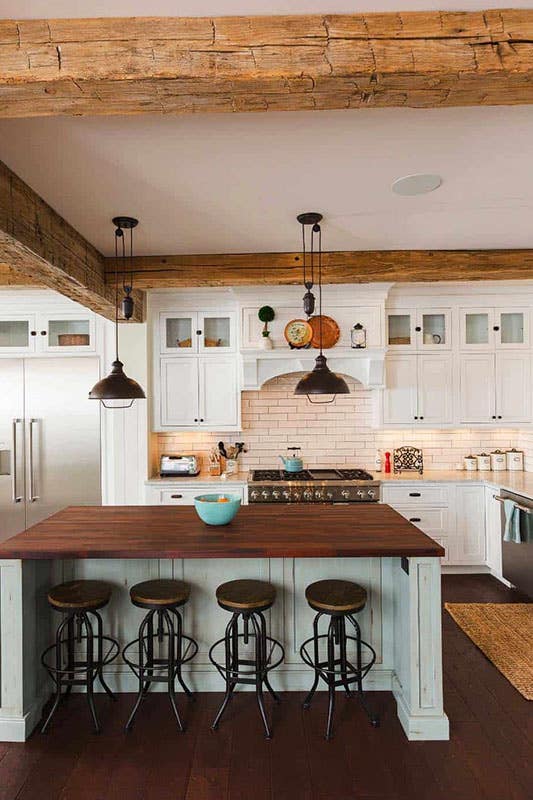 White shaker cabinetry is the ideal choice for farmhouse kitchens because of its effortless design and bright color. This white shaker kitchen feels open, and airy, and maintains a sense of visual consistency throughout. Paired with black knobs and pulls, these cabinets have the appeal of a classic 1950s country kitchen. The oversized island and large wood beams contribute to the rustic feel while giving a sense of grandeur. (Learn more about why shaker cabinets are popular!)
5. Softly-Distressed Farmhouse Kitchen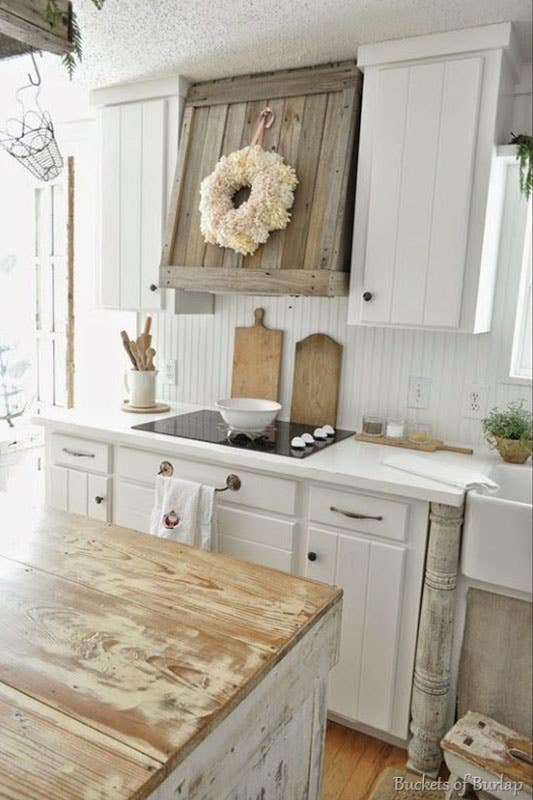 Another kitchen that features bright white cabinetry, this distressed design pays homage to the simple farm life. The small farmhouse cabinets are complemented by rustic gold hardware. It's easy to imagine this kitchen nestled in the countryside of a quaint farm village.
6. Dark Cabinets with Contrasting Subway Tile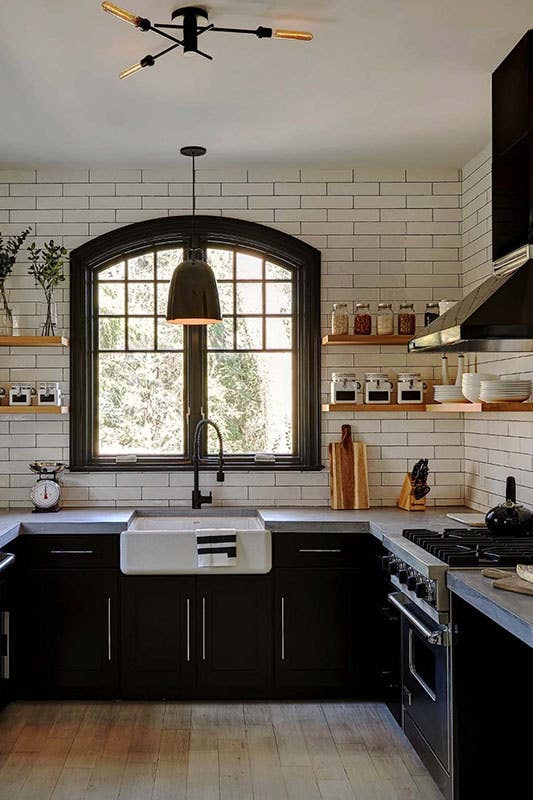 It's time to go back to black with this striking modern farmhouse kitchen. To contrast the bold look of the dark kitchen cabinets, this designer opted for a white subway tile backsplash that spans the entire kitchen wall. A large white farmhouse sink occupies the center of the room, framed by simple open shelving and an oversized window. The look is completed with a grey butcher block countertop, adding an industrial touch to this stunning space.
7. Rustic Reclaimed Wood Cabinets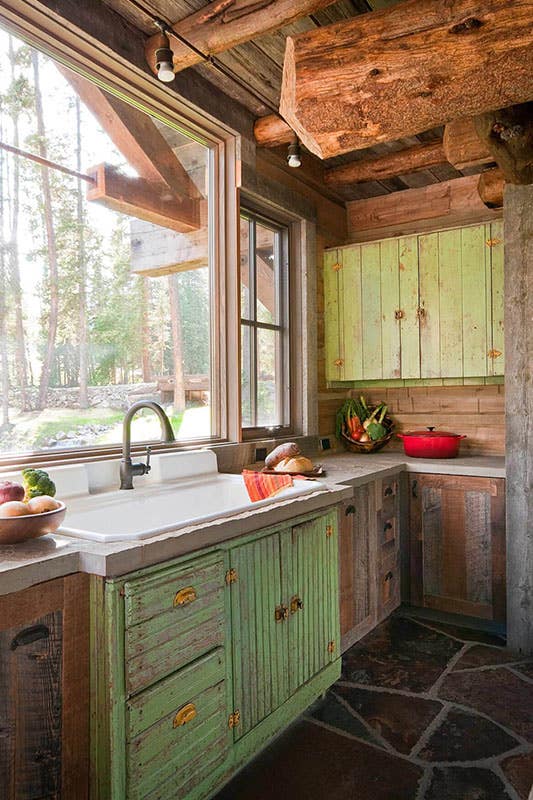 If your style is more of a true country farmhouse kitchen, rough wood cabinetry is the recommended choice. This rustic cabin kitchen features a mix of pale green and dark wood cabinetry, creating a pop of contrast and reflecting the natural colors of the forest outside. A true farmhouse kitchen brings elements of the outdoors inside as a constant reminder of nature's calming beauty. Here, stone floors and raw wood beams are also used to carry the essence of the forest from the outside in. Gold cabinet hardware is used for a pop of elegance amidst the otherwise rural design.
Checkout: Guide For The Perfect Rustic Kitchen: 15 Ideas + Tricks
8. Modern Farmhouse Kitchen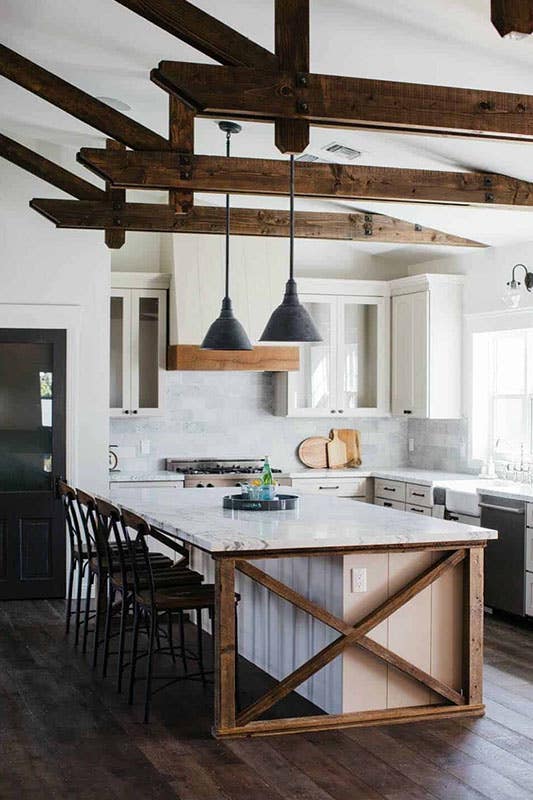 This kitchen jumps back into the modern farmhouse style featuring a large marble island and white marble countertops. Subtle hints of natural wood are included in the island x-base, range hood, overhead beams, and oak flooring. To keep this design from becoming too modern, this designer also opted for industrial pendant lighting and glass-front shaker cabinets. When it comes to mixing modern and farmhouse, this kitchen shows that simplicity is key.
Checkout: 6 Modern Farmhouse Kitchens to Inspire Your Next Remodel
9. Small Modern Farmhouse Kitchen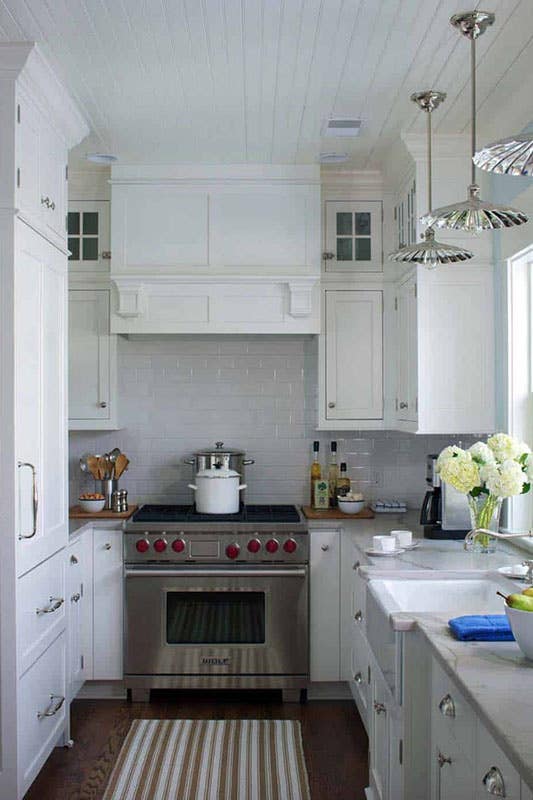 This modest farmhouse kitchen proves that bigger isn't always better. Featuring custom white shaker cabinetry and a white shiplap ceiling, the cheery brightness of this small kitchen makes up for what it loses in square footage. If you're looking for functional rustic charm, no space is too small—farmhouse style can be achieved in even the tiniest of kitchens.
10. Modern Farmhouse Kitchen with Grey Shaker Cabinets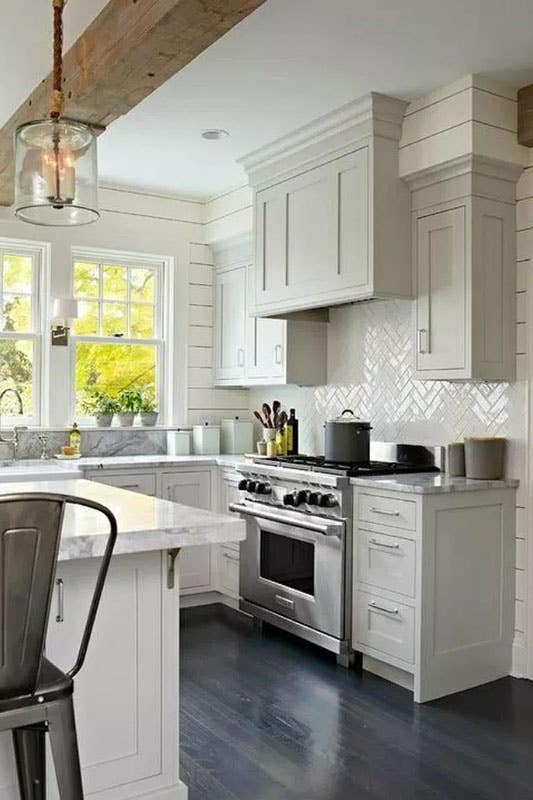 One of the more common kitchen ideas for farmhouse design is the use of grey shaker cabinetry. This kitchen designer used a light grey shaker cabinet design for a subtle pop of contrast against the shimmery white herringbone backsplash. Consistent with modern kitchen design, this space features an open floor plan and contemporary materials like marble and steel. To incorporate country farmhouse elements, this designer included white shiplap walls, exposed beams, and rustic pendant lighting.
11. Bright & Busy Rustic Farmhouse Kitchen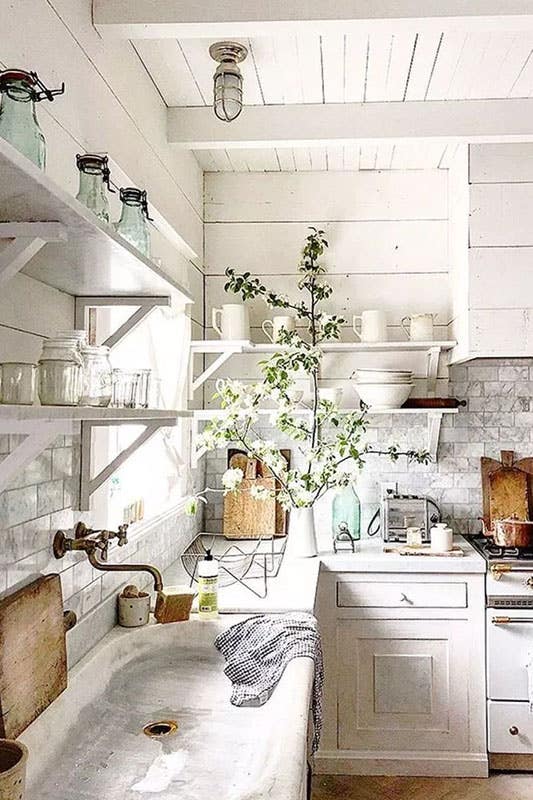 This gorgeous country kitchen is the epitome of farmhouse living: original shiplap walls, weathered cement countertops, vintage white cabinets, and a galore of farmhouse knick-knacks. Although busy, this space paints the perfect picture of life on the farm.
12. White Cabinets & Rustic Exposed Brick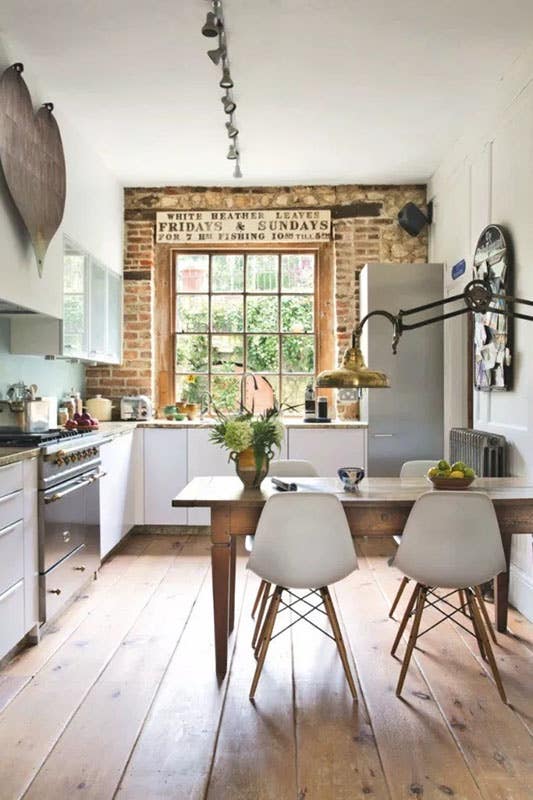 The exposed brick wall in this kitchen speaks for itself—everything else is muted and simple so as not to distract the eye from this gorgeous rustic feature. The unornamented summit white cabinets and understated kitchen table are plain and functional. For those lucky enough to have original brick walls in their homes, leaving them exposed is a beautiful way to showcase a raw, natural element to create a true rustic farmhouse atmosphere.
Find Farmhouse Kitchen Cabinets for Less
Now that you've found design inspiration for your farmhouse kitchen, you need the perfect cabinets! Lily Ann Cabinets offers the latest trending styles of farmhouse solid wood cabinetry for 50% less than traditional box store pricing. Visit our website today to order free samples or receive a free 3D kitchen design. It's time to make your dream affordable farmhouse kitchen a reality with Lily Ann Cabinets.
FAQ
1. How to decorate top of kitchen cabinets farmhouse style?
You can add farmhouse decor to the top of your cabinets or you can even two-tone your crown molding with your base cabinets to make it look more like a farmhouse!
2. What kind of cabinets do I need for a farmhouse?
You can use Lily Ann Cabinets White Shaker Elite for a white farmhouse cabinet vibe! Or our York Driftwood Grey is a beautiful option as well!
3. What color are farmhouse kitchen cabinets?
Farmhouse kitchen cabinets can range from many colors, but are mainly wood, white, or rustic grey!
4. What makes a kitchen a farmhouse kitchen?
Farmhouse kitchens are brought together by the decor placed in your kitchen. As well as the hardware and cabinets used!