The laundry room is one of the most important rooms in your home, but it's often one of the smallest and least-planned areas in the house. The laundry room needs to work hard to store dirty clothes and clean clothes while keeping your family organized and efficient with their time. Here are 14 laundry room organization ideas to help you keep on top of your laundry game at home.
Cabinet Options For Laundry Room Spaces
A laundry room is a small area that's used to wash and dry clothes. It usually has a washing machine, dryer, ironing board, and even storage space for detergents, fabric softeners, and other cleaning products or is a multipurpose space. When planning a design for your laundry room it's important to have an organized layout in mind; otherwise, you may end up spending too much time looking for items in your cabinets.
White Laundry Room Cabinets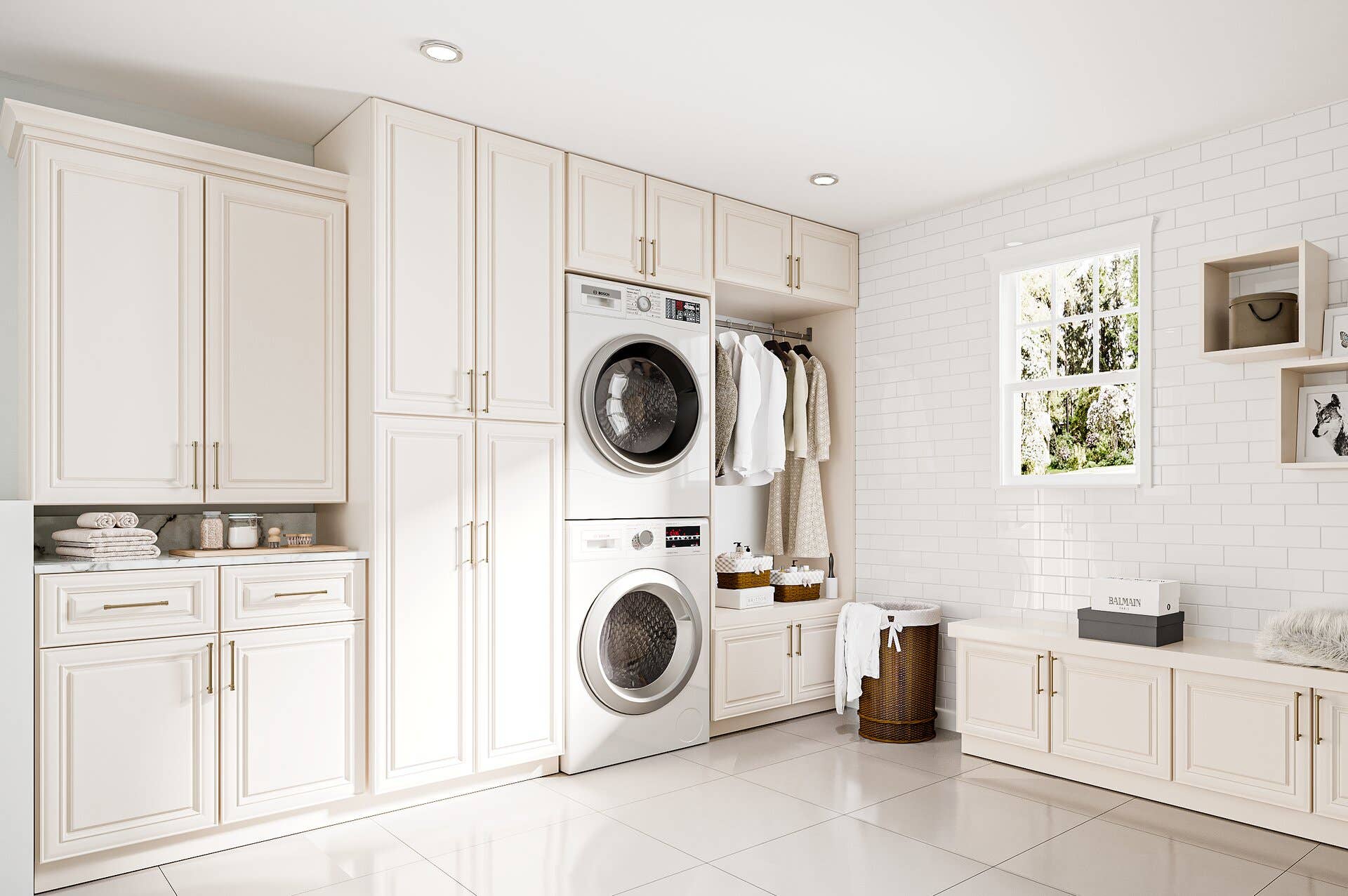 Lily Ann Cabinets - Charleston Linen Cabinet
If you're working with a small laundry room, look for cabinets that are white or very light. This will let your eyes focus on colors and patterns in other parts of your design, like fabrics and tiles. With white laundry room cabinets, you have many more options when it comes to other materials in the space like wall colors, flooring, countertops, and more.
Black or Gray Laundry Room Cabinets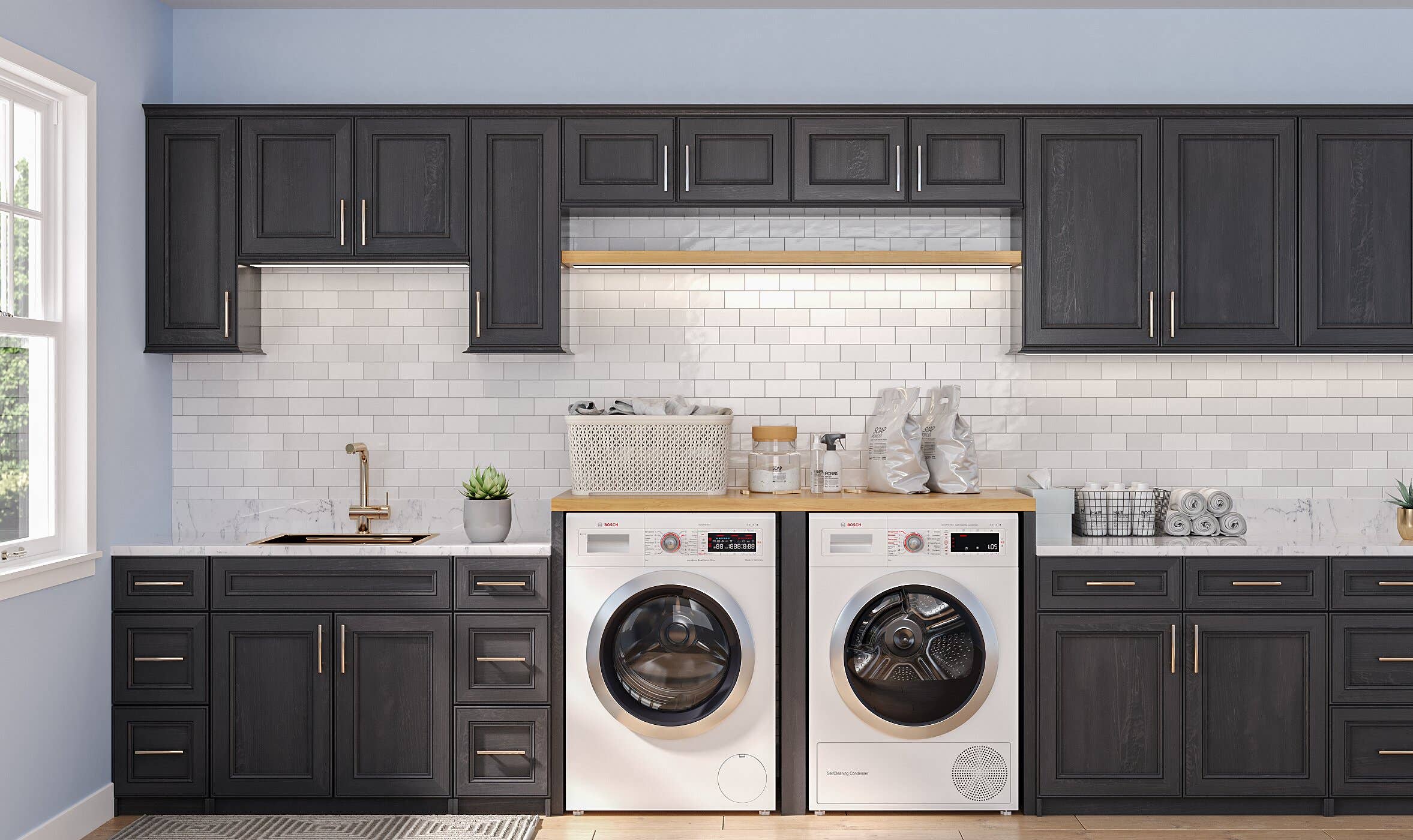 Lily Ann Cabinets - York Driftwood Gray Cabinet
If you are looking for a more modern and professional look, black or gray laundry room cabinet ideas are an excellent choice. They offer a more professional appearance than white cabinets, but also give your laundry room some much-needed bold style. If your home has lots of black or gray accents, these are certainly colors that you should consider using in your laundry room as well. However, if you want to maintain a lighter color scheme throughout your home, these colors will work well with that too!
Looking to give your laundry room an inexpensive cabinet facelift? Check out Lily Ann Cabinets durable, ready-to-assemble cabinets at up to 50% off box store pricing!
Blue Laundry Room Cabinets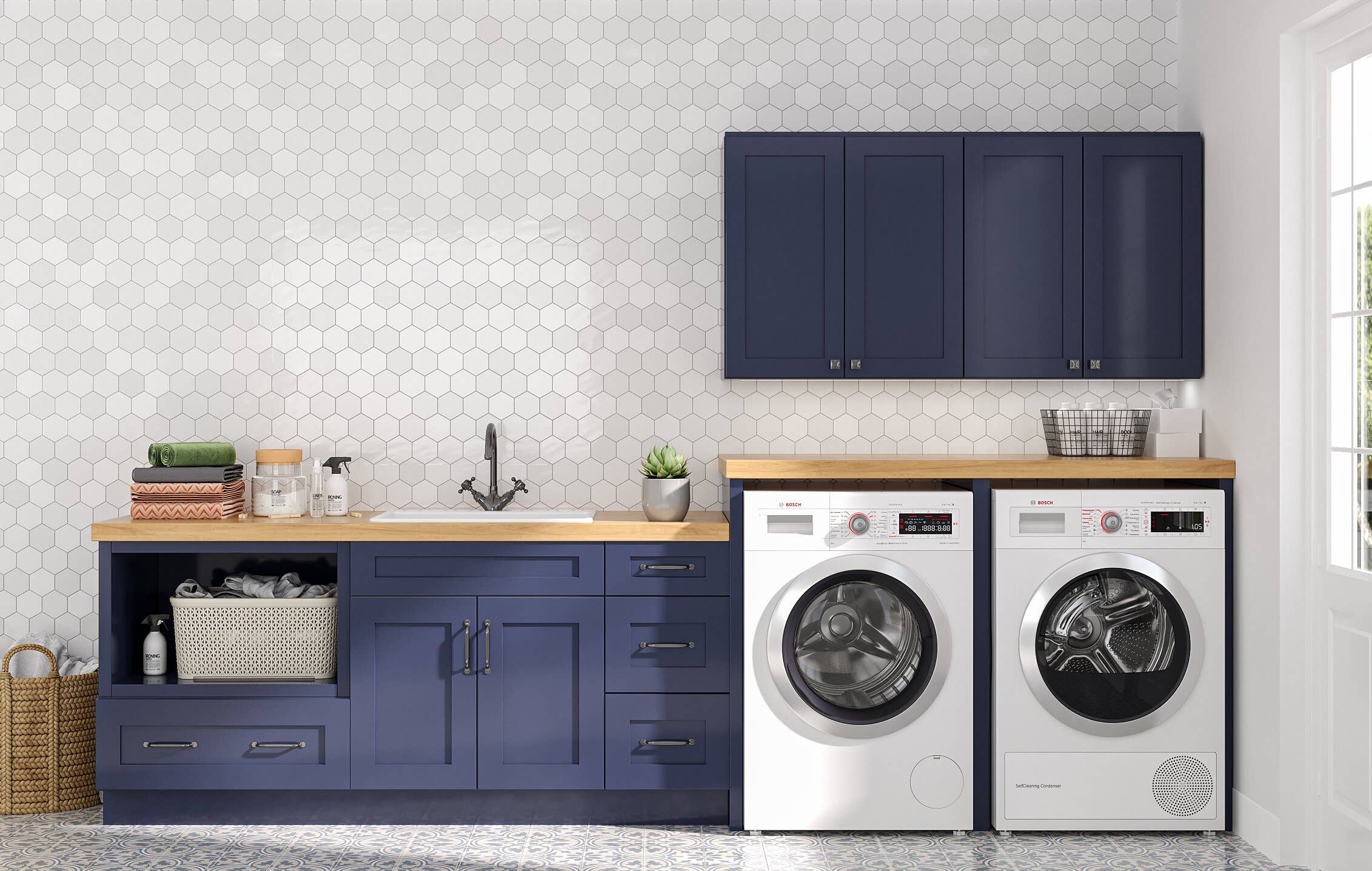 Lily Ann Cabinets - Navy Blue Shaker Cabinet
Blue laundry room cabinet ideas are a great option if you don't want to stick to traditional neutrals, grays, or whites. Blue cabinets are an especially good choice if the rest of your home sticks to neutral colors or is mostly white, creating a bold look for a small space like the laundry room.
Looking for something stylish for your laundry room or mudroom walls? Check out Lily Ann Cabinets mosaic tile & get a similar look to the picture above!
Stained Wood Laundry Room Cabinets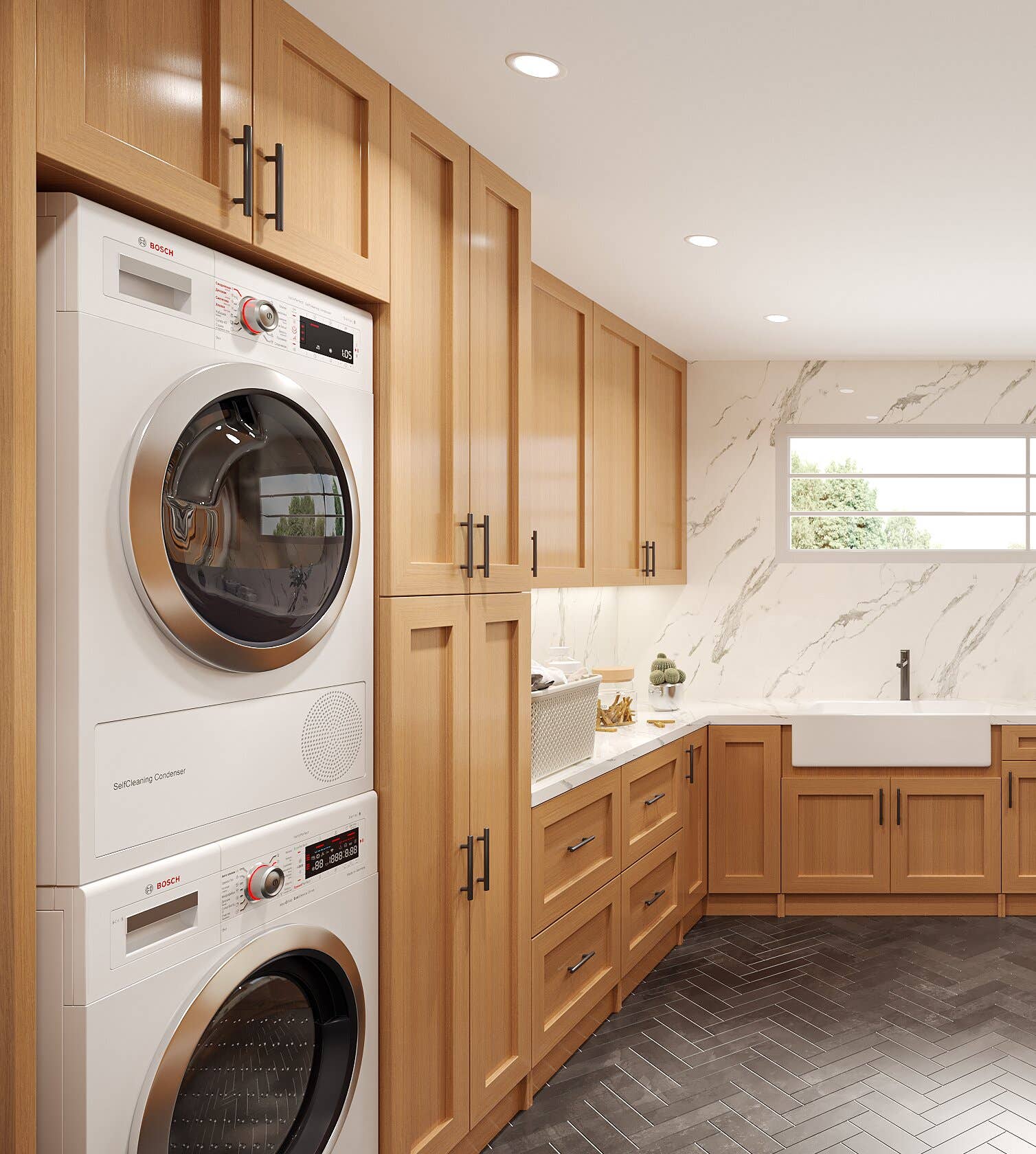 Lily Ann Cabinets - Cinnamon Shaker Cabinet
Stained wood cabinets in a laundry room offer a fun, bright, and traditional look. There are many different stains you can choose from to give your laundry room its own unique style. You don't need to use natural or unfinished lumber for your laundry room cabinets; painted finishes will keep them looking good for years. Presenting a clean, modern look, stained wood cabinets will keep your laundry room looking timeless for years to come.
Install the Madison Toffee or Charleston Cherry cabinets in your laundry room for a timeless look!
Brown Laundry Room Cabinets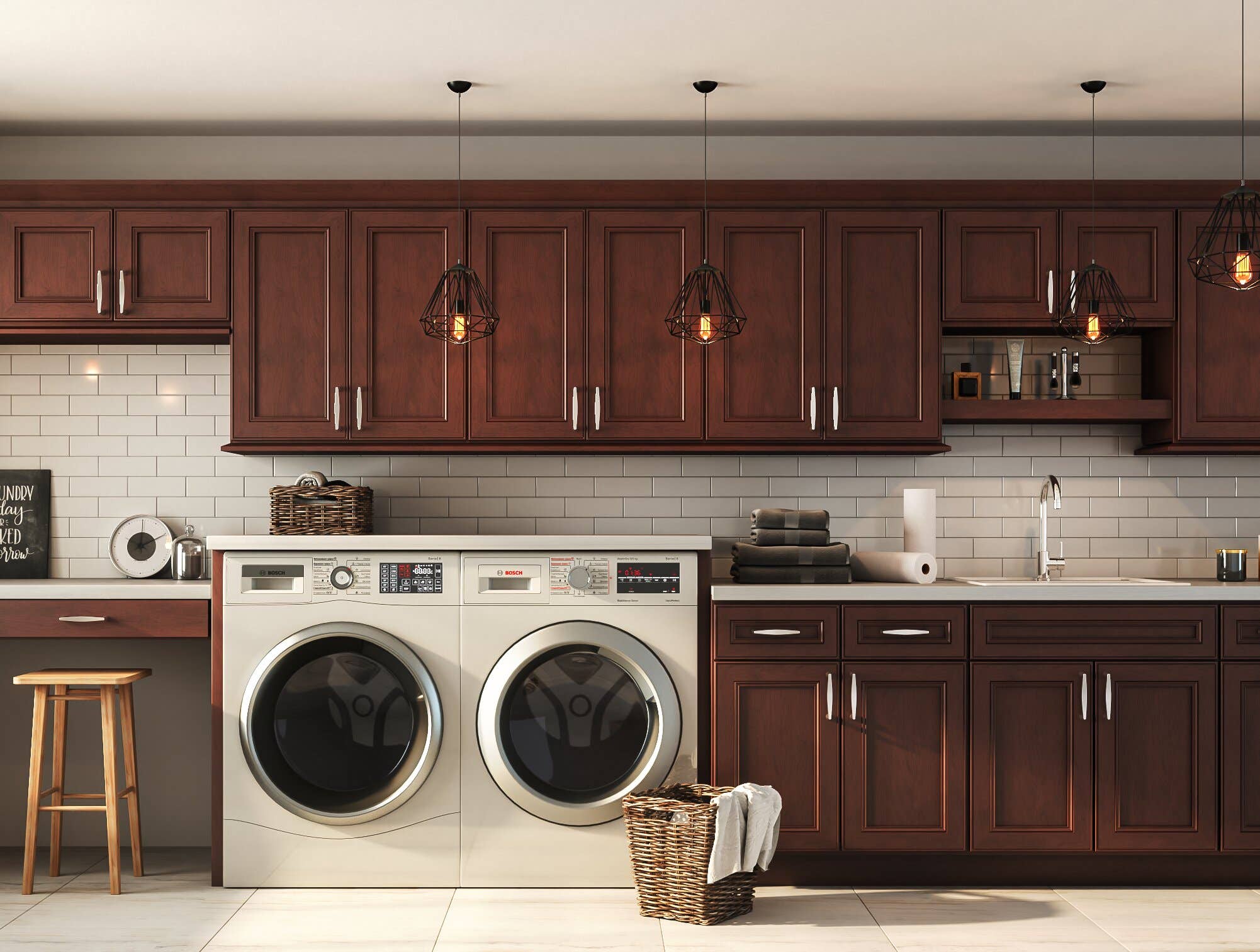 Lily Ann Cabinets - York Saddle Cabinet
If you want to create an earthy or traditional tone for your space, try painting your cabinets brown. Brown also works well with other color schemes as it is a neutral hue that isn't too bright or too dark. There are various shades of brown available, so find one that will complement and not overpower your existing paint colors.
Looking for a modern brown cabinet? Check out Lily Ann Cabinets' brown shaker cabinet!
Best Flooring Ideas for Laundry Rooms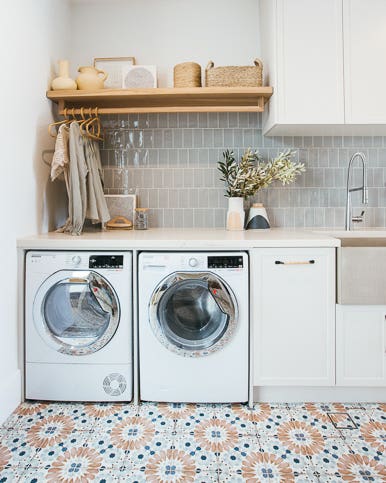 If you are designing a laundry room, it's vital to include flooring that is easy to clean and resistant to staining. One of our personal favorites for laundry rooms is porcelain tile (yes, even in a wet area). It's highly durable and stain-resistant, making it perfect for high-traffic areas like a laundry room. Many porcelain tiles come in small tiles as well as large format sizes, so they are ideal if you have limited space.
Find durable SPC floor and wall tiles at Lily Ann Cabinets, perfect for a laundry room!
Laundry Room Shelving Ideas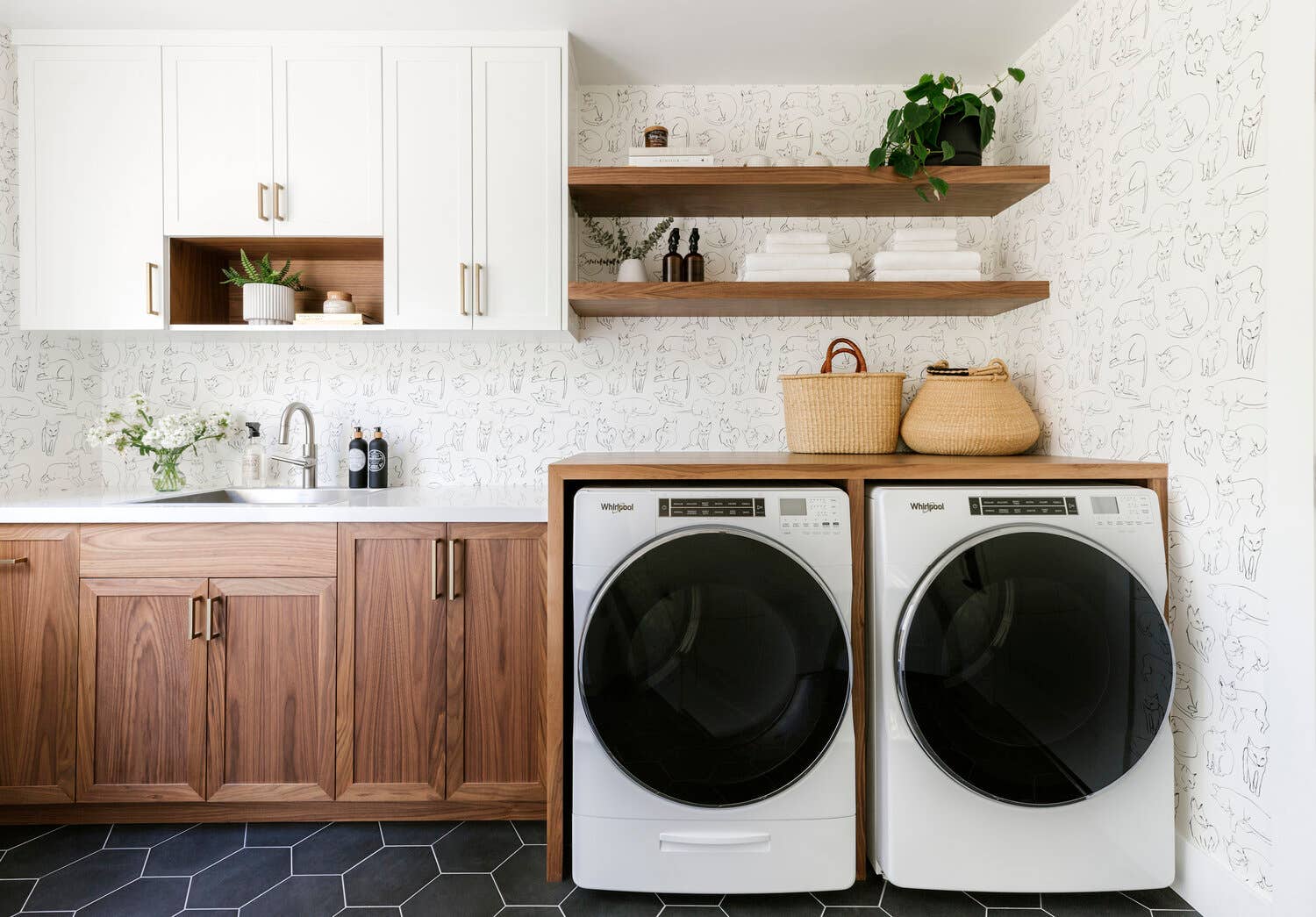 There are a few different methods for adding storage to your laundry room, from pulling out a set of drawers to installing wire shelving in your cabinets. The latter is far easier and offers more options when it comes to finding a style that fits your space. Plus, if you're looking for an extra way to create more storage, consider installing wall-mounted shelves above your washer and dryer—they'll give you some prime real estate for storing folded clothes while freeing up floor space, and also present the opportunity to add cute decor into the space.
Laundry Room Organization Ideas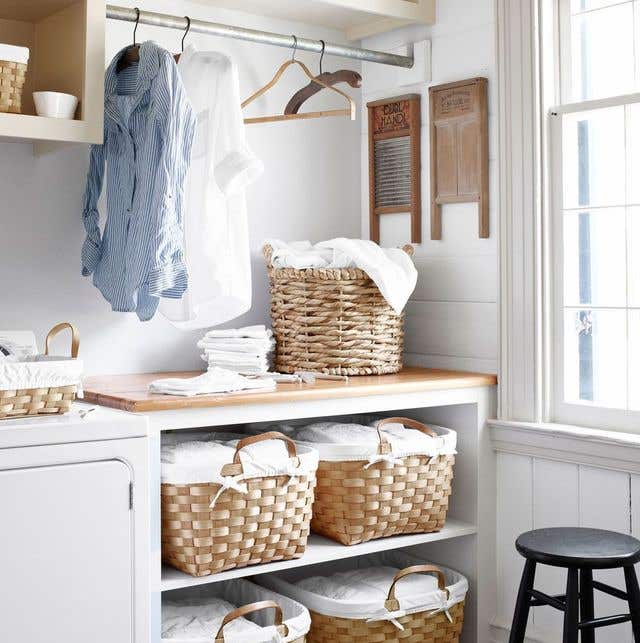 Organization in a laundry room can be a bit difficult. Since you're moving in and out of your laundry room all day, it's important to have an organized space. There are many ways to do so, but here are a couple of laundry room design ideas that may help you organize your laundry room. One of the best ways to enhance organization in a laundry room is to incorporate built-in cabinet organizers. Another way is to make a list of the things you find in your laundry room, then purchase matching baskets or boxes in order to store the items in a stylish way.
Best Design Ideas for Laundry Rooms
While choosing a design for your laundry room, try to go with something that complements all of your other rooms. This can be difficult to do if you have only one or two rooms in your home, but there are many ways you can blend things together. For example, if your living room is done up in bold colors and dark tones like oranges and greens, consider going with light colors for your laundry room so it stands out from other spaces in your home.
If you're looking for ideas, why not start with other people's laundry rooms? Take a look below– Here are some more photos that may spark some creative ideas for your laundry room.
Laundry Room Wallpaper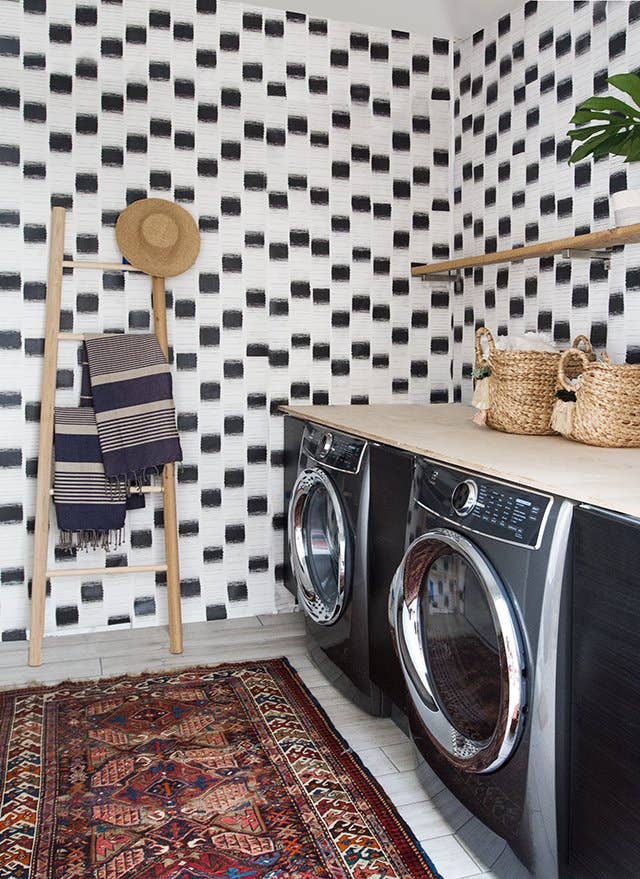 Wallpaper in a laundry room is a fun way to add a hint of character to your space. If you're using your laundry room as an extension of your living space, consider putting some decorative wallpaper on one of your walls. It could also act as a backdrop for one or more cabinets and add interest to an otherwise utilitarian space. This idea would work well in small spaces and even in apartments, where you may be working with limited options for decorating.
Pair white laundry room cabinets with eccentric wallpaper for a unique, modern look!
DIY Laundry Room Countertop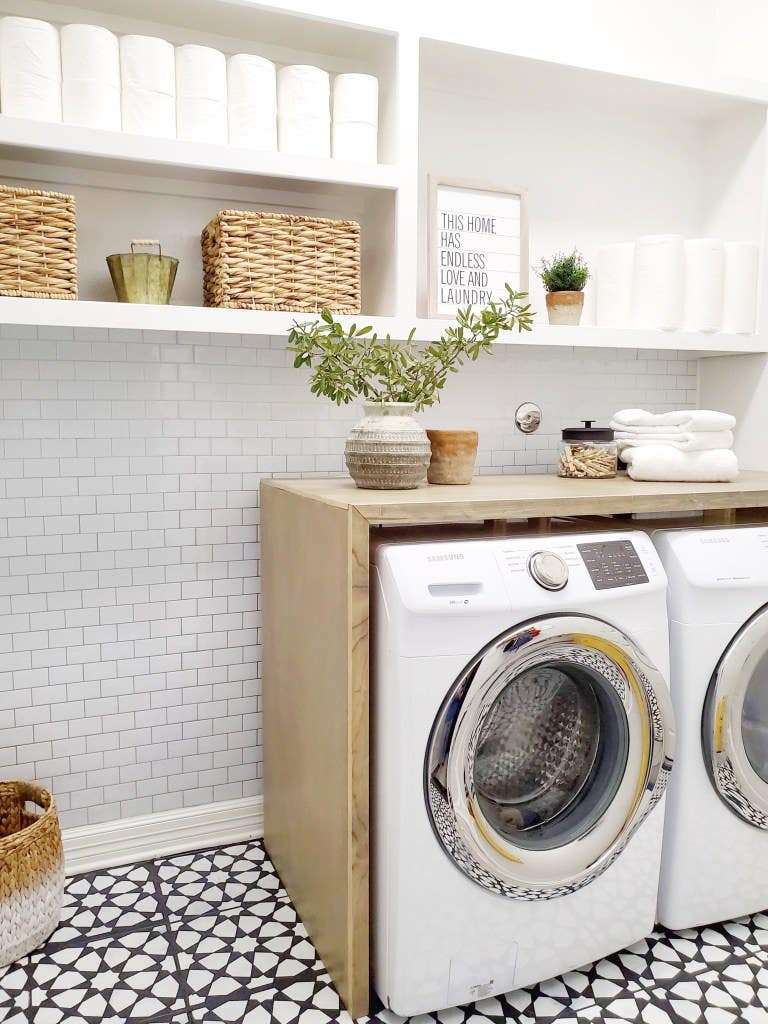 For an extra stylistic and fully functional element of your laundry room space, consider adding a countertop over your washer and dryer. This can be easily framed out and DIY'd for a look similar to the picture above and will add not only more functionality, but will make the space appear more finished and inviting.
Light & Neutral Laundry Room Paint Colors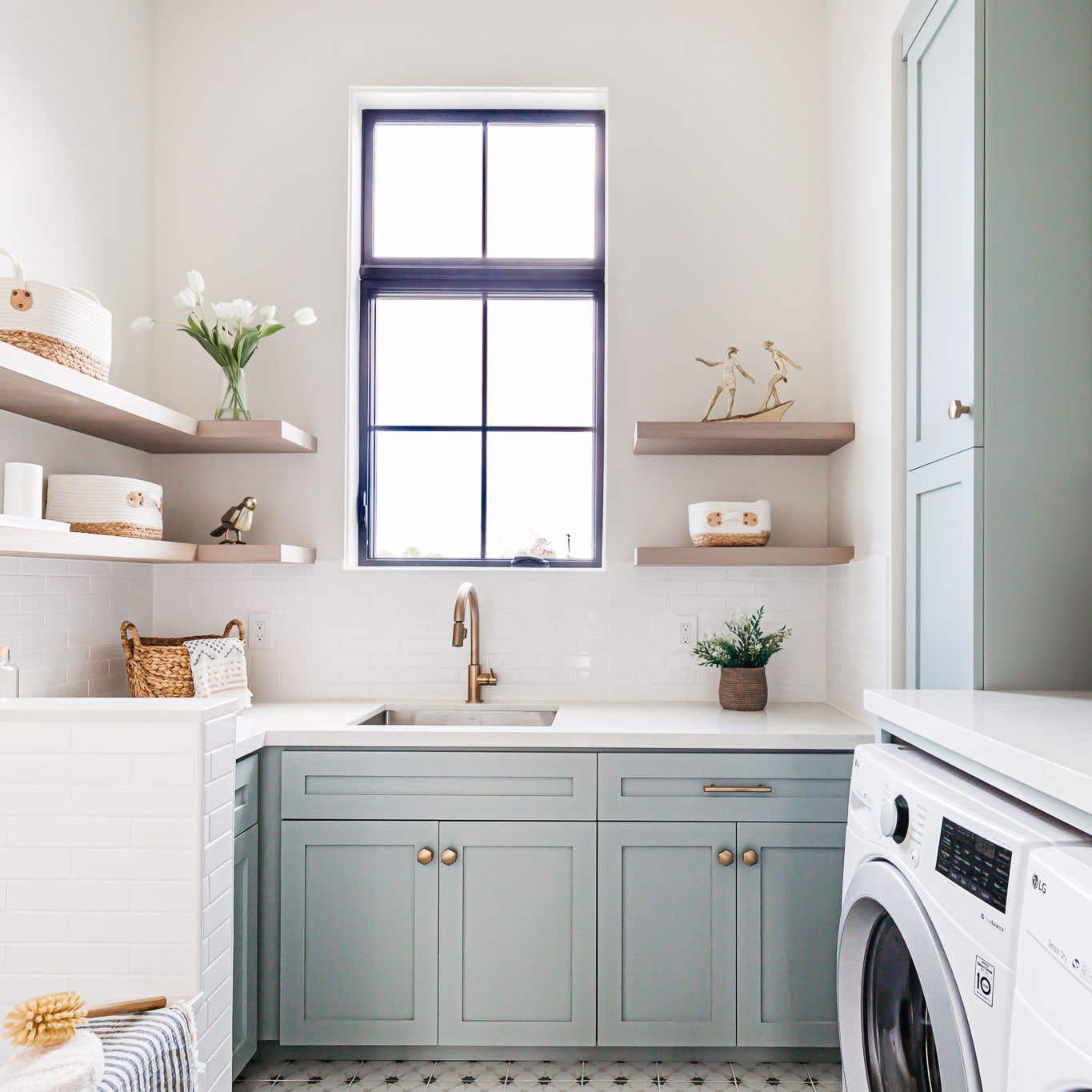 Laundry rooms are a space where cleanliness is the main goal, therefore you might want to consider matching the style of the space to the purpose. To do this, use colors and materials that allude to cleanliness and simplicity. Colors found in nature present this feeling best, like whites, beiges, greens, blues, and yellows. Materials could be anything from wood, to wicker, rattan, concrete, natural stone or bamboo.
Built-In Laundry Closet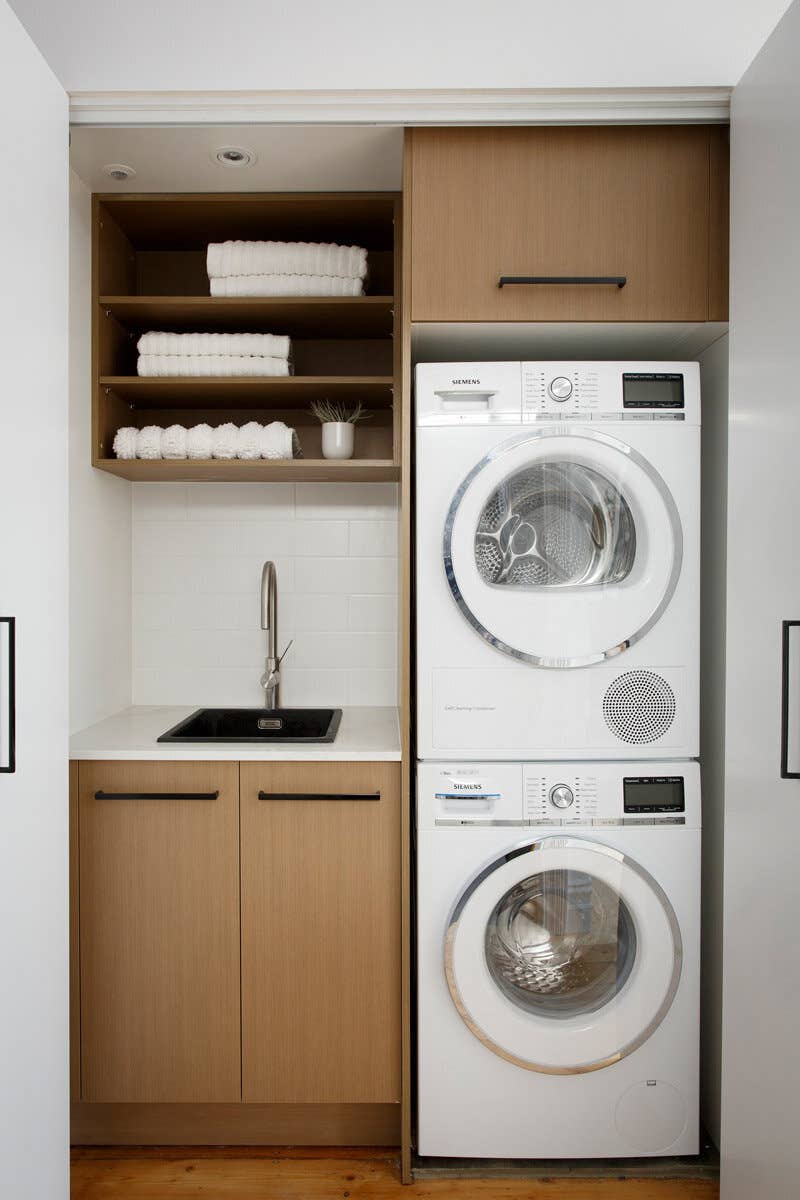 If you live in an apartment or smaller sized home, then you know the struggle when it comes to doing laundry, organizing the laundry space, and decorating the area. But it doesn't have to be a feat! Laundry appliances that are placed in a closet can be easily built in with surrounding cabinets inexpensively. By incorporating built-ins, you don't have to worry about the closet doors being open and exposing a disorganized, unstylish laundry room space.
Find affordable, ready-to-assemble cabinets at Lily Ann Cabinets, perfect for transforming your laundry room closet into a functional, beautiful space!
Mudroom Laundry Room Combination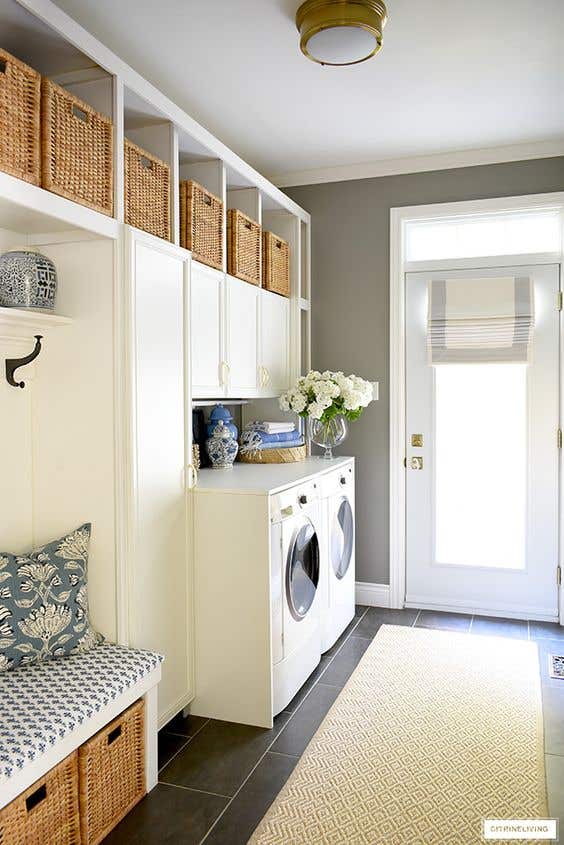 Many homes built in the last 20 years have incorporated the washer and dryer into the mudroom space of the home, creating a unique multi-purpose space. With multi-purpose spaces, it's important to make sure that everything still meshes together and doesn't look out of place. Installing built-ins around the laundry area, a seating area and ample storage space will create a multi-functional and stylish mudroom-laundry combination.
Get the same look of these built-ins with Lily Ann Cabinets White Shaker Elite cabinet!
Laundry Room Dog Wash Station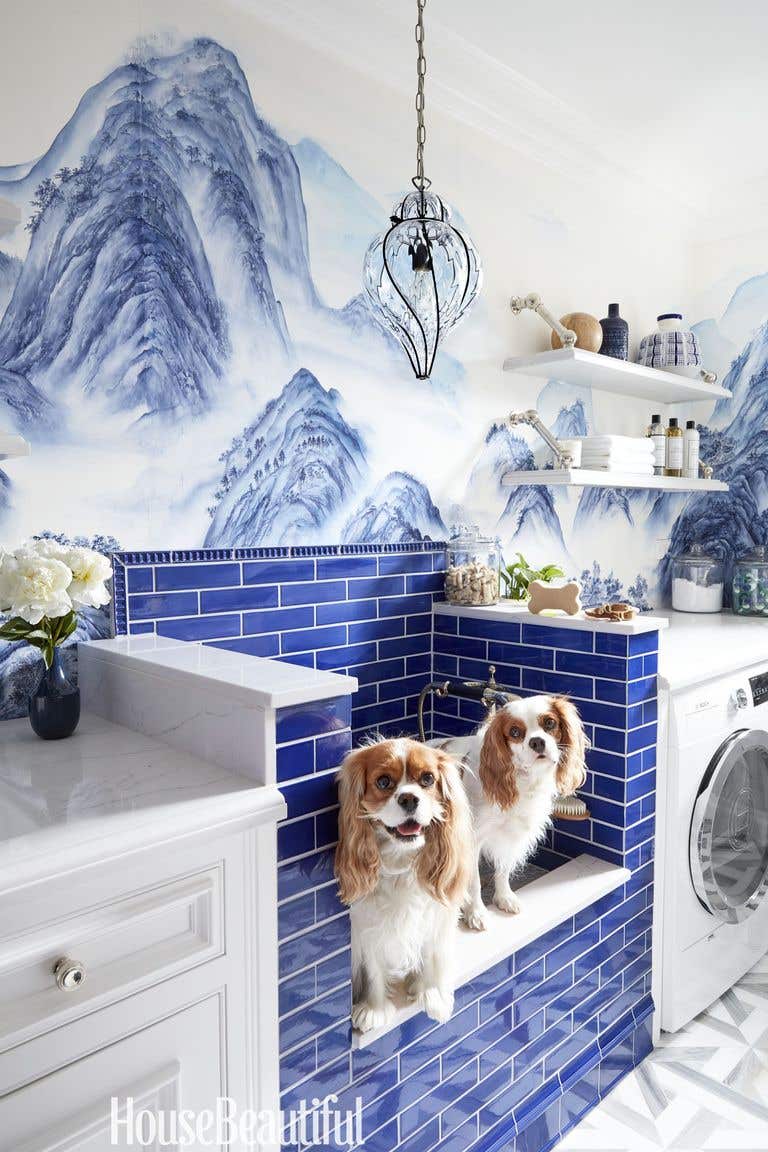 If you have some extra or unused space in your laundry room, incorporating a dog-wash station adds another useful function to the space and also presents the opportunity to include an extra pop of color or design element. If you don't have pets, a large trough sink could come in handy for washing too large or too dirty of items to be washed in a kitchen sink or bathtub.
Create Your Dream Kitchen With Lily Ann Cabinets
We offer a wide selection of premium cabinetry, hardware, shelving, and more to help you create a room that stands the test of time. Pick from our large array of kitchen and bathroom cabinetry, including white shaker cabinets that come with soft-close hinges. Our professional designers are on standby to work with you — we offer FREE samples and FREE design and quote. Visit our FREE 3D design tool to get started today!
Related Blogs: 
FAQs
1. What color of cabinets works best in laundry rooms?
Technically all color of cabinets work in laundry rooms. If you want the laundry room to have more of a timeless feel, though, there are a few color options that work best for this. These include white cabinets, black or gray, blue, stained wood, or brown laundry room cabinets.
2. Where do I find inexpensive laundry room cabinets?
Inexpensive yet extremely durable laundry room cabinets can be purchased at Lily Ann Cabinets. For up to 50% off box store pricing, you won't be breaking the bank and the cabinets will last a lifetime! There is a large selection of styles and colors as well, sure to fit any laundry room space.
3. What flooring is best for laundry rooms?
The best flooring for a laundry room would be tile, SPC flooring, or concrete due to the need for a durable floor material in a laundry room space. Tile, SPC flooring, and concrete are all easily cleaned, durable, and most times inexpensive.
4. How do I make my laundry room more organized?
Built-in cabinets, built-in cabinet organizers, open-shelving, and ample cabinet space will surely make your laundry room more organized and also stylish.
5. How do I add more style to my laundry room?
To add more style to your laundry room consider adding wallpaper, open-shelving, a mosaic tile flooring, unique wall paneling, and built-in cabinets to encase your washer and dryer.