Lily Ann Cabinets: Charleston Saddle
Think about the amount of time you spend in your laundry room. Whether it be to switch your laundry from the washer to dryer, to replenish your empty products, to fold your clothes, or to get other products you have stored there. You are oftenly using your laundry room in a few different ways, which makes the presentation and functionality of your space very important.
When it comes to laundry room cabinets, there are many options for maximizing function and style. Here are some ideas to consider:
1. Custom Cabinets: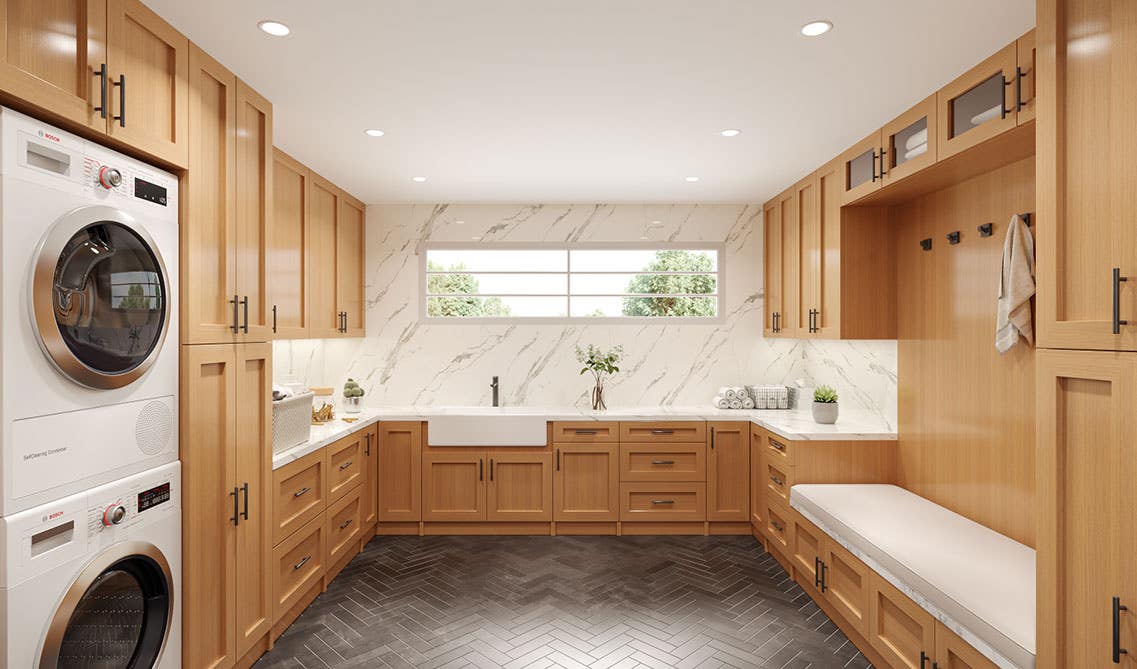 Lily Ann Cabinets: Cinnamon Shaker Cabinets
 Custom cabinets are a great option for a laundry room because they can be designed to fit your space and specific storage needs. Consider adding pull-out shelves, built-in hampers, and hanging rods for drying clothes. Any cabinets can be designed and customized to fit all ideas and desires at Lily Ann Cabinets.
2. Wall Cabinets
: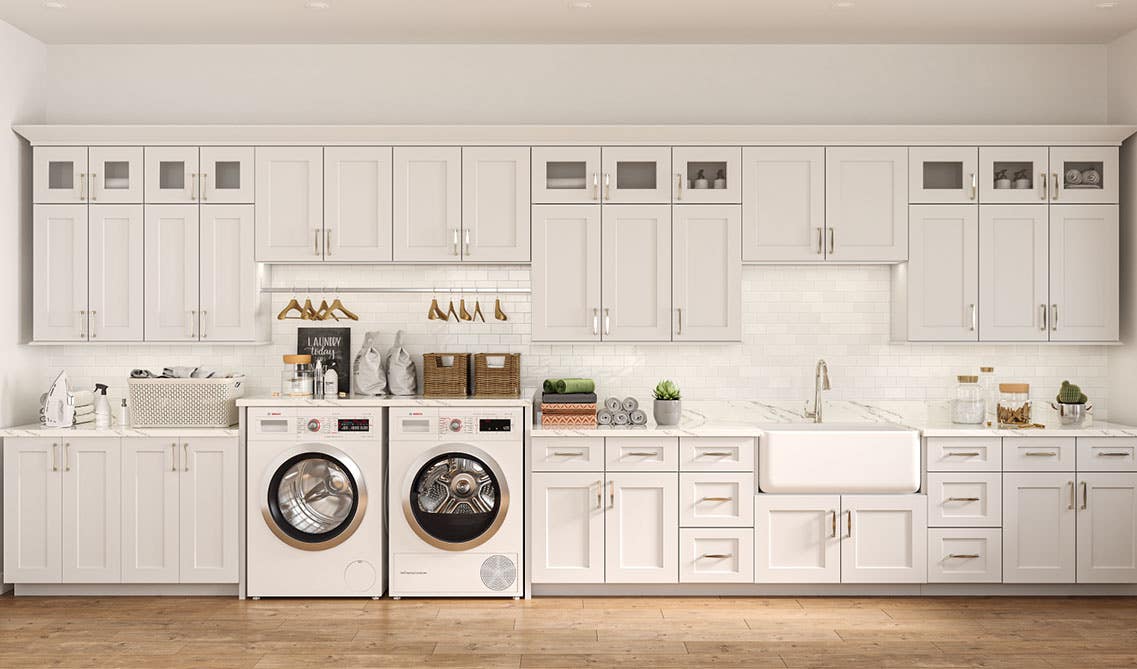 Lily Ann Cabinets: Colorado White Shaker
Wall cabinets can be used to store laundry detergents, fabric softeners, and other supplies. To add style, consider glass-fronted cabinets, which can make the space feel more open.
The size of cabinets in laundry rooms varies. In most, it is recommended to make the depth at least 12–14 inches, the width 9–48 inches, and the height at least 18 inches above countertops, although sizes measurements may increase for preferences and larger spaces. Please note that Lily Ann Cabinets offers a wide range of sizes, can customize the sizes and offers professional free 3D designs for you to visualize your space.
3. Open Shelving: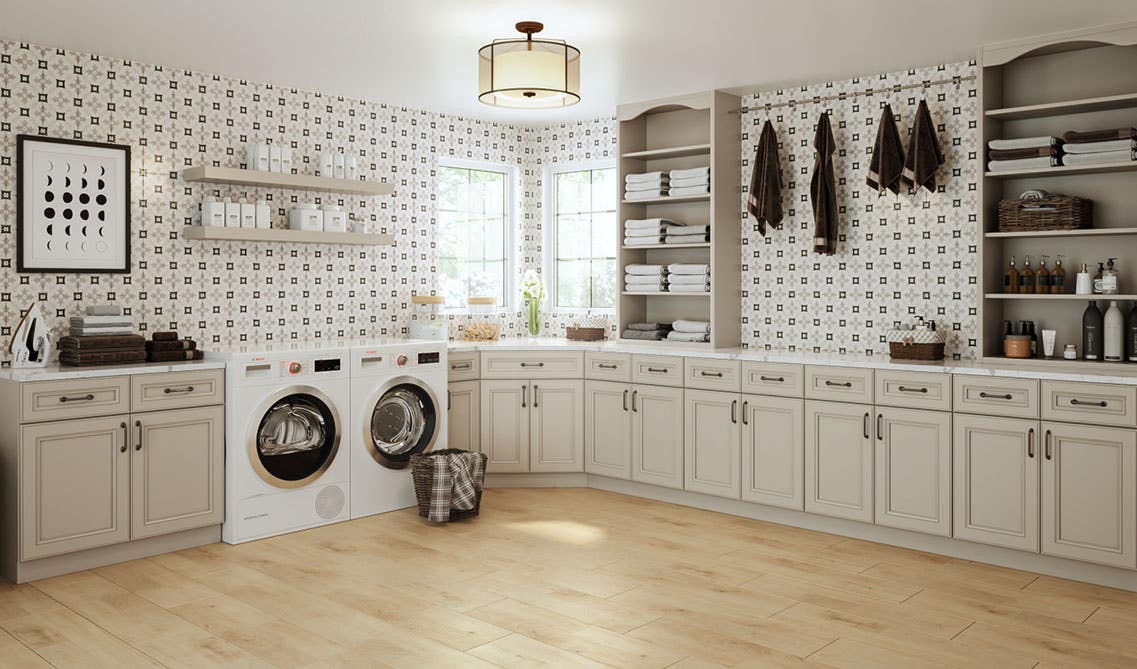 Lily Ann Cabinets: York Linen Cabinets
 Open shelving is a popular trend in laundry rooms. It allows for easy access to frequently used items and can be a stylish way to display laundry accessories and decor.
4. Overhead Storage: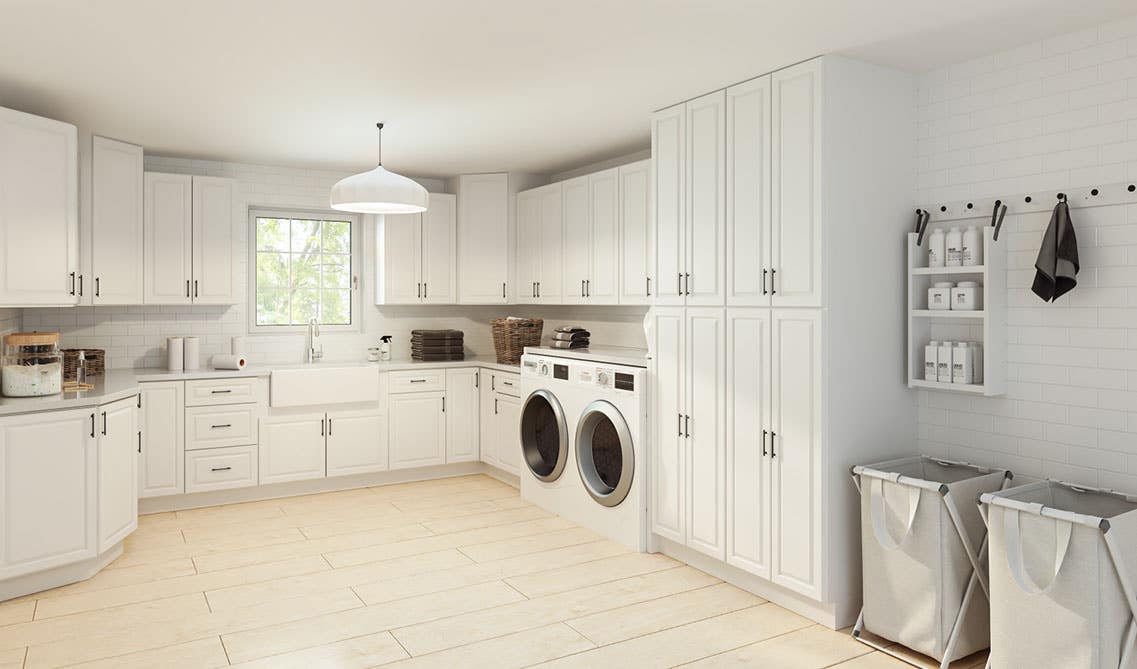 Lily Ann Cabinets: Key Largo
Overhead cabinets or shelves can be added above your washer and dryer to provide additional storage space. This is a great option if you have a small laundry room.
5. Laundry Room Island
: 
Lily Ann Cabinets: White Shaker Elite
If you have the space, a laundry room island can add both function and style. It can provide a surface for folding clothes and can be used for additional storage in the drawers and cabinets.
6. Built-in Ironing Board: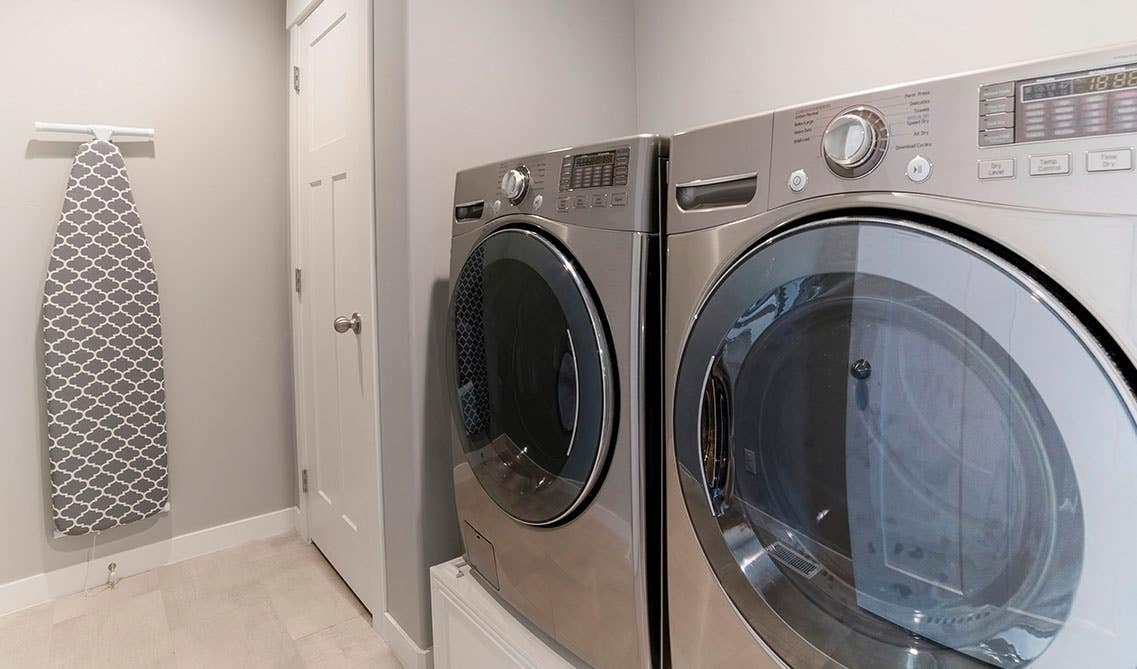 (Adobe)
If you iron clothes frequently, consider adding a built-in ironing board to your laundry room cabinets or wall. This can be a convenient time and space-saving solution.
7. Dual-Purpose Cabinets: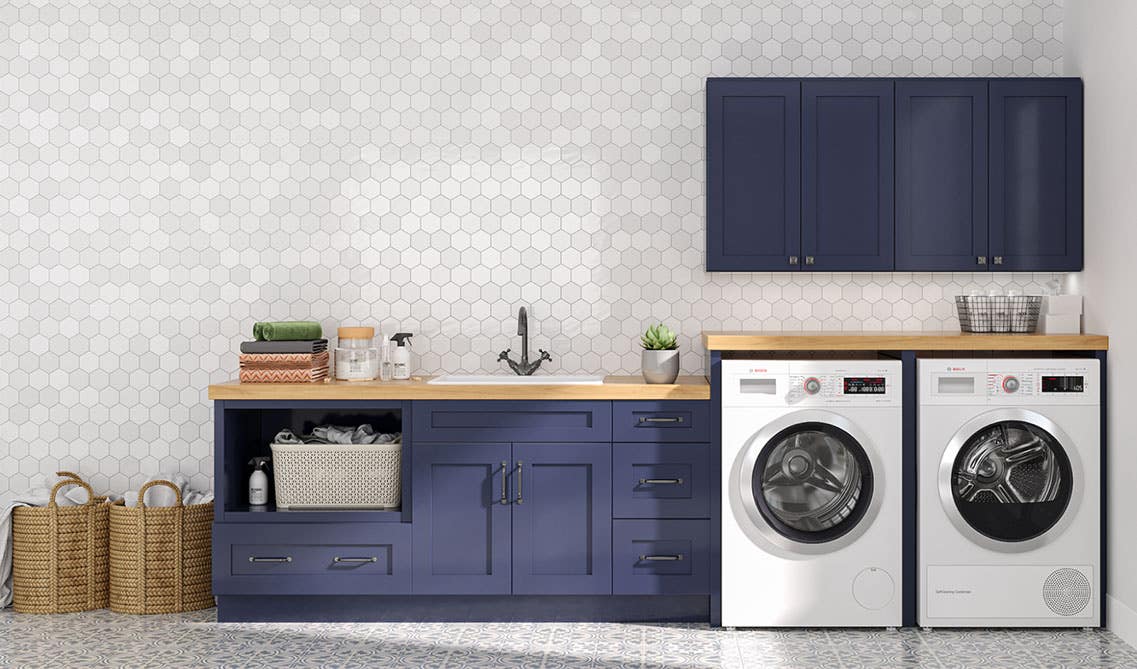 Lily Ann Cabinets: Navy Blue Shaker Cabinets
Cabinets that serve multiple functions can be a great addition to a laundry room. For example, a cabinet that can be used as a hamper and for storing supplies.
8. Accents and Bold Colored Walls: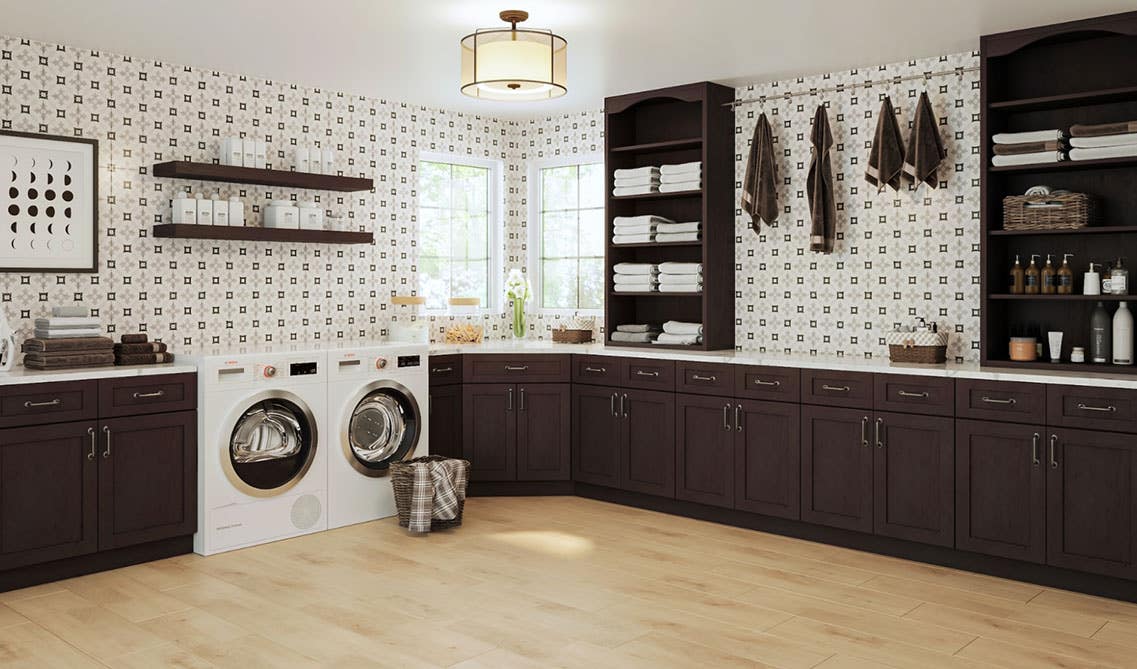 Lily Ann Cabinets: Shaker Espresso Cabinets
Consider painting your walls the bright tone you love or accents that complement each other to catch your eye as you walk by. This can also help with making a smaller laundry room feel more welcoming by making it appear bigger and more open.
9. Maximize Space: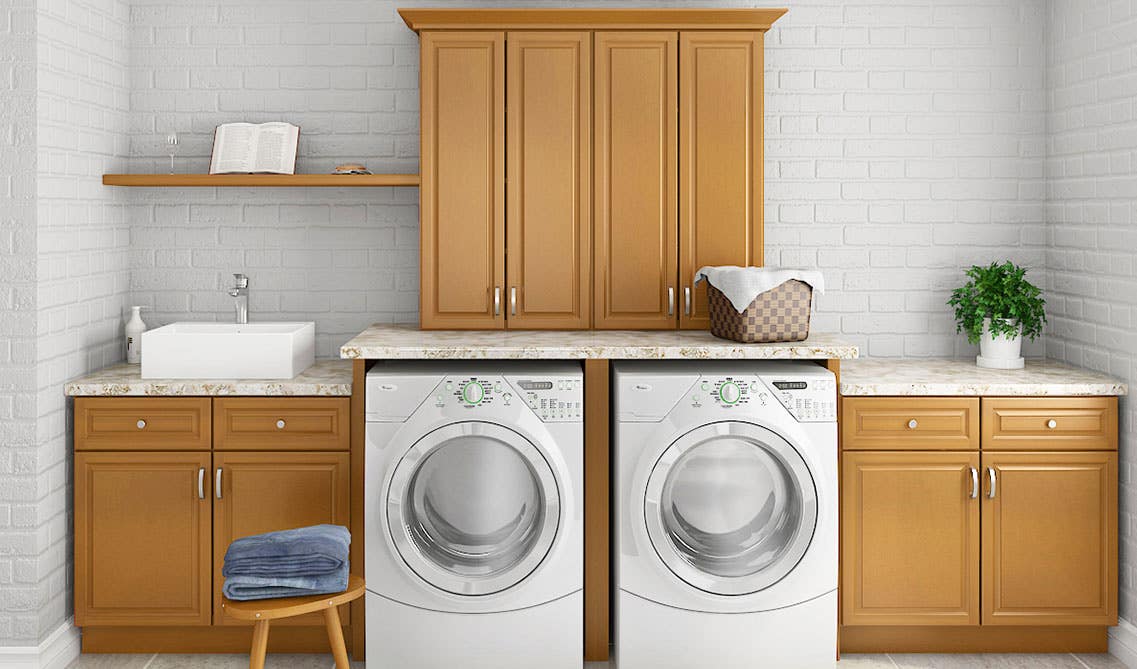 Take advantage of any small areas of open space. Even a small area after your wall cabinets may be the perfect place to incorporate a lower cabinet or drawer along with some space to continue your countertop. Add hooks on your wall to hang laundry bags or for wall decor!
10. Curtains: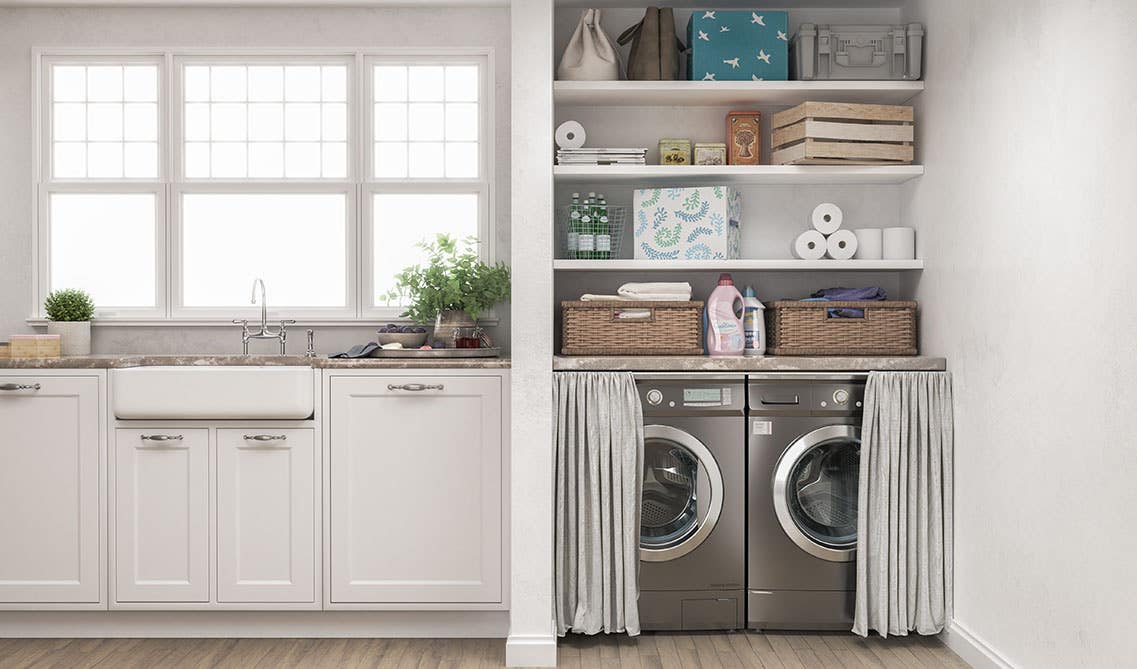 If you prefer the shelving approach for all your necessities to be easy to access, consider adding fitted curtains with your cabinets to hide your products and keep it looking as organized as possible.
11. Sliding Doors: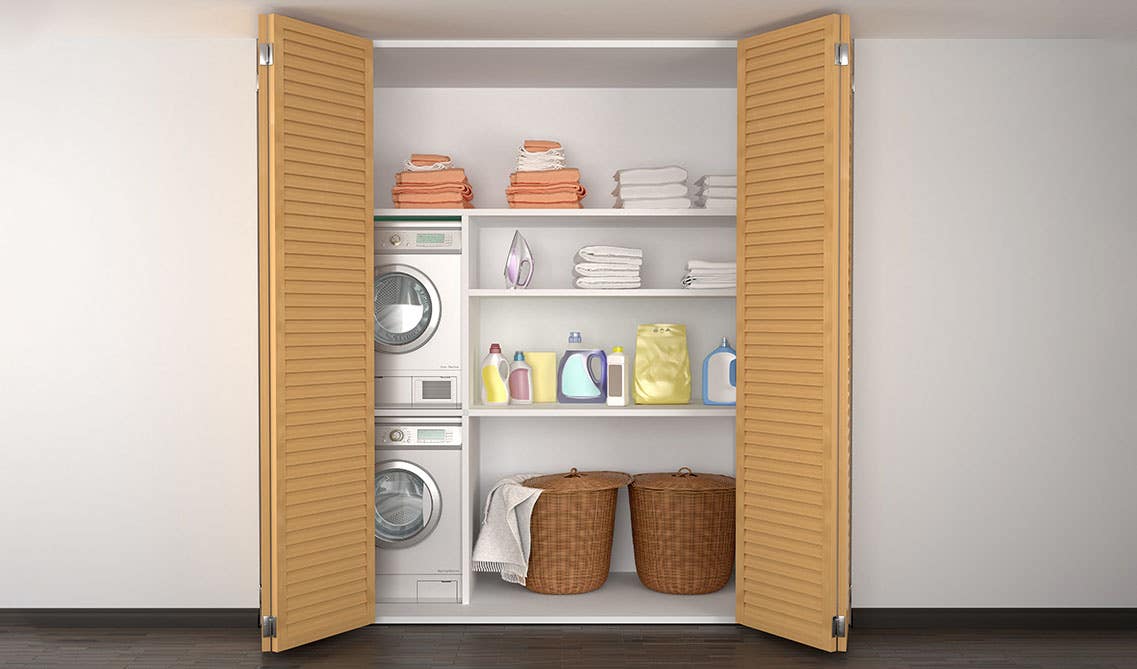 If your laundry room is off of another room of your home as more of a closet space, try adding sliding doors to make it easy to get in and out of your washer and dryer, while still looking organized and elegant.
12. Have Your Laundry Room Double As a Mudroom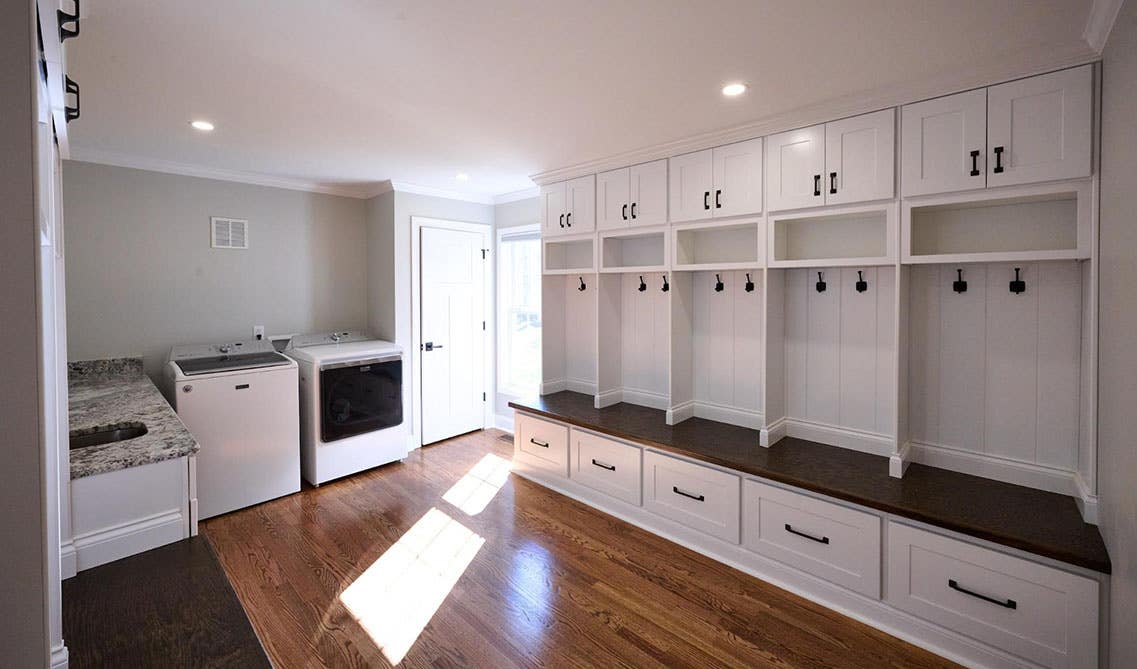 A popular design option currently is combining your mudroom and laundry room which creates a multi-functional space. In this mudroom/laundry room, Lily Ann Cabinets Colorado White Shaker completes this space, while taking advantage of our cabinet customization option! The modifications done ______. Lily Ann Cabinets offers many different customization options and our professional designers can help to modify your cabinets to fit your space perfectly! 
13. Sinks
: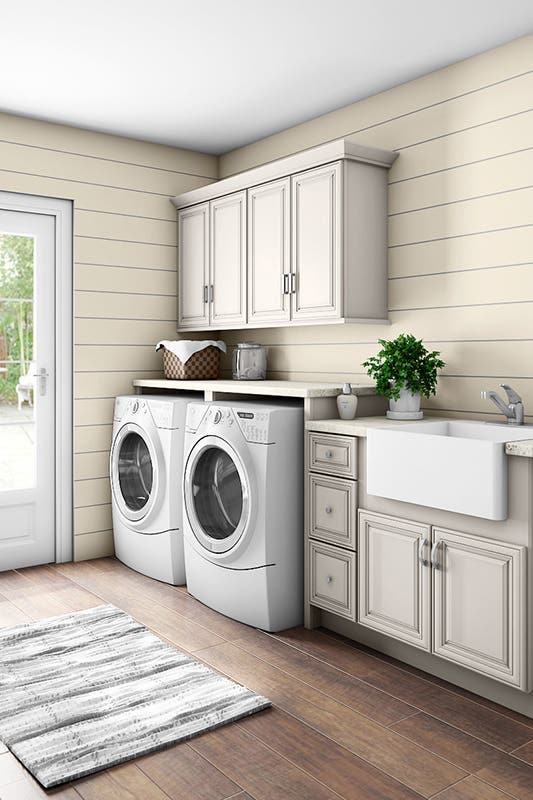 Include a sink in your laundry room for both functionality and to add to the attractive aesthetic. A sink benefits laundry rooms for hand washing clothes, spot washing clothes, as well as easily being able to clean appliances and surfaces.
14. Lighting: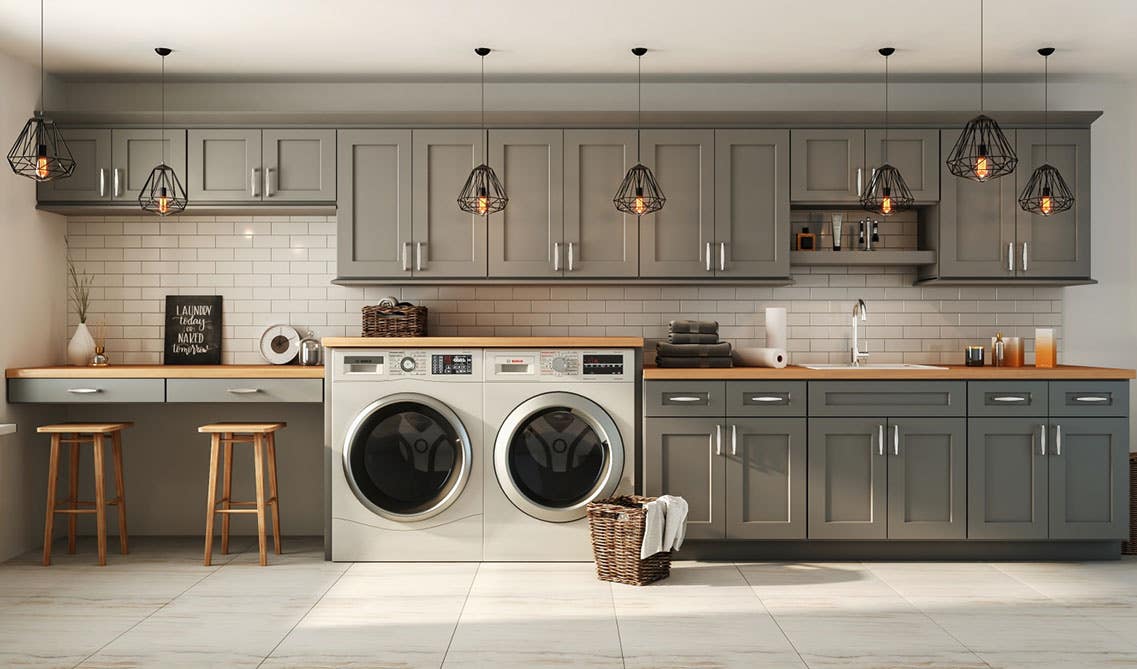 Lily Ann Cabinets: Grey Shaker Cabinets
Lighting is one of the most important fixtures to include in order to maximize functionality and can impact the overall look of the room. Elegant hanging lights from the ceiling or walls are a great option. Be sure to include under the shelf cabinet lighting to have the perfect view of your countertops.
15. Countertops: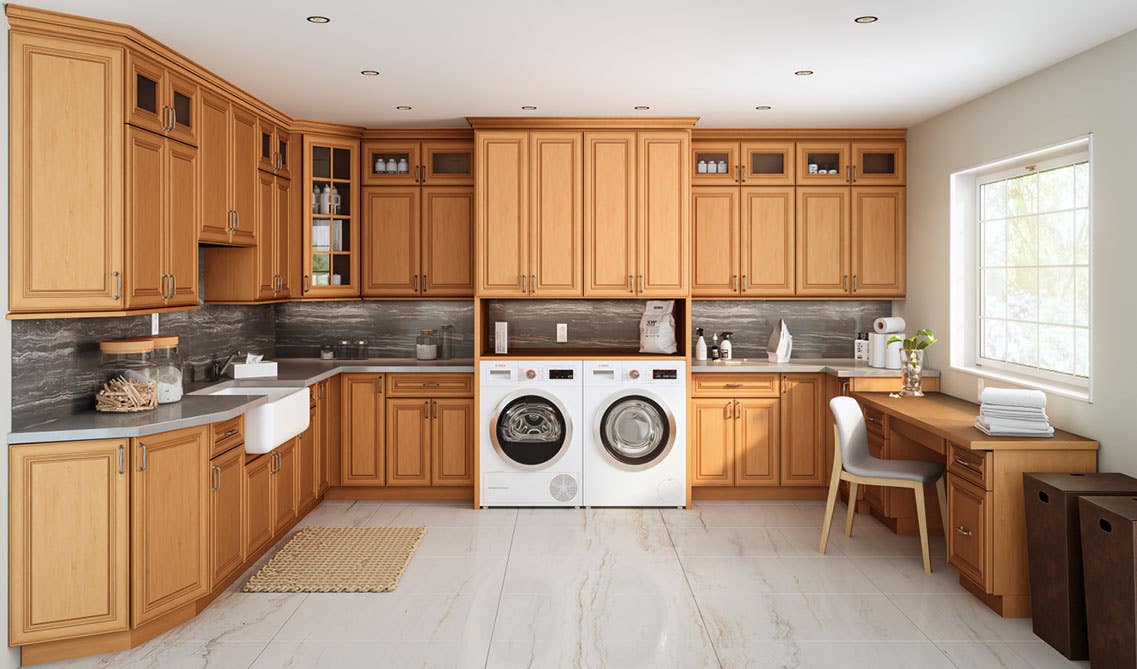 Lily Ann Cabinets: Charleston Toffee Cabinets
Your countertops are a great way to show some character in your laundry room. They allow you to have ample space for folding, holding detergent, holding the laundry basket while transferring your clothes out of the dryer, etc. The type of countertops to choose varies based on each person's preference, however, quartz is always a great option as it is nonporous so you do not need to worry about any messes.
When selecting laundry room cabinets, it's important to choose materials that are durable and easy to clean. Lily Ann Cabinets offers premium all-wood cabinetry at an unbeatable price. We also offer free samples and free professional designs so you can see how your new laundry room will look before you spend a penny. Not to mention, all of our cabinetry is also in stock so your order can be picked up the same day if you're local, or it will ship out within 72 hours. If you would like to learn more about our cabinetry, please know we are active on all social media platforms, or you can give us a call at 800-551-1438!