10 unique cabinet ideas to take your tiny laundry room from cluttered to cleanly.
The laundry room often gets a bad rap. It's full of dirty clothes, unorganized, and typical lacking in design. Sound familiar? These creative cabinet hacks will help you revamp your small laundry room into a functional space that the whole family will love. Say goodbye to clutter—it's time to get organized with these clever small laundry room cabinet ideas!
Read on to find unique cabinet features and ideas to inspire your laundry room layout.
1. Hideaway Washer & Dryer Cabinets
This "secret" laundry room design makes the most of a small space. The washer and dryer are cleverly tucked away behind custom cabinet doors, hidden from plain sight. To store away laundry products, wall mounted white shaker cabinets provide optimal storage. When the bottom doors are closed, this laundry room is perfectly concealed.
This idea works especially well for homes that don't have a dedicated laundry room, where the washer and dryer are located in a hallway or mudroom.
Related: White Shaker Cabinets: The Ultimate Guide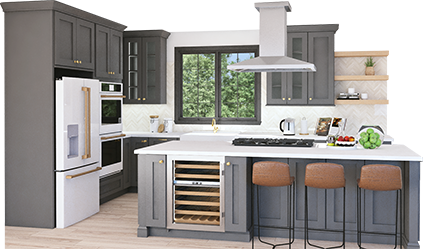 Get your FREE 3D design today!
Start Now
2. Stacked Appliances for Extra Cabinet Space
With a refreshing pop of blue, this mini laundry room maximizes storage space by stacking the appliances. The vertical washer and dryer station leaves more room for custom cabinet storage, a must for small laundry rooms with little to no extra space. This tiny design makes the most of a closet-sized layout with full base cabinets and an upper open shelf to store soap, towels, and other laundry necessities.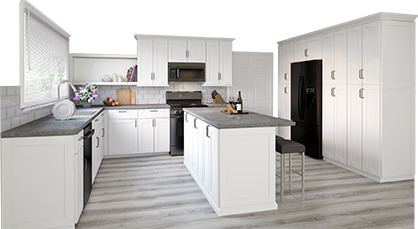 3D Kitchen Visualizer Tool
Bring your dream kitchen to life with our free kitchen visualizer!
Design Now
3. Matching Washer & Dryer Cabinet
This clean and classic farmhouse laundry room features striking navy blue shaker cabinets, including a custom cabinet to house the washer and dryer.
Installing a custom washer dryer cabinet helps to tie the finishes together so the appliances don't look out of place. In addition to the washer dryer cover, the under sink cabinets are perfect for laundry supplies like detergent and dryer sheets. A long wooden shelf mounted above the laundry station displays charming farmhouse decor, making the space feel more integrated into the rest of the home.
Also Read: 14 Ideas to Enhance and Organize Your Laundry Room Space
4. Laundry/Mudroom Combo
Another smart way to integrate laundry seamlessly into the home is to combine it with the mudroom. For mudroom laundry, it's important to tie together the design elements so it feels like one cohesive space.
This design keeps the decor consistent with beautiful blue shaker cabinets. With a small bench and coat rack, the cabinets are a functional addition to keep the entryway clean and tidy. A matching cabinet for the washer and dryer provides additional surface space to fold laundry.
Checkout: Laundry Room Makeover Ideas
5. Hidden Laundry Closet
Another popular storage option for homes lacking space is a laundry "closet." This laundry closet is neatly organized behind two white folding doors.
Although minimal, this storage solution has all the necessities. Two small white cabinets sit above the washer and dryer to store cleaning supplies. Below the appliances, custom shelves store two laundry baskets. With this laundry space, it's easy to pop open the closet doors and quickly toss dirty clothes into the laundry bins.
Checkout: 6 Ideas to Create an Efficient Laundry Room
6. Do-It-All Laundry Station
This small space is the ideal laundry hub for busy families. Complete with rolling laundry bins, a hanger rod and wall-mounted drying rack, there is more than enough storage space in this little laundry corner. To keep things simple, this homeowner opted for light grey shaker cabinets with white cabinet pulls. For small rooms like this, it's usually better to opt for lighter colored finishes to keep things open and bright.
7. 2-in-1 Laundry Space & Dog Bed
This small laundry area has wall cabinets to serve every function. To the left of the washer and dryer, a tall skinny cabinet serves as the perfect storage space for the ironing board. To the right, a large cabinet is left open for a doggie day bed. Including the convenient dog wash station, this laundry room is perfect for every pet lover.
8. Fold-Out Iron Board
If there's open wall space in your laundry room, why not make the most of it? This clever laundry room storage idea utilizes a shallow wall cabinet to store a fold-out ironing board. Instead of having to take the board out of a cabinet and set it up every time, this simple cabinet hack allows you to access it with the flick of a finger. When you're done, simply fold it away and shut the cabinet, keeping it tidy and out of sight.
9. Open Shelving Solution
Not a fan of cabinets in small laundry rooms? Try open shelving. Cheap and efficient, open shelving can be a lucrative option both in terms of design layout and price point.
However, just make sure you're the tidy type. Open shelves can easily appear cluttered when stacked with cleaning supplies, laundry bins and stray clothing items.
10. What About Dark Cabinets?
In a tight laundry space, the color of your cabinets will likely play a role in how large the room appears. However, don't let that scare you away from choosing a darker, more dramatic hue for your cabinetry. In fact, some laundry rooms benefit from a bold color like jade green or rich espresso. Colors such as these make a statement that can take a drab, boring laundry room to the next level in design.
Laundry Room Cabinets For Less
Lily Ann Cabinets offers an extensive selection of premium laundry room cabinets for up to 50% off box store pricing. Browse our selection today to find affordable storage solutions for your laundry space. If you need help with design, visit our free 3D design tool. As always, feel free to reach out to our customer service team with any questions.
FAQ
1. Are Laundry Room Cabinets The Same As Kitchen Cabinets?
You can use kitchen cabinets in the laundry room but some cabinet companies sell spec kitchen cabinets that you can use in the laundry room.
2. How Can You Customize Your Laundry Room Cabinets?
You can customize your laundry room using cabinets by adding in a sink base cabinet and base cabinets for extra storage. You can also add floating shelves for all laundry needs if you don't have room for cabinets!
3. Does adding cabinets to the laundry room add value?
Adding cabinets to your laundry room can add value to the resale value!
4. How high should cabinets be over the washer and dryer?
At least 18 inches above the countertops.