When it comes to laundry room design, there are a lot of ideas and tips to consider. It can be difficult to know where to start and how to make the most of your laundry room space.
That's why we have compiled some of the best laundry room design ideas and tips to help you create an organized and functional space that you will enjoy spending time in. From storage solutions to color schemes, we have all the information you need to make the most out of your laundry room design. Read on to find out more!
1. Storage is key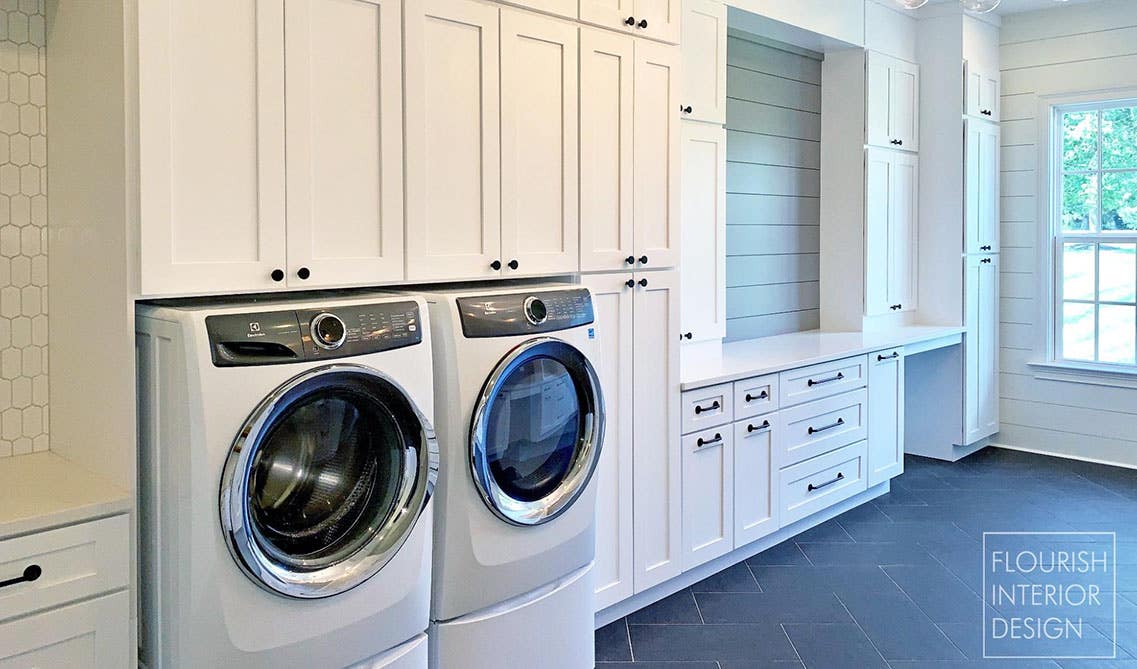 When it comes to designing a laundry room, one of the most important factors to consider is storage. Laundry rooms are notorious for becoming cluttered and messy, which can make it difficult to get things done efficiently. To combat this problem, it's essential to plan for adequate storage space.
There are several different types of storage options that can be incorporated into a laundry room design. Cabinets, shelves, and drawers are all great options for keeping laundry supplies and accessories organized and out of sight. If space allows, consider installing floor-to-ceiling cabinets or shelving to maximize storage space.
Checkout: Tiny Laundry Room? Try These 10 Creative Cabinet Ideas
2. A place for everything
One of the most important things to keep in mind when designing your laundry room is that it should have a designated space for everything you need. This means that you'll need to carefully consider what items you typically use in your laundry routine, and plan accordingly.
Start by identifying all the essential items that you need in your laundry room. These may include laundry detergent, fabric softener, dryer sheets, stain removers, and other cleaning supplies. Once you have a list of everything you need, think about how you can best store and organize these items.
3. Keep it light and bright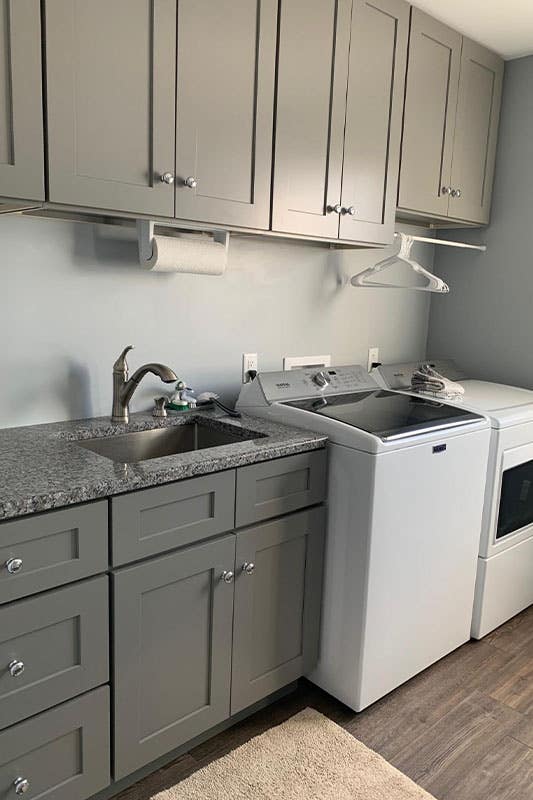 When designing your laundry room, it's important to consider the lighting. Bright, well-lit spaces can help you spot stains and make folding clothes easier. There are a few things you can do to ensure your laundry room is a light and bright space.
First, consider the paint color on your walls. Light, neutral colors like white, beige, and pale gray can make your space feel brighter and more open. If you're feeling bold, you can even add a pop of color with a bright accent wall. 
Next, make sure you have adequate lighting. Installing overhead lighting and adding task lighting over your washer and dryer can make a big difference. You might also consider adding a window to let in natural light.
4. Add some green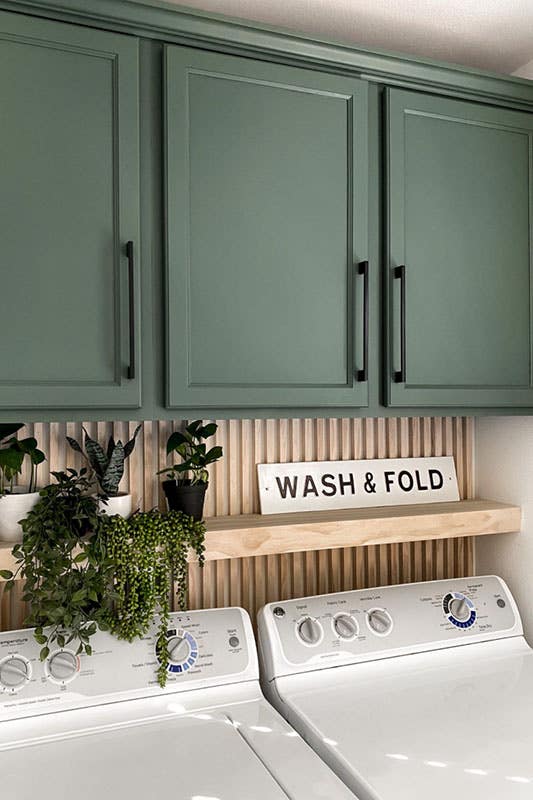 A laundry room doesn't have to be a dull and boring space, and incorporating some green can help bring life and energy into the room. Not only will adding some plants help freshen up the air, but it can also add some aesthetic appeal. There are several ways to incorporate greenery in your laundry room, whether it's adding a potted plant, hanging some ivy from a shelf, or even creating a living wall. 
When choosing plants for your laundry room, it's important to consider the amount of sunlight and humidity the room gets. Plants such as snake plants, pothos, and spider plants thrive in low-light environments and require minimal care. Succulents are also a great option as they require little water and can add some color to the room. If your laundry room has more natural light, consider adding a peace lily or a rubber plant.
5. Incorporate fun elements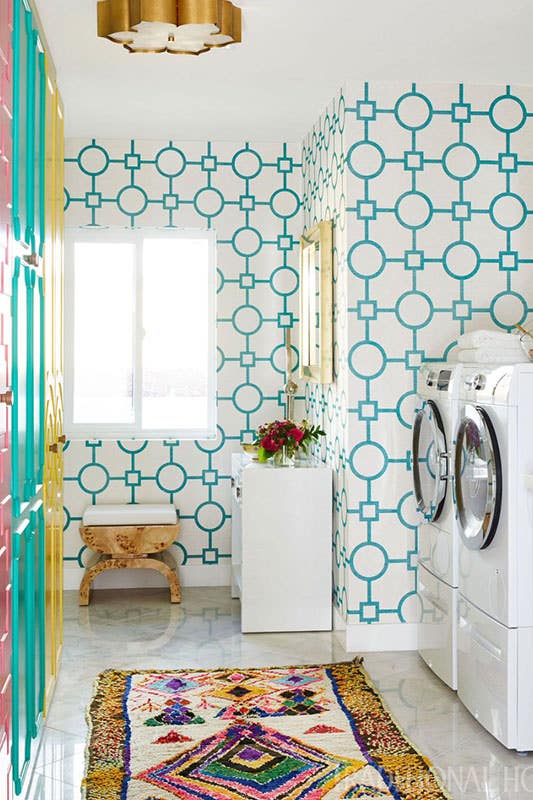 Who said doing laundry had to be a boring chore? Incorporating some fun elements into your laundry room design can make this space a place you actually want to spend time in. Here are some ideas to add some personality and enjoyment to your laundry room.
6. Wall decals or murals: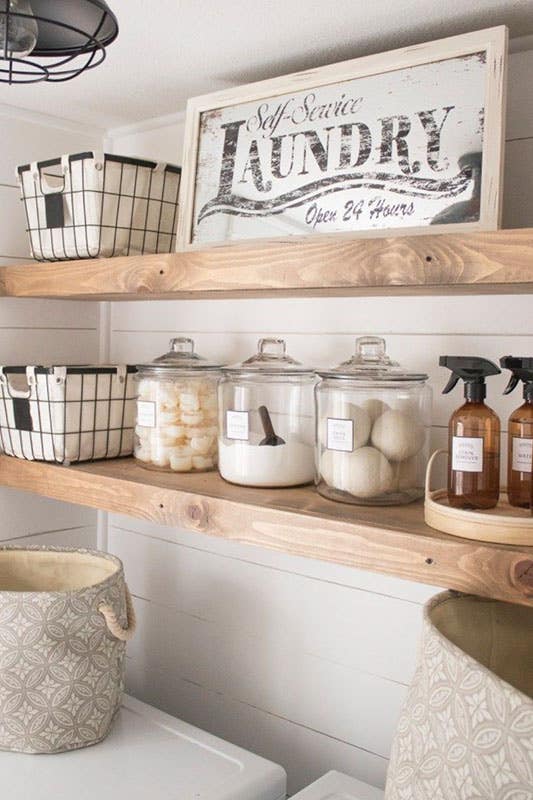 Spice up your laundry room walls with a fun and quirky decal or mural. Whether it's a quote that inspires you or a scene that brings a smile to your face, this is an easy and affordable way to add some personality to the room.
7. Colorful appliances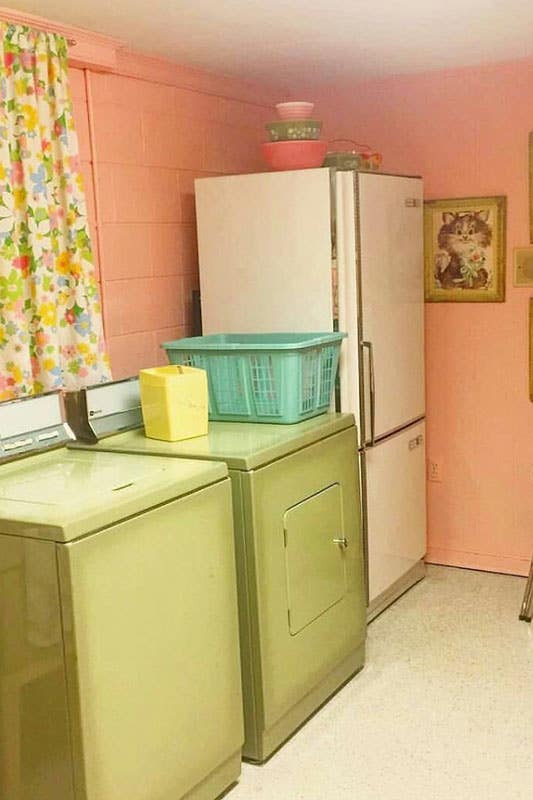 Who says your washing machine and dryer have to be plain white or silver? Consider upgrading to colorful appliances that add a pop of fun and energy to the room.
8. Decorative baskets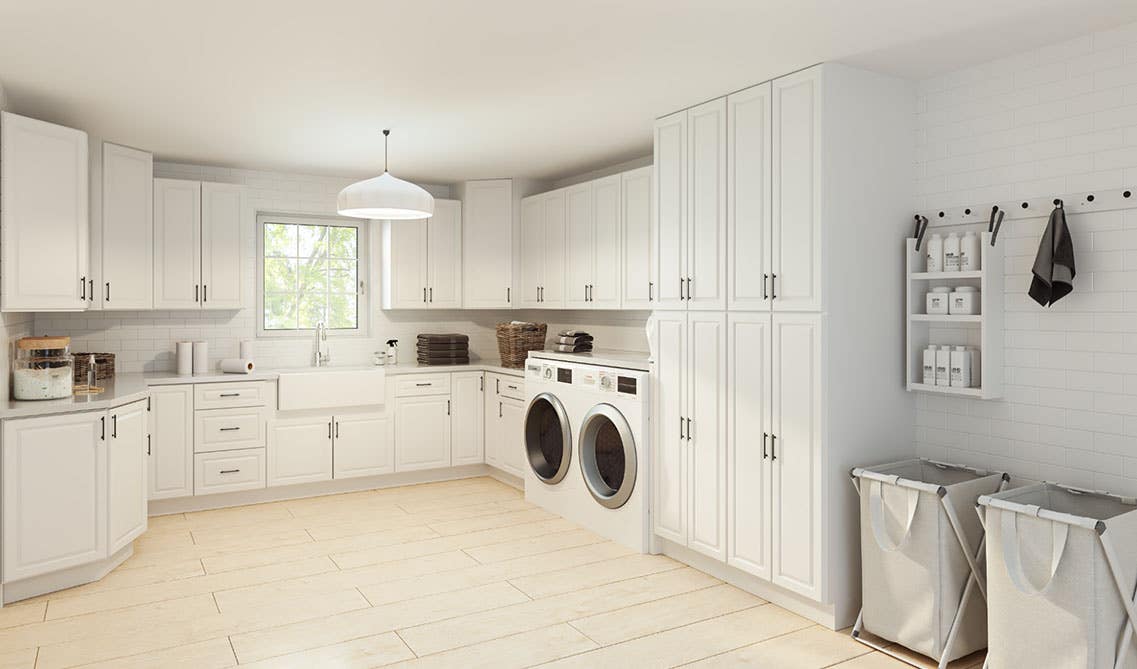 Instead of just using plain old laundry baskets, opt for some decorative ones that match your room's color scheme or add some texture. These can double as storage for other items as well.
9. Unique lighting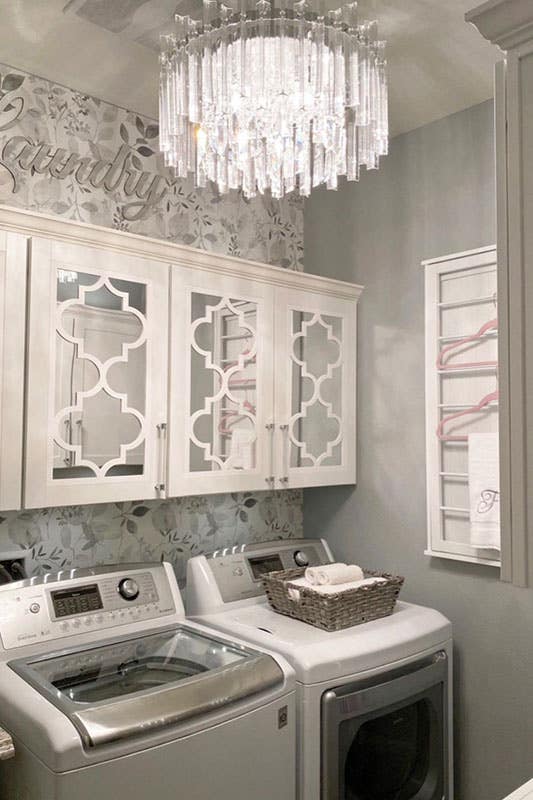 Lighting doesn't have to be boring. Consider installing a funky light fixture or lamp that adds a unique touch to the room.
10. Artwork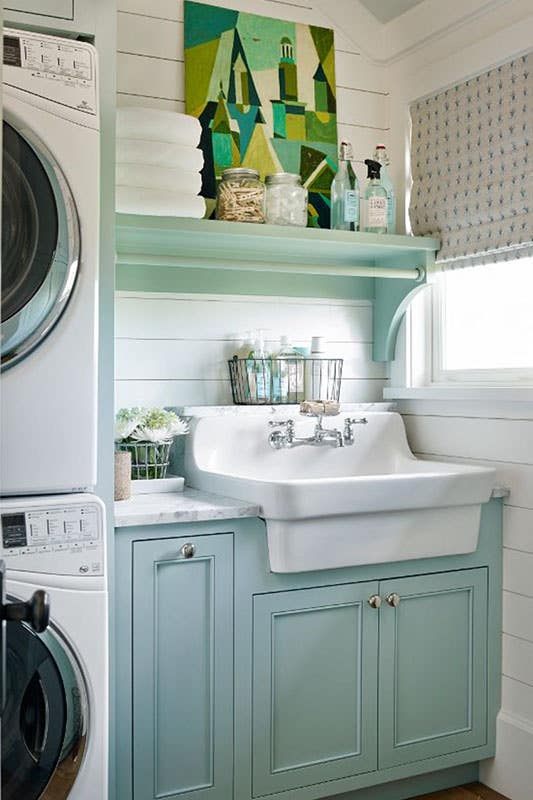 Hang some fun and quirky artwork on the walls to add some visual interest. It can be something laundry-related or just a piece you love.
11. Don't forget about functionality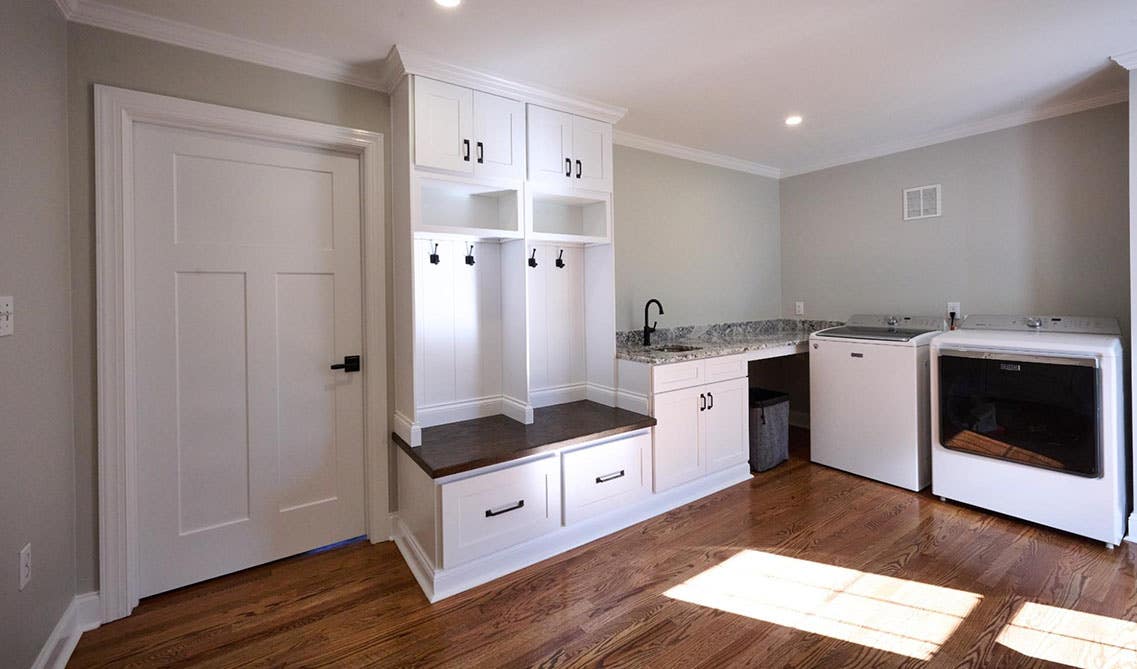 When designing your laundry room, it's easy to get caught up in creating a stylish space. However, it's important to remember that the primary purpose of this room is for doing laundry. That's why functionality should always be at the forefront of your mind when planning the design.
First and foremost, consider the layout of the room. The placement of your washer, dryer, and any additional appliances should be arranged in a way that allows for easy access and efficient use of space. This may mean positioning them in a specific order or leaving ample room for you to move around the machines.
12. Consider the future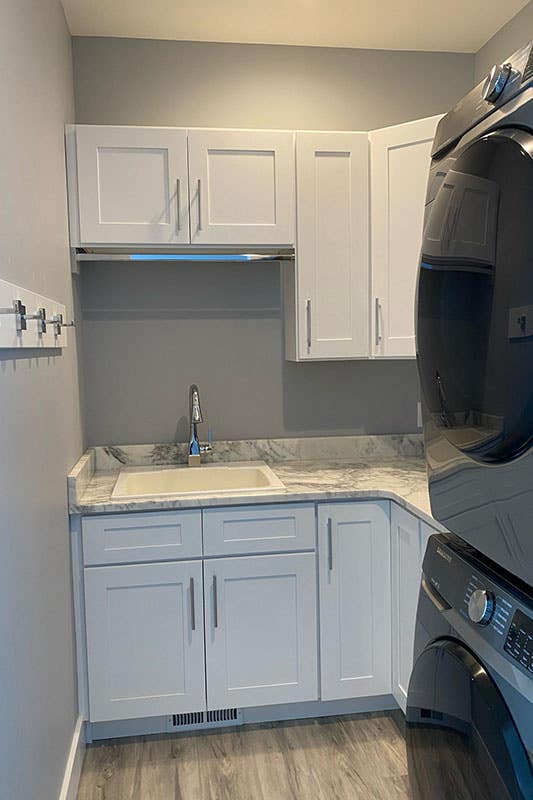 When designing your laundry room, it's important to consider the future and plan accordingly. Your needs may change over time, so it's essential to create a space that can adapt to your changing requirements. Here are some things to consider.
13. Growing family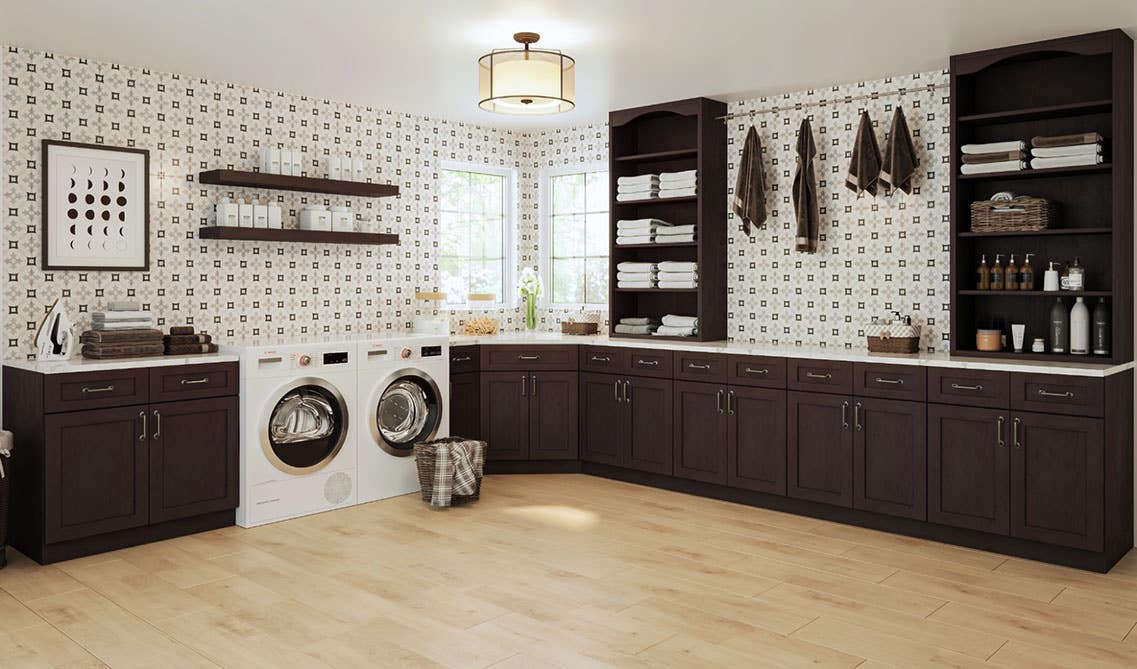 If you're planning on expanding your family, you'll need more storage space for clothes and linens. Consider installing extra shelving, hanging bars, and drawers to accommodate your growing laundry needs.
14. Aging in place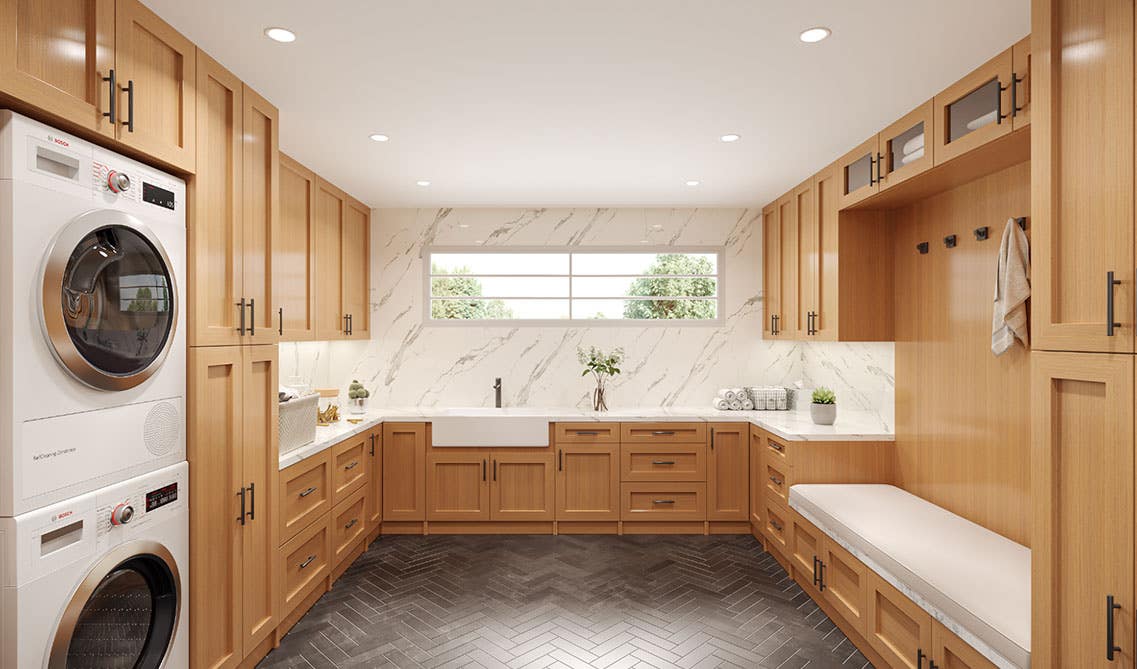 If you're planning on staying in your home for the long haul, you'll need to design your laundry room with accessibility in mind. This might include adding a bench for folding laundry, lowering your machines to make them easier to reach, or installing an adjustable hanging system. This laundry room also featuring our Shaker Cinnamon includes a bench for easy sitting access which can help in the long run! 
15. Sustainability

As we become more environmentally conscious, it's important to design a laundry room that promotes sustainable practices. Consider installing a drying rack to reduce your energy usage, using non-toxic cleaning products, and choosing machines that are energy-efficient.
16. Technology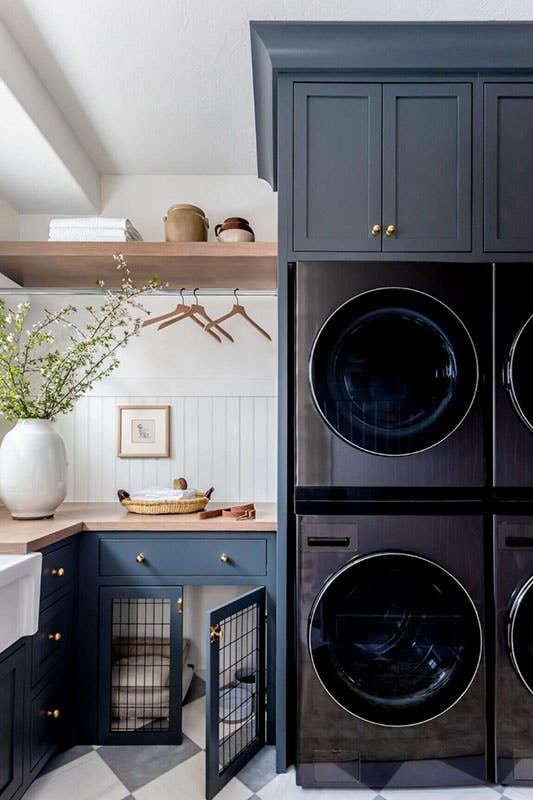 Technology is constantly evolving, so it's essential to design a laundry room that can keep up. Consider installing smart appliances that can be controlled remotely or upgrading your machines to models with the latest features.
17. Get creative with your space
If you're short on square footage in your laundry room, it's time to get creative with your space. Think outside of the box when it comes to your laundry room design, and don't be afraid to make some unconventional choices.
18. Invest In a Good Washer and Dryer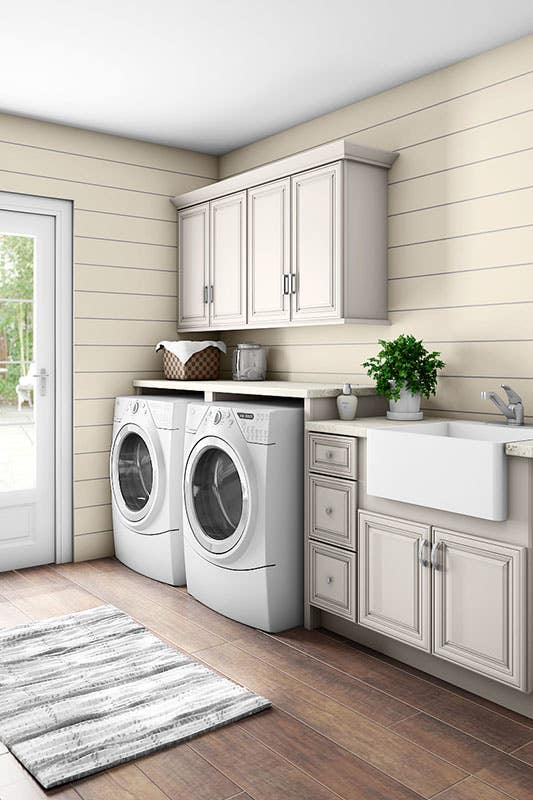 When designing your laundry room, one of the most important factors to consider is investing in a good washer and dryer. High-efficiency machines can save you money on utility bills and will last longer than traditional models. Look for features such as multiple water levels, temperature settings, and anti-wrinkle settings to customize your washing experience. 
Be sure to research all the features before you make your purchase, and if you can, purchase the matching washer and dryer set to ensure that they will work together well. It's also important to buy machines that are the right size for your laundry room decor and cabinets. If you don't have enough room for a full-size washer and dryer set, look for stackable options or even a combo unit.
Recommended For You: 14 Effective laundry room organization ideas
19. Install Cabinets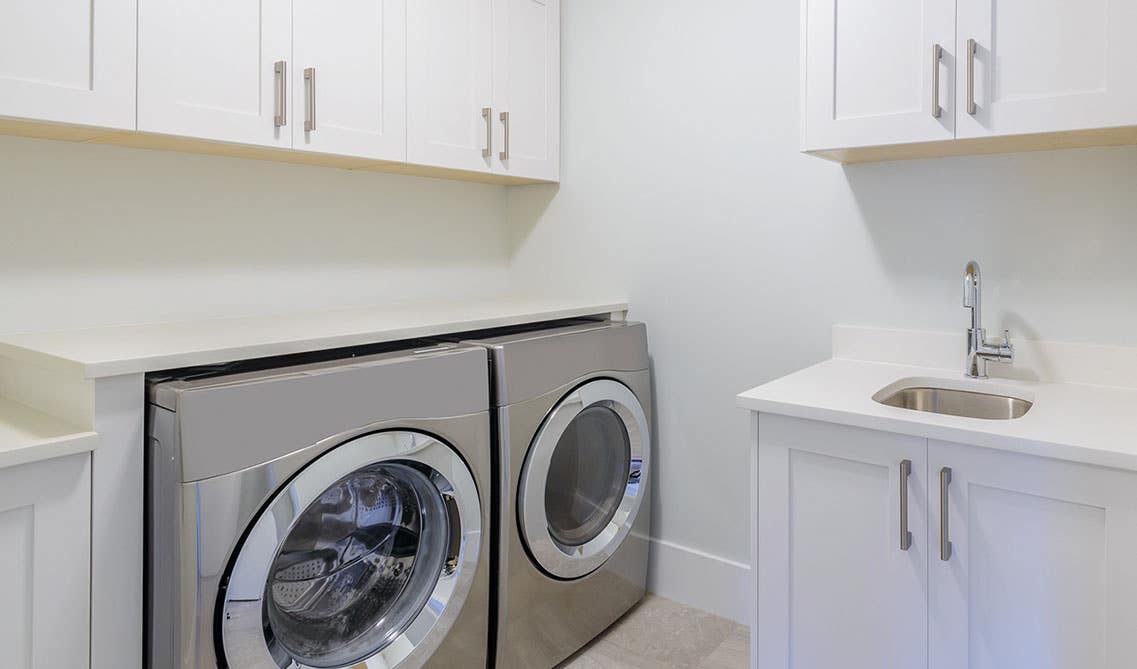 When it comes to laundry room design, cabinets are an essential feature. They provide a place to store all your detergents, fabric softeners, and cleaning supplies. Plus, they can give your laundry room a more organized look. Investing in quality laundry room cabinets is a great way to upgrade your space and make more room for storage. 
With Lily Ann Cabinets, you get the highest quality products for the best price. Our selection of cabinets is vast and includes a variety of styles to suit any design scheme. Whether you're looking for a simple classic style or something more modern, we have something for everyone. Plus, you don't have to break the bank to get quality cabinets! Shop Lily Ann Cabinets today and create the laundry room of your dreams.
20. Ditch lower cabinets and add uppers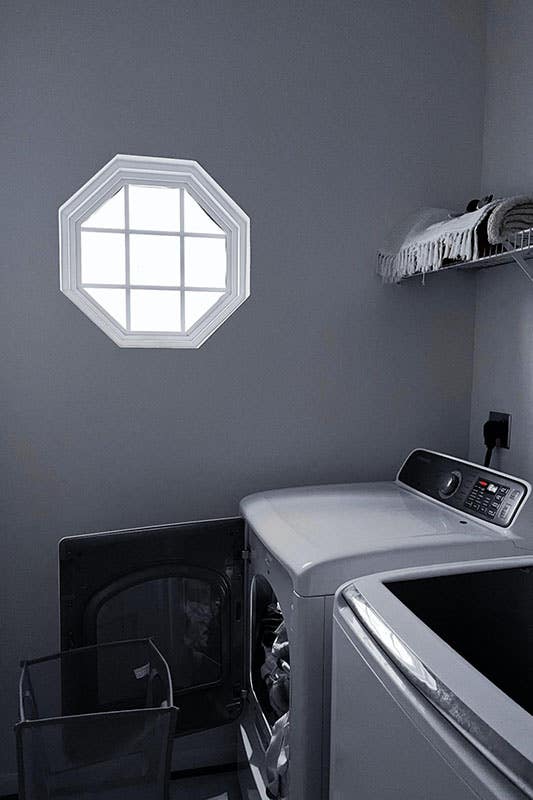 If you don't have much floor space, you may want to consider not adding any base cabinets. Instead, install upper cabinets and a drying rack for extra space and functionality. 
21. Storage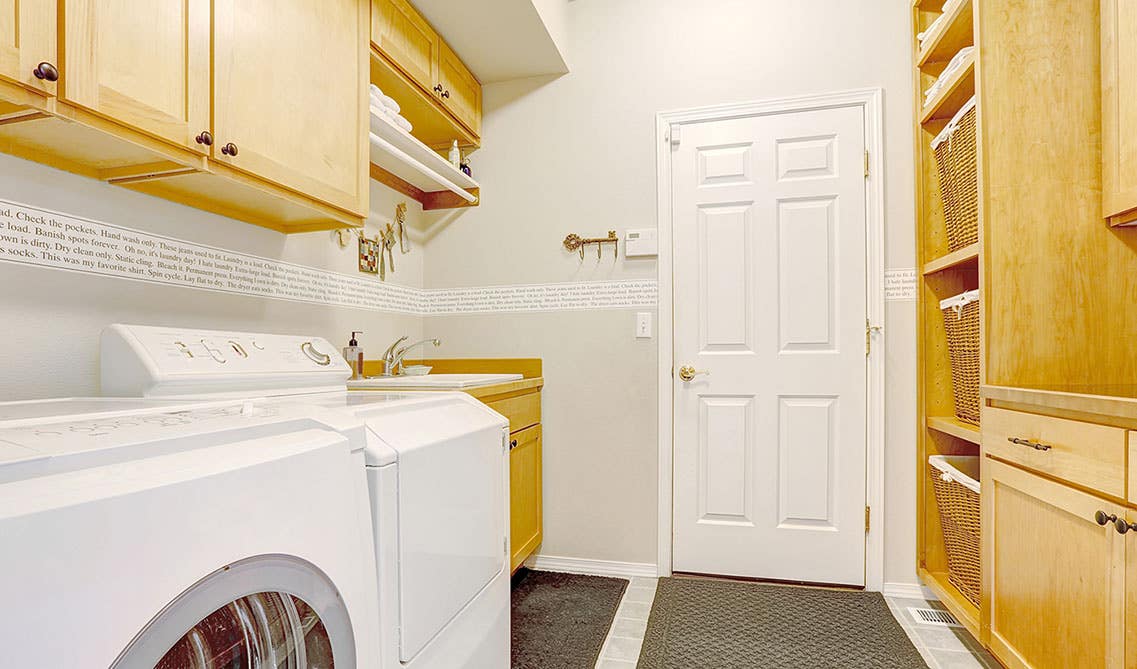 When designing your laundry room, storage is an important factor to consider. Installing laundry room cabinets is a great way to add extra storage while also making the space look more organized. Look for cabinets that are specifically designed for laundry rooms, as they are usually equipped with shelves that can be adjusted or even removable baskets. 
Laundry room decor can also help in this regard, as you can choose shelves and racks to match your existing design style. Additionally, there are many laundry room design ideas that involve adding in extra storage, such as hanging baskets and wall hooks. Utilizing every bit of space in your laundry room can help keep it organized and clutter-free.
22. Organization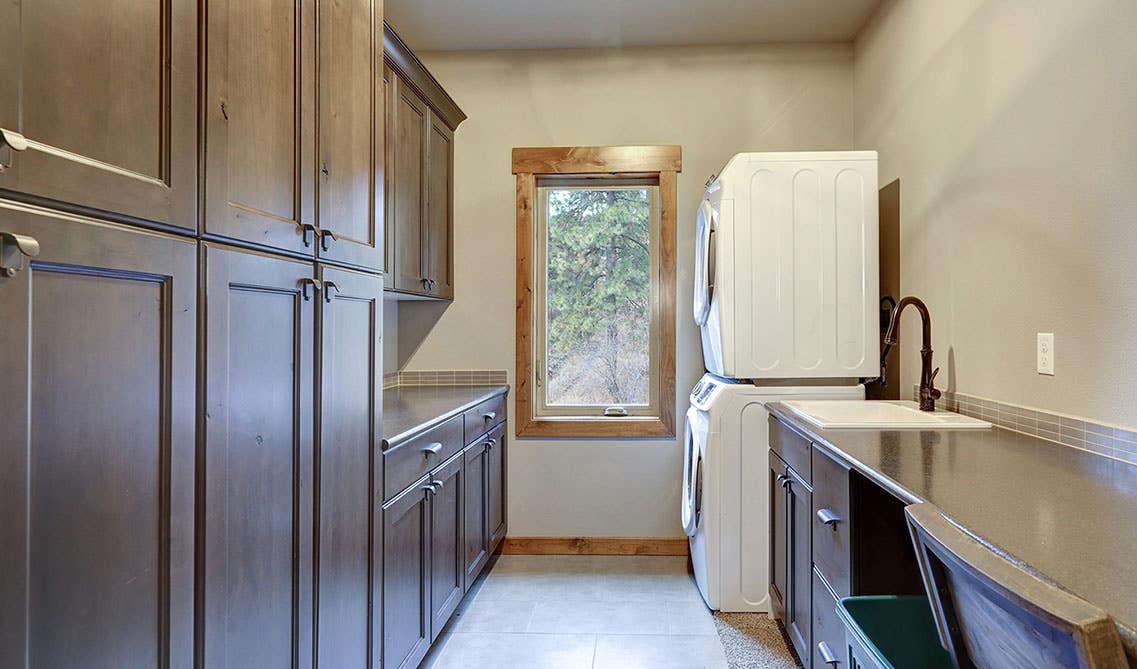 When it comes to laundry room design ideas, it's important to keep the area organized. Start by removing items that don't belong in the laundry room and store them in designated storage areas. Place frequently used items such as detergent and fabric softener in labeled baskets or containers to make them easier to find.
To help maintain an organized space, be sure to clean the area regularly. Wipe down surfaces, sweep the floor, and remove any dust or lint from the dryer vent and surrounding areas. Doing so will help ensure your laundry room is always looking neat and tidy.
23. Get Creative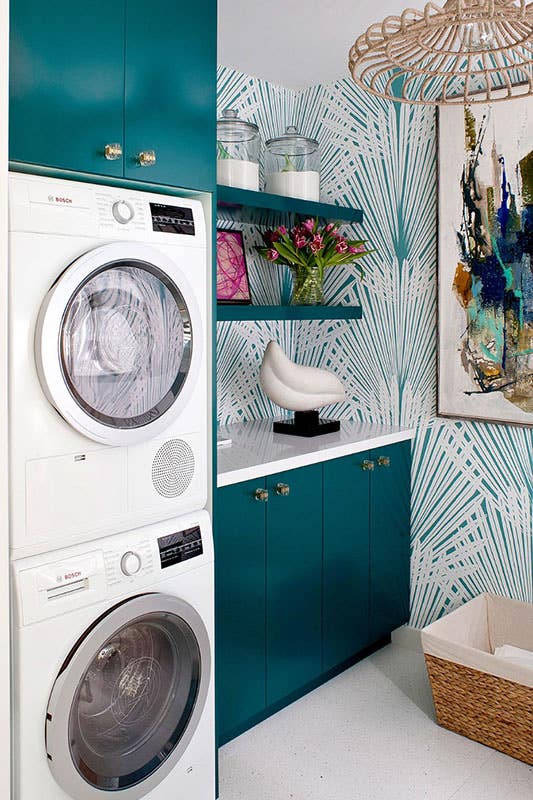 Adding a funky wallpaper in your laundry room gives it personality. You can also paint your trim a different color, add colorful rugs, add artwork, and plants!  
24. Add Decor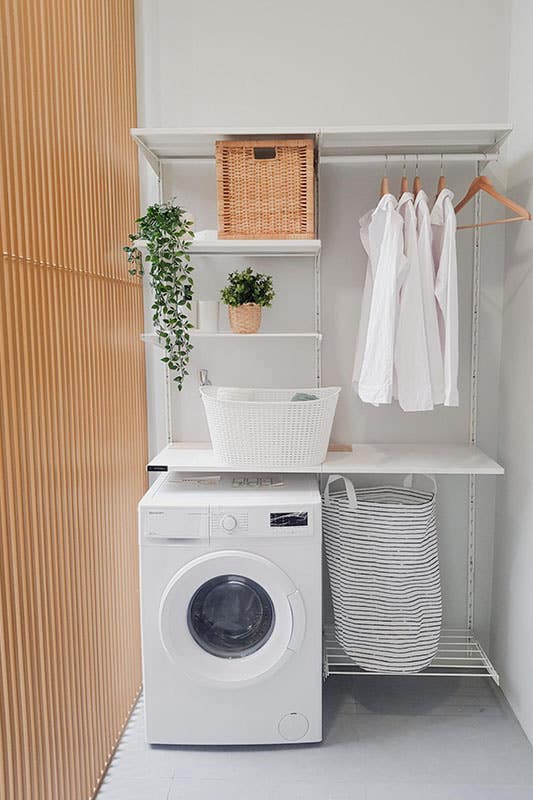 Adding decor to your laundry room can make it seem welcoming even though it's a laundry room! Creating a theme in your laundry room that goes with the rest of your house is a very popular trend in 2023. Installing floating shelves in your laundry room can leave room for extra decor if you don't have much counter space! 
25. Add two washers and dryers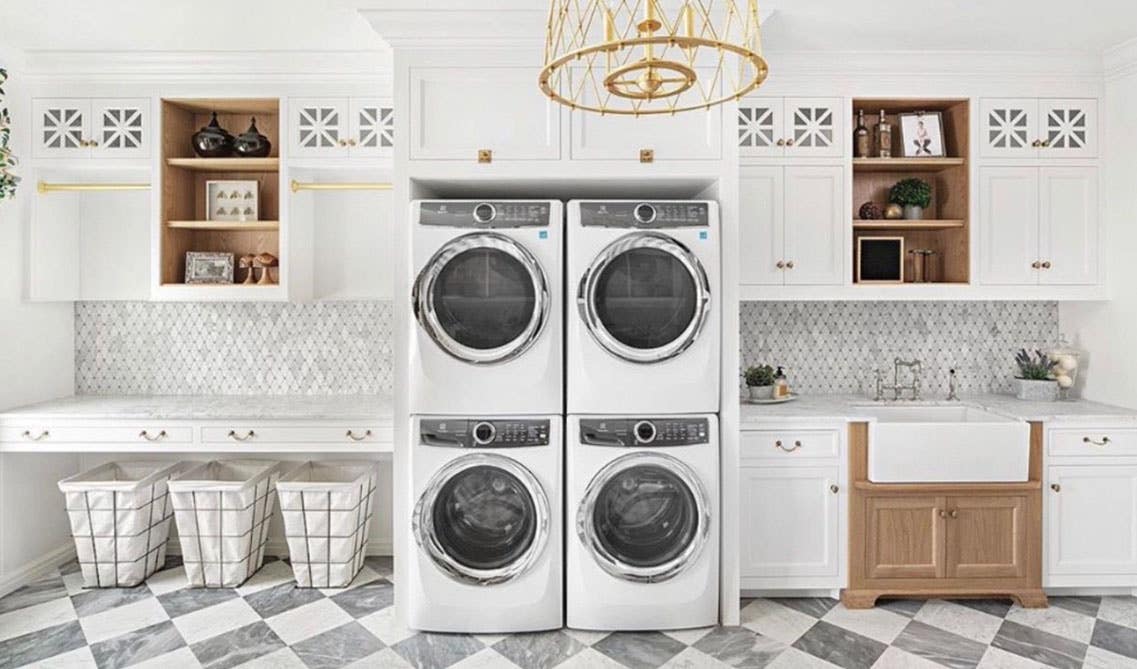 If you have a large family, implementing two washers and dryers may be ideal. This laundry room has lots of extra storage areas and has upper and lower cabinets. 
26. Play with colors!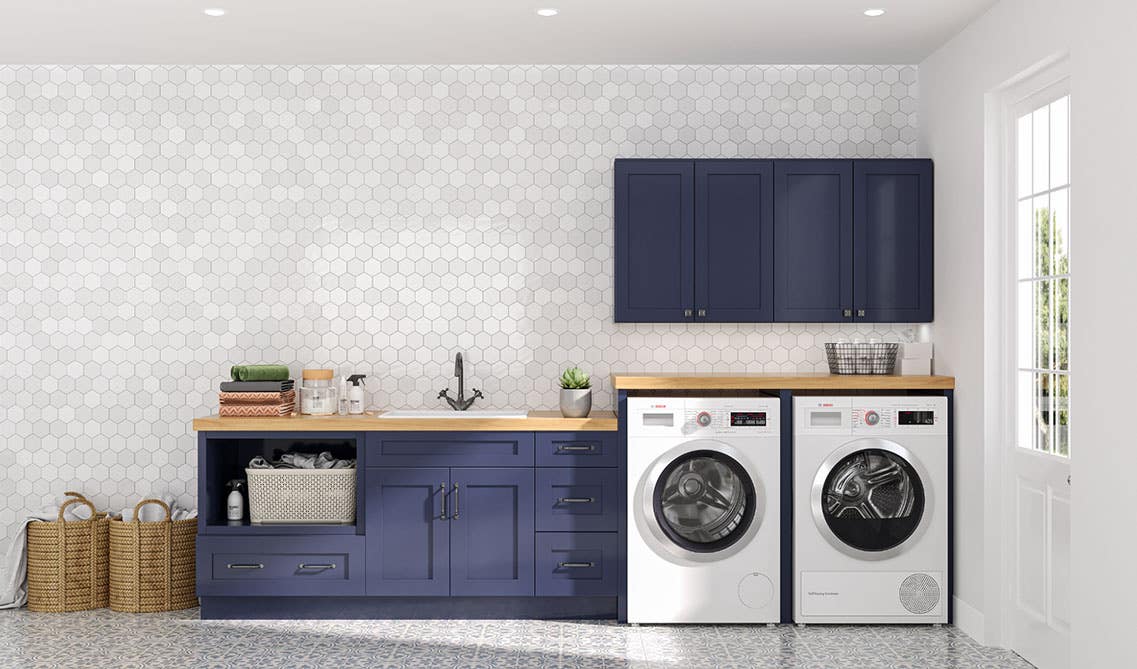 If you aren't huge on adding colors to your kitchen or bathroom, add a pop of color to your laundry room! Adding hues of blue or Navy Blue Shaker cabinets is a perfect option! 
27. Budget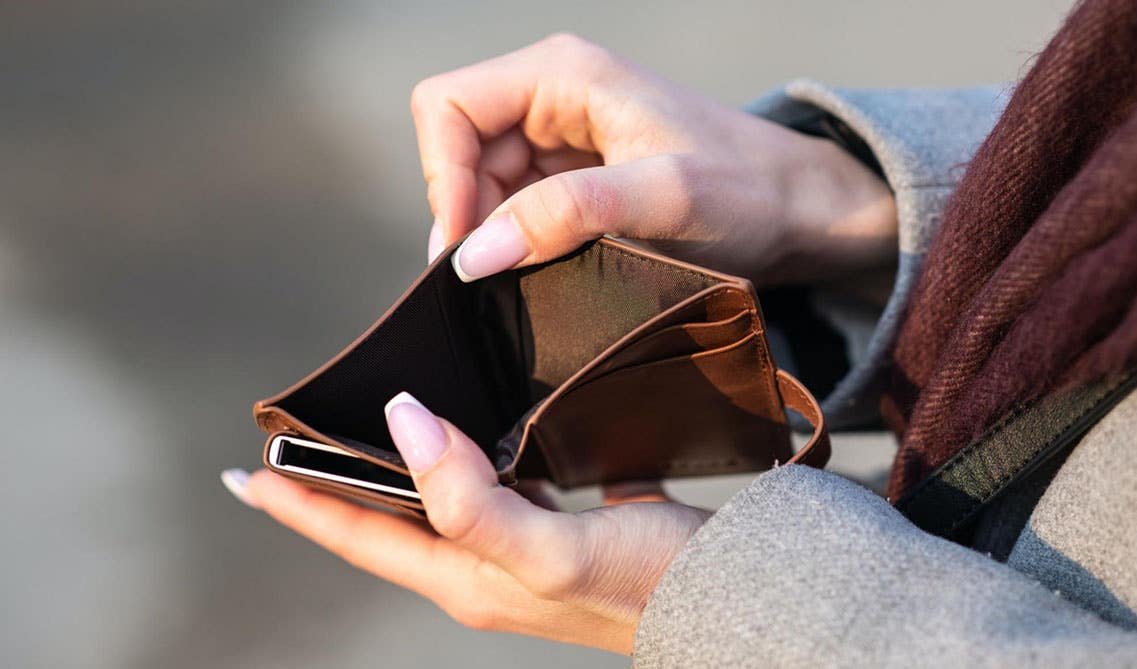 With Lily Ann Cabinets, you can get the cabinets you need for your laundry room without breaking the bank. Our cabinets are already 50% off what you would find at big box stores, so finding a cabinet that is both cheap and great quality is easy.
Lily Ann Cabinets will fit your budget and look amazing in your laundry room while providing long-lasting quality. Add a few of our laundry room decor pieces such as organizers to your cabinets and you'll be sure to create a beautiful and functional laundry room on a budget.
We offer a wide selection of premium cabinetry, hardware, shelving, and more to help you create a room that stands the test of time. Pick from our large array of kitchen, bathroom, and laundry cabinetry, including white shaker cabinets that come with soft-close hinges. Our professional designers are on standby to work with you — we offer FREE samples and FREE design and quote. 
FAQ
1. What is the best color for a laundry room?
Many people aim for neutral laundry rooms with colors such as white and beige. 
2. What should be in a laundry room?
Your laundry room should include a washer and dryer, drying racks, storage spaces for laundry items, and extra area for folding! 
3. What is the ideal laundry room size?
Laundry room sizes are around 9 feet wide and 11 feet long but its becoming popular to have larger laundry rooms.