Revamping your kitchen can transform your home, and one of the most impactful ways to do that is by upgrading your kitchen countertops. The choice of materials, colors, and styles can dramatically transform the look and feel of your kitchen. In this guide, we'll explore 15 kitchen countertop ideas and design trends that can truly revamp your kitchen.
Whether you're aiming for a sleek modern look, a cozy rustic feel, or something in between, there's a countertop option to suit your style and practical needs. Let's dive in and discover the possibilities for transforming your kitchen into a space that's not only functional but also aesthetically pleasing. 
1) Quartz Kitchen Countertops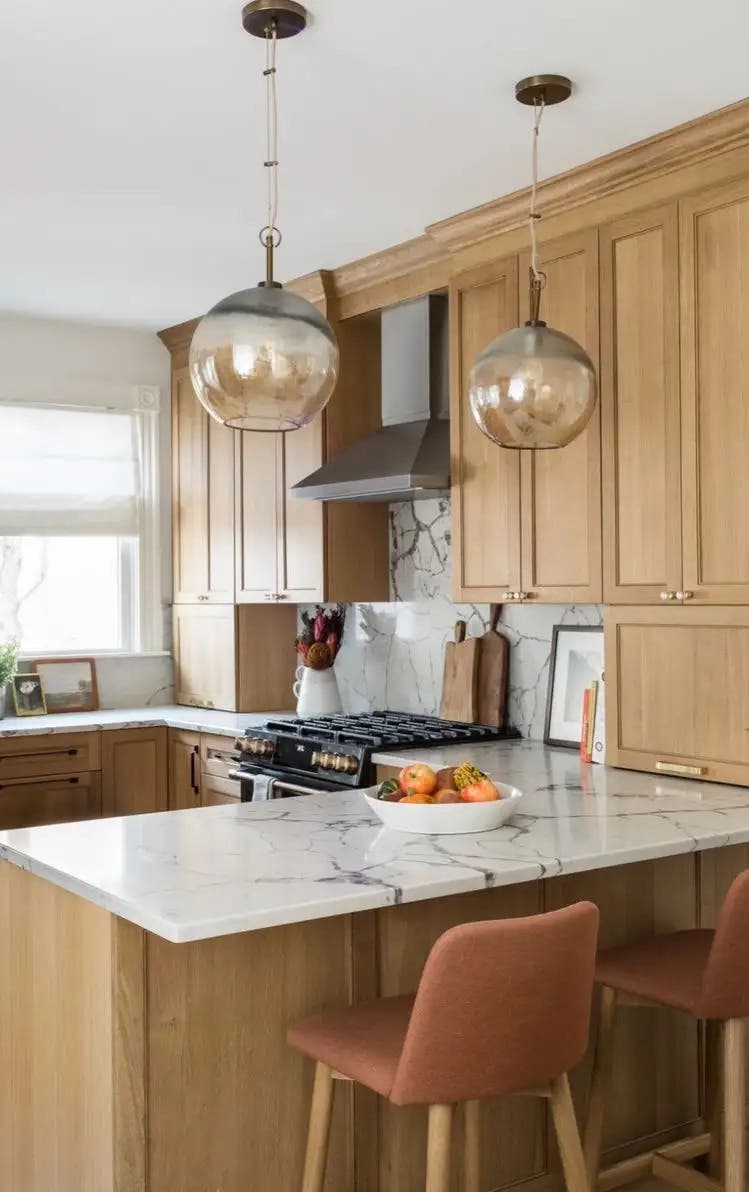 Quartz countertops have become incredibly popular and for good reason. Quartz is much harder than granite and other stones, which makes it more resistant to scratches, dents, and cracks. In addition, it's nonporous—meaning it resists stains much better than most kitchen countertops do. Because of its hardness, quartz countertops also tend to be easier to clean than granite or marble because they don't absorb liquid as those materials do.
Quartz also comes in many different colors and pattern variations, making it so there is an option for any style of space. Choosing quartz over marble will also allow more room in the budget for other parts of your kitchen!
Like the look of these kitchen cabinets? Check out the beautiful Shaker Cinnamon cabinets which are up to 50% off box store pricing! 
2) Butcher Block Countertops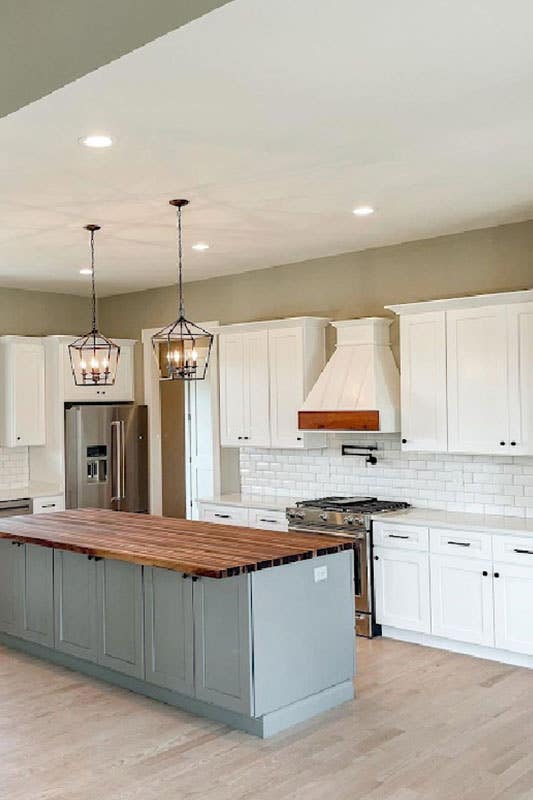 If you prefer a warm and rustic feel, butcher block countertops made of wood can add charm to your kitchen. Butcher block countertops are a type of kitchen countertop made from wooden planks or strips that are bonded together to create a solid surface. They are a popular choice for both residential and commercial kitchens due to their rustic and warm appearance and their durability and versatility. They do require regular sealing and maintenance.
3) 

Bold Marble Kitchen Countertops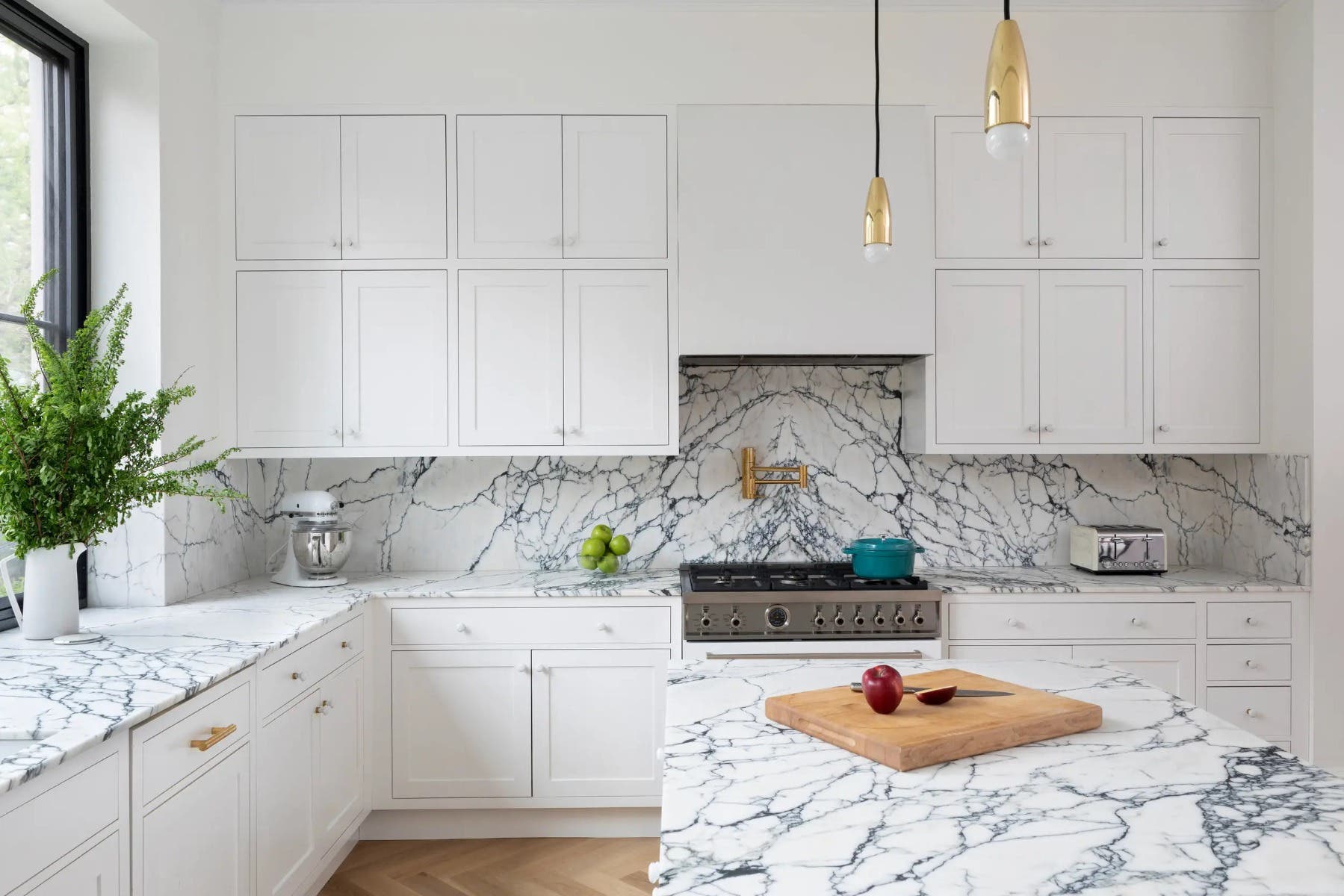 Marble countertops are a true classic in kitchen design, having been popular for decades. Trendy but timeless, marble adds an elegant touch to any kitchen design style. In fact, when it comes to countertops, marble is definitely one of today's top kitchen trends.
We love the clean, simple look of these white shaker cabinets. Check out the White Shaker Elite cabinets for a similar look!
4) Granite Countertops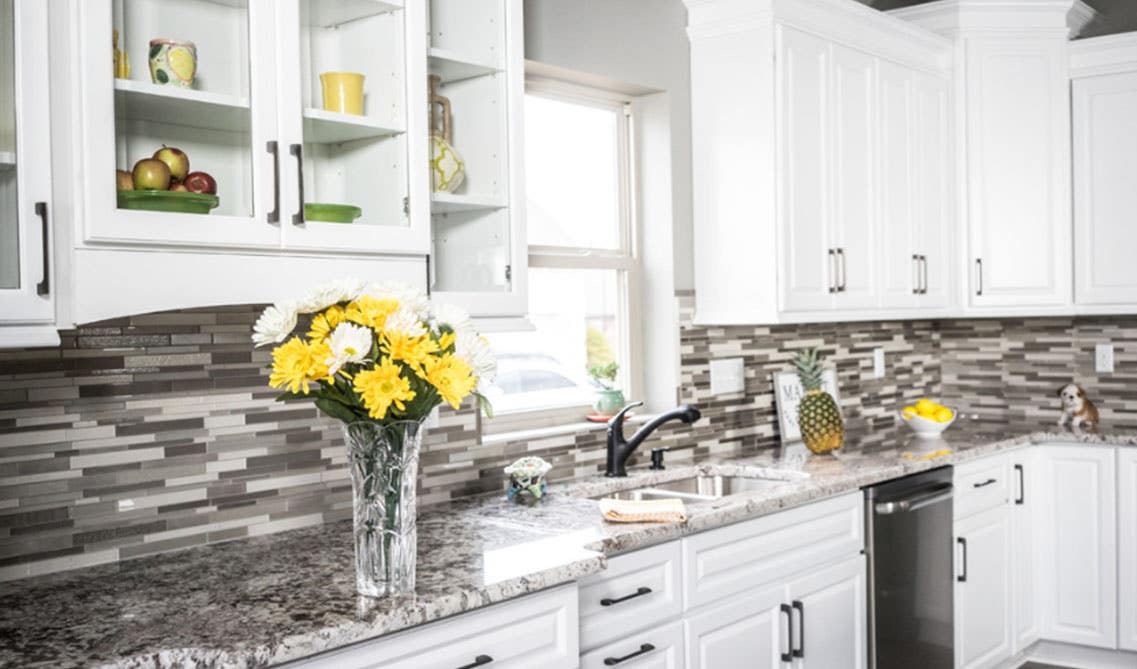 Granite is a classic choice known for its durability and natural beauty. It comes in various colors and patterns, making it easy to find one that complements your kitchen's style. Granite is a beautiful option to modernize your kitchen as long as you keep up with the maintenance of resealing your countertops when they need it. On average, granite countertops should be resealed every 12-18 months, depending on usage. With the resealing coating, your countertops will leave your kitchen looking fresh and new again!
5) Tiled Kitchen Countertops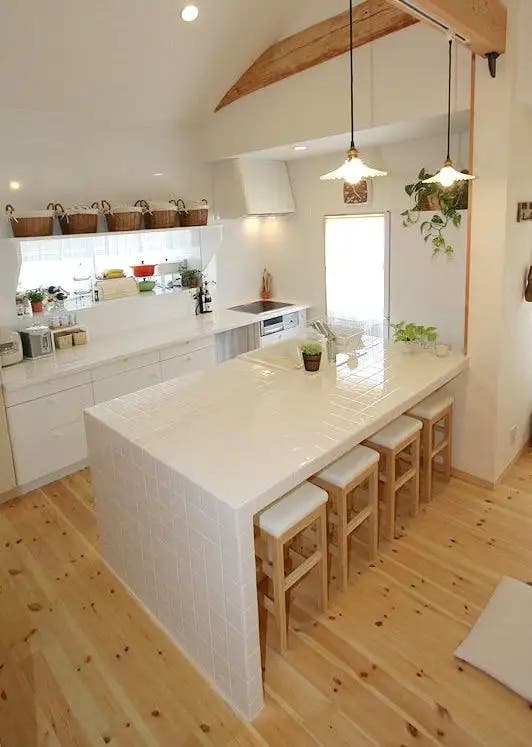 One of the top kitchen countertop design trends for the last few years, tiles are a time-tested and often fail-safe choice. Now more than ever, homeowners are looking to integrate their backsplash tiles into a cohesive whole with their countertops. Tiled countertops can be just as modern or traditional as you'd like them to be; they're endlessly customizable. Ceramic is one of our top choices for kitchen countertops in 2023!
6) Concrete Countertops with Wooden appliances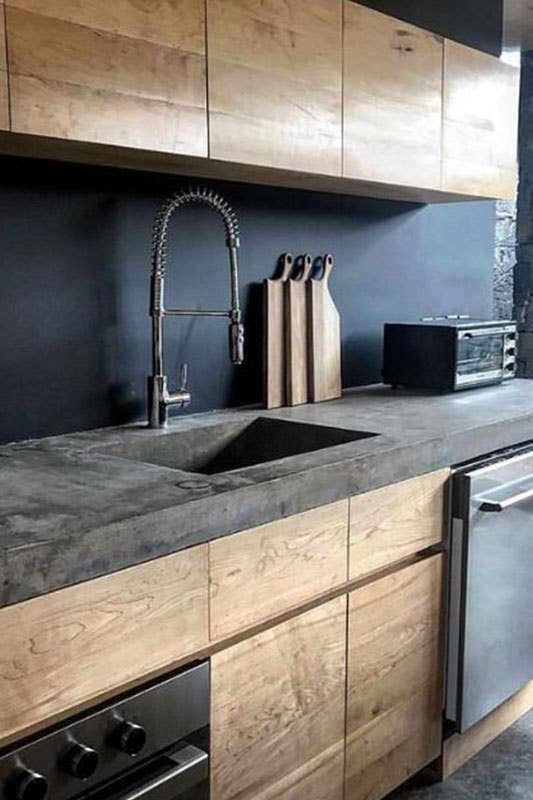 Customizable in terms of color and texture, concrete countertops can give your kitchen a modern and industrial look. This look guarantees to set your kitchen apart from others for its unique and uniform look. Finish it off with wooden appliances for a natural look and a touch of contrast.
7) Stainless Steel Countertops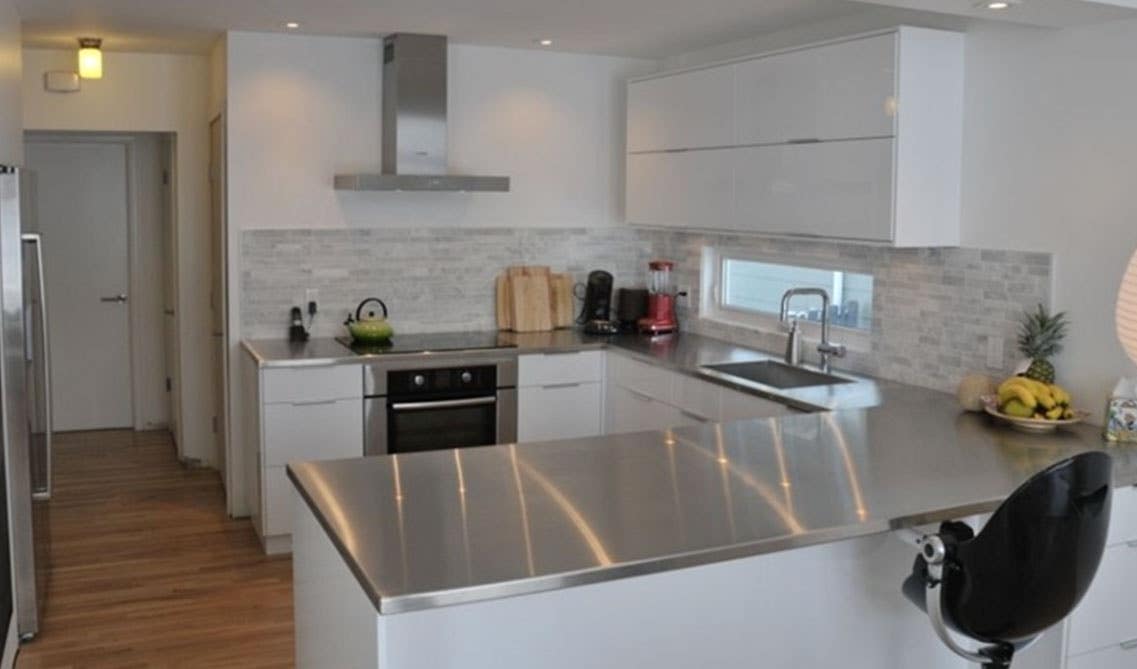 Popular in commercial kitchens, stainless steel countertops are sleek, hygienic, and easy to clean. They work well in contemporary or industrial-style kitchens. This option is the perfect choice for homeowners who value durability, as they are heat and scratch resistant, as well as chemical resistance, making cleaning your space of fingerprints and smudges much easier compared to other materials.
8) Simple with Soapstone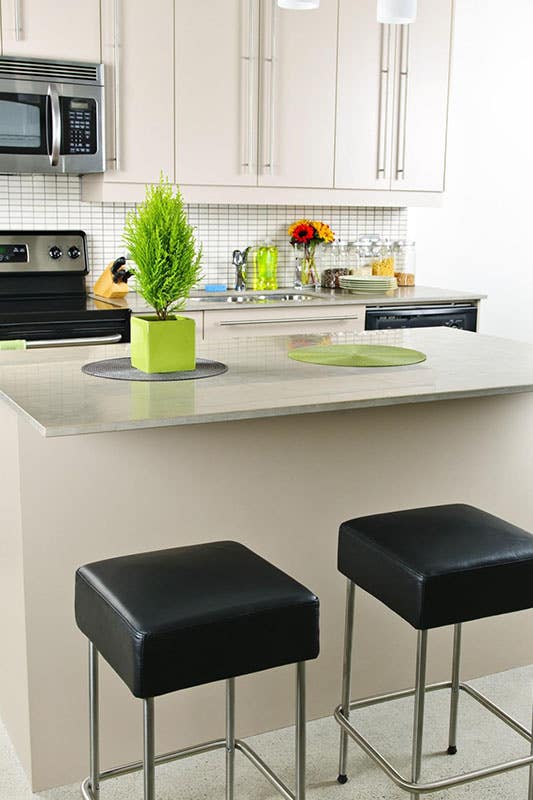 Soapstone countertops are a classic option that has kept kitchens looking elegant and inviting for decades. Soapstone materials keep the space a place where functionality and aesthetics seamlessly blend. Keep your kitchen decor and colors simple to create a clean space. If you appreciate the natural beauty of stone, soapstone can be an excellent choice for your kitchen revamp.
9) Waterfall Countertops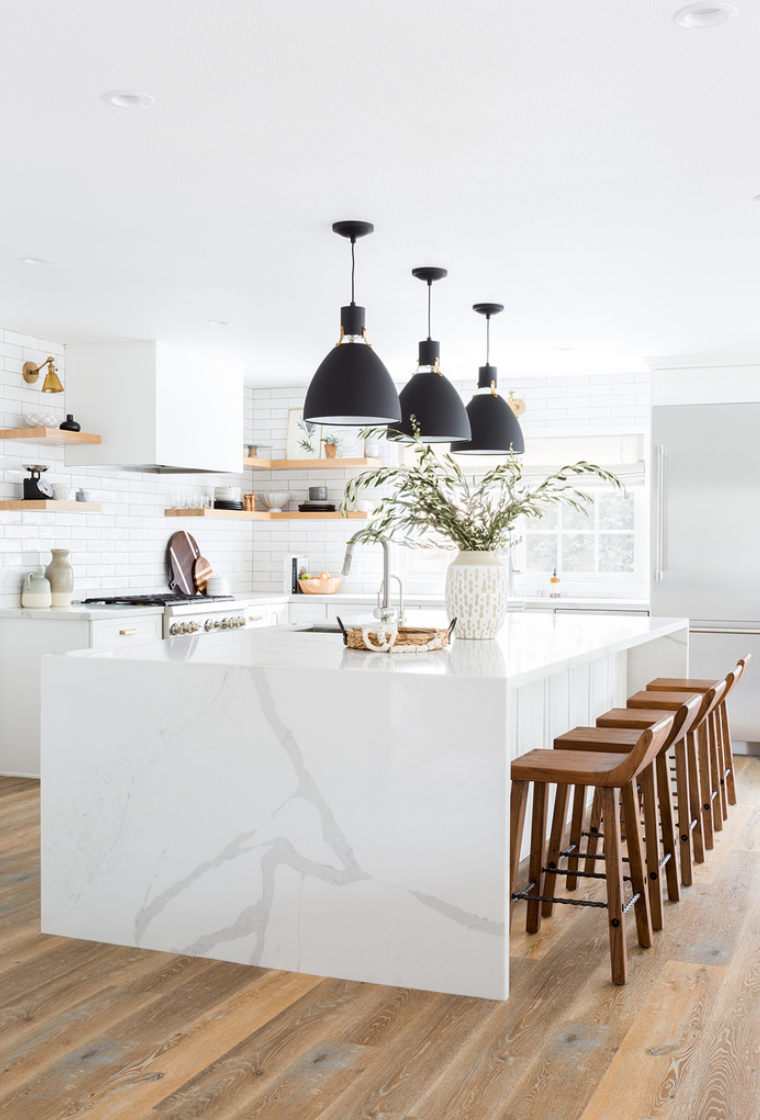 Waterfall countertops are a stunning and contemporary design feature that can add a touch of elegance and drama to your kitchen. Unlike traditional countertops that end with a horizontal surface, waterfall countertops extend vertically down the sides of a cabinet or island, creating a continuous and seamless flow of the countertop material. Incorporating waterfall countertops into your kitchen revamp can be a game-changer, as they bring a contemporary and luxurious aesthetic to the space.
10) Slab Wood Design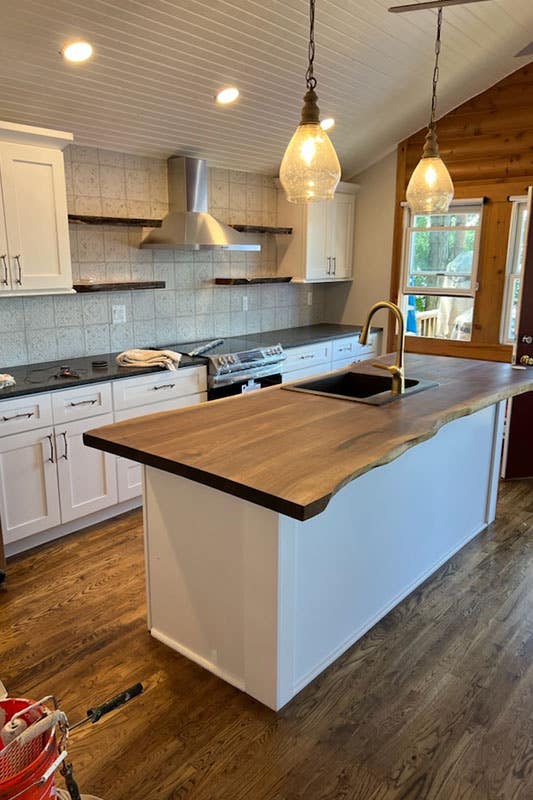 Slab wood countertops, also known as live edge or natural edge wood countertops, are a unique and visually striking option for revamping your kitchen. These countertops are crafted from solid wood slabs, often with the bark and natural edge of the tree preserved. This is a unique countertop since there is no identical slab of wood.
11) Tile Countertops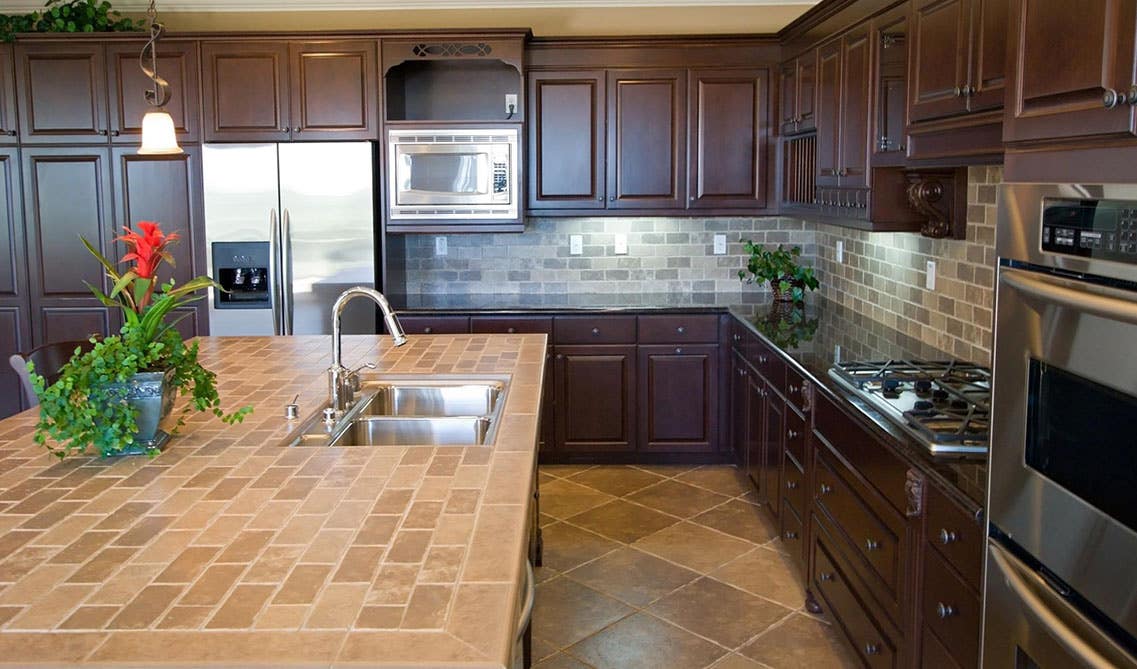 Ceramic or porcelain tiles can be arranged in various patterns and colors to create a customized look. They are cost-effective and can suit traditional or eclectic kitchens. Not only are they a unique touch on any kitchen, but they are also durable and make it easy to keep your kitchen looking clean and well maintained.
12) Solid Surface Countertops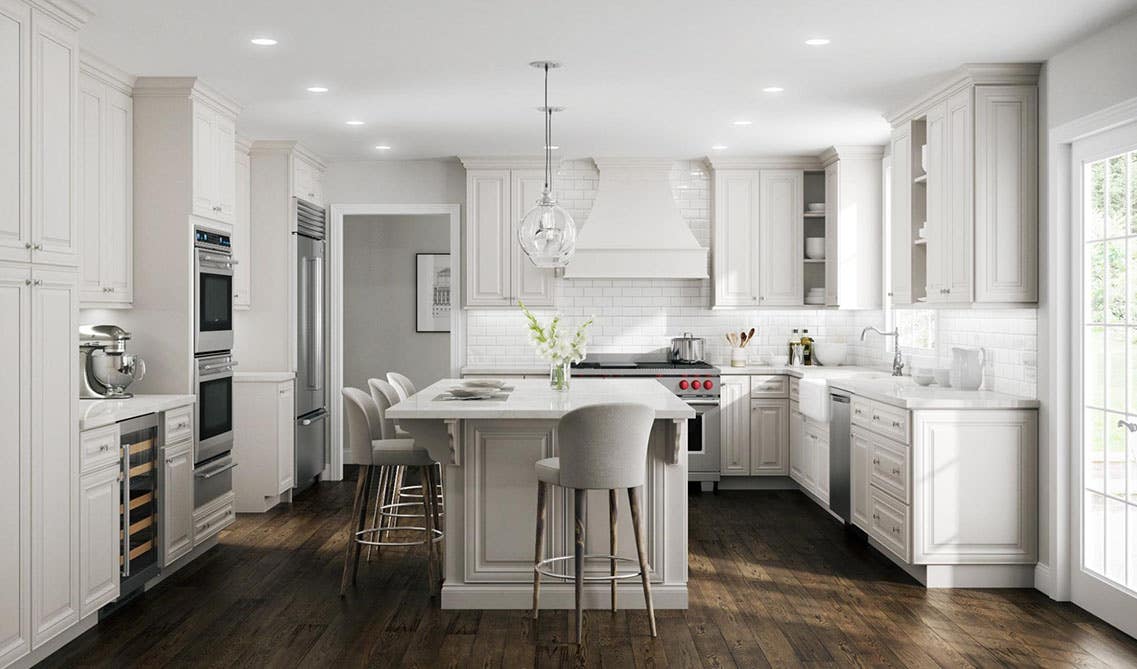 Brands like Corian offer solid surface countertops that are seamless, easy to maintain, and can be molded into various shapes and styles. These countertops are mostly made up of acrylic, resins, and pigment. Solid surface countertops are ideal for a simple and wallet friendly option to revamp your kitchen!
13) Bamboo Countertops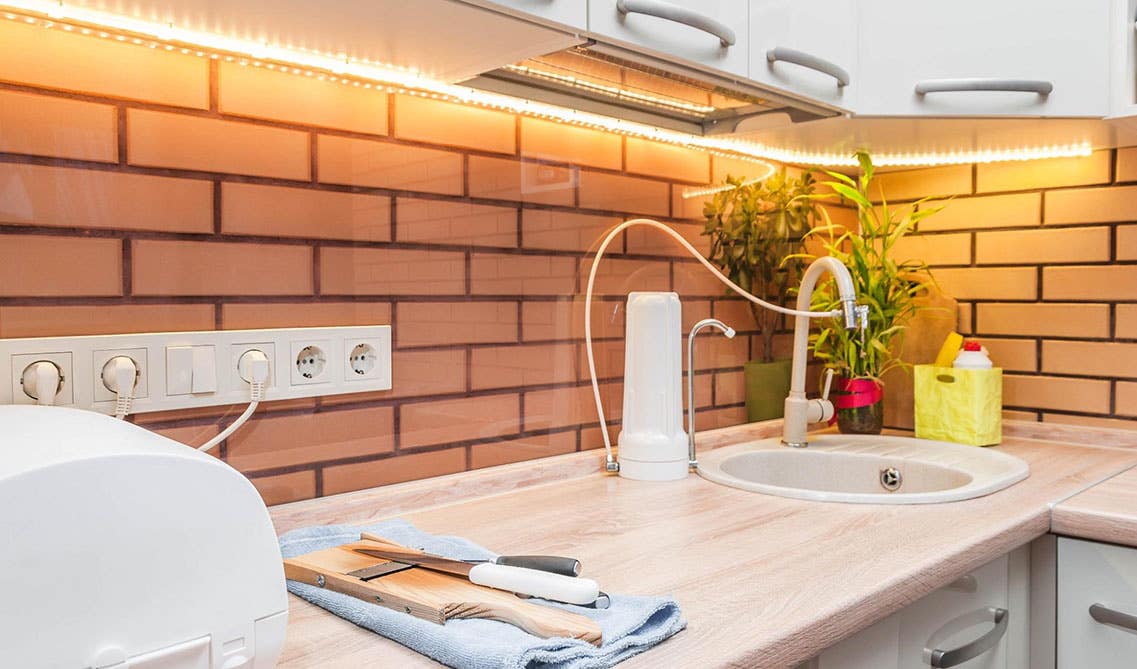 For an eco-friendly option, consider bamboo countertops. They're sustainable, durable, and have a natural beauty. They make it easy to clean your space with just soap and water, making them easy to maintain. Their sealant preserves their appearance and creates a stain resistant surface.
14) Travertine Countertops
Travertine is a type of limestone with a rustic and unique appearance. It's available in earthy tones and adds a touch of old-world charm to your kitchen.
15) Porcelain Countertops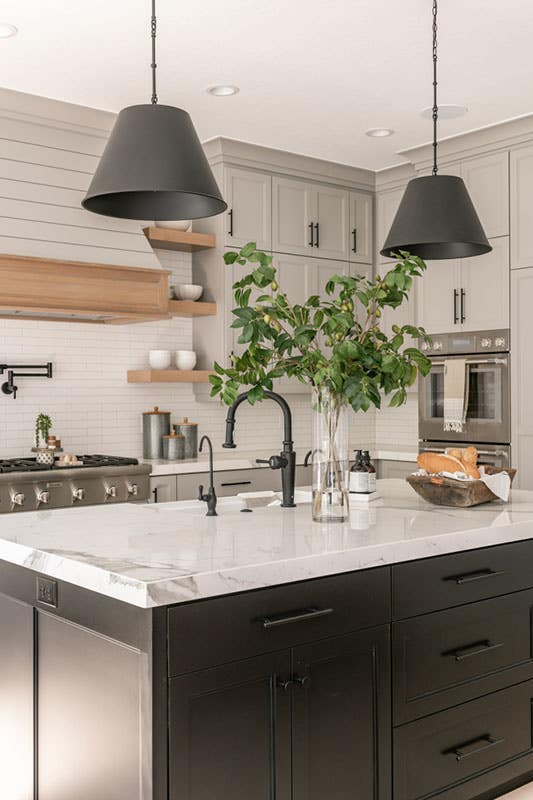 Large porcelain slabs mimic the look of natural stone but are more durable and resistant to stains. They are excellent for creating a seamless and modern look.
Different Design Trends For Kitchen Countertops
There are tons of kitchen countertops out there to choose from. After all, not everyone is a fan of granite or marble; if you're looking for something else, such as concrete or soapstone countertops, there are plenty of alternatives. But what are kitchen countertop design trends? If you're wondering whether your favorite will become popular in upcoming years, take a look at these top 3 ideas that seem to be trending right now.
Creating Contrast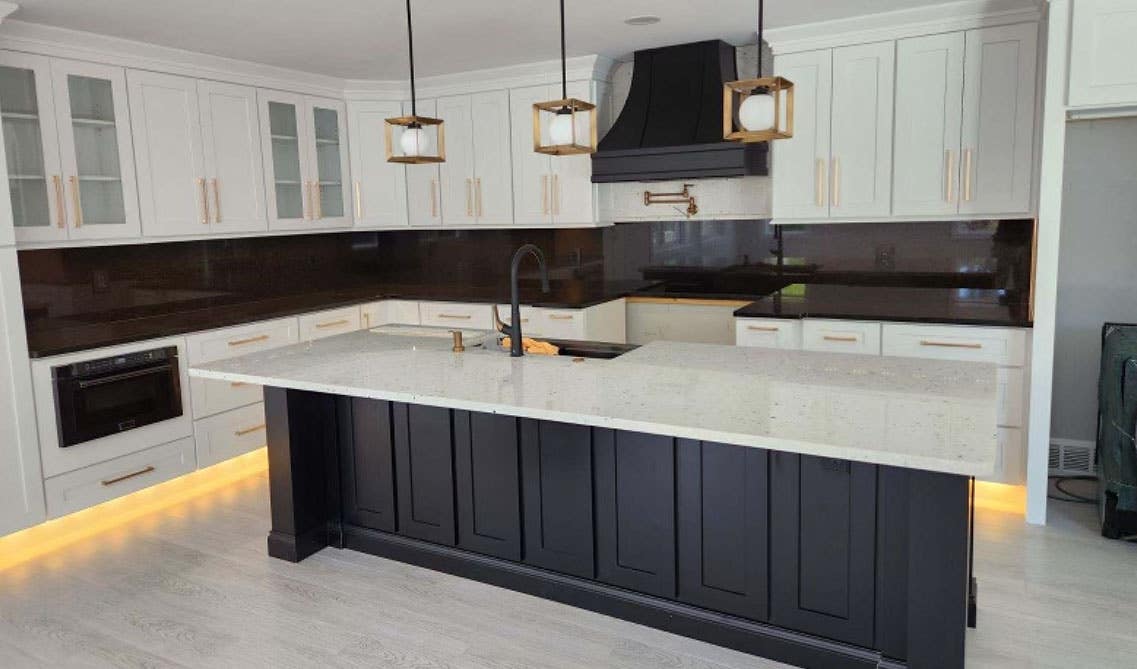 Creating a black and white contrasting kitchen with elements of brass can result in a stunning and timeless design. With two contrasting colors, you can design an eye-catching kitchen and add a fresh and exciting look to the space.
Incorporate Lighting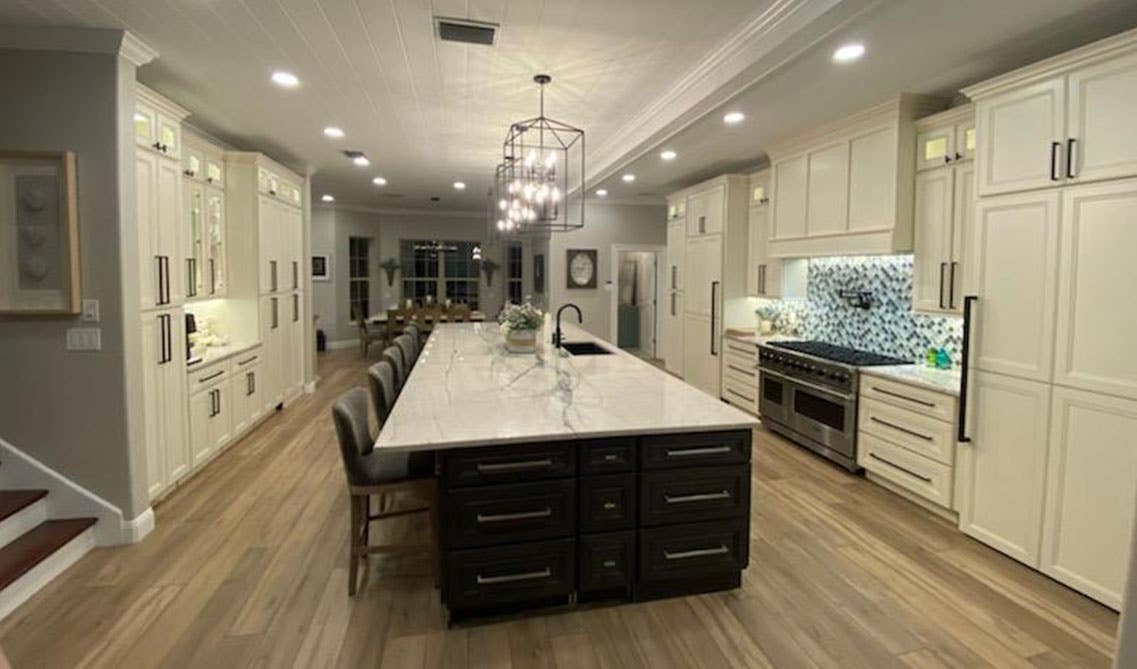 Lighting fixtures can make a bigger difference than you would expect. Brighten up your kitchen with unique fixtures over your countertops, and don't forget about your cabinet lighting! Keep your countertops well lit with Lily Ann Cabinets under the cabinet lighting.
Illuminated/Backlit Countertops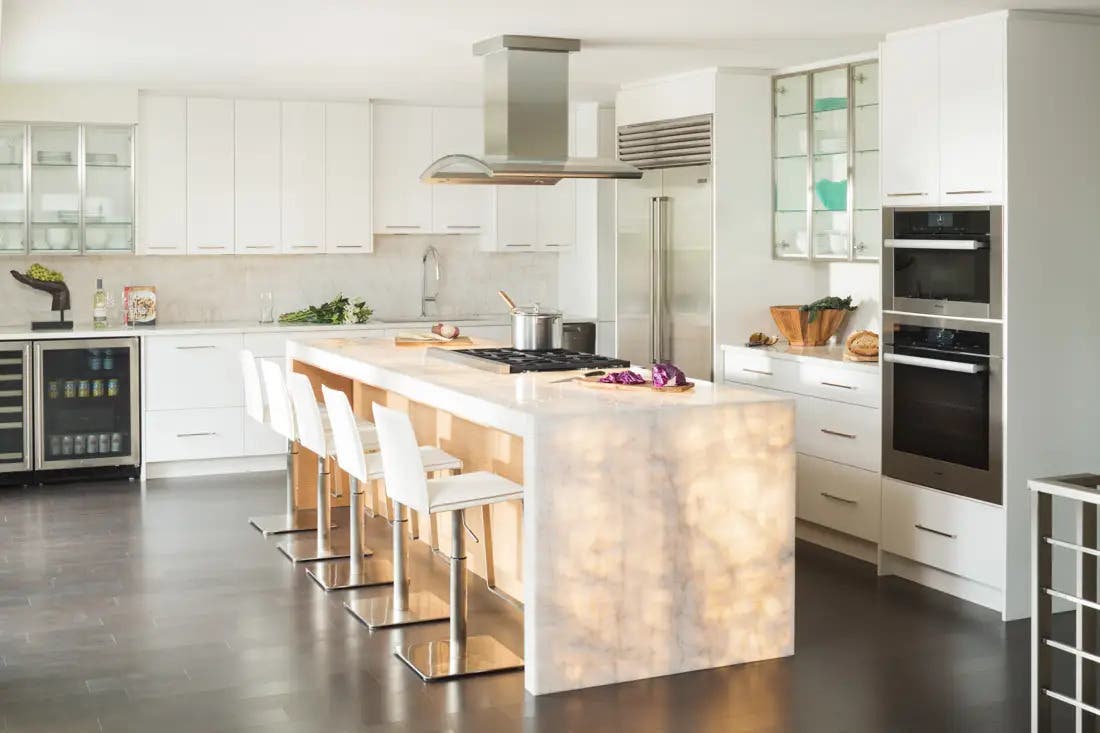 Interior Solutions Design Group
One of today's most popular kitchen countertop design trends is backlit countertops. They're great if you like to cook in front of your family at night, or host parties regularly—with a few dimmable LEDs around, you can create a space where everyone feels comfortable while still being able to see what they're doing. This trend is new and continues to grow as people realize how different and fun the addition of a light-up countertop is.
Matching Countertops + Backsplash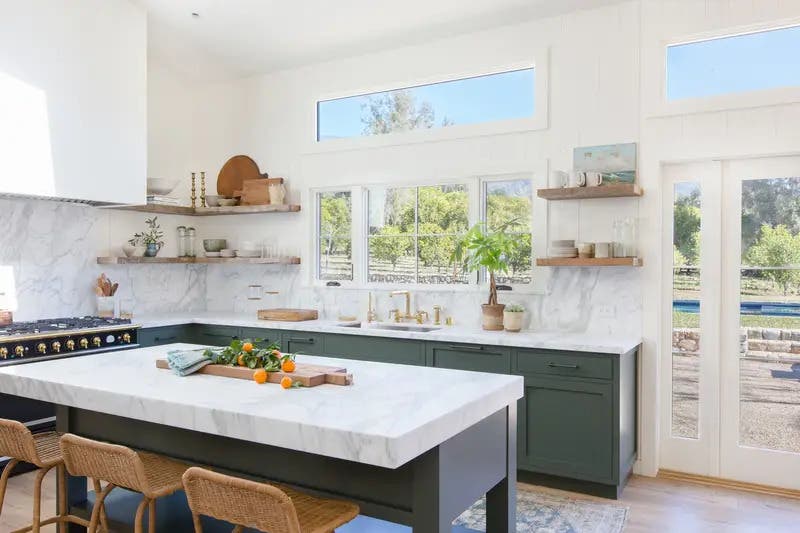 Matching your countertops to your backsplash is an easy way to tie your kitchen together and ensure that every piece in your space has a purpose. This creates a seamless look that's also easy on the eyes.  Quartz is one of our favorite materials for both countertops and backsplashes because it pairs well with just about any style of cabinet or appliance.
Revamping your kitchen countertop design can truly transform the heart of your home. Whether you opt for a sleek and modern look, a timeless and classic style, or something unique and personalized, the right countertop design can enhance your kitchen's aesthetic and functionality.
With a wide range of materials, colors, and finishes available, there's a perfect countertop design waiting to complement your taste and needs. Take the time to explore your options, consult with a professional using our Lily Ann Live feature to help narrow down your decision, and bring your dream kitchen to life with a countertop that reflects your personal style and serves as the centerpiece of your culinary haven. 
Related Blogs
FAQs
1. What is the best countertop to put in a kitchen?
The best countertops to put in your kitchen are between quartz and granite. Both options are very durable and offer a variety of different colors to match well in any kitchen.
2. What is the cheapest type of countertop for the kitchen? 
The cheapest countertop is laminate. On average, it costs about $30 per square foot for the laminate material but can range up to about $50.
3. What is the most durable countertop material? 
The most durable countertop material is quartz. It is resistant to everything from scratches, dirt, spills, moisture, etc. Quartz countertops are known for their exceptional durability, making them a popular choice for kitchens and bathrooms. Their durability stems from the way they are engineered and constructed.