Counter space is something that everyone wants, but few actually have. From stray keys to kitchen utensils, it seems like the kitchen counter is always the first place in the house to become cluttered. Clear countertops keep your kitchen looking clean while freeing up space to prep meals, but it can be hard to achieve them. Today, we're giving you three simple tricks using kitchen cabinet inserts to help declutter kitchen countertops and keep your home organized.
1. Spice Storage
One way to free up extra kitchen counter space is to tidy up your spices. When it comes to spice storage, it's important to keep your spices organized and within reach. With this in mind, a door mount spice rack is usually the best option for accessibility. Since a door mount spice rack increases storage space inside a cabinet door, your spices will always be within reach while giving you that extra counter space that you crave. Plus, if you already have cabinets installed in your kitchen, you might as well make them work for you!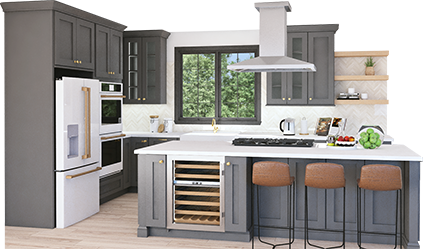 Get your FREE 3D kitchen design today!
Start Now
2. Utensil Bin Base Organizer
Utensils are another common culprit when it comes to cluttered counter space. Spatulas, whisks, tongs and other kitchen tools can take up a lot of room, so it's important to store them efficiently. A utensil bin base organizer is a great solution because it fits in your lower kitchen cabinets, providing easy access to utensils while decluttering kitchen counters. Plus, with three shelves, this base organizer has more than enough storage space to fit all of your kitchen tools. It's also a convenient place to store stray dish towels or Tupperware.
3. Knife Block Drawer Insert
Another kitchen accessory which tends to take up a lot of counter space is your knife block. Depending on how many knives you have, switching up your knife storage could free up a large area of kitchen counter space. One of our favorite simple knife storage solutions is a knife block drawer insert. This trimmable insert fits perfectly in any cabinet drawer, providing you quick and easy access to your knife set. Plus, it has 55 slots, so you can store your entire knife collection in one convenient spot.
Declutter Your Counter Space With Lily Ann Cabinets
Still unsure of how to declutter your kitchen? Not to worry! At Lily Ann Cabinets, you'll find a variety of quality kitchen cabinet inserts to suit your organizational needs. If you need some help with measurements, general questions or design ideas, our professional design team is always happy to help. Contact us today to get one step closer to your dream kitchen!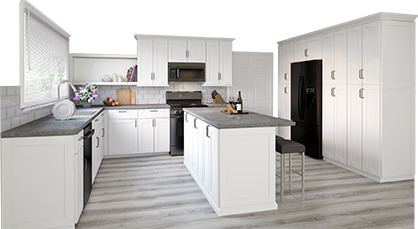 3D Kitchen Visualizer Tool
Bring your dream kitchen to life with our free kitchen visualizer!
Design Now