Reclaimed wood countertops are currently a huge trend in kitchen design. They're unique, full of character, and bring a natural earthy feel into the home. Repurposed wood is not only sustainable and environment-friendly, it's an excellent opportunity to infuse your kitchen with a timeless history that will last a lifetime.
However, there are certain things you should know before installing reclaimed wood countertops. From wood sourcing to prices, we're going over the important questions to ask before investing in this trending countertop material.
Where Is Reclaimed Wood Sourced?
Reclaimed wood for countertops can be sourced from a variety of unique locations. Old barns, factories, warehouses, historic homes, wine barrels… the list goes on. Depending on where the natural wood was sourced and when there is a wide range of wood species available.
Some species that were used in very old structures are no longer on the market—like American chestnut and longleaf pine. These tree species are now endangered due to logging and deforestation. Along with many other rare species, these wood types are extremely strong and durable, making them perfect for resisting the daily wear and tear that a countertop must endure.
Because reclaimed wood is sourced from a variety of locations, each slab tells a unique story. The beauty of their distinctive appearance is accentuated by old nail holes, divots, variations in color, and other abnormalities. No two pieces are alike, as they are the various marks of builders, craftsmen, insects, and natural elements like wind and rain.
By installing reclaimed wood countertops, you are continuing a unique history that has likely gone on for many decades. If you are curious to know more about the background of your wood, ask the source directly. It is not uncommon for reclaimed wood distributors to keep a record of the lineage of their wood.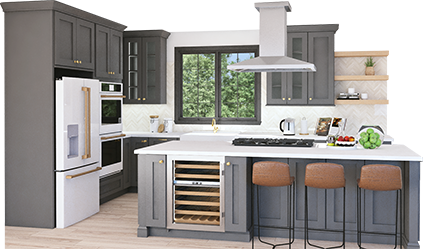 Get your FREE 3D kitchen design today!
Start Now
How Durable Is Reclaimed Wood?
Since reclaimed wood has already spent many years facing the elements—humidity, wind, rain, etc—it has usually expanded and contracted enough to reach a stable state. However, each piece of wood is different, and there is no guarantee that a slab will not continue to warp when exposed to further changes in atmospheric moisture.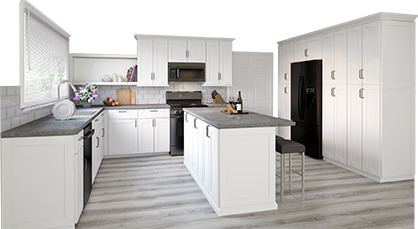 3D Kitchen Visualizer Tool
Bring your dream kitchen to life with our free kitchen visualizer!
Design Now
The best way to ensure that a reclaimed wood countertop will remain stable is to do your research. Find a company that will not only construct and install it correctly but provides detailed information on the wood type and the maintenance required to upkeep it. Additionally, keep in mind that thicker reclaimed wood will be more stable. Although it may be more costly, purchasing a thicker slab is worth the investment to ensure your wood countertop lasts a lifetime.
How Much Do Reclaimed Wood Countertops Cost?
When shopping for wood countertops, most people wonder if reclaimed wood is expensive The average cost of reclaimed wood countertops is between $30 to $140 per square foot. Variations in species, thickness, and size will dictate where your countertop falls within this range (or in some cases, outside of it). If you'd like to stay on the cheaper end, consider opting for birch or beech butcher block countertops. These species cost about the same as laminate but still provide the earthy, rustic feel of reclaimed wood.
Below are a few price ranges for common reclaimed wood types, courtesy of Home Advisor:
Maple: $45 to $75 per square foot
Walnut: $100 per square foot
Teak or Sebrawood: $130 per square foot
Butcher Block: $40 to $65 per square foot
Wide Plank: $30 to $150 per square foot
Installation costs can also vary widely. Some homeowners opt for DIY installation to wave installation costs entirely. If you are interested in DIY installation, first check whether making your own cuts in the wood will void its warranty.
If you decide to hire a pro, the cost will start at around $8 per square foot minimum.
How Do You Upkeep Reclaimed Wood Countertops?
Wood countertops require oiling two to three times per year. To keep the wood healthy and stain resistant, mineral or tung oil is poured onto the surface, then left for a half hour to soak in. After it's been absorbed, the wood is wiped with a soft cloth to remove the excess oil.
To avoid permanent stains and discoloration, liquid spills should be wiped up quickly, especially if they are colored or acidic. You should also avoid setting hot pots and pans on wood counters, as they are not heat resistant.
If a slip-up does happen and the wood becomes stained, don't fret. One benefit of reclaimed wood countertops is the ability to sand away imperfections. Simply use high-grade sandpaper to remove stains or scratches, then rub oil into the area to refinish it.
Get Help Designing Your Dream Kitchen
Need some assistance getting your kitchen design just right? Get a FREE 3D kitchen design and rendering today to get your remodel on the right track! Our professional design team is here to give you the best recommendations on design and finishes for your home.
Plus, check out a few more of our favorite reclaimed wood kitchens:
Related Blogs: