Are you thinking of remodeling your kitchen? Consider incorporating a waterfall countertop! Besides the gorgeous aesthetic that comes with this type of countertop, they also include other benefits, such as being easier to maintain and clean in comparison to the average side cabinet and shiplap sided countertops commonly seen in the average kitchen. 
Waterfall countertops have an increasing popularity in modern kitchen designs and offer several advantages. Some of the key advantages of waterfall countertops include:
Aesthetic Appeal: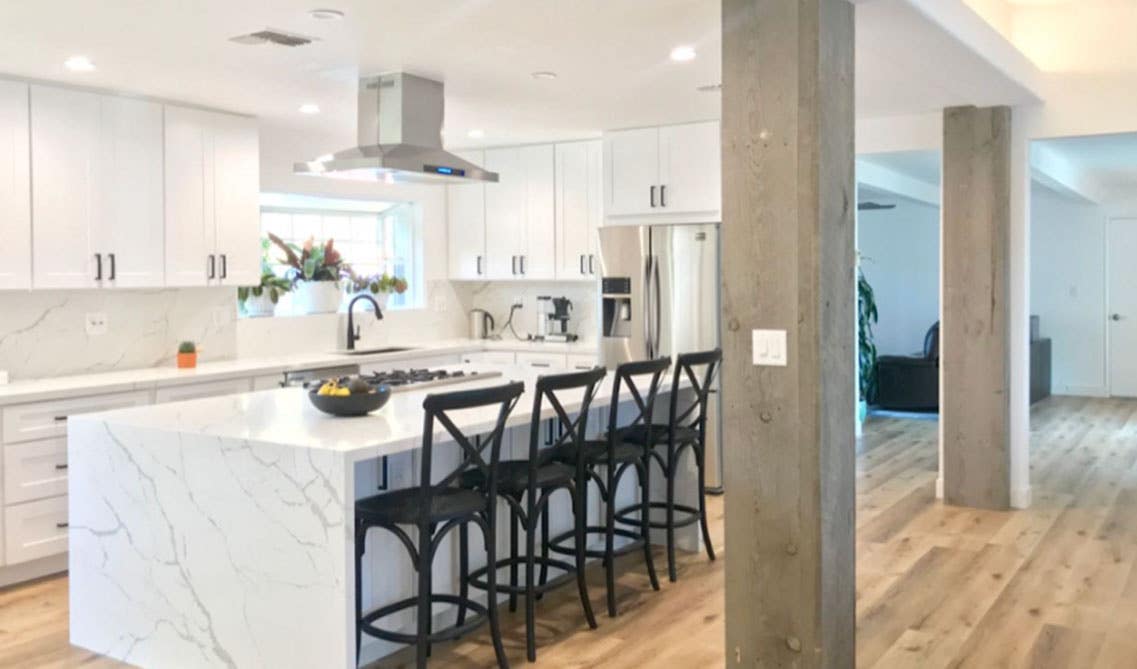 Lily Ann Cabinets: Summit White Shaker
One of the primary advantages of waterfall countertops is their stunning visual impact. They create a sense of continuity and flow by extending the countertop material vertically, usually completely down to the floor. This trendy, seamless cascade effect adds a touch of elegance and sophistication to create a clean, eye catching look to any kitchen design.
Focal Point: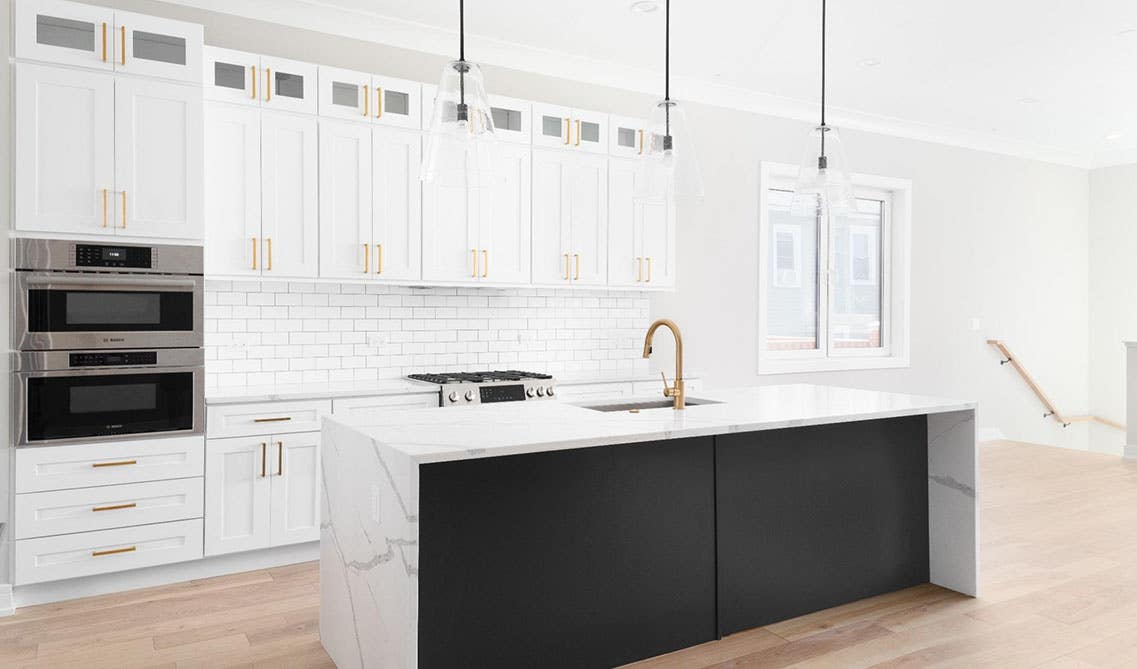 Waterfall countertops can serve as a captivating focal point in the kitchen. The vertical extension draws attention and can become a central feature that makes up the space. It becomes a conversation starter and a visually striking element that elevates the overall aesthetic of the kitchen.
Modern and Contemporary Look:
Lily Ann Cabinets: Shaker Espresso
Waterfall countertops have a sleek and contemporary appearance that aligns well with modern design aesthetics. They lend a sense of clean lines and minimalist style to the kitchen, creating a visually appealing and up-to-date ambiance.
Durability and Functionality: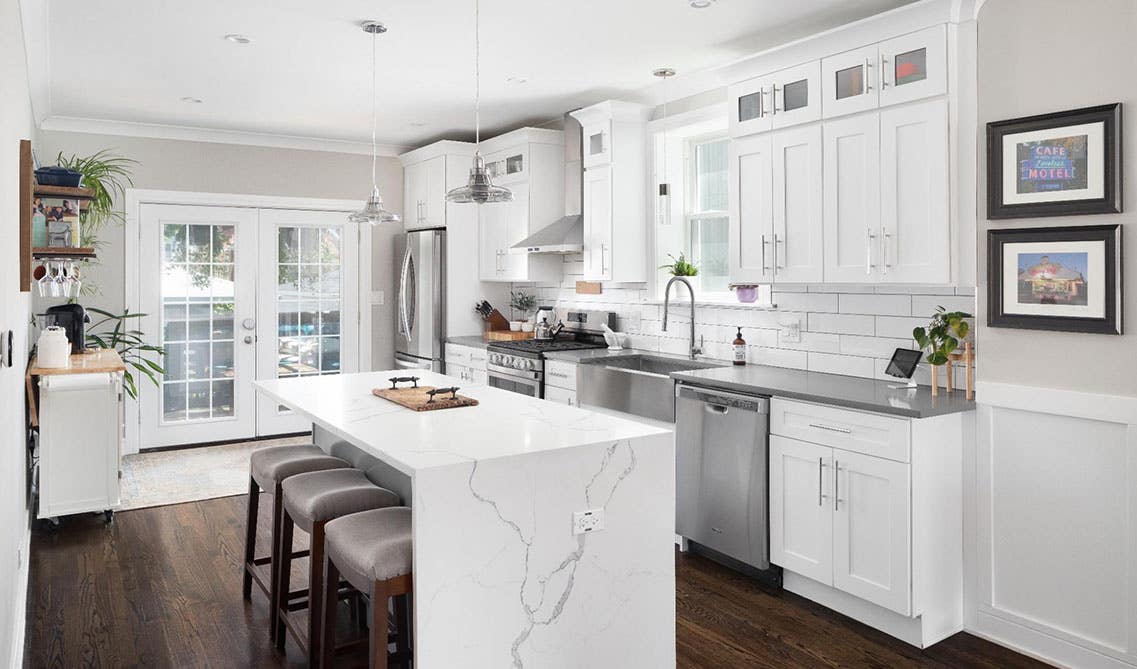 Waterfall countertops typically use durable materials such as granite, quartz, or concrete, which are known for their longevity and resistance to wear and tear. These materials are also highly functional, offering heat and scratch resistance, making them ideal for a busy kitchen environment.
Cabinets remain protected as the stone material covers almost the entire area to prevent damage throughout the years of use. Cabinets are kept safe from common scratches, dirt, spills, splashes, etc., all which are bound to happen overtime while cooking with friends and family.
Seating: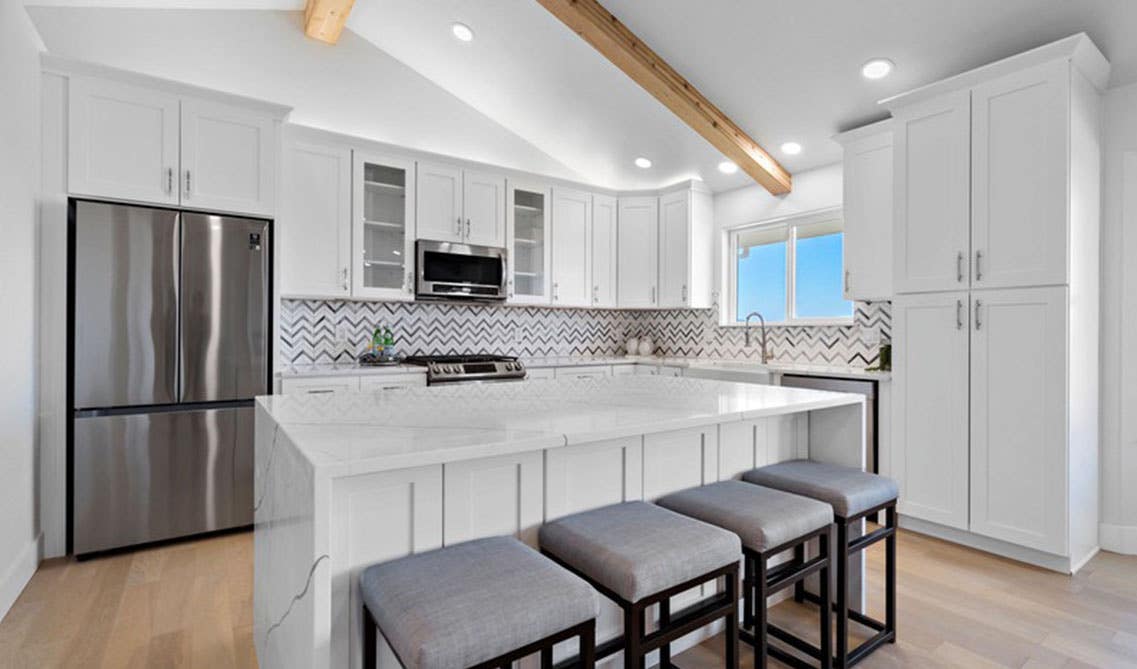 Lily Ann Cabinets: Colorado White Shaker
In kitchens with an island or a breakfast bar, waterfall countertops can be extended on one side to create integrated seating or an area for bar stools to seat your guests. This design feature allows for a seamless transition from countertop to seating area, maximizing functionality and providing a cohesive look.
Concealed Storage: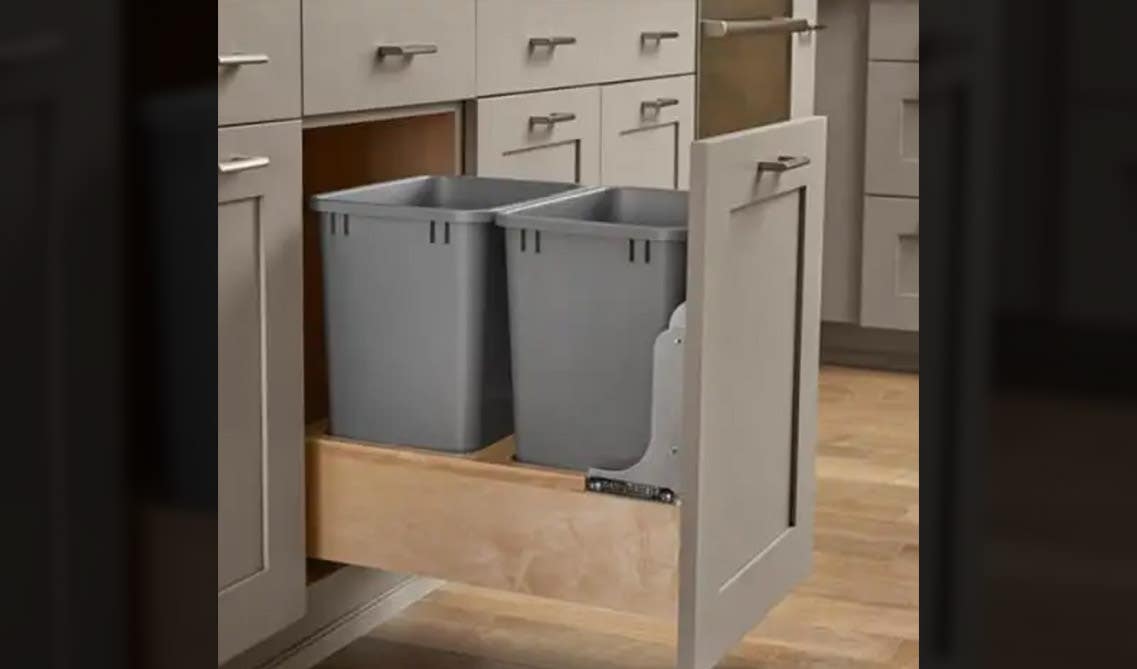 Lily Ann Cabinet: Gray Shaker Elite
Waterfall countertops can be utilized to conceal storage or appliances beneath the countertop. By extending the countertop material down the sides of cabinets or appliance panels, you can create a sleek and uniform appearance while hiding clutter or less visually appealing elements. Added features such as pull out waste bins and other organizers will also help maintain a clean area with lots of extra storage to hide your tableware until you are ready to use them.
At Lily Ann Cabinets, we offer a variety of options to help achieve concealed storage. We have pull out trash cans, drawer organizers for cutlery, spice organizers for the interior of your cabinet, wall cabinet organizers, and pot and pan organizers to guarantee hidden storage and organization and maximize the clean appeal of your waterfall countertops!
Easy to Clean: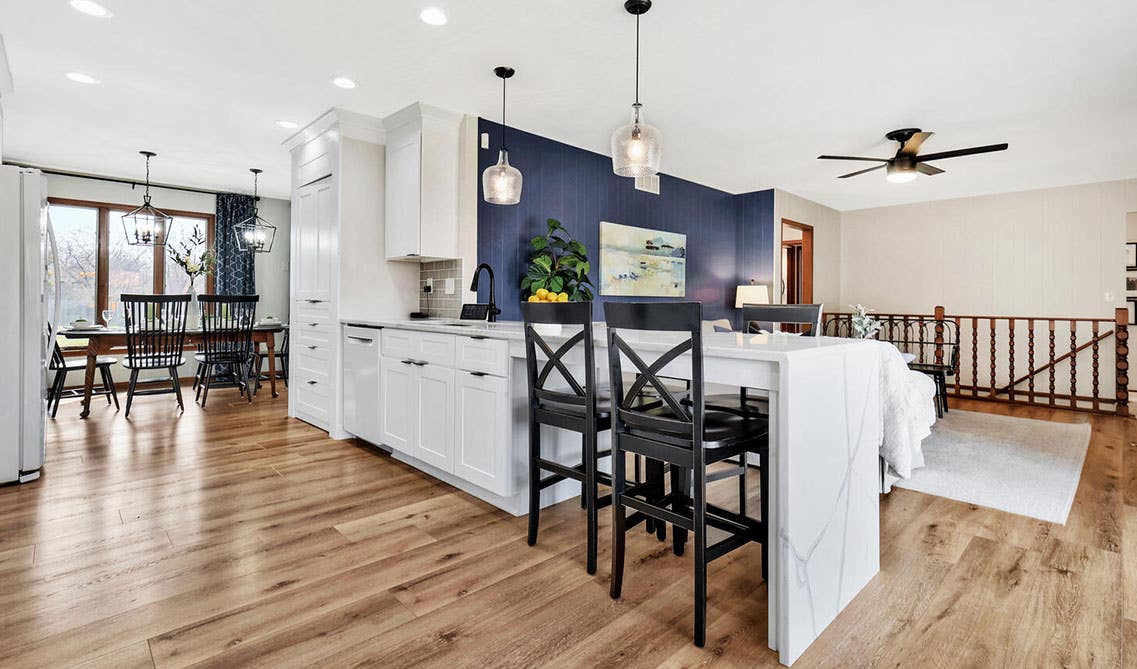 Lily Ann Cabinets: Summit White Shaker
With a continuous surface, waterfall countertops are relatively easy to clean and maintain. There are no crevices or joints where dirt or grime can accumulate, making them more hygienic and simplifying the cleaning process. If there are any spills or smudges on your countertops, they can easily be wiped away leaving no stains and no hassle.
Waterfall countertops combine aesthetic appeal, functionality, and durability to create a striking and trendy feature in the kitchen. They are a practical design for any kitchen and offer a unique and contemporary design element that can transform any kitchen into a visually stunning space. If you are located within an hour of our Adrian, Michigan location, ask our sales representatives about the countertops we offer. If you still need assistance, please don't hesitate to reach out to Lily Ann Cabinets with any questions!
Related Blogs: 
FAQ'S
1. What is a waterfall countertop? 
Waterfall countertops are presented as a piece of granite, quartz, or marble extended across the area on top of an island or as a countertop to pair with your lower cabinets, but rather than stopping at the edge of the cabinet, it continues to flow vertically to the floor. Lily Ann Cabinets offers countertops to customers within a one hour range from our headquarters location in Adrian, Michigan!
2. Are waterfall countertops expensive? 
Waterfall countertops can be a bit expensive. On average, it can cost anywhere from about $40- $120 per square foot, depending on which style you decide best suits your preferences. It may also be a bit more costly for the labor of installing them because it requires more exact work of blending and preciseness towards the transition of the horizontal countertop, to the extended vertical waterfall portion.
3. Does a waterfall countertop touch the floor?
Yes, waterfall countertops reach the floor on both sides to give your kitchen that cascade effect.